All specialists agree: healthy hair starts from within. If your diet lacks certain nutrients, including vitamins, minerals, and proteins, your hair's condition and thickness might deteriorate. Also, everyday stress, hormonal changes, collagen decrease, menopause, post-pregnancy, medication & over-styling can negatively impact hair quality, often leading to breakage and excess shedding. While we don't have full control over some of these factors, we can definitely make the best hair growth supplements a part of our daily routine to support the thickness and fullness of our hair.
How supplements help hair growth?
Just like the rest of your body, your hair needs targeted nourishment to reach its bouncy potential. Sometimes it might be challenging to get the necessary nutrition only from your diet. In the speed century, it's hard to make time to cook nutrient-rich meals every day. Don't you agree? But thanks God, we have supplements! One pill can make up for all the missing vitamins and proteins your body needs to grow strong and thicker hair.
Studies suggest that hair loss is often caused by a lack of necessary nutrients, such as iron, zinc, niacin, vitamins A, D, E, fatty acids, selenium, folic acid, biotin, proteins, collagen, and antioxidants. Proper nutrition is also linked with long, dense, thicker, shiny, and voluminous hair. All these lead to the same conclusion: taking supplements can reduce thinning hair and make hair grow faster by eliminating nutritional deficiencies.
No matter your hair type, you'll likely notice results after boosting the level of proteins, vitamins, and collagen inside your body. Experts recommend taking supplements twice a year, during spring and fall, when the hair is shedding the most because of the seasonal change.
How to choose the best hair growth supplements?
Welp, let's see what supplements are actually essential for hair growth and thickness: they should include one or more of the following minerals, proteins, and vitamins, of which deficiencies are known to cause hair loss:
Iron – Iron deficiency is a well-known cause of hair loss. Iron is an essential mineral that your body stores in the form of ferritin. You can also say ferritin is a protein that stores iron for the body to use as needed. Ferritin can be found in many body parts, including hair follicles. When your body lacks iron, it can borrow ferritin from your hair follicles, weakening them. Also, without iron, the body cannot produce enough red blood cells responsible for the transport of oxygen around the body. 
Zinc – A lack of zinc can damage the existed hair, causing it to break. A study found that out of 312 people suffering from alopecia areata and androgenic alopecia, they all presented lower zinc concentrations in the body. They also found zinc supplementation to restore hair condition in most cases. 
Niacin – Niacin, or vitamin B3, is needed for our bodies to convert carbohydrates into energy. It improves blood circulation and brings oxygen and nutrients to the hair follicle. It's believed that a deficiency of this vitamin may weaken hair follicles and cause them to produce thin hair. 
Fatty acids – Essential fatty acids linoleic acid (an omega-6 fatty acid) and alpha-linolenic acid (an omega-3 fatty acid) may reduce hair loss by inhibition of 5α-reductase that converts testosterone to DHT — a hormone known to cause hair follicles to miniaturize, contributing to pattern hair loss.
Vitamins D, A, E, and biotin (vitamin H) also play a role in healthy hair growth.
Antioxidants – Antioxidants are compounds that can neutralize oxidative stress damage. Many elements count as antioxidants, including zinc, selenium, and vitamins A, C, and E.
Worth mentioning that supplements are believed to work only when your condition is caused by nutritional deficiencies. There is currently a lack of data regarding the effects of supplementation in people without nutrient deficiency. So before taking supplements, it's best to advise your doctor to confirm the causes of your hair loss and what your body actually needs.
Hair growth supplements
If you want to try hair growth supplements and have no idea where to start, here are the best of them!
---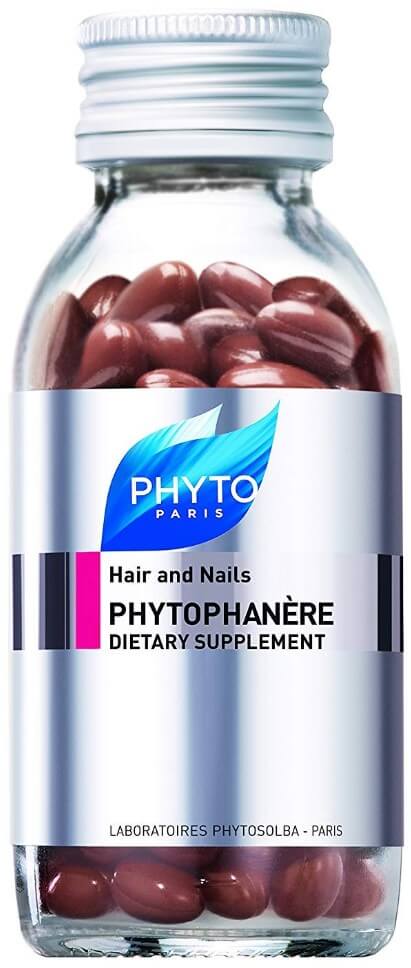 1. PHYTO Phytophanère Dietary Supplement for Hair Growth
Each dose of Phyto's supplements contains vitamins, essential fatty acids, and antioxidants, all necessary for natural hair growth. They are a lifesaver for weak, thinning, and damaged hair. With just two capsules per day, your hair will look fuller, thicker, shinier, and healthier — the botanical and high potency formula with vitamin B, C, E, pro-vitamin A, and omega 3 and 6 has the building blocks to make that happen. You are only two caps away from that thicker, denser-looking mane you always wanted!
---
2. Kiierr DHT Blocking Hair Growth Vitamins
Kiierr offers one of the best DHT-blocking vitamins out there! Made with all-natural ingredients, these supplements block DHT, improve scalp circulation, and help promote hair growth, powered by horsetail extract, folic acid, vitamin B, and saw palmetto. For maximum hair-strengthening effects, pair these vitamins with one of Kiierr's hair growth devices, touted for delivering hair-transforming results.
---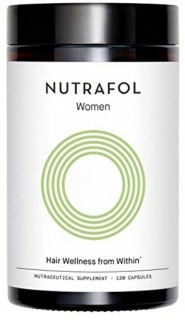 3. Nutrafol Hair Growth Supplements
Nutrafol supplements include Synergen Complex, a proprietary blend of clinically active ingredients that supports hair growth. Nutrafol pills promote hair strength and thickness and are 100% drug-free — and guess what? They really work! The whole diet contains 120 capsules, with four capsules per day, which will last you one month! The ashwagandha extract balances stress hormones to boost the hair growth cycle, while the Tocotrienol Complex improves hair density by lowering oxidative stress at the follicles. At the same time, marine collagen provides amino acids as building blocks proteins needed for thicker hair.
---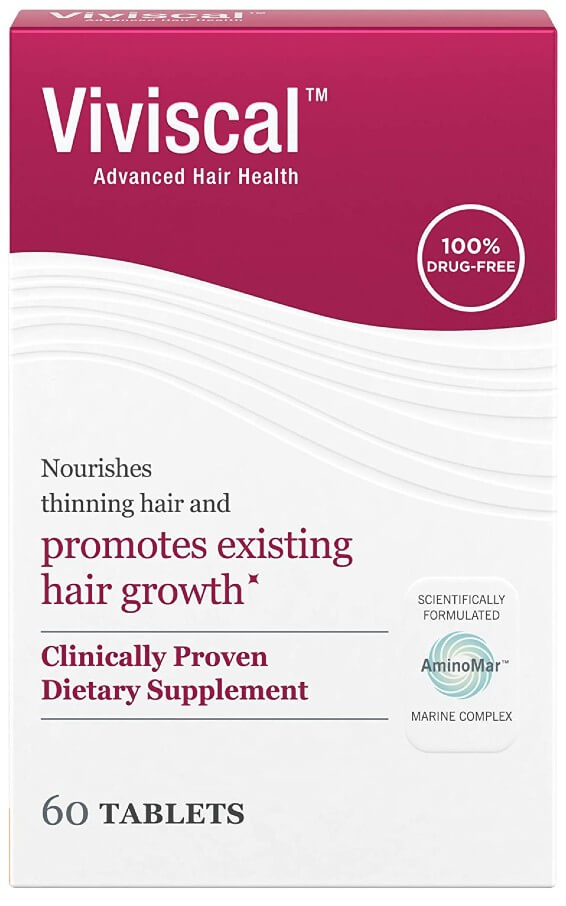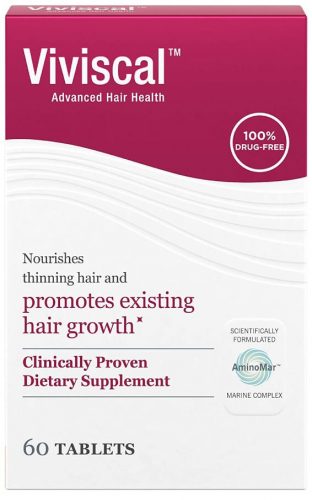 4. Viviscal Advanced Hair Growth Tablets
These supplements nourish hair and promote hair growth from within by offering vital nutrients to follicles to prolong the anagen phase. This product contains the exclusive marine complex AminoMar, plus vitamin C, biotin, zinc, iron, and horsetail extract, to nourish hair from the roots to the ends. Ideally, take one tablet twice daily for 3 to 6 months. It will help maintain a perfect environment for healthy hair growth.
---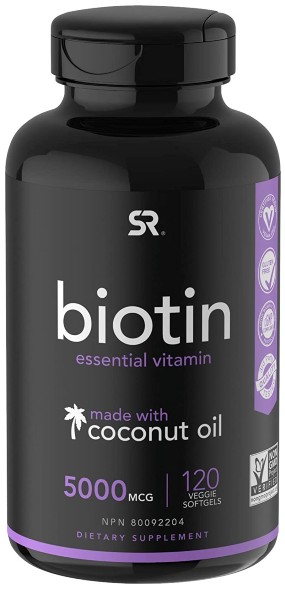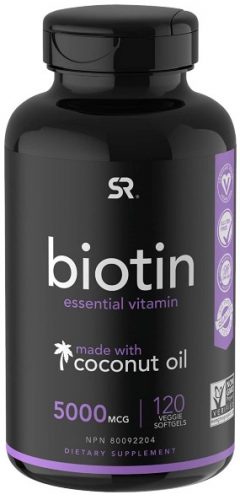 5. Sports Research Biotin Supplements
Packed with 5000 mcg of biotin and infused with cold-pressed organic coconut oil, Sports Research's pills will do all the work to make your hair look fabulous again. These supplements sell so much because they work and actually make your hair grow faster. People all over the world love 'em, and I'm sure you'll do it too!
---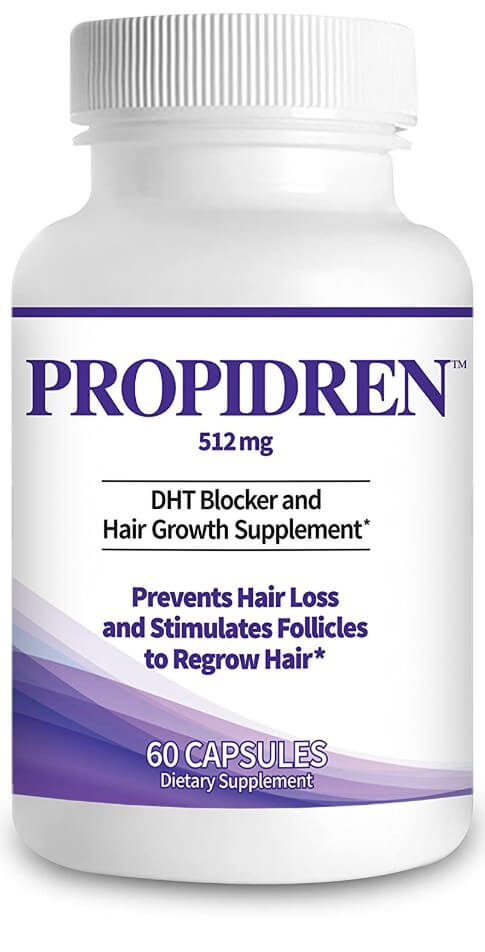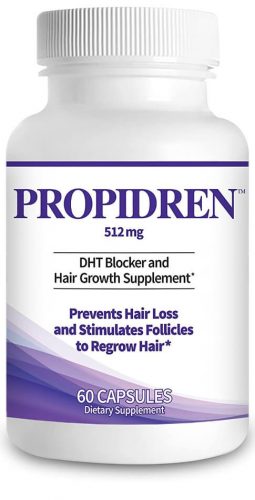 6. Propidren by HairGenics – Hair Growth Supplement
Propidren's formula contains DHT blockers along with a powerful combo of clinically proven ingredients, such as nettle extract, horsetail, pygeum bark powder, and green tea extract to regenerate damaged hair follicles. Moreover, it's formulated with saw palmetto extract and biotin – a vitamin that produces keratin, increases hair elasticity, and wraps your hair in a protective layer to prevent it from becoming brittle and weak.
---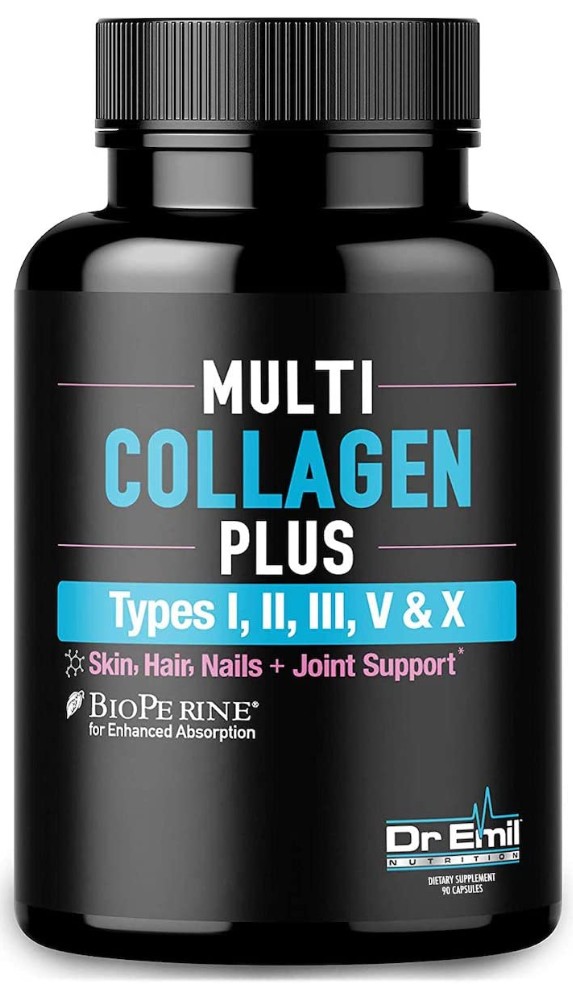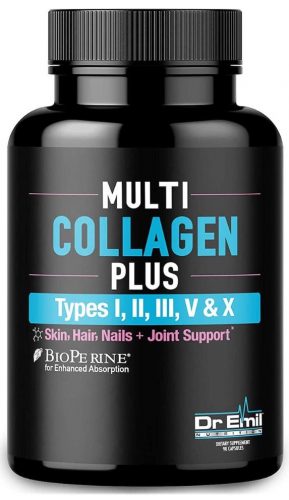 7. Vital Vitamins Multi Collagen Pills
These supplements include five types of collagen to help restore your hair to its prime condition. It's an all-in-one supplement with a potent blend of hydrolyzed collagen peptides from grass-fed beef, collagen from eggshell, chicken bone broth collagen, and X collagen in a convenient small capsule form. They are ethically sourced from pure, non-GMO, grass-fed, pasture-raised, hormone-free, and cruelty-free sources. Not only that, but they contain zero gluten, wheat, yeast, artificial ingredients, and preservatives.
---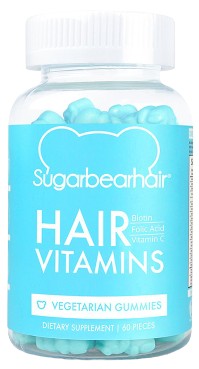 8. SugarBear Hair Vitamins
One pack of these supplements assures a three months diet for hair growth, and you'll get even a gift: a professional bamboo hairbrush! These supplements are for you if you don't like to swallow pills — they're actually gummies made with real berries for a deliciously sweet flavor, coconut oil, and a dash of sugar. Vitamins A, C, D, E, B-6, B-12, folic acid, biotin, pantothenic acid, iodine, and zinc work as active ingredients to get your hair back to normal.
---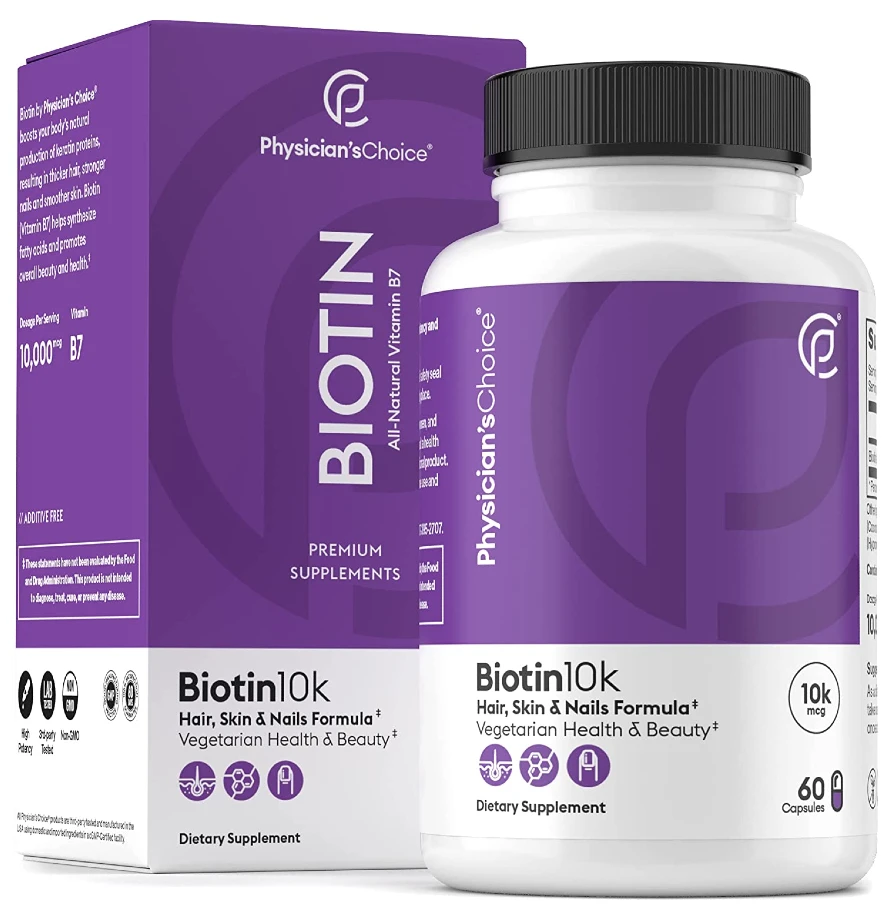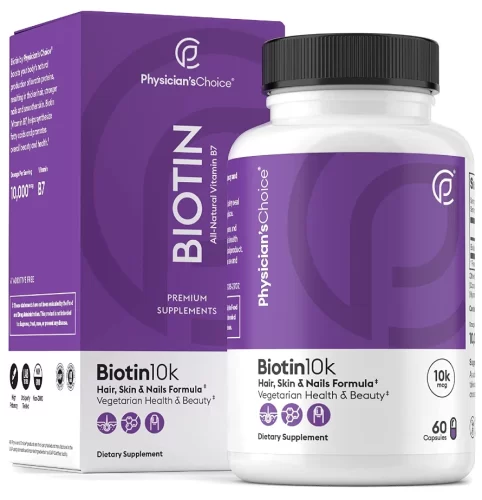 9. Physician's Choice Biotin Supplements for Hair Growth
Packing 10000mg biotin and the triglycerides from coconut oil, Physician's Choice Biotin Supplements promises to strengthen the structure of the protein cells in the body to encourage healthy, natural hair growth. So if your hair craves biotin-rich formulas, you know where to stop.
---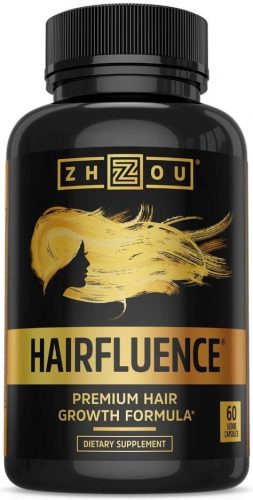 10. Hairfluence Premium Hair Growth Formula
Or you can try Zhou Nutrition's Supplements. You can up your nutrient intake with this all-in-one premium supplement featuring growth-inducers like MSM, biotin, collagen hydrolysate, and bamboo extract. More than that, it includes vitamins A, B1, B2, B6, B12, C, D3, pantothenic acid & calcium. If you want healthier, fuller, faster-growing hair, this once-daily supplement will help you lots.