If the fact that your hair doesn't grow as thicker as you'd like to or is not that dense or voluminous bothers you, it's time to change your plan. And what's better for your hair than a rich nourishing product enriched with hair-strengthening oils? Thanks to their beneficial formulas, hair oils deliver everything your follicles need — from vitamins, nutrients, fatty acids, and antioxidants — to grow healthy and thicker hair.
However, before you raise your expectations, remember that having healthy hair is an inside-out process and you shouldn't rely only on topical products. Avoiding bad habits that damage hair, sticking to a healthy lifestyle, taking supplements, and maintaining a proper diet is more likely to give you that gorgeous hair you crave.
What's the best hair growth oil?
Look out for oils with properties that target the causes of thinning hair, such as DHT hormone, weakened follicles, poor blood flow, or scalp inflammations. Don't worry. We've made shopping easier for you by rounding up the best hair growth oils with nourishing properties.
---
1. HairMeto Saw Palmetto Oil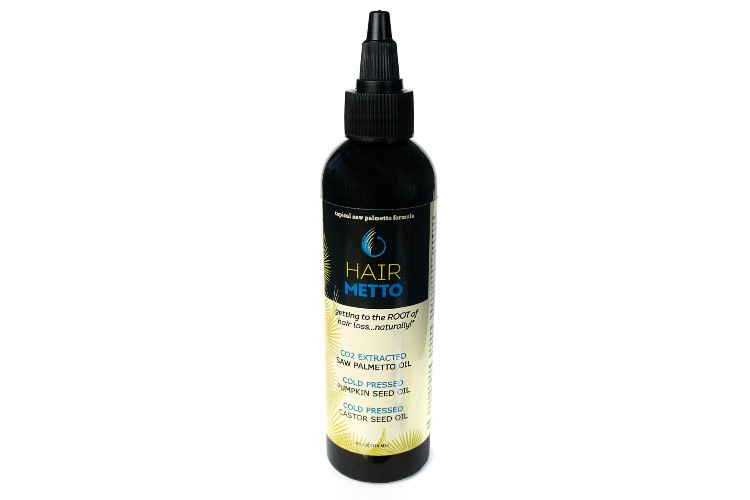 Here's a great starter. Hairmetto's product uses a powerful combination of ingredients necessary for hair growth, integrated into a formula meant to restore, repair, and protect the hair. While saw palmetto and pumpkin seed oils block DHT conversion and revitalize hair follicles, rosemary, lavender, and cedarwood extracts nourish and protect the scalp due to their anti-inflammatory, anti-bacterial, and anti-fungal benefits. Antioxidants, enzymes, proteins, and nutrients are all packed in a single product to make your hair thicker and healthier.
---
2. Hairfinity Nourishing Botanical Oil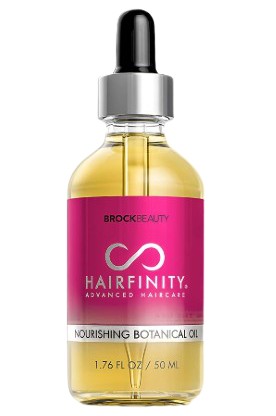 How do 4,000 reviews with an average of 4,5 ratings out of 5 sound to you? To us, it looks like a winner! That's what Hairfinity's product is, one of the best hair growth oils that claim to reduce hair breakage by 95%. Aren't these claims a little bit exaggerated? That's what I thought too until I checked the actives: Collagen, vitamin E, coconut, rosemary, lavender, grapeseed oils, and jojoba oils are added to hydrate, nourish, and condition your hair.
---
3. Fable & Mane HoliRoots Hair Oil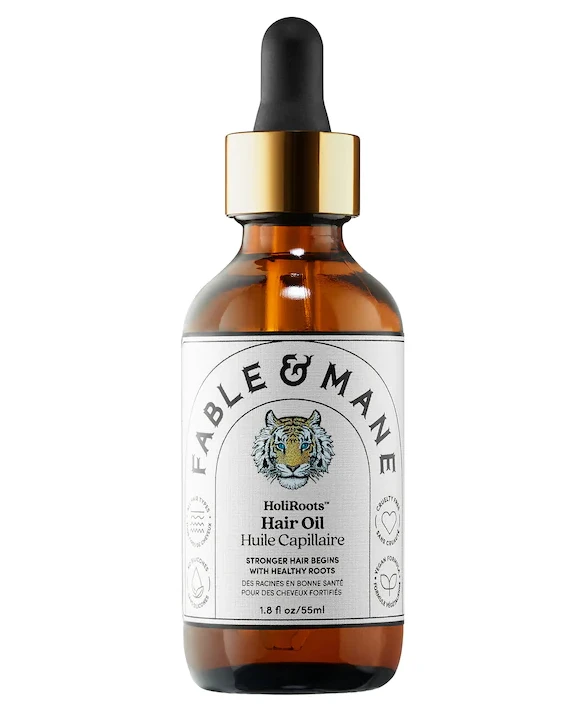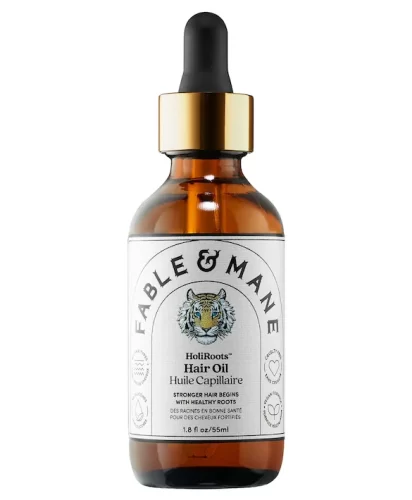 Get ready to feed your scalp with Fable & Mane HoliRoots Hair Treatment Oil, rich in antioxidants, vitamins, and all nutrients needed for thicker hair. The product is built around the ancient Indian hair secrets packing ashwagandha to reduce hair loss by controlling stress hormone and dashmool to calm the scalp. And everything in a clean, vegan, cruelty-free formula housed in recyclable packaging. Sold!
---
4. Essy Naturals Hair Growth Oil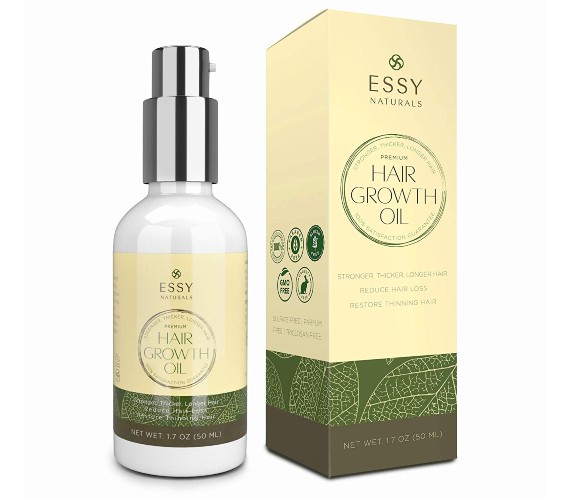 Or you can improve your hair with Essy Naturals Oil. There's a good reason this hair growth oil sells so much. The key ingredients, caffeine and biotin, are combined with other potent elements, such as castor, olive, coconut, and rosemary oils, to provide hair follicles with what they need to produce unbreakable hair. Bonus: it's paraben-, gluten-, sulfate, parfum-, and triclosan-free.
---
5. Biotique Bio Bhringraj Oil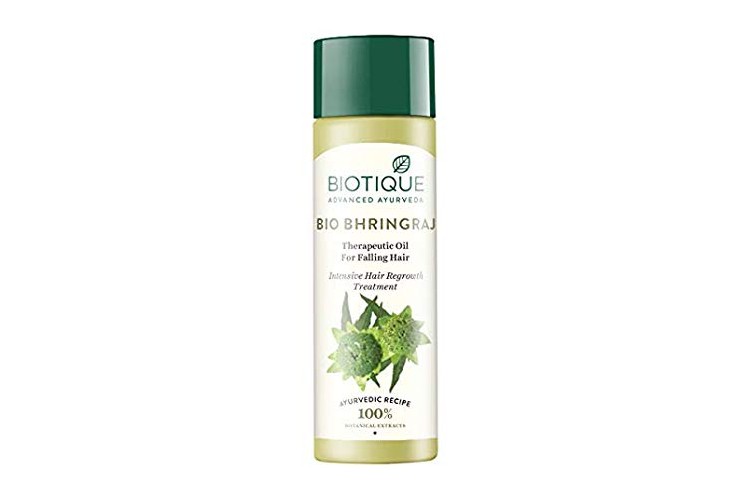 Here we've got the main star Bhringraj, a revered plant in Ayurvedic medicine known for its nourishing, antioxidants, calming, and rejuvenating properties. Most of the ingredients found in this hair oil are organically grown and harvested from the foot of the Himalayan Mountains. Worth mentioning it works for all hair types, including damaged hair, and pretty much can fix every hair concern you have.
---
6. Botanical Green Care Cayenne Treatment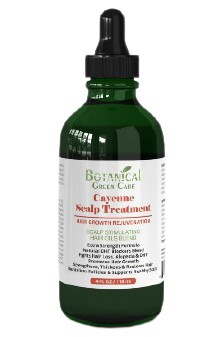 Botanical Green Care uses the properties of Capsaicin (a Cayenne Pepper compound), known as a powerful stimulant that triggers hair growth by increasing blood flow to the scalp. This, in addition to the DHT-blocking activities of saw palmetto, results in a formula that actively encourages new healthy hair to grow faster. Not good enough? The product is also supplemented with vitamins, organic extracts, essential nutrients, omega-3 oils, and fatty acids — there you go.
---
7. Salvia Hibiscus Oil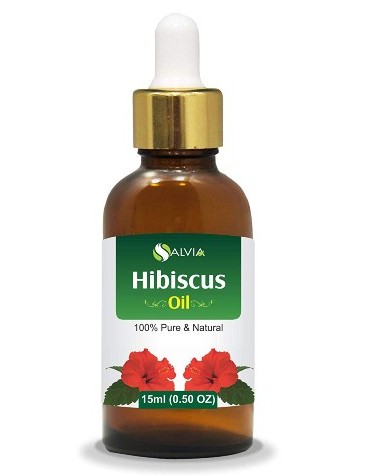 Are you a hibiscus fan? Then you should check this hair growth oil because it contains the essential oil extracted from hibiscus. Plus, the oil is rich in vitamins that support hair thickness and nourishment, eliminate dandruff, and relieve itchy scalp — all leading to better hair. Plus, its cold-pressed formula retains all its nutritional value.
---
How to use hair growth oils?
Apply the oil on the scalp and let act for about one hour before shampooing. Using one about 2-4 times a week will do. Also, you can mix a few oil drops with each shampoo and conditioner application.
You can also use the oil as a deep conditioning treatment. Massage it all over your scalp, steam your hair with a hot towel, and leave it on for 20 minutes. That's how you get a potent strengthening infusion.