Fine hair is probably the most problematic to wash. It's fragile and the slightest touch of a comb can completely break the strands. Even if it sounds like a basic task, people with fine hair often make mistakes that lead to breakage during washing. While you may be tempted to rush through your haircare routine, taking the time to properly cleanse your hair can make a whole world of difference in the long run. Below you'll find the complete checklist on how to wash fine hair to avoid thinning it.
How to know if you have fine hair?
To begin with, are you sure you have fine hair? To establish a proper hair-washing routine, you must know for sure what type of hair you have. It might be banal, but people often toss around "thin hair" and "fine hair" like they're the same. Thin hair is all about the number of strands on your head, while fine hair is about how thick each strand is. If your hair is fine, you might have trouble getting that voluminous look you're after, while those with thin hair might notice some thinning spots up top.
How to wash fine hair
There's no question why you need to approach a different routine when you have fine hair. Fine hair has a lower density of each strand, so washing it with the same technique as thick hair can lead to tangling, breakage, and further thinning. Therefore, a targeted washing routine tailored to fine hair is necessary to help your hair stay in its best condition.
Start by rinsing with lukewarm water
Lukewarm water will open the cuticles, which is good for removing dirt or product accumulated in the hair. On the other hand, using hot water can be damaging to your hair. It's relaxing and all, but it expands pores and leads to weaker hair roots within the follicle.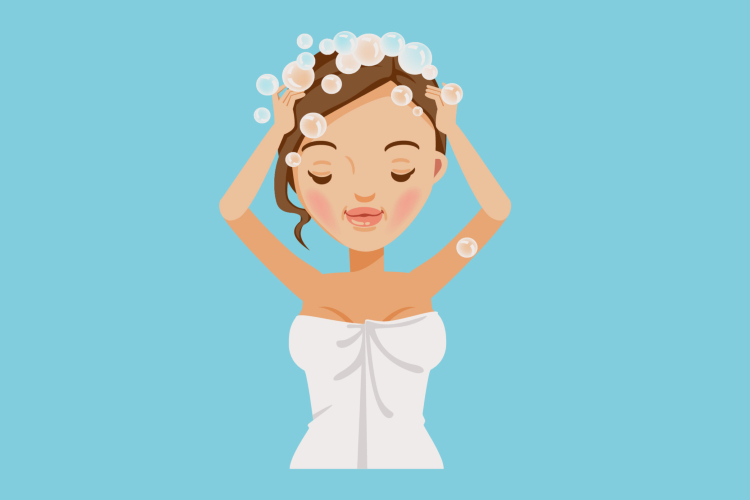 Only shampoo the scalp
The shampoo only needs to be applied to the scalp. So focus on the roots and let your conditioner and hair mask for the ends. Watch out for gentle and sulfate-free products—we recommend these organic and natural shampoos for thinning hair. Harsh shampoos can strip the hair of natural oils and weigh it down, making it look even thinner. Moreover, do not use more shampoo than you need—a pea-size amount is enough. If your hair is particularly long or thick, you may need more product.
Don't scratch your scalp
Scratching your scalp is a really bad habit for your hair. Whenever you apply shampoo, masks, or other topical products, use your fingertips and not your nails to massage them gently into your skin. The reason is simple: Friction can damage the fragile strands and cause frizz and breakage. Besides being relaxing, a scalp massage can help create an ideal environment for hair growth as it stimulates blood flow.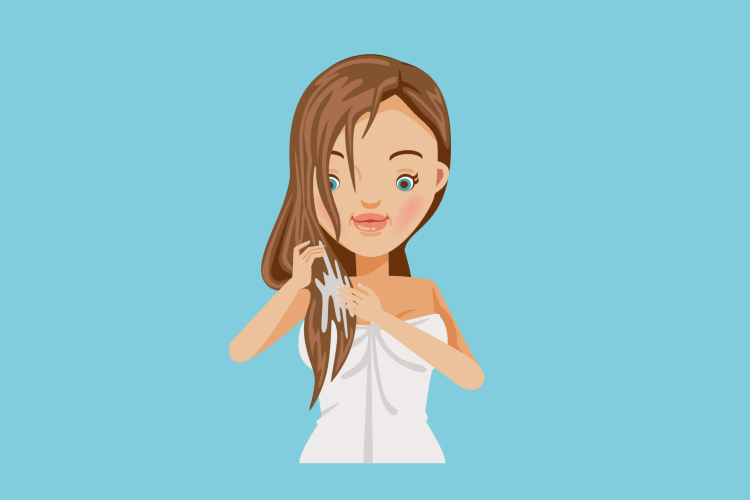 Add conditioner to the ends
When applying conditioner, hair must be damp, not dripping wet, since the water can dilute its properties. So once you've rinsed out the shampoo, gently squeeze the excess water from your hair before using your conditioner. To give your fine hair the nourishing treatment it deserves, try keeping it out of the water with a cap or clip while the conditioner soaks in. Don't rush it. The longer you let the product absorb, the happier your hair will be. Just make sure to avoid applying the conditioner to your roots because it can make them greasy.
Focus the application on the ends, which tend to be drier and more fragile than the rest of your hair. Leave the conditioner on for up to 5 minutes while you wash your body, then rinse thoroughly with warm lukewarm water. If it's a leave-in conditioner, skip the rinsing part.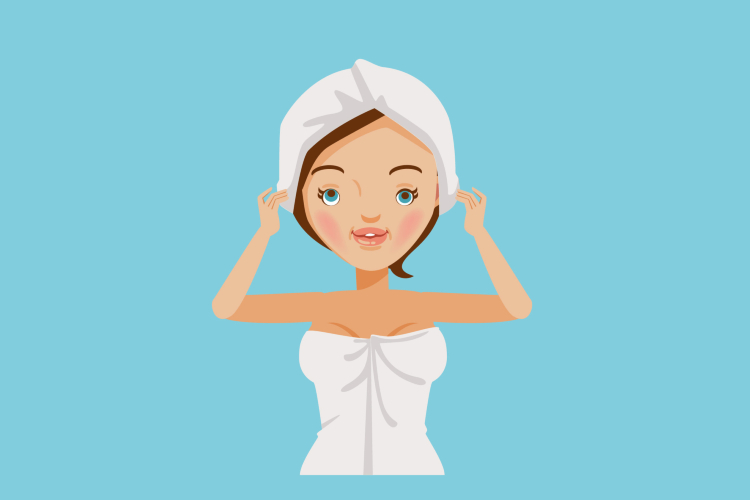 Finish by rinsing with cold water
The final step of washing your fine hair is to rinse it thoroughly with cold water. Cold water closes the hair cuticles, which are like tiny scales on each hair strand. This can make the hair smoother, shinier, and less prone to frizzing. When the cuticles are closed, the hair is less likely to lose moisture, which can help it look healthier and more hydrated.
Now, don't overlook this step. I know you might be tempted to rush through it, but it's essential to take a few minutes to remove all the shampoo and conditioner from your hair. Leaving product residues is not good for the follicles and scalp—and we don't want that.
After rinsing, don't go crazy with your towel. Instead of rubbing your hair vigorously, just do a towel-turban and let it be there for 10 minutes to absorb the excess water. Consider using a microfiber towel or a soft t-shirt. These materials are gentler on the hair and can help reduce breakage. Treat your hair like a delicate flower, and it will bloom into a beautiful mane.
Gently comb your hair after washing
Combing your hair after has dried is best—damp hair tends to break more easily. Start with a wide-toothed comb or a detangling brush to remove knots or tangles. Fine hair is delicate, so be gentle and avoid pulling or tugging on the hair. Work from the ends upward to the roots. You can use a leave-in conditioner or a detangling spray to make combing easier.
Do not rinse and repeat
There is no need to wash your hair with shampoo twice. A single application is enough. Rarely you can make an exception if your hair is filthy and you haven't managed to get it clean after the first wash.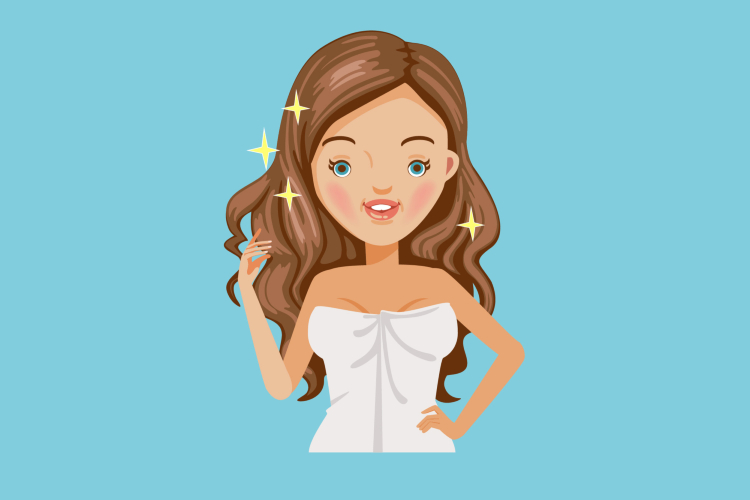 Don't overwash your hair
Here's some advice I've been giving for a while now: Don't wash your hair every day. Why? Because excessive washing dries out and weakens the strands by stripping the scalp of moisture. If there is one thing all the experts agree on, you should not wash your hair daily. Washing your hair once or twice a week is enough if your scalp is normal or dry. On the other hand, if your scalp is greasy, you should wash it more often, but no more than three times a week, and use a shampoo made for frequent use.
Use a good hair dryer
Using a high-quality hair dryer can also make a big difference for those with fine hair. Look for one with adjustable heat settings and a cool shot button to avoid damaging your delicate strands. A hairdryer with a diffuser attachment can also help to add volume and texture without damaging the stands. We recommend these hair dryers for fine hair.
The bottom tile
Let's say no to brute force and yes to technique! Be gentle, and don't overdo it. There are two golden rules when it comes to washing fine hair. If you focus only on the ends when washing your hair, they'll weaken and open up more quickly. Therefore it's easier to clean the scalp first and then go to the ends to cleanse them gently, but above all, condition them.
Sometimes it's necessary to change and break the routine. It's said that hair gets used to the same product if used for too long, making it less effective. If your shampoo does not give the same results as before, it may be time to swap it for another. Thank us later!