There are a few things to consider if you want to find the holy grail of makeup brushes — the one that has a perfect synergy with the products you use and, of course, with your skin.
So to say, the most important one is where the hair comes from. You might believe a natural hair makeup brush will do best, but actually, it might not be the ideal solution for everyone. For instance, someone can prefer natural hair brushes, but there might be cases where an allergy could be implied, and a synthetic alternative might be a better choice.
First upfront, we'll debate natural vs. synthetic — there's a lot you can pick from; you definitely don't want a brush that disturbs your skin. Synthetic hair brushes are catching up extremely fast and, in some cases, are overtaking natural alternatives in terms of performance. When it comes to natural hair for a brush, you probably wonder how was the hair obtained and how was it treated in the process of making it.
The pros of natural makeup brushes
Natural brushes are known to pick up powder pigment more effectively and blend it into the skin with less work on your part. This way, it absorbs the makeup better due to the porous cuticle structure present in natural hair. Besides, you'll have a less messy experience using a natural hair makeup brush as powdery formulas cling better to natural bristles.
The cons of natural makeup brushes
When it comes to creamy products, a natural hair brush will always absorb more product than you want; this also means it won't apply fluid products evenly. Moreover, a natural brush is much more prone to house dirt and bacteria. For this reason, you need to wash them more frequently. Plus, it can trigger allergic reactions or even aggravate sensitive skin, so know your allergies before you pick any makeup products or accessories.
The pros of synthetic makeup brushes
The synthetic ones are smoother when it comes to applying cream and liquid formulas. In comparison to natural ones, synthetic brushes enhance precision due to their shape and because synthetic bristles tend to gravitate towards one another. Besides, synthetic brushes have a bigger capacity to keep the bristles together versus natural ones that are more likely to leave hair on your face. Also, they keep their shape longer and are less likely to create irritations, as those don't get dirty as fast as natural ones.
Since synthetic hairs don't have a cuticle, it makes brushes less prone to attracting and collecting dirt and bacteria.
The cons of synthetic makeup brushes
It becomes a bit problematic when you use synthetic brushes to apply powder formulas because a poor-quality brush doesn't hold onto the product as much as a natural one. Hence, you need to be prepared to use more makeup and also get ready with a cotton pad because it might get a bit messy and off-piste. Another minus is that synthetic brushes are less flexible.
The best makeup brushes sets
That being said, we picked five of the best makeup brushes sets for each budget, different combinations of bristles textures that transform your makeup routine in pleasure, helping you get makeup-artist-like results.
---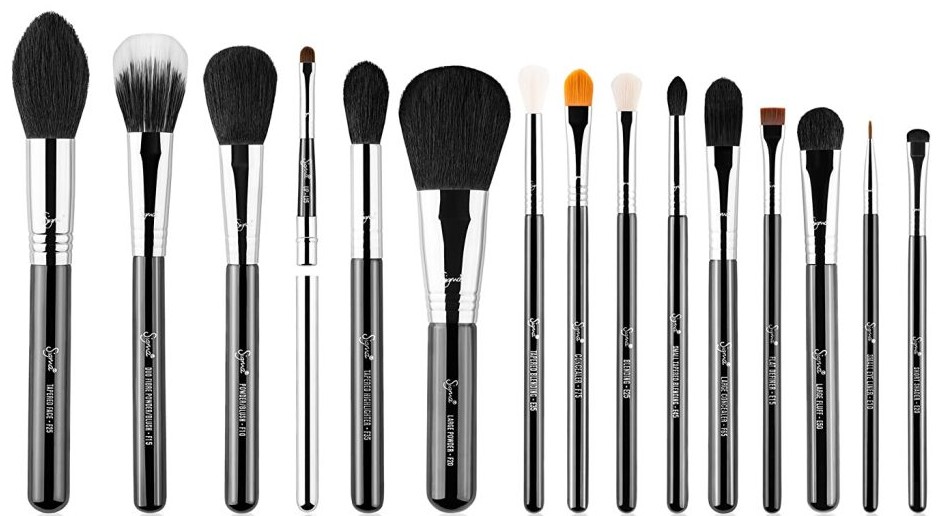 Sigma PK001 Makeup Brush Kit
Sigma is a well-known brand among makeup artists and a cult favorite. All these brushes help you blend shadows with top-quality materials, soften harsh lines, cover your lid in color, and create hair-like brow strokes, lining, contouring, plus applying foundations and powders, basically, all you need. The extra-soft fibers are synthetic, vegan, antimicrobial, and hypoallergenic to keep skin safe. This set provides your daily makeup use, and it comes in a fabulous and practical case, so you can easily carry it everywhere you need.
---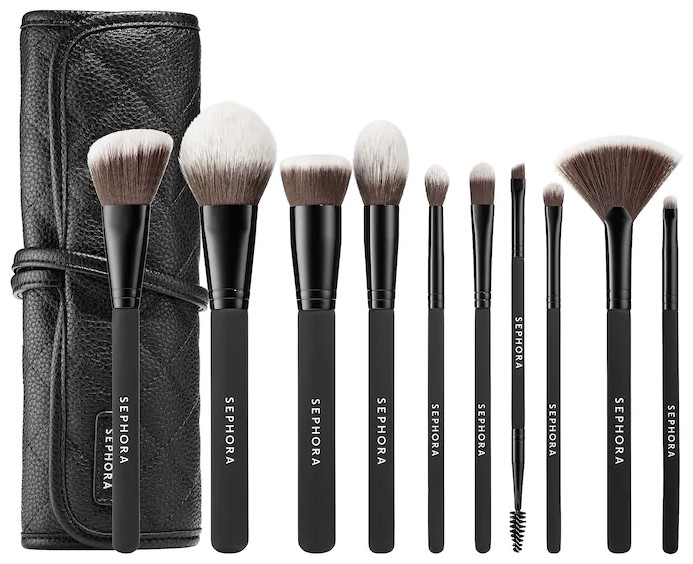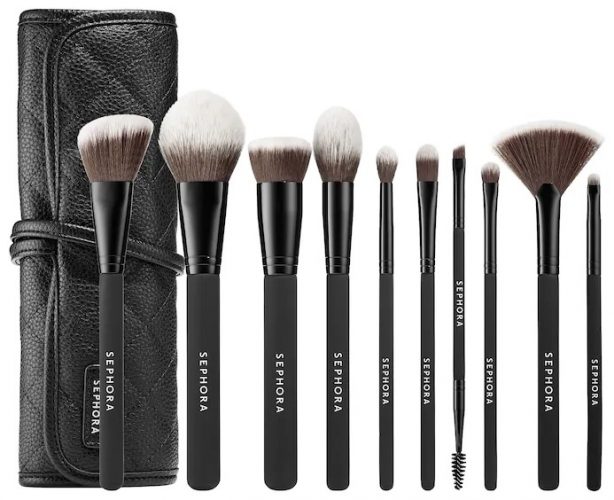 Sephora Ready To Roll Brush Set
We like this set a lot. It includes the most essentials to create a full makeup look, from eye makeup to highlight and contouring with ten brushes. Stored in a black faux leather roll, it can be fast-packed and carried everywhere, to your friend's house or vacays. It's great if you're a starter, they're super soft and amazingly good for sensitive skin.
---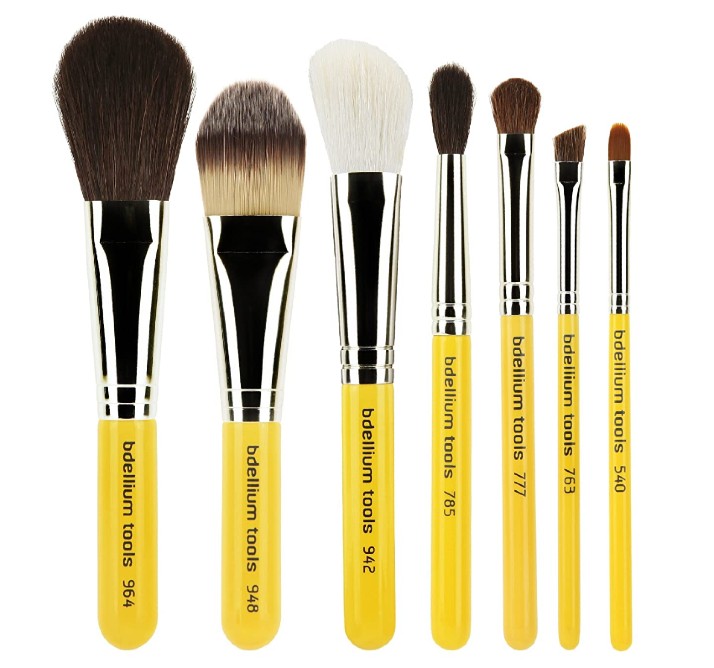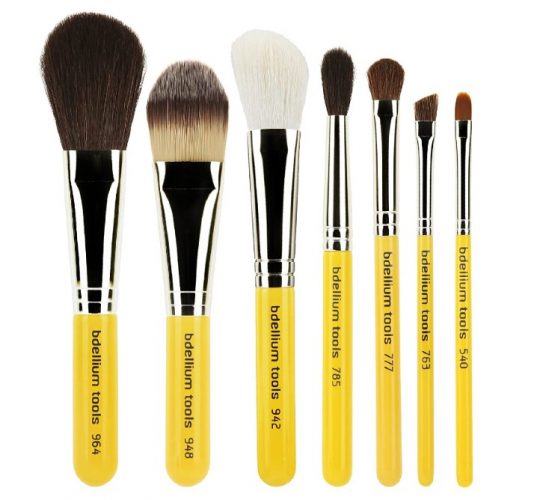 Bdellium Tools Professional Makeup Brushes
This is a brush kit that contains 24 pieces, each of them making it easier for you to apply your makeup. These brushes' hair is a blend of synthetic and natural hair — pony and goat. It's hand-crafted with a yellow wood handle and an aluminum ferrule. Also, they are eco-friendly and antibacterial and come in a nice roll easy to carry around.
---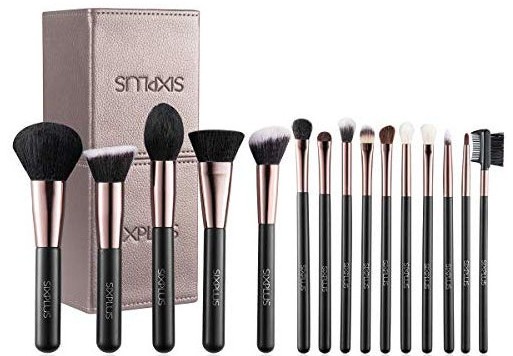 SIXPLUS Coffee Makeup Brush Set
These brushes are designed for both beginners and makeup artists, having a great design and high-quality materials. Their bristles are created with high-quality synthetic hair goat and horsehair, promising to make it as easy as possible to create fantastic looks with 15 well-shaped brushes. From foundations and powders to eye and eyebrows makeup, the set contains the minimum required for a turning-heads look.
---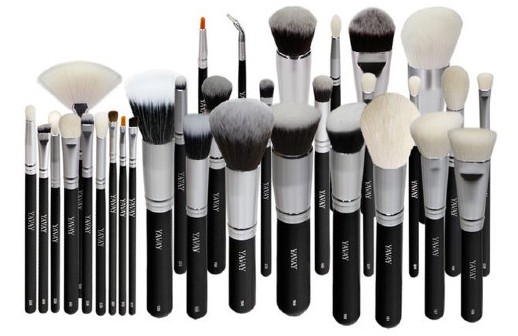 YAVAY Premium Makeup Brush Set Soft Taklon Goat
This set is an excellent choice if you want to release your inner makeup artist. It holds 32 professional-grade brushes — what you need to create a catwalk-inspired look. These brushes are handmade with a wood handle. The bristles are made of animal hair and fiber wood mixed, which makes it easier to grasp the powder, while the fiber hair does not eat the foundation. Black hair is synthetic, being designed for liquid makeup. The white hair is made of synthetic mixed animal hairs — designed for powder. This kit is really enough to achieve various looks, from simple to dramatic.
---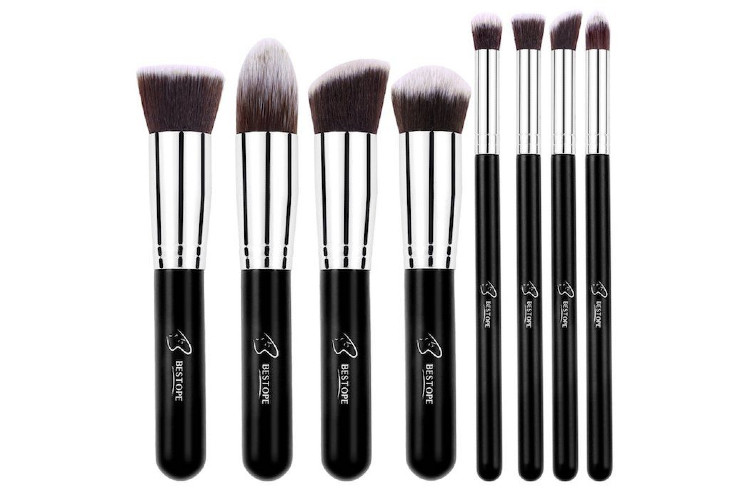 Best of Beauty Junkees Makeup Brush Set
If you're looking for a quick and easy makeup application, reach for this set of makeup brushes. Bristles are synthetic Taklon, combined with goat and horsehair that offer the softest touch, working exceptionally for liquid foundations, powdered minerals, BB creams, setting your makeup smoothly. Plus, it contains a foundation sponge, which is latex-free, safe for your skin. These brushes are perfect for stippling, buffing, blending, contouring, and finishing. The synthetic bristles are antibacterial and hypoallergenic, so no worries if you have sensitive skin. Plus, handles are created of wood, assuring strength and durability.