There is nothing wrong with having a love of beauty. For a hairy girl, the priority is to remove unwanted hair. If you are tired of shaving, waxing, or threading, it's time to grab yourself the best IPL hair removal device.
What is IPL hair removal?
IPL stands for Intense Pulsed Light, a broad spectrum of light formed by focusing and filtering a high-intensity light source, and its essence is an incoherent ordinary light rather than a laser. So how does IPL work for hair removal? When it comes to hair removal, the IPL directs light to melanin in the hair follicle, damages the hair roots, and helps break the regeneration cycle to achieve the hair removal effect. Therefore, the key to the hair removal effect is the light heat energy — the greater the energy, the greater the damage to the hair follicle, and the better the hair removal effect.
IPL vs. laser hair removal
Although the principle of both IPL and laser hair removal devices is using light to heat the hair follicles, slow down and prevent hair growth to get a hair removal result, they are completely different.
IPL hair removal system uses a broad spectrum of light with varying wavelengths, which means it has more unfocused and less targeted energy around the hair and the skin area. IPL energy is dispersed and much weaker, so it usually needs six to eight sessions to see a complete removal of hair. In contrast to IPL, professional or home laser hair removal devices use single and densified spectrum light, meaning all energy is focused on a specific area, so the effect is quicker.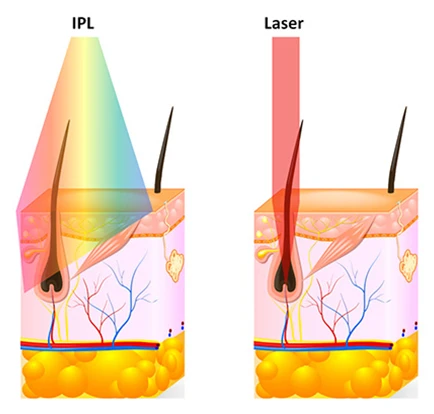 Is IPL suitable for all people?
As we mentioned before, the professional IPL permanent hair removal system works on the principle of absorption of light by the melanin in the hair. Since the IPL handset light varies in wavelengths and is unfocused on a concentrated area, the light will be absorbed in different skin depths, so IPL hair laser removal isn't suitable for the darkest skin tones as it can cause burns. By the same token, IPL works best on people who have dark hair and light to medium skin. Before you buy an at-home hair removal handset, you need to check the following color chart and skin type.

How to use IPL hair removal at home?
Literally, you can use IPL hair remover everywhere on your body, even the bikini line. To ensure an effective hair removal result, you should comply with the following steps:
1. If it's your first time using an IPL home hair removal device or after recent tanning, it's necessary to perform a skin test to see your skin's reaction to the treatment and determine the correct energy levels set for each body area. Ensure the hair is less than 0.1 inches in length before starting your hair removal treatment. Remove all visible hair by shaving cause the hair roots must be in the follicle to be targeted by the light.
2. Thoroughly cleanse the skin to ensure it's hair-free, completely dry, and free of oily residues surrounding skin, such as residues of perfumes, lotions, body lotions, sunscreens, etc. Any stubble or debris on the skin's surface will absorb the light energy rather than the energy reaching the hair follicle.
3. Your skin may show slight redness and/or may prickle, tingle, or feel warm. This reaction is absolutely harmless and disappears quickly. If you don't experience skin irritation, you can safely apply lotions, creams, deodorant, moisturizer, or cosmetics to the treated areas. But if you experience skin irritation or skin redness after treatment, wait until it disappears before applying any product to your skin.
Why do we recommend the BoSidin IPL hair removal device?
There are a lot of IPL laser hair removal handsets on the market. Some are professional, effective, and safe, while others are just scams. After some research and reading tons of reviews of different brands, we find BoSidin is absolutely a worthy investment as the brand's professional and innovative. BoSidin has been in the hair removal industry for more than 10 years. As the saying goes, concentration and hard work can make dreams come true. BoSidin OPT hair removal devices were welcomed by customers as soon as it was launched. The unique, luxurious, and textured design helps the device stand out from competitors and gains the honor of German Reddot 2020. Not to say all of BoSidin's hair removal machines are approved by the FDA.
In order to make hair removal treatments safer and more effective, BoSidin has carried out technological innovation. The technology they use is the latest generation of Optimal Pulse Technology (OPT), which combines the strength of the IPL and Laser technology. It can filter out 99% of the light that cannot reach follicles and balance the light distribution so that each hair absorbs exactly the same amount of energy. In other words, it increases the success of hair removal. Unlike other hair removal devices that can only emit light at a single high-powered frequency, BoSidin Minis can emit light twice a time, making hair removal more effective.
Pros
The benefits of BoSidin are undeniable. It's FDA-cleared, pain-free, and effective. It also has unlimited flashes. All the hair removal devices have six optimized modes, you can choose hand, leg, armpit, face, private parts, and SR mode. The energy varied from different modes.
What I want to emphasize is its SR function. BoSidin uses red light rejuvenation to boost collagen production, protect existing collagen and elastin, and reduce wrinkles and fine lines. It is very friendly to beauty lovers. In general, both the hair removal and anti-aging function is similar but faster than the beauty salon.
Cons
Compared to big brands like Philips and Braun, the BoSidin hair removal machine is not as famous. However, it's worth every dollar that you pay. BoSidin offers an incredible return policy, that's 180-days money back and a 2-year warranty!
What to expect after using BoSidin IPL hair removal device?
As everyone's hair growth cycle is different, the results will vary. The IPL hair removal device only works on the hair in the growing phase. Normally, you will notice a hair reduction after 2-3 treatments. The new hair that was not in the growing phase will become thinner and softer. Needless to say, to deal with all phases of hair, it's important to keep on treating according to the recommended treatment schedule. After about eight treatments, you will get smooth and flawless skin.
---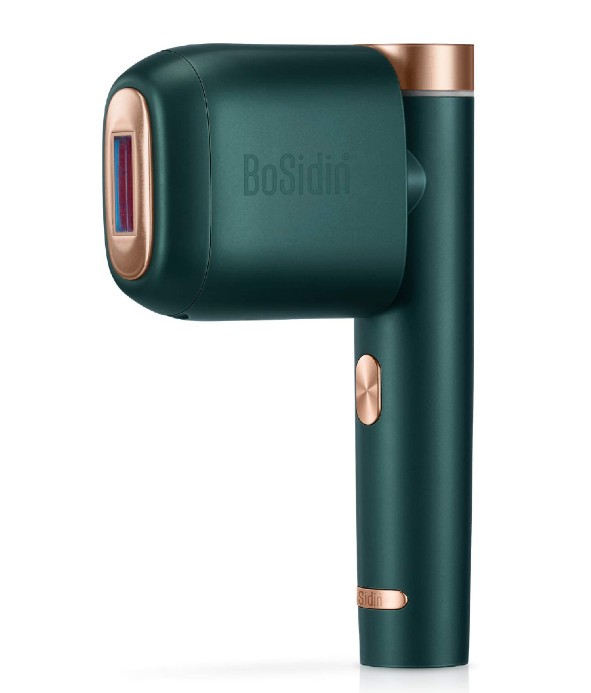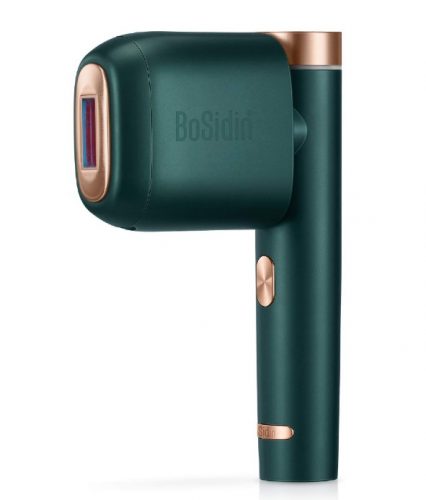 BoSidin Painless Permanent Hair Removal Device
---
The takeaway
If you're going to try BoSidin hair removal device, you can use our exclusive discount code "womensconcepts" to get $50 off. You can purchase the device from here. Bear in mind that we will make a small commission if you purchase through our link. Thanks for your support!