Probably you've heard a lot lately about cannabidiol oil (also goes by CBD) as it has been creating quite a noise in the wellness and skincare world. The benefits of cannabinoids are staking their claim to the beauty reals thanks to their healing, calming, antibacterial and anti-inflammatory properties. While these types of oils have come under a lot of legal and moral questions, you can't ignore the incredible healing power that they possess and how versatile they are as a natural remedy.
How CBD oil can improve your skin
Read on to learn about the most exciting benefits CBD oil has for the skin and the most popular products that contain this wonder compound.
1. Relieve skin irritations
The application of CBD oil relaxes and soothes skin and can be used to treat dry skin, rashes, and some types of eczema. Cannabis infusions act on a peripheral basis without entering the bloodstream. It can definitely be safely used with zero psychoactive effects on your body or any risk of failing a drug test. In 2017, a group of researchers conducted a study at the University of Colorado Anschutz Medical Campus on how cannabinoids could be used in the treatment of a wide range of skin diseases. By the end of the study, 8 out of 21 patients who applied a cannabinoid cream twice a day for three weeks wholly eliminated severe itching or pruritus.
2. Soothe dry Skin
The phytocannabinoid is mild enough for delicate skin. Topical CBD is not only gentle and non-irritating but it's also thought to help soothe skin. Having a perfect balance of EFA, omega 3 and 6, naturally and effectively nourish and moisturize dry skin. When applying a topical CBD cream, the cannabinoid goes to work directly with the endocannabinoid system (yes, our skin produces that) in the skin to create a synergistic harmony. In turn, activation of cannabinoid receptors by endocannabinoids on epidermal cells regulates the skin's normal barrier function.
3. Balance sebum
CBD helps sop up excess oils on the complexion, slowing the secretion of sebum. Cannabis skincare products are not clogging pores, as they are noncomedogenic due to CBD's anti-inflammatory properties. Look, this study showed that CBD inhibited and helped regulate lipid production, helping to combat excessively oily skin.
4. Delay skin aging
Another study revealed that the compound found in cannabis is a more potent antioxidant than vitamin C or E, making it useful in the fight with wrinkles and fine lines. Also, it neutralizes free radicals, unstable molecules unleashed by environmental aggressors, such as UVA/UVB rays and pollution, and stops them from damaging the collagen and elastin, keeping your skin tight and youthful.
5. Relieve itchy skin
According to the Journal of the American Academy of Dermatology (JAAD), one of the most promising uses for CBD is treating itchy skin. JAAD cited a 2005 study trusted source that claimed that 81% of patients with itchy skin who used a CBD-containing cream experienced complete resolution of their symptoms.
6. Reduce acne
Most research about CBD and acne is related to CBD's power to stop the processes known to cause acne, such as excess oil buildup. One of the most promising studies was published in The Journal of Clinical Investigation Trusted Source, where researchers measured CBD compounds' effects on human skin samples and sebum-producing glands in a laboratory.
The result? CBD inhibited oil production and also had an anti-inflammatory impact on oil-producing glands. This because cannabis is loaded with essential fatty acids that provide hydration so the skin won't attempt to secret more sebum. Furthermore, its antibacterial properties can help treat bacterial infections on the skin — a significant contributor to acne.
7. Alleviate psoriasis
Psoriasis is a skin condition characterized by itchy, painful red patches on the skin, and currently, there is no known cure for it. Cannabis, however, is proving to be a powerful treatment for psoriasis. According to a study made in 2007, the cannabinoids in cannabis were found to inhibit dead skin cells' buildup, which is a direct cause of psoriasis.
Our favorite products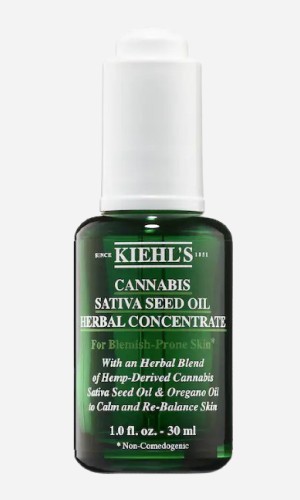 Kiehl's Cannabis Sativa Seed Oil
Infused with cannabis Sativa hemp-derived seed oil, it's great for acne-prone skin as it's non-comedogenic. It aims to reduce redness, even and calm your skin every time you apply it. Also, its formula is enhanced with green oregano oil, peppermint, and sunflower oil.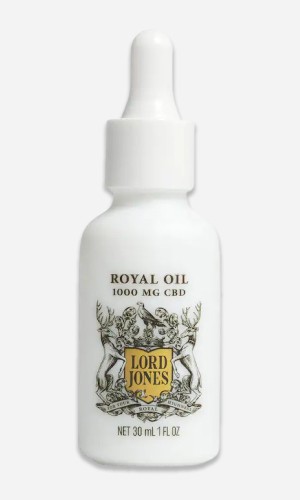 Lord Jones Royal Pure CBD Oil
So popular! This one is great for dry skin, fine lines, and uneven texture since it contains CBD oil and grape seed oil, rich in antioxidants and fatty acids. It provides extreme moisturization while being vegan, clean, cruelty-free, and zero THC.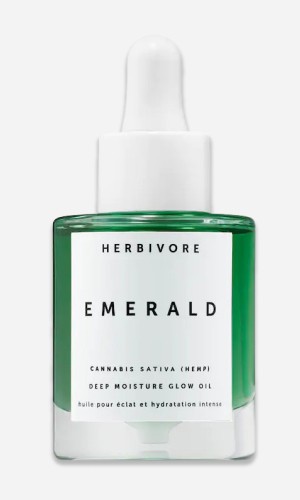 Herbivore Emerald Hemp Seed Deep Moisture Glow Oil
Created to support skin hydration but also to give you back that glow. The lightweight formula works great for dry and mature skin, and the addition of squalane, meadowfoam seed oil, aloe, and adaptogens, to name a few, make it even better! And it's all vegan and clean!