Fact-checked by Ana Vasilescu.
Did you catch a glimpse of a new wrinkle in the mirror? That's your body asking for more collagen. Collagen is an essential building block of the skin that holds all the cells together and provides structure and elasticity. When the levels of this protein go down—which usually happens due to aging and sun damage—your skin loses firmness and creates the breeding ground for fine lines and creases. The good news is that you can replenish collagen and get that bouncy look back. Sure, slathering retinol serums and putting on LED masks can give you a boost, but the best way to do it is to consume collagen, whether from foods or supplements.
With collagen powders, you can drink your way to tighter, hydrated, and less wrinkly skin. You can do it while sipping on a delicious smoothie or mixing it into your morning coffee. To help you sort the vast supplement aisle, we've decided to look at the best collagen powders and pick those with the most skincare benefits. Our top picks don't just stop at collagen—they're packed with other ingredients to improve your skin.
What are the benefits of consuming collagen powders for the skin?
Taking collagen supplements, whether in powder or capsule form, has a multitude of benefits that aren't just limited to your skin. Your hair, joints, muscles, and overall wellbeing will also benefit from them. The body's natural response to collagen intake is to stimulate the production of more collagen. Collagen powders are formulated with hydrolyzed collagen, which has been broken down into smaller molecules that can be readily assimilated by the body. They're also easy to add to drinks and meals.
As far as skin is concerned, studies have shown that collagen supplements can help maintain its elasticity, reduce the appearance of wrinkles, and increase hydration to make it look and feel supple.[1][2] It's worth noting, however, that collagen powders are not a miracle cure for aging or a magic bullet. It's important to also focus on a healthy diet, good sleep habits, and sunscreen to protect your skin's collagen.
Which type of collagen should you take?
There are 28 different forms of collagen, each with potentially different benefits. But don't worry, because you only need to focus on a few. Actually, only one type makes up 90% of the body's total collagen content, and that's type I, which is found in everything from your skin to your hair, nails, bones, and ligaments.[3] Supplements that target skin beauty typically contain collagen types I and III.
The best collagen powders for skin
---
Physician's Choice Collagen Powder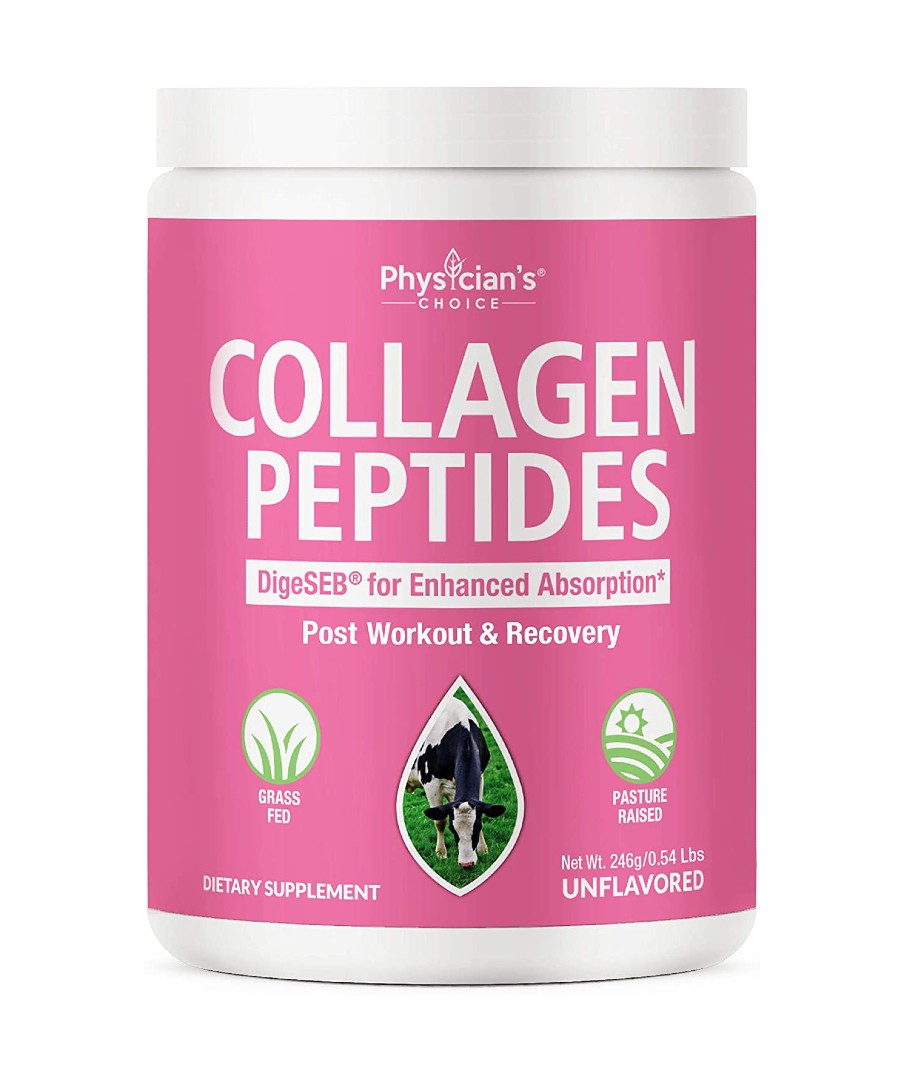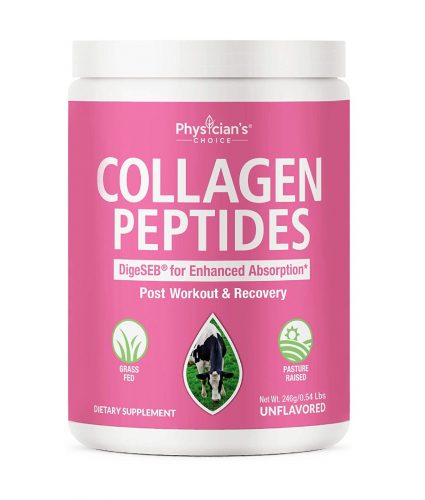 Each scoop of this powder will give you 7g of hydrolyzed bovine collagen (types I and III), just 25 calories, and no sugar at all. If you're asking, yes, these are the types of collagen that will replenish your skin. What we like the most about these supplements is that the brand uses a proven bio-availability agent DigSEB, a digestive enzyme complex, to enhance the absorption of collagen. We give them extra credits because they're keto-friendly and unflavored, so they won't ruin your coffee.
---
Vital Proteins Collagen Peptides Powder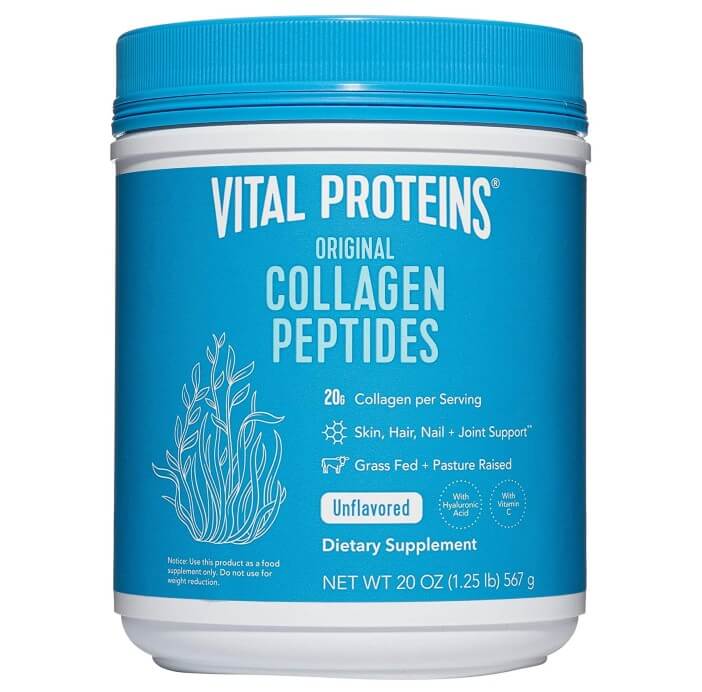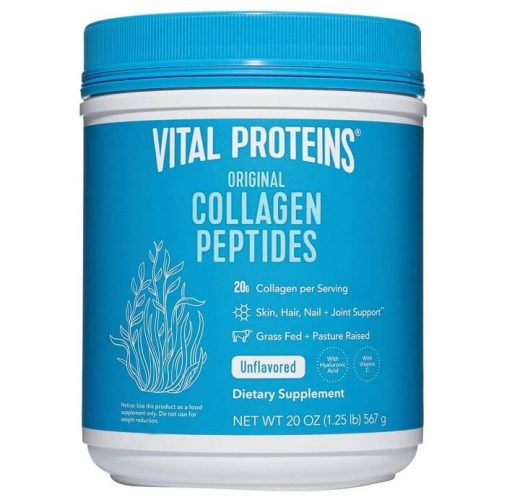 Jennifer Aniston kicks off her day with a cup of coffee spiked with this collagen powder. Packed with 20 grams of collagen peptides, 90 milligrams of pure vitamin C, 80 milligrams of hyaluronic acid, 110 milligrams of sodium, and only 70 calories, each serving is a cocktail of skin-loving nutrients—and it's also sugar-free, unflavored, and gluten-free. This combination of supplements is actually one of the best you can give your skin. Both hyaluronic acid and vitamin C work together to give collagen production a major boost and have been shown to improve aging signs and relieve dryness.[4][5] Vitamin C goes the extra mile by strengthening the body's antioxidant defenses, which is essential for protecting the skin from sun damage and pollution.
---
Pure Gold Collagen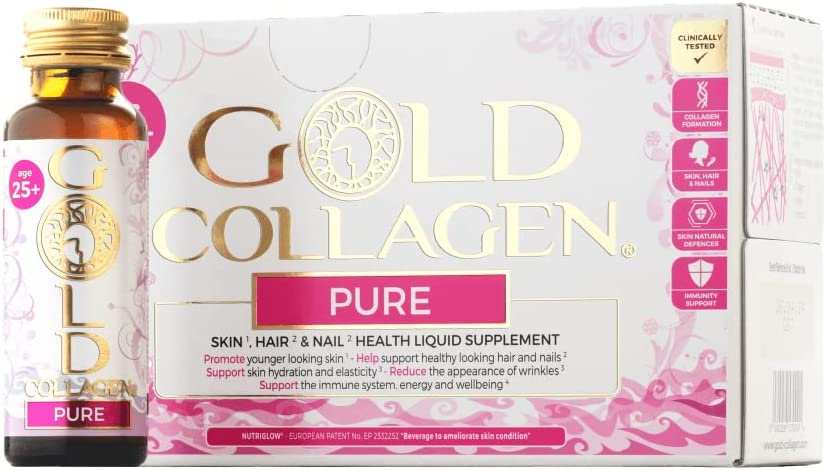 Though not as popular as the others and not technically a powder, we want to give a special shoutout to Pure Gold Collagen. It's the first-of-its-kind liquid collagen drink that has proven some serious skincare benefits in clinical trials. According to a study, drinking just 50 mL of Pure Gold Collagen daily for two months helped reduce skin dryness and wrinkles and led to a major improvement in collagen density and skin firmness.[6] The secret? Each bottle contains a whole host of active ingredients, including a hefty dose of 5000mg hydrolyzed collagen—some of the highest in OTCs. There's also 80mg of vitamin C, which is 100% of the daily recommended intake, vitamins E and B6, biotin, zinc, copper, and hyaluronic acid. While this collagen drink is not the most affordable—for a whole 90-day treatment period, you'll have to get nine boxes for a total of $449—it's definitely worth saving for.
---
Besha Verisol Natural Collagen Powder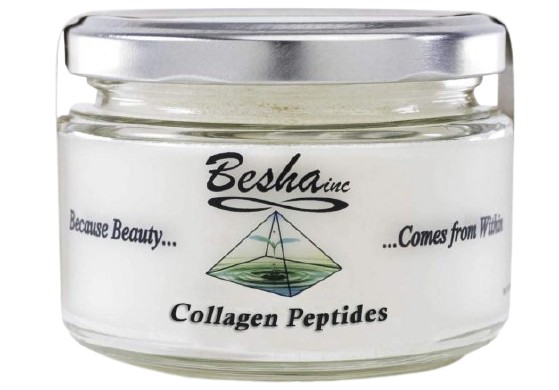 If you're looking for a collagen powder with no extras and minimal calories per serving, this is it. This supplement has undergone rigorous third-party testing to ensure that it's both pure and potent, and it's made using a specific type of collagen peptide called Verisol. In one study, regular consumption of 2.5mg of Verisol led to a reduction in crow's feet and a meaningful increase in protein production in middle-aged women.[7] With each scoop containing a generous 2.9g of this powerful collagen protein, you can be sure you're getting a potent dose of skin-boosting benefits. And with only 10 calories per serving, you can have your collagen and eat your cake too!
---
Revive Naturals Multi Collagen Powder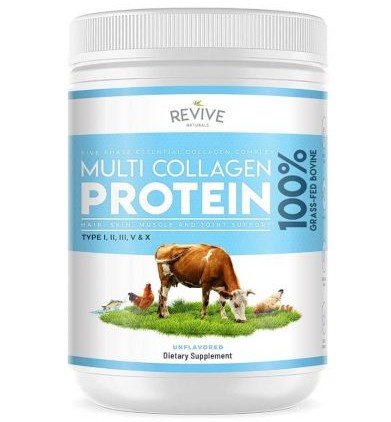 This multi-duty powder packs all the collagen types our body naturally craves to keep everything inside healthy. With a whopping 15.6g of collagen peptides per serving, your skin will be grinning from ear to ear with happiness. While the gluten-free and unflavored formula are added bonuses, the supplements are a bit higher in calories than the others and contain fish and egg—just a heads up for all the vegans out there.
---
Perfect Keto Collagen Peptides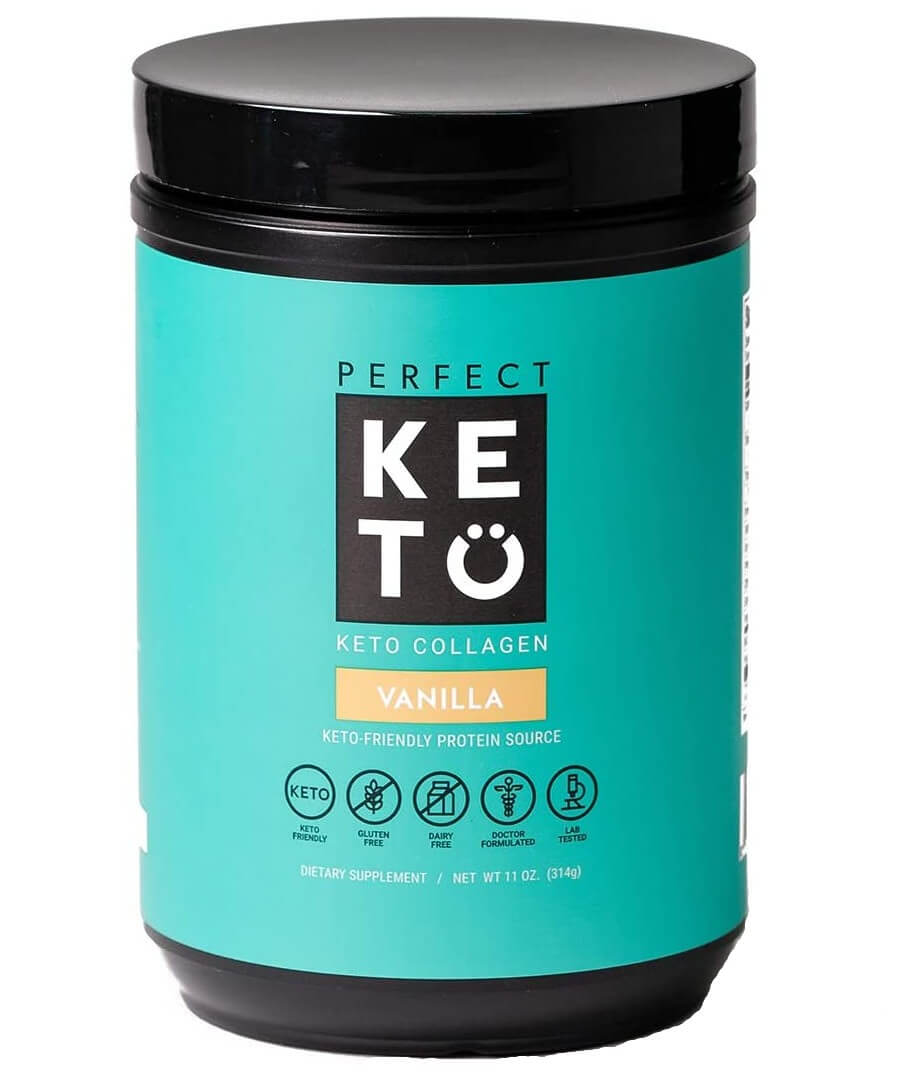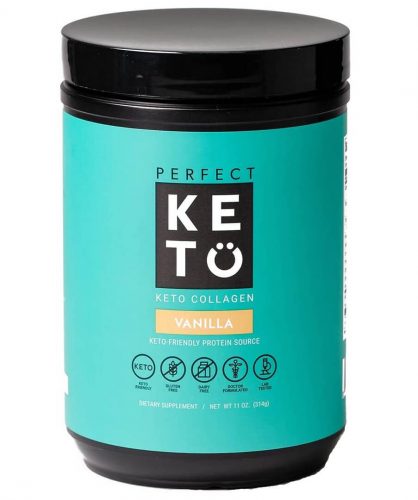 If you want a collagen powder that not only gives you a boost but also adds some flavor to your drinks, then this one is a winner. It comes in a range of subtle flavors, from chocolate to salted caramel and vanilla, to keep your taste buds happy. And the best part? It dissolves quickly in every drink. Each scoop is packed with 10 grams of hydrolyzed collagen protein and 5 grams of pure MCT oil powder, which your body can use for recovery instead of converting it to glucose. You can use it as a morning pick-me-up or pre-workout fuel, as the protein helps suppress hunger and appetite. And with only two net carbs per serving, it's the perfect collagen powder for low-carb diets. Plus, it's gluten and dairy-free, making it suitable for those with dietary restrictions.
---
How to intake collagen powder
Most people consume collagen powder by stirring it into a glass of water, juice, coffee, or tea. Collagen powders can be mixed with hot drinks. Due to the high number of amino acids they contain, which are heat-tolerant, collagen powders are heat stable up to 300°C—a temperature far greater than regular cooking and baking. As the water boils at 100°C, you can mix collagen into hot drinks, soups, and stews without weakening its properties. You can also bake or cook with it or put it in ice lollies.
---
Footnotes
Women's Concepts uses reliable sources, including dermatologists' insights, clinical trials, and scientific journals, to find accurate information and support all the facts shared in our articles. All statements and claims have clear and legit references. Read our editorial policy to learn more about our sources of information, our process of researching and fact-checking the content, and how our team strives to keep all articles updated, completed, and trustworthy.