Retinol is the ultimate buzzword in the beauty world, with everyone from derms to skincare gurus endorsing it for its ability to tackle a wide range of skin issues. From the telltale signs of aging to acne, dark spots, and overall skin appearance, this vitamin A derivative is a true standout, making retinol serums the best solution for great skin.
However, as good as it is, retinol has some caveats: It can cause irritation, especially when you first incorporate it into your skincare routine. That doesn't mean retinol is not working. On the contrary, the powerful molecule works by speeding up cell turnover, and dryness and flakiness occur as a result of the lag between the time dead cells slough off and new ones replace them. So don't jump in headfirst when adding retinol serum to your routine—take it easy and go slow to avoid a skin freakout.
How to use retinol serum
Always start with a fresh canvas to allow retinol to work effectively. Cleanse your face to remove makeup and sunscreen residues, then pat it dry. Using a retinol serum on damp skin can increase penetration and the risk of triggering irritation, so ensure your skin is completely dry.
Dispense a pea-sized amount of retinol serum onto your fingertips and gently massage it across your face, neck, and décolleté, avoiding the eye area. Ideally, wait a few minutes to allow it to fully absorb into the skin before applying any additional products on top. Although not necessary, following up with a moisturizer after retinol can help restore your skin's moisture barrier and combat flakiness and peeling.
To maximize the effectiveness of your serum and minimize the likelihood of irritation, start using it once or twice a week to see how your skin reacts and gradually work up from there as your skin adjusts to it and builds tolerance. And avoid mixing it with drying and exfoliating ingredients, like glycolic acid, salicylic acid, and benzoyl peroxide.
Also, the most common retinol mistake people make is starting with a concentration higher than their skin can tolerate. A concentration as low as 0.3% to 0.5% is what most dermatologists recommend for new users. Once your skin has adjusted to the ingredient, you can gradually increase the concentration over time. If retinol serum continues to cause you redness, try buffering it with your moisturizer—apply both products at the same time to dilute the retinol and make it less harsh.
When to use retinol serum
The best time to apply your retinol serum is at night. That's because retinol and sunlight aren't friends. Not only does retinol makes the skin more sensitive to sunlight, but it also breaks down in the sun, rendering it ineffective—that's why you'll usually see retinol housed in dark bottles.
The best retinol serums
Now that you know all the how-tos and your skin is ready for retinol serums, here are the best options to try. They go from gentle products great for newcomers to more transformative formulas for retinol pros.
---
Best overall
SkinMedica Retinol 1.0 Complex
This potent serum is made with 1% retinol, so it's dedicated to those who have already built up a tolerance to less concentrated formulas. In addition to promoting youthful skin, this formula features a strategic blend of ceramides and soybean oil to fortify your skin's natural barrier, while squalane and niacinamide work together to keep your complexion hydrated and moisturized all night long. Plus, with soothing magnolia bark extract thrown into the mix, you'll wake up feeling like you just got a full spa treatment.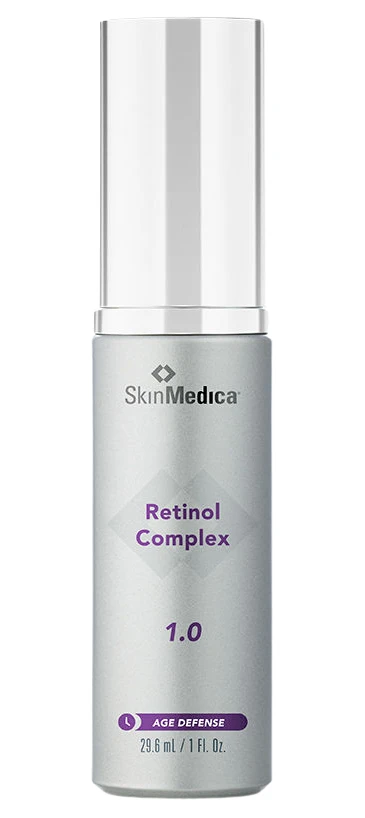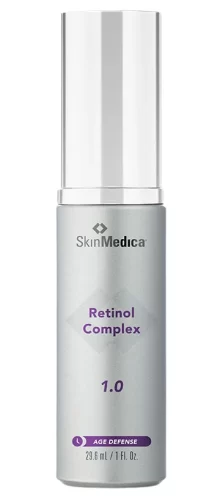 ---
Best for deep wrinkles
Murad Resurgence Retinol Youth Renewal Serum
Murad stepped it up a gear with their serum, which is not your average retinol product. Placing a tri-active retinol technology within the formula, it really does the heavy lifting when it comes to smoothing wrinkles. The serum balances a fast-acting retinol with another retinol that acts as a slow overnight drip, minimizing irritation but maximizing results. To finish this off, a retinol booster increases cell turnover for more anti-aging benefits, while the added plumping action of hyaluronic acid increases hydration. It's no wonder why the serum is a best-seller.


---
Best for budget
The Inkey List Retinol Anti-Aging Serum
Check out my ultimate favorite budget-friendly option for a retinol serum: The Inkey List. This brand is one I could talk about for days, and their retinol serum is nothing short of amazing due to its simplicity. It combines 1% retinol with 0.5% granactive retinoid, which works gradually overnight to minimize wrinkles, even out skin tone, and fight acne without causing any irritation. To further soothe and hydrate, they've added squalane, making this serum an absolute winner. I give it a complete chef's kiss!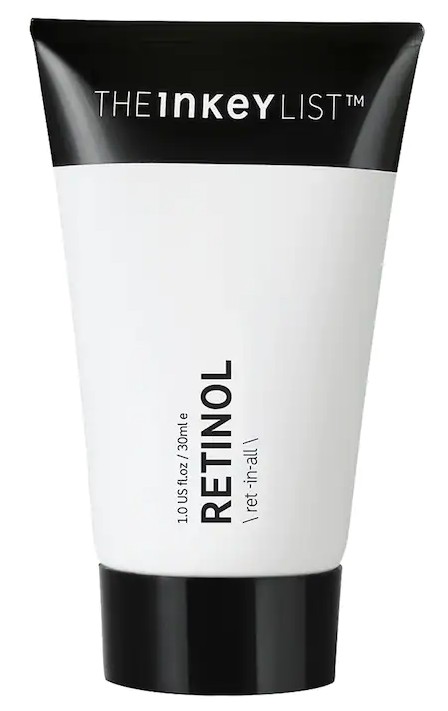 ---
Best for fast results
StriVectin Advanced Retinol Nightly Multi-Correct Serum
This silky serum not only promises to give noticeable results in one week but it delivers the do-it-all power of retinol without causing any common sensitivities on the skin. That's because, in addition to retinol which works to reveal a smoother and youthful-looking complexion, the super-concentrated serum contains polyglutamic acid to counteract the possible drying effects. On top of that, it features the brand's signature NIA-114™, which is an improved form of niacinamide that fortifies the barrier, hydrates, and brightens.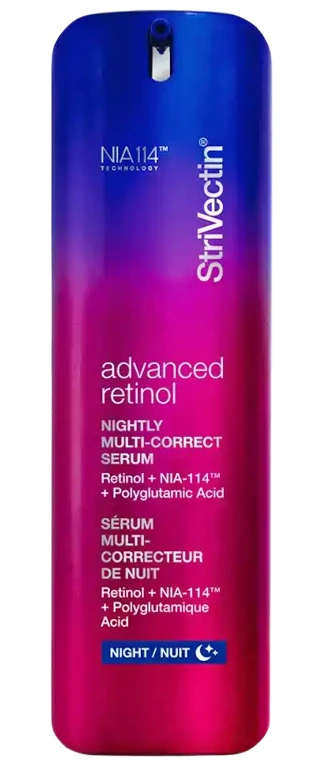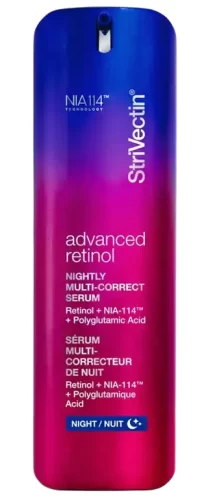 ---
Best for dry skin
Mad Hippie Vitamin A Serum
Introducing Mad Hippie Vitamin A Serum, the next-level serum feared by wrinkles and sun damage alike. The formula boasts a form of vitamin A that is twice more bioavailable than retinol, as it doesn't need any conversion steps in order to become effective. Also packed with vegan-sourced ceramides and sodium hyaluronate, this serum deeply hydrates and penetrates the skin for a plump and resilient complexion. It's ideal for normal and dry skin types, but those with oily skin should take note as it contains coconut oil, which can clog pores.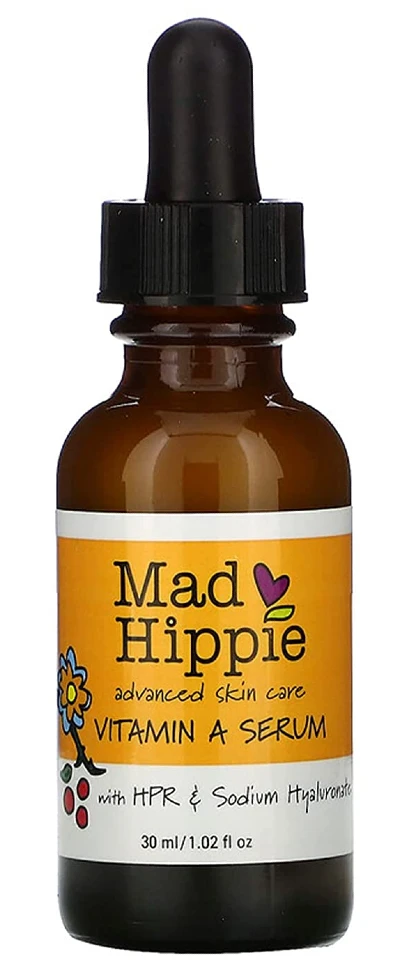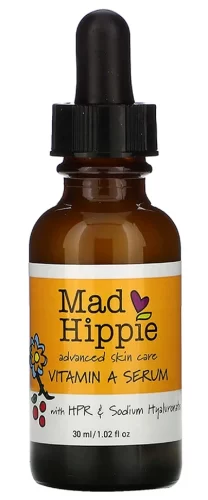 ---
Best with a blend of retinoids
Sunday Riley A+ High-Dose Retinoid Serum
Sunday Riley is confident enough to give their night serum an A+ because they packed the formula with ingredients to provide visible, long-lasting results. You'll find a 6.5% blend of stabilized retinol and retinol-like botanical extracts to grant you youthfulness, clarity, and radiance without needing a prescription. And then, to soothe and minimize irritation, you'll find Hawaiian white honey, bisabolol, and cactus extract. It works great for all skin types, and it goes on like a dream with its lightweight yet rich texture that's never sticky or tacky.

---
Best for sensitive skin
The Ordinary Granactive Retinoid 2% Emulsion
If you want to improve your skin through retinoids but worry about irritation or whether it'll disrupt sensitive skin, The Ordinary's Granactive Retinoid could be your answer! This product uses a gentle form of retinoid ester that has been encapsulated in a delivery system to protect the molecule from breaking down and causing irritation on the skin. By doing so, it effectively and gently combats signs of aging and reduces acne. For such an effective product, this serum has a wicked-good price point too.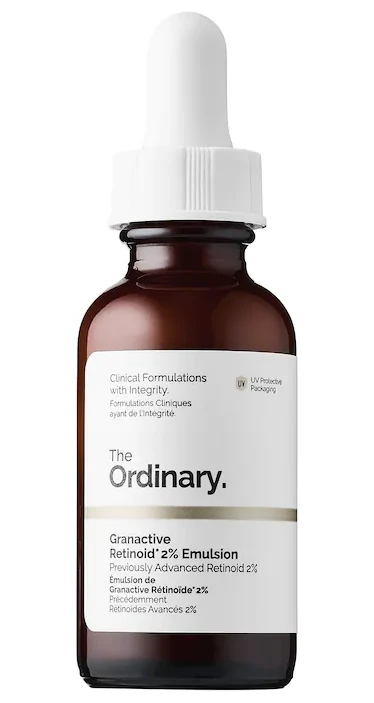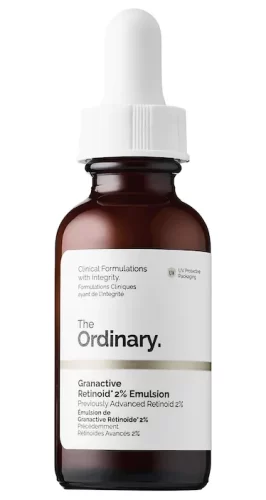 Related: Learn How To Use Retinol On Sensitive Skin
---
Best with retinol alternative
Biossance Squalane + Phyto-Retinol Serum
If you're looking for a natural way to target fine lines, wrinkles, and sun damage, this is the serum you've been waiting for. Made with a powerful blend of natural ingredients—including a retinol alternative (bakuchiol), squalane, hyaluronic acid, and niacinamide—it delivers visible results while locking in moisture and leaving your skin with a healthy, glowing appearance. And best of all, the EWG-verified formula is non-toxic and free of fragrances, making it the perfect choice for those with sensitive skin. And with its recyclable packaging, you can feel good about not only improving your skin but also doing your part for the planet.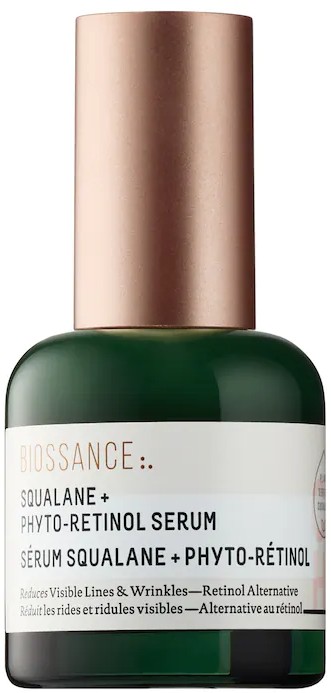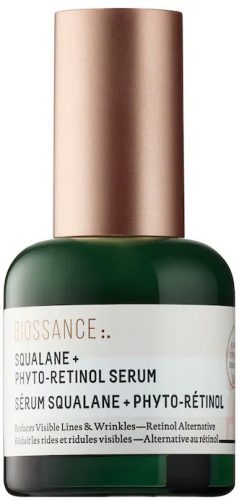 ---
Best drugstore
Neutrogena Rapid Wrinkle Repair Serum
Neutrogena serum combines retinol with hyaluronic acid and vitamin C to address the most tell-tale signs of aging: wrinkles, dark spots, and dehydration. The silky formula absorbs super fast without ever peeling, and it leaves the skin visibly hydrated. It earns bonus points for the pump applicator that dispenses the perfect amount of product every time and keeps the ingredients protected against the daily environment.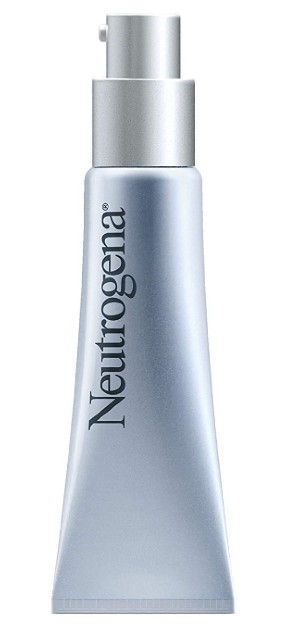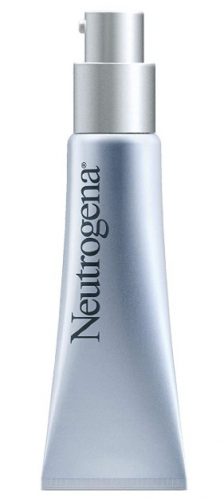 ---
Best for uneven skin texture
Dr. Dennis Gross Advanced Retinol + Ferulic Texture Renewal Serum
Here is a retinol serum (created by a dermatologist) that's a game-changer for anyone looking to improve their skin's texture and tone. It blends two gentle forms of retinol with bakuchiol to encourage skin renewal and enhance its overall appearance, making it an excellent choice even for those new to the world of retinol. Plus, with the added benefits of lactic and salicylic acids, you can expect mild exfoliation to reduce blemishes and resurface the skin. What sets this serum apart is that it's suitable for use in the morning; just be sure to follow up with a layer of sunscreen with at least SPF 30.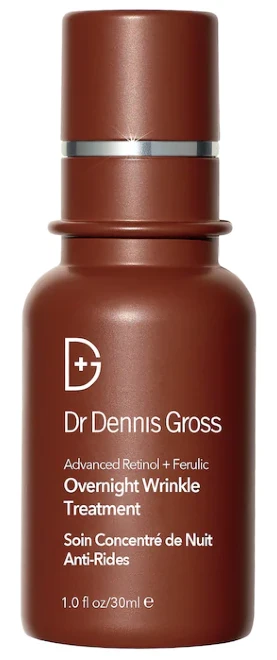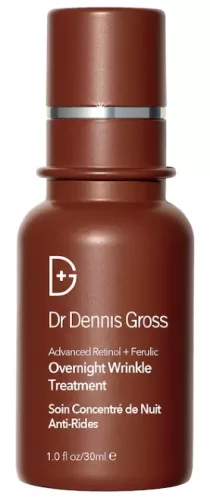 ---