We updated this on the 28th of March 2023 to reflect newly released LED masks and remove the discontinued products. We also gathered more information to give you the best treatment.
A lot of skincare tools that promise to diminish aging signs come and go, but LED masks have stood the test of time and continue to be the go-to option for wrinkle-fighting treatments at home. While they're indeed doing a much better job as a preventative treatment, these cutting-edge devices have shown promising results in improving the appearance of aging skin. They're certainly effective—science proves it—and provide even better results when used along with a consistent routine.
But here's the thing: not all LED masks have rejuvenating effects.
To help you find the right product, I researched the best LED masks for wrinkles based on clinical results, wearability, power level, and customer satisfaction. I also included my favorite device that I've been using for over a year and shared a guide on how to use LED masks like a pro and what skincare to apply after to boost the results. So hand tight.
How do LED masks reduce wrinkles and how to choose the right one?
In essence, LED masks emit low-level light of various colors onto the skin to activate specific reactions within the cells. With different colors and wavelengths, these masks can reach varying depths of the skin and address concerns such as wrinkles, acne, and hyperpigmentation. Rest assured, the procedure is completely non-invasive, painless, and doesn't cause any damage, so there is no downtime required for recovery.
Now speaking of aging signs, it's best to use a LED mask that works with red or near-infrared light therapy. Both red (in wavelength of 640 nm) and infrared (in wavelength of 830 nm) lights have been clinically proven effective in diminishing wrinkles and improving texture and tone.
Unlike other colors, red and infrared can penetrate deep enough into the skin to trigger cells to produce more collagen and elastin—two essential proteins that give the skin firmness and strength.[1] The biochemical effects triggered by LED masks also stimulate blood flow, boost the amount of energy stored in cells, increase nutrient absorption, and heal and regenerate the skin.[2] Basically, everything these masks do leads to a plumper complexion that's healthy and more youthful.
Now scroll on to see Women's Concepts' favorite picks.
The best LED masks for anti-aging
From affordable options to more expensive medical devices, flexible or travel-friendly, these are the best anti-aging LED masks designed to combat wrinkles and firm the skin that our expert team swears by.
---
CurrentBody Skin LED Mask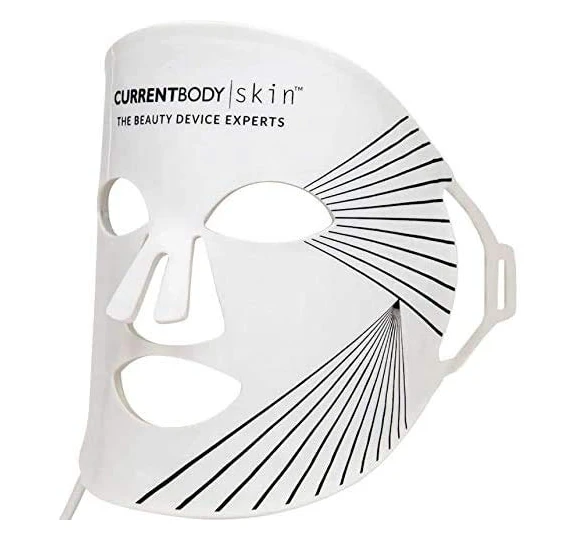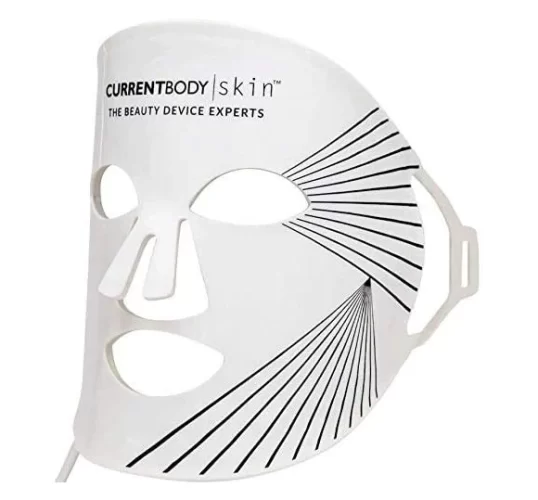 I added CurrentBody Skin LED Mask to my skincare routine more than a year ago and have used it constantly ever since. Just for the record, I've tested three other LED masks before, and this one is by far my favorite. I have almost no wrinkles to diminish, but CurrentBody surely did a great job of firming and smoothing my skin, and I can feel it's working damn well in keeping aging signs long away from my face.
For starters, it's made with both red and near-infrared lights at the optimal wavelengths to maximize the production of collagen and elastin. Moreover, the mask is FDA-cleared for safety and efficacy and has been clinically proven to reduce fine lines by an impressive 35% in four weeks. It also soothes redness and lightens skin pigmentation, so your complexion looks smoother and brighter after each use—I can attest to it.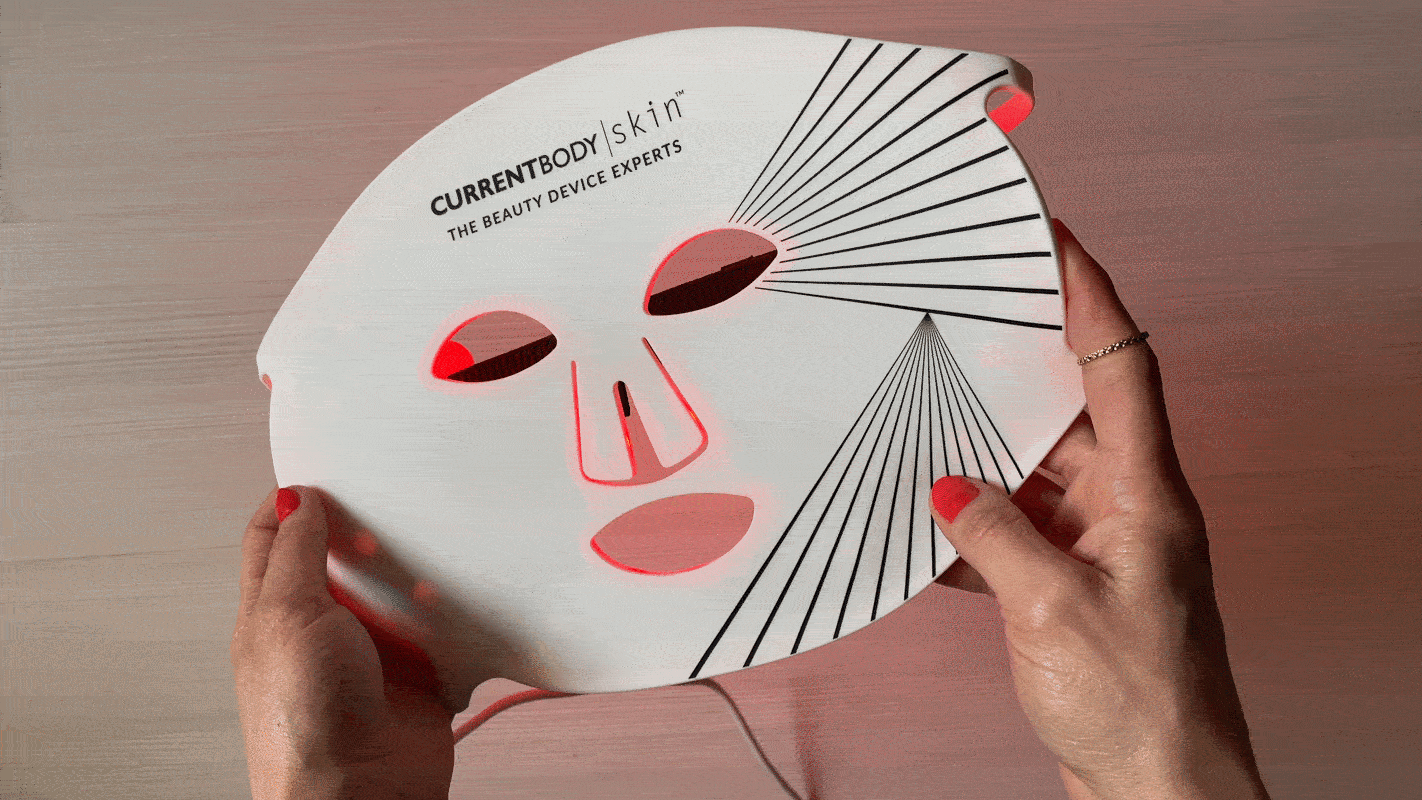 I love how incredibly flexible the mask is, which I have never seen on other devices. It makes it easy to reach all areas, even the tough-to-reach ones, and it feels weightless on the face. After all, the fact that it has a devoted cult following (including myself, dermatologists, and A-listers) speaks volumes about its effectiveness.
Use our exclusive code WCLED to get 15% OFF on all CurrentBody LED devices. Check the offer here.
---
Dennis Gross FaceWare Pro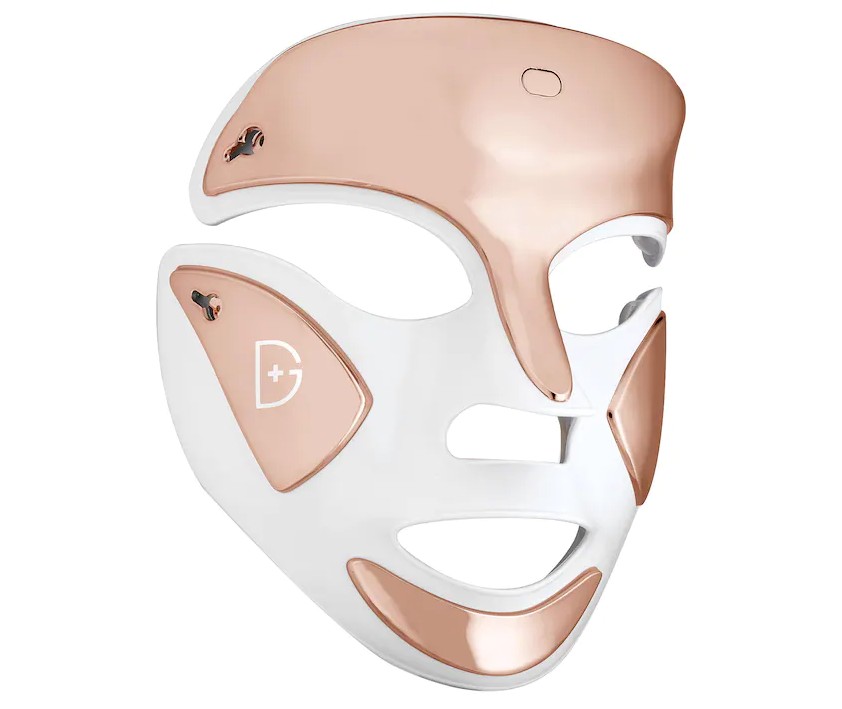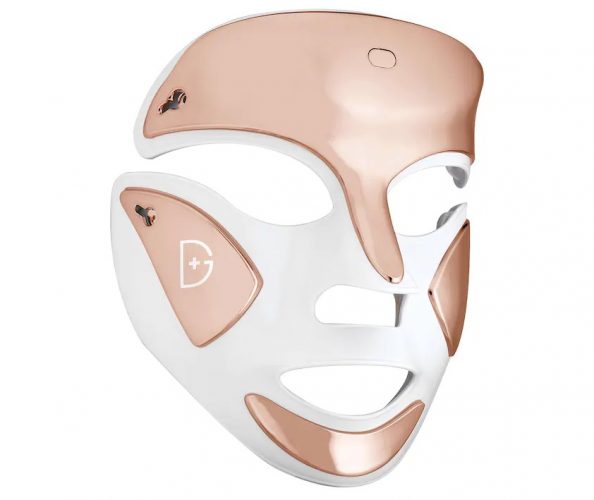 This little wonder is some of the most sought-after devices of all time. With a total of 100 red and 62 blue LEDs, this pros-favorite mask is a true multitasker that fights against sagginess, sunspots, inflammation, and blemishes. Yes, you get not one, not two, but three different treatments with Dennis Gross FaceWare Pro. The red treatment is geared towards anti-aging, while the blue color is great for killing bacteria. Just three minutes of daily sessions with this baby, and your skin is guaranteed to show visible improvements. And to top it all off, the LED mask is FDA-cleared, so you know it's a safe bet.
---
Aphrona Moonlight LED Facial Mask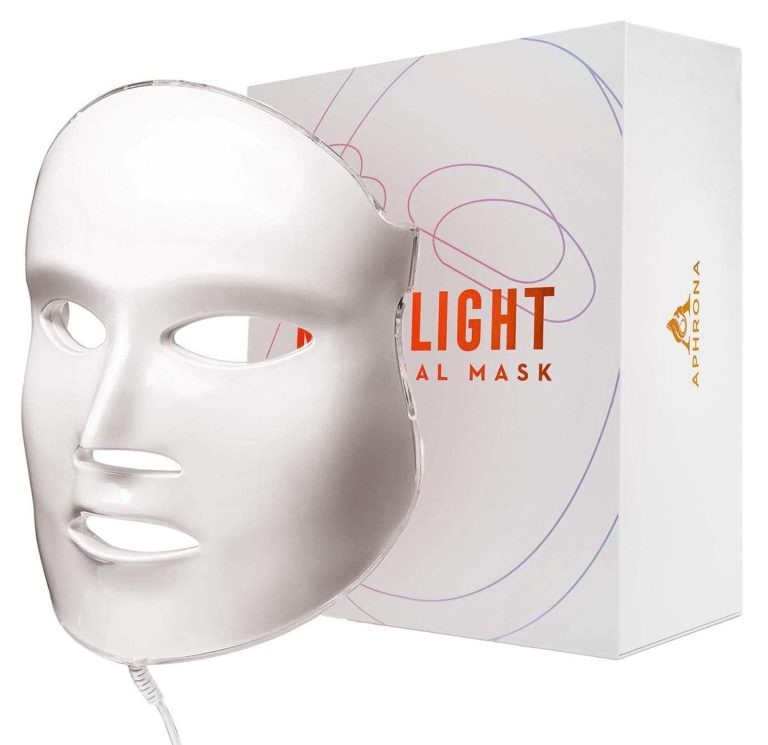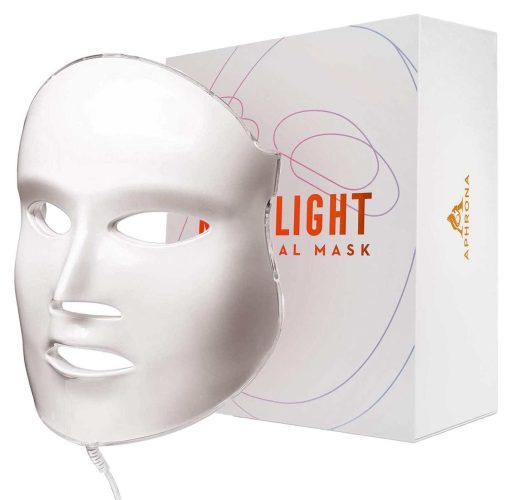 This mask targets dullness and loss of firmness with 150 light-emitting diodes that disperse red light. It also features blue light to eliminate acne-causing bacteria and green to target broken capillaries and hyperpigmentation. All you have to do is place the mask over your face and let it do the work for 15 minutes; the device will automatically shut off when the treatment is done.
One thing that I don't like about this one is that it's a bit heavier than other masks, so it can become uncomfortable to wear during longer sessions. Still, most customers rave about outstanding customer service, which is the cherry on top when it comes to beauty devices—they're responsive when they've to refund your money or replace the device.
---
Foreo UFO LED Light Therapy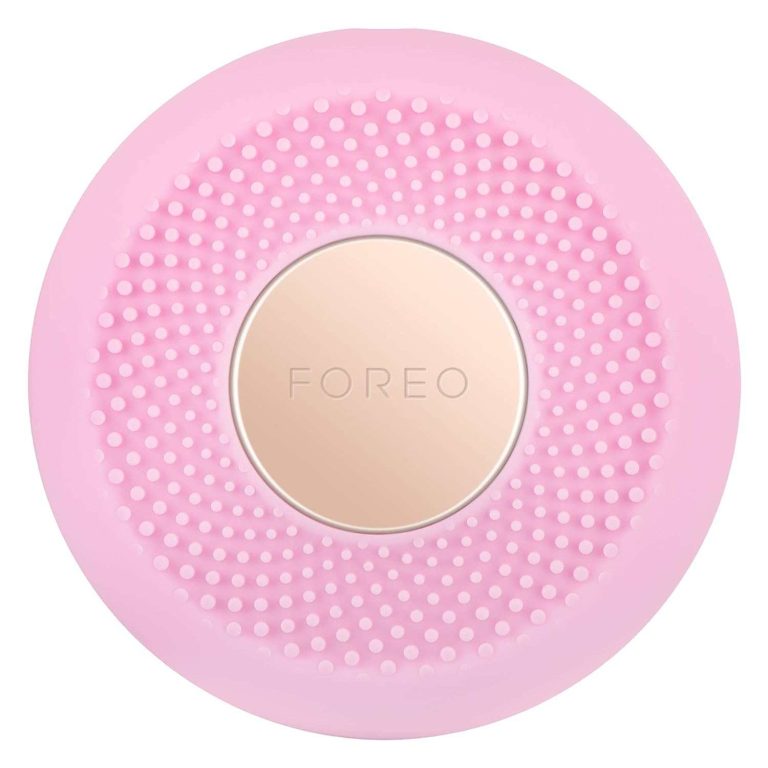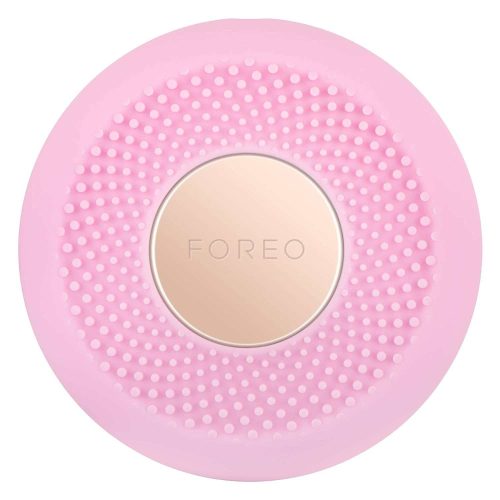 Ready to elevate your anti-aging routine? Foreo UFO combines the power of hot and cold sonic waves with LEDs and T-sonic pulsations in an easy-to-use handy device, offering a variety of treatments that improve the skin on all fronts. As a result, your complexion appears supple with a youthful glow and less visible fine lines. And you only need 90 seconds per treatment to get just that and then some.
The device is so easy to use: Apply a serum or sheet mask and gently run the device across the face and neck for improved penetration and enhanced benefits. All in all, the travel-friendly design makes this device the best choice if you're always on the go.
---
Houzzi LED Face Mask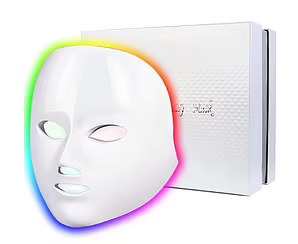 You don't have to break the bank to get your hands on an anti-aging LED mask. This one is a steal for the price and leaves skin looking more luminous, firmer, and supple with consistent use. The device deploys 192 light-emitting diodes and gives seven treatments, including red for collagen and elastin production, green for fading dark spots, and purple for lymphatic drainage and relaxation. And if that wasn't enough, you also get to treat your neck as it comes with an additional attachment. The only complaint most people have about this one is that it's a bit heavy, but that didn't stop it from getting close to 2,500 5-star reviews.
---
MZ Skin LightMax Supercharged LED Mask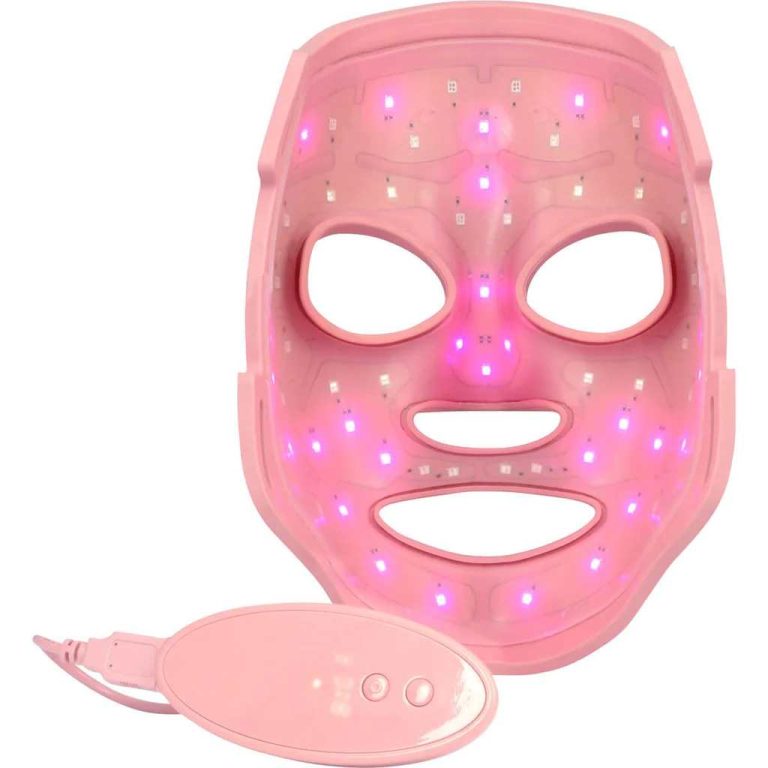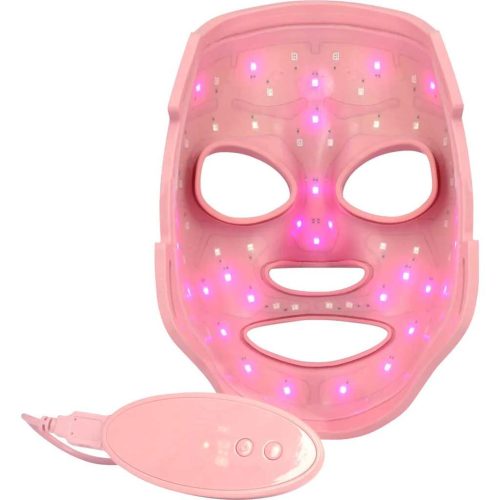 I know this one it's a bit of a splurge, but if you're willing to invest in yourself and your skin, then this mask is for you. It's a double-duty beauty device that uses two modes: One that combines red and infrared light to support collagen production and ease swelling and one that uses red and blue to fight acne-causing bacteria, clarify the pores, and spur collagen growth. It was clinically proven to reduce wrinkles depth in four weeks and reduce breakouts in six with just 10 minutes per session.
Plus, it's made of silicone and it's portable, meaning it is truly comfortable and enjoyable to use.
---
NUFR LED Light Facial Mask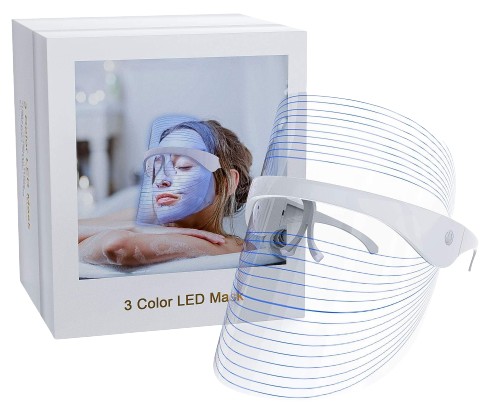 This is another good-value LED mask that combines three therapies to provide an all-rounder skincare solution, including red for wrinkles, blue for pimples, and orange for calming and smoothing. Yes, it's the best LED mask if you want to tackle multiple age-related concerns in one go. Online reviewers also note that this device is easy to use and wear as it doesn't have a wire and comes with glasses-like temples.
---
What to look for in a LED mask
To make sure you get your hands on the best LED masks that effectively tackle wrinkles, keep an eye out for the following key features:
Wavelength and colors
Look for a mask that offers red light therapy with wavelengths between 630-700nm or near-infrared lights with 830-1000nm. These are the optimal range for boosting collagen and elastin production, which can help improve the appearance of wrinkles and fine lines.
Power output
Make sure the mask has a powerful output to penetrate the skin and provide effective results. A mask with an output of at least 100mW/cm² is ideal.
Safety features
Ensure the mask has eye protection and temperature sensors to prevent the risk of eye damage and overheating. Also, look for a mask that has a timer to prevent overuse and automatically shuts down when the session is over.
Quality and durability
A penny saved is a penny earned, but when it comes to skincare, it's better to spend a little more on a high-quality LED mask that will last you a long time. Do your due diligence and choose a device with a proven track record and positive customer feedback.
Ease of use
Choose a mask that is easy to use and comfortable to wear. A lightweight and flexible design can make the treatment more enjoyable and hassle-free.
FDA clearance
To ensure the device is safe and effective, look out to be cleared by the FDA.
How to prepare your skin
Make sure that you start with a clean face. Removing makeup and sunscreen and having clean pores before the treatment is essential for the results you get from the treatment. So, cleanse your skin with a gentle face wash and pat it dry before you initiate the session. Also, avoid using your LED mask on areas of your face that are damaged or have wounds.
Moreover, exfoliating one day before can create a better canvas for the light to penetrate the skin more effectively.
What to apply after the treatment
After the session, it's important to be mindful of what you apply to your face because the treatment can leave your skin more receptive to certain products. The light waves penetrate the skin and stimulate cellular activity, which can create a temporary opening of the pores. This means that products applied to the face immediately after will be absorbed more readily and deeply. Depending on the products, this can lead to greater benefits or an increased risk of irritation.
To maximize the benefits, it's recommended to follow up with a nourishing serum or moisturizer. Look for products that contain ingredients like hyaluronic acid, squalane, peptides, vitamin C, and antioxidants, which can help to hydrate, brighten, and protect the skin.
My favorite product to use after LED therapy is a vitamin C serum because it further assists in smoothing out my fine lines and fading dark spots while leaving me with a glowy and moist complexion. In the moments when I feel my face is tight and parched, I slather a hyaluronic acid serum instead, which recoups the skin's hydration in an instant.
On the other hand, it's best to avoid harsh or potentially irritating products for the following days, as these can cause unnecessary stress and compromise the treatment's results. This includes products containing drying alcohol, retinol, or exfoliating agents.
Are LED masks safe for home use?
Yes, LED masks are safe for home use. The American Academy of Dermatology gives the green signal to everyone who wants to improve their skin at home with light therapy. Since LED masks don't contain UV rays, they're considered a safe treatment that doesn't damage the skin. They're also pain-free. All you'll feel is a bit of warmth which is rather relaxing.
How long should you use the LED mask?
No two LED masks are the same, so it depends. Still, most LED masks require multiple sessions until you start to see results. You'll likely need up to 10 to 15 treatments, but this also depends on your actual skin condition and what you want to achieve. However, 3-5 treatments weekly with 10 minutes sessions it's what most experts recommend.
Be consistent with your LED mask treatment, and don't expect overnight results. It may take several weeks or even months of regular use to see improvements in your skin's appearance.