Sure, glycolic acid cleansers won't offer the intense exfoliation of a serum or peel. Because face washes have short contact with the skin, glycolic acid barely skims the surface and doesn't have the time to actually promote cell turnover (a fancy way to say it supports the growth of new cells). But don't give up on them. They still help.
When used in a cleanser, glycolic acid goes beyond the regular cleansing routine and removes pollutants and toxins that accumulate on your skin. It provides a mild and gradual exfoliation that breaks down impurities more thoroughly than a traditional face wash. It's like giving your skin a radiant boost every single morning so you get more from your cleansing ritual. And mark our words: A study even showed that using glycolic acid cleansers twice daily for six weeks can significantly improve acne.
All things considered, we put together a list of the best glycolic acid cleansers that leave the skin squeaky clean without stripping it of essential moisture. Whether you have dry, sensitive, or acne-prone skin or prefer a rich foaming formula or a creamy texture, we've got your back.
The best glycolic acid cleansers
---
1
SkinCeuticals Glycolic Renewal Cleanser
Ideal for city dwellers, this exfoliating cleanser removes pollutants and surface impurities with ease. It's crafted with an impressive amount of 8% glycolic acid, which along with phytic and salicylic acids, encourages exfoliation as you massage it into the skin. Also, the cleanser effectively breaks down pore-clogging oils and dead cells, which in turn clears pimples—as most reviewers with acne-prone skin note. Despite the potent formula, SkinCeuticals Glycolic Renewal Cleanser will never leave your skin stripped but comforted and soothed. That's because it contains glycerin and aloe juice, two calming ingredients with hydrating properties.
Price: $39
Size: 150ml / 5 oz
Texture: Foaming gel
What we like: It's gentle enough for all skin types and can remove makeup. Non-comedogenic, alcohol-free, sulfate-free
What we don't like: Pricey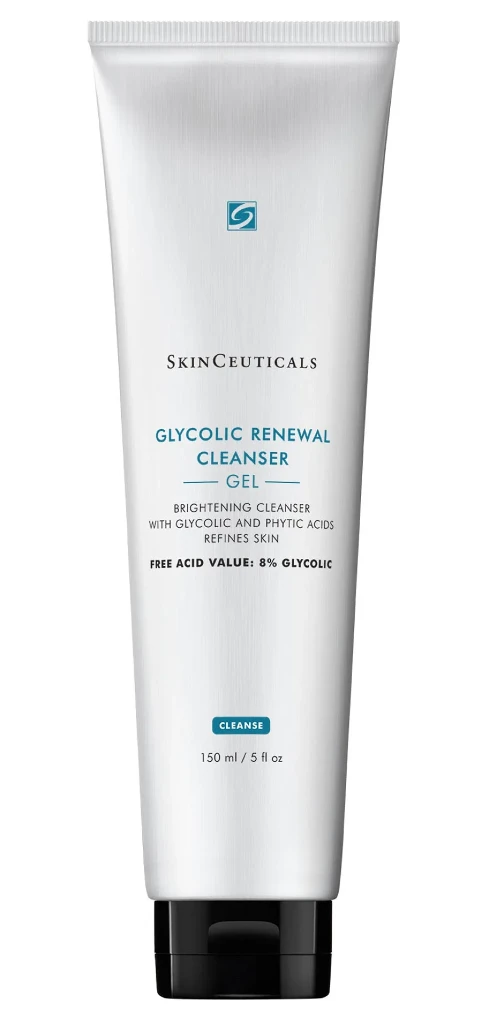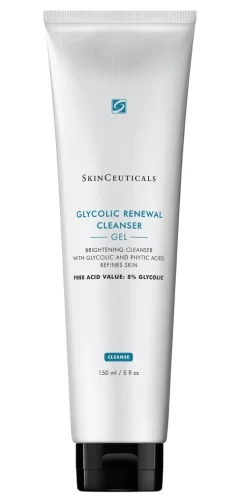 ---
2
L'Oreal Paris Revitalift Cleansing Gel
Searching for an absolute steal at your local drugstore that sweeps away impurities and creates a fresh canvas for your skincare regimen? Our go-to suggestion is L'Oreal Paris Revitalift Cleansing Gel. Thanks to exfoliating glycolic and salicylic acids, it leaves your face smooth and clean in mere moments. Just a dime-sized amount effortlessly eradicates stubborn makeup, sunscreen, and everything in between. With its generous 6.7 oz (200 ml) size, it's an investment that gives you the ultimate bang for your buck.
Price: $12.99
Size: 200ml / 6.7 oz
Texture: Foaming gel
What we like: The affordable price point and the formula free of alcohol and fragrances.
What we don't like: It contains SLSs and it's not cruelty-free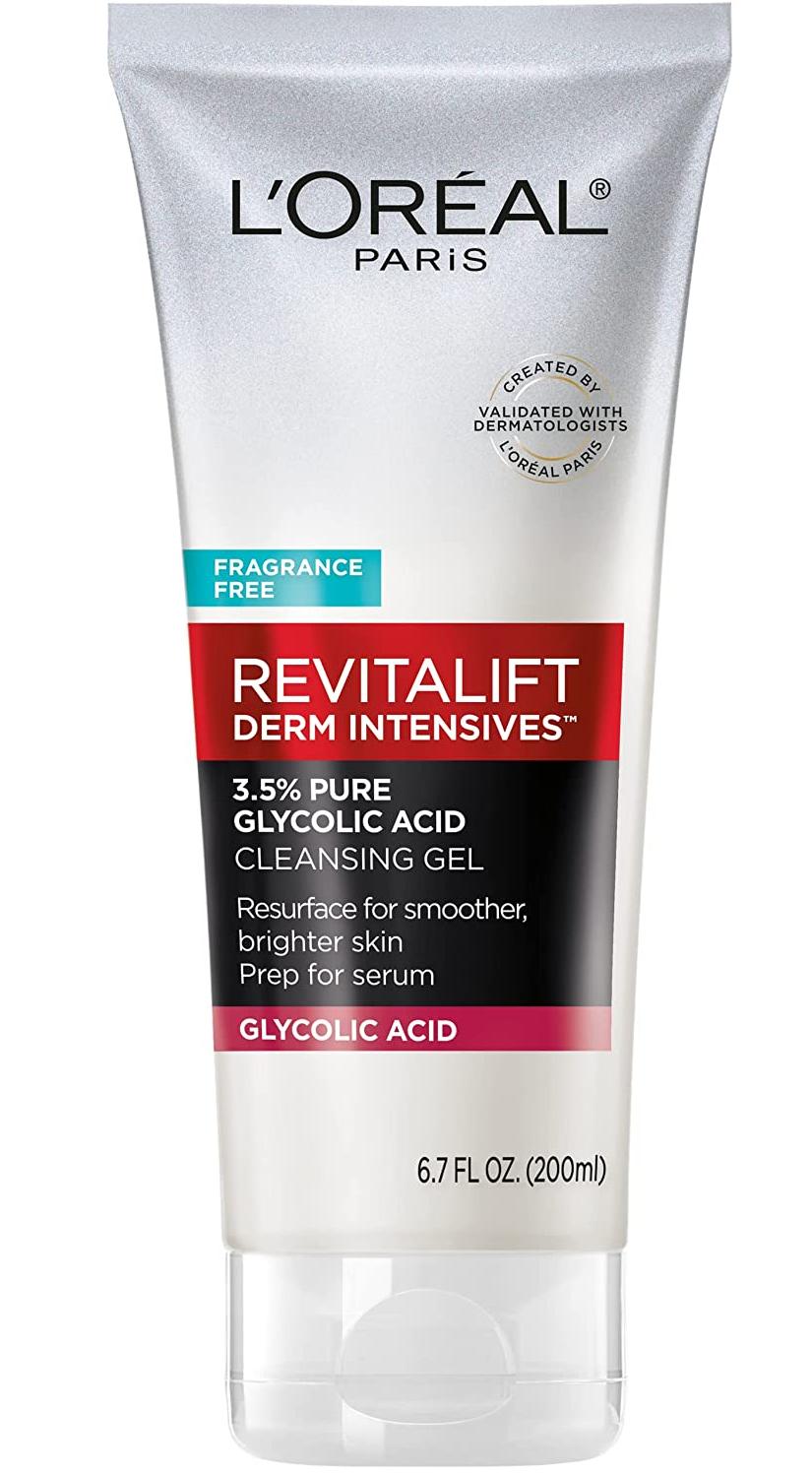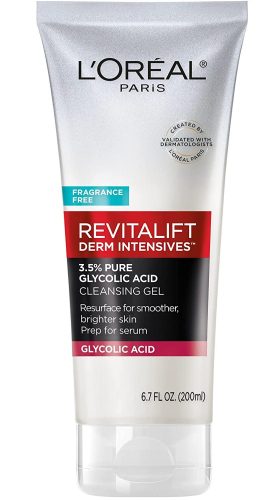 ---
3
Murad AHA/BHA Exfoliating Cleanser
The complex of exfoliating acids and moisturizing sodium PCA makes this cleanser a dream for dry, oily, mature, and congested skin. We also love the addition of jojoba beads, which act like physical exfoliants, delicately rolling away dirt and gunk from the skin's surface. The result? A Clean, radiant, and soft complexion sans residues. At the end of the day, there's a reason it sells like hotcakes and often goes out of stock. But, a word of caution: As much as you'll be tempted to use this cleanser daily, limit it to 2-3 times a week to avoid over-exfoliating your skin.
Price: $46
Size: 200ml / 6.75 oz
Texture: Silky gel
What we like: Can improve skin tone and texture
What we don't like: Contains SLS and can't be used daily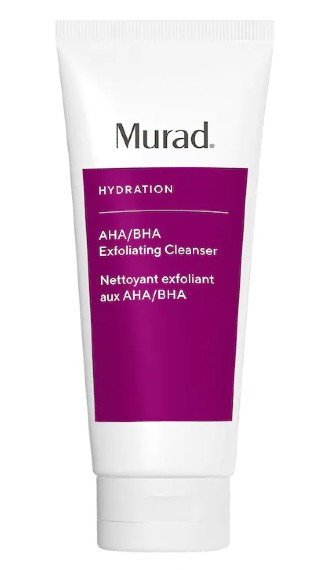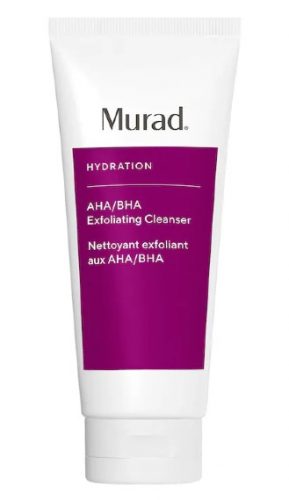 ---
4
Neostrata Foaming Glycolic Face Wash
Made with a heavy dose of 18% glycolic acid, this foaming face wash could easily be the best choice of them all. The soap-free formula also includes lactobionic acid—a member of the polyhydroxy acids (PHA) family that provides mild exfoliation. This combination removes oils and leaves skin squeaky clean while being delicate enough, even for those of you with sensitive skin. We give this one extra credit for the pump applicator, which makes the action of washing your face a snap by adding a touch of comfort.
Price: $40
Size: 125ml / 4.2oz
Texture: Foam
What we like: The potent dose of exfoliants
What we don't like: Contains PEG and drying alcohol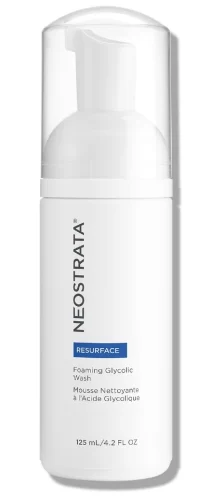 ---
5
Peter Thomas Roth Anti-Aging Cleansing Gel
Peter Thomas Roth packed all the good stuff in this gel cleanser to clarify and brighten without dehydrating the skin. It lifts gunk from pores with glycolic and salicylic acids, while a juicy cocktail of citrus extracts promotes a more luminous complexion. PTR Cleansing Gel addresses all types of skin, but if your skin is easily reactive, you should consider another option. Great news; this cleansing gel is available in three sizes, offering you the perfect opportunity to try the smaller one and see if you like it, or go for the larger bottle if you absolutely love it.
Price: $39
Size: 250ml / 8.5 oz
Texture: Gel
What we like: Good for pore-cleansing and leaves skin glowing
What we don't like: It has sulfates, and it's not suitable for sensitive and very dry skin.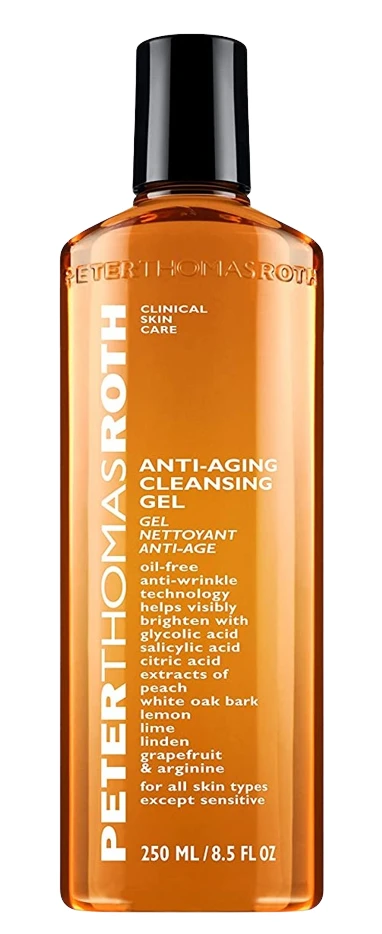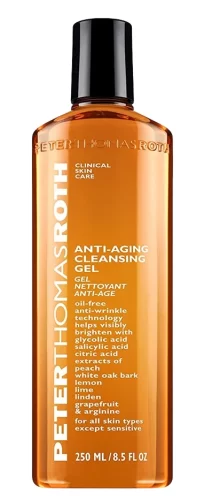 ---
6
Mario Badescu Glycolic Foaming Cleanser
Mario Badescu Glycolic Foaming Cleanser is making waves on Amazon. Its glycolic-acid formula mildly exfoliates over time, working alongside marshmallow root and chamomile to even the complexion and ease it at the same time. When mixed with water, it transforms into a soft lather, effortlessly whisking makeup and stubborn oily residues away.
Price: $16
Size: 177ml / 6 oz
Texture: Foam
What we like: Cruelty-free, recyclable packaging, and smells fresh
What we don't like: It's made with SLS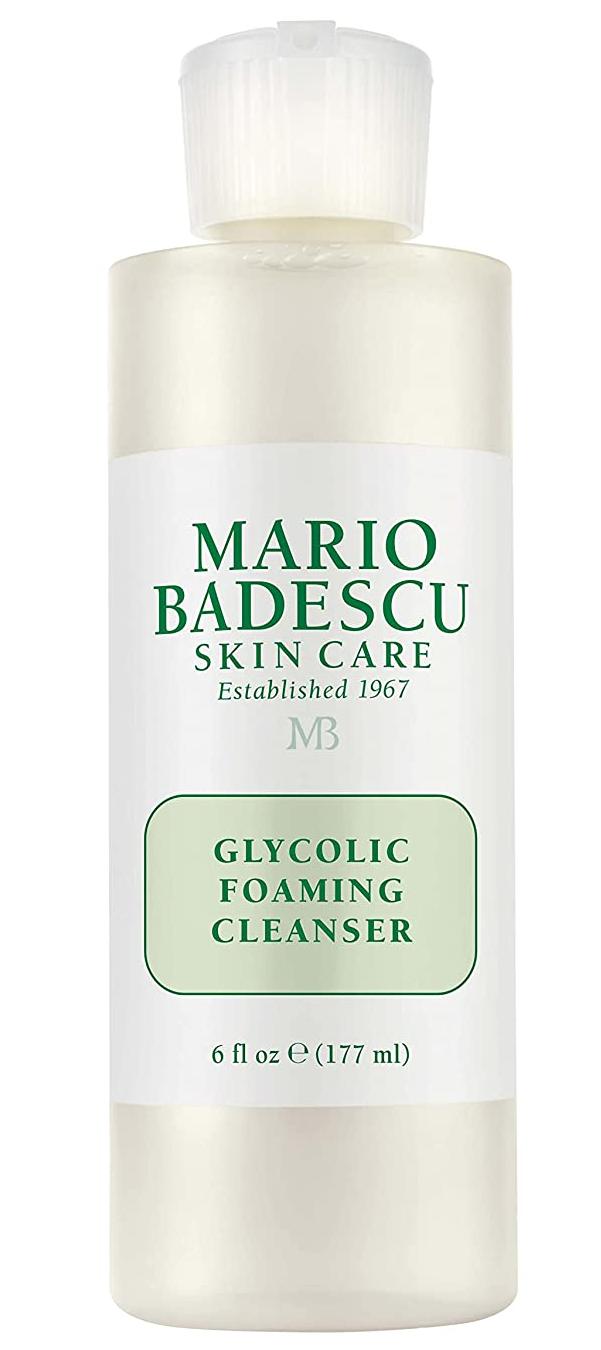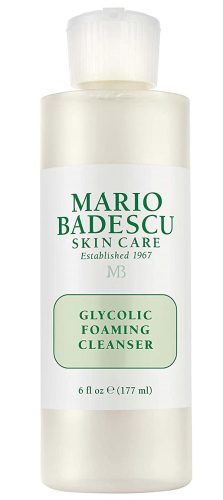 ---
7
Juice Beauty Green Apple Brightening Gel Cleanser
Into organic skincare? You'll love this plant-based cleanser because it's free of questionable ingredients and uses cane sugar, a natural source of glycolic acid, and apple juice, which naturally contains malic acid. These AHAs, combined with the gentle touch of coconut-based surfactants, remove toxins and makeup and leave your face fresh and purified. This all-natural cleanser also stands out with its water-free formula and organic aloe juice base, providing both antibacterial benefits and essential hydration for your skin.
Price: $28
Size: 133ml / 4.5 oz
Texture: Gel
What we like: Clean and plant-derived formula
What we don't like: It's not as rich in glycolic acid as the other options on this list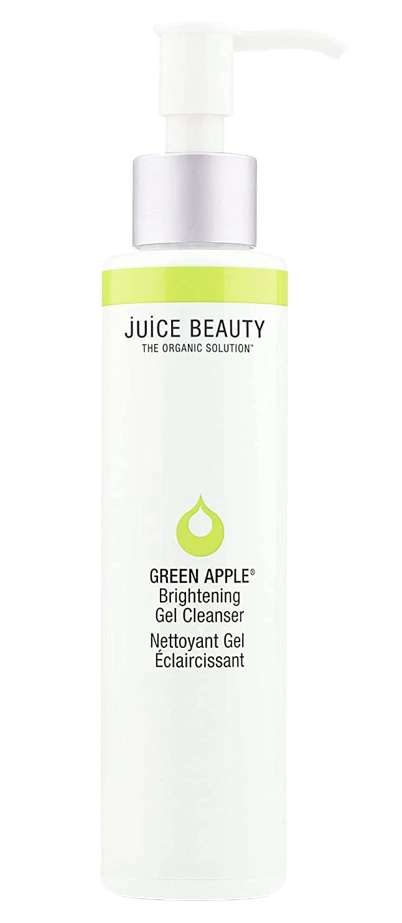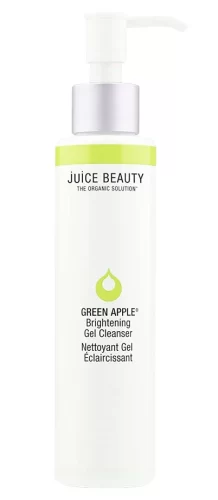 ---
8
Neutrogena Hydro Boost Exfoliating Cleanser
This drugstore glycolic acid face wash is your best option if you're looking to save some bucks. It cleanses and removes makeup just as the expensive ones and does not leave the skin parched or flaky. The soap- and oil-free formula is gentle for everyone and works to increase skin hydration and give that baby-soft complexion. After all, it scored thousands of 5-star reviews on Amazon not only for its wallet-friendly price tag but also for the results it delivers.
Price: $9.44
Size: 147ml / 5 oz
Texture: Gel-cream
What we like: It's both affordable and effective
What we don't like: Nothing, really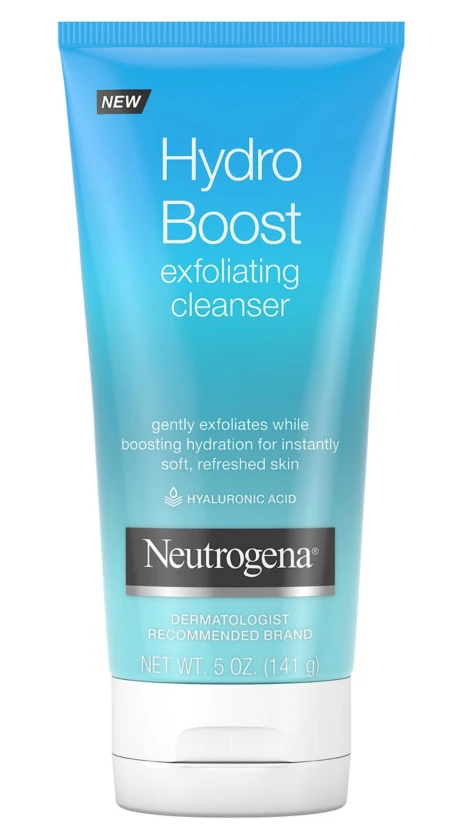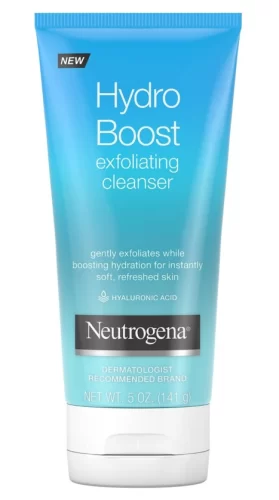 ---
9
Dermalogica Daily Glycolic Cleanser
Although rich in glycolic acid, this cleanser does not dry out the skin thanks to the addition of jojoba oil (sebum-like oil), allantoin (soother), and hyaluronic acid (hydrator). Plus, it has the added bonus of being sulfate-free. In a nutshell, it promises to brighten dull, uneven skin tone. Simply massage the gel onto dampened skin, and watch how it transforms into a soft lather that takes off makeup and grime.
Price: $37
Size: 150ml / 5.1 oz
Texture: Gel
What we like: Free from artificial fragrances and drying alcohol
What we don't like: It's too harsh on sensitive skin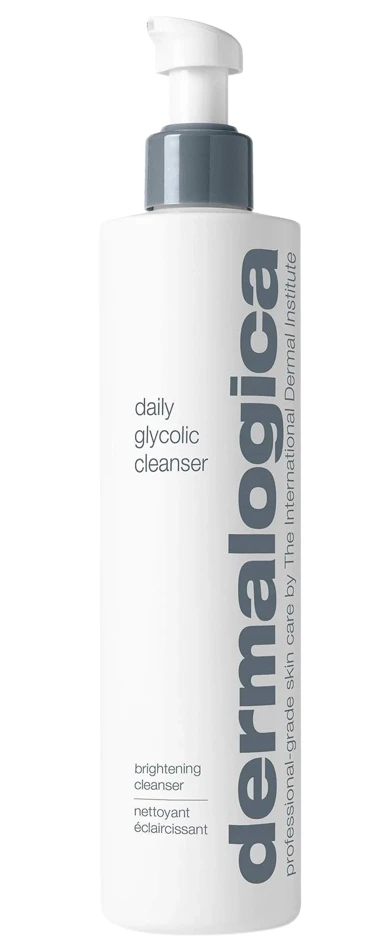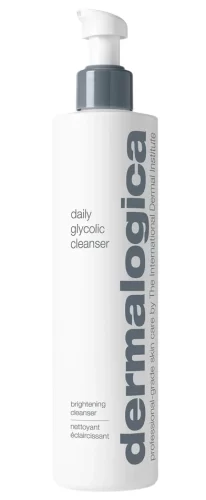 ---
A word of caution
While glycolic acid needs to be on the skin for several minutes to be effective, you should not leave the cleanser on for that long; it can dry out and damage your skin, resulting in flakiness and breakouts.
You ask, we answer
---
Are glycolic acid cleansers good for dry skin?

Overall dry skin can use glycolic acid cleansers without problems. However, if the formula contains drying alcohol, sulfates, astringents, or other ingredients that can strip moisture, it's best to avoid it.

Are glycolic acid cleansers good for sensitive skin?

You can safely use glycolic acid cleansers on sensitive skin as long as you don't experience reactions such as irritation, redness, and other sensitivities. Opt for a gentle formula containing a mild acid concentration.

Can I use a glycolic acid cleanser with retinol?

Cleaners are not formulated to sit on the skin. They're unlikely to interfere with retinol, so you should be fine using your glycolic acid face wash while following retinol treatment. Still, as both exfoliate and can temporarily weaken the skin barrier, avoid using them together in high concentrations.