Although many products can clear your skin, nothing holds a candle to glycolic acid cleansers when it comes to sloughing off all the impurities from the surface and boosting radiance. After all, face washes with glycolic acid have been long heralded for their ability to help exfoliate, unclog pores, and reveal fresher and glowing skin. One study even showed that using one can significantly improve acne with twice-daily application in six weeks. Another good thing about glycolic acid cleansers is that everyone can use them, regardless of skin type and sensitivity level. While a serum or chemical peel can be too much for some people, using a cleanser is less likely to cause reactions due to the short contact time with the skin and the lowest strength of the ingredient.
Besides, contrary to popular belief, glycolic acid is not a drying or stripping ingredient but has humectant benefits, meaning it can hydrate the skin. However, so that the cleanser won't leave the skin parched and tight, you want to look out for formulas void of sulfates and synthetic fragrances, especially if your skin is already dry or sensitive.
We did the hard work, and it turns out these are the best cleansers loaded with glycolic acid that leave the skin squeaky clean without stripping it of essential moisture. So whatever your skincare priorities are, the products we've found will be the perfect addition to your beauty routine.
---
1
SkinCeuticals Glycolic Renewal Cleanser
SkinCeuticals Glycolic Renewal targets dullness, breakouts, and aging signs with 8% glycolic, salicylic, and phytic acids. All three exfoliate and renew skin, while aloe leaf extract and glycerin deliver intense hydration, so you won't feel your skin tight or dry after washing. Plus, the formula is non-comedogenic, skips alcohol and fragrances, and the soft-foaming gel texture is satisfyingly bouncy. Don't just take our word for it, the free acid value listed on the package shows the actual percentage of acids that will penetrate your skin, so you know you're in for some serious skin-transforming results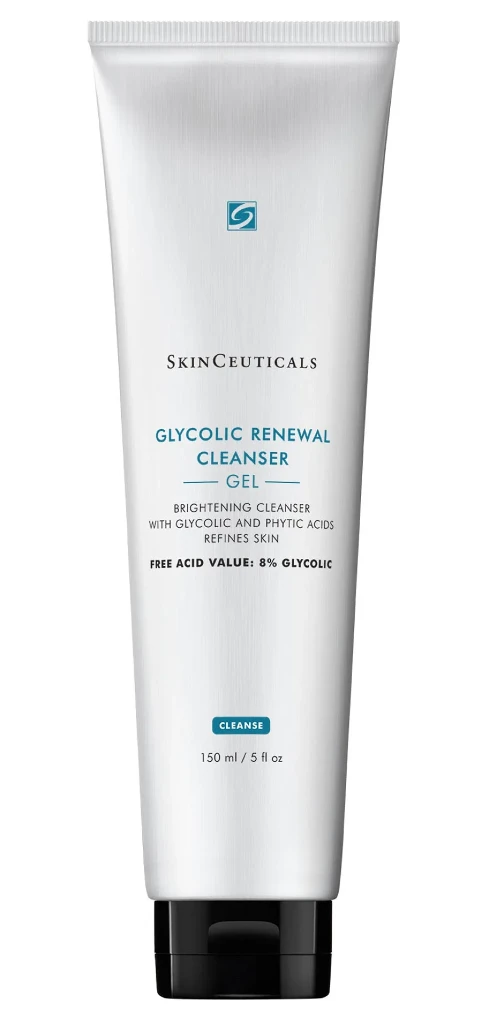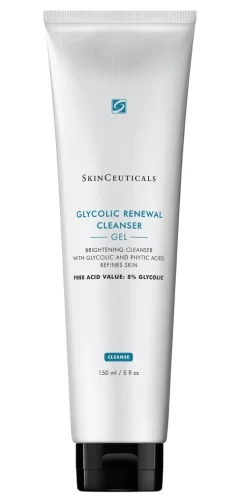 ---
2
Murad AHA/BHA Exfoliating Cleanser
Murad Exfoliating Cleanser is a dream for anyone with a rough texture and dull complexion. That's because it contains a blend of three chemical exfoliants, including glycolic, lactic, and salicylic acids, along with the mild scrubbing of jojoba beans. It's a savior for oily skin since it clears away excess sebum and unclogs pores, but it's just as good for dry skin because it hikes up moisture levels with sodium PCA. But, a word of caution, as much as you'll be tempted to use this cleanser daily, try to limit it to 2-3 times a week to avoid over-exfoliating your skin.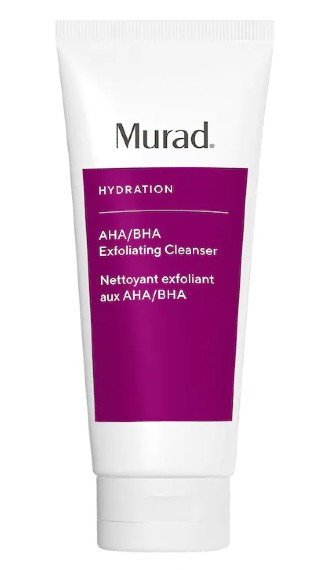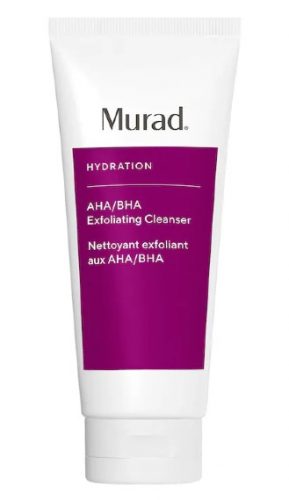 ---
3
Neostrata Foaming Glycolic Face Wash
This foaming cleanser is great if your skin is used to acids, as it packs a heavy dose of 18% glycolic acid. With such a powerful formula, it instantly dissolves makeup and impurities to reveal a fresher, baby-like complexion. The results are boosted by 2% lactobionic acid, a polyhydroxy acid that gives mild exfoliation and attracts moisture into the skin for an added dose of comfort. However, it's important to mention that the cleanser contains a good amount of alcohol denat, which can be drying and sensitizing. So, if your skin is problematic or damaged, you better pick a more gentle formula.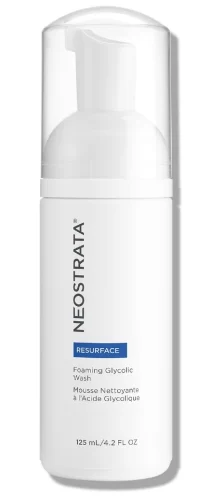 ---
4
Peter Thomas Roth Anti-Aging Cleansing Gel
Peter Thomas Roth packed all the good stuff in this gel cleanser to clarify and brighten without dehydrating the skin. It lifts impurities with glycolic and salicylic acids while a cocktail of citrus extracts promotes a more luminous complexion. The gel texture is like a dream and feels emulsifying, gliding smoothly over the face—no water required—leaving you with clear, moist, and glowing skin. Just a heads up, if you have sensitive skin, this one might not be for you.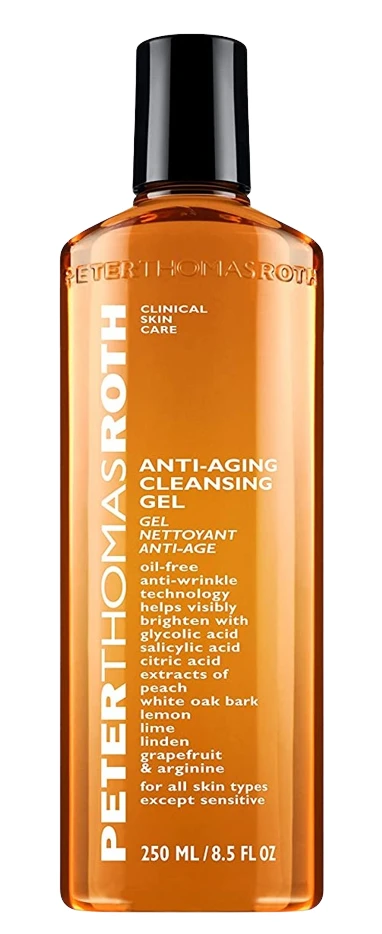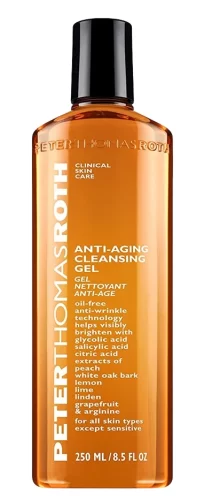 ---
5
QRxLabs Glycolic Acid Cleanser
Loaded with 5% glycolic acid and formulated at an optimal pH, this face wash promises to provide deep pore cleansing and gentle exfoliation sans irritation. It washes away pollution and dust while it lifts dead cells, creating a smooth canvas for the next steps in your beauty ritual. The formula is also loaded with nourishing ingredients like betaine, almond oil, and aloe vera to soothe and hydrate the skin. Yes, this means you don't have to worry about that tight, uncomfortable feeling after washing. Plus, it's free of harsh fragrances and foaming agents.

---
6
Juice Beauty Green Apple Brightening Gel Cleanser
Juice Beauty Brightening Gel Cleanser will be on the liking of any organic skincare lover since it's made with raw cane sugar (rich in glycolic acid) and apple juice (a great source of malic acid). This natural glycolic acid cleanser washes away pollutants without stripping that much-needed moisture and promises to brighten dark spots and reveal a luminous glow. And you know it lives up to the hype looking at all those positive reviews that claim the face wash leaves the skin clean and never dry. Bonus: The uplifting naturally derived scent is another reason to put this cleanser on your radar.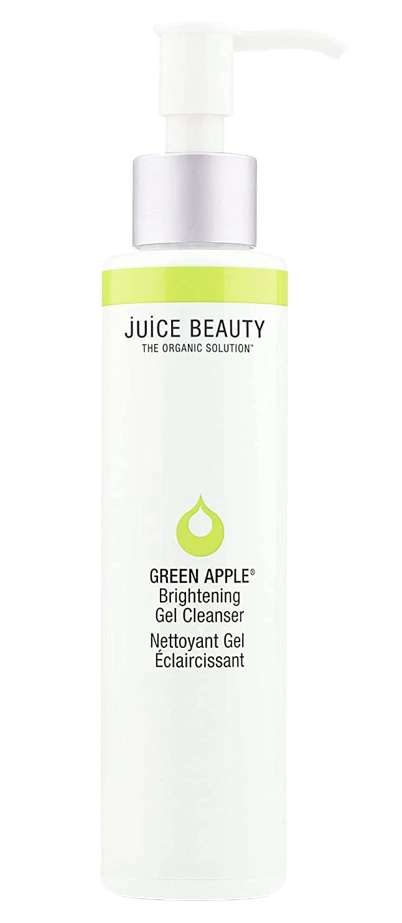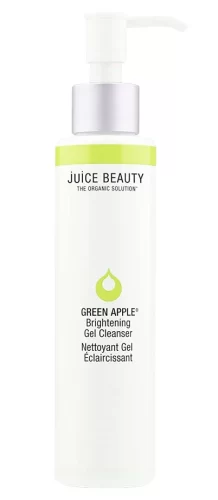 ---
7
Neutrogena Hydro Boost Exfoliating Cleanser
Neutrogena Hydro Boost Exfoliating Cleanser is one of the best-selling cleansers in drugstores and definitely one of your best options if you're on a budget. It has raked thousands of thousands of 5-star reviews, not only for its wallet-friendly price tag but the results it delivers, which leave skin feeling revitalized and velvety smooth. It pairs glycolic acid, lactic acid, and papaya enzymes in a foaming formula that delicately exfoliates dead cells and removes excess oil and other impurities while soothing with hyaluronic acid.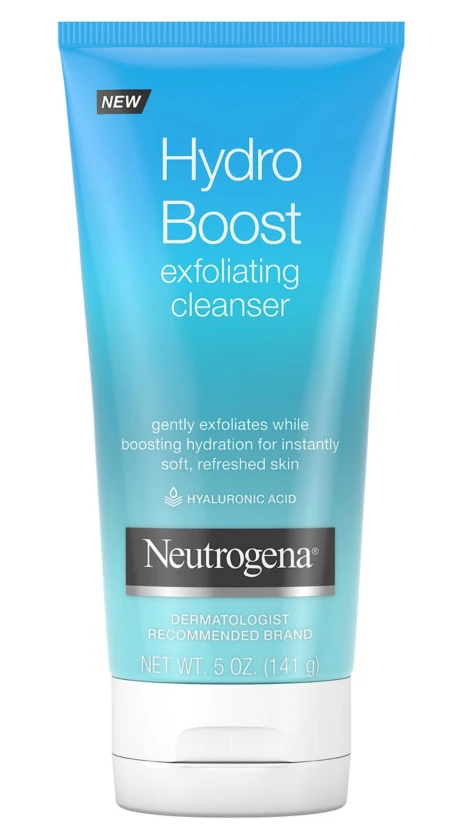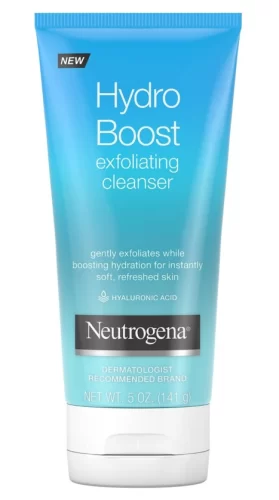 ---
8
Dermalogica Daily Glycolic Cleanser
Pick Dermalogica Daily Glycolic Cleanser if you want gradual exfoliation and skin regeneration without disturbing the protective barrier. Although the product is rich in glycolic acid, it does not dry out the skin thanks to the addition of glycerin, jojoba oil, allantoin, and hyaluronic acid. And it's sulfate-free, meaning it won't strip essential moisture, which is why we recommend this glycolic acid cleanser for sensitive and dry skin. Massage the gel onto dampened skin and watch how it removes makeup and bacteria, leaving skin clean yet comfortable and moist.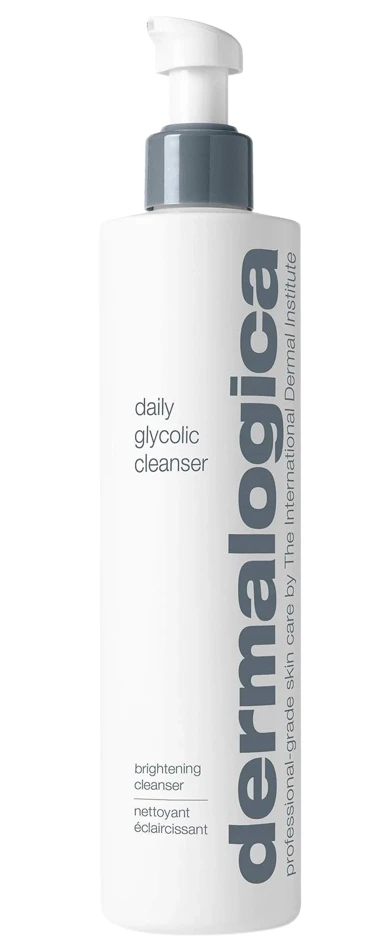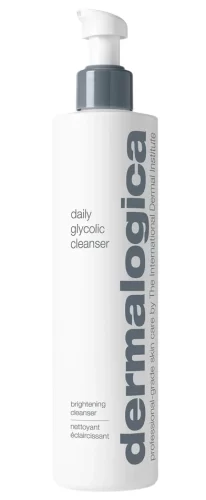 ---
9
Boscia Detoxifying Black Charcoal Cleanser
If you're on the hunt for the ultimate cleanser to address your oily skin woes, then look no further. This powerhouse formula is specifically designed to tackle excess sebum with the power of activated charcoal and glycolic acid. The activated charcoal acts like a magnet, absorbing dirt and excess oil, while glycolic acid detoxifies and reduces congestion, leaving your skin looking and feeling cleaner. The cleanser is proudly soap- and fragrance-free, so there are more reasons to love it.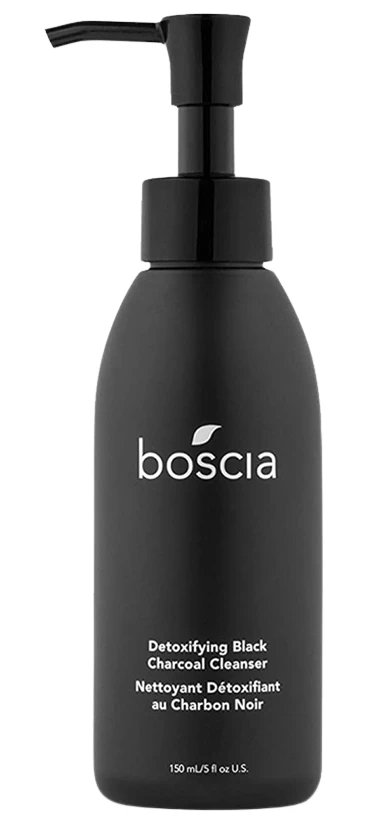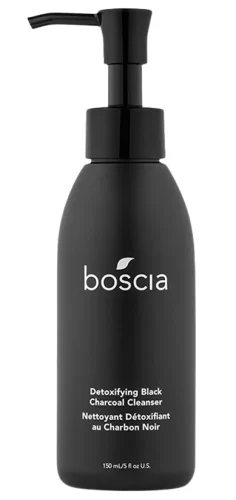 ---
Can I use a glycolic acid cleanser every day?

Yes, you can use your glycolic acid face wash twice daily to prevent dead cell buildup, clogged pores, and breakouts.

Are glycolic acid cleansers good for dry skin?

Overall dry skin can use glycolic acid cleansers without problems. However, if the formula contains alcohol, sulfates, or other ingredients that can strip moisture, it's best to avoid it.

Are glycolic acid cleansers good for sensitive skin?

You can safely use glycolic acid cleansers on sensitive skin as long as you don't experience reactions such as irritation, redness, and other sensitivities. For the best, use a gentle formula containing a mild acid concentration.


Can I use a glycolic acid cleanser with retinol?

Cleaners are not formulated to sit on the skin and are unlikely to interfere with retinol or cause reactions when used together, so you should be fine using your glycolic acid face wash while following retinol treatment. Still, as both exfoliate and can temporarily weaken the skin barrier, it's best to avoid using them together in high concentrations.