Some say in beauty, no pain, no gain! Beauty seekers are known to go to great lengths for the perfect complexion, vampire facial, anyone? The infamous vampire facial or 'PRP' uses growth factors found in your blood to trigger healing factors to rush in and beautify the skin. But if the thought of needles is making you queasy, consider a less scary option. Just use the growth factors themselves. Your body is an expert at healing itself, and tricking it into perfecting your skin is a one-way ticket to turning back the clock for more youthful skin. Hence, finding the best growth factor serums is a powerful way to combat the signs of aging. For that, you just need a little bit of guidance.
What are growth factors?
With elastin starting to stiffen and collagen decreasing, unwanted signs of aging like sagging and wrinkles begin to appear. Here's where growth factors come in. Growth factors are small proteins that promote cellular turnover in much the same way as your favorite retinol.[1]
These growth factors are your body's messenger system to your cells, telling them to repair, regenerate, and replicate. In skincare, these growth factors reconstruct your skin's matrix restoring structure by increasing healthy collagen and elastin and improving texture.[2]
Growth factors can come from several sources, including animals, human stem cells, and plants. They are either extracted or bioengineered and then grown into more concentrated media solutions used in skincare products.[2] As a natural component of the skin, these healing factors reduce sensitivity, unlike similar products that promote turnover.
Since they work to repair and strengthen, growth factors are great for sensitive skin and inflammatory conditions.[2]
Are growth factors safe for skin?
Growth factors are considered safe for skin when used topically. This is thanks to their large molecular weight that keeps your skin from absorbing them too deeply. By the same token, as a natural component, growth factors are non-irritating and suitable for any skin type.
The best growth factors serums
Now that you have all your questions answered, scroll on to find the best growth factors serums to put a stop to aging signs.
---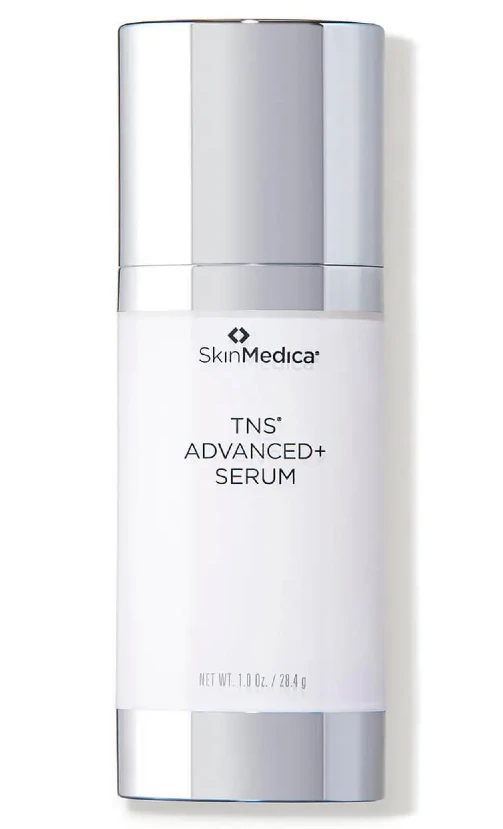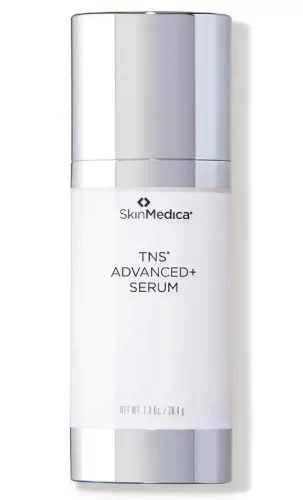 SkinMedica TNS Advanced+ Serum
SkinMedica TNS Advanced+ Serum uses a revolutionary approach to stop the causes of aging. Their patented TNS-MR is a blend of two naturally secreted growth factors derived from human fibroblasts, Progeline and Prolixir S20. Progerin, "the skin aging protein," prevents skin from repairing itself, while TNS-MR inhibits this activity and kickstarts your skin's healing. Besides, the serum is rich in collagen-making marine and algae extracts and is bolstered with additional botanicals and peptides, perfect for more intense results!
---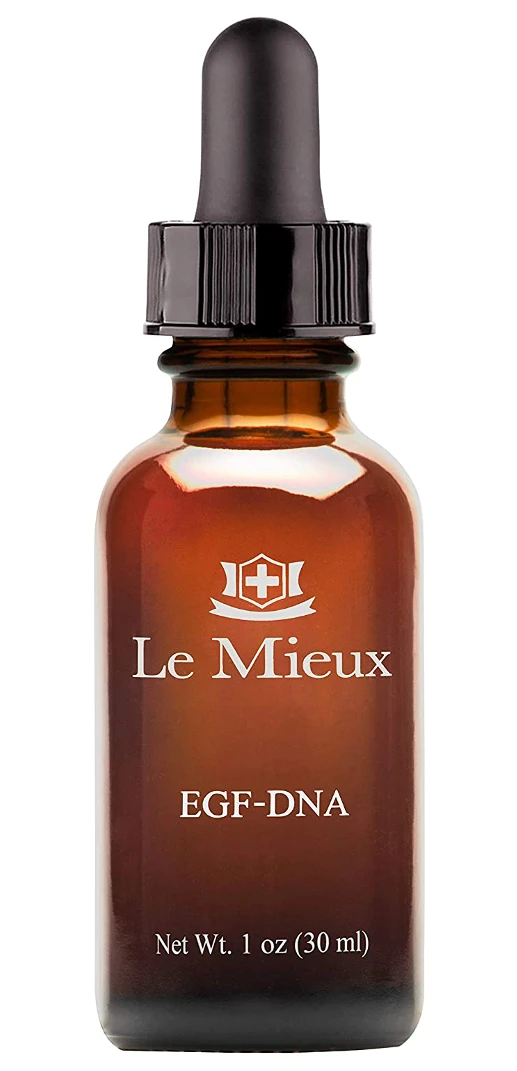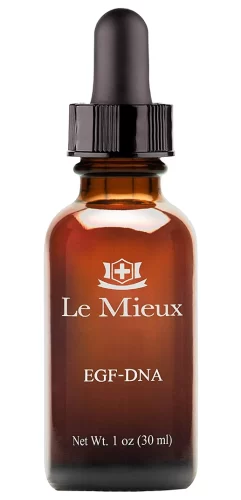 Le Mieux EGF-DNA Serum
For the coldest and driest days of winter (or for those who experience parched skin 24/7), Le Mieux EGF-DNA Serum is here to save the day. It has an incredible hydrating base of sodium hyaluronate (aka hyaluronic acid with small molecules that penetrates the skin for long-term hydration) and features two sources of EGF to repair the skin and improve its texture. It's ideal for addressing fine lines, wrinkles, and dullness, and we consider it the best EGF serum to use after microneedling, chemical peels, or laser procedures.
---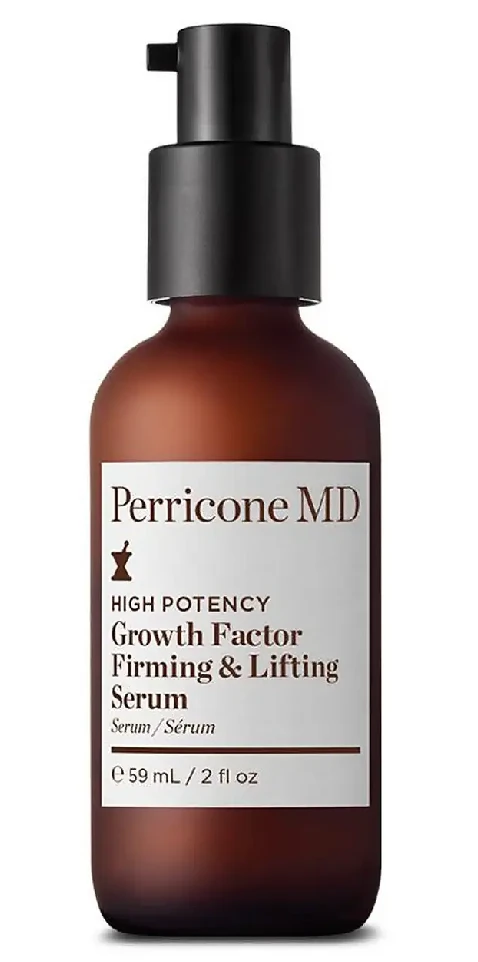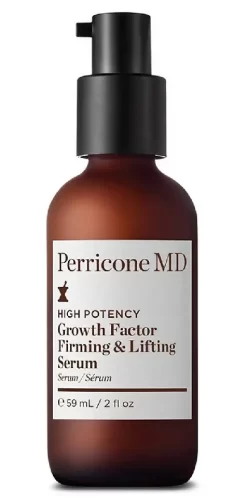 Perricone MD High Potency Classics Growth Factor Serum
Perricone MD kicks up your skin's cellular turnover with a serum that works to reverse the clock for rejuvenated, youthful skin. Using a combination of retinol and an ester of vitamin C, this growth factor serum lessens aging signs by stimulating collagen. To target tricky areas, hydrolyzed eggshell membrane provides another source of collagen, shown to help reduce wrinkles and fine lines. On top of that, the formula is infused with Spermidine, a polyamine growth factor that aids in recovering skin's structure and works together with niacinamide to improve barrier function.
---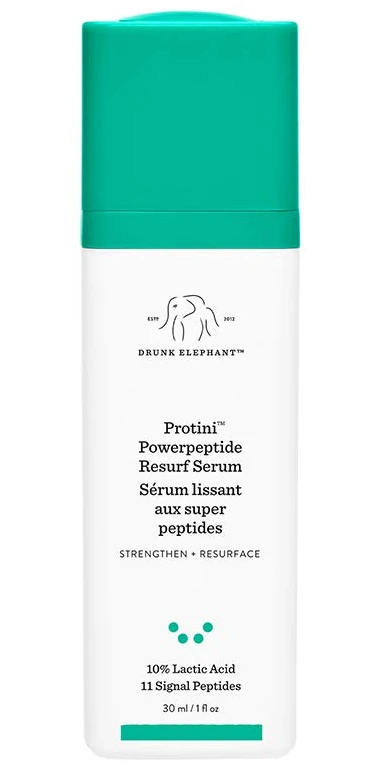 Drunk Elephant Protini Powerpeptide Resurfacing Serum
One of their most popular products, Drunk Elephant Protini Powerpeptide Resurfacing Serum, infuses skin with a concentrated shot of firming peptides and proteins to combat signs of aging. The serum contains three potent growth factors and over 11 types of signaling peptides to retrain your skin to heal more effectively and repair age-related damage. With added lactic acid to resurface old cells and multiple hydrating factors, including squalane and sodium hyaluronate, the absorption is intensified for seriously radiant skin.
---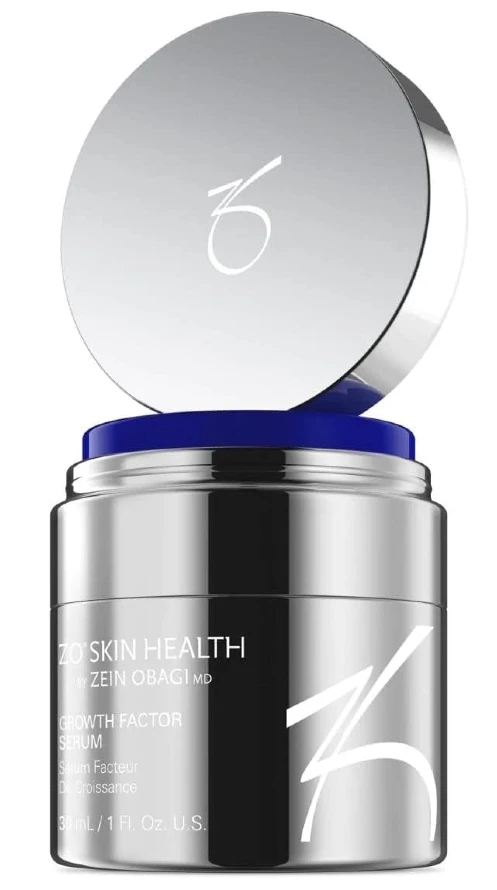 Zo Skin Health Growth Factor Serum
Laced with the aforementioned growth factors, plant-derived ferments, and amino acids, Zo Skin Health Growth Factor Serum is a must for anyone in need of a little (or rather, a lot of) repair. The serum aims to restore firmness and elasticity and minimize the look of fine lines and wrinkles while hiking up hydration with an in-house complex that supports the skin's natural replenishment of hyaluronic acid. The pump applicator allows for a no-fuss application while preserving actives in their prime.
---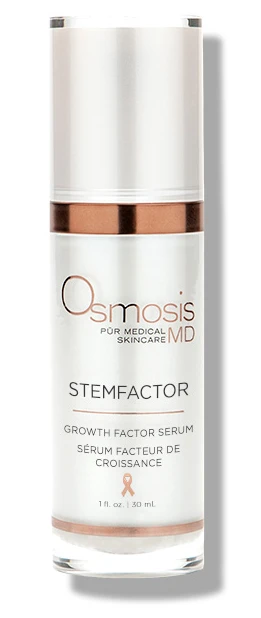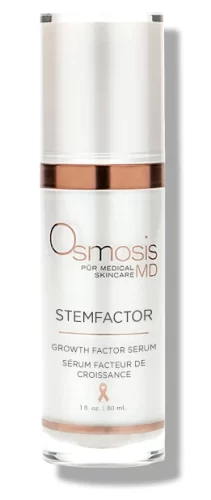 Osmosis Growth Factor Serum
If aging has left your skin dry and rough, this is the best growth factor serum for you. This formula focuses on high-powered EGFs (epidermal growth factors) derived from human stem cells and fibroblasts, aiming to smooth skin and soften wrinkles. At the same time, it reduces transepidermal water loss, strengthening your protective barrier and locking in the serum's actives for boosted perks. What's more, the serum is spiked with fatty acids and works hard to retain moisture, keeping your skin supple and soft.
---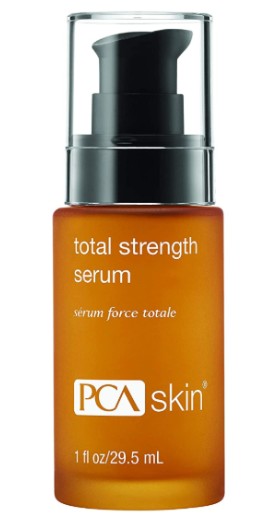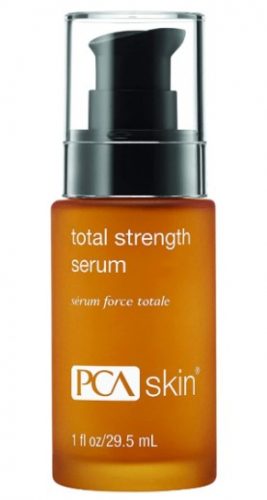 PCA Skin Total Strength Serum
This is one of the best EGF serums to support your skin's structural scaffolding and fight age-related volume loss. Skin-smoothing adenosine boosts collagen production, and hydrating glycosaminoglycans support proteins like elastin and collagen. Besides, the serum's anti-inflammatory botanical extracts like tea tree, honeysuckle, and witch hazel do more than smell great. They also help to soothe skin and prevent stress-related aging. Bonus: Enhanced with the plumping action of hydrating-factor sodium hyaluronate, the serum retains moisture for bouncy fresh skin.
---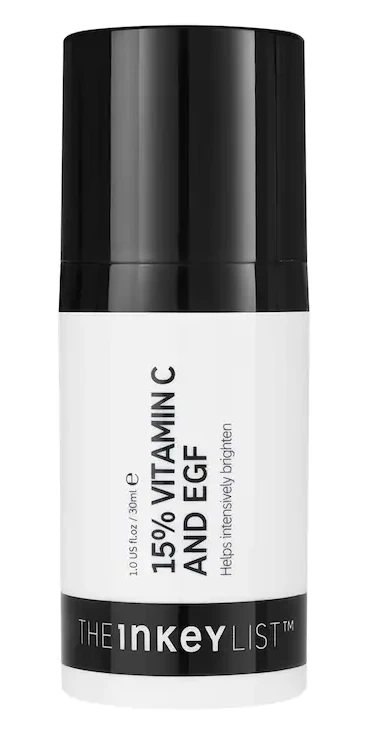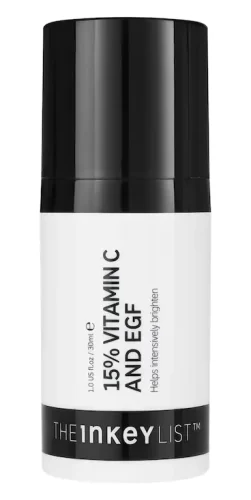 The Inkey List 15% Vitamin C and EGF Serum
If you are looking for a skin makeover, The Inkey List combines their EGFs with other actives to provide the complete anti-aging package. The plant-based EGF Epitensive dramatically improves your skin's elasticity, while the serum's super-brightener, a potent, stable form of vitamin C, fights free radical damage. And to help get rid of dark patches some more, the serum uses mild AHA phytic acid to exfoliate away sun-damaged skin for a new glowy complexion.
---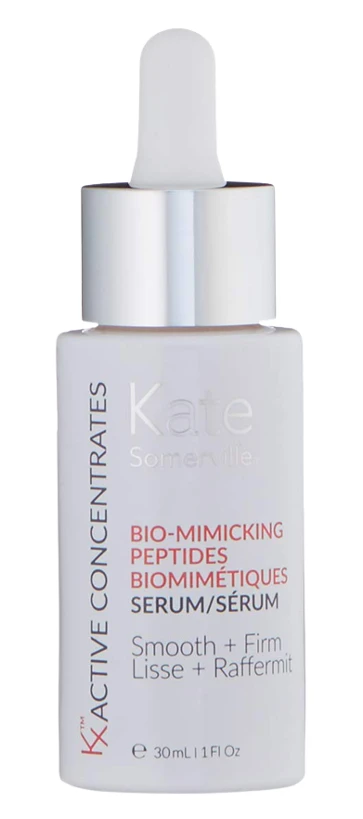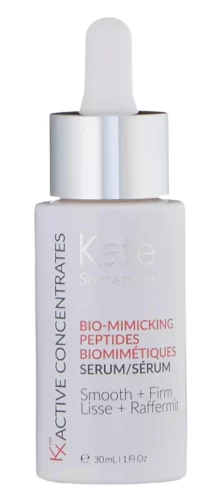 Kate Somerville Kx Active Concentrates Bio-Mimicking Peptides Serum
This serum works to increase the bioavailability of their synthetic growth factors and includes five bio-identical peptides to increase your body's anti-aging response. The formula packs the popular Korean anti-aging ingredient adenosine to fight wrinkles alongside vitamin B5, supporting skin repair and hydration.
---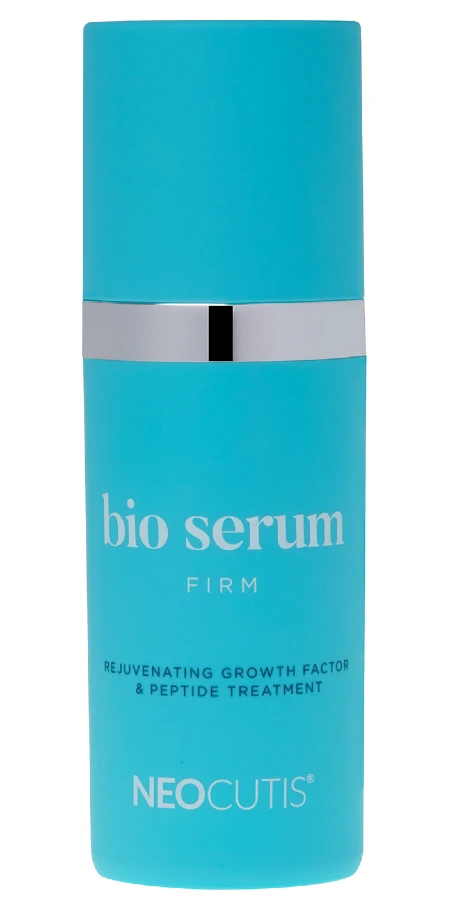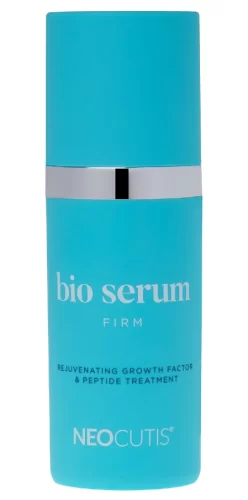 NeoCutis Bio Serum Firm
Growth factors are great for accelerating skin recovery, which is why NeoCutis Bio Serum Firm works wonders after microneedling. In fact, it's one of the best growth factor serums for microneedling because it's non-comedogenic and also packs peptides and carnosine. Besides, since it's powered by two forms of water-attracting sodium hyaluronate, plus vitamin E and squalane, the formula locks in moisture, so more reasons to use it.
---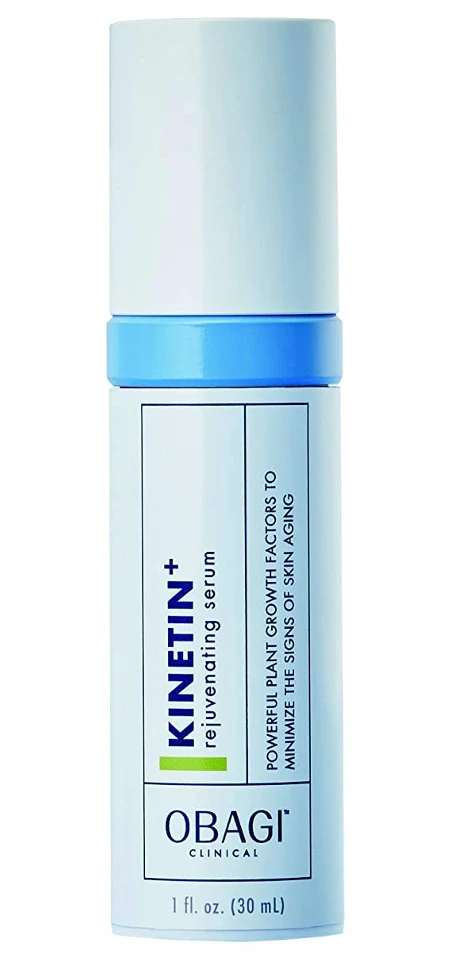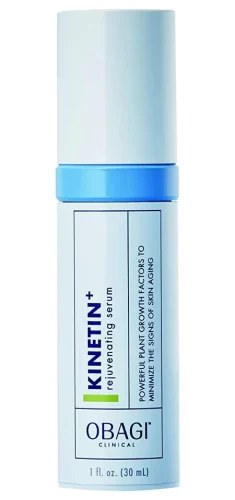 Obagi Kinetin+ Rejuvenating Serum
If you love nature-powered, plant-based goodness, look no further. Unlike some of the other best growth factor serums on the list, Obagi uses a particular growth factor, kinetin, obtained from Swiss apple stem cells. The complex is clinically shown to reduce signs of aging, helping to improve skin health and texture, a game-changer indeed.
---
references
Aldag, Caroline et al. "Skin rejuvenation using cosmetic products containing growth factors, cytokines, and matrikines: a review of the literature." Clinical, cosmetic and investigational dermatology vol. 9 411-419. 9 Nov. 2016, doi:10.2147/CCID.S116158\
Eskens, Olivia, and Samiul Amin. "Challenges And Effective Routes For Formulating And Delivery Of Epidermal Growth Factors In Skin Care". International Journal Of Cosmetic Science, vol 43, no. 2, 2021, pp. 123-130. Wiley, https://doi.org/10.1111/ics.12685.
Sundaram, Hema et al. "Pilot, Multicenter, Open-Label Evaluation of Safety, Tolerability and Efficacy of a Novel, Topical Multipotent Growth Factor Formulation for the Periorbital Region." Journal of drugs in dermatology : JDD vol. 14,12 (2015): 1410-7.