It's been a while since foundations are used for more than camouflage. A foundation that acts like skincare and makeup infuses the complexion with myriad benefits to enhance it while looking flawless at the same time. For instance, a lot of foundations load hyaluronic acid to plump and hydrate the skin, ceramides, and peptides to protect the barrier, vitamin C for an antioxidant shield, or even some SPF. So if you can wear a foundation with skincare benefits, why miss the chance?
The best skincare-infused foundations
Fairly, everybody craves the perfect canvas with blurred imperfections, smooth tone, long-lasting coverage, and skincare too. With this in mind, we rounded up the best foundations with skincare benefits that suit all skin types and preferences.
---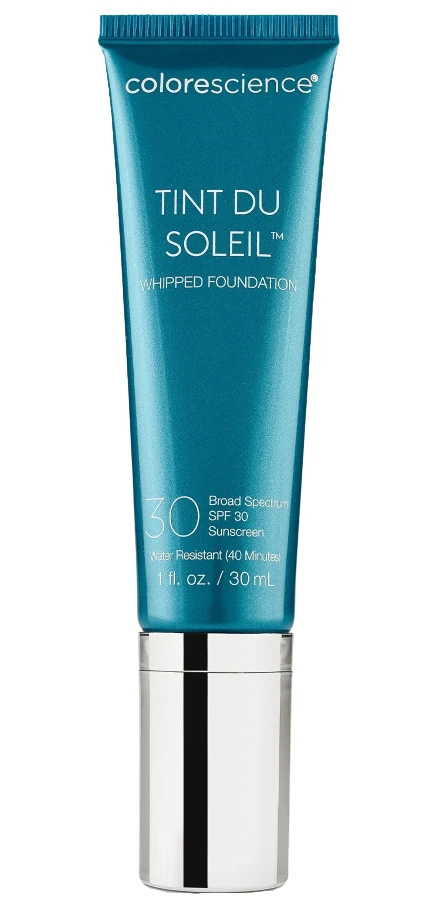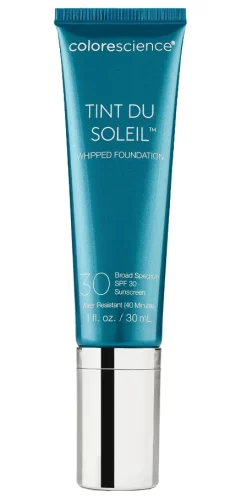 1
Colorescience Tint Du Soleil Whipped Mineral Foundation
This is the best skincare foundation because it delivers mineral protection SPF 30 to help prevent sun damage and is made with tried-and-true actives. Colorescience's slogan for this product is "foundation meets skincare," and not only do we take their word for it, but here's the proof.
Skincare benefits: The formula includes a blend of peptides, ceramides, and milk lipids to moisturize, plus vitamin E and a stable form of vitamin C to give antioxidant benefits. Moreover, the slew of plant-derived oils has antibacterial and anti-inflammatory properties, and they never clog pores.
Coverage: Tint Du Soleil Foundation delivers light coverage that blurs imperfections, evens tone, and leaves a silky feeling.
Shades: There are four shades, from light to deep, and some reviewers say they mix two shades to get their perfect match. So more hues wouldn't hurt.
Lasting-power: A little amount of the foundation goes a long way, and it stays in place the entire day without the need for touch-ups.
Texture: The creamy, whipped texture feels super silky when layered on, blends effortlessly, and leaves skin nice and plump.
---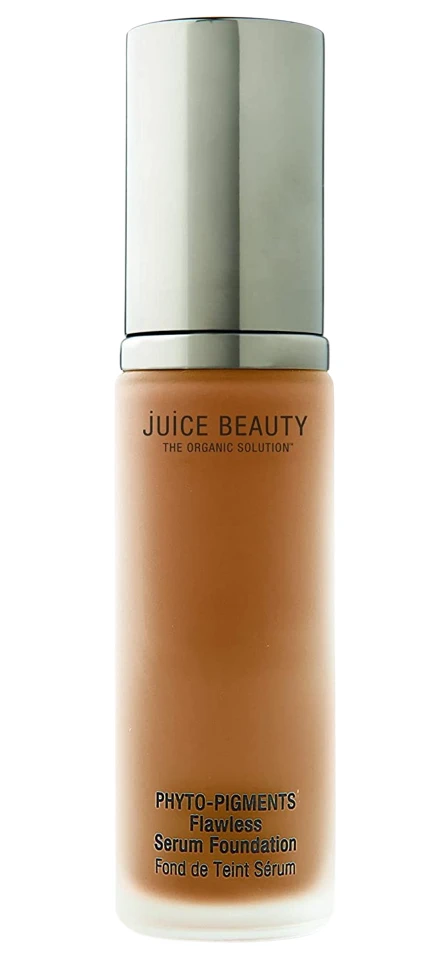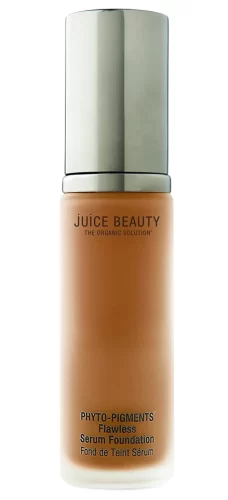 2
Juice Beauty Phyto-Pigments Flawless Serum Foundation
This skincare-infused foundation is ideal for those who prefer clean formulas that cover with plant-derived pigments instead of artificial dyes. The foundation smooths over imperfections and leaves skin deeply hydrated and nourished with a natural radiance, which is why it's been a cult favorite for years. It's ideal for those who fancy a no-makeup makeup look.
Skincare benefits: Made with an organic aloe juice base, Juice Beauty Serum Foundation has highly humectant, soothing and antibacterial benefits. The formula packs a mix of antioxidants, among which resveratrol, vitamins C and E, to support defense against oxidative stress.
Coverage: It provides light to medium coverage that leaves a naturally flawless look, so no one can tell you're wearing foundation. Plus, zero cakiness.
Shades: This foundation is available in 13 true-to-skin shades, from very light to very deep, and with various undertones.
Lasting-power: Juice Beauty Serum Foundation has incredible lasting power. You can wear it the entire day without needing to reapply it.
Texture: It has a weightless serum-like texture for comfortable wear. This foundation never settles into fine lines, and the nourishing texture actually reduces the look of large pores, fine lines, and wrinkles.
---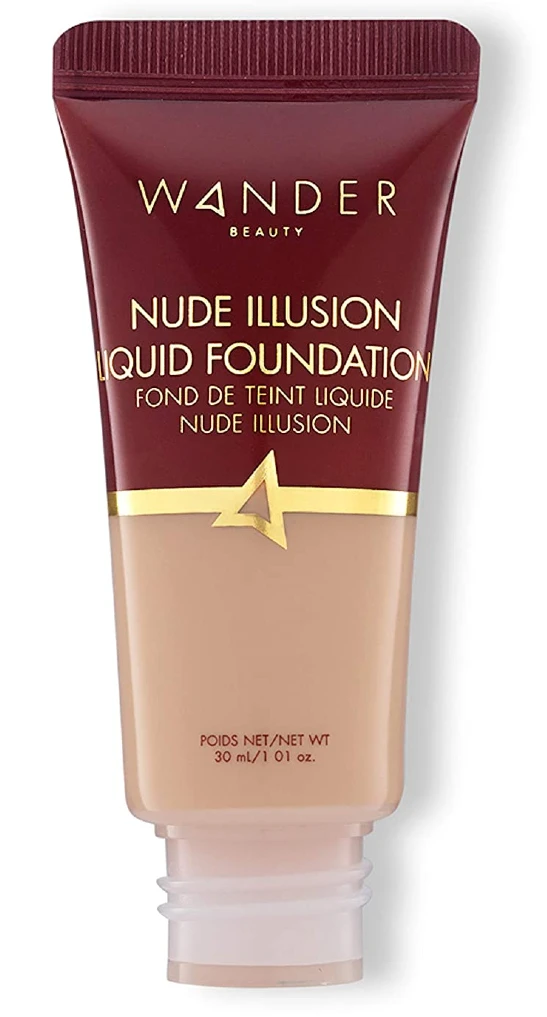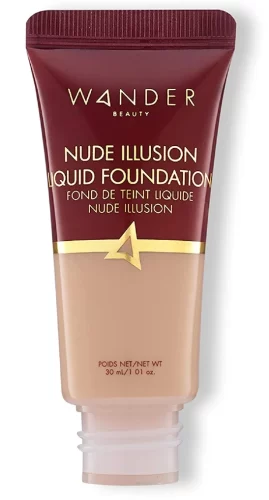 3
Wander Nude Illusion Liquid Foundation
This foundation with niacinamide performs amazingly at hydrating and concealing redness, blemishes, and discolorations. We also like it because it's designed with a doe-foot applicator to make it easy to apply as concealer, foundation, or for spots.
Skincare benefits: In addition to niacinamide that hydrates and evens, Wander Nude Illusion Liquid Foundation contains humectants to plump the skin, plus cica and black currant (rich in vitamin C), both known for their collagen-inducing abilities.
Coverage: It delivers medium-to-full buildable coverage, and you can build up layers effortlessly.
Shades: It has 13 shades with mostly warm undertones. Some reviewers complain about not suiting cool or neutral undertones, but most people are thrilled with how the foundation matches their skin.
Lasting-power: Wander Nude Illusion Liquid Foundation lasts the entire day, even on oily complexions. However, if the case, the applicator makes it super easy for touch-ups throughout the day.
Texture: Most people rave about this foundation's texture, lauding it for being silky and smooth and for layering as easy as a moisturizer. The liquid delivers a natural radiant skin-like finish.
---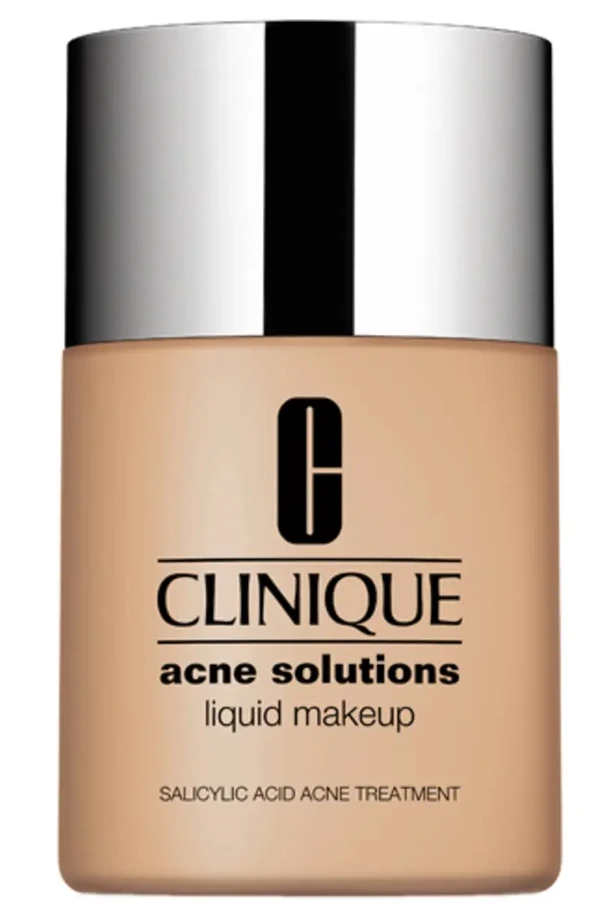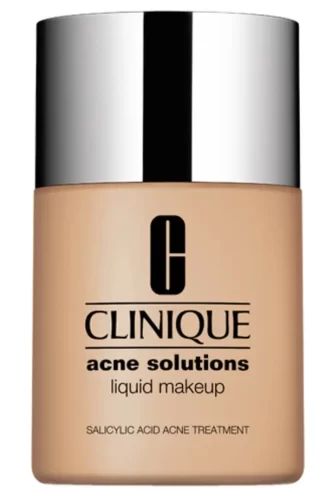 4
Clinique Acne Solutions Liquid Makeup
This is your best bet if you're looking for a skincare foundation for acne. It helps cover, clear, neutralize redness and prevent breakouts. More than that, the foundation is oil-free and leaves a matte finish, perfect for acne-prone folks.
Skincare benefits: Because it is loaded with 0.5% salicylic acid, this foundation helps speed up pimples' healing, balance oil, and prevent pores from clogging. Additionally, it contains laminaria saccharina extract, known for its hydrating, soothing, and antioxidant benefits — all needed by breakout-prone skin. The caffeine boosts antioxidant defense, while glycerin acts like a humectant, hydrating the skin.
Coverage: It offers medium coverage.
Shades: The foundation has 14 shades that match most skin tones.
Lasting-power: It has impressive lasting power. But since acne-prone skin often struggles with excess oil, it's better to set it with an organic setting powder that won't make you breakout.
Texture: The creamy-liquid texture makes it easy to apply (preferably with a wet beauty sponge) and leaves a natural matte finish that won't make you look greasy again.
---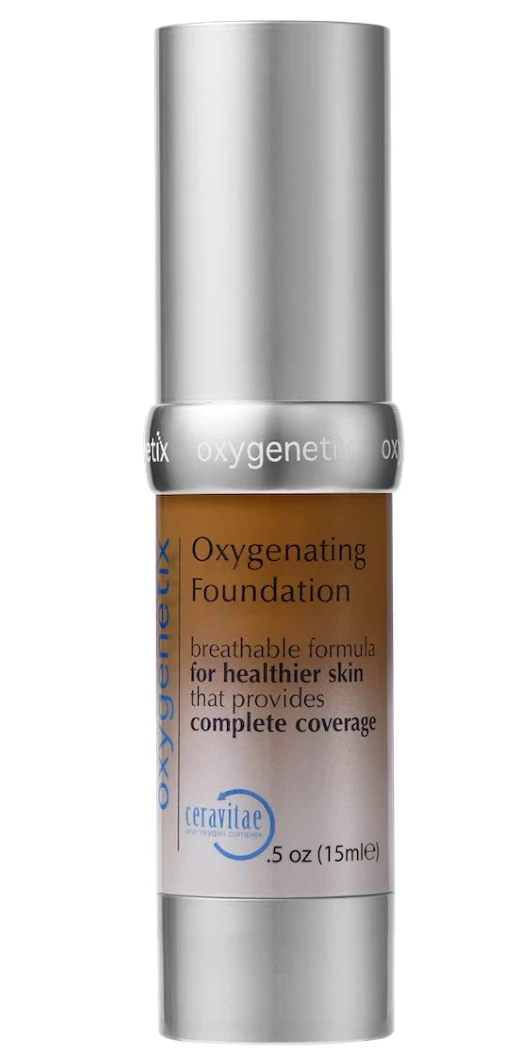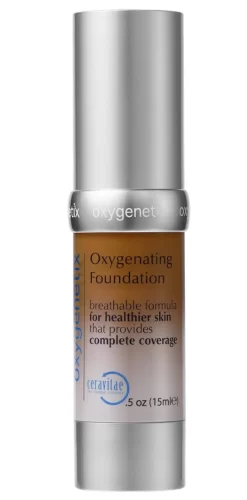 5
Oxygenetix Oxygenating Foundation
This is the best skincare foundation for sensitized, irritated, or post-treatment skin because it helps support collagen, calms, and allows the skin to breathe.
Skincare benefits: The base of aloe vera gel gives this foundation calming properties while making it super hydrating. Plus, it boasts a complex exclusive to the brand, which stimulates cell renewal, helping skin heal. This skincare foundation is also made with Saccharomyces cerevisiae extract, which improves skin microrelief, hydrates, and helps reduce aging signs.
Coverage: Oxygenetix Oxygenating Foundation assures full coverage, hiding many skin issues, from redness to pimples to scars. You can easily add more coats because it never looks cakey nor settles into fine lines.
Shades: It's available in 14 shades with cool and warm undertones that easily match most skin tones.
Lasting-power: As a non-transferable and water-resistant foundation, the lasting power is enormous, sticking around the whole day.
Texture: It has a liquid texture and a luminous finish, like your bare skin, but better.
---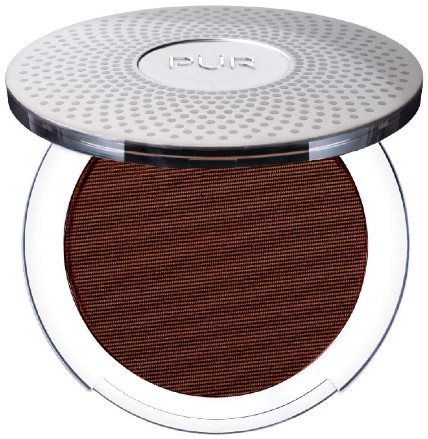 6
PUR 4-in-1 Pressed Mineral Powder Foundation
This multi-tasking foundation has been clinically proven to correct and prevent skincare concerns, from dark spots to pimples and fine lines.
Skincare benefits: The foundation has a formula spiked with encapsulated retinol, lactic acid, shea butter, and ceramides to help diminish fine lines look and even tone. More than that, vitamin E and ferulic acid defend against oxidative stress, while 17% of titanium dioxide gives SPF 15.
Coverage: The coverage is natural and buildable, leaving a matte, flawless finish.
Shade range: There are 36 shades to choose from. Impressive!
Lasting-power: This foundation lasts the entire day, though you might need to reapply it in case of excess sebum.
Texture: It has a powder texture, ideal for oily skin since it helps absorb sebum and never clogs pores. The natural finish is to everybody's liking.
---