As someone who's been dealing with acne for what feels like a lifetime, I've had more than my fair share of run-ins with foundations that just don't cut it. I'm talking about clogged pores, breakouts, and enough oiliness to blind someone. Luckily for me (and for you), there are a number of makeup-skincare hybrids that pack a punch with skin-nourishing ingredients. These multitasking foundations do more than just conceal imperfections; they work to improve the skin's condition, reduce breakouts, and brighten dull complexions with regular use.
I'm definitely not suggesting you should ditch your diligent skincare routine in favor of these enhancing foundations, but if you're already planning to wear foundation, why not choose one that's super-charged with skincare benefits? As such, I curated a list of the best skincare-infused foundations that'll camouflage your flaws while tackling your skin issues head-on. From formulas enriched with hyaluronic acid and antioxidants to those with SPF protection, there's an array of choices for each and every one of you.
The best foundations with skincare benefits to try right now
---
Best with SPF
Colorescience Tint du Soleil Whipped Mineral Foundation SPF 30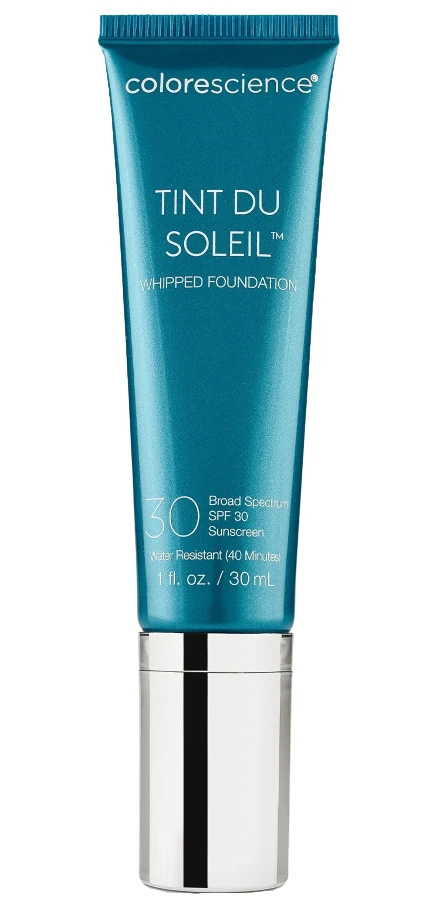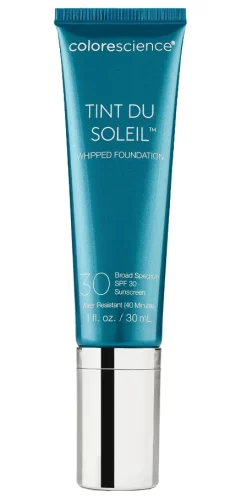 I'm a huge fan of Colorescience's products, and this skincare-infused foundation is one of my absolute favorites. And it's easy to see why: The blurring action creates a flawless, velvety finish and provides SPF 30 mineral protection against the sun's rays. Although this doesn't give us a free pass on sunscreen, having some additional defense against the harmful effects of UV damage is always a good idea. Moreover, the foundation not only hides imperfections but improves the skin with some great activities.
Skincare benefits: The formula contains two types of peptides to encourage collagen production, whilst ceramides and milk lipids give comforting hydration. Additionally, the foundation is made with a blend of antioxidants, including vitamin C, to nourish and neutralize free radicals.
Coverage: It goes from sheer to full, allowing you to build it up sans cakiness.
Shades: There are four shades, from deep to light. The Light one works for me, but some reviewers note that they mix two shades to get their perfect match. We could definitely use more shades to choose from, so let's hope that changes soon.
Lasting-power: A little goes a long way with this one, and it stays in place the entire day without the need for touch-ups.
Texture: It's whipped and creamy and allows you to blend it seamlessly onto the skin, creating a hydrating and comforting feel.
---
Best drugstore
L'Oreal Paris Hyaluronic Tinted Serum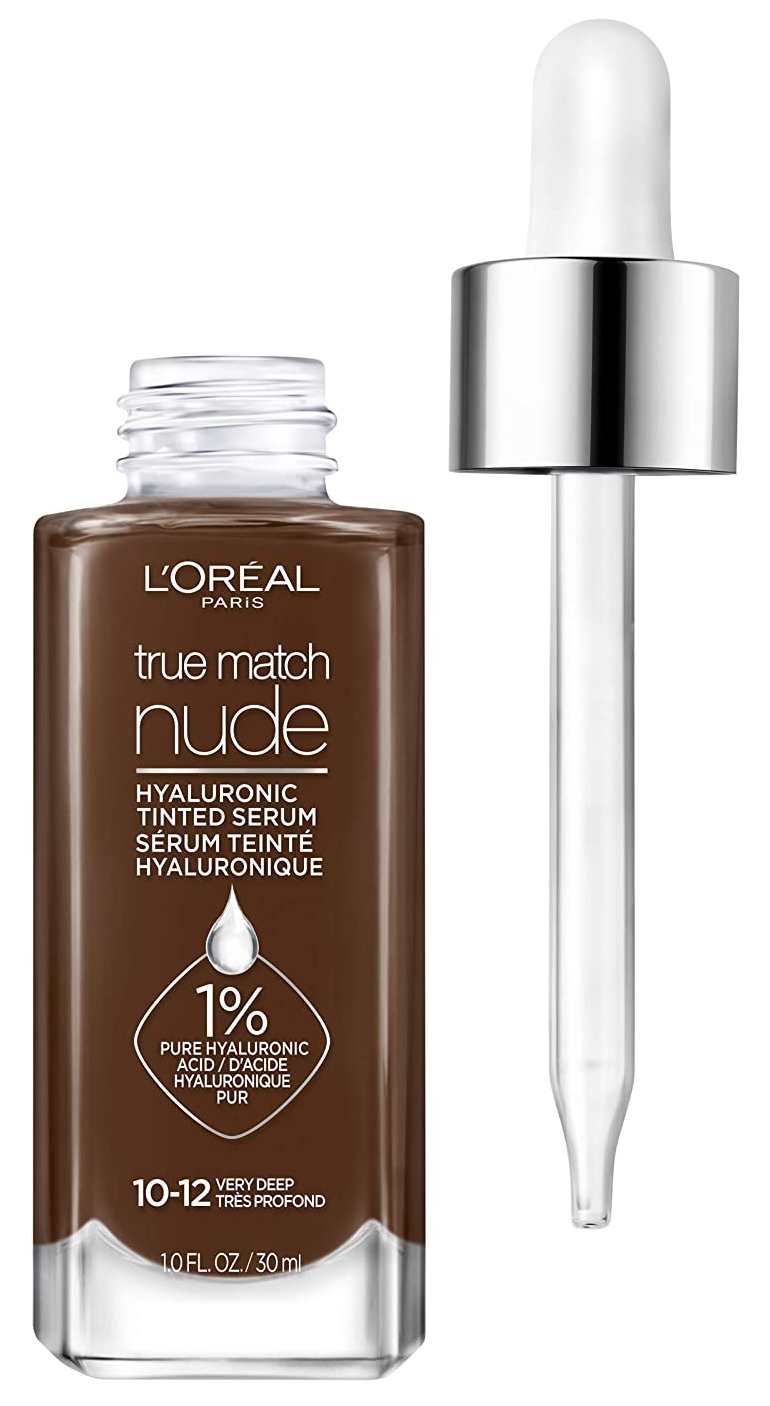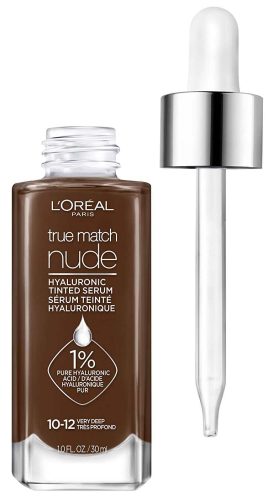 Is this a foundation or a serum? It's both. The internet's favorite drugstore foundation with skincare benefits has an extensive range (over 10K) of positive reviews from online shoppers. Launched in 2021, this hybrid innovation has already gained a solid cult following thanks to its hydrating formula and ability to provide a natural finish and a no-makeup feel. The only downside might be the dropper, which exposes the product to bacteria and can get messy during application.
Skincare benefits: The 1% hyaluronic acid quenches the skin and leaves it visibly hydrated. Furthermore, it contains dimethicone, which in addition to giving a smooth feel, it forms a protective barrier that hinders moisture loss.
Coverage: Medium but can be adjusted to your liking, whether you want to build it up for more coverage or sheer it out for a lighter finish.
Shades: 14 shades.
Lasting-power: All day (or night) long.
Texture: Serum-like, fluid, and a satin-y finish.
---
Best for acne
Clinique Acne Solutions Liquid Makeup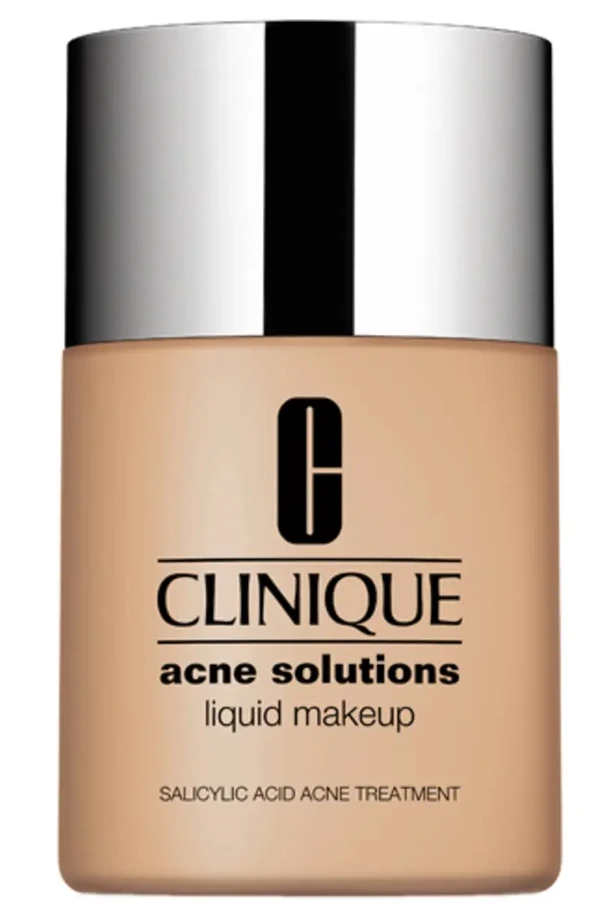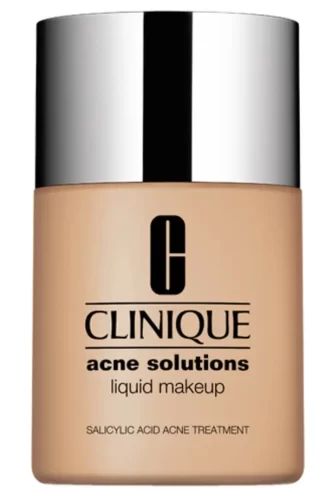 For those who are fighting acne and want their foundation to help, this can't be beaten. It helps clear breakouts whilst neutralizing redness and nicely blurring imperfections and pores. As an added bonus, this foundation is oil-free and gives you a matte finish that keeps the greasy look at bay.
Skincare benefits: With 0.5% salicylic acid in the mix, this foundation can help you zap those pesky pimples, regulate oil levels, and keep those pores from getting all clogged up. And to top it all off, it's packed with Laminaria saccharina, a supercharged source of beta-glucan that'll leave your skin feeling soothed.
Coverage: Medium, but you can easily build up to your desired level without any cakiness whatsoever.
Shades: The foundation has 13 shades that match most skin tones.
Lasting-power: It has quite an impressive lasting power. But since acne-prone skin tends to be on the oily side, it's a good idea to use an organic setting powder to help it last longer. 
Texture: A crowd-pleaser, the liquid consistency makes it easy to glide, leaving the complexion shine-free and looking wholly smooth and flawless.
---
Best organic and natural
Juice Beauty Phyto-Pigments Flawless Serum Foundation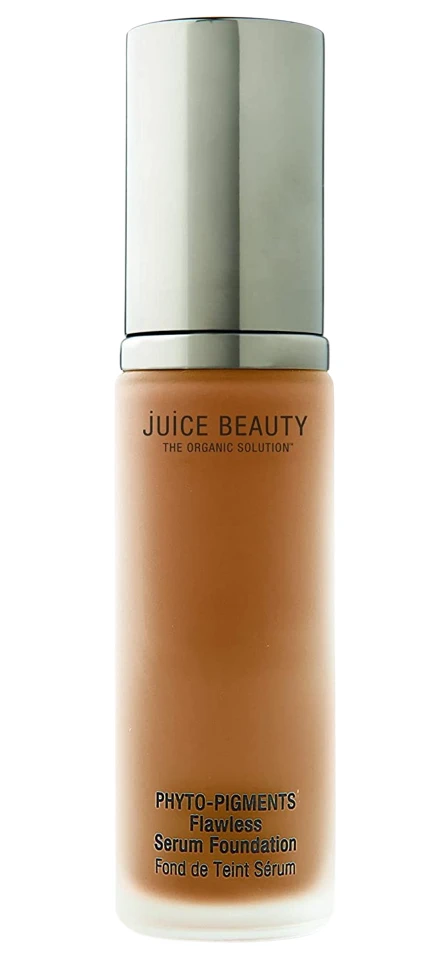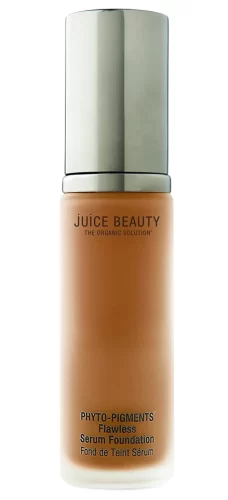 Juice Beauty is on a mission to create high-performing, organic, and sustainable products, and even Kate Hudson is on board—she's a proud ambassador, after all. This foundation is one of their iconic products, beloved by many in the clean beauty community for its high-performance formula that doubles as skincare. It uses plant-derived pigments to even out imperfections, and its serum-like texture makes it easy to give a dose of light moisture and a natural, dewy glow.
Skincare benefits: The formula is made in a base of organic aloe juice, providing ample hydration while being antibacterial. It's filled to the brim with skin-protecting fruit stem cells and contains gluconolactone, a polyhydroxy acid that provides mild exfoliation, improving the look of fine lines and discoloration. 
Coverage: It's light to medium and gives you a totally natural look. Seriously, no one will even know you're wearing foundation.
Shades: Available in 13 true-to-skin shades, from very light to very deep, and with various undertones, so anyone can find their perfect match.
Lasting-power: In a clinical study performed by Juice Beauty, a whopping 86% of participants reported that this foundation falls into the long-wearing category. 
Texture: Serum-like and thin, which means it won't ever settle into fine lines and wrinkles and is also incredibly lightweight.
---
Best for dry skin
It Cosmetics Your Skin But Better Foundatio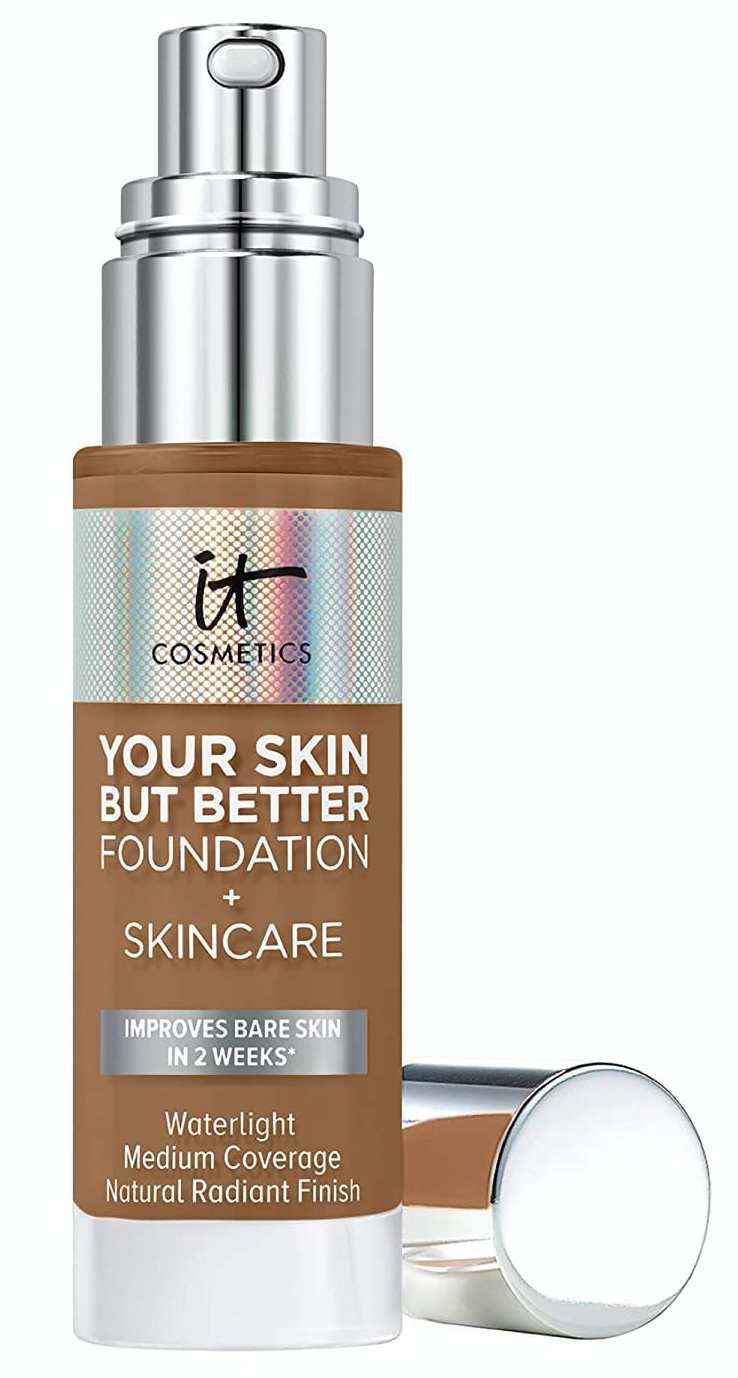 This liquid (and super-hydrating) foundation instantly leaves everyone wondering if your skin is for real that flawless. It's a great option for those who want moisture while having a radiant skin-like finish.
Skincare benefits: A blend of hyaluronic acid, aloe vera, and panthenol provide much-needed hydration by attracting moisture into the skin. Next, sulfonic acid delicately exfoliates to promote brighter skin with each wear.
Coverage: Medium, but can be built up.
Shades: There are 40 shades, so you don't have to settle for close enough.
Lasting-power: While it may not be the most long-lasting option, using a moisturizer or primer before application can help improve the staying power.
Texture: Waterlight fluid, runny.
---
Best full-coverage
Wander Nude Illusion Liquid Foundation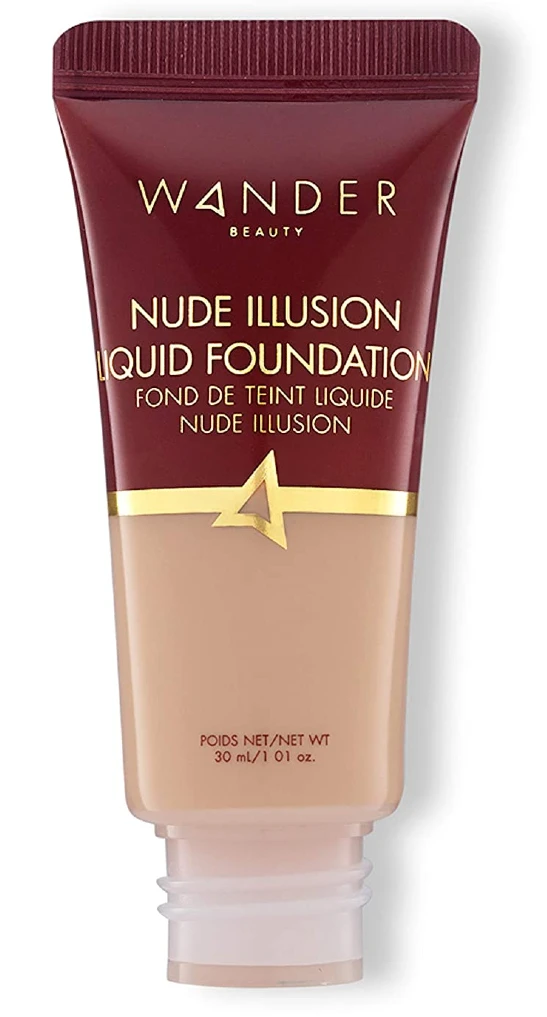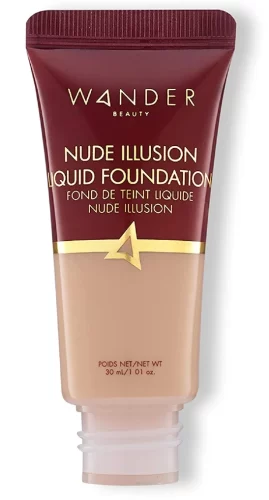 You might be tempted to believe a foundation with full coverage is heavy, but this one defies expectations. It builds up nicely to give you complete coverage, camouflaging flaws, redness, and blemishes while letting your skin breathe. Thanks to its handy doe-foot applicator, this liquid foundation applies effortlessly, even in those hard-to-reach areas, such as the nose bridge and around the eyes. And it's chock-full of skincare benefits.
Skincare benefits: The key ingredient here is niacinamide, a multi-tasking superstar that hydrates, soothes, evens, and fortifies. There are also antioxidants, including green tea and Centella asiatica to help keep your complexion guarded against oxidative stress throughout the day.
Coverage: It provides a solid medium-to-full coverage that's totally buildable, and you can easily layer it up without any hassle.
Shades: 12 shades, mostly warm undertones. Some reviews say not ideal for cool/neutral tones, but most love the match to their skin.
Lasting-power: It lasts all day, even on oily skin types. And if you need to freshen up, the applicator makes touch-ups a breeze.
Texture: Most people rave about this foundation's texture, lauding it for being silky and smooth and for layering as easy as a moisturizer. The liquid delivers a skin-like finish and a barely-there feel.
---
Editor's pick
Oxygenetix Oxygenating Foundation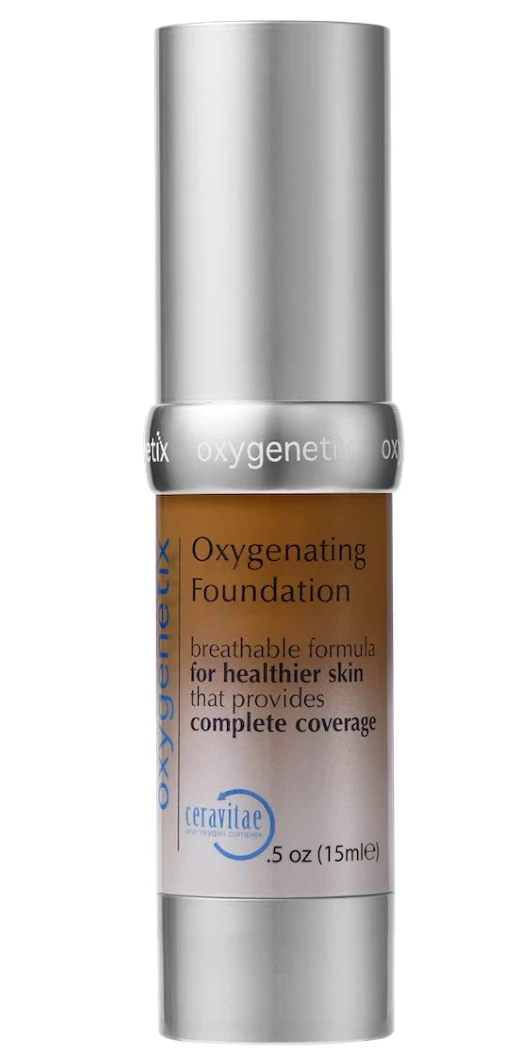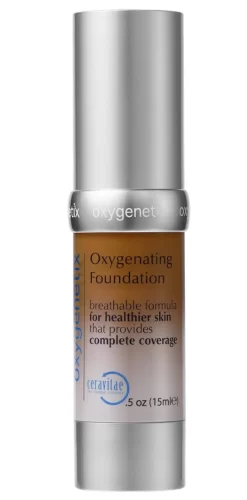 A favorite of our team (and Gal Gadot's makeup artist), Oxygenetix Oxygenating Foundation might be just the best makeup product with skincare out there. It's breathable for sure but is pigmented enough to camouflage imperfections and even out skin tone, all while leaving skin looking naturally luminous. As gentle as it can be used on sensitized or post-treatment skin because it encourages healing and calms.
Skincare benefits: The base of aloe vera gel gives it soothing, antibacterial, and hydrating benefits. Plus, it boasts a serious amount of isododecane that works as a delivery system for pigments and as an emollient that softens skin and relieves dryness. Its healing benefits are given by Saccharomyces cerevisiae extract, a known collagen booster, while grape seeds protect the existing collagen.
Coverage: It goes on sheer, but you can easily add more coats for total coverage without worrying about it settling into fine lines. Plus, zero cakiness.
Shades: It comes in an insane line-up of 28 shades, and the online shade finder tool is surprisingly accurate.
Lasting-power: With its non-transferable and water-resistant formula, this foundation has incredible lasting power, sticking around the whole day. 
Texture: The liquid texture leaves a radiant finish, like your bare skin, but better.
---
Best for oily skin
PUR 4-in-1 Pressed Mineral Powder Foundation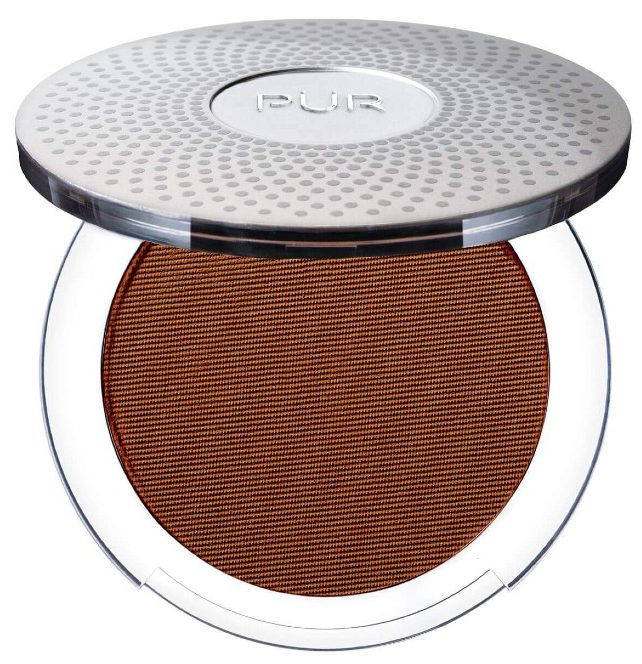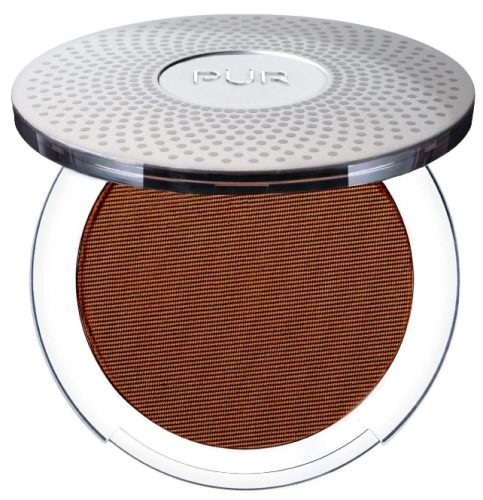 If you're dealing with oily skin, powder formulas are definitely the way to go. They work wonders by absorbing all that excess sebum from your skin's surface, leaving you with a perfectly matte and shine-free finish. Our top pick goes to PUR because it has a multi-tasking formula that covers, protects, and hydrates with a natural formula.
Skincare benefits: Despite the powder formula, this foundation moisturizes (yet never feels heavy) thanks to shea butter and ceramide. It also gives UV protection with minerals and fades dark patches with walheria extract and lactic acid.
Coverage: The coverage is natural and solid.
Shade range: It comes in an impressive range of 26 shades.
Lasting-power: This foundation really knows how to go the distance—it lasts all day long, although if you're dealing with some serious sebum, you might need to do a quick touch-up to keep it looking fresh.
Texture: Powder with a buttery feel that leaves an airbrushed matte finish.
---
Which skincare ingredient is the best to have in a foundation, and why?
There is no one-size-fits-all answer to this question, but having SPF in your foundation is something everyone can benefit from. Even though a foundation with SPF is not meant to replace your sunscreen, it is still effective in providing an extra layer of defense against sun damage.
Another thing to keep in mind is that the foundation is formulated to sit on top of the skin instead of penetrating it. This means the skincare in your makeup is unlikely to deliver meaningful benefits as if it were in a serum. So instead of looking for powerful actives in your foundation, head towards formulas with ingredients that don't need to penetrate the skin to provide benefits. These could be ingredients that soothe and hydrate the skin, like high-molecular hyaluronic acid, glycerin, isododecane, dimethicone, and squalane. For acne-prone skin, a foundation with zinc and salicylic acid can help heal pimples faster through their anti-inflammatory and antibacterial properties. For someone with oily skin, a foundation with kaolin can help soak up the excess sebum and leave skin mattified when wearing it. All in all, makeup should not replace skincare but complement it.
Common ingredients in foundation labeled as "skincare" that aren't really beneficial and you should avoid
Tocopherol is often used in skincare-infused foundations, but it doesn't really do much. Yes, it's a powerful antioxidant, but when used in a foundation is unlikely to protect the skin properly. For what it's worth, it can soften the complexion thanks to its emollient properties. However, keep in mind that tocopherol is comedogenic and can clog the pores if it sits on the skin for too long. Retinyl palmitate is another ingredient in foundations labeled as "skincare" that doesn't provide benefits. It's a retinol ester that needs to penetrate the skin to do its magic, which is unlikely to happen if it's used in a foundation. More worrying is that retinyl palmitate reacts badly when exposed to sunlight and forms small molecules that damage DNA and can even increase the risk of skin cancer.