More and more people turn to green tea skincare products to improve their skin and protect it against external aggressors. As a rich source of flavonoids, green tea provides an amalgam of antioxidants to fight free radicals and consolidate the skin's defense against sun damage and pollution, which by the way, are the main culprits that lead to photoaging. According to studies, it can inhibit between 66 and 80% of UV-induced damage, so it's a great skin protector to have in your beauty routine.[1] Better still, topical products with green tea have been found to increase skin hydration, minimize fine lines, reduce acne and even brighten stubborn dark spots. In other news, it's a multi-tasking ingredient that you can use to fight all your skin issues at once.
Now scroll on to learn more about this skin savior and find the best green tea skincare products that can give you healthy and resilient skin.
What is green tea?
Green tea is an extract from unoxidized Camellia sinensis leaves and buds. Since it doesn't undergo an oxidation process, it is one of the least processed types of tea. The most potent bioactive compound in green tea is epigallocatechin gallate (EGCG). EGCG is a catechin (polyphenol) that has been proven a million times to have a wide range of benefits on the skin. Moreover, green tea also has about 15-20% protein content, 2-4% caffeine, and it's a rich source of vitamins B2, B3, and C.[2]
All things considered, here's how using topical products with green tea can improve your skin, according to studies:
Protects against premature skin aging and UV damage due to its high content of antioxidants, mainly EGCG.
Increases skin moisture retention by reducing the degradation of natural moisturizing factors (NMFs), including hyaluronic acid.[3]
Firms the skin and minimizes fine lines and wrinkles by preventing the degradation of collagen, which is a protein required to maintain the structure and strength of the skin.[3]
Promotes an even-looking complexion by inhibiting the pigment responsible for dark spots and skin discoloration.[4]
Reduces acne through its antibacterial and anti-inflammatory properties.[5]
Calms redness and soothes irritations
Minimizes the appearance of dark circles and puffiness
Is green tea safe for the skin?
The best part about green tea is that it has little to no side effects when applied to the skin. Unless you have a hypersensitivity to it, you shouldn't experience any bad reactions from using skincare products with green tea. It's a natural ingredient that is gentle, hydrating, and non-irritating. Plus, green tea is suitable for all skin types and can be used daily.
From toners, serums, and creams to eye patches and face masks, these are the best green tea skincare products to promote healthy and radiant skin.
---
1
100% Pure Green Tea EGCG Concentrate Serum
This serum is great for toning, brightening, and revitalizing your skin. This is because it is made with a generous amount of green tea and EGCG to fight signs of aging and lack of moisture. The addition of hyaluronic acid, rosehip oil, avocado oil, and squalane softens and hydrates the skin even more while leaving you with a glowing, dewy complexion. It's lightweight, absorbs quickly, and does not feel greasy or sticky — a treat for every type of skin. Yet, what we love the most about this serum is that you can use it all over your face, including the eye area.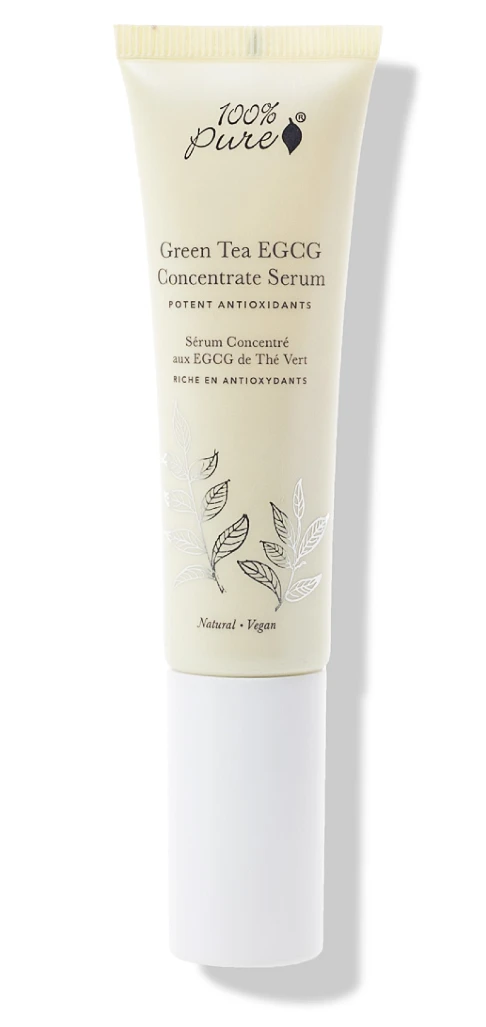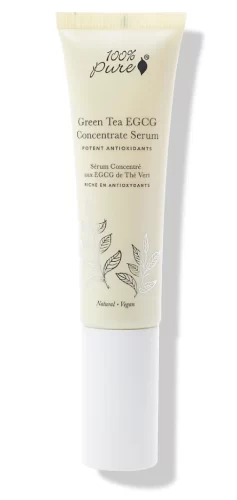 ---
2
Boscia Green Tea Oil-Free Moisturizer
This is your best bet if you're looking for an oil-free and antioxidant-rich moisturizer to soothe redness and minimize breakouts. Thanks to green tea and wine extracts, it absorbs excess oil and reduces inflammation in an instant without ever drying the skin. It also contains a mix of humectants, including hyaluronic acid, glycerin, and betaine, to hydrate and plump the skin. Use it after your serum, and you will have a mattified and shine-free complexion before you know it. Absolutely a holy grail product for people with sensitive, combination, or oily skin prone to acne.


---
3
The Body Shop Japanese Matcha Tea Mask
When pollution bothers your skin, reinforce it with this mask infused with matcha, the most potent green tea made from the entire leaf — which means more antioxidants. On top of that, dandelion and aloe extracts soothe while shea butter and vitamin E nourish and help the skin replenish its moisture. The Body Shop Japanese Matcha Tea Mask is that moment of zen you get twice a week to remove impurities buildup and purify congested skin.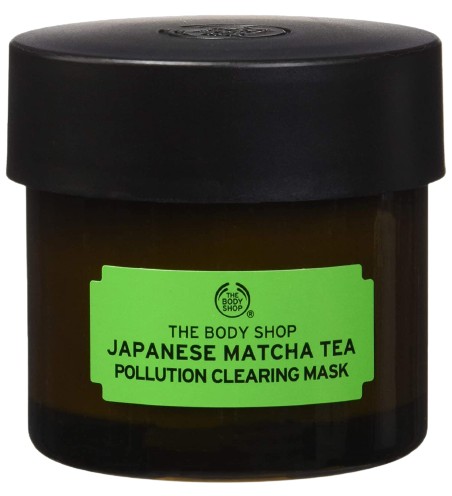 ---
4
Mario Badescu Facial Spray with Green Tea
Spray this mist all over your face whenever your skin needs a pick-me-up. It refreshes and revitalizes in no time with green tea, cucumber water, aloe juice, and peppermint water. Plus, it smells like heaven. If there's something that can instantly make your skin feel hydrated and relaxed is this facial spray infused with green tea by Mario Badescu. P.S.: You can store it in the fridge for an extra refreshing feeling.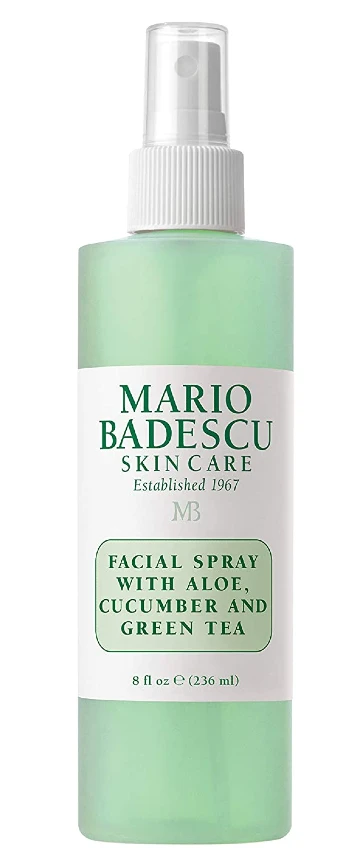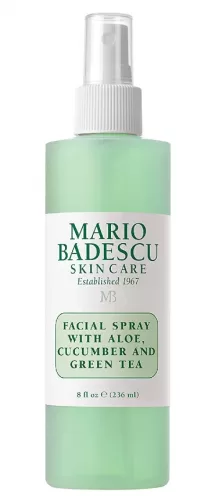 ---
5
Amorepacific Treatment Enzyme Peel Cleansing Powder
This one is a dual-action product that acts as a cleanser and exfoliator to remove the buildup of debris and impurities accumulated on the skin. The results? A smoother and more radiant appearance. Interestingly, the formula is made with probiotic enzymes extracted from green tea, which gently removes dirt and dead cells while unclogging pores and strengthening the moisture barrier.
More than that, the cleanser has a base of mannitol, which is a lab-made sugar that binds moisture into the skin to increase hydration.[6] Hyaluronic acid, allantoin, and betaine are other key ingredients in this formula that work hard to maintain moist and supple skin. Use it every day just before you start your skincare routine to have a fresh canvas for your serum and moisturizer.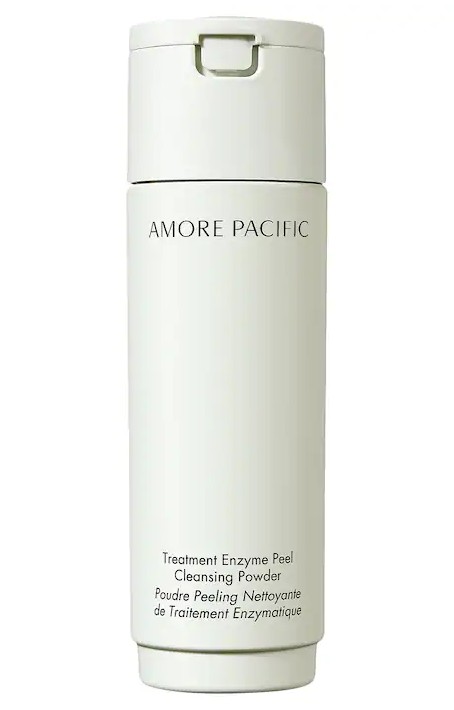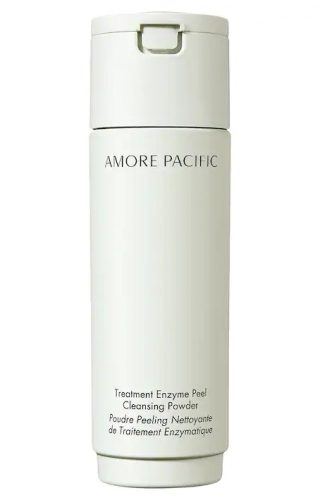 ---
6
Innisfree Intensive Hydrating Serum with Green Tea
This serum promises to deliver hydration for up to 24 hours with a formula enriched with five different forms of hyaluronic acid. What's exciting about it, though, is that it contains a unique type of green tea selected from over 3000 varieties to best capture the skincare benefits. The green tea in the formula has been steamed and pressed for 30 seconds in order to retain most of the nutrients and vitamins.
If this isn't enough, Innisfree Intensive Hydrating Serum also contains vitamin C and other skin-loving ingredients such as niacinamide and squalane. FYI, green tea and vitamin C is one of the healthiest combos for your skin, as both are antioxidants that fight oxidative stress and photoaging. In fact, studies have shown that vitamin C increases the number of catechins that the body can absorb — so more benefits from green tea.[7] Whether your skin is dehydrated, prone to redness, or irritated, it'll love to drink up this serum.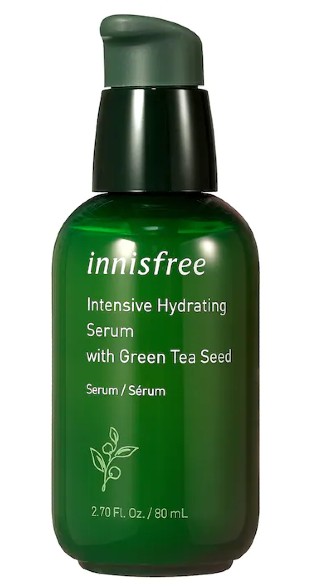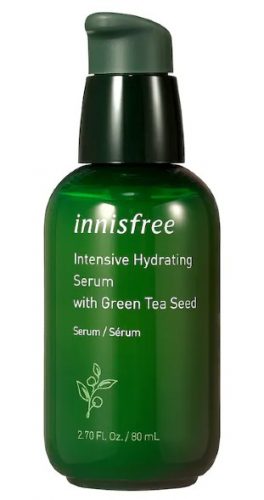 ---
7
Boscia Matcha Magic Super-Antioxidant Mask
This mask is the perfect product to have on hand for the moments when your skin feels tight, irritated, and dry. Not only it's infused with matcha, but it loads a meaningful amount of soothing and nourishing ingredients such as jojoba seed, willow bark, and lavender oil. All feed your skin with endless nutrients, destressing it and reducing redness and inflammation. Ideally, use it at night, twice a week, to keep your skin nurtured and reinforce its antioxidant defense system.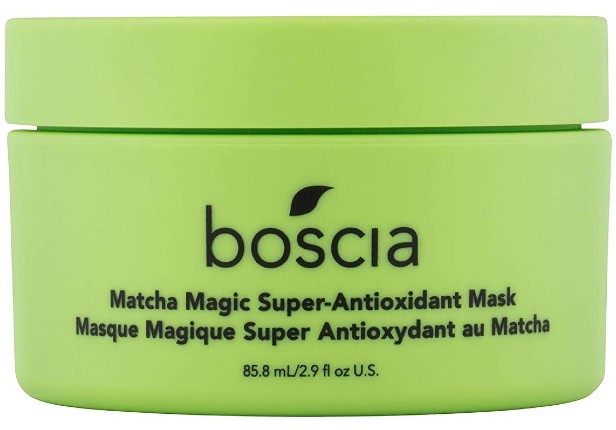 ---
8
Cocokind Mymatcha All-Over Moisture Stick
When a product has a full 5-star rating from over 1000 reviews, you know it lives up to expectations. This stick is ideal for bringing quick moisture relief to your skin, revitalizing tired eyes, and reducing dark circles and puffiness. It can be applied literally everywhere on your face and contains only three ingredients: coconut oil, beeswax, and matcha powder. All these work gently to hydrate and soften, which ultimately leads to happy and healthy skin.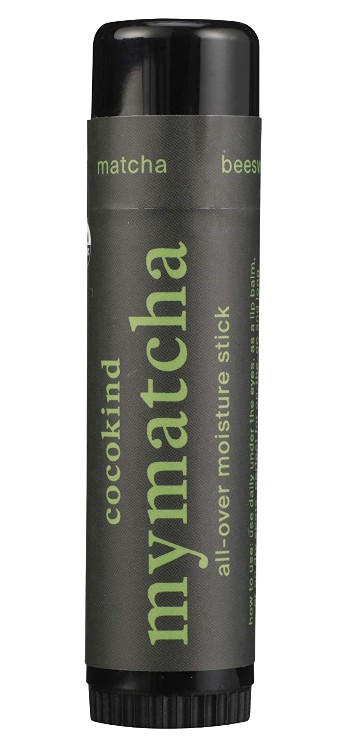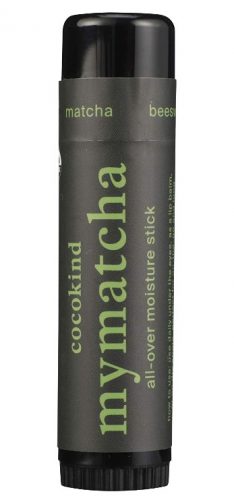 ---
9
True Botanicals Nourishing Cleanser
This cleanser is in a class of its own when it comes to purifying and nourishing the skin. It has a natural and clean formula that thoroughly removes impurities and debris without stripping the moisture. In addition to being made on a green tea base, the cleanser also contains white tea to double the protecting and moisturizing benefits. Actually, this product has more ingredients that your skin will love, such as aloe vera, antioxidants, and botanical oils, so you better check it out! Oh, and have I mentioned is vegan, cruelty-free, and free of sulfates?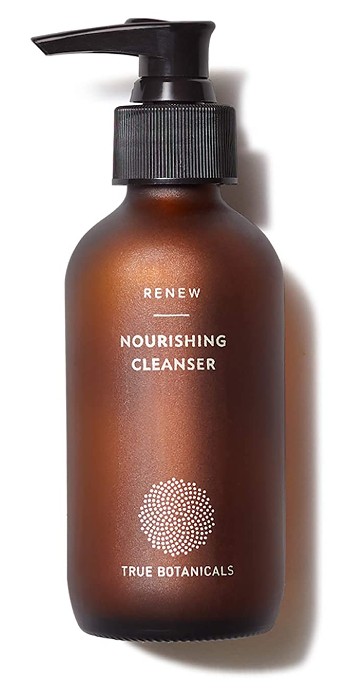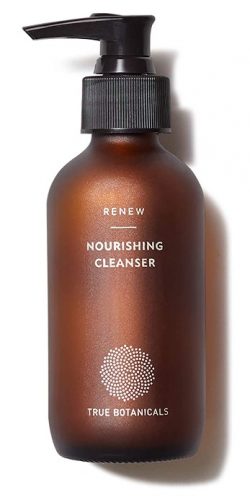 ---
10
The Ordinary Caffeine Solution 5% + EGCG
Combining a high concentration of caffeine with EGCG from green tea, this serum vows to improve dark circles and reduce puffiness and eye bags. The formula also includes hyaluronic acid and lactic acid to strengthen and moisturize the skin, plus soybean seed extract for added antioxidant effects. Just make sure you use it for at least one month, twice daily, to see visible results.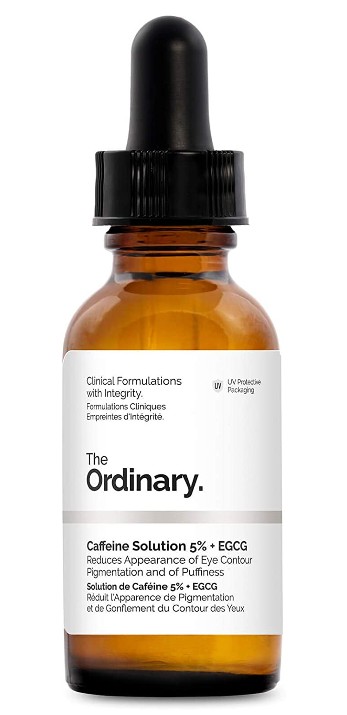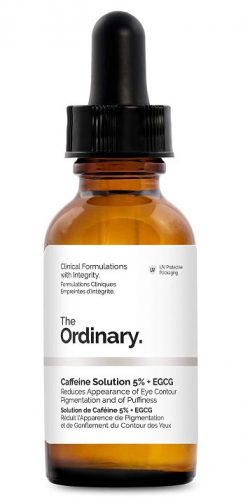 ---
11
Clinique Radical Dark Spot Corrector
If you're dealing with uneven tone, acne scars, or blotchy skin, and you're looking for a product to correct all of the above, Clinique has you covered. This damage eraser is made with vitamin C and propylresorcinol to brighten dark spots, plus salicylic acid and glucosamine to provide mild exfoliation and reveal more luminous skin. Additionally, green tea, rice bran extract, and caffeine provide antioxidant benefits, helping prevent further dark patches. It's gentle, suitable for all skin types (sensitive and acne-prone skin included), and has been clinically proven to provide optimal results in as little as 12 weeks.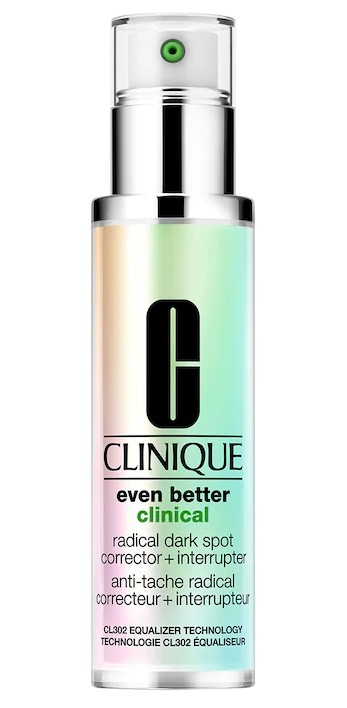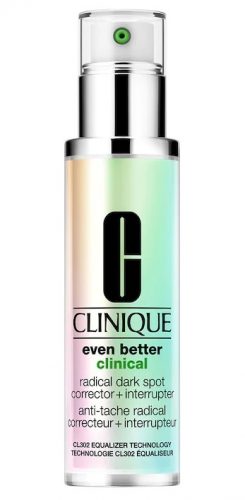 ---
12
Proactiv Green Tea Moisturizer
This moisturizer addresses acne-prone skin with a lightweight and non-comedogenic formula. It packs hyaluronic acid, green tea, and squalane to alleviate dryness and soothe redness, plus retinyl palmitate (an ester of retinol) to renew and firm the skin. From purifying to clarifying and moisturizing, this product does it all without clogging pores or leaving a greasy feeling. Use it daily in the morning or at night, alone or under makeup, to soothe and nourish your skin. I must mention that this moisturizer contains parabens and synthetic fragrances, so if your skin is easily reactive, you should reconsider it.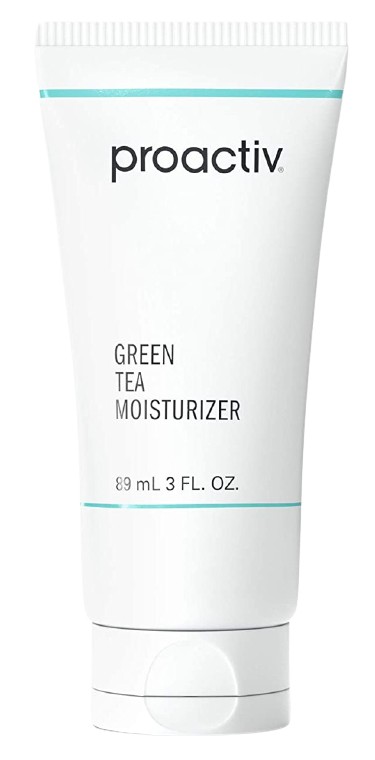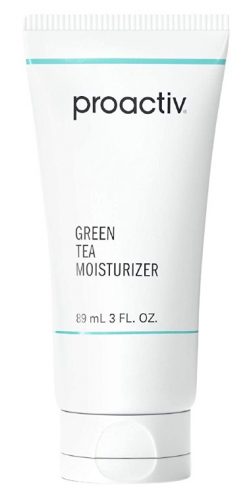 ---
The takeaway
As you can see, green tea is found in all sorts of skincare products, targeting different skin concerns. To get the most out of your green tea products, make sure you use the ones that align with your skin needs. And remember, skincare is all about being consistent and diligent. Use the products for at least two months to unveil their true potential.
---
Footnotes
Women's Concepts uses reliable sources, including dermatologists' insights, clinical trials, and scientific journals, to find accurate information and support all the facts shared in our articles. All statements and claims have clear and legit references. Read our editorial policy to learn more about our sources of information, our process of researching and fact-checking the content, and how our team strives to keep all articles updated, completed, and trustworthy.