The thin skin under the eyes is the first to show signs of aging and sun damage because it lacks fat support and has no sebaceous glands to secrete sebum and keep it naturally moist. This, coupled with the constant muscle movements when we blink, or squint, is what makes the fragile eye area susceptible to early fine lines and wrinkles. With this in mind, we've prepared the best hyaluronic acid eye creams to give your eyes a wake-up call. They work to attract water molecules into the skin, increase hydration, and make the skin appear plumper. In turn, this minimizes the look of crows' feet and puffiness and makes your eyes appear more awake and luminous. But before we jump to the products, here's a bit about what hyaluronic acid does and why it's one of the most demanded ingredients in eye creams.
How hyaluronic acid works?
As a humectant, hyaluronic acid (HA) works by attracting and retaining water in the skin, leaving it hydrated, plump, and moisturized. With long use, it can relieve dryness, plump fine lines, minimize crow's feet, and depuff and revitalize tired eyes.
It's worth pointing out there are a few types of hyaluronic acid used in skincare products. The classic hyaluronic acid has a large molecule that allows it to sit on the skin's surface for instant plumpness. There's also hydrolyzed hyaluronic acid, which is very similar to HA but has a molecule small enough to penetrate the skin. Finally, sodium hyaluronate has the lowest molecule that sinks into the dermis for long-lasting hydration. For the best results, consider eye creams made with a combination of low- and high-molecular-weight hyaluronic acid, which provide hydration on both the surface and deeper layers for instant and long-term effects.
In addition, you want your eye cream to contain anti-aging ingredients such as retinol, vitamin C and peptides, antioxidants, and skin-replenishing compounds (think, ceramides and fatty acids). This is because they work in tandem to enhance the eye area on all fronts, improving everything from hydration to skin firmness, brightness, and protection.
Rest assured, all products we found for you have just that and more. Scroll on and pick your favorite hyaluronic acid eye cream.
The best hyaluronic acid eye creams
---
1
Neutrogena Hydro Boost Eye Cream
When it comes to finding an affordable and effective eye cream, Neutrogena Hydro Boost Eye Cream truly stands out. It's loaded with glycerin and small molecular hyaluronic acid to attract moisture into the skin, while synthetic beeswax helps prevent moisture loss for an eye area that stays plump. We also love that this eye cream is formulated sans fragrance and alcohol and is opthalmologist tested.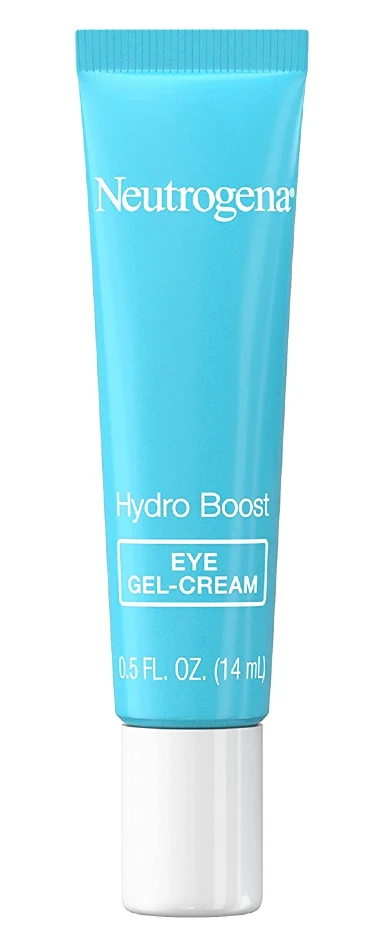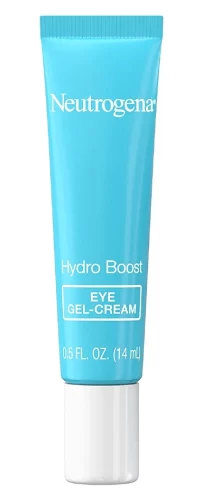 ---
2
First Aid Beauty Hydrating Eye Cream
Laced with a long list of humectants, including hyaluronic acid, aloe juice, and vitamin B5, that work to replenish hydration levels, this eye cream is great at plumping the eye area. We're big fans of this formula because it packs mango seed butter and squalane to seal all that moisture in the skin and soften, while caffeine and licorice root decrease puffiness and brighten dark circles. The rich, fast-absorbing formula is dermatologist tested and safe for sensitive skin.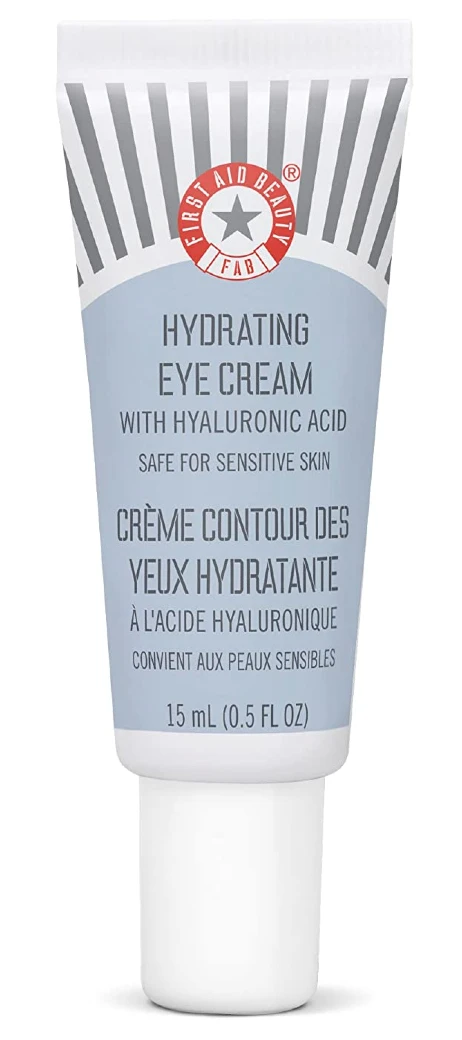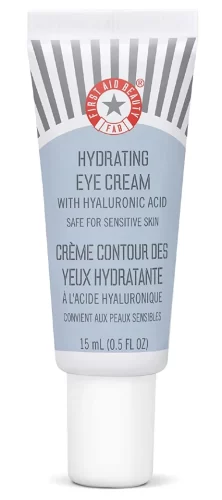 ---
3
EltaMD Renew Eye Gel
This eye gel packs a plethora of skin-loving ingredients to fight all the woes your eye area may struggle with, including the lack of firmness and dark circles. Humectants like hyaluronic acid and panthenol help smooth out crow's feet, while vitamin C, niacinamide, and peptides induce collagen production, minimizing the look of fine lines and wrinkles. The gel texture feels refreshing and lightweight, and it absorbs readily without leaving any residue.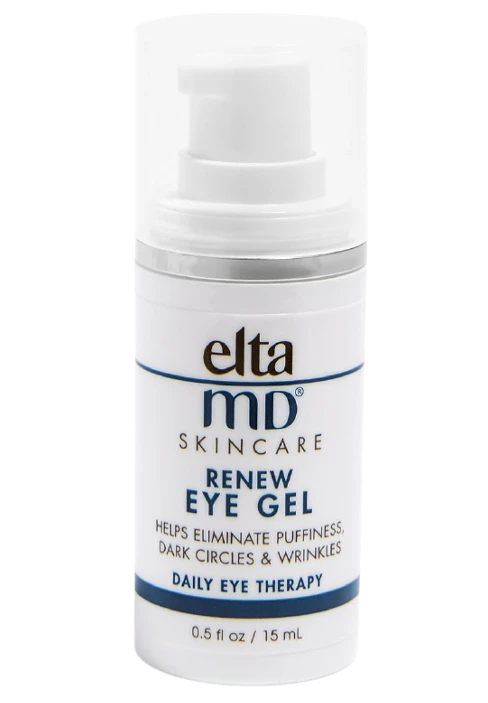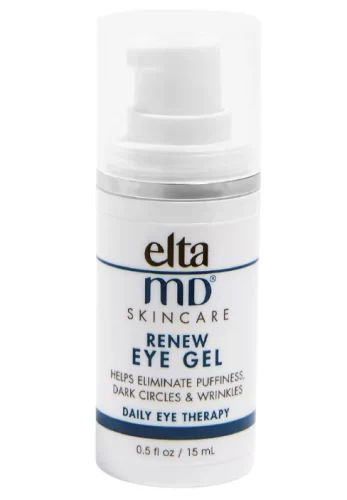 ---
4
CeraVe Repair Eye Cream
As one of the best-rated eye creams with hyaluronic acid, CeraVe Repair Eye Cream delivers long-term hydration and keeps the fragile skin around the eyes smooth. In addition to hyaluronic acid, the formula packs three ceramides to give skin resilience and strength, making it less susceptible to moisture loss. With a wallet-friendly price and almost 130,000 people giving it 5-star reviews, this eye cream is a solid option to consider.


---
5
StriVectin Advanced Acids Hyaluronic Tripeptide Gel-Cream
Filled to the brim with sodium hyaluronate, antioxidants, and a slew of other humectants, this eye gel cream for wrinkles is a crowd-pleaser, as it hydrates incredibly well and prevents collagen degradation. There is also a blend of peptides and a stable form of vitamin C to increase firmness and elasticity and make crow's feet less noticeable. According to instrumental testing conducted by StriVectin, 96% of people noticed a more elastic eye area after four weeks of use.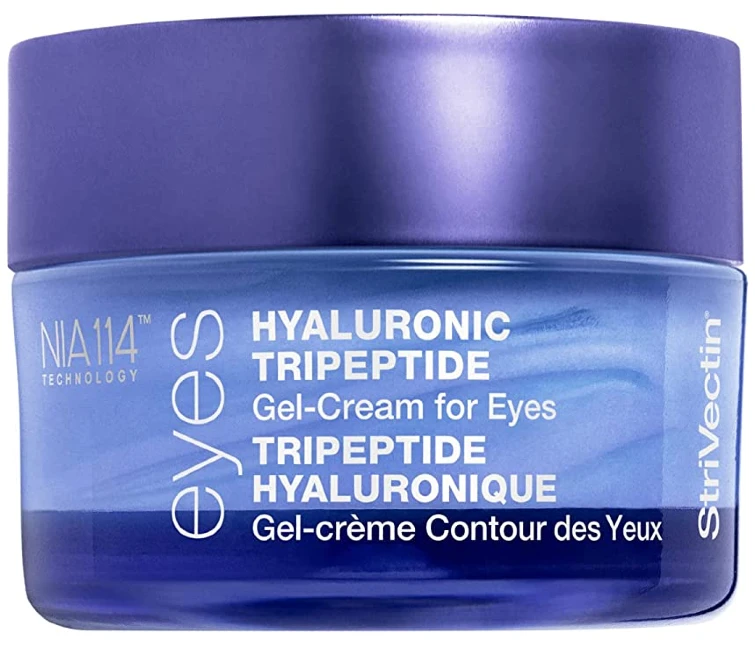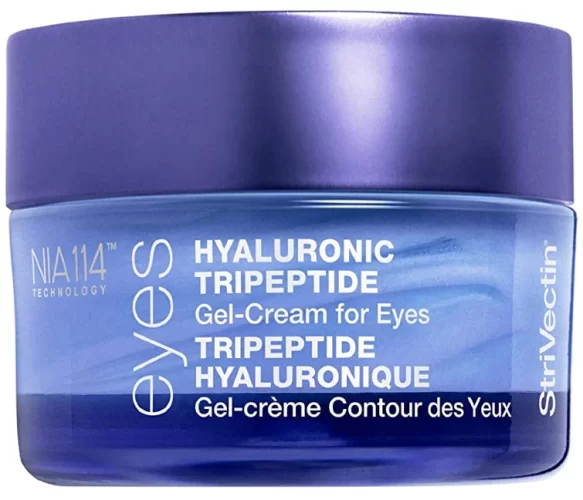 ---
6
Swanicoco Peptine Biome Eye Cream
This K-beauty eye cream loads the molecular weight of hyaluronic acid to induce hydration on multiple layers of the skin. What's special about this eye cream is that it's made with 72% peptide and probiotics, meaning it performs amazingly at soothing and spurring collagen growth for an eye area that appears more volumized and with less noticeable fine lines.


---
7
Glow Recipe Avocado Melt Retinol Eye Cream
Those looking for an eye cream made with hyaluronic acid and retinol—the compound that renews the skin to bring it to its best condition— should consider this one from Glow Recipe. It's made with slow-release retinol to act gentler and two sources of hyaluronic acid to increase moisture and soothe. Another key ingredient in this formula is avocado oil and fruit, which play a key role in nourishing and sealing moisture into the skin. And since the texture is that of a richer balm, it's a great pick for those who want to relieve dryness.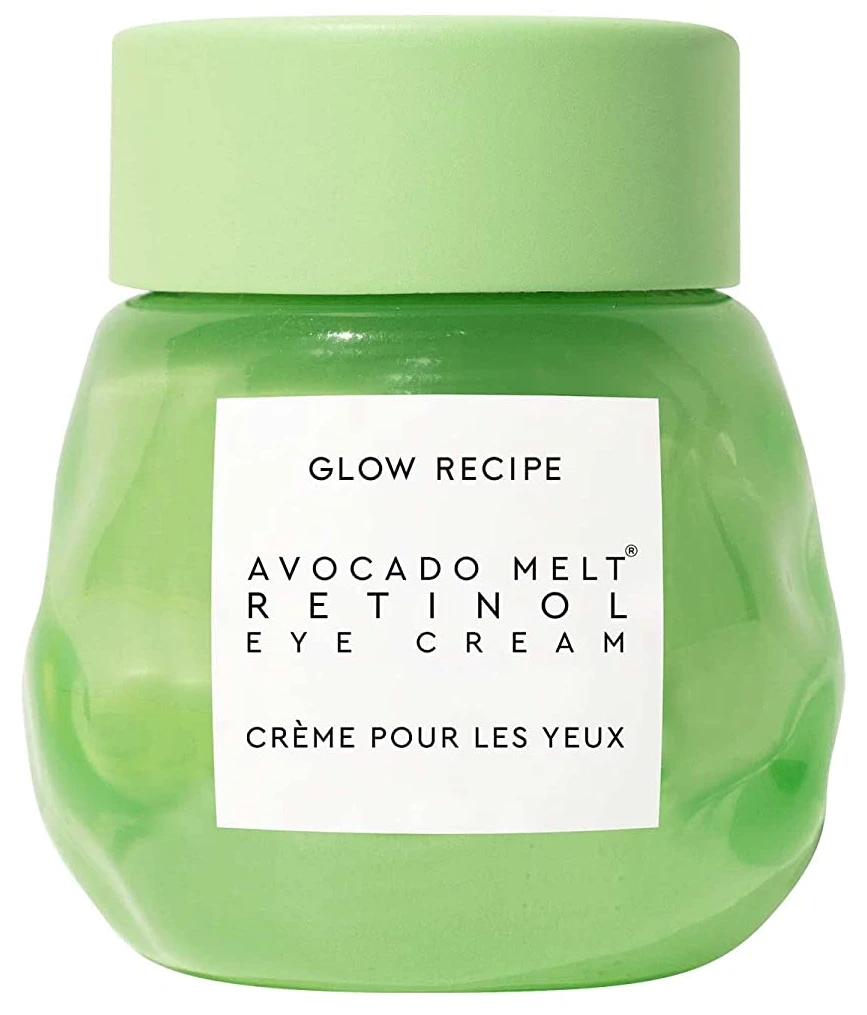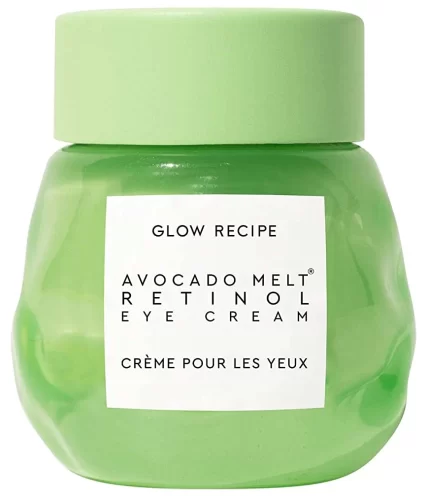 ---
8
Mario Badescu Hyaluronic Eye Cream
The ability of two sources of hyaluronic acid to boost hydration is powered by glycerin and aloe vera in this eye cream. Additionally, Mario Badescu Hyaluronic Eye Cream contains safflower seed oil, known for its soothing and moisturizing benefits, while vitamin E gives some protection from free radicals. The cream has a gel-like texture that never feels heavy or tacky and sits beautifully under concealer.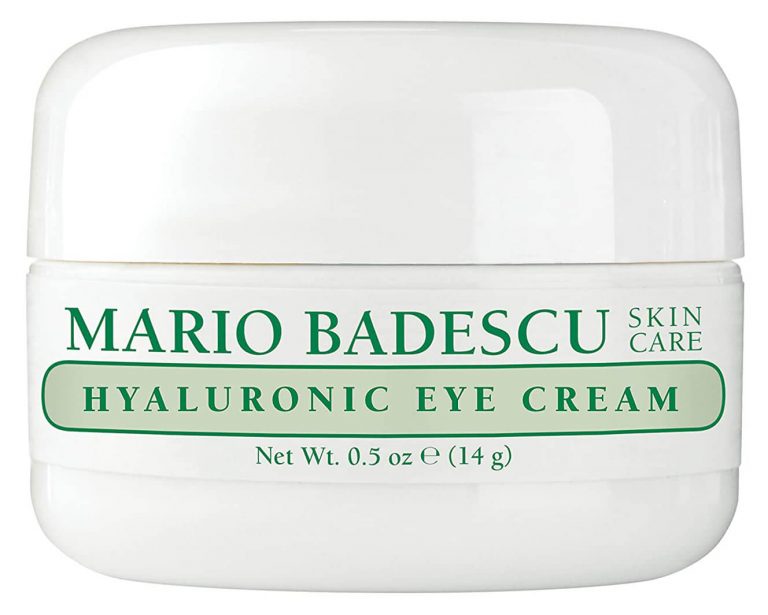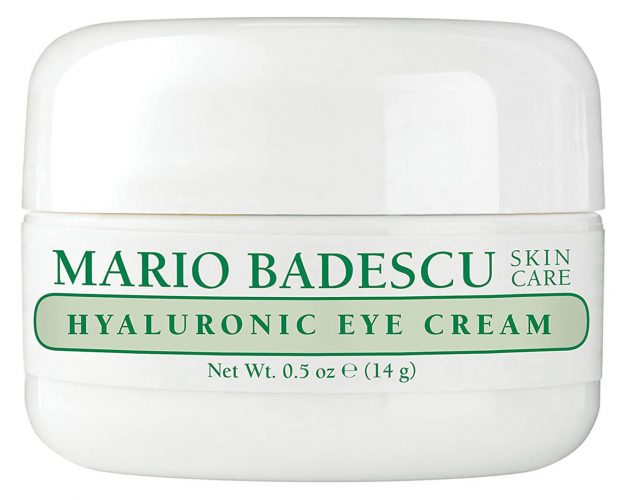 ---
9
Fenty Skin Flash Nap Instant Revival Priming Eye Gel-Cream
This is another great eye cream made with hyaluronic acid that hooks you up with all-day hydration from low and large molecular hyaluronic acid. Green tea and ginkgo biloba leaf neutralize free radicals, so they won't wreak havoc on your sensitive eye area, while the Persian silk tree counteracts fatigue and depuffs over time. The fact that it absorbs nicely and makes the concealer perform better, increasing its lasting power, are added bonuses.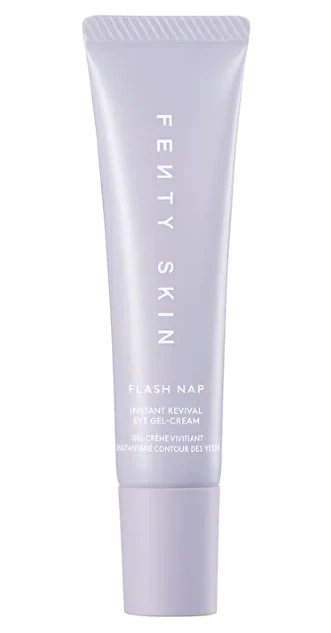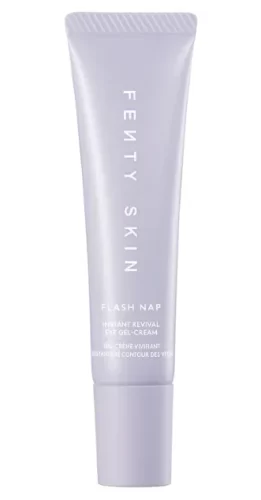 ---
The verdict
While all eye creams mentioned here are heralded for their ability to hydrate the skin and reduce puffiness, our overall top pick goes to First Aid Beauty Hydrating Eye Cream. It's gentle and contains some of the most effective moisturizing ingredients to ensure the delicate skin around the eyes is revitalized and plumped. Keep in mind that skincare has no one-size-fits-all answer, and you must choose the products based on your skin and what you want to achieve. For example, if you have dark circles, pick a brightening hyaluronic acid cream with added vitamin C or niacinamide, like EltaMD Renew Eye Gel. For wrinkles, go for one that contains retinol or peptides, like Glow Recipe Avocado Melt Retinol Eye Cream.
How we researched
To compile this list, our expert team spent hours researching over 200 hyaluronic acid eye creams and selected only the best ones on the market, considering the ingredients, texture, reviews from customers, and personal experiences. Each and every product recommended has undergone a thorough review process and has met rigorous standards to ensure its effectiveness. We don't let marketing claims stop us from being diligent in analyzing the ingredient list, and we only include products that we truly believe in. To ensure everyone can find the best hyaluronic acid eye cream for their specific needs, we curated a variety of products with different formulas that target different concerns.