Thanks to its neutral pH and gentle nature, niacinamide has the reputation of being one of the most versatile ingredients in the skincare scene. As a great multi-tasker, this skin savior tackles any concern, whether it's dehydrated skin, fine lines, wrinkles, uneven tone, or excess sebum. This makes products infused with niacinamide — like our favorite niacinamide serums — the most sought-after and essential in everyone's beauty arsenal. For those who're looking for a more moisturizing approach to niacinamide-infused products, we selected the best niacinamide creams that work to keep the skin healthy, moist, and resilient.
What is niacinamide?
Niacinamide is a form of vitamin B3 often used in skincare products thanks to its restorative and protective abilities. It has a pH value close to the skin's pH, meaning it's very stable in the presence of heat and light, gentle, and less likely to cause irritation.
Benefits of using niacinamide cream
It's not hyperbole to say a niacinamide-infused cream improves skin on all fronts. On top of everything, niacinamide increases keratin and collagen production, two essential proteins needed to maintain the skin elastic and firm.[1][2] It also restores the skin's barrier and hinders transepidermal water loss thanks to its ability to stimulate ceramides — lipids that make up about 40% of the outermost layer and are responsible for the skin's ability to retain moisture.[3] What's more, niacinamide has anti-inflammatory and antioxidant benefits, meaning it helps protect the cells against oxidative damage, the number one cause of premature wrinkles.
Because it is one of the best compounds to balance sebum, a niacinamide cream is a perfect addition to your regimen if you have oily or acne-prone skin.[4] By hydrating and regulating sebum, a cream with niacinamide might be the perfect ally in your battle against clogged, large pores and breakouts — as long as you use a lightweight, non-comedogenic formula.
And if that wasn't enough, niacinamide is effective for dark spots too. It diminishes discoloration and brightens by blocking the transfer of pigment into skin cells, promoting an even-looking complexion.[5]
You know it's a good time to add niacinamide cream to your skincare routine if you're concerned about:
Dehydrated, cracked, irritated skin
Early aging signs
Sun damage
Broken barrier
Lack of moisture and firmness
Uneven tone and dark spots
Breakouts and excess sebum
Clogged and large pores
The best niacinamide-infused creams
Gentle enough for those with sensitive skin and often paired with other potent actives, niacinamide easily fits into anyone's routine. Scroll on to find the best niacinamide creams. From light to heavy textures, correcting to moisturizing formulas, you'll surely find one for you.
---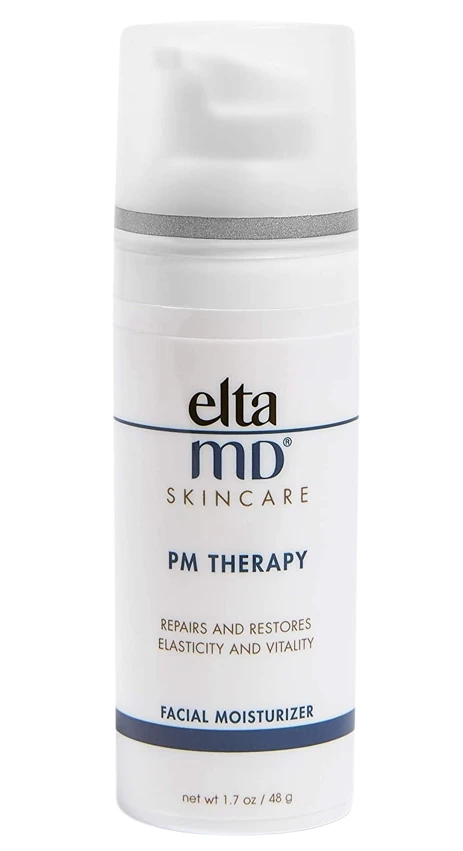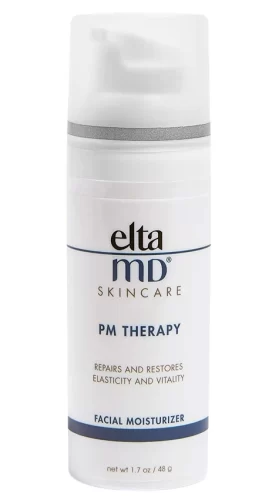 1
EltaMD PM Therapy Facial Moisturizer
Key features: Non-comedogenic, fragrance-free, clean
Suitable for: Normal, dry, mature, sensitive skin
Targets: Weakened barrier, loss of firmness, and moisture
Price: $39 ($22.94 per oz)
EltaMD PM Therapy Facial Moisturizer is the ideal niacinamide-infused moisturizer to restore the skin's barrier and increase elasticity. In addition to a serious dose of niacinamide, the cream boasts cholesterol, ceramide, and rice protein that work together to fortify the skin and leave it more resilient and firmer with each use. The formula feels insanely hydrating, yet not greasy or heavy, and absorbs quickly, ideal for PM use — as one reviewer says, "Perfect level of moisture for nighttime without leaving the pillowcase sticky."
---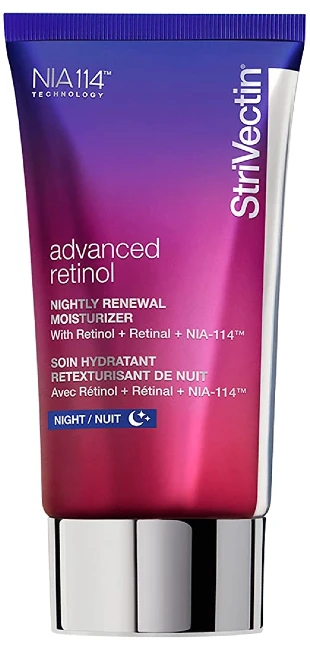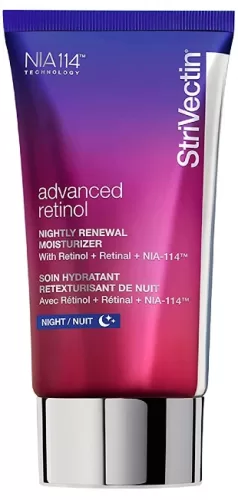 2
StriVectin Advanced Retinol Nightly Renewal Moisturizer
Key features: Alcohol-free, fast-acting formula, cruelty-free, clean
Best for: Mature skin
Targets: All signs of aging
Must mention: It contains comedogenic oils
Price: $79 ($79 per oz)
Reviewers say this cream is magic in a tube for correcting signs of aging, and we couldn't agree more. It targets all possible aging signs with a fast-acting formula loaded with two forms of retinol and an optimized form of niacinamide (NIA-114). The best part is that NIA-114 supercharges retinol's anti-aging benefits by enhancing cell turnover while mitigating its irritating effects.[6][7] Besides, the cream also contains aloe vera juice and sodium hyaluronate to hydrate and soothe, murumuru and shea butter to soften and protect, while peptide, oat extract, and rice bran calm, moisturize and fortify.
---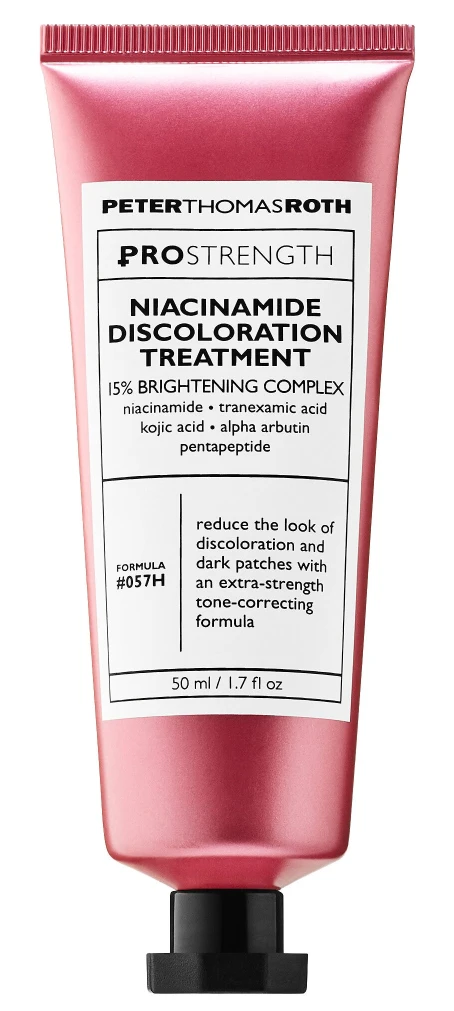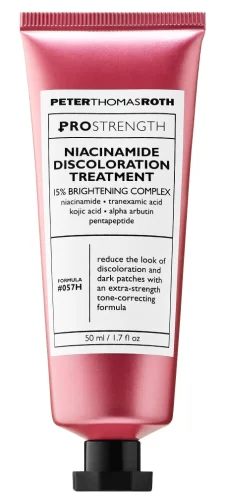 3
Peter Thomas Roth PRO Strength Niacinamide Discoloration Treatment
Key features: Alcohol-free, oil-free, lightweight,
Best for: Normal, oily, combination, mature skin
Targets: Uneven tone, sun damage, acne blemishes
Price: $88 ($51.7 per oz)
Technically, this is not a cream, but it is worth a mention in our roundup because it's really effective at addressing uneven tone while it offers a dose of moisture too. A 15% brightening complex, including niacinamide and tranexamic acid, is responsible for the tone-evening benefits, reducing discoloration and maintaining a luminous complexion. You should be following with moisturizer post this treatment, though.
---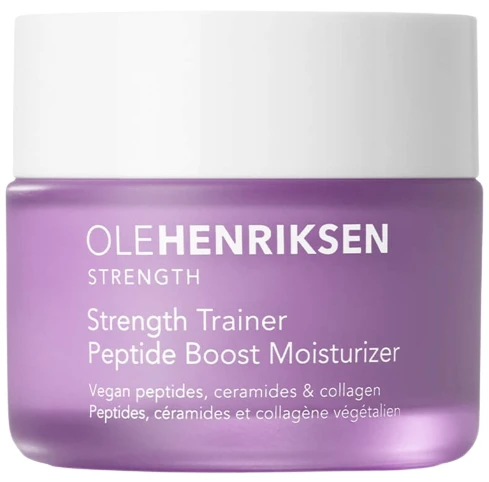 4
Ole Henriksen Strength Trainer Peptide Boost Moisturizer
Key features: Alcohol-free, non-comedogenic, vegan
Best for: All skin types
Targets: Skin barrier, loss of firmness, dehydration
Must mention: The pink tint comes from vitamin B12
Price: $48 ($28.2 per oz)
Ole Henriksen Strength Trainer Peptide Boost Moisturizer is the best cream with niacinamide for dehydrated skin and loss of firmness. The formula boasts niacinamide, eight peptides, fatty acids, ceramides, and amino acids to rebuild the skin and increase moisture retention, which translates into less noticeable fine lines. It has a melting balm-to-gel texture that, while delivering rich moisture, is incredibly lightweight and never leaves skin tacky.
---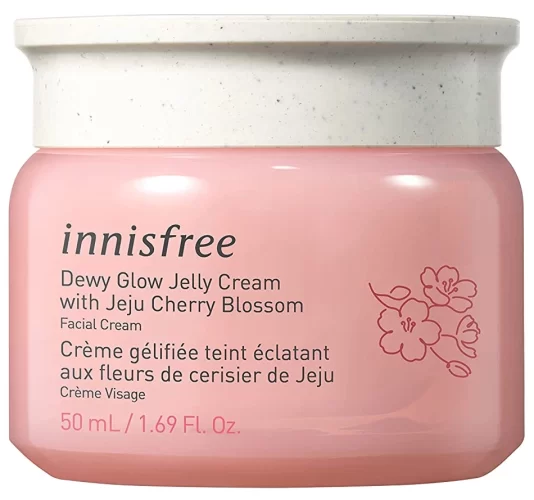 5
Innisfree Dewy Glow Jelly Cream
Key features: Lightweight, vegan, K-beauty
Best for: All skin types
Targets: Lack of radiance, dehydration
Price: $25 ($14.7 per oz)
Not only does this cream makes you win the #glassskin challenge, but it delivers deep hydration with niacinamide and sugar beet betaine while the star of the show, cherry blossom flavonoids, have antioxidant and anti-inflammatory promising to slow down skin aging.[8] Unlike most creams, this has a clear, water-jelly texture that feels refreshing and intensely hydrating while making a great primer too.
---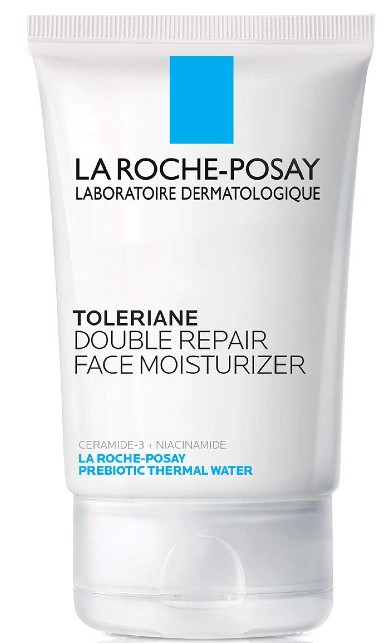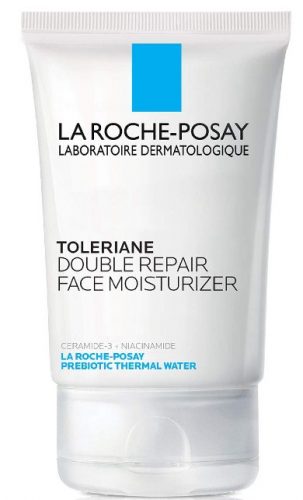 6
La Roche-Posay Toleriane Double Repair Face Moisturizer
Key features: Fragrance-free, non-comedogenic
Best for: Normal, dry, combination, sensitive skin
Targets: Lack of moisture, redness, dehydration
Must mention: It might leave white flakes
Price: $19.99 ($11.7 per oz)
Toleriane Double Repair Face Moisturizer is a great option for those with damaged skin or a weak barrier because it's made with skin-soothing and -strengthening niacinamide and ceramides. The formula promises to provide up to 48h of hydration while working hard to restore the skin and fortify the protective barrier. We give this one extra credit because it has a lightweight cream texture that absorbs easily into the skin and provides instant comfort and relief. And with the added benefit of being fragrance-free, it's also a safe choice for sensitive skin.
---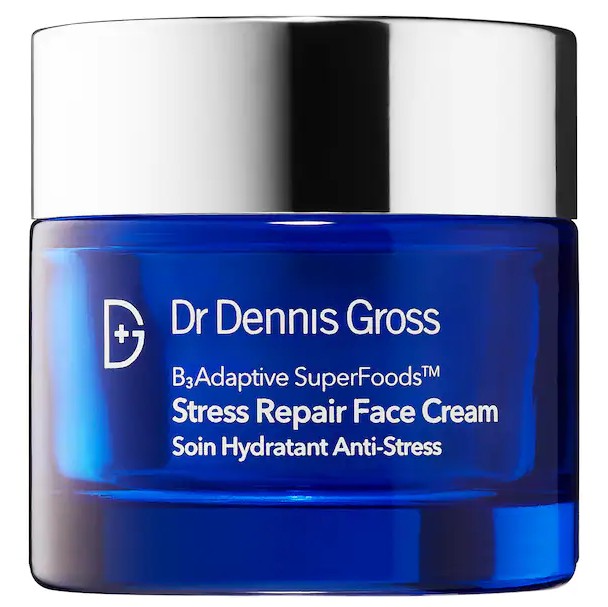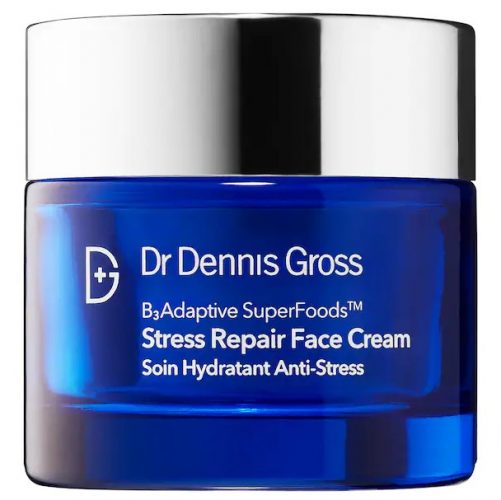 7
Dr. Dennis Gross Stress Repair Face Cream
Key features: Alcohol-free, non-comedogenic
Best for: Normal, dry, sensitive skin
Targets: Weak barrier, stressed skin, sun damage
Must mention: It can be harsh on reactive skin
Price: $72 ($36 per oz)
Hands down, this is the best niacinamide cream for excess sebum. In addition to niacinamide, it's spiked with salicylic acid, which also has a key role in regulating oil. Besides, the cream loads squalane (moisturizer and sebum-balancer) plant extracts to fight inflammation and nourish, plus colloidal oatmeal, a well-known skin protectant, and strengthener.
---
8
Beauty Of Joseon Dynasty Cream
Key features: Fragrance-, alcohol-, and oil-free
Best for: Normal, combination, mature skin
Targets: Moisture loss and stressed skin
Price: $24 ($14.2 per oz)
This cream contains 2% niacinamide and 2% squalane to increase moisture and protect the skin against external aggressors. The hero in the formula, however, is 29% rice bran water which has deep purifying and anti-aging benefits. The cream gets bonus points for being super lightweight, easily absorbable, and for providing a gentle, glowy finish, great when used under your favorite foundation.
---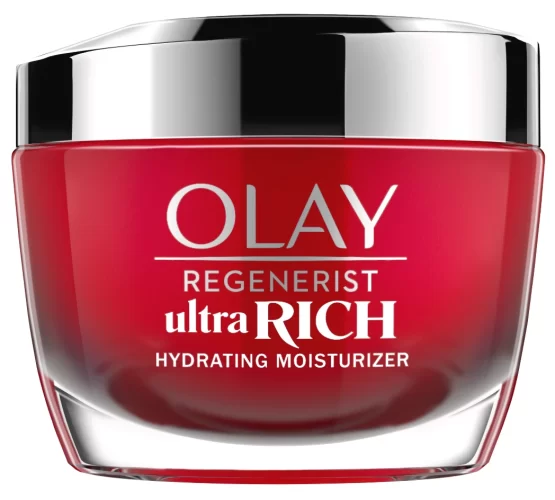 9
Olay Regenerist Ultra Rich Face Moisturizer
Key features: Free of fragrance and mineral oil
Best for: Normal, combination, mature skin
Targets: Lack of moisture and firmness
Must mention: It may feel too heavy for some
Price: $40 ($23.5 per oz)
Olay Regenerist Ultra Rich Face Moisturizer is one of the best options if you're looking for a drugstore niacinamide cream. It's super concentrated in niacinamide and also contains peptides, glycerin, and vitamin E to replenish, hydrate, and soften. Although most people seem to appreciate the creamy and thick texture, others feel it is too greasy and say it doesn't soak into the skin so well, FYI.
---
Read next: How and When To Use Niacinamide and Retinol Together
Sources
Women's Concepts uses reliable sources, including dermatologists' insights, clinical trials, and scientific journals, to find accurate information and support all the facts shared in our articles. All statements and claims have clear and legit references. Read our editorial policy to learn more about our sources of information, our process of researching and fact-checking the content, and how our team strives to keep all articles updated, completed, and trustworthy.