Do you feel like your skin needs a boost of hydration, brightness, or protection? Look no further than our handpicked selection of the best niacinamide serums! This powerhouse ingredient is enjoying a moment in the skincare spotlight, and it's no wonder why. Niacinamide is a versatile and stable compound that's ideal for all skin types, including delicate and reactive ones, and can be seamlessly integrated into your existing skincare routine. Its true beauty lies in its multi-tasking properties that can address a plethora of skin concerns, ranging from congested pores to parched skin, a weakened barrier, environmental damage, and uneven texture. Regardless of your skin goals, a niacinamide-infused serum is sure to help you on the path to clearer and more balanced skin.
How niacinamide works?
Niacinamide is a water-soluble form of vitamin B3 that improves skin barrier function and hydration by increasing the production of lipids in the skin. Also, niacinamide has anti-inflammatory and antibacterial properties, while it has also been found to be effective at refining pores—the reason you'll often find it in serums that address oily skin prone to breakouts.
As a versatile and gentle ingredient, niacinamide works brilliantly with most compounds out there, including retinol, vitamin C, and alpha-hydroxy acids. Actually, due to its soothing benefits, you can use it to tame the possible drying effects of retinoids and chemical acids.
What's more, niacinamide is effective at brightening dark spots due to its ability to inhibit the transfer of skin pigment to the skin's surface and delivers antioxidant protection.
You'll find niacinamide in percentages ranging from 2% to 20%. Even if niacinamide is generally well tolerated by most, if it's your first time using it, it's best to start with a concentration of as low as 5% and gradually increase it to monitor how your skin reacts to it.
How to use niacinamide serums
For the best results, use your niacinamide serum every morning and evening on a cleansed (and toned) complexion. Follow up with moisturizer and sunscreen (at AM). One thing, though, if your niacinamide-infused serum contains a considerable concentration of retinol or exfoliants, use it in your nighttime routine only.
The highest-rated niacinamide serums
We picked the best serums with niacinamide that target every skin concern out there. And so that your skin absorbs even more benefits, these serums are also spiked with nourishing, hydrating and restorative ingredients—the perfect addition to your skincare routine.
---
Best overall
Good Molecules Niacinamide Serum
This TikTok-favorite serum is formulated with 10% niacinamide to help minimize breakouts, regulate oil, and refine pores. While it's ideal for combination and oily skin prone to pimples, it's a worthwhile addition to anyone's beauty routine that wants an effective and affordable niacinamide-powered serum. Most people also praise its consistency, which feels rich and hydrating yet not oily or sticky. P.S.: It has a 7.1 pH, meaning it's gentle on the skin and skips unforgiving compounds, such as fragrances, parabens, and alcohol.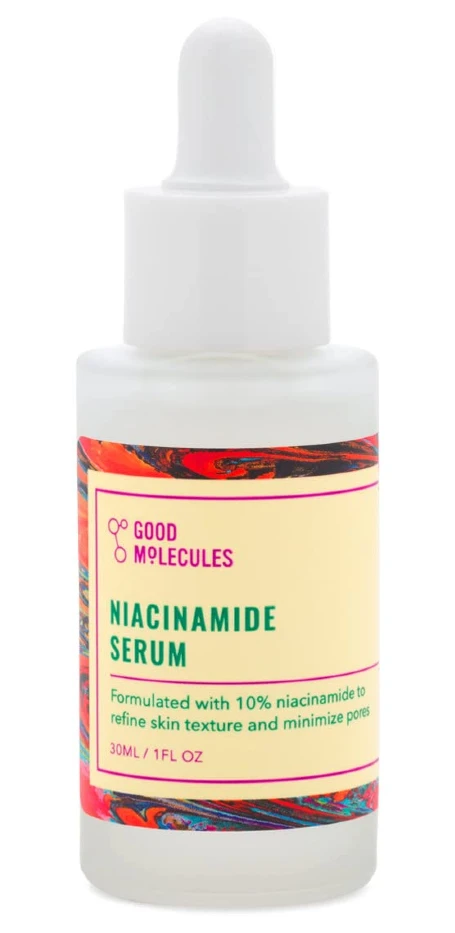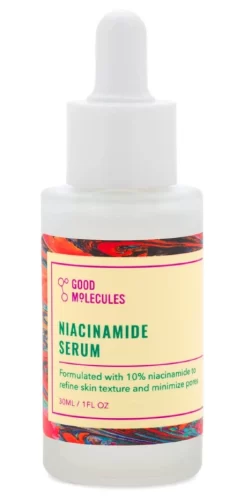 ---
Best for troubled skin
Allies Of Skin Prebiotics & Niacinamide Pore Refining Booster
Allies Of Skin is loaded with 10% niacinamide, prebiotics, and probiotics to reinforce the skin and fortify the protective barrier. The formula works as a treat for refining pores, preventing sensitivity, and reducing sun damage and dark spots over time. There is also a potent blend of antioxidants, including Centela asiatica, glutathione, and CoQ10, to neutralize free radicals, so you can go out without worrying about oxidative stress. The best thing yet? You can use it on its own or add a few drops to your favorite serum or moisturizer for a boost of strengthening nutrients.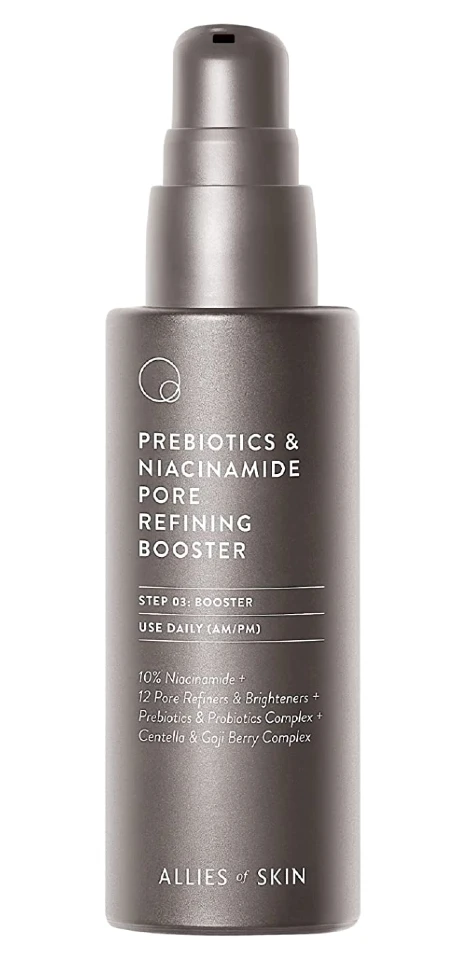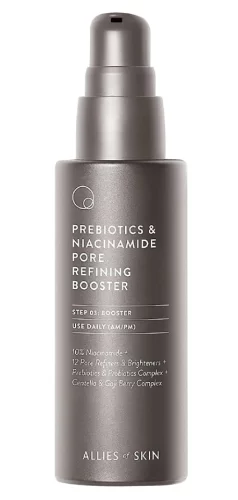 ---
Best for wrinkles
La Roche-Posay Retinol B3 Serum
Dermatologist Josh Zeichner says in a post on Instagram that niacinamide is better when combined with more potent actives, such as retinol. La Roche-Posay's Serum does exactly that: It blends skin-renewing pure and gradually-release retinol with soothing niacinamide to provide anti-aging benefits without causing irritation. What's more, it contains a blend of humectants that attract water into the skin to increase hydration and soften fine lines. Although, according to the brand, the formula is safe for sensitive skin, consider doing a patch test before layering it on the entire face.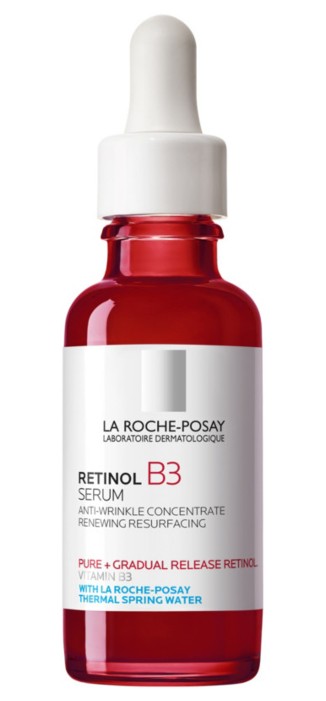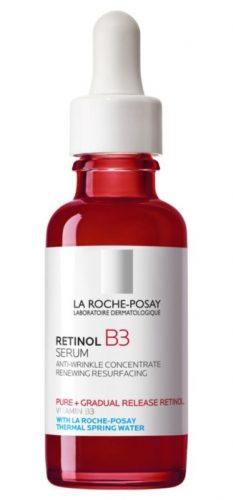 ---
Editor's choice
Glow Recipe Watermelon Glow Niacinamide Dew Drops
This lightweight serum combines niacinamide, hyaluronic acid, and watermelon extract. Together, they deliver intense hydration, reduce hyperpigmentation and soothe for plump and radiant skin and an even tone. What's more, the formula boasts moringa seed oil, a non-comedogenic and light oil that mimics the skin's sebum and helps balance oil production while nourishing and soothing. Once you apply this serum to cleansed skin, it leaves you with a healthy glow and a supple appearance. Another pro? It skips nasties like mineral oil, parabens, drying alcohols, and silicones.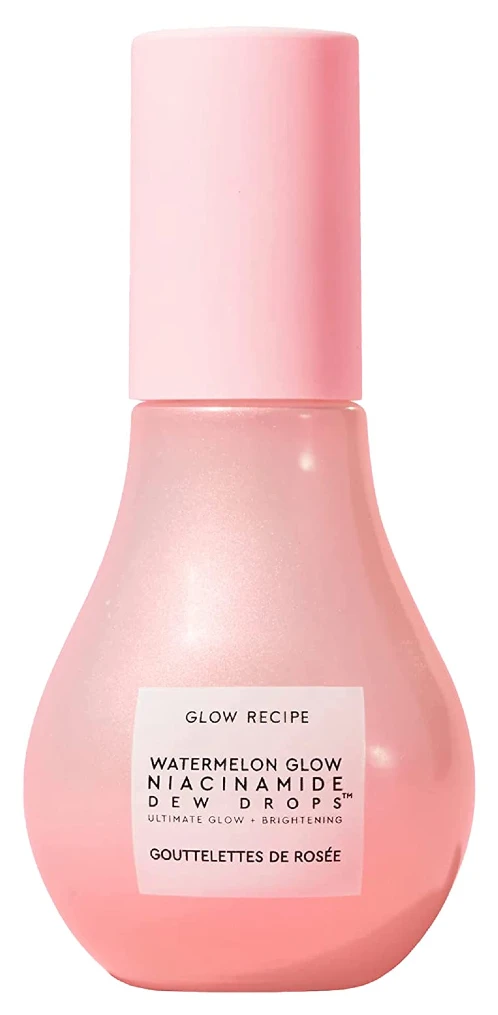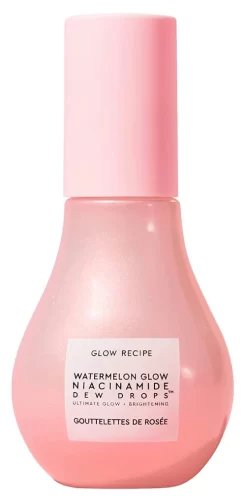 ---
Best for brighter skin
Paula's Choice 20% Niacinamide Serum
This serum loads a whopping 20% niacinamide to target clogged pores, UV damage, and discolorations, making your skin look brand new in as little as two weeks, per the brand claims. Plus, due to vitamin C and licorice root extract, Paula's Choice Niacinamide Serum brightens hyperpigmentation, while the EGCG and green tea prevent further dark spots by counteracting free radicals. All, whilst glucosamine (hyaluronic acid-booster) supports hydration, plumping fine lines and wrinkles. Use it day and night and watch the magic happen.


---
K-beauty
Beauty of Joseon Glow Serum
While this serum contains only 2% niacinamide, it relies on 60% propolis extract to promote skin healing and deliver anti-inflammatory and antibacterial benefits. The formula addresses people who want a gentle serum that controls sebum production and soothes inflamed skin. What's more, the tea tree tackles breakouts thanks to its ability to fight bacteria and ease swelling, while 0.5% betaine salicylate (oil-soluble beta-hydroxy acid) gently lifts gunk that clogs pores, clearing and refining them. It absorbs fast, teaming up nicely with any moisturizer.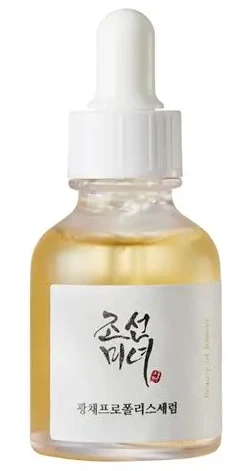 ---
Best natural
Youth To The People Retinal + Niacinamide Youth Serum
This formula leans on 0.15% retinaldehyde to address aging signs—from wrinkles to dark spots—and is supported by 5% niacinamide, which boosts retinol's brightening benefits. Plus, a blend of ceramides and cholesterol reinforces the protective barrier and helps offset the possible side effects of retinol. Most people with sensitive skin claim the serum did not irritate their skin, which is why we consider it a solid option for retinol newbies.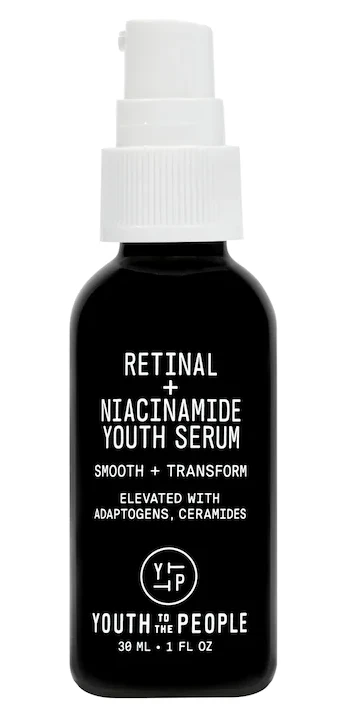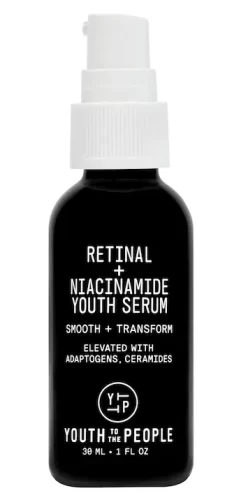 ---
Best for oily skin
The Ordinary Niacinamide and Zinc
It's impossible you haven't seen this serum somewhere out there, whether on your Insta feed or other product roundups. The reason it went viral is that it's super effective and costs no more than $10. Powered by 10% niacinamide and 1% zinc, it will regulate sebum and reinforce the protective barrier—a robust barrier also has a role in balancing sebum, making this the best niacinamide serum for oily skin. The shot of zinc also helps repair damage and encourages collagen synthesis, which can be great for post-acne marks, a common concern of people who struggle with excessive oily complexions.


---
Best for sensitive skin
Dr. Dennis Gross Stress Rescue Super Serum
Is your skin feeling stressed, weakened, and dull? Dr. Dennis Gross Stress Rescue Super Serum is supercharged with niacinamide to support the barrier function, reduce redness and soothe. There is also squalane and sweet almond oil, so you can expect increased moisture and less noticeable fine lines and wrinkles. And to defend your complexion from damaging pollutants, the formula includes potent antioxidants from goji, ashwagandha, and mushroom extracts, to name a few. The perfect item in your beauty arsenal—regardless of skin type—to reveal a calm, stressed-free complexion.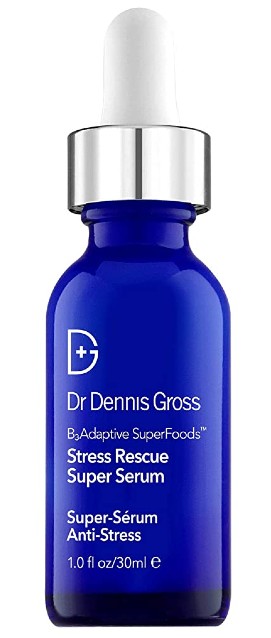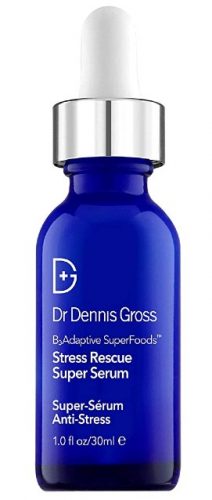 ---
Best for acne-prone skin
I Dew Care Juicy Kitten
This juicy serum is made with blemish-prone skin in mind. It aims to purify and decongest with niacinamide and willow bark extract, a natural salicylic acid source. Additionally, the serum is supercharged with antioxidant-rich botanical extracts to defend the skin from environmental aggressors, common culprits of causing breakouts. For all of the above, we consider I Dew Care Juicy Kitten is the best niacinamide-powered serum for acne, ideal for those who want to address their pimples with a gentle, non-drying formula.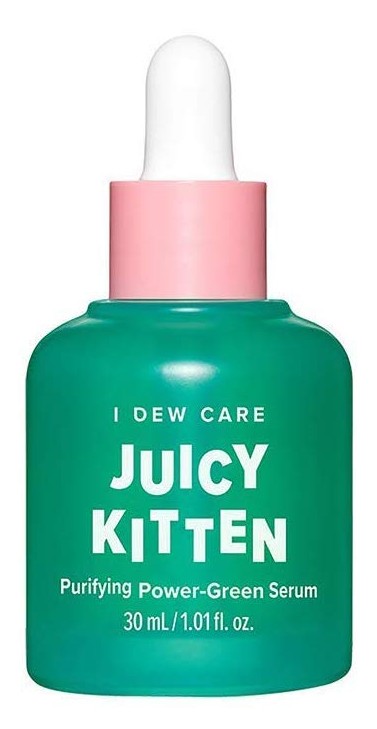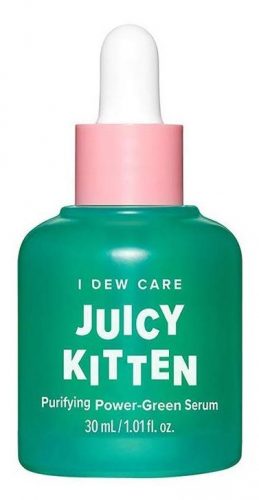 ---
Best for dryness
Bliss Glow & Hydrate Day Serum
If your skin is dehydrated, reach for Bliss Glow & Hydrate Day Serum. The formula packs a serious amount of niacinamide to improve dullness, soothe and protect, while a mix of humectants (glycerin, aloe vera juice, and hyaluronic acid) pull water into the skin, increasing hydration and plumping. On top of that, it's spiked with licorice root, known to brighten dark patches. All in a water-based formula that feels lightweight and is never sticky.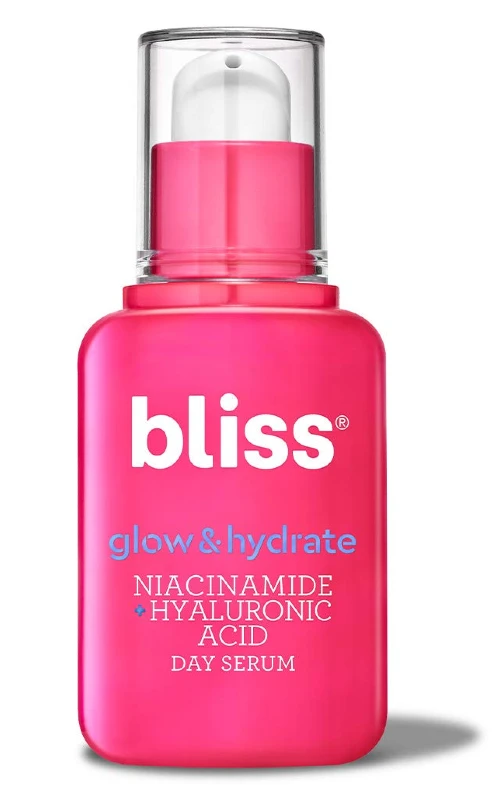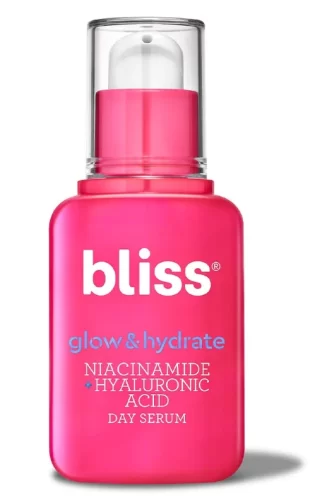 ---
Best wallet-friendly
Cos De Baha Niacinamide + Zinc PCA Serum
Don't get deceived by the price tag; this serum is as effective as the pricier options on this list. It loads a hefty dose of 20% niacinamide, which, coupled with 4% zinc, eases swelling and calms troubled skin. Plus, it contains antioxidants from caffeine and green tea to scavenge free radicals and offset oxidative stress. With continued use, Cos De Baha Niacinamide Serum reinforces the skin, promotes a healthy appearance, and gives the complexion a plump and supple appearance.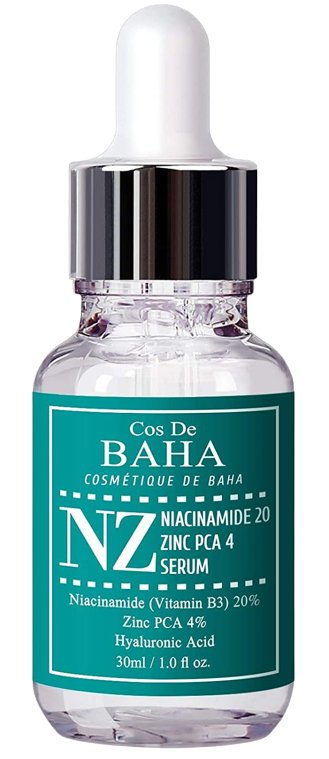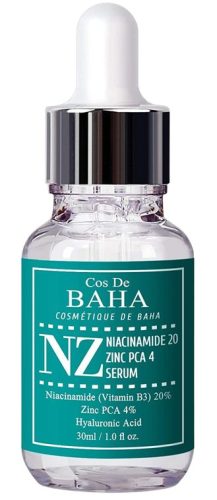 ---