As a renowned and long-established brand in science-backed skincare, Perricone MD continues to be as coveted as ever. The American mid-range brand is dedicated to the pursuit of innovation and excellence, creating holistic formulas to effectively transform the skin—and its bloomy success speaks for it. For this reason, we've decided to select and review the best Perricone MD products that target a wide range of skin concerns, from enlarged pores to breakouts, wrinkles, and dehydration.
But before we explore their iconic items, let's learn more about the Perricone MD brand and its ongoing presence in the skincare world.
About Perricone MD
Perricone MD was founded in 1997 by board-certified dermatologist Dr. Nicholas Perricone and is one of the first doctor-launched skincare brands. Still to this day, Perricone MD uses potent active ingredients to create effective, high-quality, and pampering clinical-grade skincare products.
Besides working on cosmetic formulations, Dr. Perricone has written a few New York Times books, including The Wrinkle Cure and Forever Young, that teach people how to take care of their skin from the inside out, expressing his vision about the link between aging and a healthy lifestyle. He believes the way to promote healthy-looking skin is to focus on a balanced diet, nutritional supplements, and targeted topical products — and we couldn't agree more.
Moreover, most Perricone MD skincare products are professionally formulated with tried-and-true ingredients and target specific issues — from dehydration and wrinkles to acne and dark spots — so that anyone can find something to address their particular skin needs.
Common ingredients used in Perricone MD products
DMAE (2-dimethylaminoethanol): it's a vitamin B derivative with anti-inflammatory benefits that tightens and lifts the skin.[1]
Alpha-lipoic acid: it's an enzyme with high antioxidant activity.
Copper: reduces fine lines look by increasing collagen proteins, evens skin tone, and it's a potent antioxidant that reduces environmental damage.
Magnesium: protects the skin against external damage by regulating cell regeneration and improving skin recovery.
Zinc: has astringent and antiseptic properties, balances oil production, and boosts collagen for firmer skin.
Vitamin C esters: boost collagen, protect cells against free radicals, and lightens dark spots to reveal a more even appearance.
Hyaluronic acid: a humectant that increases hydration, creates a plumping effect, and speeds up wound healing.
Peptides: strengthen the epidermal protective barrier, improve elasticity, ease inflammation, and stimulate collagen.
Squalane: an emollient that locks moisture into the skin, softens wrinkles, has anti-inflammatory properties, and balances sebum.
Is Perricone MD cruelty-free?
And in case you wonder, Perricone MD is cruelty-free, standing against animal testing. None of their ingredients, formulations, or products are tested on animals, nor do they outsource animal testing to third parties for testing on their behalf.
The best Perricone MD products
After analyzing Perricone MD's best-selling products, we found out that these are the favorite of the majority of people that received the most positive feedback from consumers in the past years.
---
Perricone MD Nutritive Cleanser
What makes this cleanser one of the most lauded Perricone MD products? It's a delicate gel that transforms into a foamy lather once activated with water to remove impurities dead cells, pollution, and debris without stripping away the skin of moisture. Moreover, it's infused with alpha-lipoic acid, brightening citric acid, and a mix of trace minerals to nourish and strengthen skin. No surprise it's rated five stars out of five. Still, the formula loads sulfates and fragrances, which may bother easily reactive complexions.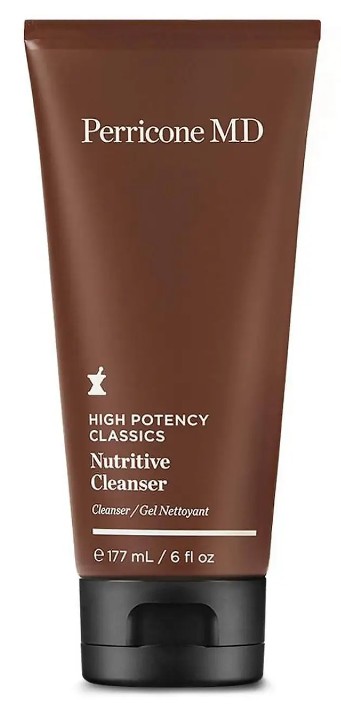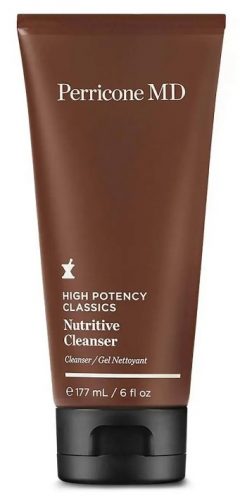 ---
Perricone MD Pore Minimizing Toner
This toner addresses people with oily skin that struggle with excess sebum, large pores, and breakouts. The key ingredient in this formula is salicylic acid. This beta-hydroxy acid gets beneath the skin to dislodge gunk and oil trapped in the pores and offers mild exfoliation to prevent breakouts. Additionally, the formula loads zinc gluconate (which has antibacterial benefits and regulates sebum) along with copper and magnesium, the trifecta of trace minerals proven to encourage healing.[2]
To counteract any possible drying effects, the formula packs tetrapeptide, hyaluronic acid, and castor oil. Most reviewers claim their skin appears mattified after use, and the toner does wonders at refining pores and preventing new pimples from forming. The less good thing about it, however, is that it contains synthetic fragrances.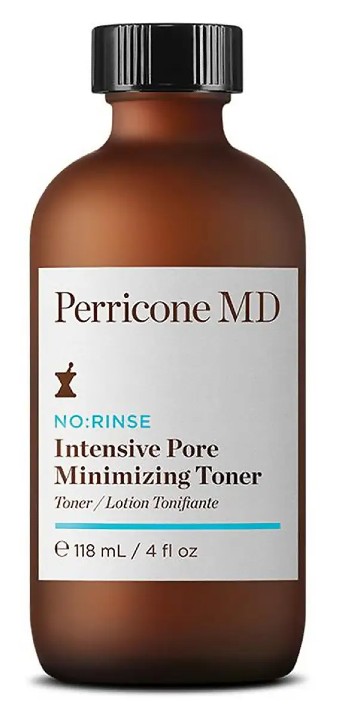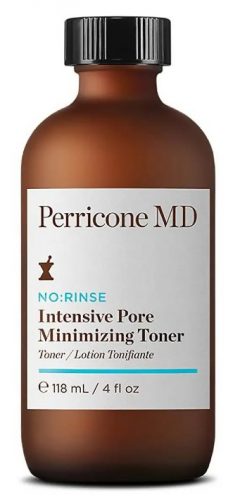 ---
Perricone MD High Potency Hyaluronic Intensive Hydrating Serum
This serum is ideal for replenishing hydration and maintaining a plump, firm appearance. It loads four different weights of hyaluronic acid that work in multiple layers of the skin for instant and long-term hydration. As a result, it plumps fine lines and wrinkles, improves the epidermal barrier function, and hikes up the skin's ability to hold on to hydration.
Moreover, the formula packs niacinamide to even skin tone, plus DMAE to tighten the skin and support its structure. There's also ceramide to enhance moisture retention, phytosphingosine (a fat naturally found in the skin's barrier), and two peptides to boost collagen and firm the complexion. The consistency of this serum is a weightless gel that absorbs quickly into the skin without leaving any sticky feeling. It gets extra credit for being void of fragrance and alcohol.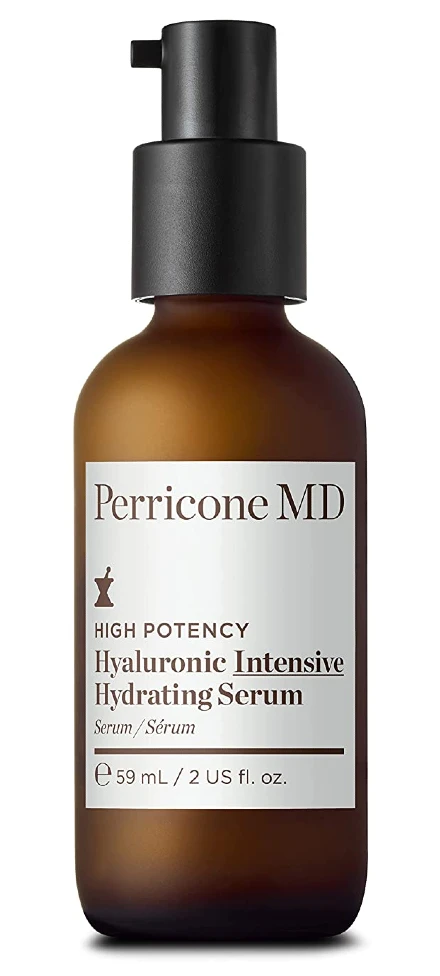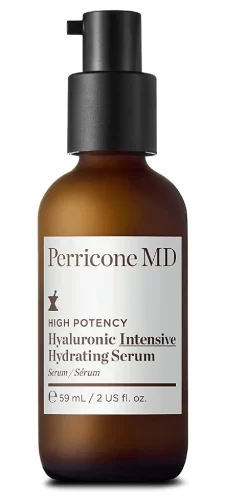 ---
Perricone MD Cold Plasma Advanced Serum Concentrate
This serum is in a class of its own when it comes to tackling aging signs, the reason is a cult favorite and an all-time Perricone MD best-seller. It softens fine lines and wrinkles, refines pores, enhances texture, and reduces redness and discoloration — the over 1,000 positive reviews attest to its ability to transform the skin. The formula contains a stable, oil-soluble form of vitamin C that penetrates the skin to spur collagen growth, and minimize discoloration, while also providing antioxidant benefits. Four peptides further support the production of collagen and elastin. It's also worth mentioning that this serum packs glycolic acid, an alpha-hydroxy acid that encourages gentle exfoliation to minimize sun damage and age spots.
The texture strikes the perfect balance between a rich, concentrated serum and a lightweight moisturizer that goes smoothly and sinks into the skin, leaving it visibly comfortable and plump.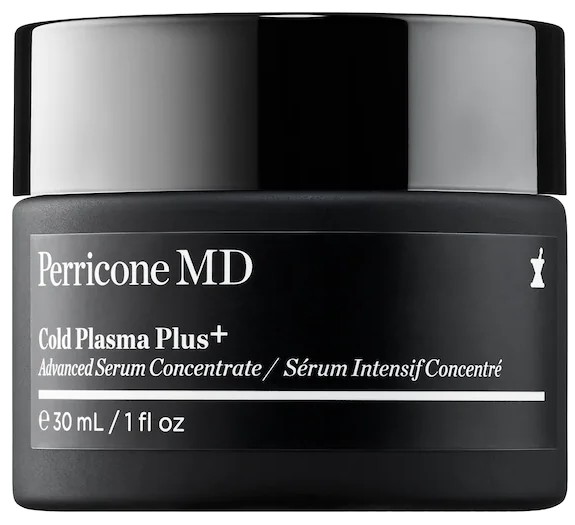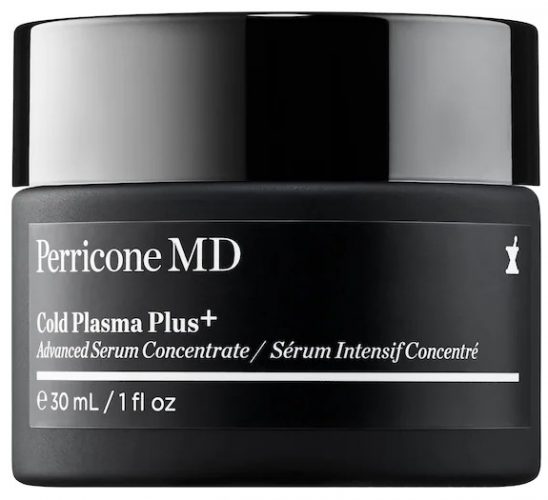 ---
Perricone MD Vitamin C Ester CCC + Ferulic Brightening Under-Eye Cream
This is the first-rate Perricone MD product for the eye area, ideal whether you struggle with puffiness, dullness, or dark circles. It's made with three forms of oil-soluble vitamin C that sink beneath the epidermis to enhance collagen, brighten, and defend the fragile under-eye skin against oxidative stress. The antioxidant benefits are also supported by ferulic acid and vitamin E, which double the protection against external damage.[3]
Other key ingredients in this eye cream are avocado oil and vitamin E, which provide antioxidant defense and retain moisture for an eye area that appears plump. By adding oat protein and peptide into the mix, the formula firms under-eye bags and comforts the skin. It's so effective that in a 4-week clinical study, participants show an average improvement of 91% in hydration and 73% in elasticity without irritation.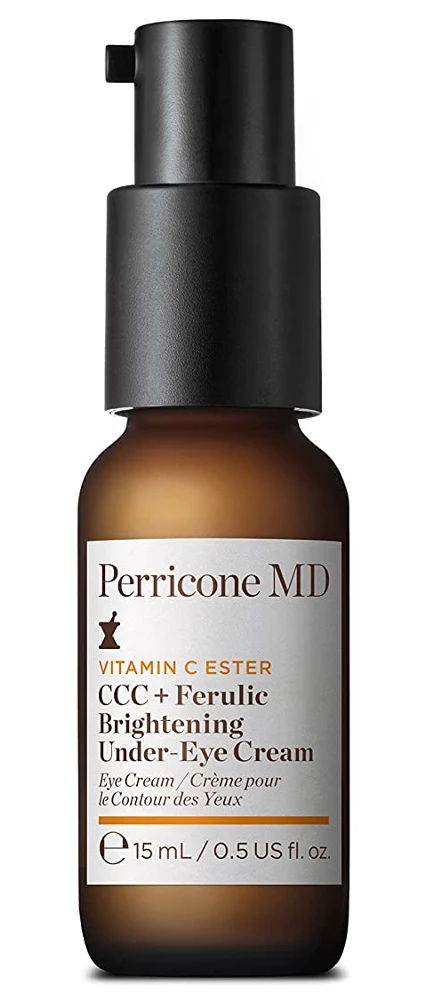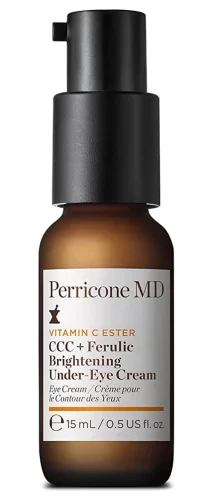 ---
Perricone MD High Potency Classics Face Finishing & Firming Moisturizer
This is yet another must-try staple. True to its name, the moisturizer firms the skin and imparts a radiant glow while softening and protecting. It touts a good amount of kukui nut oil, which has high emollient benefits to soothe and leave the skin baby-soft without feeling greasy. There is also DMEA to help lift the skin and vitamins C and E to nourish, defend and minimize fine lines and wrinkles for a youthful appearance.
Most people laud this moisturizer for its ability to make the skin appear supple and healthy, which is why it enjoys a lot of popularity on Perricone MD's official store and Amazon, raking over 2,000 five-star reviews. All skin types can use it as it doesn't pack any potentially drying or comedogenic compounds. However, this cream contains synthetic fragrances, so if your skin is sensitive, you should reconsider it.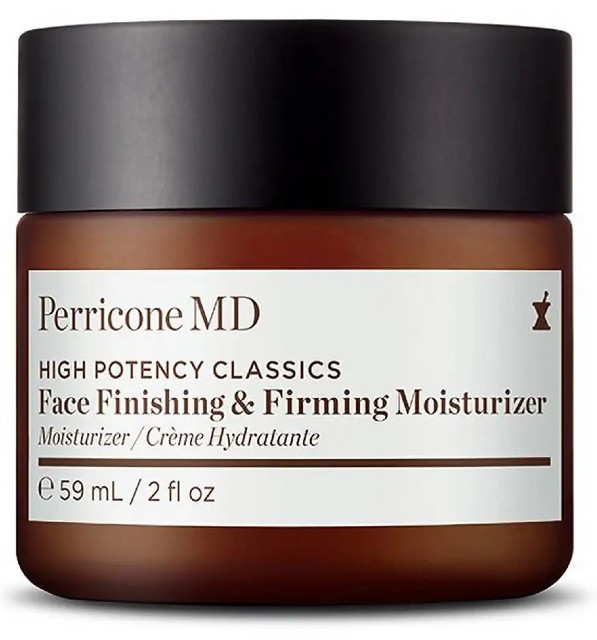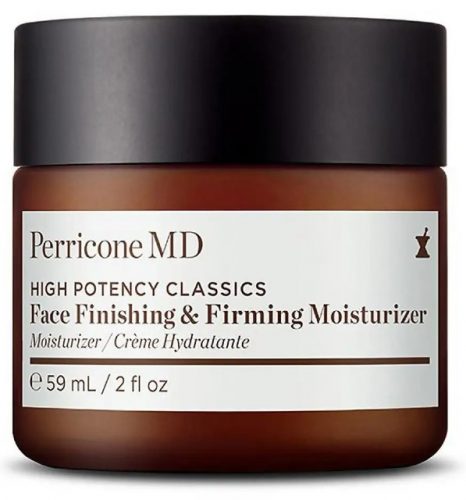 ---
Perricone MD Prebiotic Acne Therapy
For sure, these are the best Perricone MD products to fight acne and manage pimples. This trio includes a cleanser, a day hydrator, and a night treatment, all targeting excess sebum, inflammation, and acne-causing bacteria. They are enriched with salicylic acid, aiming to decongest pores and minimize breakouts. The day step is filled with squalane to nourish and lactic acid to gently encourage cell renewal. In contrast, the night step is infused with niacinamide, retinol, and vitamin C, which work to heal blemishes while you sleep without drying the skin. It's an all-in-one solution to promote clear skin.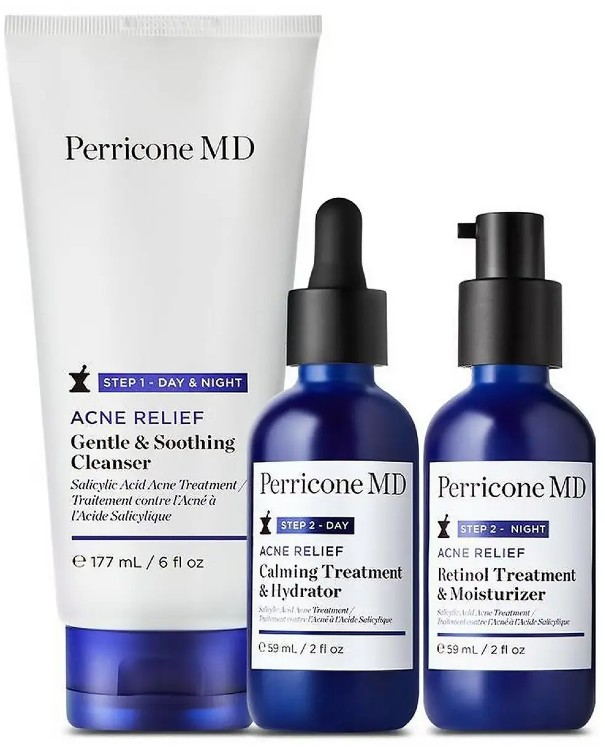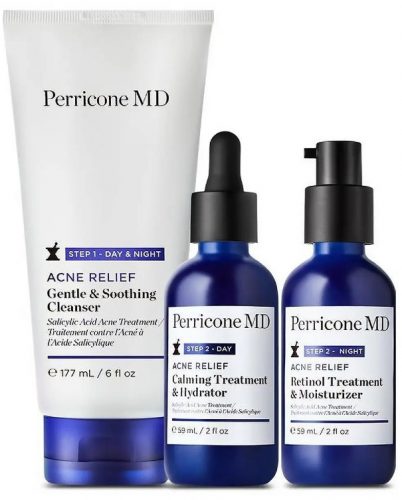 ---
Perricone MD Overnight Intensive Firming Mask
This mask has a velvety-rich texture and a formula that aims to restore the skin overnight with gentle ingredients that provide a dose of extra TLC. Rich in squalane, Perricone MD Intensive Firming Mask locks moisture so that you wake up to a plump and renewed complexion. In the meantime, a blend of coconut and palm kernel oil softens the face while shea butter soothes and increases water retention. Despite how rich this firming mask is, it doesn't feel heavy or tacky on the skin, and it can be used under your nighttime moisturizer or as a standalone.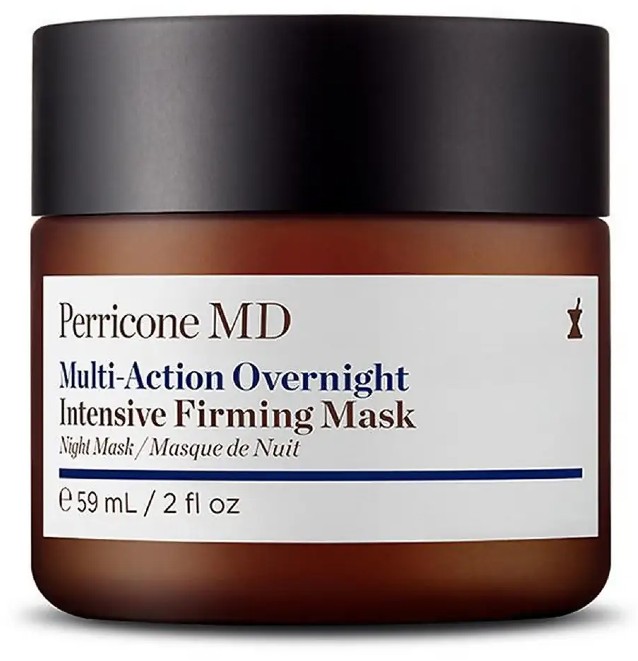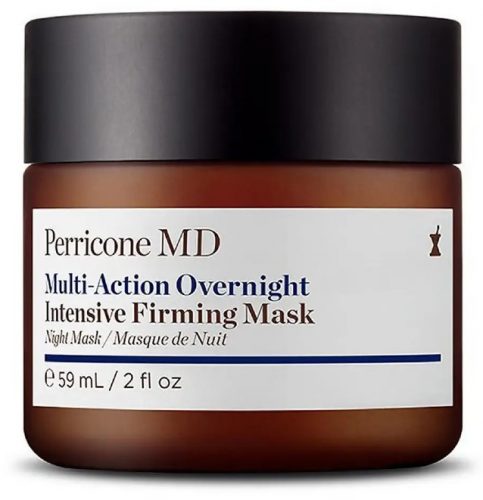 ---
Perricone MD Vitamin C Ester Daily Brightening & Exfoliating Peel
The Perricone MD Brightening & Exfoliating Peel is potent enough to give the skin an immediate brightness boost and a radiant glow. While glycolic acid (alpha-hydroxy acid) goes deeper in the skin to diminish stubborn dark patches, gluconolactone (polyhydroxy acid) gently exfoliates and removes the dead cell buildup, reducing dullness and rough texture over time. The formula also uses a stable form of vitamin C soluble in oil and water, which works on the skin's surface and deeper layers to brighten the skin and boost collagen. Ideally, use it by soaking a cotton pad and swiping across your face to remove impurities, dead cells, and pollution.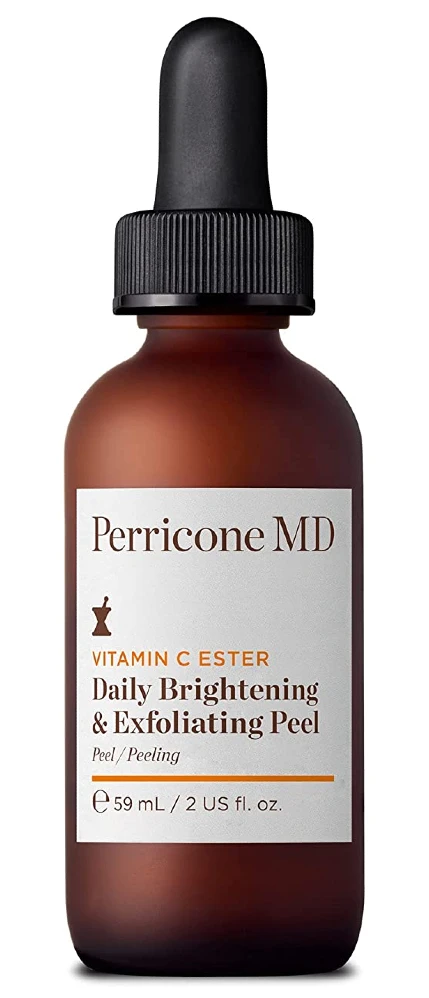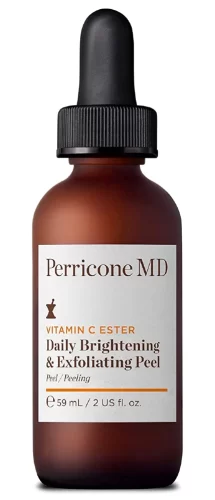 ---
Footnotes
Women's Concepts uses reliable sources, including dermatologists' insights, clinical trials, and scientific journals, to find accurate information and support all the facts shared in our articles. All statements and claims have clear and legit references. Read our editorial policy to learn more about our sources of information, our process of researching and fact-checking the content, and how our team strives to keep all articles updated, completed, and trustworthy.
References
Grossman R. The role of dimethylaminoethanol in cosmetic dermatology. Am J Clin Dermatol. 2005.
Tenaud I, Sainte-Marie I, Jumbou O, Litoux P, Dréno B. In vitro modulation of keratinocyte wound healing integrins by zinc, copper and manganese. Br J Dermatol. 1999 Jan.
Murray JC, Burch JA, Streilein RD, Iannacchione MA, Hall RP, Pinnell SR. A topical antioxidant solution containing vitamins C and E stabilized by ferulic acid provides protection for human skin against damage caused by ultraviolet irradiation. J Am Acad Dermatol. 2008.