Are you dealing with the loss of firmness, dullness, dark spots, or fine lines? Good news: A resveratrol serum can help address all of the above while giving your skin a vibrant glow and a strong defense against sun damage and pollutants. Why are resveratrol-rich products becoming skincare essentials, you ask?
Well, resveratrol is the cream of the crop when it comes to protecting the skin from premature aging and discoloration. First of all, it's one of the most powerful antioxidants we have to fight free radicals. Those reactive molecules are lurking everywhere and often wreak havoc on the skin and make it age faster. But with a resveratrol serum in your corner, you can rest assured that you are getting the best defense possible.
Resveratrol is also the OG of correcting dark spots and brightening the skin since it inhibits the production of the pigment that darkens the tone, melanin.[1] So it's a no-brainer if you're struggling with sun-damaged skin or post-acne blemishes. Besides, thanks to its ability to stimulate collagen production, this antioxidant-packed compound does double duty by firming the complexion and smoothing out fine lines.[2]
To put it simply, resveratrol has all things your skin needs and none that it doesn't. Adding it to your beauty routine and applying it every morning before heading out into the environmental stressors is one of the best protection you can give to your skin.
Now, onto the good stuff. Below are the best resveratrol serums to try. Our expert team vetted only products that we truly believe in and have formulas that can transform the skin. We selected serums for all budgets.
Our top picks
---
1
SkinCeuticals Resveratrol B E Serum
This serum has got the science to back it up. It's clinically formulated to strengthen the skin's natural antioxidant defense, firm, and brighten all at once, being the perfect solution to pollution-proof your skin and mitigate sun damage. The concentrated formula packs a cocktail of antioxidants, including 1% resveratrol, 1% vitamin E, and 0.5% baicalin, all working together to protect and help skin age healthily.[3] In terms of how it feels on the face, SkinCeuticals Resveratrol B E has a rich yet lightweight gel-like texture that relieves dryness and softens instantly. Use it before bedtime to wake up to a glowy, plump complexion.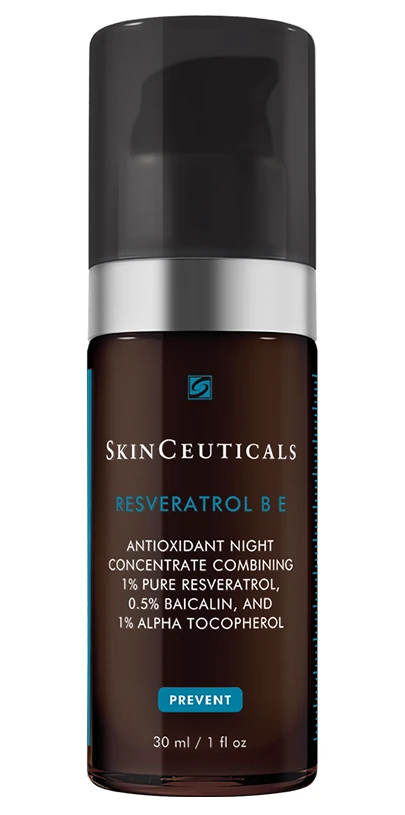 ---
2
The Ordinary Resveratrol 3% + Ferulic Acid 3%
Just like a bottle of fancy red wine is expensive, so do most serums containing resveratrol. But not this one. The Ordinary made a product that gives you all the resveratrol goodness without the hefty price tag. We love that the nourishing oil-like formula is not watered down (water can impair antioxidants' stability), and it's made with only three ingredients: propanediol, 3% resveratrol, and 3% ferulic acid. While resveratrol and ferulic acid deliver the best-in-class antioxidant protection against premature aging signs, propanediol softens and hydrates the skin. Simple, effective, and affordable are what put this serum above others.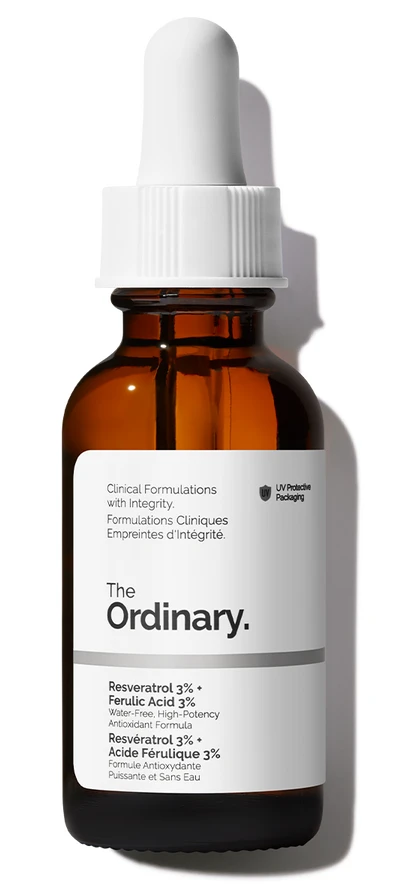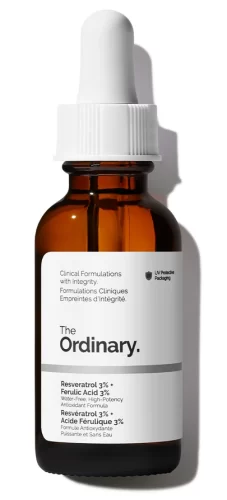 Review insights: "I like how this serum feels; something between silky and oily without the heaviness or stickiness. There is a comforting and hydrating feel upon applying it. I've also used it when I had damaged my skin's barrier, and it helped with the redness and dryness—definitely a steal for only $10," Ana Vasilescu.
---
3
Exponent Calm Revival Green Tea Resveratrol System
Exponent is a first-of-its-kind skincare brand that lets you activate the product just at the moment you're using it, so you get full benefits from every dose. You see, resveratrol and other antioxidants are easily deactivated by sunlight and heat, which is why most serums lose potency after opening. Compared to other resveratrol products, this one solves this issue by letting you mix the actives with the rest of the formula just before application.
The system comes in two chambers. The Globe + Dispenser contains a powder made of resveratrol, green tea, and other skin-nourishing ingredients like shea butter and Centella asiatica. The second chamber, the Hydrator, provides a base made of various types of hyaluronic acid and moisturizing agents. When you mix the two together, you get a fresh gel-cream serum—chocked full of antioxidants—which is clinically proven to improve the look of wrinkles and reduce redness and discoloration.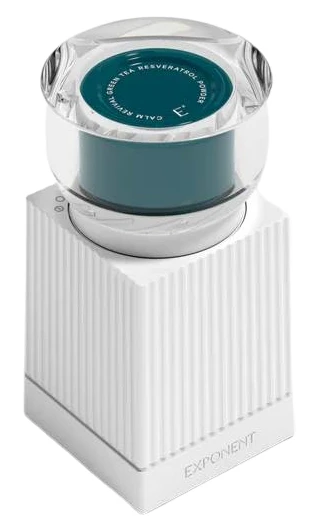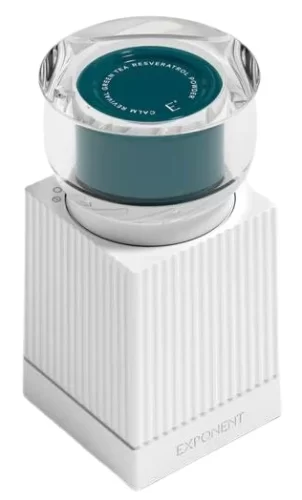 ---
4
Augustinus Bader The Serum
When it comes to luxury skincare, Augustinus Bader is one brand that never disappoints. With its high-end products, you're sure to get the royal treatment. Lord Gavin, the celebrities facial masseur, constantly praises this serum, and we're here for it. The serum is a real powerhouse, with its potent dose of resveratrol and oil-soluble vitamin C that penetrates deep into the skin to boost its radiance and glow. And that's not all—it also contains squalane and rice oil to keep your skin hydrated and rice protein and oligopeptide to boost collagen production. The result? Your skin will stay guarded against oxidative stress, fine lines will be less visible, your complexion will be more even, and you'll feel like a million bucks!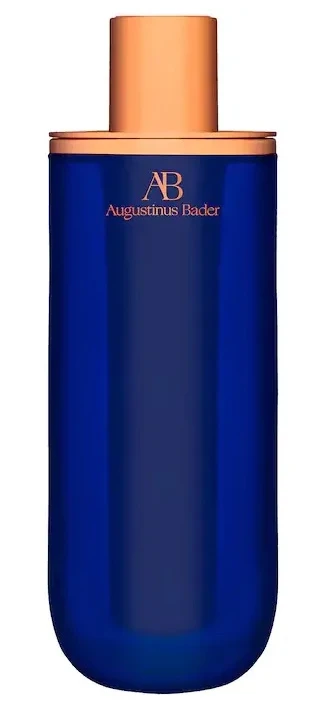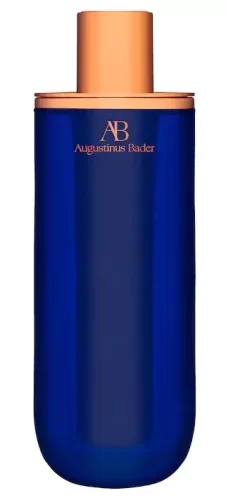 ---
5
Pca Skin Resveratrol Restorative Complex
This night-shift warrior has a well-rounded formula that works while you Zzz to restore your skin and reverse the negative effects caused by external foes. It's formulated with a balanced blend of active ingredients, including niacinamide, hexylresorcinol, and resveratrol, all antioxidants with brightening and regenerative effects. There's also snow algae that inhibit the enzymes that destroy collagen, along with other compounds that soothe redness and calm the skin. All in all, this formula addresses damaged, dehydrated, and pigmented skin, and it's the perfect product to alternate with your retinol serum to offset dryness and flakiness—most reviewers attest to it.


---
6
Andalou Naturals Fruit Stem Cell Revitalize Serum
Andalou Naturals proudly creates all their products with 98% naturally derived and certified organic ingredients, so if you're on the hunt for a clean and gentle serum with resveratrol, this is it. It's packed with some powerful ingredients that are going to give your complexion a serious boost. We're talking about a fruit stem cell complex, resveratrol, coenzyme Q10, and goji glycopeptide—a combo that delivers the essential building blocks skin needs to stay strong and supple. You'll love the mild scent and consistency of this product—it sinks right into the skin without leaving any sticky residue and starts doing its job immediately.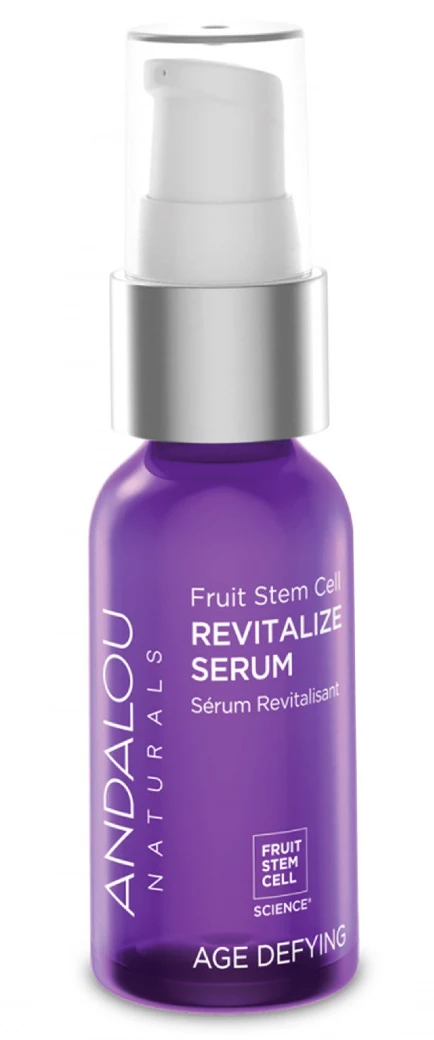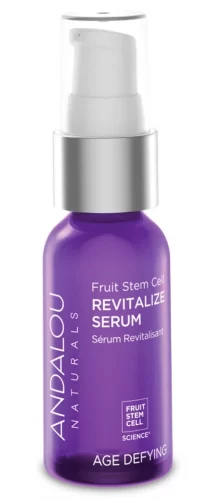 ---
7
Caudalie Resveratrol Lift Instant Firming Serum
Caudalie is the pioneer of using resveratrol in skincare formulations, so it's no wonder this product is one of the most demanded (and under-the-radar) resveratrol serums. The brand touts it as the ideal alternative to retinol, and we couldn't agree more. It uses an in-house patented form of resveratrol coupled with hyaluronic acid, squalane, and other botanical extracts with nourishing properties. This formula acts on all layers of the skin to promote collagen growth and reduce fine lines and wrinkles. As a matter of fact, it's thought to be twice more effective as retinol in stimulating the production of proteins. In other words: it's the fastest shortcut to lifted, firm skin. Oh, and it's made with 97% natural origin ingredients and has a vegan formula.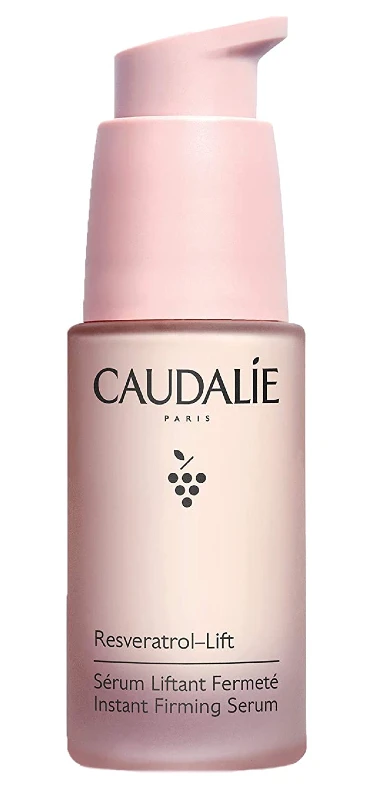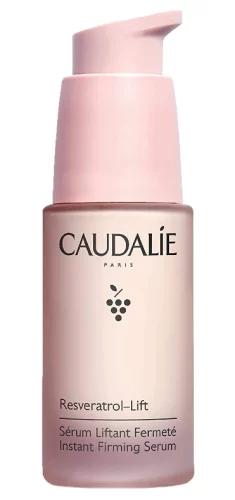 ---
8
Paula's Choice Ultra-Light Super Antioxidant Concentrate Serum
With a whopping blend of antioxidants, Paula's Choice is here to save the day for those struggling with environmentally stressed skin. It's a game-changer if you live in a highly polluted city or spend a lot of time doing outside activities. With resveratrol, niacinamide, vitamins C and E, coenzyme Q10, and EGCG from green tea, to name a few, it doesn't give free radicals a fighting chance. The serum has a lightweight, non-tacky texture that revitalizes your complexion as soon as applied, leaving it nourished and plump.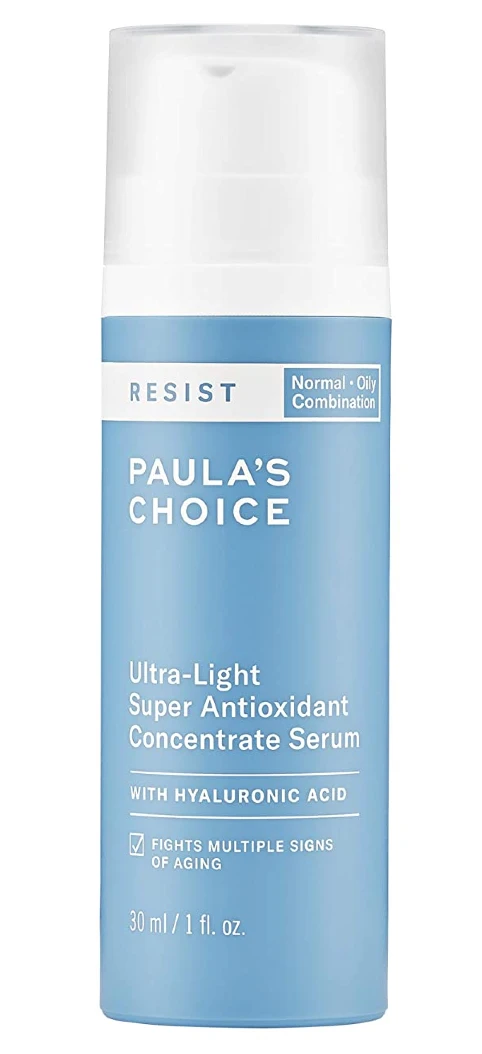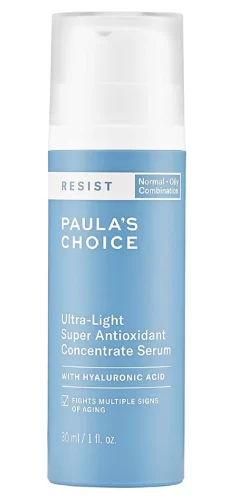 ---
You ask, we answer
Can resveratrol serums be used by all skin types?

Yes, resveratrol serums are suitable for all skin types, including sensitive, dry, and acne-prone skin. However, it's always a good idea to test the serum before using it all over your face, especially if you have very reactive skin.

How often should I use a resveratrol serum?

Generally, it's safe to use a resveratrol serum once or twice daily, but be sure to read the product directions and follow them accordingly.

Can I layer a resveratrol serum with other products?

Yes, resveratrol serums can be layered with other skincare products, such as moisturizers, sunscreen, and other serums. However, if you're using other active ingredients like retinoids or AHAs, it's best to stagger their use and not apply them simultaneously to avoid irritation or sensitivity.

Are there any side effects of using a resveratrol serum?

In general, resveratrol serums are safe to use, and adverse reactions are rare. However, some people may experience skin irritation, redness, or itching, especially if they have sensitive skin or use a high concentration of resveratrol.
Sources
Women's Concepts uses reliable sources, including dermatologists' insights, clinical trials, and scientific journals, to find accurate information and support all the facts shared in our articles. All statements and claims have clear and legit references. Read our editorial policy to learn more about our sources of information, our process of researching and fact-checking the content, and how our team strives to keep all articles updated, completed, and trustworthy.
References
Ratz-Łyko A, Arct J. Resveratrol as an active ingredient for cosmetic and dermatological applications: a review. J Cosmet Laser Ther, Epub 2018 May 8, https://pubmed.ncbi.nlm.nih.gov/29737899/
Boo YC. Human Skin Lightening Efficacy of Resveratrol and Its Analogs: From in Vitro Studies to Cosmetic Applications. Antioxidants (Basel). 2019 Aug 22, https://www.ncbi.nlm.nih.gov/pmc/articles/PMC6770230/
Min W, Liu X, Qian Q, Lin B, Wu D, Wang M, Ahmad I, Yusuf N, Luo D. Effects of baicalin against UVA-induced photoaging in skin fibroblasts. Am J Chin Med. 2014, https://pubmed.ncbi.nlm.nih.gov/24871661/