Did you know that the sun is responsible for 90% of facial wrinkles? That's right, photoaging caused by sun damage is a major culprit in premature aging. That's why using sunscreen with 50 SPF is non-negotiable if you want the best protection for your skin.
However, purchasing the right sunscreen can be a daunting task, given the vast array of formulas available in the market. Should you opt for a chemical or physical sunscreen? Tinted or not? Does it protect against both UVA and UVB? Does it leave an unsightly white cast on your face? These are just some of the endless questions that can make the process of finding the perfect product an overwhelming experience.
But don't worry; we're here to help you find the best SPF 50 sunscreen that's just right for your skin. With our comprehensive roundup of products, you can rest assured that you'll buy a sunscreen that meets all your criteria and gives you the ultimate protection against the damaging effects of UV. Go ahead and enjoy the sun without worrying about skin damage!
The best SPF 50 sunscreens
Below are the best SPF 50 sunscreens that keep your skin guarded against UV damage all day long. Scroll on and pick your favorite:
---
1
EltaMD UV Sport Sunscreen Lotion, Broad-Spectrum SPF 50
80 minutes water-resistant
UVA and UVB protection
Mineral and chemical
This expert-approved sunscreen combines chemical protection with physical blockers and is a great option for those who like to spend time outdoors. It ensures broad-spectrum sun protection and can be applied on both the face and body so that you can stay defended from UV damage with just one product. The fluid formula glides on smoothly and is oil-free, non-comedogenic, fragrance-free, and water-resistant for 80 minutes. In addition to being a dermatologist-approved product, EltaMD UV Sport Sunscreen Lotion has won over six awards for its effectiveness.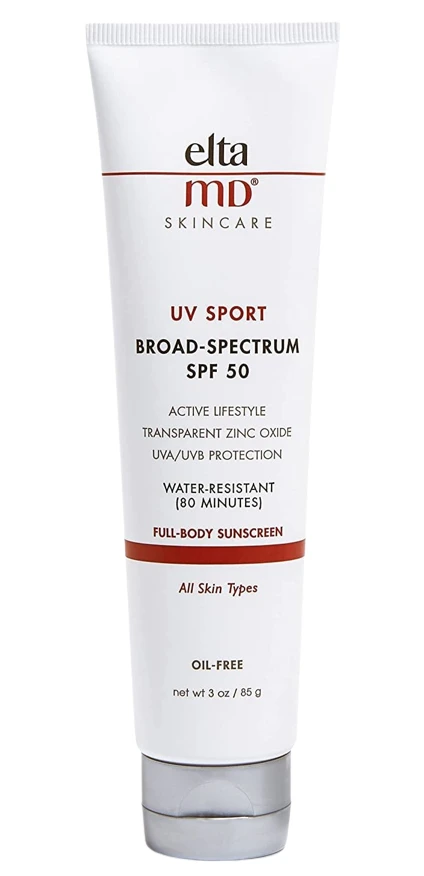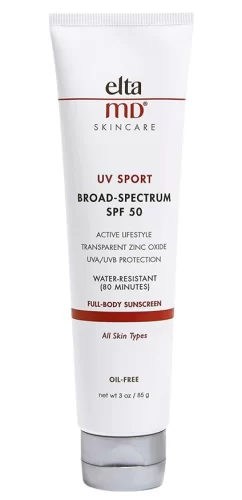 ---
2
Colorescience Sunforgettable® Total Protection Brush-On Sunscreen SPF 50
Powder formula
Mineral protection
Broad-spectrum protection PA+++
For sensitive and acne-prone skin
No more excuses for not reapplying sunscreen. Colorescience Brush-On Sunscreen has a powder texture that makes it so easy to reapply throughout the day for complete protection from damaging UV rays and a touch of tint. It provides broad-spectrum SPF 50 from minerals like zinc oxide and titanium dioxide while it delivers sheer coverage and a matte finish without settling into fine lines. It mainly addresses people with oily and acne-prone complexions, but anyone can use it, really. We also love the fact that it loads antioxidants, including grapeseed and green tea, to give some shield against pollutants, too.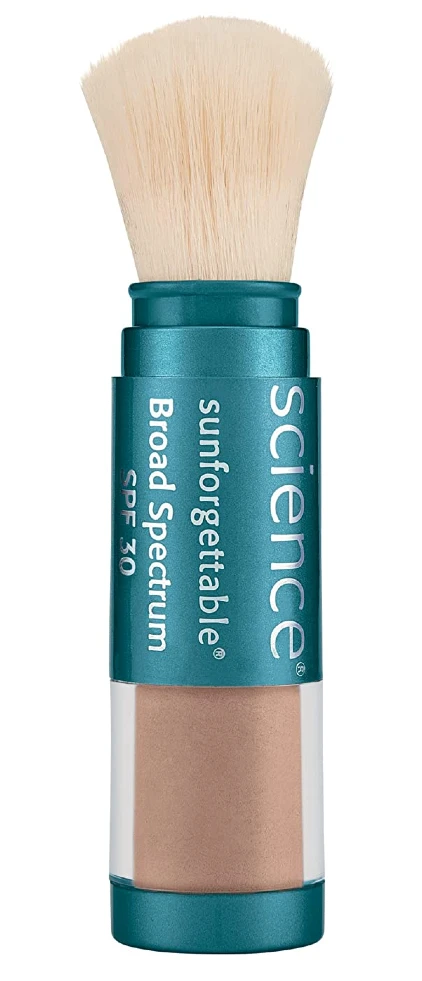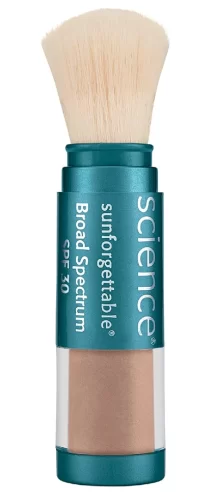 ---
3
Image Skincare Prevention+ Daily Ultimate Protection Moisturizer SPF 50
Broad-spectrum
Chemical and mineral
Best for mature skin
This sunscreen moisturizes thirsty skin without feeling greasy or heavy and targets loss of firmness with probiotics, hyaluronic acid, and pea protein. In addition to guarding the skin against sun rays with zinc oxide and UV blockers, Image Skincare Ultimate Protection helps shield against the effects of environmental stressors with antioxidants, including vitamins C and E. It's the best SPF 50 sunscreen for those looking to get sun protection, deep moisturization, and antioxidant defense from one product.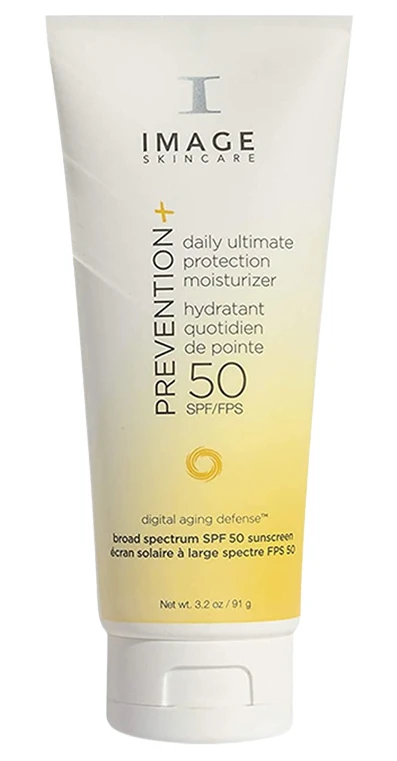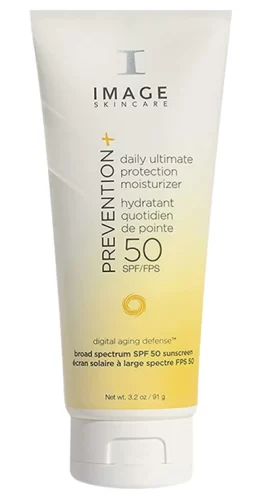 ---
4
CeraVe Mineral Sunscreen SPF 50
Non-comedogenic
Good for sensitive and eczema-prone skin
This drugstore mainstay sunscreen forms a protective barrier on the skin's surface to reflect and scatter UV beams before they touch your skin. It also contains niacinamide to calm the skin, ceramides to speed up recovery, and hyaluronic acid to provide hydration. Some reviewers with darker skin tones claim the sunscreen leaves a white cast, so you should probably avoid it if that's your case. Apply a small amount in the palm and rub them together and apply to one small area at a time, rubbing well, to avoid the ghosting effect. In addition to being recommended by the Skin Cancer Foundation, this sunscreen has the stamp of approval from the NEA Seal of Acceptance, meaning it's safe for sensitive and eczema-prone skin.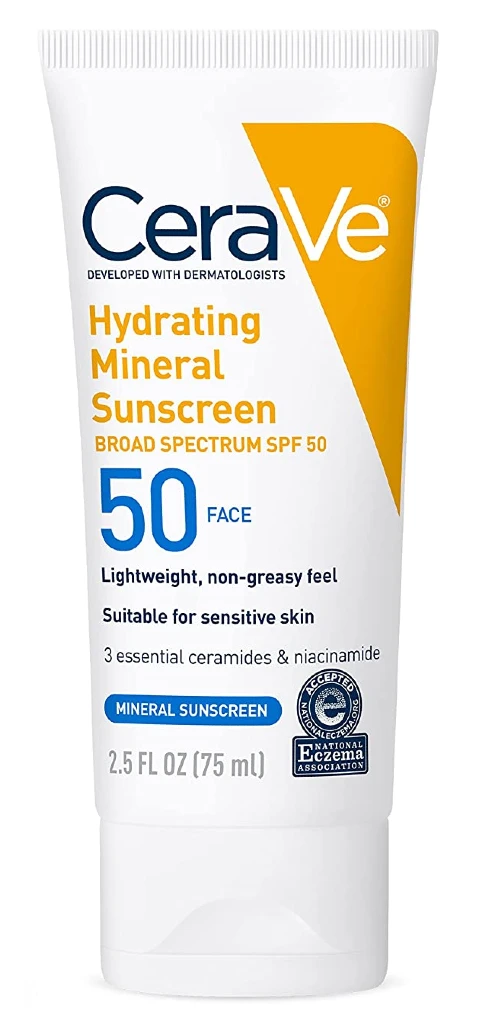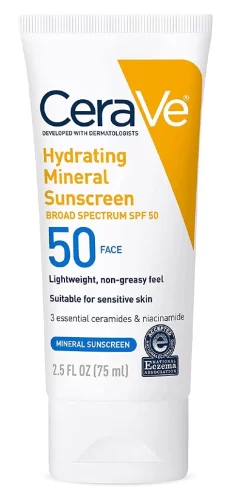 ---
5
La Roche-Posay Anthelios Mineral Sunscreen SPF 50
Reef safe
For sensitive skin
Broad-spectrum UVA/UVB protection
There's a reason La Roche-Posay Anthelios Mineral Sunscreen is incredibly popular and has racked up a handful of beauty awards. It's a 100% mineral sunscreen in a non-whitening and fast-absorbing formula that works for all skin types, including sensitive and acne-prone—it's non-comedogenic, so it won't ever clog pores. The fluid texture leaves a matte finish, ideal for offsetting a greasy look, and the antioxidants protect the skin from free radicals caused by UV. Shake well before use and apply 15 minutes before sun exposure.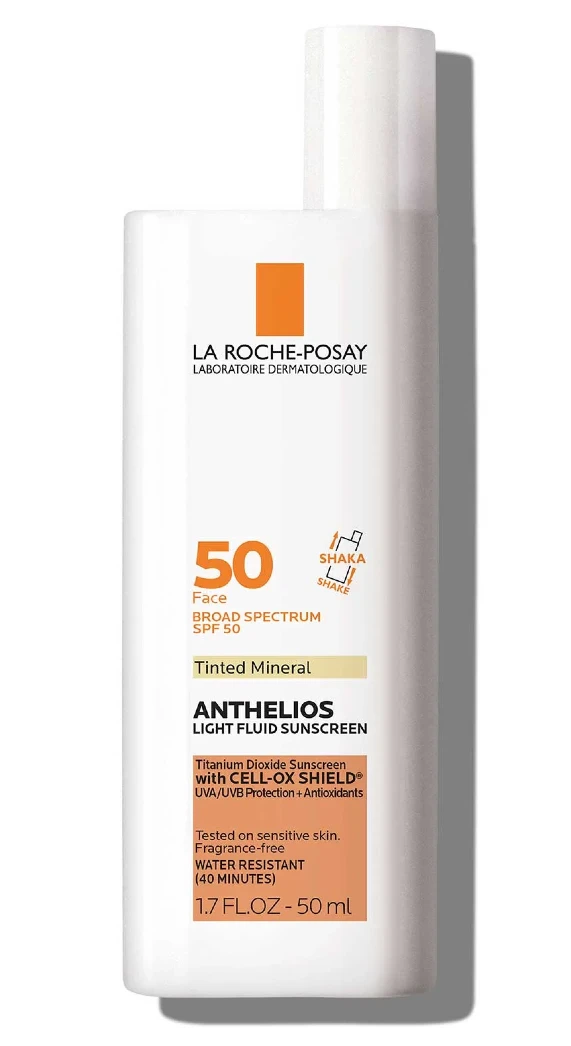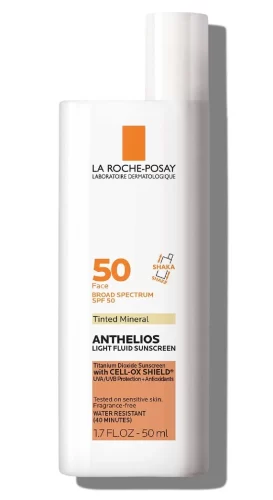 ---
6
Avène Mineral Tinted Compact SPF 50
Mineral, tinted formula
Cream-to-powder
Broad-spectrum protection
This is the best tinted sunscreen with SPF 50 for those who want to camouflage imperfections while staying shielded from UV rays. The cream-to-powder formula provides broad-spectrum UVA/UVB protection exclusively from minerals titanium dioxide and zinc oxide and leaves a matte finish sans greasiness. We also like that the compact has a built-in mirror and a sponge, making it easy to reapply throughout the day. It works for all skin types, it's hypoallergenic, non-comedogenic, fragrance-free, and it doesn't look cakey nor settle into fine lines. A winner.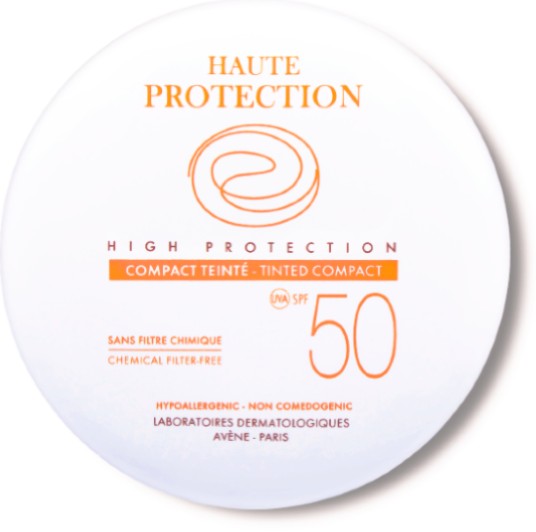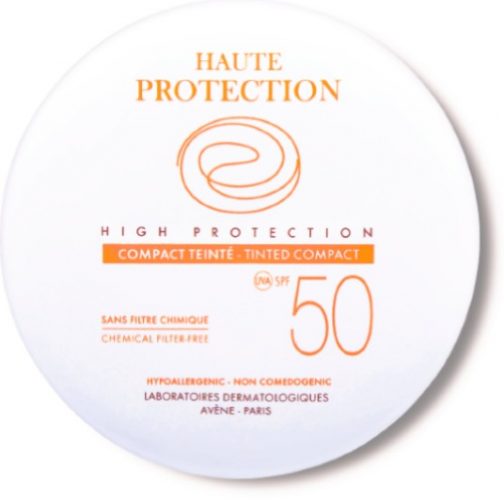 ---
7
Glow Recipe Watermelon Glow Niacinamide Sunscreen SPF 50
Broad-spectrum
Chemical and mineral
Dewy glow finish
We like this sunscreen because it provides SPF 50 from a blend of physical and chemical sun blockers and has skincare benefits, too. There are lactic acid and niacinamide to help fade dark spots, while aloe vera, watermelon extract, and hyaluronic acid increase hydration for a plump appearance. It has a lotion consistency that's light and easily blendable, and it never leaves a white cast or flakes. However, if you're planning to apply makeup, wait for the sunscreen to set in order to avoid peeling.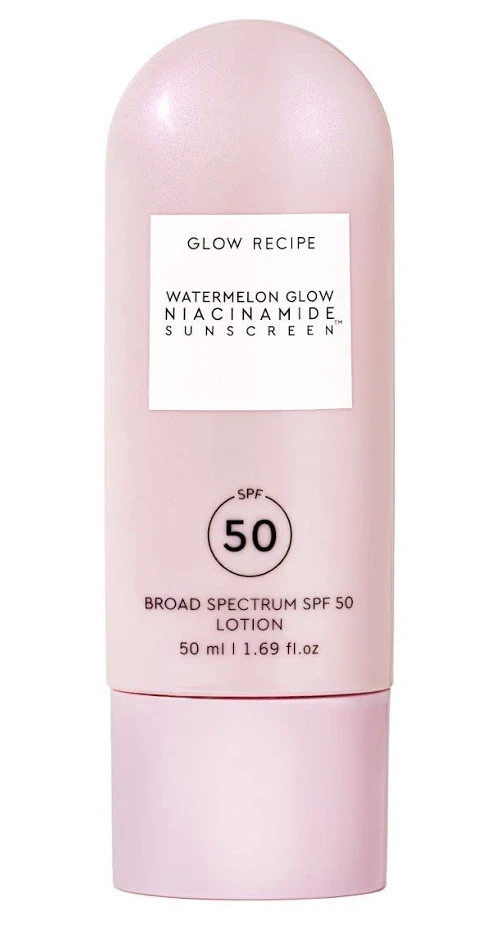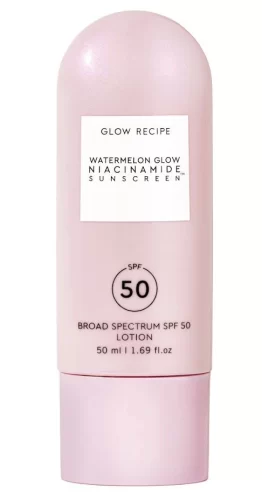 ---
8
Tatcha The Silk Sunscreen: Broad Spectrum SPF 50 PA++++
Mineral protection
Hydrating
Skincare-infused
This sunscreen has a higher price tag, yet we still stand behind this pick. The hydrating formula provides broad-spectrum UVA/UVB protection, while the light tint goes on sheer and leaves a glowy finish and more even tone. It's a good option for dry skin because it packs some heavy-hitting moisturizing and hydrating actives, including niacinamide, squalane, vitamin E, and hyaluronic acid, leaving the skin visibly quenched. The PA++++ rating system means the sunscreen provides extremely high (about 95%) UVA protection—the type of rays that lead to premature skin aging and cancer.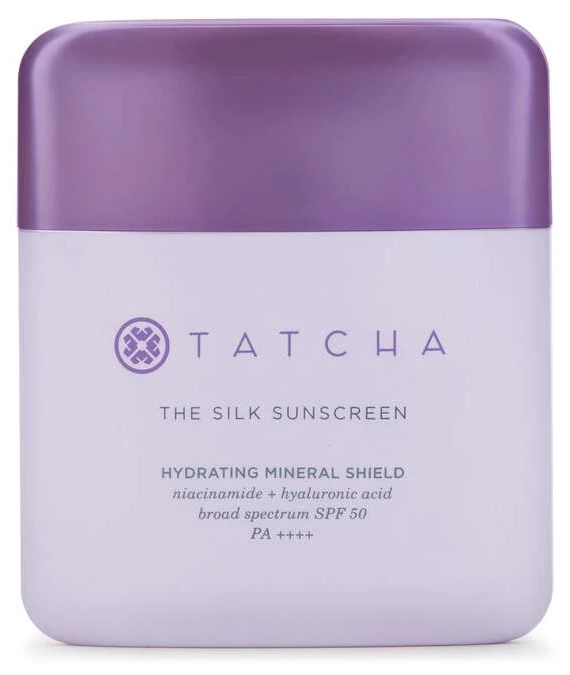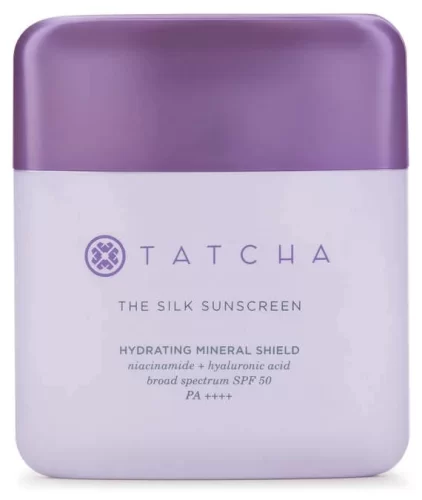 ---
9
Cosrx Aloe Soothing Sun Cream PA+++
Chemical protection
UVA+UVB
Good for dehydrated skin
Cosrx Aloe Soothing Sun Cream contains aloe leaf extract and vitamin E for intense soothing and moisturizing properties. The sun cream starts as a gentle moisturizer, absorbs instantly, and leaves no trace other than hydrated, soothed skin. Most people love its lightweight texture that spreads easily across the face and how it makes a great makeup primer, too. It's as good as it's often out of stock. Apply a generous amount over your face 30 minutes before sun exposure for maximum UV protection.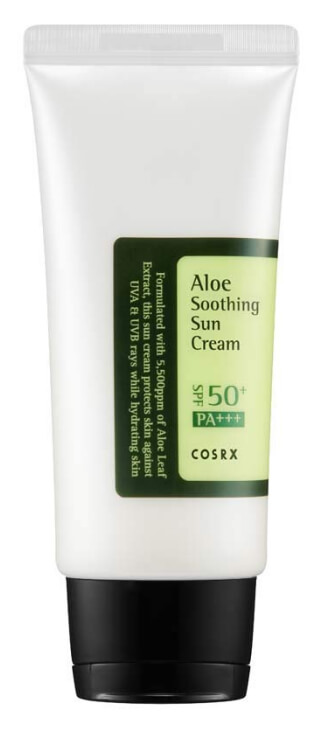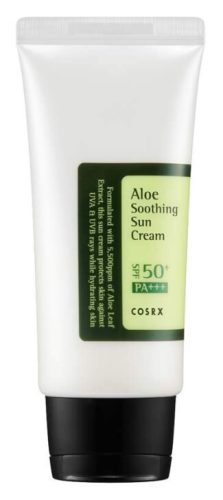 ---
Do you really need sunscreen with SPF 50?
I'm here to clear up any confusion you might have about SPF and how much protection it really provides. Here's the breakdown: sunscreen with SPF 30 blocks about 97% of UVB beams, while SPF 50 blocks 98%. That might not seem like a big difference, but it actually translates to about 50% more protection from harmful UVB rays.[1] It's a common misconception that SPF 30 and 50 are pretty much the same, but the truth is that a 1% difference in protection can make a huge impact.
To put it into perspective, when you use sunscreen with SPF 30, your skin takes 30 times longer to burn than if you didn't use any sunscreen at all. With SPF 50, it takes around 50 times longer for your skin to burn. That extra protection can make all the difference, especially if you're planning to spend a lot of time in the sun.
How much sunscreen should you apply?
Generally, you should apply two strips of sunscreen on both index and middle fingers from the palm crease to the fingertips 20 minutes before you expose your skin to the sun.[2] And you should reapply sunscreen every two hours to maintain effectiveness, especially if you're outside.
What is broad-spectrum and why do you need it
It's essential to use broad-spectrum sunscreen. You've probably heard the term before, but do you know what it really means? Let me break it down for you. Broad-spectrum sunscreen is a must-have in your beauty arsenal, as it not only protects against UVB that causes sunburns but also the UVA that is responsible for premature aging, fine lines, and wrinkles. That's right, UVA damage can wreak havoc on your skin, so it's essential to shield your skin from its harmful effects.
So, whether you're spending the day at the beach or running errands in the city, make sure you're protecting your skin with broad-spectrum sunscreen. Your skin will thank you for it in the long run.
The verdict
We're giving top honors to La Roche Posay Anthelios Mineral Sunscreen, recommended by the Skin Cancer Foundation, which gives SPF 50 without irritating, clogging, or leaving a white cast. For a budget-friendly option, consider CeraVe Mineral Sunscreen SPF 50; over 14,000 people gave it 5-star reviews on Amazon. Open to spending a little more on your sunscreen? Colorescience Brush-On Sunscreen Mineral Powder won't ever let you down, and it's so easy to reapply throughout the day.
Before you go remember that you should never rely on your moisturizer or foundation's SPF. The evidence is crystal-clear that you would need a ton of product to get the protection it claims. Yep, that's mostly marketing. So, do yourself a favor and slather sunscreen even if your moisturizer or foundation provides some sun protection.
Read next: How to Prevent Wrinkles and Premature Skin Aging