We should feel refreshed and glamorous after putting on our makeup in the mornings. But is your foundation the culprit behind your skin looking older? Typical makeup can dehydrate skin, exaggerating the appearance of fine lines. These heavy formulations can settle into the skin with an unnatural texture that deepens the appearance of wrinkles. That's where today's list of the best tinted moisturizers for mature skin comes in handy.
Unlike foundation, tinted moisturizers' blurring formulas hydrate skin with plumping agents to create more youthful finishes. These multi-taskers bring the ease of having your sunscreen, hydrating factors, and a flawless glow all into one product — in other words, what your mature skin really needs. The best of the best, these tinted moisturizers offer a fresher, more revitalized complexion with lots of skin goodies to even your skin tone and counter signs of aging. Take a peep below and pick your favorite:
What are the best tinted moisturizers for mature skin?
---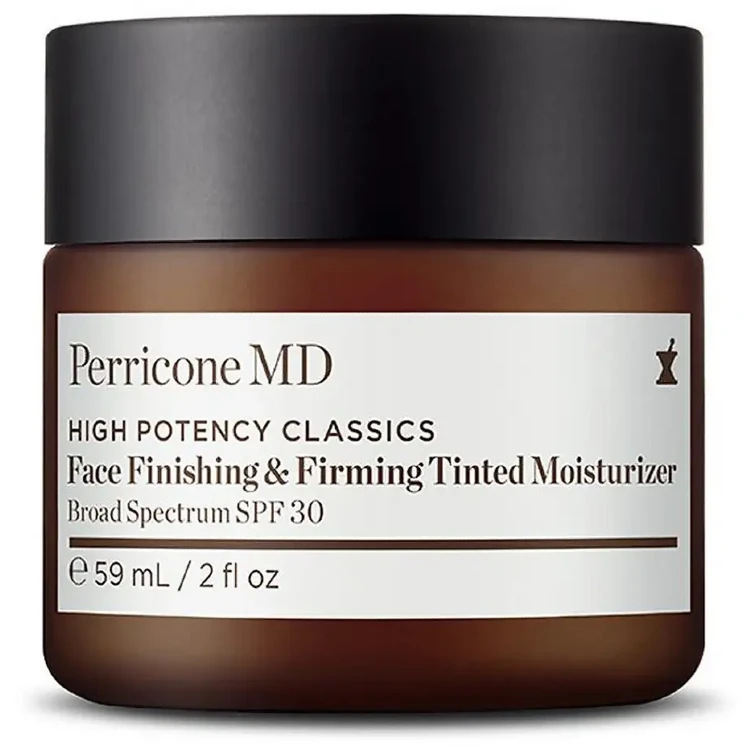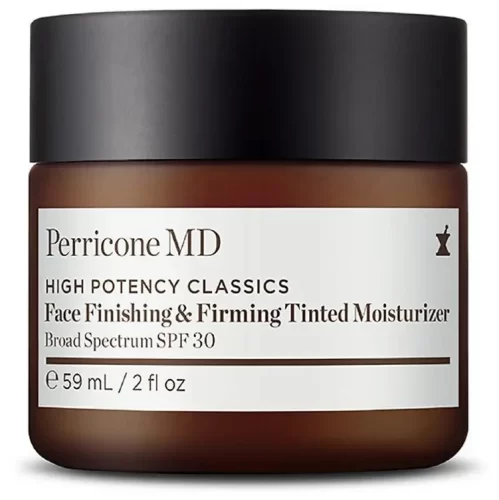 Perricone MD High Potency Classics Face Finishing & Firming Tinted Moisturizer
A fan favorite amongst those looking for comfort and a luminous finish, Perricone MD High Potency Classics Tinted Moisturizer loads candeia tree extract, glycerin, and dimethicone to provide all day-hydration with a lovely velvety-rose scent. It's oil-free and lightweight, and the coverage of this unique moisturizer develops as you rub the product in. One of the very best tinted moisturizers for mature skin, the formula works to plump and firm, reducing the appearance of wrinkles while providing SPF protection and antioxidants — what we like to call a winner product.
---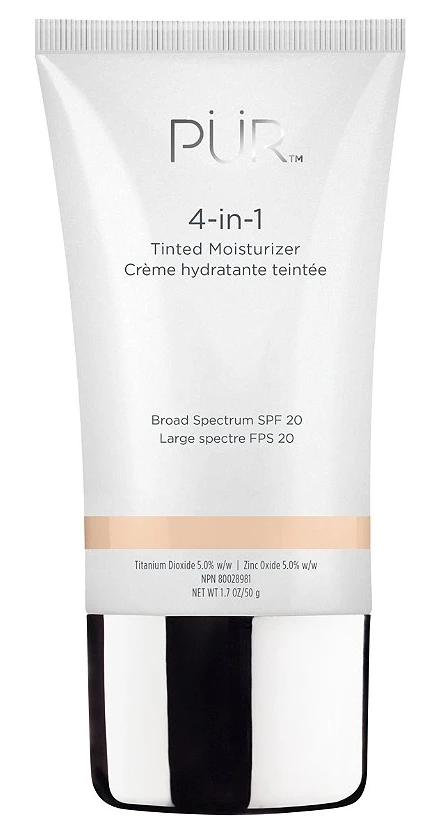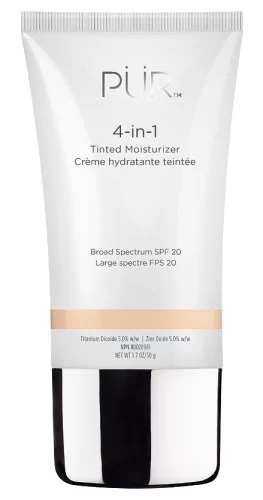 PÜR Cosmetics 4-In-1 Tinted Moisturizer
PÜR Cosmetics offers a clean, vegan formulation beloved for its gentleness for sensitive skin types. The line's impressive shade range matches skin perfectly without the crazy orange or ashy tones. One of the very few tinted moisturizers infused with retinol, the 4-in 1 product uses the company's patented Ceretin complexes to renew skin. The light tint covers problem areas flawlessly for an ultra-natural complexion.
---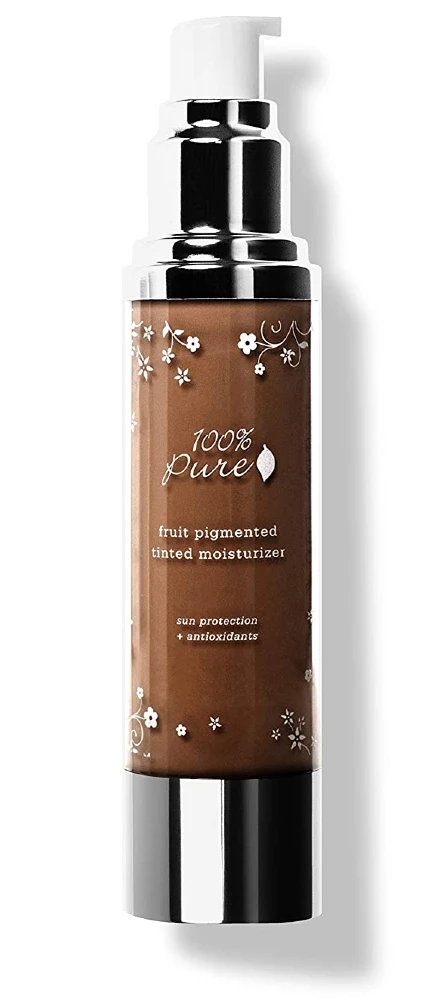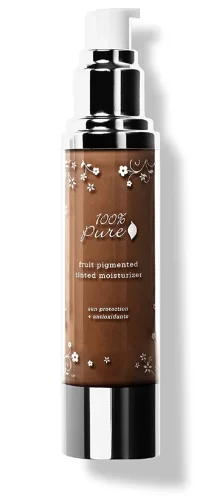 100% Pure Fruit Pigmented Tinted Moisturizer
This is the best-tinted moisturizer for mature skin and organic skincare lovers. The all-natural product nourishes intensely with an extensive list of botanicals, while the buildable formula provides light to medium coverage, depending on your application. Tinted with natural fruits and vegetables, the product offers worry-free ingredients like white tea, acai, pomegranate oil, vitamins, and SPF 20.
---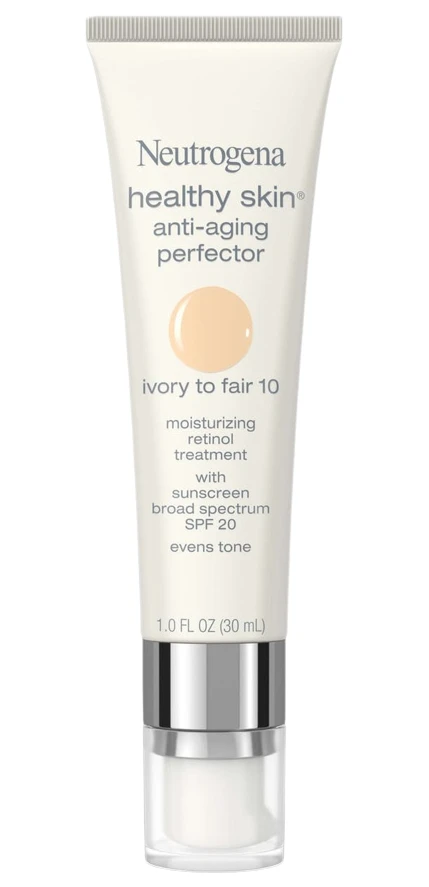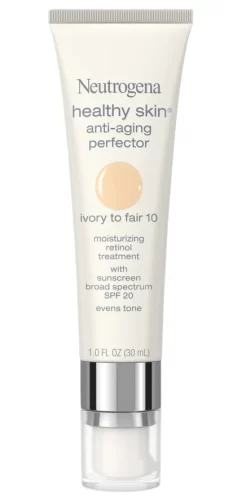 Neutrogena Healthy Skin Anti-Aging Perfector Tinted Facial Moisturizer
With a dreamy cream texture, this moisturizer sheers out for a healthy breathable complexion, letting your skin look and feel like bare skin. As one of the best anti-aging tinted moisturizers for mature skin, it combats fine lines and wrinkles with its revitalizing retinol, retinyl palmitate, amino acids, and vitamin E. Besides, the blendable coverage repairs skin's texture and tone cosmetically, while its super actives work to target signs of aging for younger-looking skin even after you take it off.
---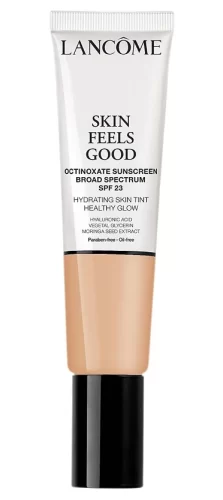 Lancôme Skin Feels Good Hydrating Skin Tint
Build up the coverage you desire while keeping a lighter and fresher skin feel with a soft floral scent, and a satin finish with Lancôme Skin Feels Good Hydrating Skin Tint. A hydrating tinted moisturizer hybrid, this product can create anywhere from a sheer to a more full-makeup look. It's also enriched with anti-aging ingredients like hyaluronic acid, moringa seed extract, and SPF 23 to plump and protect skin from environmental stressors.
---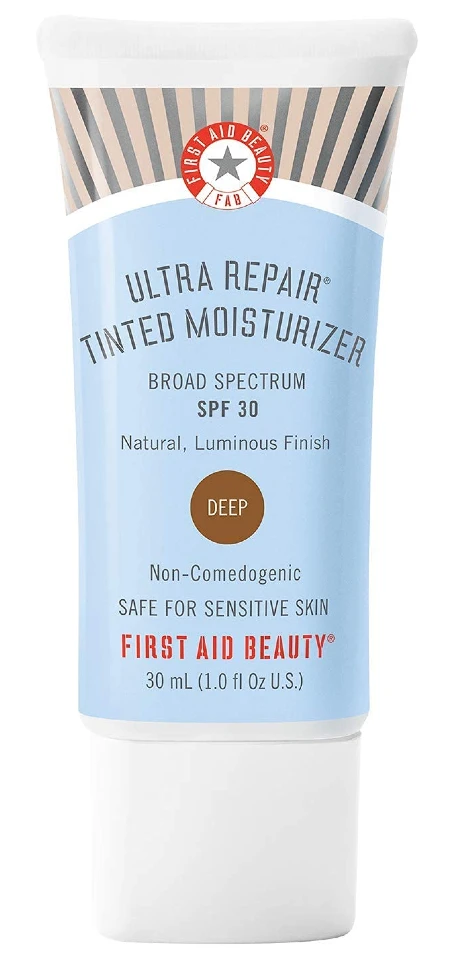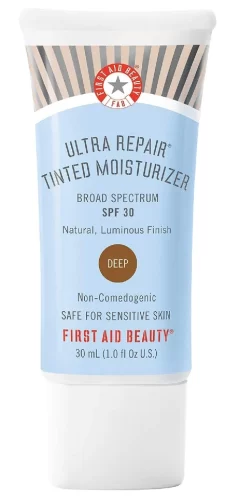 First Aid Beauty Ultra Repair Tinted Moisturizer
First Aid Beauty Ultra Repair Tinted Moisturizer was made for sensitive, mature skin that craves hydration and repair. Those with dry skin also flock to this ultra-hydrating formula: cosmetically, it sits beautifully on the skin without the typical flaking and dry patches. The secret? Soothing colloidal oatmeal and allantoin calm sensitive skin while vitamin E and hyaluronic acid are added for intense hydration. On top of everything, the mousey application keeps the product from being too heavy with a thin, airy consistency. But be careful as this product can leave combination and oily skin types shiny, so be sure to apply more sparingly.
---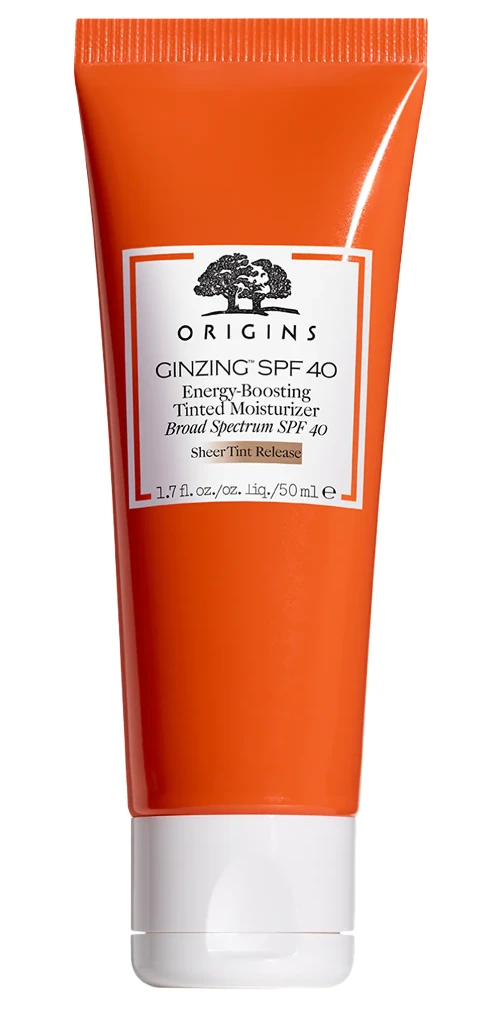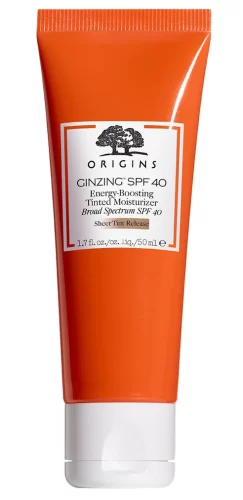 Origins GinZing SPF 40 Energy-Boosting Tinted Moisturizer
Or you can start your morning off with a cup of coffee for your skin. With a new and improved formula, this tinted moisturizer energizes skin with coffee beans and ginseng to minimize puffiness and dark under-eyes. Thanks to adaptogenic ginseng, the product helps protect from UV damage and can even aid in preventing wrinkles. Fresh-scented, the product starts thicker but soon rapidly absorbs into the skin for a gentle luminosity. The self-adjusting moisturizer offers a sheer tint with a skin adapting color match that enhances the appearance of mature skin.
---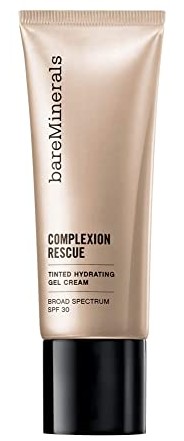 bareMinerals Complexion Rescue Tinted Moisturizer
"My skin but better" this product combines hydrating skincare with mineral-based sun protection for a healthy-looking glow. It's one of the best tinted moisturizers for mature skin because it provides light coverage along with deep hydration, which dryer, more-mature skin craves. This formula's plant-based squalane quenches dehydrated skin with a light whipped gel texture to ensure the skin gets that vital anti-aging moisture. Along with hyaluronic acid, the moisturizer helps replenish over-taxed skin by boosting its ability to lock in hydration. 
---
Chantecaille Just Skin Tinted Moisturiser
Okay, this is a bit pricey, but that hasn't stopped all the editorial pages and fashion bloggers from raving. The product's thicker gel texture melts beautifully into the skin, plumping and helping to smooth fine lines and texture. Whether you apply the moisturizer with your fingertips or applicators, the natural finish is oh-so cravable. Don't worry; at this price point, you get all the anti-aging actives with a healthy dose of hyaluronic acid and vitamin C to seal the deal. The only thing to worry about this best tinted moisturizer for mature skin is that it may quickly become irreplaceable.
---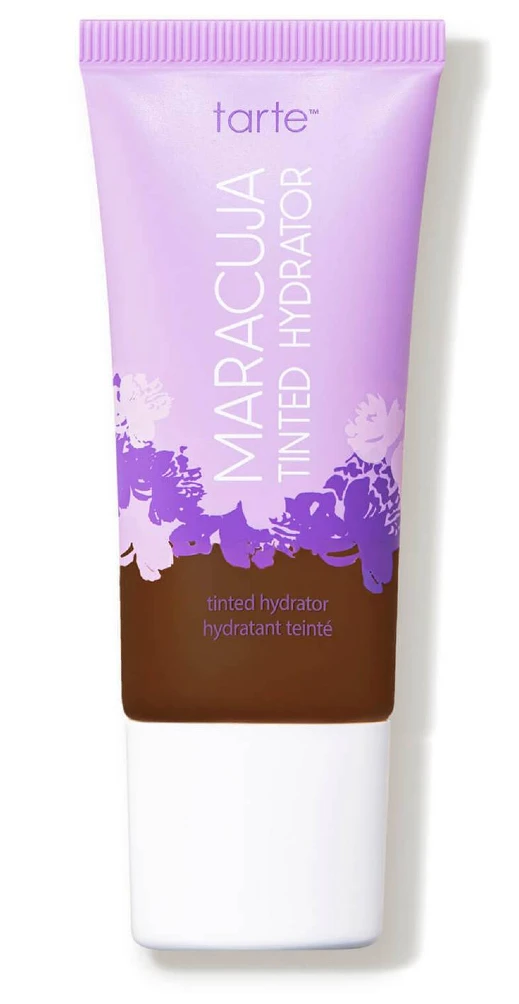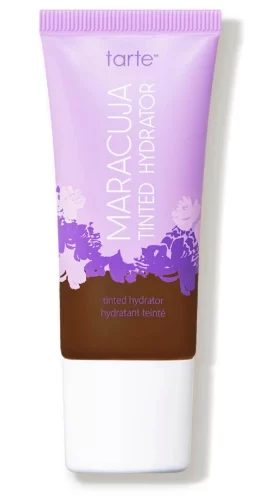 Tarte Maracuja Hydrating Tinted Moisturizer
With Tarte's entry into lightweight and mature skin-friendly formulations comes a product that applies with ease for that glowy "no makeup" look. The moisturizer not only boasts 12 hours of hydration and wear time, but it's infused with hyaluronic acid, maracuja oil, and turmeric to firm, brighten, and soothe skin. The more hydrated your skin, the plumper it appears, making this tinted moisturizer perfect for mature skin. P.S: It plays well with powders and other cosmetic products, incorporating easily into an existing routine and accommodating oilier skin types.