Finding the best anti-aging serums for oily skin can help you tackle fine lines and wrinkles while keeping your pores clear and avoiding a greasy, shiny look.
You may have heard that oily skin is slower to show aging signs, but that's only partially true. Oily skin indeed benefits from increased sebum production, which provides added moisture and a fuller look to the face. However, aging signs like loss of firmness and wrinkles are primarily related to the production of collagen and elastin, proteins that provide skin structure, strength, and elasticity.
While the depletion of these proteins is an unavoidable by-product of getting older, a lot of external factors, including UV damage, diet, and stress, can exacerbate the process. So when choosing a serum to address aging signs, it's essential to look at formulas with ingredients that increase the production (and reduce the breakdown) of collagen and elastin. And because you have oily skin, you need a serum that's lightweight, absorbs quickly, and provides moisture without feeling heavy or clogging the pores.
Spoiler: All serums we found for you do just that and then some.
Our favorite anti-aging serums for oily skin
---
1
SkinCeuticals Blemish + Age Defense
True to its name, this oil-free serum fights excess sebum, adult acne, clogged pores, and blemishes while improving fine lines and wrinkles. Responsible is a blend of chemical acids that gives mild exfoliation to reveal a more radiant, smoother, and clear complexion. Reviewers attest to it, and especially people with oily skin love the formula. "I have very oily skin and use the product twice per day. It is not drying and has done an excellent job of controlling my blemishes and oily shine," says one. P.S.: Since this serum is chock full of exfoliants, it's essential to follow up with a hydrating, non-comedogenic moisturizer to counteract possible dryness.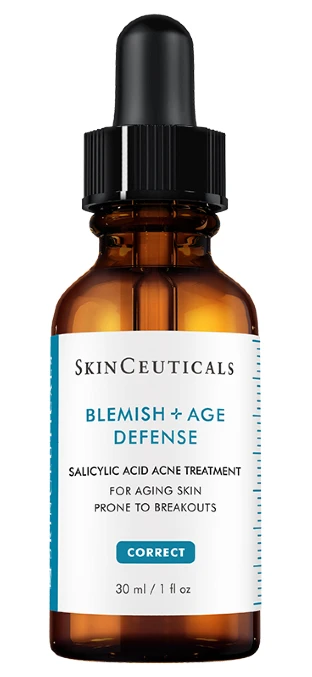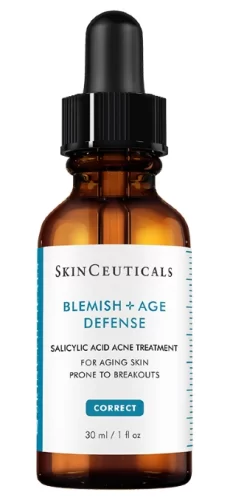 ---
2
Clinique Smart Custom-Repair Serum
Your oily skin will love to drink up every drop of this serum since it's made with vitamin C, peptides, and salicylic acid. These ingredients help your skin age healthily by promoting collagen growth, while the added cucumber extract, hyaluronic acid, and squalane balance sebum and deliver a burst of hydration. The lightweight formula absorbs in a matter of seconds, never leaves skin greasy, and iss free of oil and fragrances.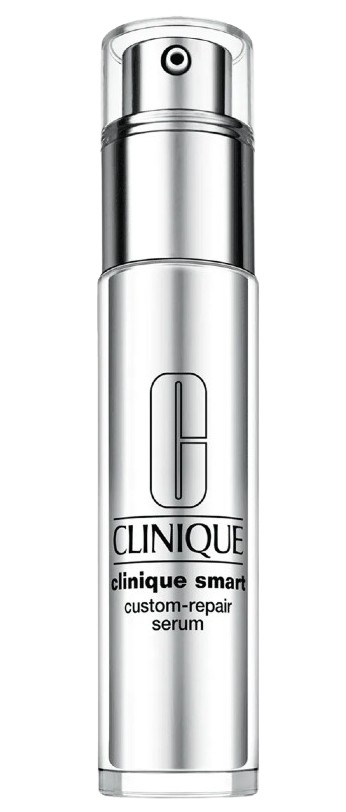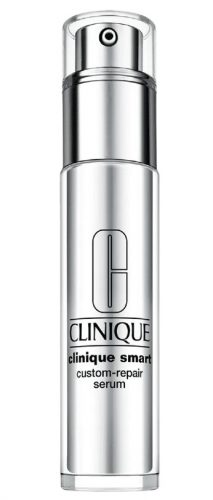 ---
3
Youth To The People Triple Peptide Hydrating + Firming Serum
The key ingredients in this formula are three types of peptides that play an important role in collagen synthesis, strengthening the skin and reducing fine lines.[1] There are also four molecular weights of hyaluronic acid in the mix, which help increase hydration on multiple layers of the skin while also balancing oil production. When oily skin is hydrated, the sebaceous glands are less likely to produce an excessive amount of sebum. So to hang onto hydration even longer, the formula is loaded with cactus extract, which is rich in linoleic acid—a fatty acid that balances sebum levels.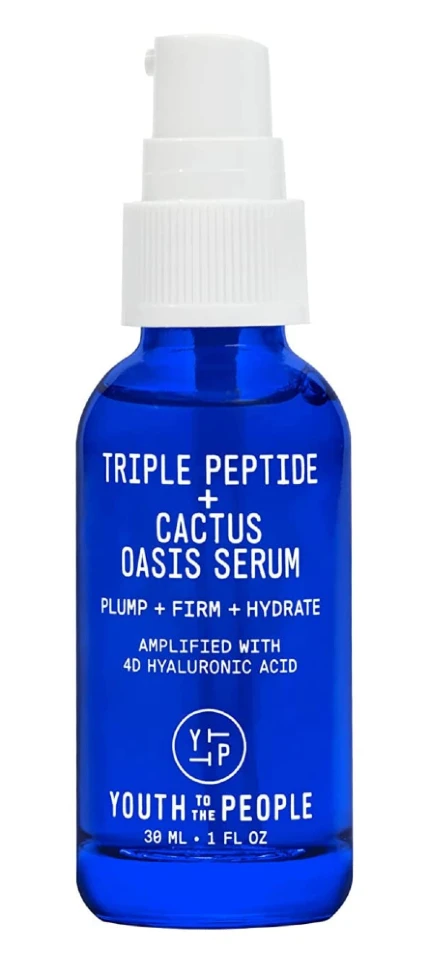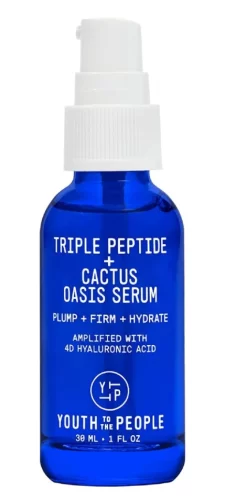 ---
4
The Ordinary Retinol 1% in Squalane
Retinol reigns supreme in the world of anti-aging ingredients because it encourages cell renewal and boosts collagen production.[2] This serum is made with 1% retinol to improve the look of fine lines and wrinkles and promote even-toned skin over time. Additionally, the serum is supported with squalane, a sebum-like substance that moisturizes without feeling heavy or clogging the pores. However, if you're new to retinol, consider starting with a lower strength formula, like 0.2 or 0.5, and gradually work your way up to 1% as your skin builds tolerance.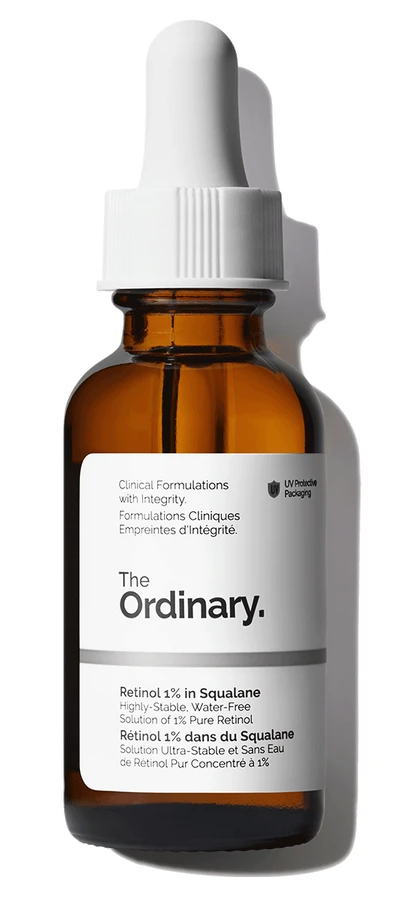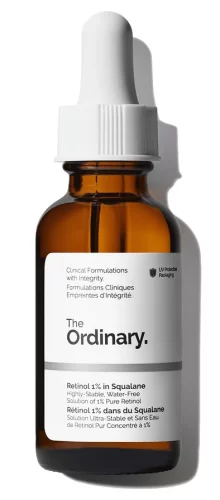 ---
5
CeraVe Skin Renewing Vitamin C Serum
This is one of the best anti-aging serums that tackles excess oil and aging signs with a non-comedogenic formula that won't ever clog the pores. It's made with 10% vitamin C, which in addition to spurring collagen growth, brightens dark patches and provides antioxidant protection. Three ceramides work to reinforce the protective barrier—a damaged barrier can trigger an increase in sebum production—while hyaluronic acid increases hydration to soften fine lines and regulate sebum.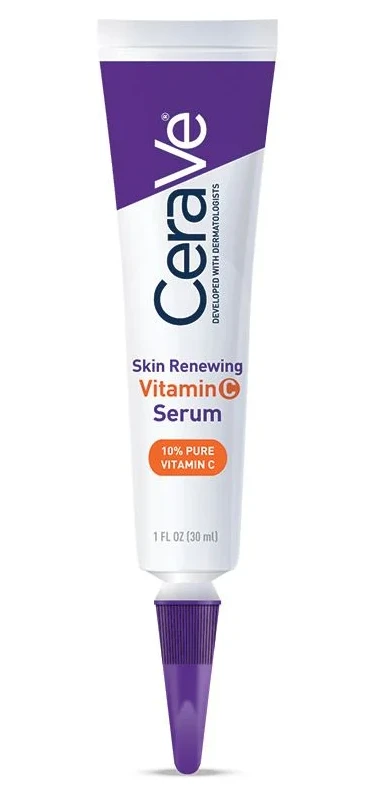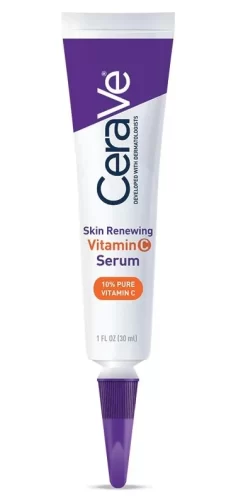 ---
6
Good Molecules Niacinamide Serum
Niacinamide is a great ingredient in anti-aging routines, and it's also incredibly effective at balancing sebum, correcting dark spots, and boosting hydration.[3] Good Molecules' serum loads 10% niacinamide, which, along with two humectants (glycerin and betaine), help the skin stay hydrated, plump, and youthful without heaviness or stickiness. Formulated at a pH of 6.9 and keeping fragrances and alcohol out of the mix, the gentle formula won't ever leave the skin parched.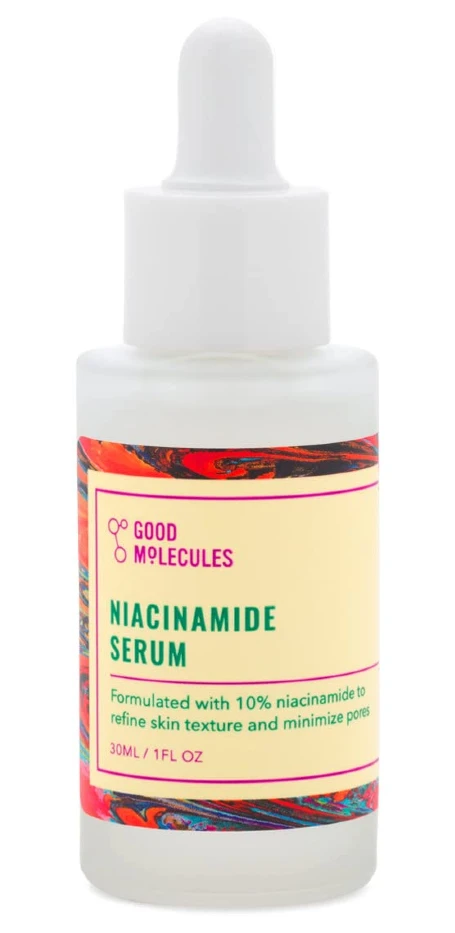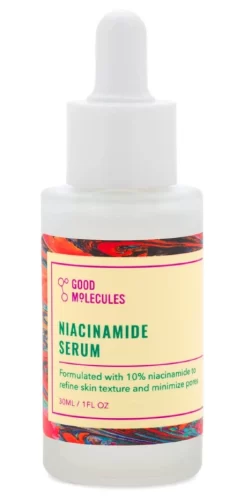 ---
7
Alpyn Beauty Instant Glow Serum
For those who want to address aging signs and oily skin with a natural and delicate formula, Alpyn Beauty Instant Glow Serum stands out. It targets dullness and loss of elasticity with bakuchiol (natural retinol alternative) and a slew of humectants that attract water into the skin to plump fine lines. In the meantime, antioxidants, including vitamins C and E, protect the skin from premature aging caused by free radical damage. And if it wasn't enough, the formula also packs glycolic and lactic acid and licorice root to minimize dark spots. Color us impressed.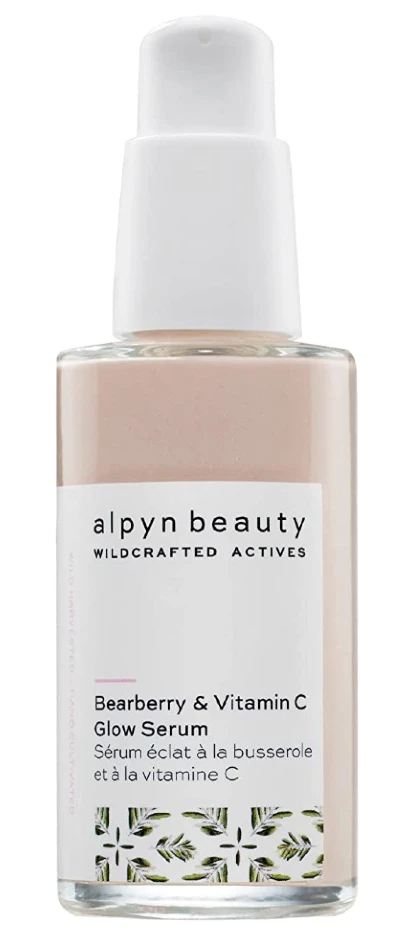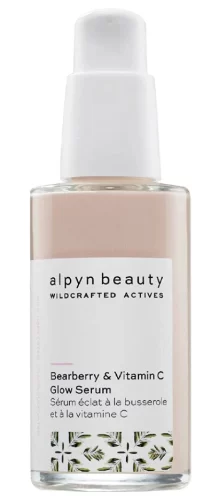 ---
8
Drunk Elephant T.L.C. Framboos Glycolic Night Serum
Glycolic, tartaric, citric, and salicylic acids in this cult-favorite formula not only deliver delicate exfoliation but also curb excess oil and reveal clearer and more luminous skin. And this serum delivers all that without dryness since it's laced with soothing compounds, such as grape juice extract, hyaluronic acid, and green tea. Apply it at night and wear SPF in the morning to get the most out of it.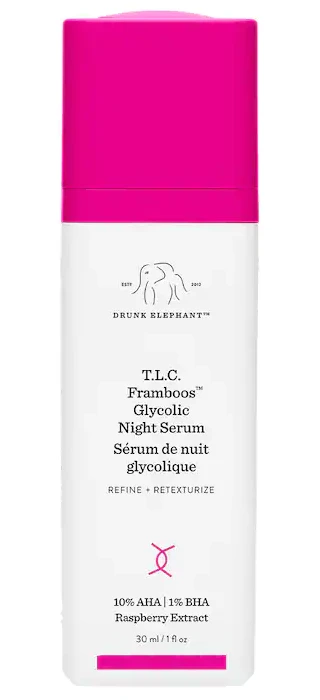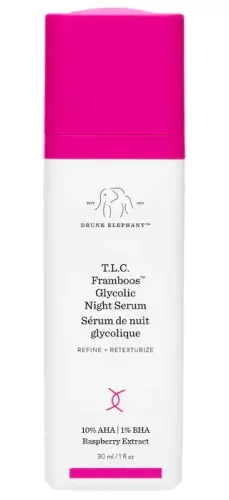 ---
9
The Inkey List Hyaluronic Acid Serum
Don't be deceived by the price tag—The Inkey List Hyaluronic Acid Serum is just as potent as the pricier options on this list. Thanks to 2% multimolecular hyaluronic acid, it delivers hydration across multiple layers of the skin and inhibits excess sebum production. What's more, it contains Matrixyl 3000, a chain of peptides that support the production of extracellular matrix components, including collagen, elastin, and hyaluronic acid.[4]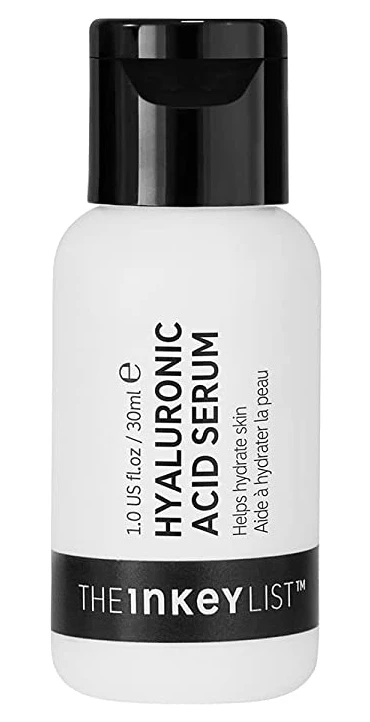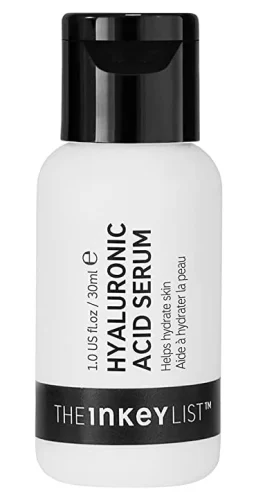 ---
What to look for in anti-aging serums if you have oily skin
To find an effective anti-aging serum for your oily skin, look out for products that contain the following ingredients:
Retinol: This vitamin A derivative is the strongest anti-aging molecule and goes a long way to speed up cell turnover and boost collagen production.
Vitamin C: A powerful antioxidant with collagen-stimulating effects that reduce sun damage and brighten dark spots. It should be on your radar if you're dealing with an uneven skin tone.
Niacinamide: A vitamin B3 derivative that packs all the good stuff for oily skin. It spurs collagen growth, balances excess sebum, shrinks large pores, and strengthens the skin's antioxidant defense.
Peptides: They act as messengers that send signals to your skin cells to build skin-firming proteins like elastin and collagen.
Humectants: Hyaluronic acid, glycerin, and vitamin B5 are all humectants that work to keep your skin hydrated by drawing moisture from the environment. It's good to have them in your serum since they deliver the perfect amount of lightweight hydration without feeling greasy or sticky.
Salicylic acid: This BHA is one of the best friends of oily skin and a good anti-ager too. It exfoliates and retexturizes the skin's surface while also going into the deeper layers to clear the pores of bacteria and sebum.
Glycolic and lactic acids: They're exfoliating acids that work to renew the skin. However, due to their large molecules, they can't penetrate the skin as much as salicylic acid, which makes them work more on the surface. But they provide other benefits, such as increasing collagen and helping skin retain moisture.
Antioxidants: They help counteract the negative effects of sun damage and pollutants that your skin gets in contact with every day.
The consistency and texture of the serum also matter. A water-based, lightweight, and oil-free serum that sinks quickly into the skin without leaving a greasy or sticky feeling is ideal for someone with oily skin. Last but not least, make sure that the serum you use doesn't dry out your skin. That's because dehydration can force the body to produce more sebum to replenish the moisture loss, which can make your skin greasy.
The verdict
Our top pick for the best anti-aging serum for oily skin goes to SkinCeuticals Blemish + Age Defense. This formula excels in tackling blemishes and signs of aging while effectively controlling congestion and excess sebum. Reviewers rave about its ability to clarify the skin, reduce breakouts, and improve skin texture. It's a no-brainer for those with oily skin. However, we understand not everyone is willing to pay $96 for a 30ml serum, which is why we also included budget-friendly alternatives such as The Ordinary Retinol 1% In Squalane and Good Molecules Niacinamide Serum.
---
Footnotes
Women's Concepts uses reliable sources, including dermatologists' insights, clinical trials, and scientific journals, to find accurate information and support all the facts shared in our articles. All statements and claims have clear and legit references. Read our editorial policy to learn more about our sources of information, our process of researching and fact-checking the content, and how our team strives to keep all articles updated, completed, and trustworthy.