The blessing of having oily skin is that it wrinkles slower due to the sebum that keeps the skin moist and elastic for longer. Still, oily skin needs serums to counteract aging signs too, yet the things are more complicated: an unsuitable serum can trigger the sebaceous glands to secrete more sebum or can clog pores and make breakouts arise. With this in mind, we compiled a list of the best anti-aging serums for oily skin that promise to soften fine lines and improve firmness while not wreaking havoc on your skin.
What to look for in the best anti-aging serum for oily skin
Upfront, a good serum for oily skin should absorb quickly, not feel greasy, nor clog pores. As such, you should steer clear of serums that include comedogenic ingredients, like coconut oil, lanolin, and palm oil. Instead, look out for formulas enriched with antioxidants and hydrating ingredients, including hyaluronic acid, niacinamide, and vitamin B5, to keep skin hydrated, which in turn balances sebum levels.
Also, serums that address oily skin usually contain exfoliating agents like salicylic acid or glycolic acid that can penetrate the pores and sop up the oil clogging them. These, combined with anti-aging ingredients, such as retinol, AHAs, ceramides, and peptides, target firmness and elasticity, making skin appear plump and rejuvenated.
Without further ado, below are the best anti-aging serums for oily skin.
---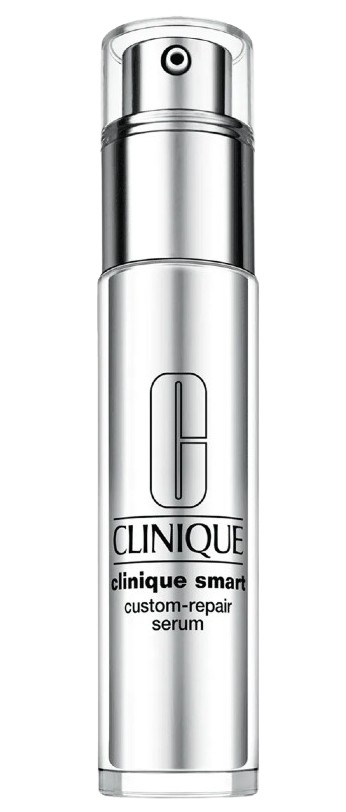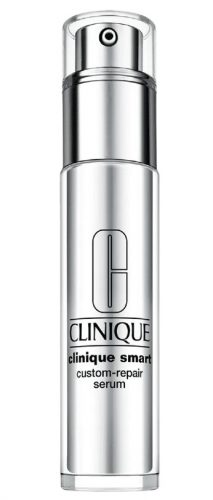 1
Clinique Smart Custom-Repair Serum
This is the best anti-aging serum for oily skin because, in addition to collagen-boosting vitamin C and peptides, the serum is enhanced with salicylic acid to help pores unclog and eliminate excess oil. Additionally, Clinique Smart Custom-Repair Serum contains hydrating actives, including cucumber extract, and hyaluronic acid, while squalane helps balance sebum. The lightweight gelly formula absorbs readily in a matter of seconds, it never leaves skin greasy but hydrated and glowy, plus it's free of oil and fragrances, both of which can trigger breakouts in oily skin folks.
---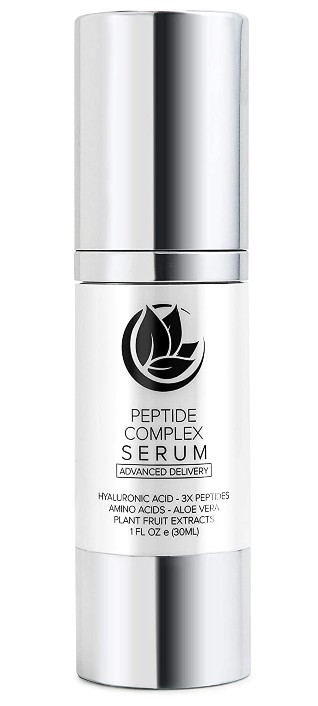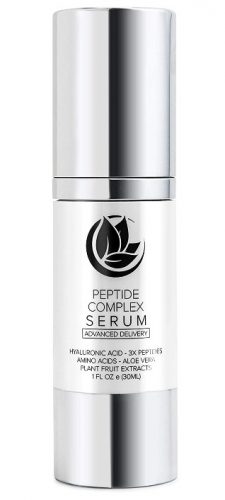 2
Microderm Glo Peptide Complex Serum
This serum packs three peptides to boost collagen, plus sodium hyaluronate and aloe leaf juice, two humectants that pull water into the skin. This means that Microderm Glo Peptide Complex Serum performs amazingly at restoring elasticity and improving moisture retention, which in turn regulates sebum production. Bonus points because the serum lacks oils, and fragrances, has a lightweight texture that never leaves skin tacky and doesn't clog pores.
---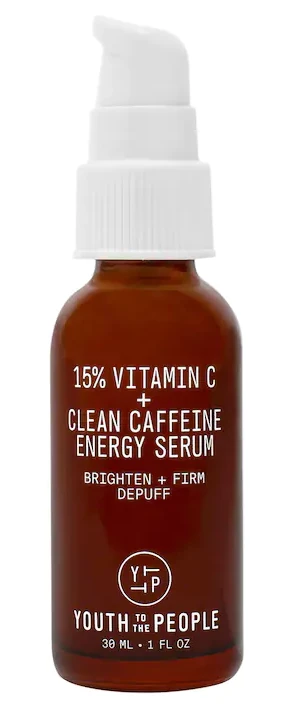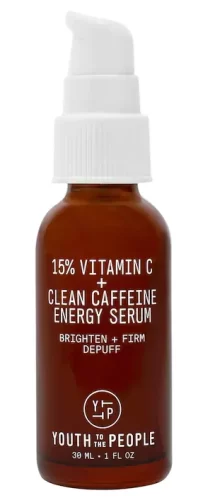 3
Youth To The People Clean Caffeine Energy Serum
This is the best anti-aging serum for oily skin because it contains three potent forms of vitamin C, summing 15%, that help induce collagen, plumping, brightening, and hydrating the skin, while also addressing dark spots. Additionally, the serum packs squalane, the oil-like substance that traps moisture, while sodium hyaluronate increases hydration, balancing sebum and plumping skin. With a lightweight, gel-like texture, the serum gets absorbed fast, without leaving skin feeling oily, and infuses it with a bunch of antioxidants to help offset premature aging.
---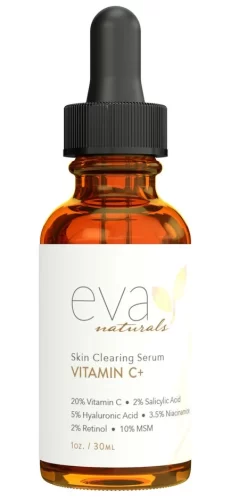 4
Eva Naturals Vitamin C Serum
Vitamin C, retinol, hyaluronic acid, niacinamide, and salicylic acid in one product? Say no more. Antioxidants, retinol, and hyaluronic acid fight wrinkles, while salicylic acid breaks down dirt and oil in pores, purifying the skin. Niacinamide will complete the job by absorbing excess oils and strengthening the protective barrier, also supported by squalane and vitamin E. So, in the quest to find the best affordable anti-aging serum for oily skin, this might be your greatest bet.
---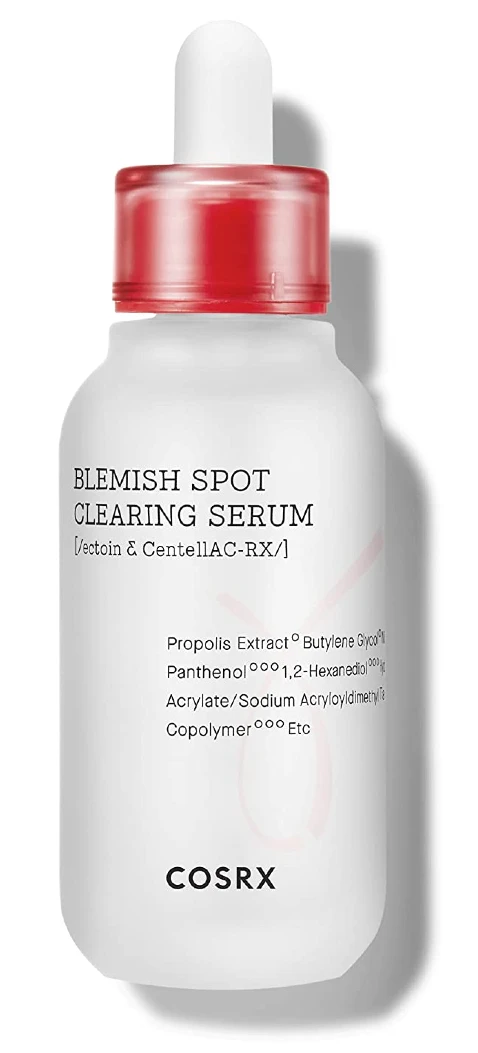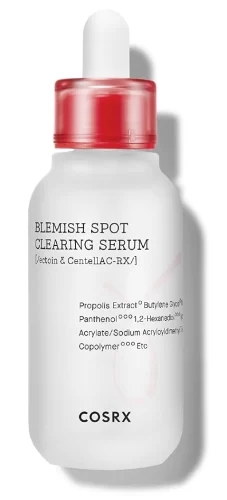 5
Cosrx Blemish Spot Clearing Serum
Propolis is excellent at reversing UV damage, reducing wrinkles look, and smoothing the skin. Cosrx Blemish Spot Clearing Serum is made on a propolis extract base, totaling 85%, while 5% niacinamide work to balance sebum and brighten post-blemishes marks. Other key ingredients are madecassic acid, asiaticoside and asiatic acid that soothe and help boost collagen production, softening fine lines. The serum addresses oily skin prone to blemishes, is lightweight, never leaves a tacky feeling, and it doesn't clog pores — the reason is one of the best anti-aging serums for oily skin.
---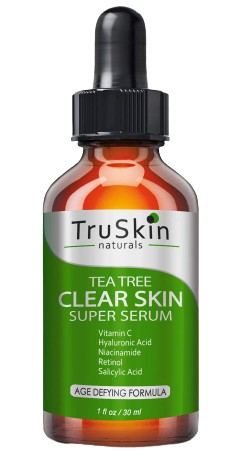 6
TruSkin Tea Tree Clear Skin Serum
In addition to tea tree oil, this serum packs a bunch of anti-aging ingredients, among which retinol, hyaluronic acid, and vitamin C, to support collagen and cellular turnover for flawless and glowing skin. Besides fighting fine lines and wrinkles, this serum helps regulate oil with niacinamide and salicylic acid — you already know how great they are. Plus, it's cruelty-free and skips parabens, sulfate, and PEGs.
---
Read next: 10 Best Chemical Peels for Oily Skin to Battle Excess Sebum