The reason I wanted to write a post on the best Ahava products comes from a personal matter. My great-grandparents were runaway Jewish, hidden in Romania during WW2, so I'm strongly connected with this nation through my genetics. This being said, as a kid, one of the first words I was taught was Ani ohevet otah', meaning I love you. Years later, I found this Israeli-born skincare brand, called Ahava (love in Hebrew), which is among the best modern result-driven skincare brands, sold worldwide and adored by millions. Btw, the Ahava products literally love your skin!
The history
Everything began in 1988 when a local spa technician, Ziva Gilad, observed female tourists bottling mud to take home. So he gathered a team and started selling mud bottles and salt crystals to tourists who came to the Dead Sea. Later on, these bottles were sold throughout Israeli stores with a successful venture, making nearly $1 million in revenue in the first year. But for the company to grow, it needed to go internationally, which happened, by the mid-1990s, early 2000.
Now, after another two decades, Ahava is one of the most praised brands with 100% skin-friendly ingredients, vegan, and sustainably sourced.
Key ingredients in the best Ahava products
Ahava products are kind to the skin, without traces of potentially harmful elements. Vegan lovers, good news: none of the ingredients used in Ahava products are animal-derived. As such, these are the ingredients you'll find in the best Ahava products:
Osmoter – a signature blend of Dead Sea sourced minerals (magnesium, calcium, potassium) that act like a moisture magnet, hydrating and replenishing skin.
Dead Sea mineral mud – nothing but a minerally rich mud known for its purifying, restorative and therapeutic benefits.
Goji Berries – the ultimate boost proven to neutralize free radicals, rich in beta carotene, antioxidants, vitamins, amino acids, minerals.
Iceland moss – it's a unique symbiosis between fungi and algae used to treat skin disorders and soften dry skin.
Dead Sea mineral salt – naturally crystalized, it contains potent mineral deposits from the Dead Sea. It's great at easing sore muscles, relieving skin conditions, smoothing roughness, and boosting radiance.
Dead Sea Water – it's made of 34% solid minerals, and the mud in it is super rich in salt and magnesium, known to improve the protective barrier and make skin more elastic. Moreover, Dead Sea salt has been shown to make skin healthier.
Since the brand is committed to using clean and kind-to-skin ingredients, you'll never find parabens, mineral oils, phthalates, alcohol, GMO, SLSs, or animal ingredients in Ahava products.
How much do Ahava products cost?
Ahava products have a decent price range, with a balanced quality-price ratio. For instance, the most expensive Ahava product is a deep wrinkle lotion with SPF 30, which costs $93. The cheaper Ahava product is a hand cream, which you can buy for $16. Most eye creams at Ahava cost around $60, while for most moisturizers, the price is somewhere around $80.
Is Ahava cruelty-free?
Yes, Ahava has always been cruelty-free. The brand never uses in their formulations animal-derived ingredients and never tests their components or products on animals. We're waiting for everybody to do the same!
Ahava reviews
Browsing through Ahava product reviews, you'll see more than 95% happy customers, and this is huge! People are satisfied with the results they get from the best Ahava products, considering them effective and transformative. Usually, reviewers don't complain about the price, meaning they are happy with what they get, aka Ahava products worth it!
The best Ahava products
Now that you're eager to add a new brand to your skincare routine, browse through the best Ahava products below.
---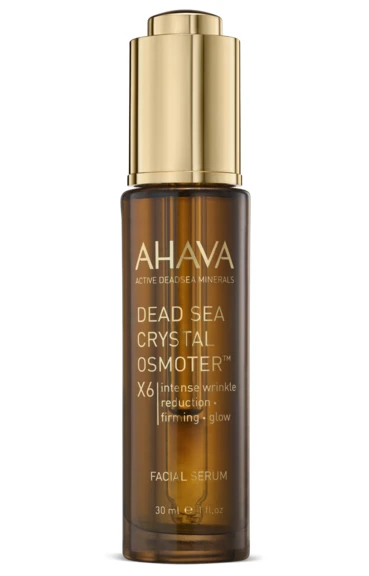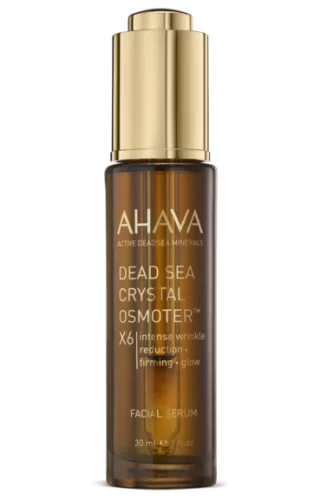 Ahava Dead Sea Crystal Osmote X6 Serum
The first spot on the best Ahava products top is taken by this serum, a cult-favorite and always a bestseller since its launch. The X6 in its name means the serum contains a six times higher concentration of Osmoter, Ahava's signature blend of Dead Sea minerals. Now the formula. The pumice powder (second ingredient) removes dead cells, facilitating other ingredients' absorption. In addition to that, the serum includes a mingle of botanical oils that soften and boost skin elasticity plus citric acid, an antioxidant-rich source.
---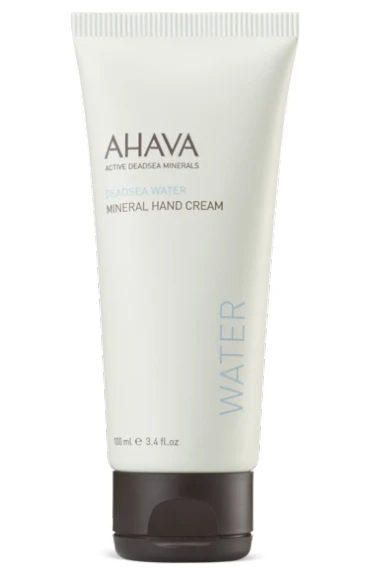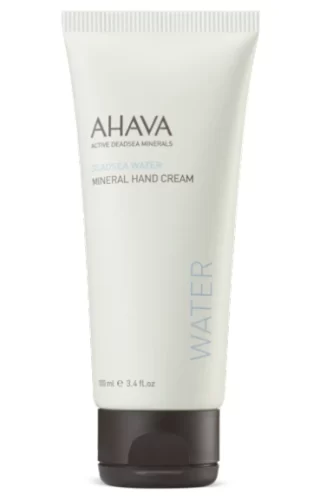 Ahava Mineral Hand Cream
Show your hands a little extra TLC with Ahava Mineral Hand Cream. The delicate yet rich cream instantly melts when rubbed on hands, hydrating and softening. It's enriched with Osmoter and Dead Sea water, plus glycerin to hydrate, witch hazel flower water to smoothen skin texture, and allantoin, known for its soothing and anti-irritant properties.
Just so you know, while some reviewers complained about the cream having a strong floral scent, others said they enjoyed it. So, if you fancy light scents, this hand cream might not be to your liking.
---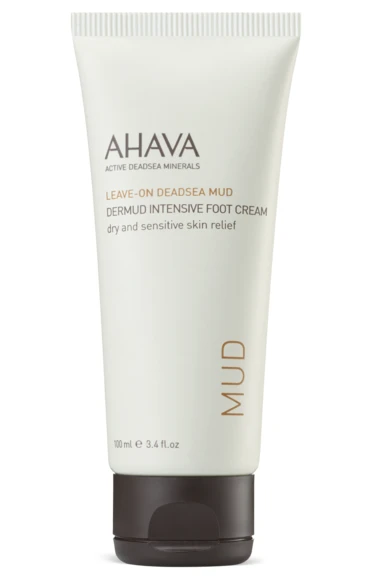 Ahava Dermud Intensive Foot Cream
Ahava literally takes care of your skin from head to toe; this foot cream attests to it. If your heels are dry and cracked, this foot cream definitely helps, softening and smoothing like magic when used constantly. To do that, Ahava Intensive Foot Cream uses shea butter, coconut oil, aloe extract, Dea Sea water and mud, vitamins B5 and E. Hydrate? Check. Alleviate irritations? Check. Soften? Check.
---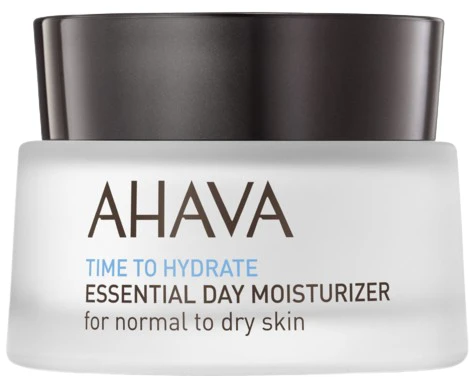 Ahava Essential Day Moisturizer – Normal To Dry
If your skin is dry or mature, you can make this moisturizer your new favorite. Everybody raves about it for good reasons, making it one of the best Ahava products. Osmoter, Dead Sea water, urea, aloe juice, and vitamin E give it hydrating and skin-strengthening benefits, making the complexion appear supple and healthy. The creamy formula instantly absorbs into the skin without any greasy feeling, boosting freshness and glow in no time.
---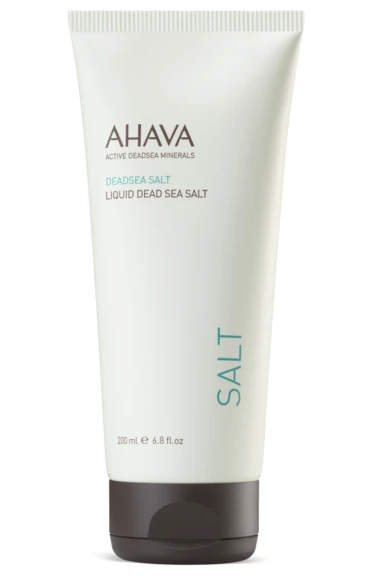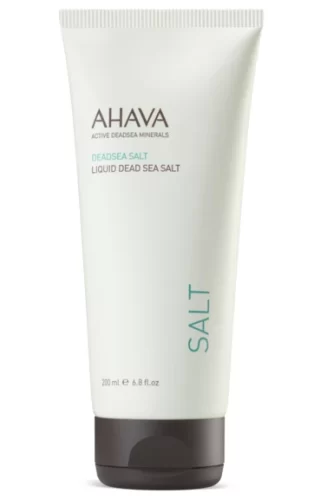 Ahava Liquid Dead Sea Salt
For those who struggle with redness, skin flare-ups, dermatitis, or psoriasis, but not only, Ahava Liquid Dead Sea Salt truly stands out. Basically, it's a minerally-enriched body gel that restores skin moisture, strengthens the protective barrier, smoothens and boosts hydration. You can either massage it on the body after every shower or add it to your bath. P.S: Celebs are crazy about this product, too — Kristin Davis said, "It makes my skin smooth and moisturized. And I love the fresh scent."
---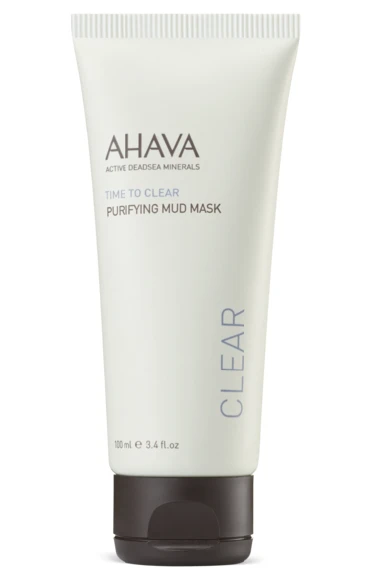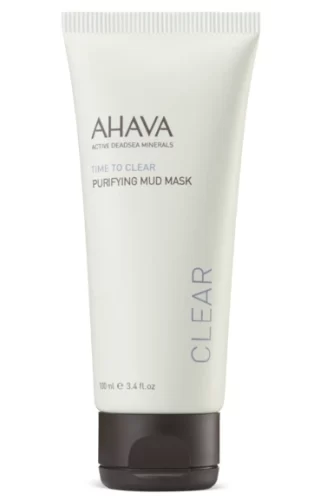 Ahava Purifying Mud Mask
Whenever you want to detox your complexion, Ahava Purifying Mud Mask will get the job done instantly. Kaolin and Dead Sea mud cleanse and purify the skin, along with botanical nourishing oils, zinc, squalene, and vitamin E that lock moisture in the skin, softening it. The mix of ingredients makes it great at absorbing excess sebum, smoothing, and hydrating, ideal for all skin types. For the best outcomes, use it twice weekly.
---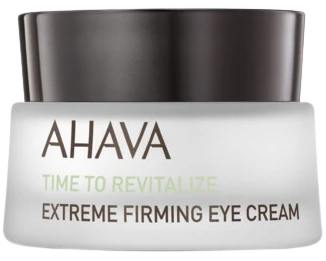 Ahava Extreme Firming Eye Cream
The Extreme Firming Eye Cream has what it takes to be one of the best Ahava skincare products. First of all, the formula is packed with shea butter, squalene, sodium hyaluronate, and peptide to soften skin and improve its elasticity and firmness. Moreover, it's made with a mix of Dead Sea minerals, plus botanical extracts from the Himalayas, including Icelandic moss, goji berry, and raspberry root extract, providing protection against oxidative stress. Finally, this eye cream is super thick, so it'll last an eternity.
---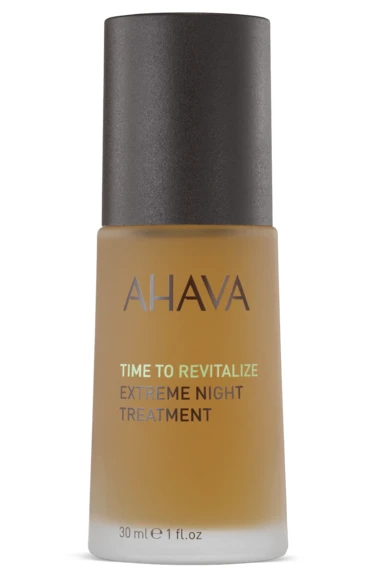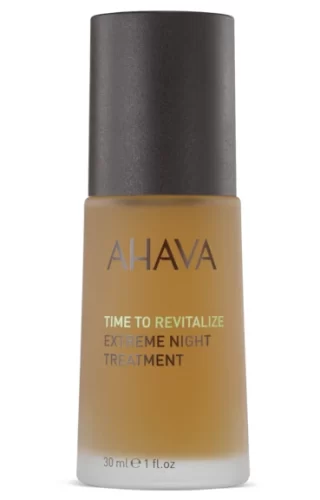 Ahava Extreme Night Treatment
To wake up to firmness, pick Ahava Extreme Night Treatment. It's a lightweight yet concentrated serum spiked with lots of potent ingredients, among which Osmoter, peptides, resveratrol, squalene, Dead Sea minerals, vitamins B5 and E, to name a few. In one clinical trial, 94% of women over 40 noticed firmer skin after four weeks with nightly applications. It'll make you look further to do your PM skincare routine.
---
Ahava Mineral Radiance Overnight De‑Stressing Cream
Use Ahava Overnight De-Stressing Cream to complete your PM skincare routine. This moisturizer aims to relieve stress in the skin caused by external aggressors, like pollution. This cream packs Osmoter aloe leaf juice for its hydrating and anti-inflammatory benefits, plus vitamin B5, which increases hydration and softens the skin. Other star ingredients in this formula are trehalose (a moisturizing sugar), and Thermus thermophillus ferment — a good bacteria that support skin structure, maintaining its firmness.
---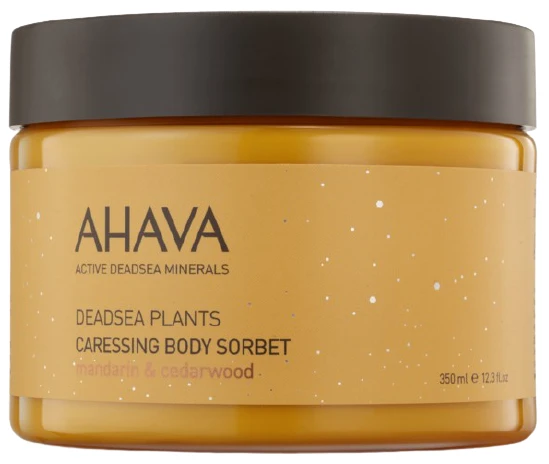 Ahava Caressing Body Sorbet
Now, Ahava Caressing Body Sorbet is the best Ahava product for the body. It has an energizing cream-gel texture that leaves skin soft without feeling greasy or sticky. The role of this body moisturizer is to replenish hydration, lock moisture, feed the skin with nutrients, and refresh it. Not only is it made with Osmoter, but also with Dead Sea water, aloe juice, vitamin B5, and bisabolol to calm and plump the skin. That's not it: Ahava Caressing Body Sorbet is infused with mandarin and cedarwood scent that'll make you forgo your perfume.