If you're plugged into the ever-evolving world of skincare, you've undoubtedly caught wind of the peptide frenzy. These youth-boosting proteins are stealing the spotlight from the likes of retinol and quickly becoming the most sought-after ingredient for firm skin thanks to their gentle collagen-boosting effects. Ahead, we'll answer all your burning questions surrounding peptides in skincare and shed light on the different types of peptides and how they work on your skin.
What are peptides?
Peptides are short chains of amino acids produced by the body that act as building blocks for proteins. To understand peptides, we need to know a bit about amino acids. Amino acids are organic compounds that link together to form proteins. When amino acids join together, they create peptide bonds, forming peptides of different lengths. Peptides can range from just a few amino acids to as long as 50 amino acids.
Now, here's where it gets interesting. Peptides have specific functions depending on their structure and sequence of amino acids. In skincare, peptides act as messengers, signaling the skin to perform certain tasks and triggering various responses. They can stimulate collagen production (the main protein that gives skin elasticity), enhance skin firmness, improve moisture retention, and even assist in wound healing.[1]
Moreover, peptides in skincare formulations have a small molecular weight to penetrate the skin and deliver their targeted benefits.
While peptides can be synthetically produced, they can also be extracted from natural sources such as soy, rice, marine extracts, and peptides derived from milk proteins.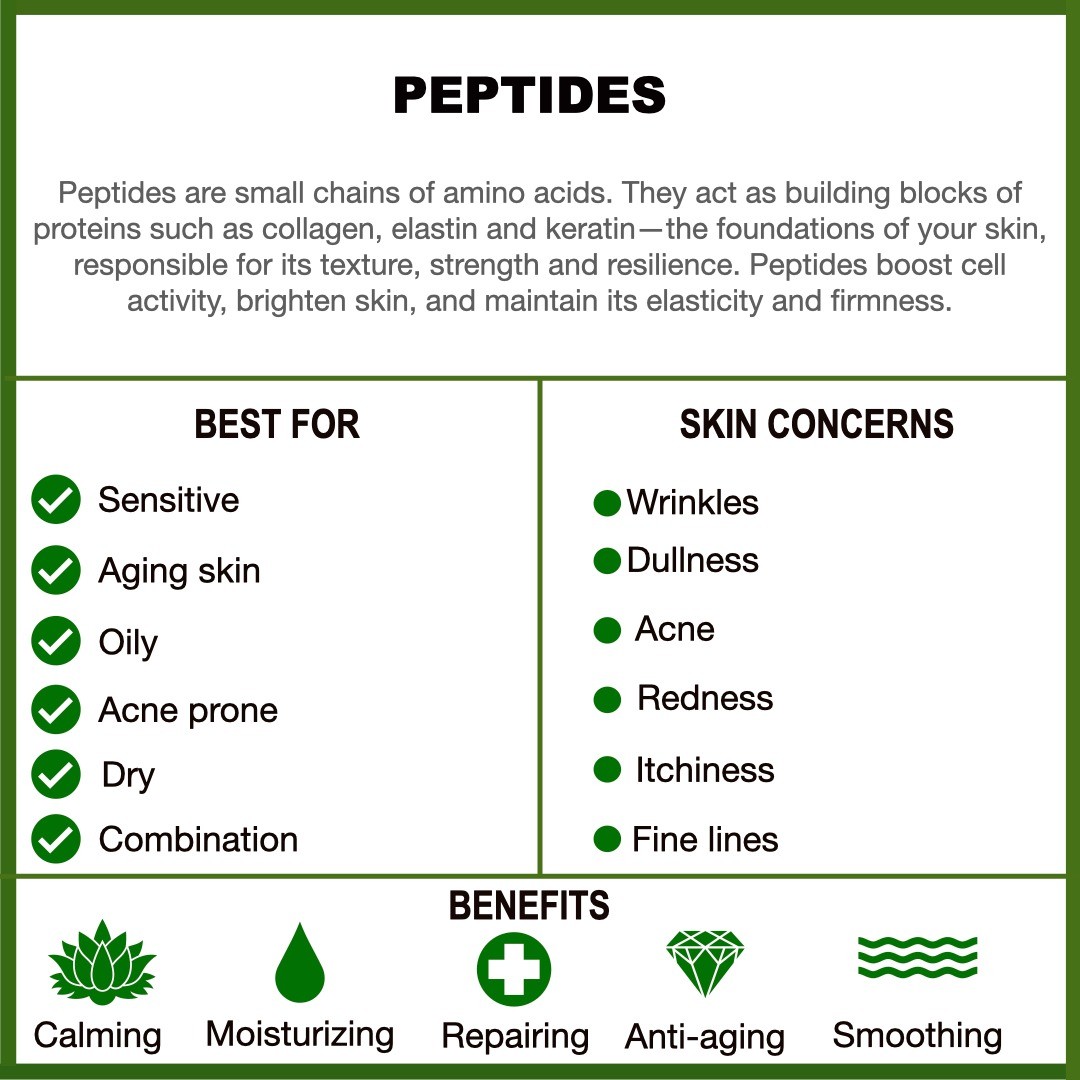 Types of peptides
The different types of peptides have various benefits for the skin.
In the grand scheme of things, peptides can be classified based on the number of amino acids in their chain and their specific functions.
Based on the number of amino acids, we can classify them as monopeptides, dipeptides, tripeptides, tetrapeptides, and so on. For example, monopeptides consist of a single amino acid, dipeptides have two amino acids, tripeptides have three, and the pattern continues.
On the other hand, depending on their function, peptides fall into three main categories: signal peptides, carrier peptides, and neuropeptides.
Signal peptides
Signal peptides—also called matricins—are typically short chains, ranging from three to five amino acids. They act as messengers, signaling cells to produce specific proteins such as collagen and elastin, and play a key role in promoting skin firmness and reducing the appearance of wrinkles.[2] These are the most common signal peptides found in skincare products:
Palmitoyl Tripeptide-38: known as Matrixyl, builds proteins found in the skin matrix (collagen and hyaluronic acid).[3]
Epidermal growth factor: It's a single polypeptide that plays a critical role in regulating cell growth and proliferation.
Carrier peptides
Carrier peptides are larger in size and have a structure that allows them to transport essential nutrients like copper and magnesium (required for healing damaged tissues and easing inflammation) into the deeper layers of the skin. Palmitoyl tripeptide-1 (Pal-GHK) is an example of a carrier peptide used to enhance the delivery of copper into the skin.[2]
Neurotransmitter peptides
Neuropeptides interact with neurotransmitters in the skin and target the muscles responsible for facial expressions.[2] The most common type of this peptide is acetyl hexapeptide-8 (Argireline), which is often called "botox in a jar" due to its ability to boost moisture, reduce wrinkles, and tone the skin.[2][4] Acetyl hexapeptide-3 (Snap-8) is another example that reduces the appearance of wrinkles by relaxing facial muscles.
Other types of peptides
Enzyme-inhibiting peptides: These peptides function by inhibiting specific enzymes involved in the breakdown of collagen and elastin.
Copper peptides: They contain the element copper and are involved in various skin repair processes. Examples include copper tripeptide-1 (GHK-Cu), which is often used for its anti-aging properties.
Antibacterial peptides: These are an intriguing class of peptides that play a crucial role in the body's defense against microbial pathogens. They function by targeting and disrupting the integrity of bacterial cell membranes.
How to use peptides
You'll find peptides in all types of skincare products. However, they're more likely to benefit your skin when used in a serum or moisturizer, especially if you apply them at night. Using peptides in your PM routine allows them to work with the skin's restoration process that occurs while you sleep. That means you get more restorative and anti-aging benefits.
Moreover, the beauty of peptides lies in their versatility. You can pretty much use them together with most skincare ingredients.
For instance, use retinol with peptides to fight aging signs. You can either use a peptide serum in the morning and a retinol one at night or pair a peptide moisturizer with a retinol serum in your evening routine.
Expert cosmetic chemist Luisa Fanzani recommends applying peptides on vulnerable skin, like after a chemical peel or microneedling. There are two reasons to do so. One, vulnerable skin has higher penetration power, so it allows peptides and other active ingredients to enter deeper layers of the skin more easily and provide targeted treatment where it's needed most. Two, peptides actually speed up skin healing, so they can help to recover the skin faster after a cosmetic procedure.
What are the side effects of using topical products with peptides?
Because peptides are found naturally in the skin, they are unlikely to cause irritation or sensitivities when applied topically. They generally have a low risk of side effects, even in people with sensitive skin.
However, you should do a patch test when incorporating a new product into your routine. While peptides are gentle on the skin, other ingredients in the formula can be irritating or comedogenic.
Products we recommend
---
1
Clinical Skin PolyPeptide Firming Serum
Clinical Skin PolyPeptide Firming Serum loads a serious amount of different types of peptides (copper peptide, Argireline, and Matrixyl) to target all aging signs. Besides, it contains ceramides, cholesterol, and vitamin C, all working to restore moisture and strengthen the skin's protective barrier.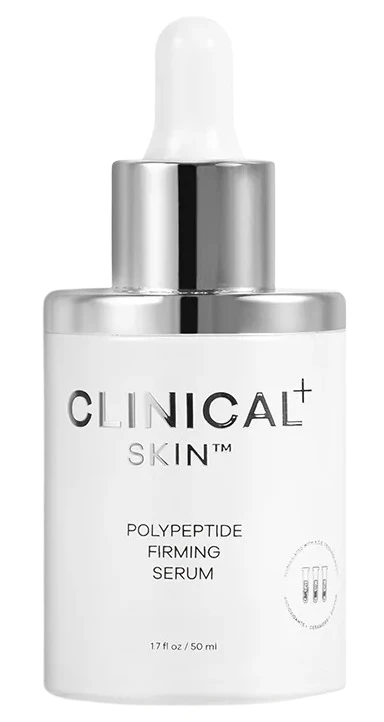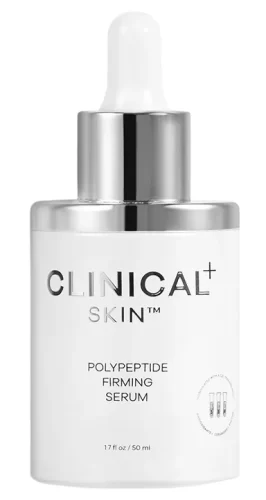 ---
2
The Ordinary Buffet Multi-Technology Peptide Serum
This serum is formulated with a blend of hard-working peptides, including Matrixyl 3000 and Synthe'6, known to help restructure and repair damaged skin. Additionally, it packs a dozen of amino acids and hyaluronic acid to improve moisture retention.


---
3
Peter Thomas Roth Peptide Moisturizer
Packed with 21 peptides and neuropeptides, plus two proteins, this moisturizer does a great job of improving skin elasticity and texture and reducing wrinkles look. The rich yet lightweight texture allows it to relieve tightness instantly, and it feels intensely hydrating.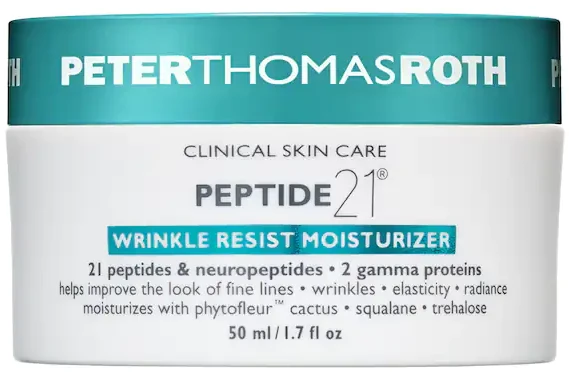 ---
4
Elemis Peptide4 Eye Recovery Cream
Peptides are a must in your eye cream, and Elemis Peptide4 Eye Recovery Cream is a great product to have on your shelf. As it's spiked with yeast peptide, vitamin E, and plant oils, it vows to reduce crow's feet look, reduce moisture loss, and nourish the delicate skin under the eyes.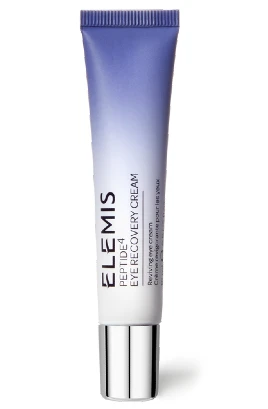 ---
5
Paula's Choice Peptide Booster
This booster has no less than eight peptides, an amino acid complex, adenosine, and licorice extract to address the loss of firmness and dull skin. You can use Paula's Choice Peptide Booster on its own or add a few drops to your favorite serum or moisturizer.


---
6
Neutrogena Rapid Firming Peptide Contour Lift Face Cream
A lot of people rely on this cream to address aging signs due to a mix of 0.4% micro peptide (aka it penetrates the outer skin layer to trigger collagen and elastin production) plus glycolic acid to gently resurface. The formula instantly melts into the skin without leaving sticky or greasy residues.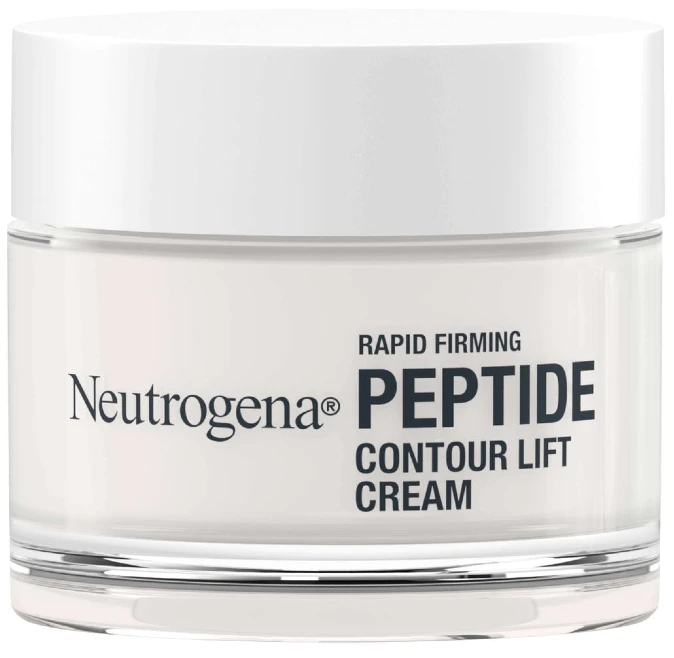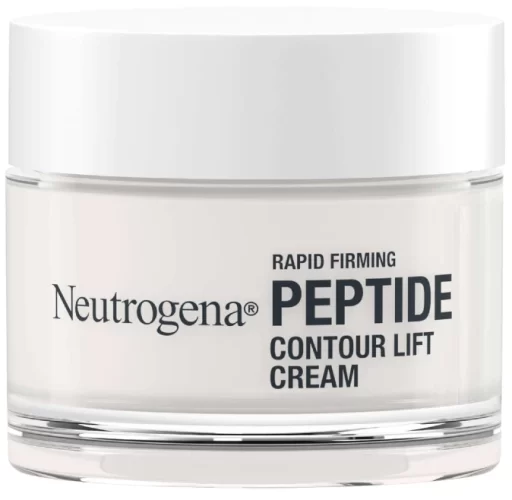 ---
7
Advanced Clinicals Peptide Facial Serum
This high-end serum promises to smooth and firm the skin with a consistent blend of peptides and antioxidant-rich botanical extracts meant to fight free radicals and boost brightness. The mix of glycerin, aloe leaf juice, and sodium hyaluronate boost hydration and make your skin appear plumper and more supple with each application. And it costs less than your lunch salad.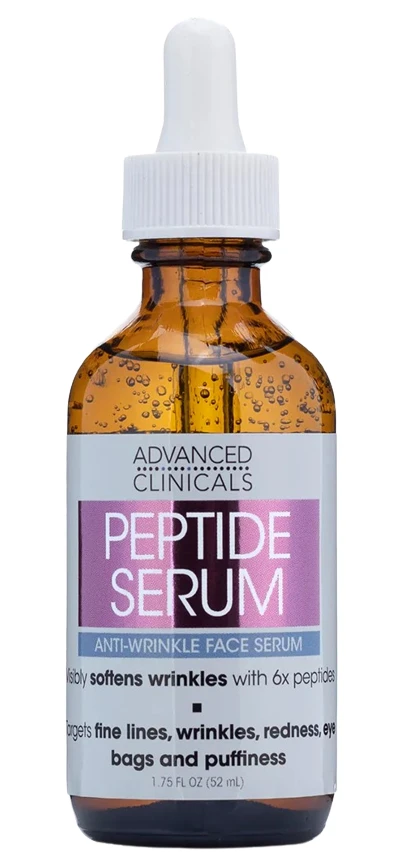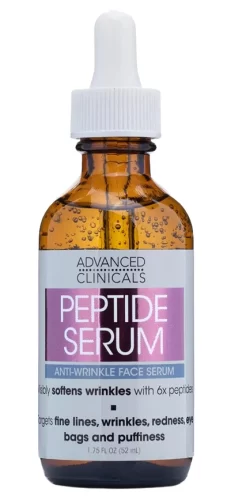 ---
8
SkinCeuticals A.G.E Eye Complex
This dreamy eye cream does wonders at minimizing crow's feet, dark circles, and puffiness. Formulated with synergistic peptides, blueberry extract, and pro-xylane, SkinCeuticals A.G.E Eye Complex brings life back to your eye area. Plus, it's infused with optical diffusers to propagate light and boost radiance under the eyes.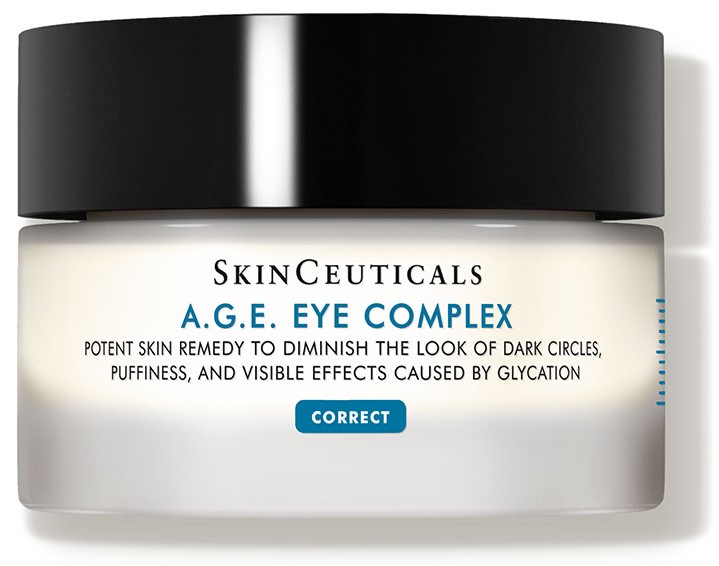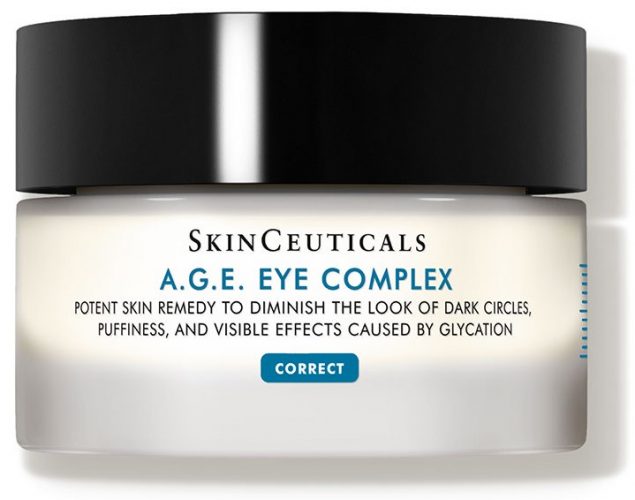 ---
References
Women's Concepts uses reliable sources, including dermatologists' insights, clinical trials, and scientific journals, to find accurate information and support all the facts shared in our articles. All statements and claims have clear and legit references. Read our editorial policy to learn more about our sources of information, our process of researching and fact-checking the content, and how our team strives to keep all articles updated, completed, and trustworthy.