I know using cleansing oils on acne-prone skin sounds like a bad idea, but hear me out. Cleansing oils are specially formulated to dissolve impurities on the skin's surface more deeply than traditional face washes and are also more effective at breaking down the oil trapped in pores. Plus, they don't strip the skin of moisture but actually leave it very soft and hydrated. They're used as the first step in a double cleansing routine, which, when done right, can work wonders to reduce acne breakouts and even sebaceous filaments.
However, cleansing oils can also break out the skin when the wrong products are used or rubbed on the face for too long, which is why they have a bad reputation in the community of acne sufferers. But that's not going to happen since I'll teach you all the how-tos of double cleansing and share the best oil cleansers for acne-prone skin, so you get the most out of this technique and enjoy a more balanced complexion.
What to look for in a cleansing oil if you have acne-prone skin?
This type of cleanser uses oils to dissolve the oil stuck in pores, hence, it's really good at unclogging them and reducing the chances of blackheads. They work on a scientific principle called "like dissolves like." This means that substances with similar chemical structures are more likely to dissolve in each other. Therefore, when an oil cleanser is applied to the skin, it attracts and removes oil-based impurities like makeup and sunscreen.
If you have oily or acne-prone skin, the priority is to look for non-comedogenic cleansers that are made with lightweight oils rather than greasy ones. Jojoba, grapeseed, and sunflower oils are great options, while heavier oils, such as avocado and coconut, should be avoided. Ideally, the cleanser should be free of synthetic fragrance and drying alcohol, as both ingredients can irritate the skin and worsen pimples.
Have doubts about which product to use? Here are the best cleansing oils for acneic and congested skin, according to skin experts and Redditors.
The best oil cleansers for acne
---
1
IUNIK Calendula Complete Deep Vegan Cleansing Oil
Loaded with 94% naturally-derived plant oils, this blackhead-melting cleanser is as effective as it is gentle and nutritious. It dissolves stubborn makeup and breaks down sebum without stripping the skin, leaving the face super-moisturized and comfortable. What's special about this one is that it's made in a base of sunflower seed oil which is rich in linoleic acid, a fatty acid that breaks down sebum and provides intense moisture. We love that it has a minimalist formula, made with only eight ingredients, sans chemicals, fragrances, and alcohol.


---
2
Hanskin Pore Cleansing Oil
This cleansing oil has everything acne-prone skin needs and nothing that it doesn't need. The star ingredient in Hanskin Pore Cleansing Oil is betaine salicylate, a combination of salicylic acid that sops up excess oil and dissolves dead skin, and betaine, a humectant that pulls water into the skin. This mixture provides gentle exfoliating benefits that give a throughout cleanse and purifies the pores, which ultimately minimizes breakouts.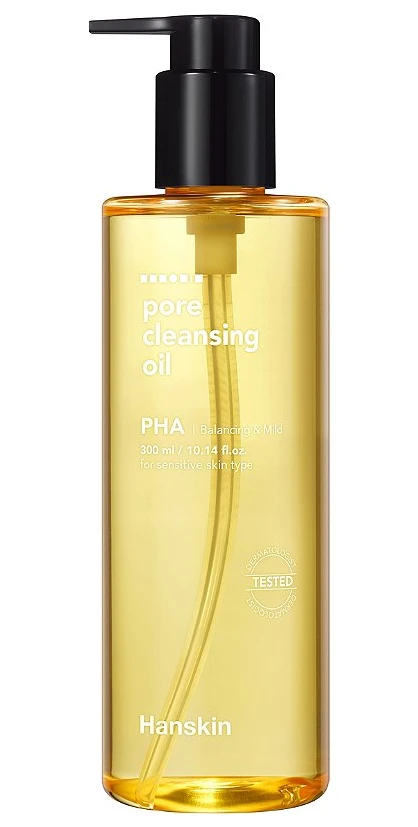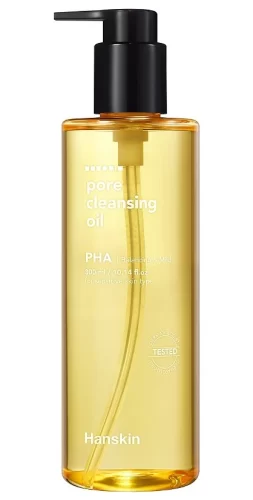 ---
3
Kose Softymo Speedy Cleansing Oil
Redditors with acne-prone skin love this cleansing oil, raving about its ability to remove makeup quickly and sebum that blocks pores—some calling it an affordable dupe for the Tatcha Cleansing Oil. The formula leaves the complexion squeaky clean and with a healthy glow, never drying the skin or leaving a greasy residue behind. Just remember to use it with dry hands and on dry skin.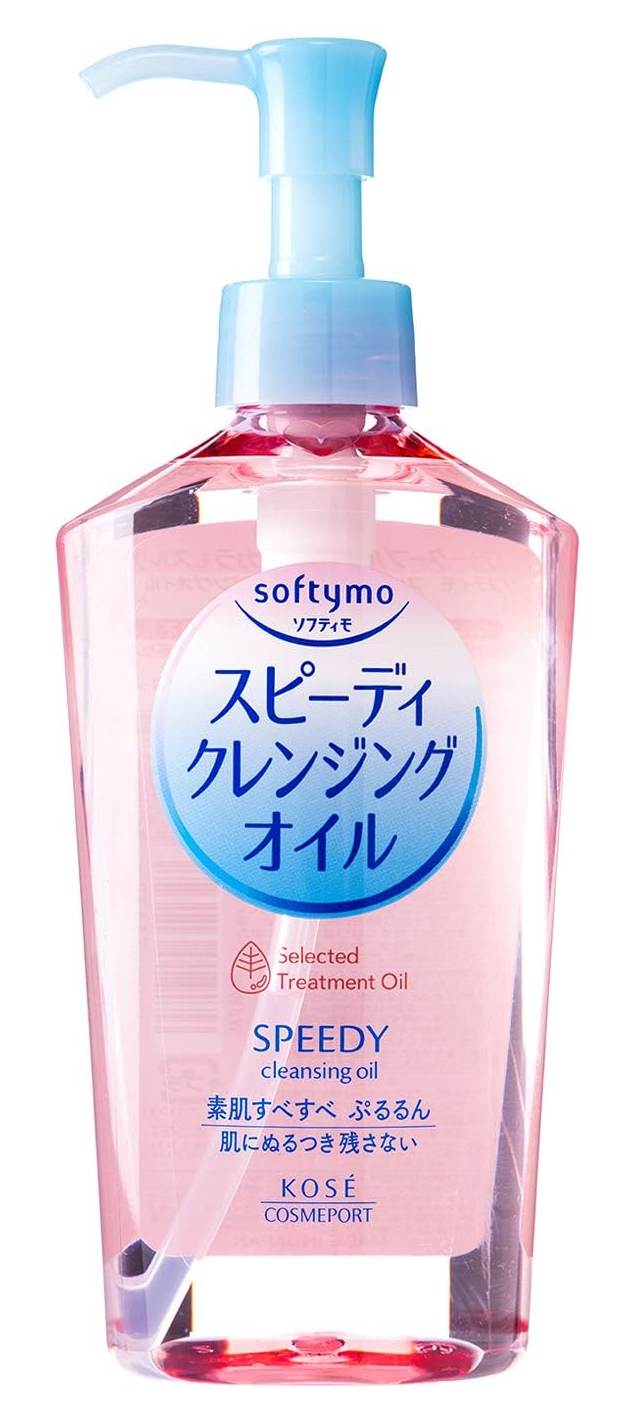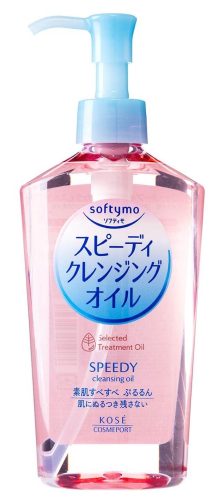 ---
4
Dermalogica Precleanse Cleansing Oil
The Dermalogica Precleanse Cleansing Oil features a serious dose of antibacterial apricot oil, an ingredient that can fight bacteria lurking on the skin's surface. There are also essential fatty acids to condition and nourish skin, so you're not left with a tight complexion after washing your face. And lo and behold, as you rinse off the cleansing oil with water, it turns into a milky texture, tenderly caressing your skin, not messing with it. Bonus: the hint of citrus, which comes from natural extracts, will leave you feeling revitalized.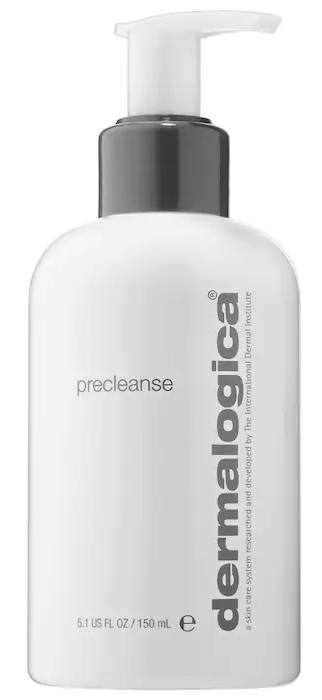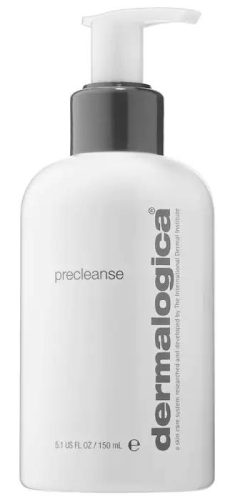 ---
5
DHC Deep Cleansing Oil
Break down dirt and impurities and remove all traces of makeup with the HG of cleansing oils that has over 160 million bottles sold worldwide and over 13,000 positive reviews from Amazon shoppers. Using a blend of organic olive oil, rosemary leaf oil, and vitamin E, this oil cleanser leaves the skin reinvigorated and soft, ready for your second face wash step.

---
6
The Face Shop Rice Water Bright Cleansing Oil
Rice water is a key ingredient in K-beauty rituals due to its ability to fade dark spots, and this cleansing oil loads a generous amount of it, making it ideal for those with post-acne blemishes. To top it off, jojoba oil locks in moisture, so your skin will feel velvety soft after washing off the cleanser. All you need is a pump or two to break down the sunscreen, pollutants, and debris.


---
7
Palmer's Facial Cleansing Oil
Sure, this is affordable in its own right, but add to that the fact that it effectively lifts all of the day's yuckies, is super gentle and non-comedogenic, and you've got yourself a steal of a deal. In addition to having a soybean oil base, which is a known barrier repair ingredient, it infuses skin with antioxidants from grapeseed, sesame, rice, and argan oil. Glide it on dry skin (using damp hands) to delicately dissolve impurities and enjoy the glow.


---
Expert insights on how to use cleansing oils
Cleansing oils are only meant to be used as part of a double cleanse, so you need to do another face wash after. If you don't follow with another cleanser, the oil residues left can clog the pores and trigger acne—been there, done that. Here's how you do it:
First, keep the cleansing oils for your PM routine. There's no point in doing a double cleanse in the morning when there's not much to remove. The night is the best time for cleansing oils because they eliminate the sebum, makeup, and sunscreen of the day. Also, don't feel like you need to do it too often. Once every two nights is enough for effective cleansing without over-washing your skin or destroying the moisture barrier.
When you use the oil cleanser, massage gently for no more than one minute, focusing on the cheeks, nose, and areas where you have acne flare-ups. Most experts recommend oil cleansing for 15 to 45 seconds—doing it excessively can affect the skin's barrier. Then pat your face with lukewarm water so that the oil reacts with the water—this will also make it more easily to be removed. After that, follow up with a more standard cleanser of your choice to get rid of the oil residues and give your skin a soft feel and a plump look.