Is infallible skin your beauty goal like any other woman's out there? Whenever you want to give up the traditional foundation and still have flawless skin with good-for-skin ingredients and maybe SPF in one step, this overachiever is waiting for you. Enter: CC creams. Yes, you can swap your foundation for a CC cream to get the added skincare benefits while having an even tone. Since the no-makeup makeup look hit its stride, CC creams became the new hero in our beauty bags. So, to help you, we've rounded up the best CC creams for acne-prone skin that won't trigger breakouts while taking care of your skin.
What is a CC cream?
To start with, CC stands for color correcting, meaning it neutralizes imperfections look by using colors opposite each other on the wheel color. For instance, pale pink brightens blue-toned spots on fair skin, peach neutralizes blue/purple shadows on medium skin tones, orangey-pink cancels out dark spots on dark skin tones, yellow offsets purple or darker-toned shadows on olive or tan skin, green neutralizes redness, and lavender cancels out yellow tones — thanks, Cosmo.
Unlike your foundation, CC creams are not about matching your tone necessary but more about camouflaging problem areas. Also, most CC creams contain light-deflecting particles, brightening skin that appears red, dull, or tired. So instead of using a concealer and foundation for correcting and coverage, you can only use one product: CC cream.
Usually, CC creams have light textures, but some of them still allow for foundation-like coverage. If you crave more coverage, you can use a CC cream as a color-correcting primer underneath foundation — this enables you to even out skin tone and add more hydration for a plumper look.
Compared to their sister product, BB creams, CC creams serve multiple purposes and provide more coverage as their formulas are thicker and heavier. On top of that, they tend to possess skincare benefits, like fading dark spots, evening fine lines, lessening breakouts, and protecting the skin.
Are CC creams good for oily and acne-prone skin types?
When your skin is too oily or prone to acne, picking a CC cream can be a double-edged sword since you don't want to clog your pores, irritate, or suddenly have more breakouts than ever.
Since your CC cream stays put on the skin all day long, it should contain sebum balancing and calming compounds with healing and protective properties. You want your CC cream to do far more than cover blemishes. Acne-prone skin is thirsty for ingredients like zinc, vitamin C, and green tea, but also for hydrators, such as hyaluronic acid, squalane, and aloe vera. Non-comedogenic formulas are to be preferred.
How do I apply my CC cream?
After you've cleansed your face, applied the serum, moisturized, and used sunscreen, layer the CC cream with your fingers or a beauty blender. Since blending is deadly important, make sure you apply it smoothly, in circular motions, building coverage as much as you like. My pro tip? Always use a finishing powder to create a matte look, plus it'll target excess oil. Even better if you use an organic setting powder.
Finally, here are the best CC creams for oily and acne-prone skin types that keep sebum in place, speed up healing, and even tone, in one simple step.
---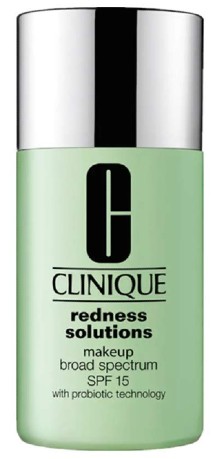 Best for redness
Clinique Redness Solutions Makeup
Clinique Redness Solutions is enhanced with calming ingredients — zinc, caffeine, grapefruit, magnolia extract — to comfort redness-prone skin as it covers. It's got even probiotics to help strengthen the protective barrier, preventing dehydration. Oil-free, SPF 15, soothing compounds, and the matte finish make it the best CC cream for acne sufferers.
---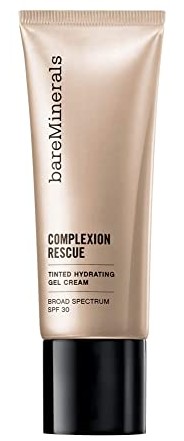 Best to clear breakouts
bareMinerals Complexion Rescue Cream
This CC cream is a cult favorite since is non-comedogenic, dermatologist-tested, and oil-free. Still, it hydrates your skin thanks to the olive-derived squalane and glycerin; plus, it's water-based. If it wasn't enough, it gives SPF 30 with titanium dioxide mineral and has a lot of shades you can choose from. By far, this complexion rescue cream is one of the best CC creams for oily and acne-prone skin types that are into clean skincare.
---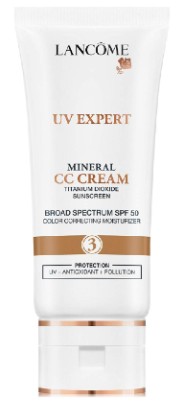 Best for sun protection
Lancôme UV Expert Mineral CC Cream
For constant hydration, sun protection, and a luminous finish, go for this CC cream. The titanium dioxide naturally shields your skin from harmful UVA/UVB rays with SPF 50, while a mix of plant extracts and vitamin C scavenges free radicals, preventing oxidative stress. As it provides more coverage than most CC creams, its texture is a little heavier, so bear this in mind.
---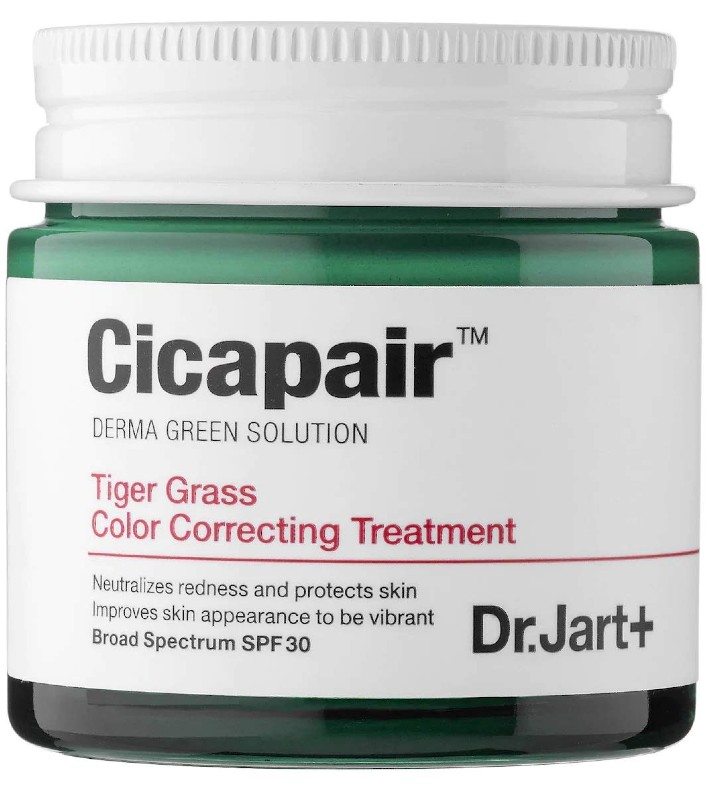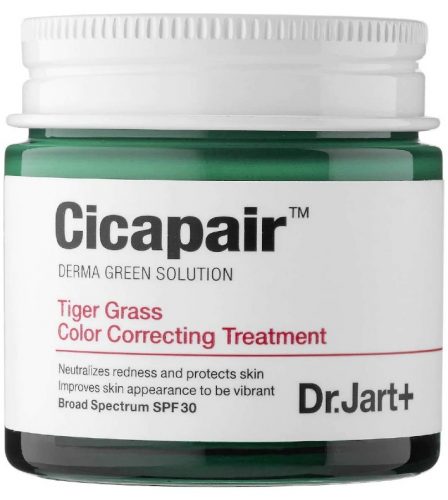 Best for uneven tone
Dr. Jart+ Cicapair Tiger Grass Color Correcting Treatment
Another of the best CC creams for acne-prone skin comes from Dr. Jart+. This magical multitasker is a green-to-beige color-correcting cream that neutralizes red areas and shields the skin against free radical damage. It's infused with a blend of botanical extracts for antioxidant and calming benefits, minerals, niacinamide, and vitamin B5 to support the moisture barrier, plus zinc to help blemishes heal. Basically, it's skincare and filter in a jar, perfect for redness and pimples.
---
Best for sensitive skin
Chantecaille Just Skin Tinted Moisturizer
Chantecaille Just Skin Tinted Moisturizer is a top-notch three-in-one formula that blends easily and nicely like a cream and finishes with skin-smoothing coverage and sun protection. Thyme and butterfly bush extracts deliver a dose of antioxidant defense while defending against sunbeams due to titanium dioxide. Unlike most CC creams whose shade options fall short, this one's got seven shades you can pick from.
---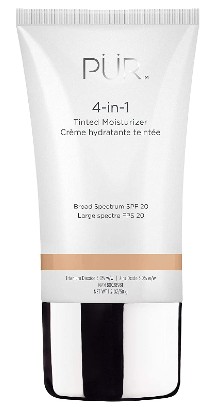 Best chemical-free
PUR Cosmetics 4-in-1 Tinted Moisturizer
PUR combines a bunch of skin-boosting goodness into one lightweight and easy-to-use CC cream formula. This is a serious multi-tasker, handling a myriad of benefits, from chemical-free SPF 20 to great coverage and deep moisture that helps balance sebum. It soothes and calms with retinol, ceramide, hyaluronic acid, and plant extracts that your skin will love you for. The multitude of shades is a huge bonus.
---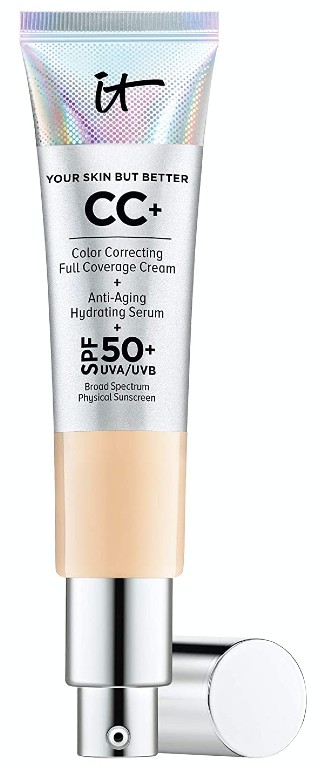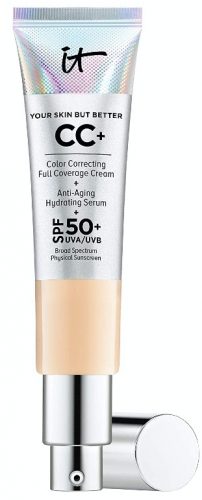 Best for acne scarring
IT Cosmetics Your Skin But Better CC Cream
IT Cosmetics Your Skin But Better CC Cream becomes more popular every day. Fair enough, since it's made with hydrolyzed collagen, peptides, niacin, hyaluronic acid, antioxidants, and vitamins. All these work to give you the look of your skin but better, with a natural dewy finish. P.S.: It's got snail secretion filtrate as the second ingredient, aka it pushes the skin to regenerate itself, stimulating cell renewal, which in turn, even out tone, diminishing blemishes appearance.
---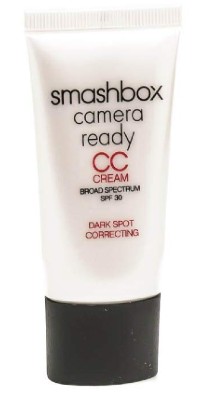 Best for sheer coverage
Smashbox SPF 30 Camera Ready CC Cream
Another of the best CC creams for acne-prone skin that struggles with dark spots — it's a game-changer when it comes to disguising imperfections and preventing future discoloration. The coverage is sheer but buildable, adding moisture without creating excess oil (thanks, squalane), neutralizing redness, and brightening for a smooth complexion. It does a nice job at offsetting the appearance of dark patches, working with a combination of antioxidants, like wheat germ, apple, cucumber extracts, and caffeine, to name a few.
---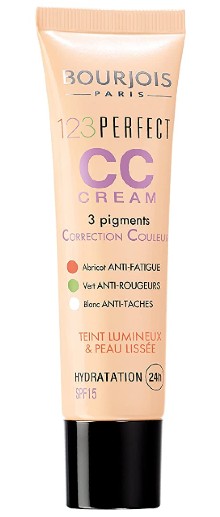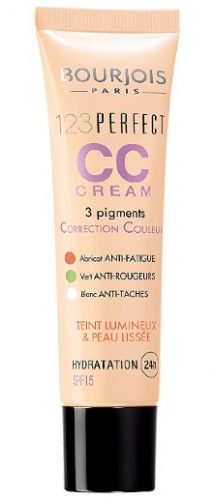 Best budget-friendly
Bourjois 123 Perfect CC Cream
First up-front, this CC cream is oil-free, making it one of the best options for oily and acne-prone skin types. Its formula is a true blend of foundation, skincare, and sunscreen in one, made with three color-correcting pigments to hide fatigue, conceal redness and cover dark spots. Plus, it protects against free radical damage with vitamin C and green tea extract — also known for their anti-inflammatory and hydrating benefits.
---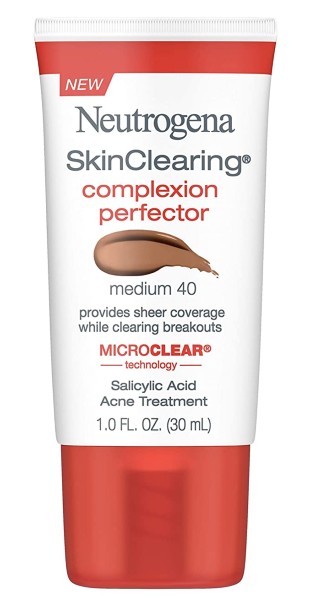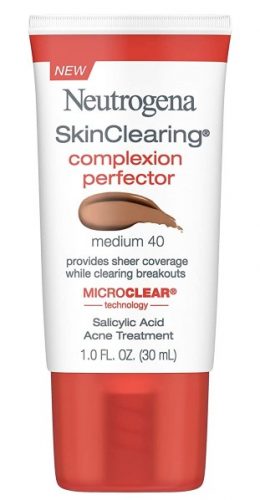 Best with salicylic acid
Neutrogena SkinClearing Acne Treatment
CC cream with 0.5% salicylic acid? Yes, please. Also, the Microclear technology aims to clear breakouts and blur acne every time you wear it. The lightweight matte finish helps you control shine for clear skin and minimizes pores' appearance in no time, making it one of the best CC creams for acne-prone skin. Bonus? It won't clog your pores as it's non-comedogenic and hypoallergenic.
---
Frequently asked questions
Which is better for acne-prone skin BB or CC?

CC cream is better for acne-prone skin. This is because CC creams usually have a matte finish that doesn't evidentiate pimples or excess oil. Also, BB creams are more emollient and oilier than CCs since they focus more on hydration.

Can I use CC cream daily?

Sure. CC creams are meant to add moisture to the skin, some of them protect against UV damage, and they even out the complexion.

Does CC cream clog pores?

Usually, CC creams have light formulas, so they're less likely to clog your pores. However, you should always check the ingredients before purchasing a product and ensure there aren't included any acne-triggering ingredients and pore-cloggers, such as coconut oil, lanolin, and fragrances.

Should I use foundation or CC cream?

On a daily basis, you can swap your foundation for a CC cream as it gives some coverage and color correction, plus the added skincare benefits. Most foundations focus on coverage. Hence, if you're going to have a long night out, a foundation may resist (and look) better. Short answer? Keep the foundation for occasions and your CC cream for daily wear.

Is primer necessary before CC cream?

A primer is not necessary before CC cream, but it would help if you'd use one. For instance, if your pores are large, you may want to fill them in to help the CC cream layer more flawlessly. Plus, a primer helps the CC cream to stay on longer and also smooths the skin's texture for a better finish and effortlessly blending. P.S.: use water or gel-based primer.