Is infallible skin your beauty goal like any other woman's out there? Whenever you want to ditch the traditional foundation and still have a picture-perfect complexion with skin-loving ingredients and perhaps even SPF in a single step, this overachiever is waiting for you. Enter: CC creams. These versatile items allow you to trade in your heavy foundation for a lighter product that not only provides coverage and hides blemishes but also offers skincare benefits. Since the no-makeup makeup look hit its stride, CC creams became the new hero in our beauty bags. To help you stay ahead of the trend, we've rounded up the best CC creams for acne-prone skin that won't clog your pores or worsen your breakouts while still delivering even-toned skin.
What is a CC cream?
To begin with, CC stands for color correcting, which means it neutralizes imperfections by using colors that are opposite each other on the color wheel. For example, pale pink brightens blue-toned spots on fair skin, peach neutralizes blue/purple shadows on medium skin tones, orangey-pink cancels out dark spots on dark skin tones, and yellow offsets purple or darker-toned shadows on olive or tan skin. In addition, green neutralizes redness, and lavender cancels out yellow tones.
Unlike foundations, CC creams aren't necessarily about matching your skin tone but rather about camouflaging problem areas. Plus, most CC creams contain light-deflecting particles that work to brighten skin that appears dull or tired. Also, with CC creams, you no longer need to use both a concealer and a foundation for correcting and coverage.
CC creams usually have light textures, but some still offer foundation-like coverage. If you're looking for more coverage, you can use a CC cream as a color-correcting primer underneath your foundation. This allows you to even out your skin tone and add more hydration for a radiant look.
Compared to their sister product, BB creams, CC creams serve multiple purposes and provide more coverage as their formulas are thicker and heavier. On top of that, they possess skincare benefits, like fading dark spots, softening fine lines, reducing breakouts, and protecting the skin.
Are CC creams good for oily and acne-prone skin types?
When your skin is too oily or prone to acne, picking a CC cream can be a double-edged sword since you don't want to clog your pores, get irritated, or suddenly have more breakouts than ever.
Since your CC cream stays put on the skin all day long, it should contain sebum-balancing and calming compounds with healing and protective properties. You want your CC cream to do far more than cover blemishes. Acne-prone skin needs ingredients like niacinamide, clays, hyaluronic acid, zinc, and squalane. Non-comedogenic formulas are to be preferred. And because oily and acne-prone skin tends to get greasy throughout the day, you should look for CC creams with a matte finish because they help reduce shine and minimize the appearance of large pores.
How to apply your CC cream
Once you've completed your skincare routine of cleansing, serum, moisturizer, and sunscreen, it's time to apply the CC cream using your fingers or a damp beauty blender. Since blending is deadly important, make sure you apply it smoothly, in circular motions, building coverage as much as you like. My favorite hack? Use an organic setting powder to help the CC cream last longer and combat excess sebum.
Top picks for oily and acne-prone skin
Check out the best CC creams for oily and acne-prone skin types that keep sebum in place, prevent breakouts, and even tone in one step. We've just given our list a refresh to include products that are more up-to-date. We're talking about the latest beauty goodies that are setting trends and turning heads for people struggling with acne and excess oil.
---
Best overall
IT Cosmetics CC+ Cream Oil-Free And Matte
This CC cream has all it takes to take the first spot on this roundup. Not only is it oil-free and has a matte finish that is perfect for acne-prone skin, but it also contains charcoal powder and two types of clays. These ingredients help to absorb excess oil and impurities, unclog pores, and promote clear skin. Tea tree extract is also included, which is known for its antibacterial and anti-inflammatory properties. Despite providing full coverage that conceals blemishes and pores, it feels super lightweight and does not appear cakey or settle into fine lines. Extra credit for the pump applicator that makes it easy to apply without any mess or stress.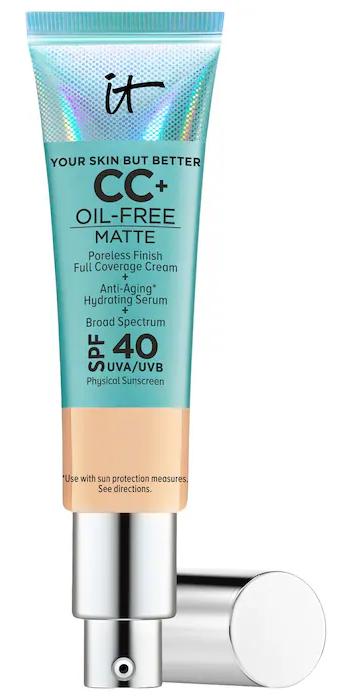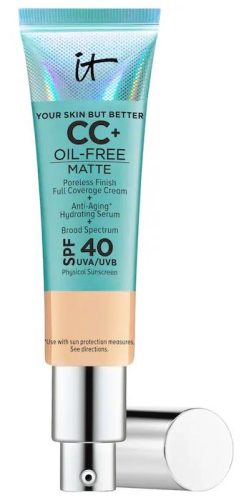 ---
Best budget-friendly
Neutrogena Clear Coverage Flawless Matte CC Cream
Developed by dermatologists for acne-prone skin, this is the best CC cream for you if you don't want to break the bank. It provides buildable full coverage that lasts throughout the day without creasing or settling into fine lines, and it spreads easily, allowing for effortless blending. The finish is matte, which means your skin won't look greasy when you wear it, and the formula contains niacinamide, known for its ability to regulate sebum. There are 34 shades in a mixture of neutral, cool, and warm undertones, making it easy to find your match regardless of skin tone.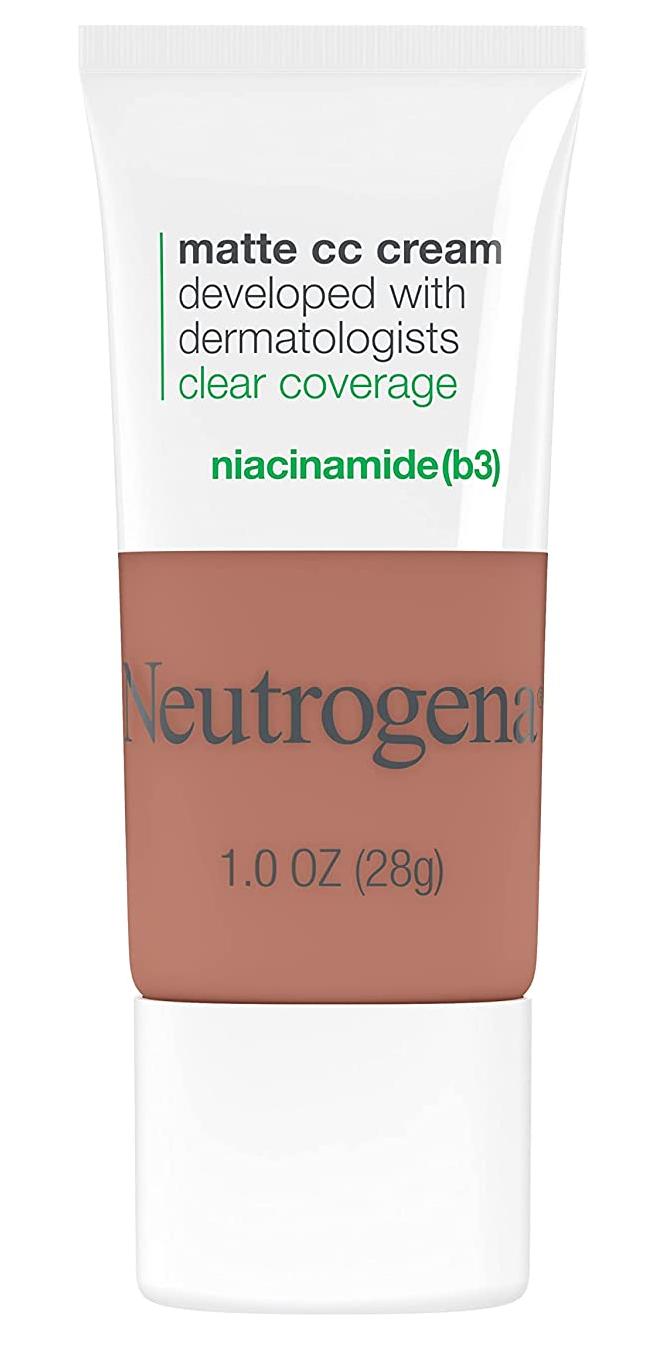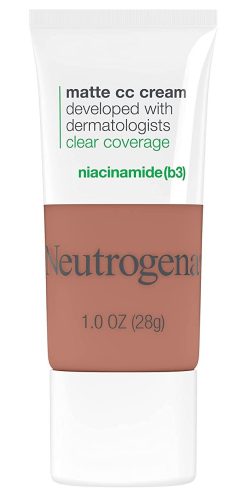 ---
Best with SPF
bareMinerals Complexion Rescue Cream
This one is a total crowd-pleaser for people with oily and acne-prone skin alike. The non-comedogenic formula is made without oil but with olive-derived squalane and hyaluronic acid that deliver intense and immediate moisture while balancing sebum. And because it's water-based, you won't feel your skin weighed down. It even provides mineral-derived SPF 30 giving you some additional sun protection—but you still need to apply your sunscreen underneath to ensure adequate sun defense. Oh, and it comes in a range of 20 shades with a good ratio across all skin tones.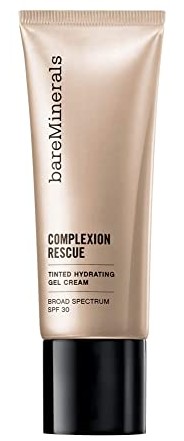 ---
Best for uneven tone
Dr. Jart+ Cicapair Tiger Grass Color Correcting Treatment
Is your skin prone to blemishes? Look no further than Dr. Jart's magical green-to-beige color-correcting cream that neutralizes red areas and evens tone without bothering the skin or feeling heavy. In fact, it feels like nothing at all, while it provides a high dose of moisture from Centella asiatica leaf water. Although the universal shade is supposed to adjust to all skin tones, reviewers with darker skin reported that the green tint can leave a slightly ashy cast. Another gripe with this product is its packaging, which could benefit from a more hygienic and convenient design. Here's hope the brand will fix this soon.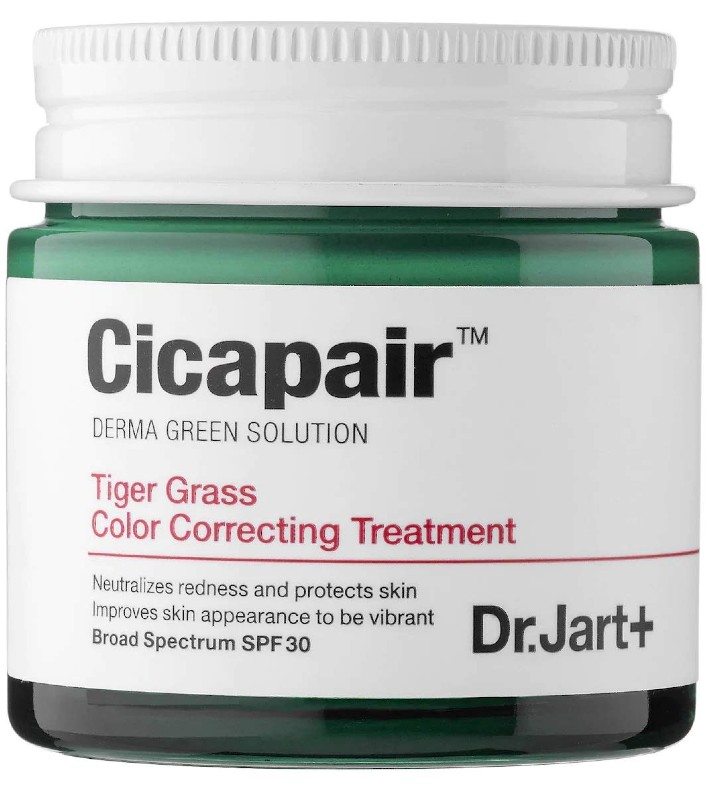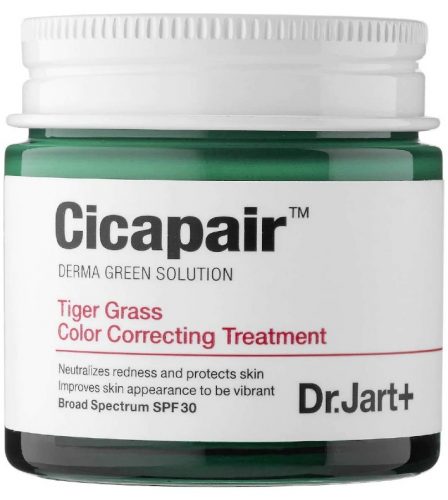 ---
Best for redness
Clinique Redness Solutions Makeup
Clinique Redness Solutions is made with soothing ingredients—zinc, caffeine, grapefruit, and magnolia—to tame redness and relieve swelling, two common concerns for people with acne-prone skin. It even got probiotics to help strengthen the protective barrier and reduce moisture loss. Oil-free? Yes. SPF? Yes. Gentle? Yes. Matte finish? Hell yeah. It sounds like a standout CC cream for acne sufferers.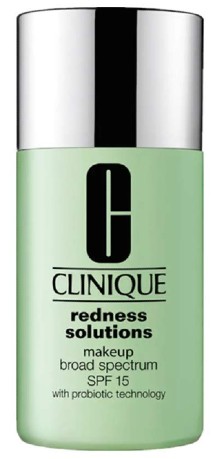 ---
Best to clear pimples
Mary Kay CC Cream
This CC cream is a true multi-tasker, combining the benefits of a hydrating moisturizer, foundation, and sunscreen all in one. What really makes this product stand out are its potent ingredients: willow bark extract and salicylic acid. Together, they form a dynamic duo that fights against acne and bacteria, effectively reducing pimples and promoting a clearer complexion. It has sheer coverage, which can be built up without that made-up look, and effectively hides acne and blemishes. We love that the formula is free of oil and fragrances and is non-comedogenic, but we only wish it came in more shades.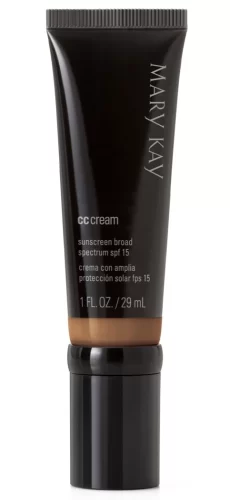 ---
Best for dry skin
Erborian Color Correcting CC Cream
Thanks to key ingredients like Centella asiatica and honey, this CC cream provides hydration and soothes while color correcting and enhancing natural radiance. Although its shade options fall short, the encapsulated pigments adjust to your natural skin tone as you blend in, giving you a flawless, natural-looking finish that's lit from within. Whether you apply it with your fingertips or a foundation brush, this cream delivers infallible coverage that hides blemishes, dark spots, and pimples like a dream.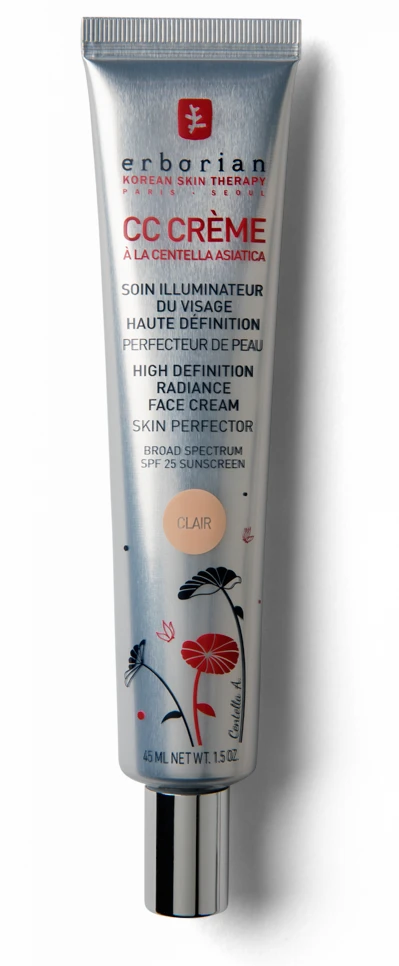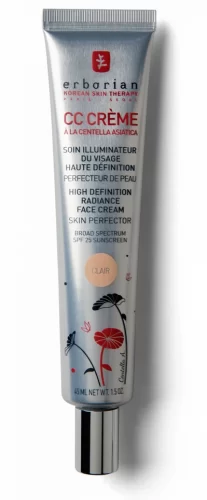 ---
Best for coverage
Dermablend Continuous Correction CC Cream
Wearing this CC cream is like having a personal army of antioxidants right at your fingertips, with niacinamide and caffeine leading the charge to hydrate and protect your skin from those pesky free radicals. And with the added SPF 50, you also get some defense against UV damage. The CC cream is so lightweight— it's practically weightless. You won't even feel like you're wearing anything on your face, allowing your acne-prone skin to breathe. And don't worry about coverage. You can go from sheer to full in a snap, building up as much or as little as you want. No cakey, sticky, or heavy feeling here!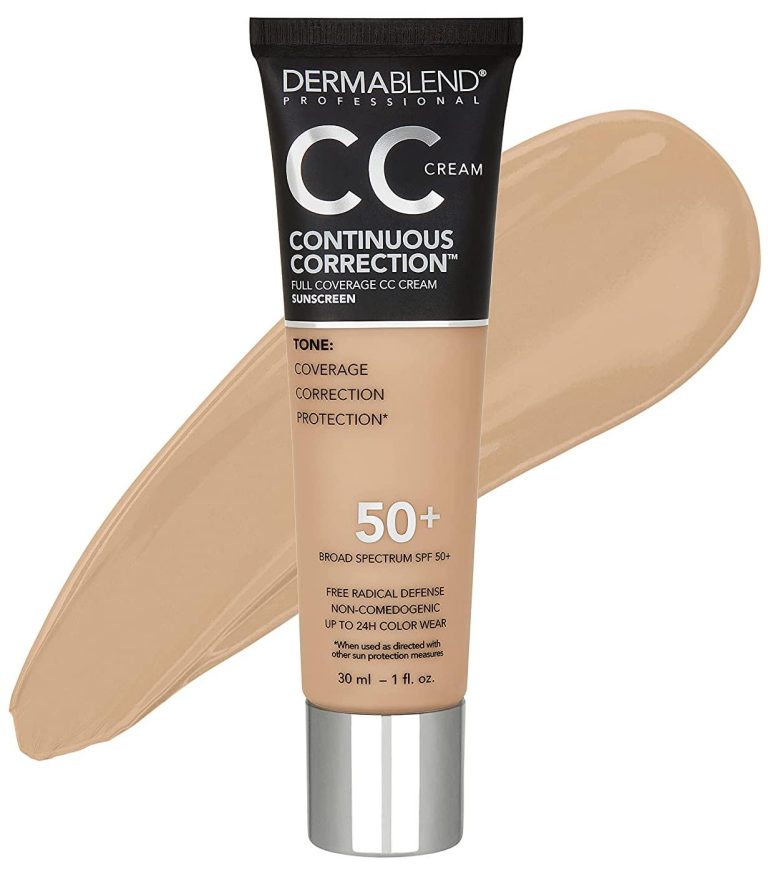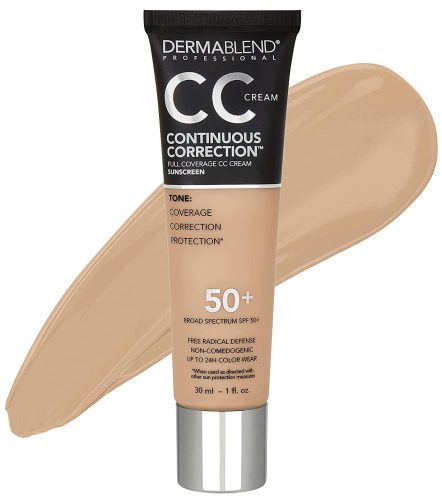 ---
Frequently asked questions
Which is better for acne-prone skin BB or CC?

CC cream is better for acne-prone skin. This is because CC creams usually have a matte finish that doesn't evidentiate pimples or excess oil. Also, BB creams are more emollient and oilier than CCs since they focus more on hydration.

Can I use CC cream daily?

Sure. CC creams are designed to be used on a daily basis. They offer a lightweight and breathable alternative to heavy foundations, allowing your skin to breathe while providing enough coverage to hide blemishes and enhance natural beauty.

Does CC cream clog pores?

Most CC creams have light formulas, so they're unlikely to clog your pores. However, check the ingredients before purchasing a product and ensure it doesn't contain acne-triggering ingredients, such as coconut oil, lanolin, and fragrances.

Should I use foundation or CC cream?

Most foundations focus on coverage. Hence, if you're going to have a long night out, a foundation may resist better. Short answer? Keep the foundation for occasions and your CC cream for daily wear.

Is primer necessary before CC cream?

You don't necessarily need a primer before CC cream, but it would help if you'd use one. For instance, if your pores are large, you may want to fill them in to help the CC cream layer more flawlessly. Plus, a primer helps the CC cream stay on longer and smooths the skin's texture for a better finish and effortlessly blending.