There's a good chance that when you hear Elemis, you automatically think of a luxurious spa and all that calm that comes with it. That may be because Elemis is a leading British luxury skincare and spa brand with a wide collection of high-end products in the UK. The clean brand focuses mainly on anti-aging yet is a favorite to folks of all ages, being touted as "a skin wellness brand with an aromatherapist's soul, an artist's spirit, and a scientist's commitment to results." Up ahead, we take a closer look at the best Elemis products, but first, a brief about Elemis's history.
Elemis story
Elemis has been a cult favorite since forever — more precisely, for three decades, when it was founded in London by Linda Steiner. She had a vision of creating a skincare collection as close to nature as possible. Noella Gabriel, Oriele Frank, and Sean C. Harringon joined the team, and to this day, the trio maintains Elemis as a leader in the skincare market.
Considered a brand at the cutting edge of beauty, Elemis keep up to innovate formulas and technology that give us the best treat from head to toe, literally. Many of the best Elemis products have award-winning formulas powered by active naturals in sublime textures that you'd give anything to slather your skin in. You got it right, Elemis products deliver a posh experience and solemnly promise to transform the skin instantly and in the long run if used consistently.
Where it's possible, Elemis use naturally derived fragrances, the ones that come from botanical ingredients, delivering a delicate, nature-like sensorial experience.
Which Elemis collection is right for me?
One of the most popular Elemis collections, called Dynamic Resurfacing, uses Tri-Enzyme Technology, aka a blend of alpha-hydroxy acids to remove dead cells, shea butter to hydrate, and vitamins C and E to defend against free radicals. You'll soon notice that most of the best Elemis products feature collagen, which has the role of improving fine lines and wrinkles and making the skin appear plumper.
Elemis also has an entire collection that's infused with tetra-peptide, meaning four amino acids joined by peptide bonds. These formulas aim to reveal renewed, radiant and well-rested complexion. Another collection of Elemis that hit the market is Superfood — the one packed with prebiotics, fermented plant actives, and vitamin-rich Superfoods to give the skin a dose of health. The entire Superfood collection protects the skin's microflora and wards off daily pollution and aggressors.
Do Elemis test on animals?
Elemis doesn't test on animals and never did. They are against the use of animals to test their products, active ingredients, or raw materials.
The best Elemis products
Ready to add this leading anti-aging skincare brand to your routine? Here are the best Elemis products you can start with!
---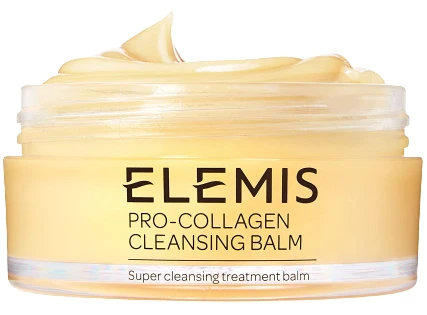 Elemis Pro-Collagen Cleansing Balm
You could start your skincare routine by dissolving away makeup and daily pollutants with Elemis cleansing balm. As the name suggests, this cleanser nourishes like a balm and hydrates as milk, thanks to a blend of nine essential oils, flower waxes, and shea butter. Once activated with water, it transforms into a cleansing oil that works wonders on dry, dehydrated, and mature skin types, leaving the skin cleansed and supremely soft.
---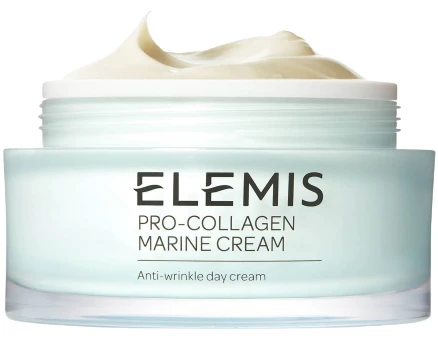 Elemis Pro-Collagen Marine Cream
Launched in 2003, this cream is one of the best Elemis products, an iconic moisturizer that won a series of awards. With a gel-cream texture and infused with hydration replenishing ingredients, it delivers intense moisture, having had many people hooked once tried. The ingredients used to provide moisture are glycerin, wheat oil, shea butter, algae, and vitamin E, working to reduce the look of fine lines and wrinkles. The sweet fragrance is given by natural rose flower extract, which also has calming and nurturing properties.
---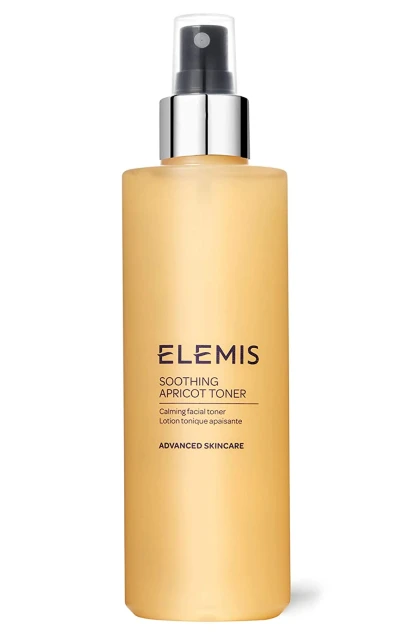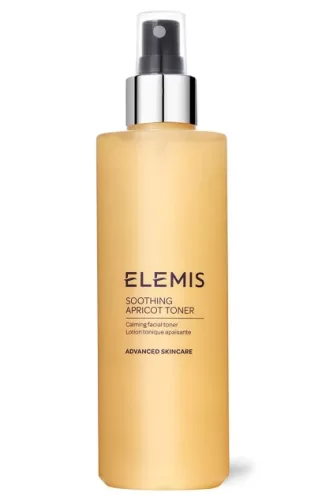 Elemis Soothing Apricot Toner
Well, you can use this either as a toner or a refreshing spritzer. No matter how you use it, this Elemis product will still deliver a dose of hydration and a fresh feeling to the skin. It's made with a blend of skin-loving ingredients, think quillaja wood extracted saponins, sweet betty flower, and apricot extract that have the job to cleanse, tone, and moisturize the skin. It makes a great pick for sensitive skin types as it does everything without the use of alcohol.
---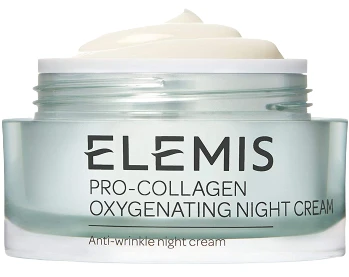 Elemis Pro-Collagen Oxygenating Night Cream
One of Elemis' bestsellers is this anti-wrinkle moisturizer that aims to improve hydration, firmness, and elasticity while you sleep. It has a rich texture that delivers intense moisture and renewal whilst revealing firmer-looking skin. It is infused with some of the best hydrating ingredients, glycerin, and shea butter, so it creates a film layer on the skin that stops transepidermal water loss. Additionally, it infuses the skin with a blend of natural oils, such as avocado, sesame, olive, and jojoba, giving the skin all the nourishment it needs to wake up happy.
---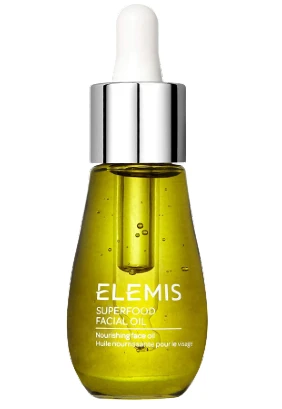 Elemis Superfood Facial Oil
Hydrate, nourish, and smooth with Elemis Superfood Facial Oil, one of the best Elemis products. It is loaded with a mix of nine oils, among which broccoli, rosehip, flaxseed, and radish, to feed the skin with essential nutrients and vitamins. With consistent use, dry skin is repaired, softened, and plumped. This facial oil is a serious skin-saver you could rich for whenever your skin feels tight and dull without worrying about feeling greasy as it's light as air.
---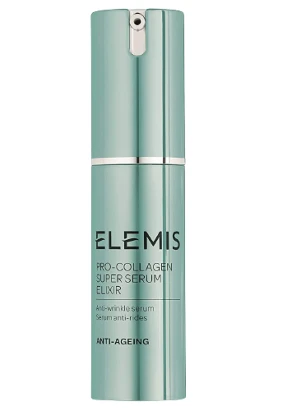 Elemis Pro-Collagen Super Serum Elixir
Simply put, the Elemis Pro-Collagen Super Serum Elixir is an absolute must for all skin types. The formula is filled with Camelina seed oil, a rich source of vitamin E, omegas, and antioxidants, plus tocopherol, the pure form of vitamin E, glycerin, and hyaluronic acid. It contains all the things a lackluster complexion needs to look and feel better while also shielding against free radical damage. Finally, this concentrated serum provides intense moisture and a potent antioxidant boost, sans greasy residues, suitable for all skin types.
---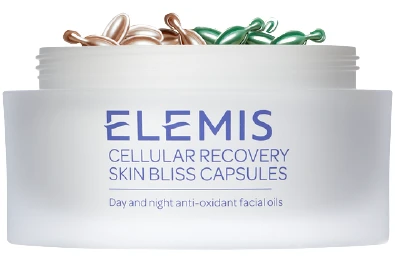 Elemis Cellular Recovery Skin Bliss Capsules
Moringa seed oil is lauded for being full of skin-loving antioxidants, namely vitamins A, C, and E, and fatty acids, that guard against free radicals damage and moisture loss. These capsules have a base of this oil and combine it with vitamin E, rose flower, lavender, and bergamot oils. Elemis skin capsules fight visible aging signs at night while working to break down the skin-clogging buildup of toxins during the day.
---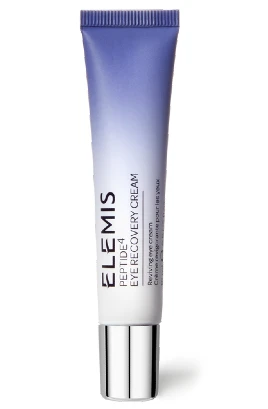 Elemis Peptide4 Eye Recovery Cream
So far, this is one of the best Elemis products to use for the eye area. If tired, puffy eyes, crow's feet, and dark circles are your issues, this eye cream targets all of them. Coconut, jojoba oils, fatty acids, plus vitamins B5 and E, nourish the skin around the eyes and hydrate it intensely for an instant plump effect. Above everything, it also contains mica mineral to reflect light, making dark circles appear brightened, and eyes rested.
Full review: Elemis Peptide4 Eye Recovery Cream Review
---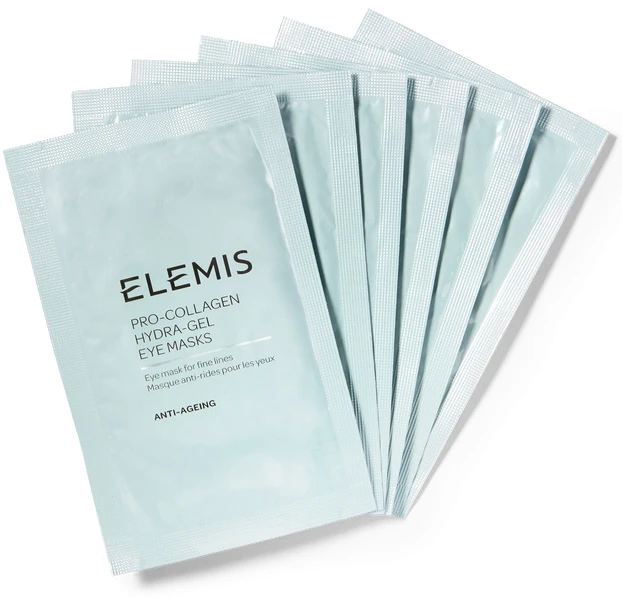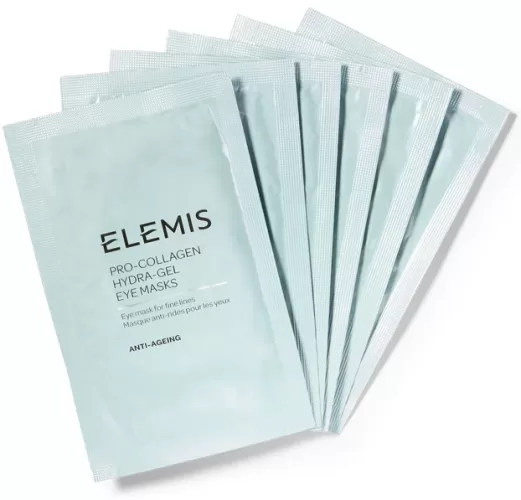 Elemis Pro-Collagen Hydra-Gel Eye Masks
For those moments your eyes need a pick-me-up, use these eye masks for 20 minutes. They are infused with a blend of algae known to support hydration, plus hyaluronic acid to lock moisture in. Vitamin B5, green tea extract, jojoba and castor oils, plus yuzu fruit extract help the skin strengthen and deliver more hydrating benefits for reducing wrinkles appearance instantly.
---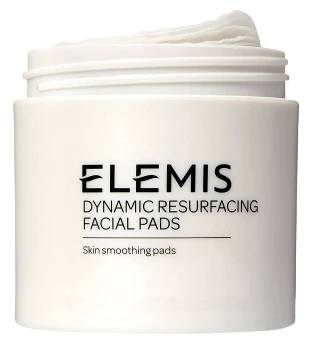 Elemis Dynamic Resurfacing Facial Pads
The skin's cell natural renewal process takes place every 28 days, but pollution and other gunks can disturb the process. This is where one of the best Elemis products, these resurfacing pads come in handy. They are pre-soaked with a triad of enzymes to shed dead cells and reveal brighter skin and the gentlest of the AHAs family, lactic acid. On top of it, these facial pads are infused with a probiotic ferment complex that works to improve skin tone, plus shea butter and castor oil to moisturize the skin.
---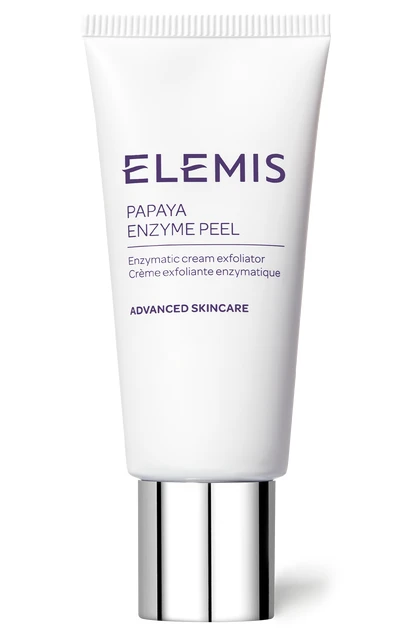 Elemis Papaya Enzyme Peel
Twice a week, give your skin the gentle exfoliation it needs with this delicate product. It aims to smoothen the skin, buff away dirt and dead cells, reveal a soft-looking complexion, and boost the absorption of other products. To do all this, it uses papaya and pineapple enzymes, known to lift dead skin cells gently. The nourishment and moisturizing effects are given by niacinamide, sunflower oil, bladderwrack, and milk proteins. It's one of the best Elemis products that deliver a dose of peeling and hydration, being super gentle for all skin types.