Dry and scaly patches, redness, swelling, and persistent itching, yes, this is eczema. It's as if you're stuck in an endless cycle of skin woes with no end in sight. Though it's a tough condition to tackle, often needing a dermatologist's expertise, there's some good news. You can find a range of over-the-counter products specifically designed to soothe eczema-affected skin. This is where emollient creams come into play.
If you're on a quest for quick relief from eczema's discomfort, we've put together a list of the best emollient creams on the market, all ready to offer your itchy and irritated skin the relief it urgently needs.
What are emollients?
Emollients are ingredients added to moisturizers, creams, and lotions to soften the skin and restore the skin's moisture barrier. Unlike humectants, which draw moisture into the skin, or occlusives, which form a protective layer to lock in moisture, emollients have a key role in alleviating itchy skin.
How emollients work to treat eczema
Emollients are a key player in treating eczema, and their secret lies in how they interact with our skin. You see, our skin has a protective layer made of natural fats that serve as a barrier to lock in moisture and block environmental irritants. In eczema, this protective layer gets damaged, leading to dry, cracked skin. This is where emollients come in. They're packed with substances that are very similar to our skin's own fats. They fill the tiny cracks between skin cells and restore the damaged barrier. This action reduces the itching and inflammation typical of eczema-prone skin.
Which are the best emollients?
The best emollients to relieve eczema are ceramides, cholesterol, and fatty acids (like oleic, linoleic, palmitic, and stearic acids). Floral and bee waxes, butters, squalane, vitamin E, petrolatum, jojoba esters, oatmeal, and paraffin are also effective emollients that have been shown to reduce eczema symptoms. Plant oils rich in oleic and linoleic acids, such as olive, avocado, marula, sweet almond, coconut, and argan, work as well.
Now that you know what to look for, below we've put together a list of the best emollients and moisturizers for eczema-prone skin.
---
1
Biossance Squalane + Omega Repair Cream
Biossance is making waves in the world of eczema care with this cream. It blends premium emollients, including a generous amount of squalane, ceramides, and omega fatty acids, which work to repair cracked skin and replenish the skin's moisture barrier. Moreover, Biossance Squalane + Omega Repair Cream has received recognition from the National Eczema Association. That's a big deal if you're trying to find something that's proven to relieve dry, eczema-prone skin. However, we should mention that people have mixed feelings about how it smells. Some are okay with it, but others? Not so much.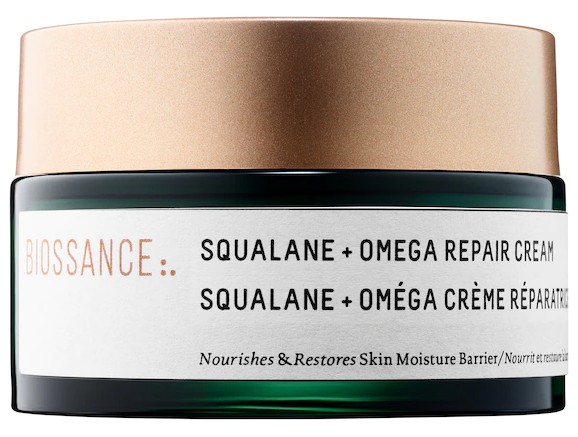 ---
2
La Roche-Posay Lipikar Eczema Relief Cream
Another emollient cream endorsed by the National Eczema Association comes from none other than La Roche-Posay. The best part? You can easily find it at your local drugstore without breaking the bank. This cream is loaded with some effective emollients like colloidal oatmeal and shea butter, which are great for quick relief and soothing itchy skin. Plus, it's got La Roche-Posay's Prebiotic Thermal Water, providing even more healing properties. And if you've got sensitive skin, no worries—the cream is fragrance-free and won't clog your pores.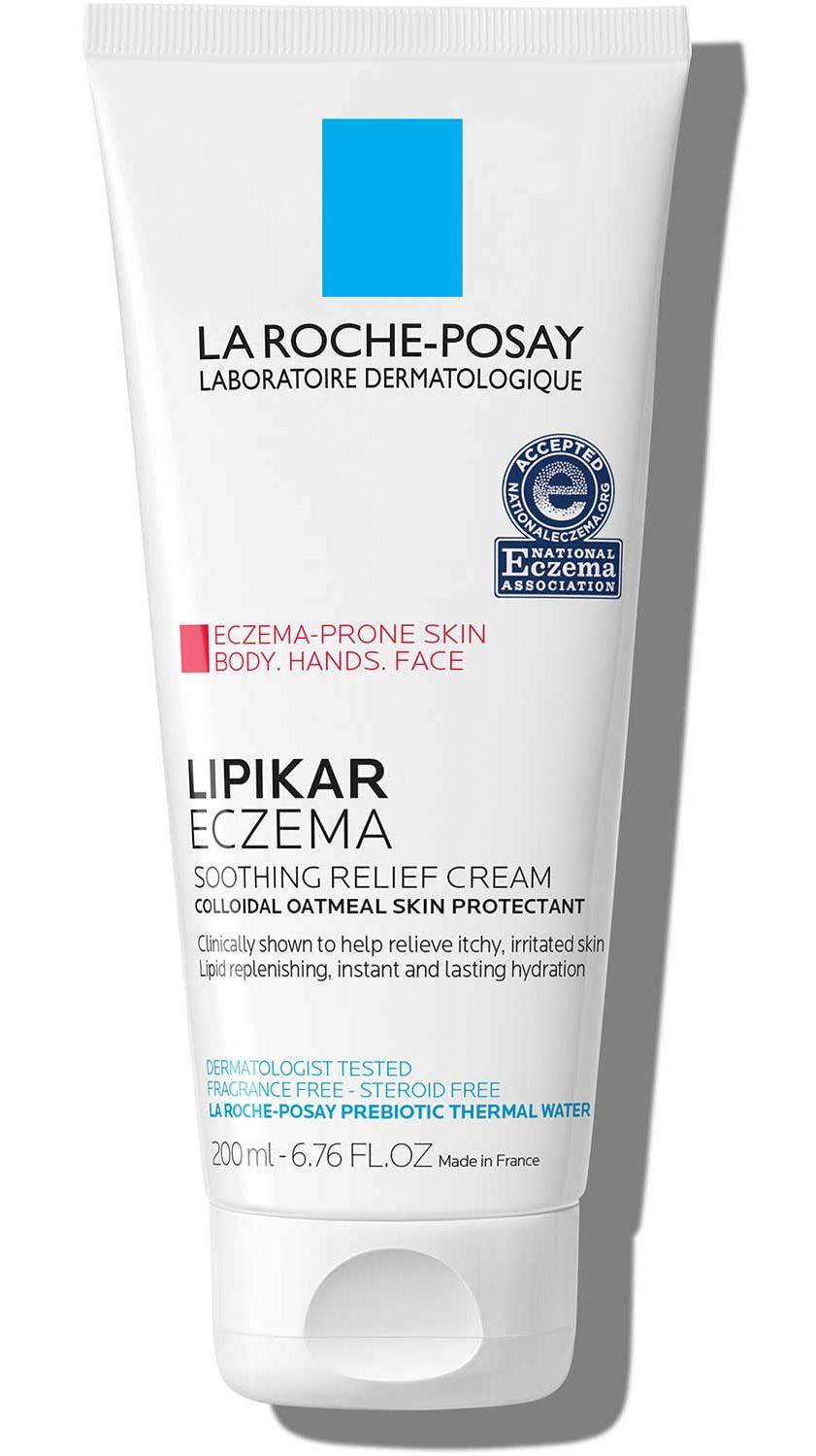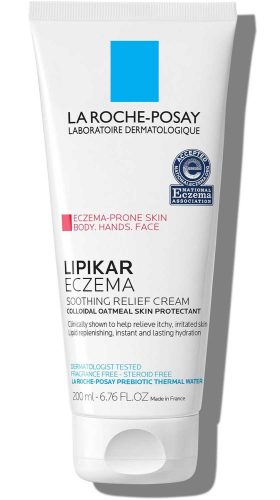 ---
3
SkinCeuticals Triple Lipid Restore 2:4:2
SkinCeuticals Triple Lipid Restore is a dream for dry, damaged skin. It's packed with emollients that are all about replenishing and nurturing your skin's cellular lipids, and it does this super gently. The cream uses a blend of ceramides, cholesterol, and fatty acids to help your skin bounce back, reduce redness, and relieve itching and irritation. By restoring lipids in the upper layer of the skin, it becomes more flexible, less vulnerable to outside damage, and soothes rashes and inflammation. The only caveat? It's pretty expensive. But for most, the results make it worth it.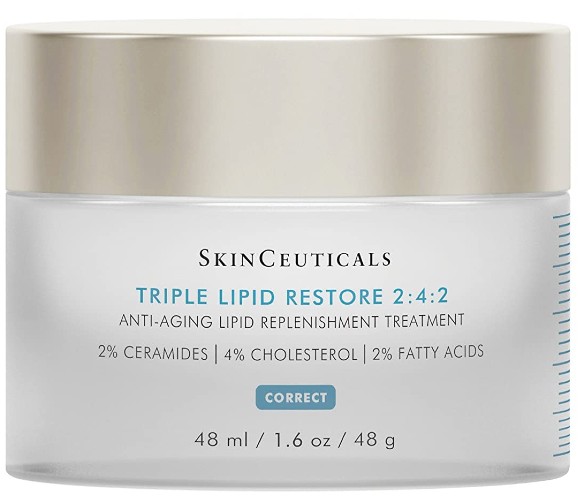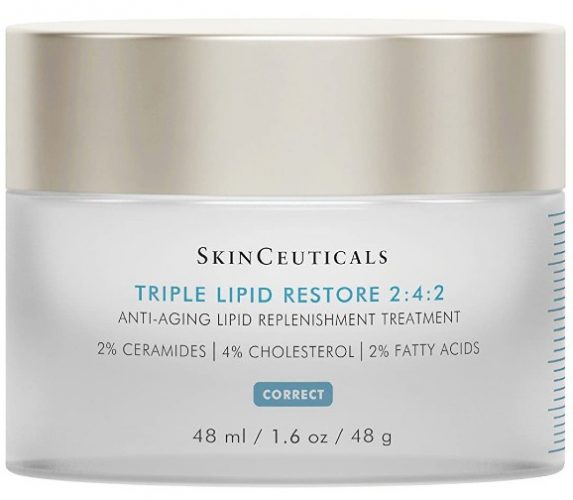 ---
4
Aveeno Eczema Therapy Daily Moisturizing Cream
This eczema relief lotion is packed with nourishing emollients and is perfect for addressing itchiness and rashes during flare-ups, providing head-to-toe comfort. The seal of approval from the National Eczema Association is a testament to its effectiveness. The lotion is neither sticky nor leaves the greasy and heavy feeling you usually experience from emollients. However, the only downside is that the dispenser doesn't catch the last bit of the product, so you may have to flip it upside down and twist the cap to take the moisturizer out.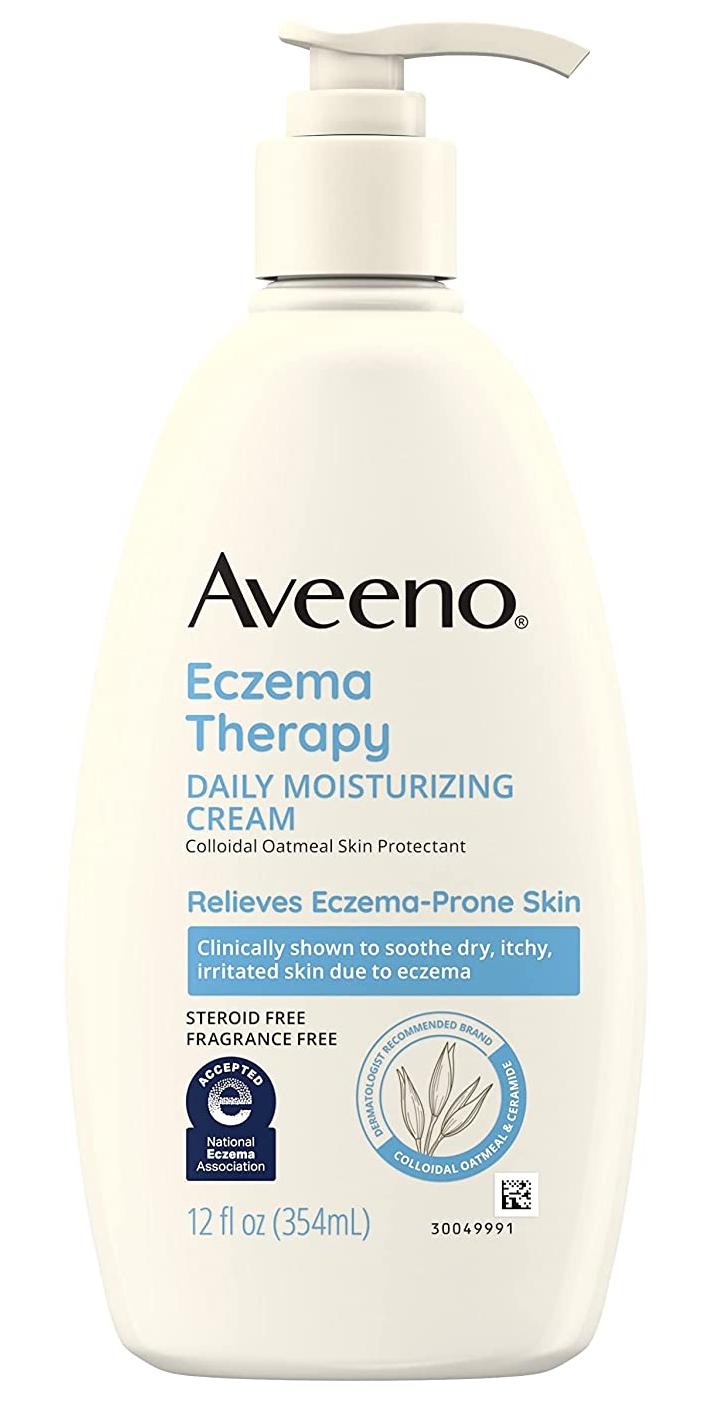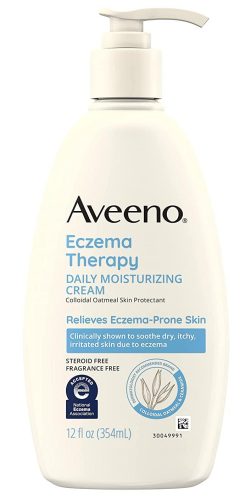 ---
5
Bioelements Crucial Moisture
This moisturizer comes highly recommended by estheticians and ticks all the right boxes for balancing eczema-prone skin. It's formulated with a blend of Chinese herbs, like the collagen-boosting Centella asiatica, and various plant oils, creating an ideal setting for your skin to regain its strength and vibrancy. Plus, it's loaded with dimethicone, a non-comedogenic emollient that's great for your skin. A neat feature we appreciate is the included spatula. It lets you scoop out the product without introducing bacteria into it.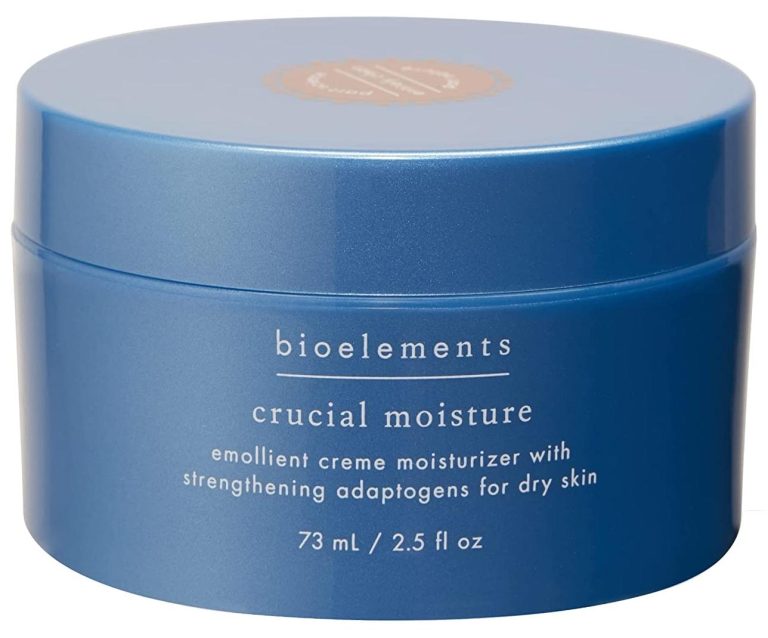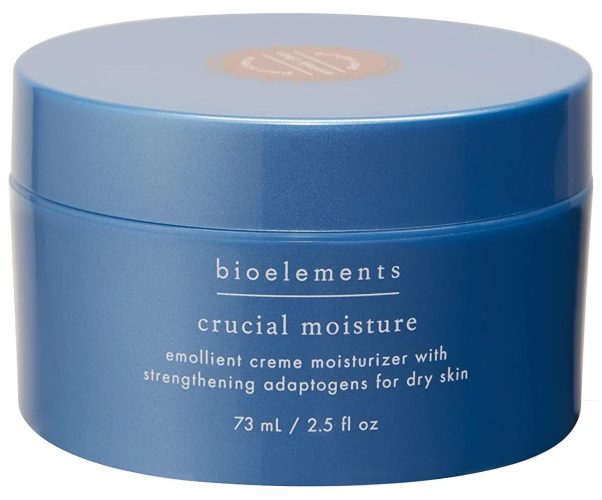 ---
6
Kate Somerville Goat Milk Moisturizing Cream
The creation of this cream is rooted in Kate's personal experience with eczema as a child, where goat milk played a pivotal role in easing her symptoms. This ingredient forms the essence of the cream, complemented by other skin-soothers like jojoba, avocado, and vitamin E, making it a powerhouse for calming irritated skin. We particularly praise its creamy texture and the hygienic dispenser. Clinically tested for its gentleness, Kate Somerville Goat Milk Cream is suitable for compromised skin and can even be used around the sensitive eye area.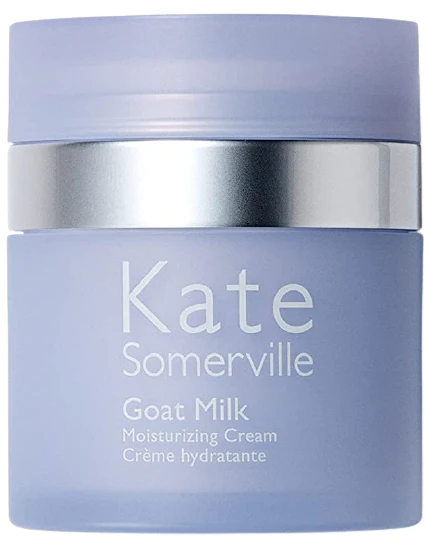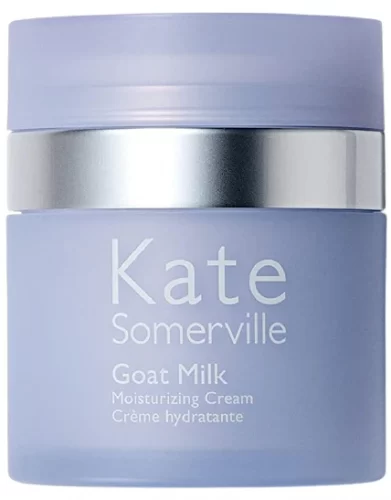 ---
7
Belif The True Cream Moisturizing Bomb
Living up to its name, this cream is like a hydration explosion for your skin, providing intense moisture that, according to the brand's tests, sticks around for up to 26 hours. How does it manage that? It's packed with humectants, ingredients that are pros at drawing in and locking moisture. It also includes probiotics to balance your skin's microbiome, strengthening the skin barrier for better water retention. Plus, there are emollients added into the mix to moisturize and soften your skin. The cream's plush texture offers instant comfort to dry, cracked skin without feeling too heavy. It's a triple threat–soothing, calming, and hydrating, making it one of the best choices for those with eczema.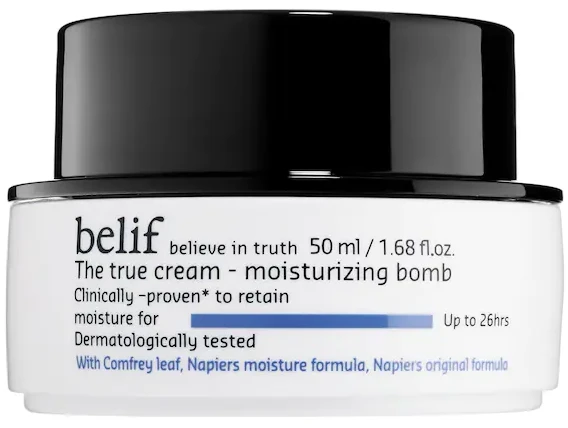 ---
8
Kiehl's Ultra Facial Moisturizing Cream
This formula's star ingredient is squalane, an emollient that's a near-perfect match for the sebum our skin naturally produces. For those with eczema, who typically have lower levels of this beneficial oil, squalane is crucial in delivering the nourishment and hydration their skin craves. Additionally, the formula includes a glacial glycoprotein, rich in amino acids–the key building blocks for healthy skin. This ingredient is crucial for strengthening the skin's moisture barrier and calming irritation.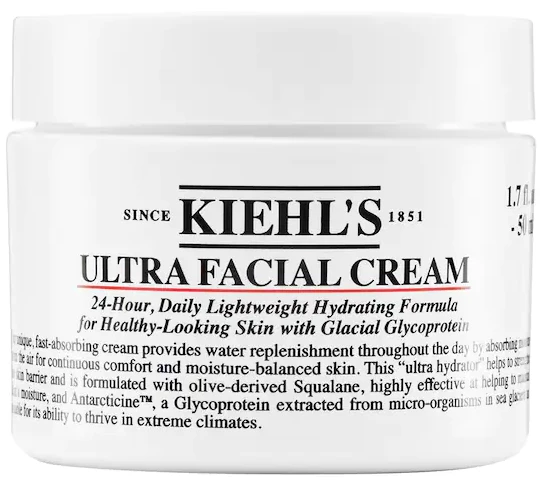 ---
9
First Aid Beauty Ultra Repair Cream
First Aid Beauty Ultra Repair Cream is the perfect antidote for sensitive, eczema-prone skin in need of a hydration boost. It has a gentle formula that gives instant and long-term relief. The star ingredients are colloidal oatmeal, shea butter, and squalane, all known emollients that attack eczema flare-ups from all angles. Despite how rich this whipped cream appears to be, you'll be surprised at how lightweight it feels in practice. Plus, the cream comes in an array of sizes, so you can choose what's best for your needs.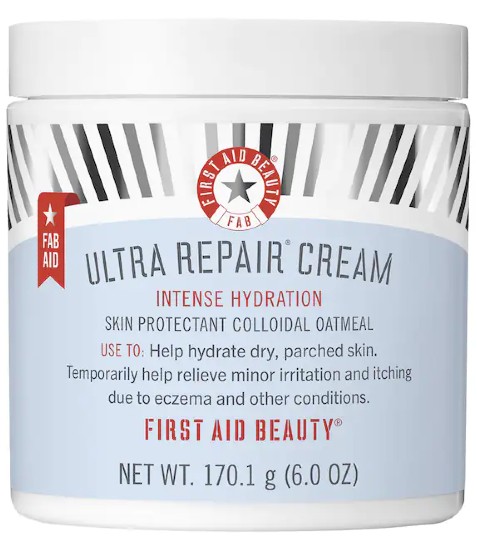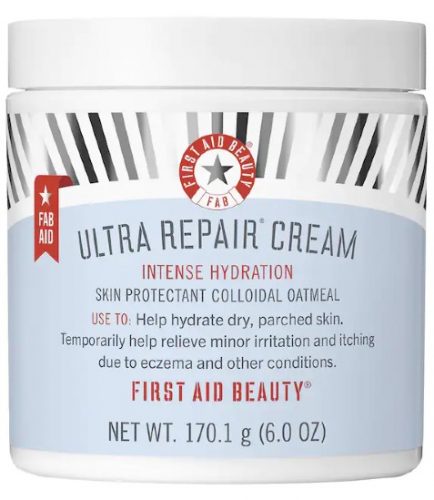 ---