Eczema is a skin condition that affects millions worldwide, causing discomfort and frustration. The signs can vary from dry, scaly patches to oozing blisters, redness, swelling, and persistent itchiness, leaving you feeling like you're playing a never-ending game of skin roulette. While this condition can be challenging to manage and often requires professional guidance from a dermatologist, there is a silver lining. Numerous over-the-counter products offer much-needed relief and are friendly enough for eczema-prone skin. Enter: emollient creams.
Emollients are excellent for atopic dermatitis (eczema) as they provide intense hydration, soothe dryness, and alleviate itching. By forming a protective barrier on the skin, emollients help retain moisture and promote healing. They also improve the skin's texture, making it smoother and less prone to flakiness, a common trait of eczema-prone skin.
Keep scrolling to discover the best emollient creams that provide instant relief for eczema, giving your itchy skin a well-deserved break.
What are emollients?
Emollients are ingredients added to moisturizers, creams, and lotions to soften the skin and repair the moisture barrier. Unlike humectants, which pull water in the skin, or occlusives, which form a protective layer that prevents water loss, emollients have a key role in alleviating dry skin.
How emollients work
Emollients contain fatty substances called lipids that work by filling in the gaps and cracks between the cells caused by dryness. By doing so, they soften and smooth the skin, giving it a much-needed hydration boost.
But that's not all. Emollients also act as a shield, forming a protective layer over the skin's surface that locks in moisture. So it's clear cut: If you're dealing with dry, eczema-prone skin, reach for an emollient-rich cream. It provides the necessary building blocks for repairing dryness, restoring your skin's natural balance, and relieving itchiness and swelling.
Which are the best emollients?
The best emollients are ceramides, cholesterol, and fatty acids (like oleic, linoleic, palmitic, and stearic acids). Other praised emollients in the skincare world are floral and bee waxes, butters, squalane, vitamin E, lanolin, petrolatum, jojoba esters, oatmeal, and paraffin. Plant oils rich in oleic and linoleic acids, such as olive oil, avocado oil, marula oil, sweet almond oil, coconut oil, and argan oil, are also great emollients.
Who can use emollient creams?
Everybody can use emollient moisturizers, though oily and breakout-prone skin should err on the side of caution. This is because most emollient moisturizers contain comedogenic ingredients. Don't get upset, there are also non-comedogenic formulas that won't freak out your skin.
Our top picks
---
1
Biossance Squalane + Omega Repair Cream
When it comes to eczema flare-ups, Biossance is a brand that stands out for its commitment to clean formulas. One standout product is this cream, which blends premium emollients, including a generous amount of squalane, ceramides, and omega fatty acids. These, paired with acai berry sterols (natural alternative to cholesterol), repair cracked skin and support the moisture barrier.
Biossance Squalane + Omega Repair Cream has even received recognition from the National Eczema Association. This accolade solidifies its status as a top choice for dealing with dry skin and eczema. However, we should mention that the scent of the product, derived from the natural aroma of its ingredients, has received mixed reviews, with some people finding it off-putting.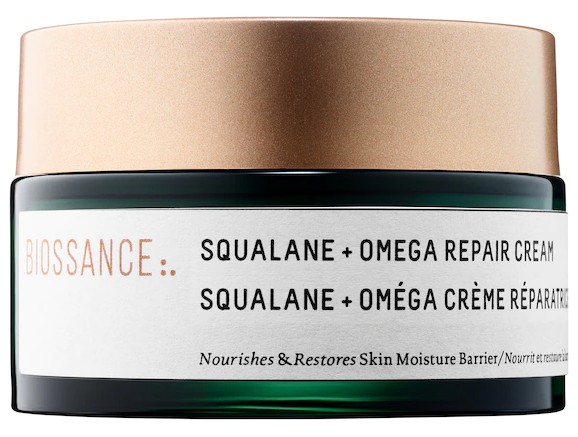 ---
2
La Roche-Posay Lipikar Eczema Relief Cream
La Roche-Posay delivers another gem accepted by the National Eczema Association that's conveniently available at your local drugstore for an affordable price. The cream is packed with top-of-the-line emollients, including colloidal oatmeal and shea butter, to bring you instant relief and calm itchy skin. The formula also boasts La Roche-Posay's signature prebiotic thermal water for even more restorative benefits. Fragrance-free and non-comedogenic, this one is perfect for all skin types.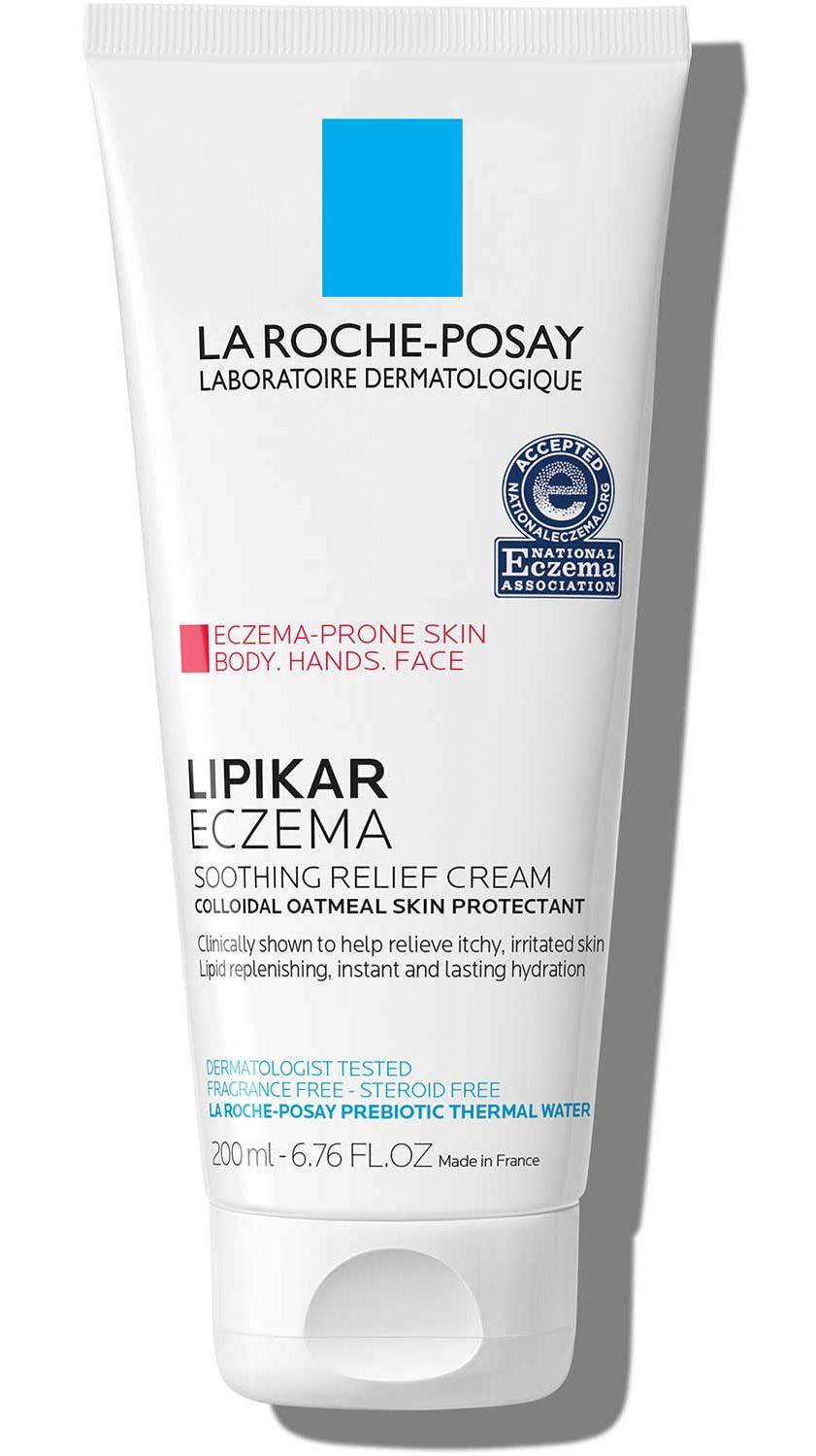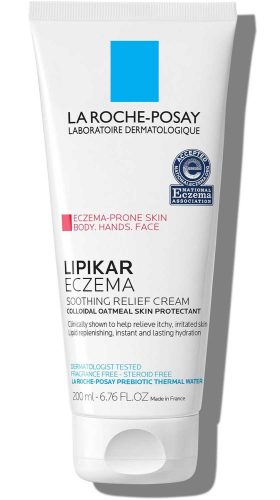 ---
3
SkinCeuticals Triple Lipid Restore 2:4:2
Crafted for dry, damaged skin, SkinCeuticals Triple Lipid Restore is infused with ingredients that refill and nourish cellular lipids—all while being incredibly gentle. With the help of ceramides, cholesterol, and fatty acids, the cream supports skin resiliency while taming redness and hampering further moisture loss. Putting lipids back in the upper layer makes the skin more elastic, less prone to external damage, and calms rashes and inflammation. The only caveat? Its hefty price tag.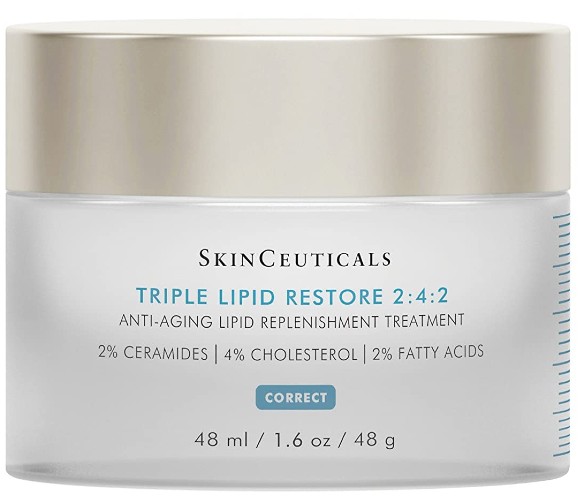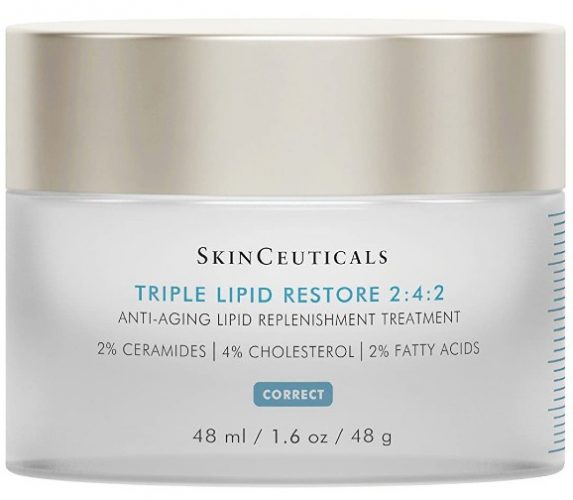 ---
4
Aveeno Eczema Therapy Daily Moisturizing Cream
This eczema relief lotion is packed with nourishing emollients and is perfect for addressing itchiness and rashes during flare-ups, providing head-to-toe comfort. The seal of approval from the National Eczema Association is a testament to its effectiveness. The lotion is neither sticky nor leaves the greasy and heavy feeling you usually experience from emollients. However, the only downside is that the dispenser doesn't catch the last bit of the product, so you may have to flip it upside down and twist the cap to take the moisturizer out.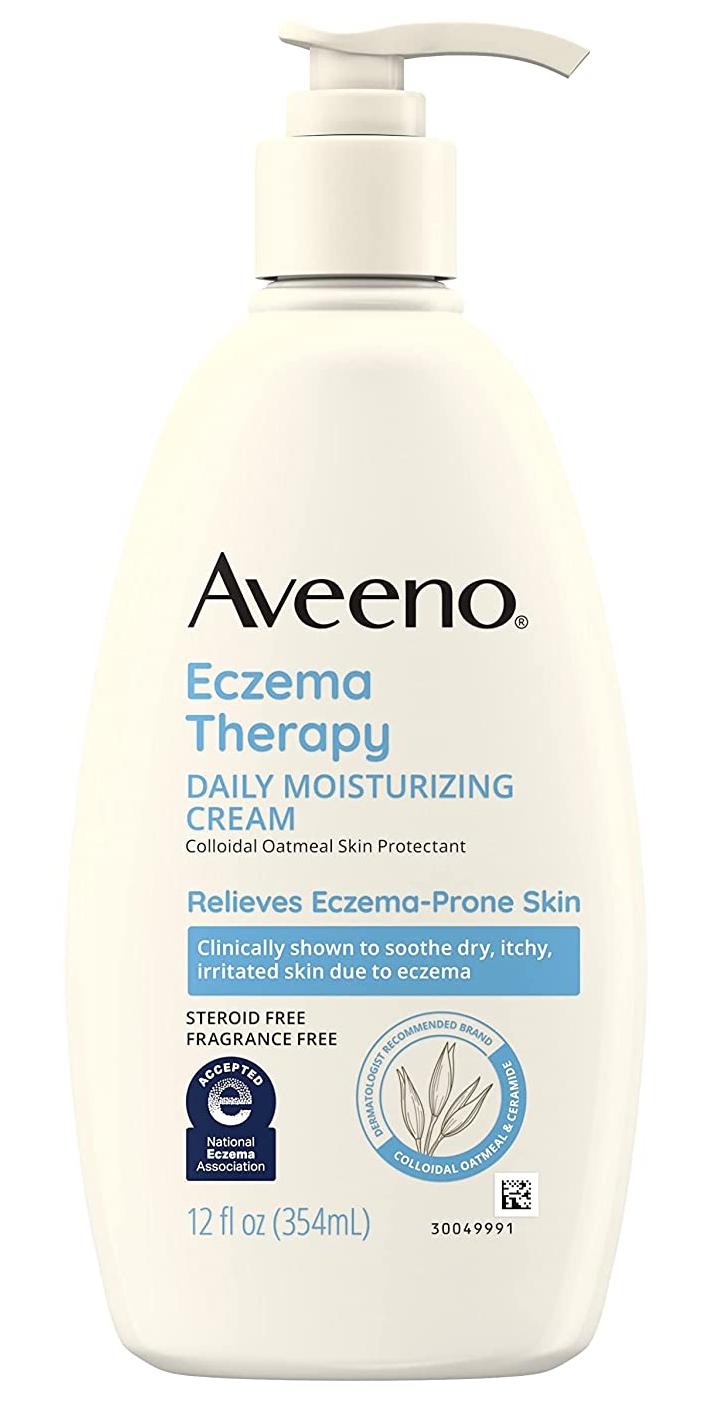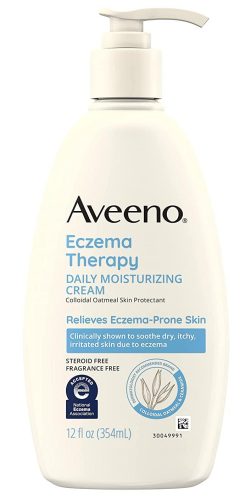 ---
5
Bioelements Crucial Moisture
This esthetician-recommended moisturizer checks all the boxes to balance and strengthen the skin. It leans on a mix of Chinese herbs, including collagen-boosting Centella asiatica and plant oils, to provide a robust environment for the skin to recoup its vitality. And it's also packed with dimethicone, a non-comedogenic emollient that seals all the benefits. We love that it comes with a spatula, allowing you to scoop the product without letting the bacteria to get in the mix.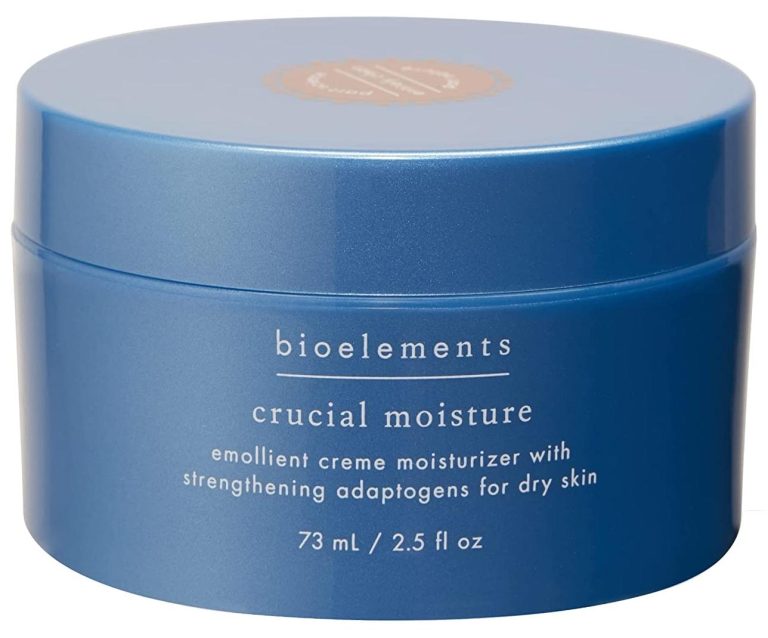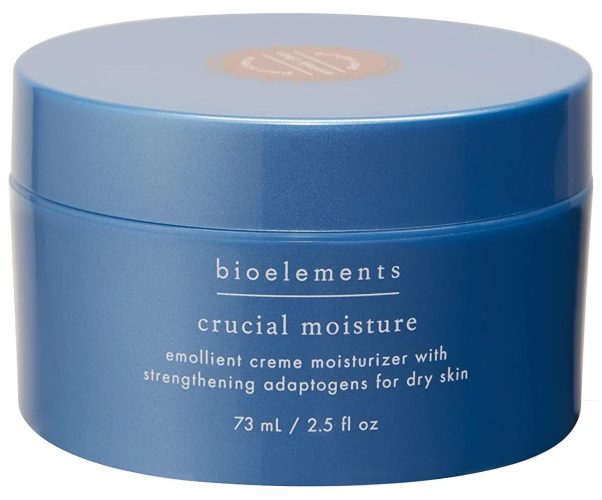 ---
6
Kate Somerville Goat Milk Moisturizing Cream
This cream is inspired by the relief Kate experienced during her childhood struggles with eczema, incorporating the ingredient that helped alleviate her condition: goat milk. There are also other soothing ingredients, such as jojoba, avocado, and vitamin E, meaning it's a heavy hitter when it comes to calming the skin. Reviewers note that they love the creamy feel and the hygienic dispenser that protects the formula from contaminants. Clinically tested, Kate Somerville Goat Milk Cream is gentle enough to use on compromised skin and even on the delicate eye area.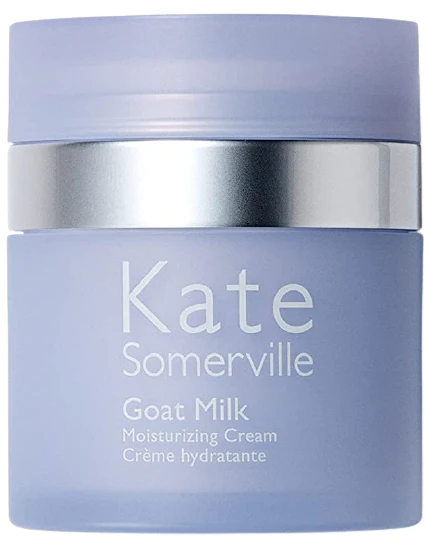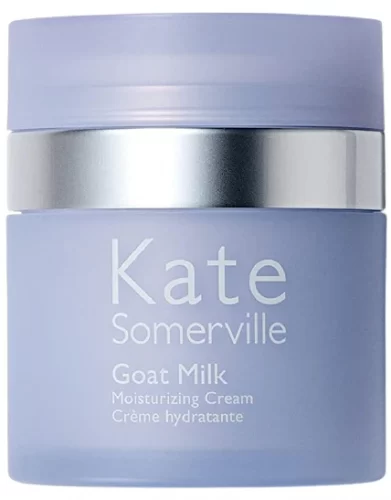 ---
7
Belif The True Cream Moisturizing Bomb
True to its name, this cream is a moisturizing bomb that floods the skin with intense hydration that lasts up to 26 hours, according to the brand's clinical testing. How does it do it? It relies on humectants that draw and lock in moisture, alongside probiotics that help balance the skin's microbiome and fortify a healthy barrier for optimal water retention. Additionally, emollients are incorporated to provide moisture and a softening effect. Its cushiony consistency delivers immediate relief to dry, cracked skin without heaviness. It's equal parts soothing, calming, and hydrating—making it a three-hit wonder for eczema-prone skin.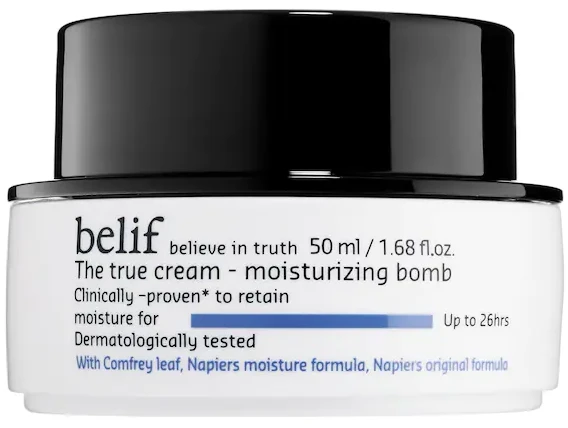 ---
8
Kiehl's Ultra Facial Moisturizing Cream
At the heart of this formula lies squalane, an emollient that closely mimics the sebum naturally produced by your sebaceous glands. People with eczema often have lower levels of this beneficial oil, making squalane a key player in providing the nourishment and hydration their skin needs. Another key compound here is a glacial glycoprotein, rich in amino acids that are essential building blocks for healthy skin and have the role of reinforcing the moisture barrier and soothing irritation.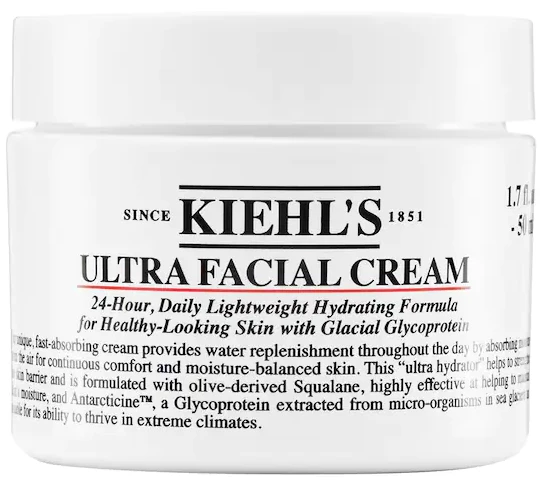 ---
9
First Aid Beauty Ultra Repair Cream
First Aid Beauty Ultra Repair Cream is the perfect antidote for sensitive, eczema-prone skin in need of a hydration boost. It has a gentle formula that gives instant and long-term relief. The star ingredients are colloidal oatmeal, shea butter, and squalane, all known emollients that attack flare-ups from all angles. Despite how rich this whipped cream appears to be, you'll be surprised at how lightweight it feels in practice. Plus, the cream comes in an array of sizes, so you can choose what's best for your needs.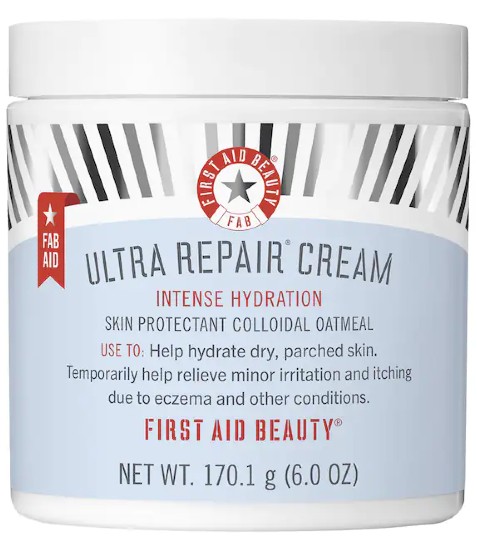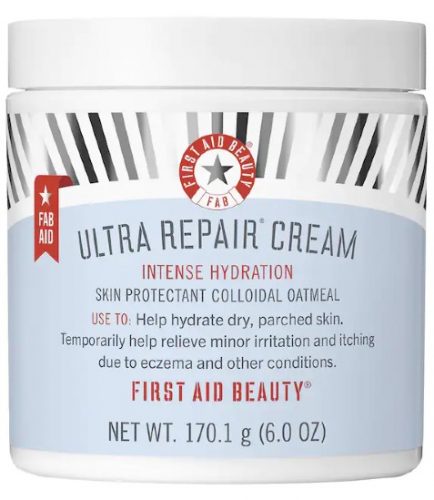 ---