Skincare routine equals zero without regular exfoliation. Dead cells build up, skin becomes rough and dull, wrinkles are more visible, and the texture is never smooth and even. But what if your skin is easily reactive to chemical peeling agents? Glycolic, mandelic, malic acids, yes, they're great, but not everyone can tolerate them.
So, whether you're a chemical peel-sensitive or you want a natural, gentle approach to exfoliation, an enzyme peel is what you should aim at. Even if they are even mild enough, enzyme peels are yet sufficiently potent to remove dead cells, diminish dark spots, help pores unclog, and reveal smoother, softer skin without the redness or irritation that often comes with acids use, especially in reactive skin.
First, a little background for the uninitiated before going into the best enzyme peels for all skin types.
What is an enzyme peel?
An enzyme peel is a product packed with fruit enzymes that aid in breaking down the bond between dead cells on the skin's surface in order to slough them off and make room for new and healthy cells to take their place. The most popular fruits used for active enzymes that can slough away dead cells are pumpkin, pineapple, papaya, and cherry.
What is the difference between an enzyme peel and a chemical peel?
Compared to chemical peels, enzyme peels dissolve away dead cells buildup on the skin's surface without penetrating it, which is what makes them gentle. This is possible because their molecules are large and can't enter the skin, unlike tiny acids molecules that quickly go beneath the surface of the skin. So unlike chemical peels that sensitive and dry skin might find difficult to tolerate, enzyme peels work great for all skin types, including dry, mature and sensitive. Moreover, enzyme peels are suitable for acne-prone skin, too, helping accelerate pimple healing and decongesting pores. 
However, many products use a mixture of fruit enzymes and acids to get a formula that works both on the top layer of the skin and within. They work great when combined, so as long as your skin can tolerate them, don't refrain from using products infused with fruit enzymes and peeling acids.
The best enzyme peels
Now that all your questions have been answered, here are the best enzyme peels that all skin types can use to get luminous, velvety skin.
---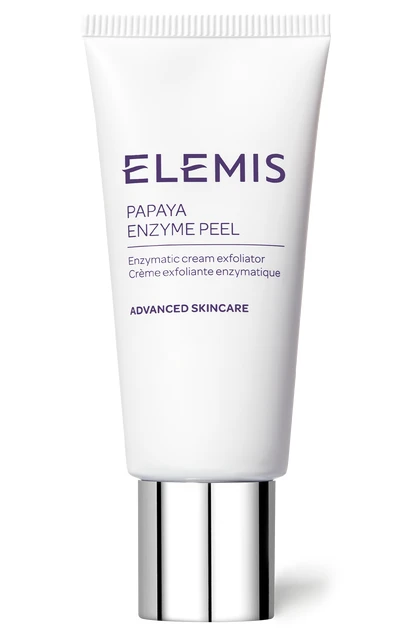 Elemis Papaya Enzyme Peel
As the best enzyme peel, Elemis Papaya Enzyme Peel has a delicate, non-abrasive formula infused with enzymes from papaya and pineapple. It has a mild cream-like texture that, once layered on the skin, gently dissolves dead cells buildup, purifying it and leaving it smooth, radiant, and soft. The niacinamide and milk proteins aim to increase skin hydration and improve moisture retention, while the mix of algae leaves skin soft and revitalized. Simply put, it's your twice-weekly spa-like experience at home.
---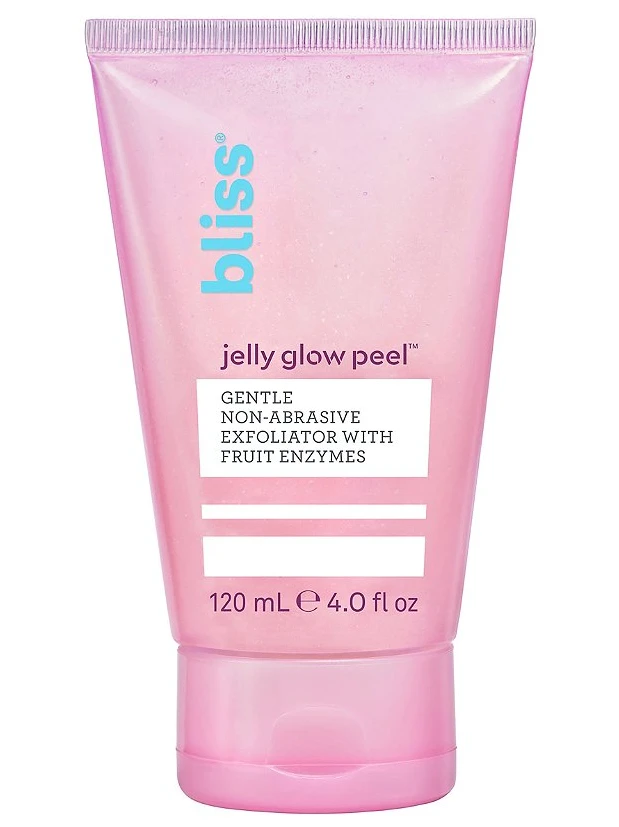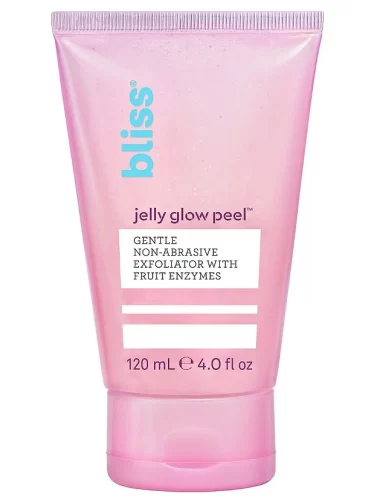 Bliss Jelly Glow Peel with Fruit Enzymes
This bouncy jelly not only rolls away dirt, flaky skin, and dead cells, but it hydrates and nourishes, leaving skin smooth and fresh as a perfect canvas for skincare and makeup. The formula packs pineapple and papaya enzymes that loosen dead cells, while niacinamide, vitamin B5, and sodium hyaluronate burst hydration to the highest levels. Thanks to the clean, gentle formula, this is an ideal enzyme peel for all skin types and ages.
---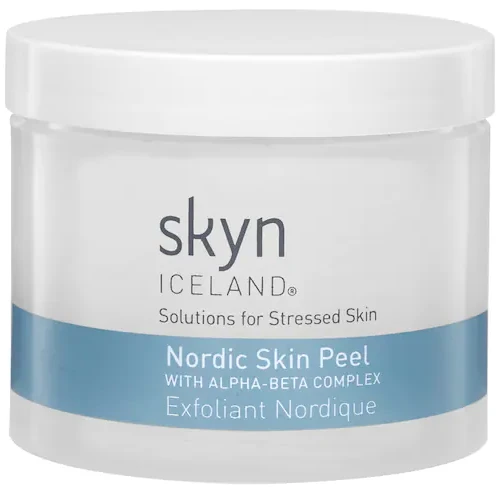 Skyn Iceland Nordic Skin Peel
Skyn Iceland Peel Pads are soaked in a juice that combines fruit enzymes with lactic acid, the gentlest alpha-hydroxy acid that also acts as a humectant, plus emollients and antioxidants. Whenever you feel your skin stressed, smooth a pad over and watch oil and impurities dissolve, and how it leaves behind bright, glowy skin. The formula is also filled with witch hazel water to help shrink pores, lactobacillus ferment to soothe, and the Icelandic complex that combines minerals, botanical oils, and molecular oxygen to energize the skin. Yep, it's that gentle enzyme peel you can use daily.
---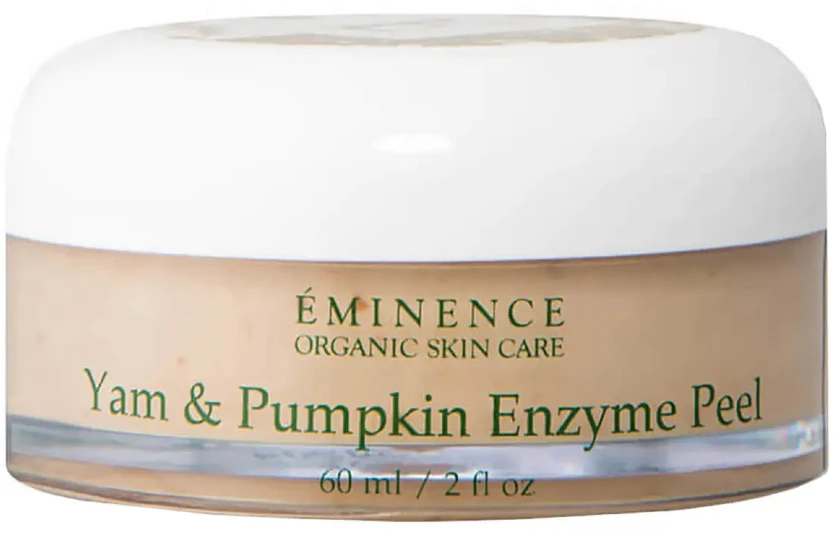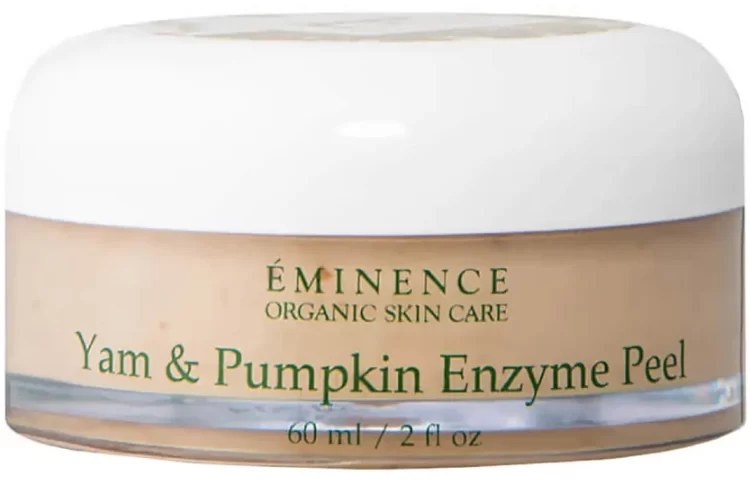 Eminence Organics Yam and Pumpkin Enzyme Peel
If you're looking for the best enzyme peel in the form of a mask, look no further. In addition to papaya and pineapple enzymes, Eminenece's enzyme peel is also boosted with glycolic and lactic acids to slough off dead cells and trigger collagen, improving skin texture. The purée of yam and pumpkin fruit leaves skin radiant, soft, and ready to absorb the rest of your skincare products all the way in. Plus, the product is vegan and natural, lacking hazardous chemicals, alcohol, or fragrances. Bi-weekly, at PM, layer this mask on your face and neck, leave for 15 minutes, and rinse, then follow with your regular skincare routine.
---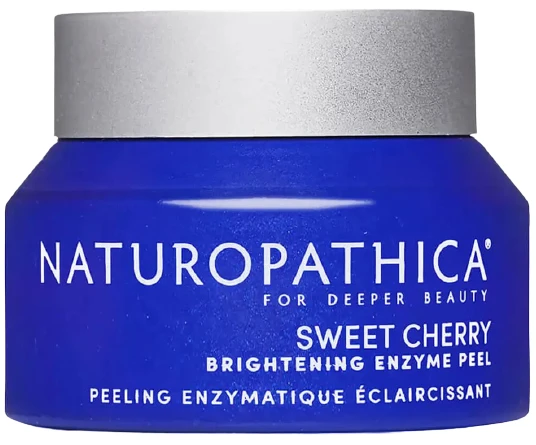 Naturopathica Sweet Cherry Brightening Enzyme Peel
This is the best enzyme peel for those who fancy nature-derived formulas that address sun-damaged skin and uneven tone. First of all, this mask is made on a sweet cherry puree base, which is super rich in antioxidants. Additionally, Naturopathica Sweet Cherry Brightening Enzyme Peel is infused with 5% lactic acid plus bromelain (pineapple enzymes) and three other AHAs, performing amazingly at diminishing dark spots and revealing luminous skin with each use.
---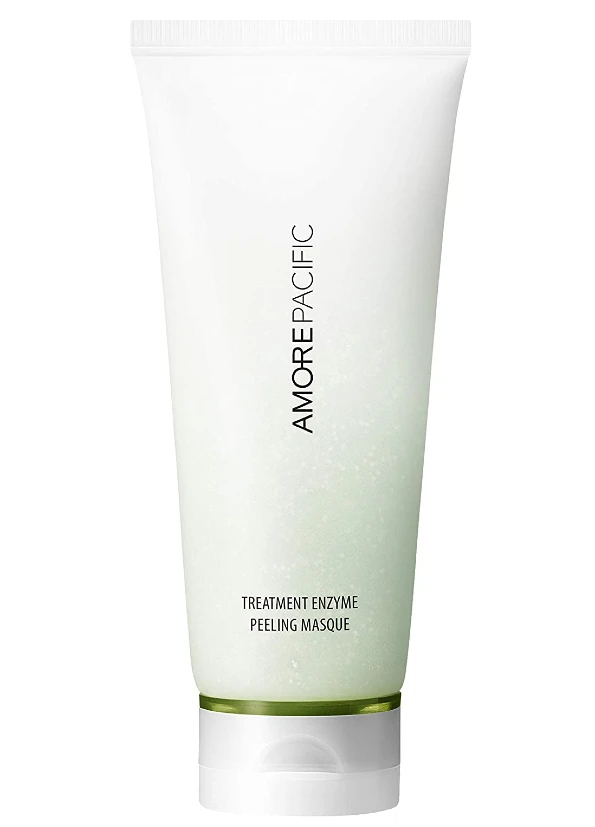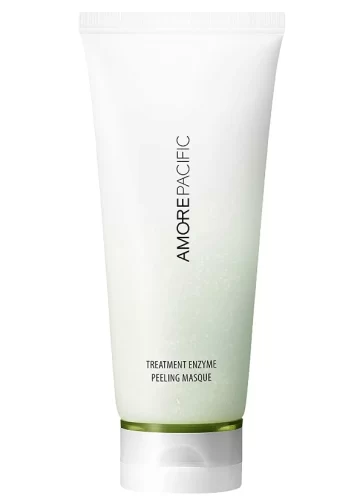 Amorepacific Treatment Enzyme Peeling Masque Gel To Cream
Twice weekly, revive your skin with Amorepacific Enzyme Peeling, a gentle yet potent enzyme peel that works as an exfoliating moisturizer in no more than 5-10 minutes. It's a gel-to-cream face mask that makes skin silkie, softer, and ready to soak in the rest of your skincare faves. In the long run, this enzyme peel promises to make dark spots less visible and soften fine lines. We like that the product contains enzymes from green tea and papaya in addition to glycolic acid to encourage cell turnover and remove dead cells from the skin's surface and in the deeper layers for dramatic results.
---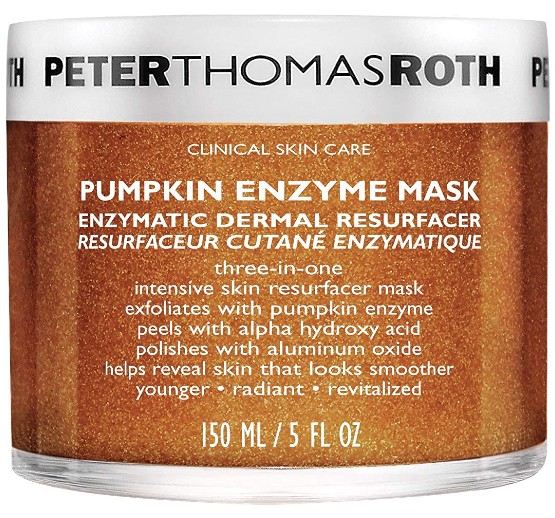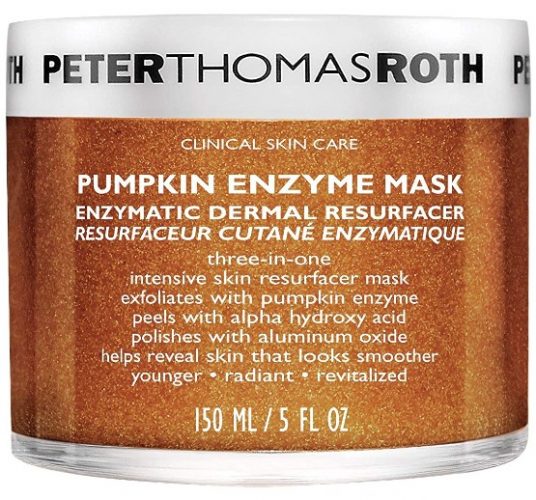 Peter Thomas Roth Pumpkin Enzyme Mask
Peter Thomas Roth Enzyme Mask is one of the best enzyme peels you can get because it uses pumpkin enzymes and AHA to reveal softer, brightener skin in as little as 7 minutes. The aluminum oxide crystals polish the skin's surface, acting as a gentle manual exfoliant, while the active form of vitamin C diminishes dark spots, helping even tone. Ideal for uneven tone, texture, wrinkles, or dullness, this is pretty much enzyme peel perfection.
---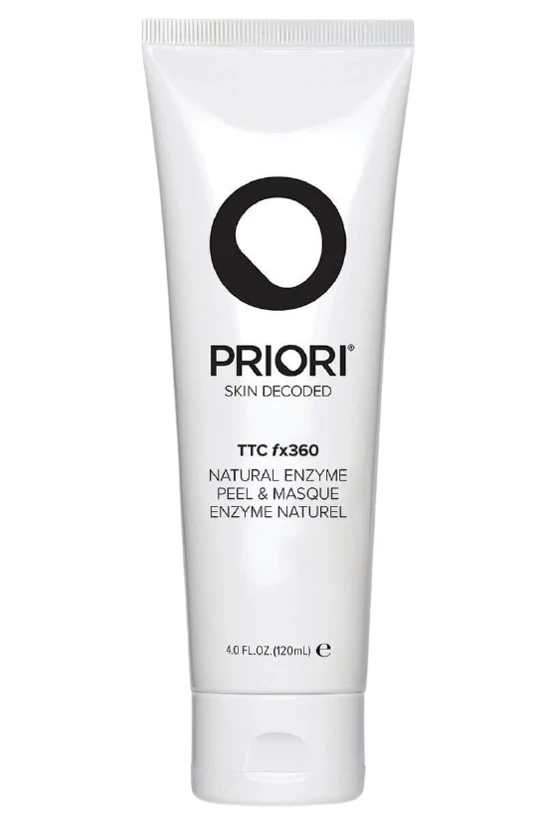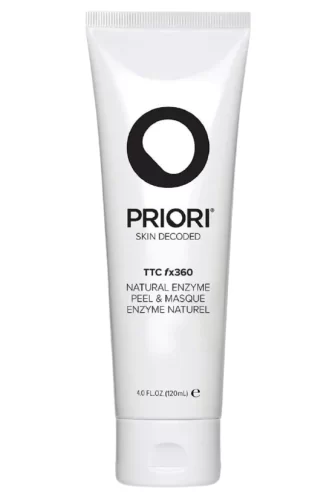 Priori Skincare Enzyme Peel & Masque
For an intensive treatment that leaves you with velvetier skin and makes it appear bright by tidying up its texture, Priori Enzyme Peel And Mask stands out. The formula is great at removing dead skin and restoring a glowy, healthy appearance while softening and buffering. Responsible are papaya and pumpkin enzymes that dissolve buildup, while the mingle of natural oils and shea butter improves moisture retention.