The skin naturally sloughs off dead cells every 28 days or so, but things like aging or heavy moisturizers can slow that process down. That's why sometimes you need a little help with exfoliating products. Without regular exfoliation, your skin can look dull, fine lines and wrinkles become more noticeable, and your tone and texture can appear uneven. Plus, your skin is more likely to break out because your pores are more likely to get clogged. Now, most people turn to glycolic, lactic, and salicylic acids to exfoliate. But what if your skin doesn't react well to chemical exfoliants? Yes, acids are great, but not everyone can tolerate them, which makes the best enzyme peels the ideal option for people who prefer a more natural and gentle approach to exfoliation.
Although they are mild, enzyme peels are potent enough to sloop away dead cell buildup, excess oil, and bacteria, leaving your skin silky soft, radiant, and ready to soak up your other favorite skincare products. Intrigued already? Scroll on to find the best enzyme exfoliators that perform amazingly for every type of skin, sensitive included. But before we go to the good bit, here's a little background for the uninitiated.
What is an enzyme peel?
An enzyme peel is a product—in the form of a mask, cream, or liquid—that uses fruit enzymes to break down the bond between dead cells on the skin's surface. This makes it easier for your skin to shed old cells and make room for fresh, healthy ones. Pumpkin, pineapple, papaya, and cherry are the most popular fruits with exfoliating properties often used in enzyme peels.
What is the difference between an enzyme peel and a chemical peel?
Both enzyme and chemical peels are exfoliating treatments that help to remove dead skin. However, compared to chemical peels, enzyme peels are a much gentler option because they only work on the surface level to remove the top layer of the skin, whereas chemical acids go into deeper layers. That's why enzyme peels are a great alternative for people with sensitive skin who find chemical peels too harsh. They also work wonders for acne-prone skin, helping to speed up pimple healing and unclog pores.
Just an FYI, some products combine fruit enzymes with chemical acids to create a formula that exfoliates multiple layers of the skin at once. If your skin can handle it, there's no need to shy away from using them.
The best enzyme face peels
Now that all your questions have been answered, here are our team's favorite picks for the best enzyme peels.
---
Peter Thomas Roth Pumpkin Enzyme Mask
The Peter Thomas Roth Enzyme Mask is the perfect product to combat signs of aging, dullness, and congested skin. It packs a triple punch with manual, chemical, and enzymatic exfoliation to really get in there and clean things up. Besides the pumpkin enzymes, this formula has alpha-hydroxy acid to dissolve the glue that holds dead cells together and aluminum oxide crystals that work as a gentle manual exfoliant to smooth out the skin texture. Because of the powerful formula, the brand recommends using it for no more than 7 minutes and only twice a week to reap its benefits without irritating your skin.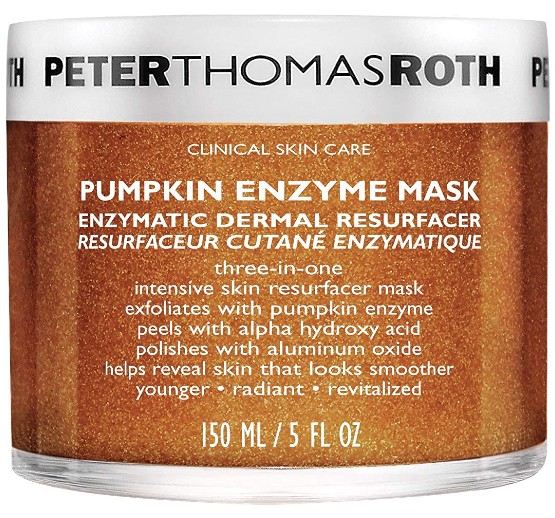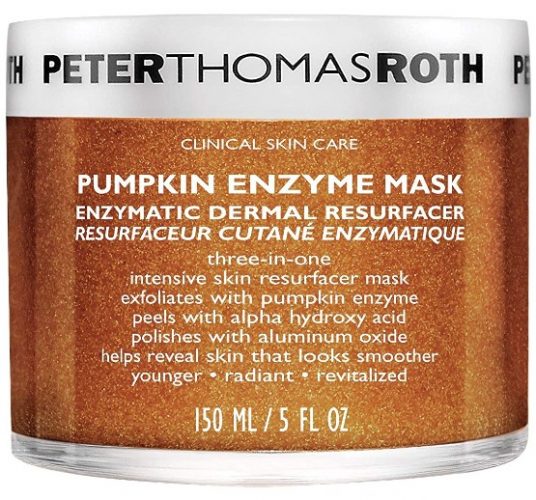 ---
Bliss Jelly Glow Peel
This bouncy jelly not only rolls away dirt, flaky skin and dead cells thanks to pineapple and papaya enzymes but also hydrates with vitamin B5 and sodium hyaluronate—two humectants that pull water from the air into the skin. With almost 4,000 five-star reviews on Amazon, this product is a real winner. It's easy to use, super effective, and won't cause irritation. Plus, it's fragrance-free and has a gentle, clean formula.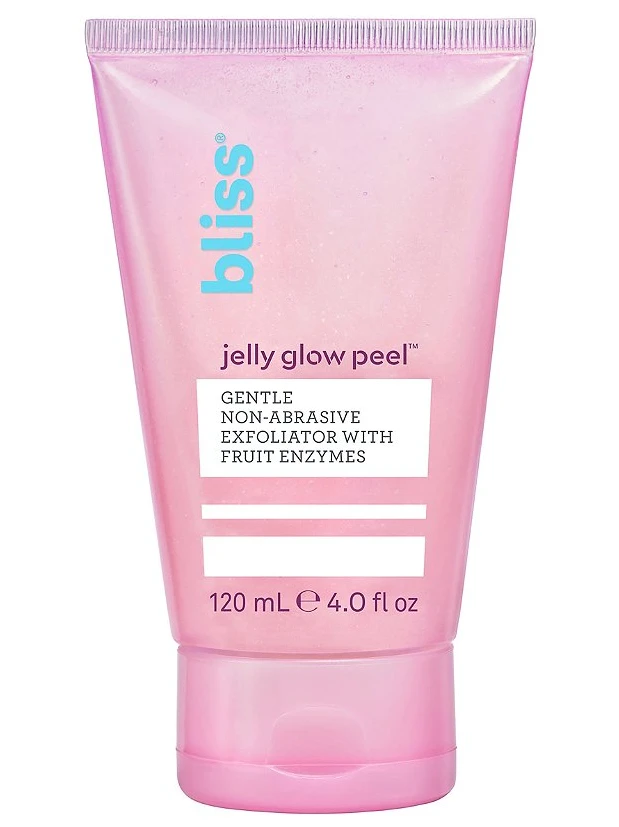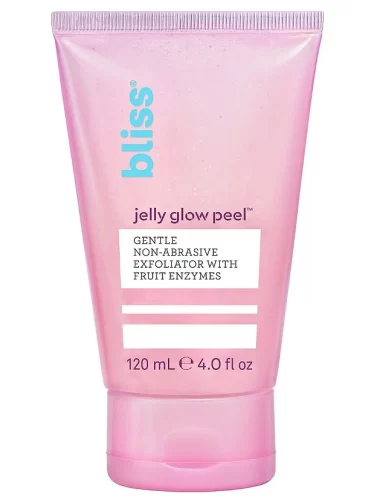 ---
Versed Doctor's Visit Instant Resurfacing Face Mask
For those who want something more potent, consider this resurfacing mask that blends a juicy complex of chemical exfoliants with enzymes to provide an instant and long-lasting glow. This mask is seriously potent, so you should only give it a try if your skin is accustomed to acid use. Sensitive skin, beware—the formula can be a bit too intense. But trust us, the results are worth it. And that tingling sensation? It's a sign that this baby is really getting to work!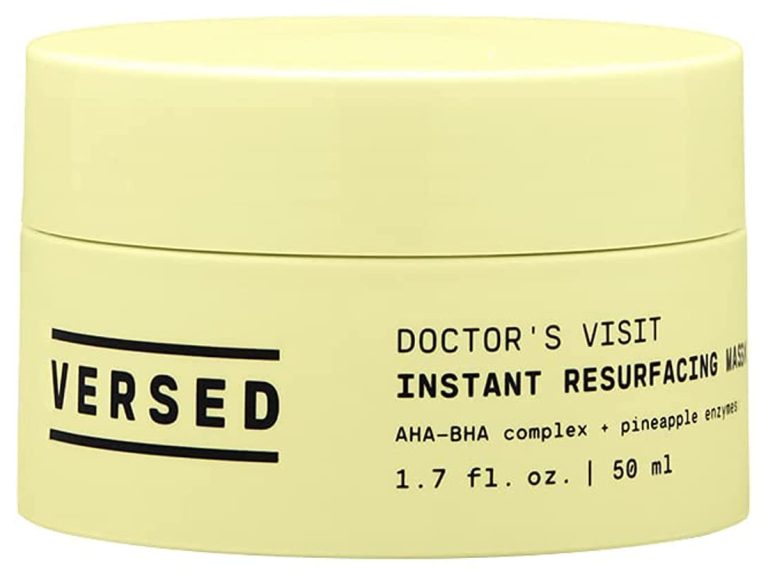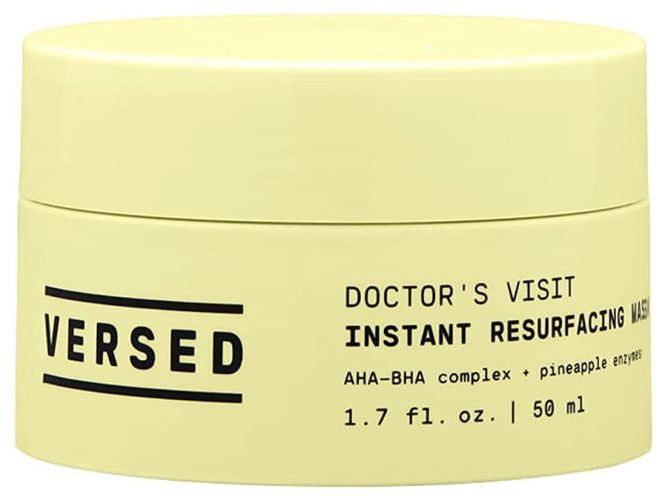 ---
Elemis Papaya Enzyme Peel
If you're on the hunt for a gentle and effective formula that can smooth your skin without harsh particles or chemical acids, then look no further. Infused with papaya and pineapple enzymes, this rinse-off exfoliator means business when it comes to lifting dead cells and purifying the skin. Since the formula is balanced with niacinamide, milk proteins, and algae extract, you don't have to worry about irritation. All you have to do is to massage onto clean skin, leave it on for 15 minutes, then rinse it off with lukewarm water. For optimal results, use this product twice a week.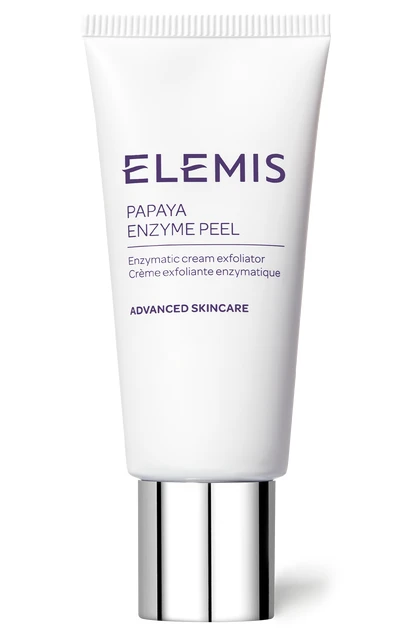 ---
Andalou Naturals Bioactive Berry Fruit Enzyme Mask
You don't need to break the bank for an effective enzyme exfoliator; this one gets the job done without costing a fortune. It leans on papaya-derived enzymes and sugar cane extract (a natural source of glycolic acid) to break down dead skin cells and reveal your best complexion. The formula also calls on a mingle of natural extracts, including a juicy cocktail of aloe and cranberry and antioxidants like CoQ10 and resveratrol. This combo nourishes and hydrates, giving you skin so smooth and healthy-looking!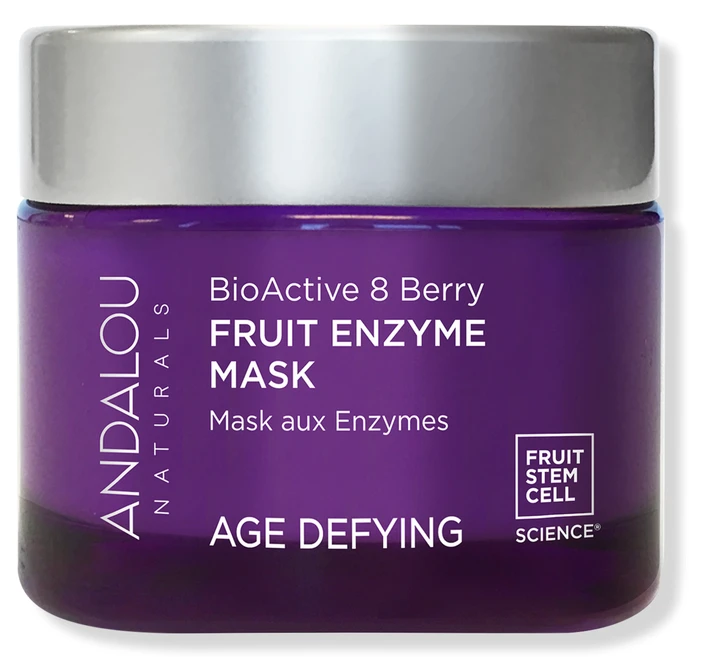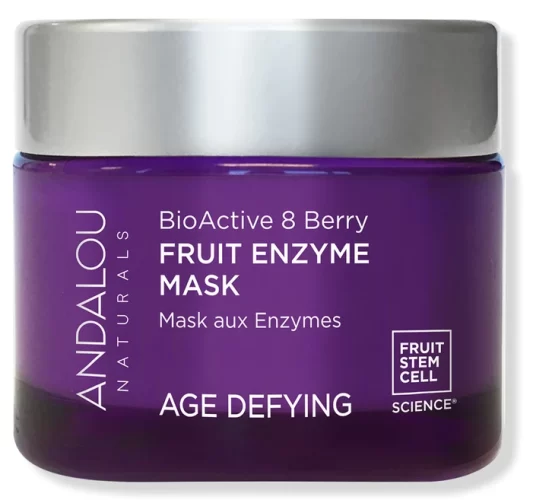 ---
Skyn Iceland Nordic Skin Peel
Skyn Iceland Peel Pads are soaked in a juice that blends papaya enzymes with lactic acid, the gentlest AHA, to capture and dissolve dead skin and dirt. The formula also includes witch hazel water to help shrink pores, probiotics to soothe the skin, and the Icelandic complex—a blend of minerals, botanical oils, and molecular oxygen—to energize the skin. Simply smooth a pad over your skin and watch it sweep away gunk and debris, revealing more luminous skin with zero redness.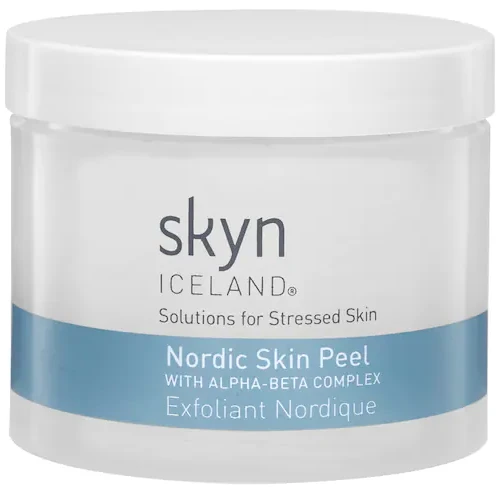 ---
Revision Skincare Papaya Enzyme Cleanser
Skincare minimalists can opt for an exfoliating cleanser to combine two essential steps in one. Enter this pick, a formula we consider a top choice for acne-prone skin because, in addition to papaya enzymes, it features salicylic acid—an oil-soluble exfoliant that penetrates the skin's fat layers to reach the pores and unclog them. This powerful BHA removes gunk and bacteria trapped inside the pores, helping prevent pimples from forming. As a result, the skin is left clear and radiant, and no moisture is lost during the washing process. The one minor con? It's a bit of a challenge to control the amount of product that comes out of the dispenser when you push the bottle.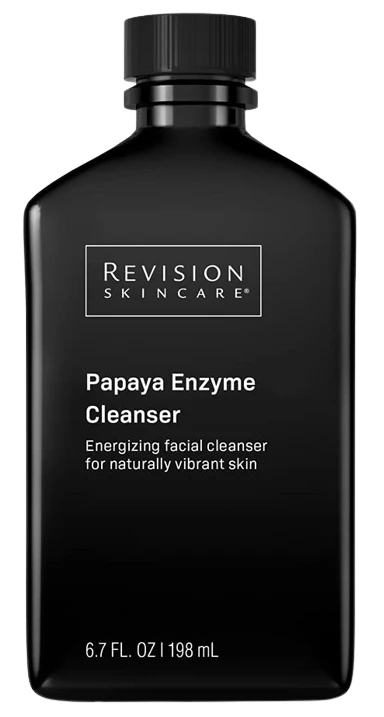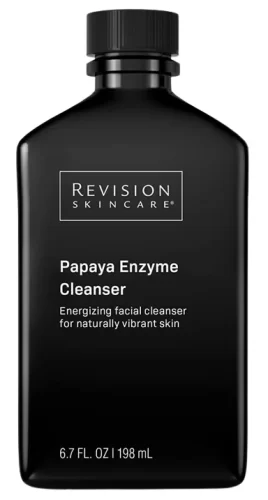 ---
Herbivore Blue Tansy Resurfacing Clarity Mask
This mask was made with oily and pimple-prone skin in mind, which is why it's packed with exfoliating fruit enzymes and willow bark extract. The latter is a natural source of salicylic acid and a rich source of tannins, which are natural astringents that make the pores appear smaller and reduce oiliness and breakouts. Another key ingredient in this skin-clearing mask is blue tansy oil (hence the color), added to the mix for the sole purpose of soothing redness and irritation. Plus, the gel texture makes it a joy to use, and a little goes a very long way.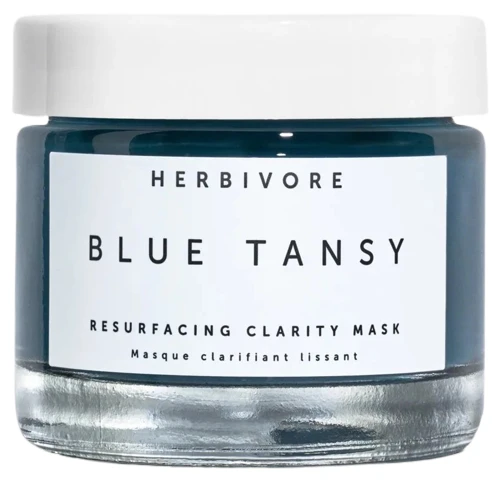 ---
Image Skincare Vital C Hydrating Enzyme Masque
A combination of enzymes from pineapple and papaya do the hard work in this formula, dissolving dead cells from the skin's surface in as little as 20 minutes. But what we love is the addition of two stable forms of vitamin C that work to fade the look of dark spots and leave you with a lit-from-within glow. The formula has been made to meet the brand's high standard of clean clinical skincare, so they left out any parabens, fragrances, mineral oils, or synthetic dyes, which it's why we consider it the ultimate enzyme mask for people with sensitive skin.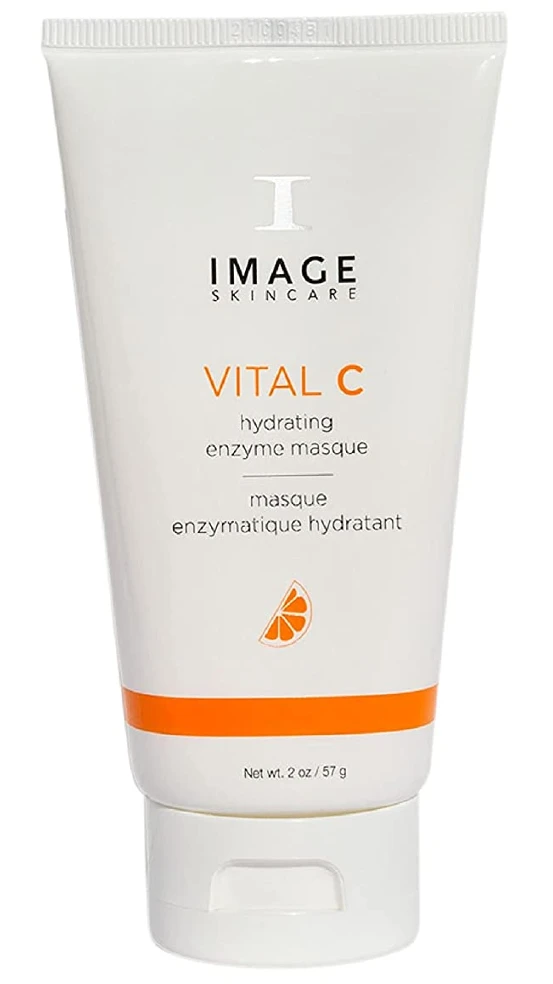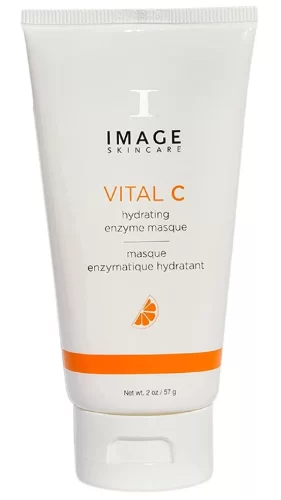 ---
Naturopathica Sweet Cherry Brightening Enzyme Peel
There are many things we like about this peel. For one, it's as gentle as you can use it daily and has a natural formula that smells like cherry pie and looks like jam. Two, it delivers a combination of fruit enzymes and chemical acids, including 5% lactic acid, plus tartaric, mandelic, and malic acids to boost glow and eliminate dullness and discoloration. And three, all the ingredients in this formula are sustainable and responsibly sourced, the packaging is recyclable, and the brand is proudly certified by Leaping Bunny, so they never test on animals.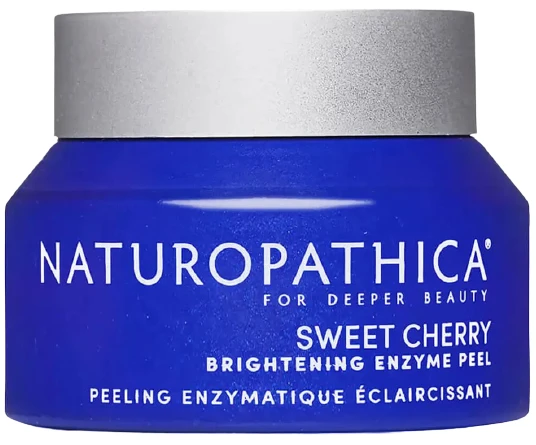 ---
Ongaro Beauty Exfoliating Face Wash
We absolutely love this cleanser. While it effectively washes away makeup and impurities, a mix of enzymes slough off the buildup of dead cells and bacteria, resulting in clear and purified skin. As a bonus, this formula is loaded with moisturizing probiotics and peptides, and it's completely sulfate-free, so it never leaves your skin feeling stripped or tight. P.S.: To help the enzymes work effectively, leave the cleanser on your face for about one minute and rinse it off once the gel has liquefied.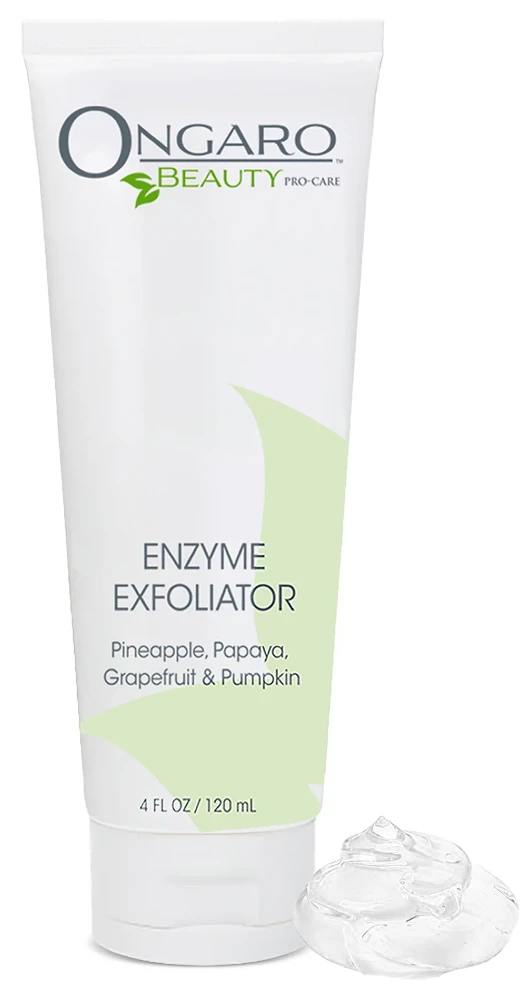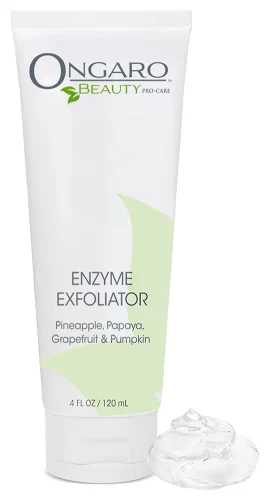 ---
Tata Harper Resurfacing BHA Glow Mask
Want an all-natural option? This peel mask has got you covered with salicylic acid from white willow bark and pomegranate enzymes, meant to sop up sebum, refine pores and soften the skin with each use. And to top it off, there's pink clay that absorbs excess oil and purifies the skin for even more clarifying benefits. Sure, the mask is seriously powerful on its own, but it also packs a punch of skin-calming probiotics to help balance things out.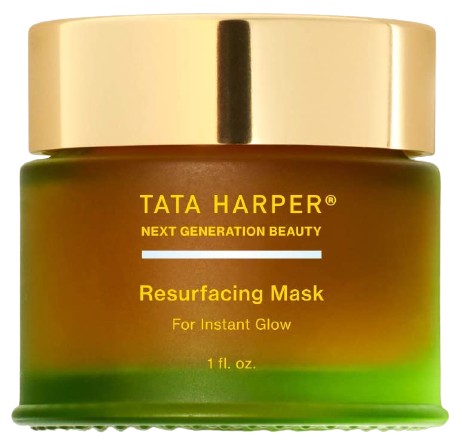 ---
The verdict
To compile this list, we spent hours researching the best enzyme peels in the market and evaluated their key features—ingredients, texture, and what reviewers say. We've carefully selected a range of formulas that address various skin concerns so that anyone can find the perfect match for their needs. Our best overall pick is Bliss Jelly Glow Peel because it's gentle enough for daily use but still delivers powerful exfoliation, has a clean formula safe for sensitive skin, and it's affordable.