The skincare routine equals zero without regular exfoliation. Dead cells build up, skin becomes rough and dull, wrinkles and dark spots are more noticeable, and the texture is never smooth if you don't exfoliate. But what if your skin reacts negatively to chemical exfoliants? Yes, alpha-hydroxy acids are great, but not everyone can tolerate them, which makes the best enzyme peels the ideal option for people who prefer a more natural and gentle approach to exfoliation. Although they are mild, enzyme peels are potent enough to remove dead cells, diminish dark spots, unclog pores, and reveal smoother, softer skin without redness or irritation. For this reason, they're the perfect choice for people with sensitive and problematic skin, but everyone can use them.
Before we go to the good bit, here's a little background for the uninitiated.
What is an enzyme peel?
An enzyme peel is a product that uses fruit enzymes to break down the bond between dead cells on the skin's surface. This makes the old cells slough off more easily and makes room for new and healthy cells to take their place. Pumpkin, pineapple, papaya, and cherry are the most popular fruits with exfoliating properties used in enzyme peels.
What is the difference between an enzyme peel and a chemical peel?
Compared to chemical peels, enzyme peels dissolve away dead cells buildup on the skin's surface without penetrating the epidermis, which is what makes them gentler. This is possible because the molecules of fruit enzymes are large and can't enter the skin, unlike tiny acid molecules that quickly go beneath the skin's surface. So unlike chemical peels that sensitive and dry skin might find difficult to tolerate, enzyme peels work great for everyone, including those with dry, mature, and sensitive skin. Moreover, enzyme peels are suitable for acne-prone skin, too, helping accelerate pimple healing and decongesting pores.
FYI, there are products that use a mixture of fruit enzymes and chemical acids to get a formula that works both on the top layer of the skin and within. So as long as your skin can tolerate them, don't refrain from using products that contain both fruit enzymes and chemical acids such as glycolic and lactic.
The best enzyme face peels
Now that all your questions have been answered, here are the best enzyme peels that all skin types can use to get a luminous, velvety complexion.
---
Peter Thomas Roth Pumpkin Enzyme Mask
Peter Thomas Roth Enzyme Mask is an ideal product to address aging signs, dullness, and congested skin because it uses manual, chemical, and enzymatic exfoliation. In addition to pumpkin enzymes, the formula packs AHA to dissolve the glue that holds dead cells stuck together and aluminum oxide crystals that act like a gentle manual exfoliant to polish the skin's surface. The result? Radiant and revitalized skin, smoother texture, and less noticeable dark spots and fine lines over time.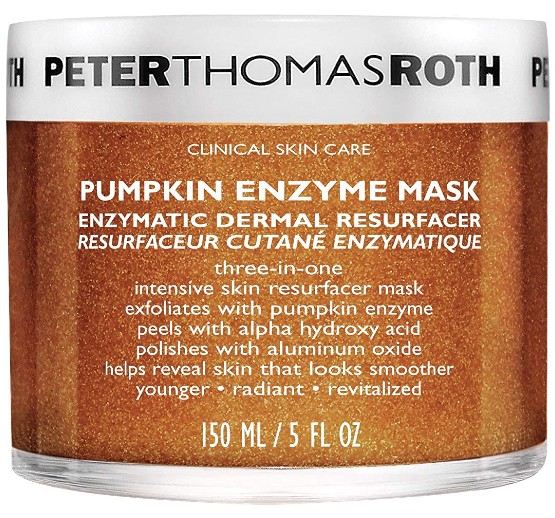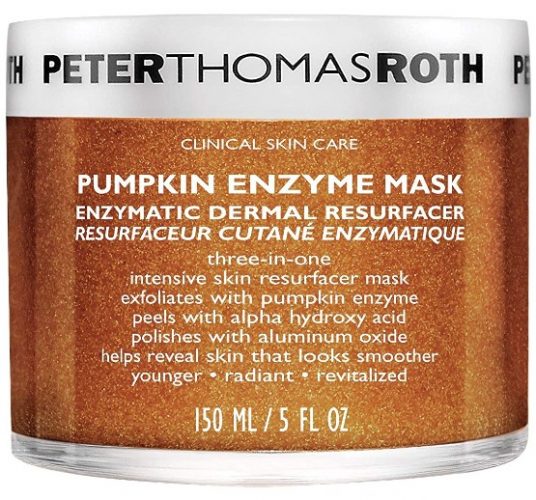 ---
Bliss Jelly Glow Peel With Fruit Enzymes
This bouncy jelly not only rolls away dirt, flaky skin, and dead cells thanks to pineapple and papaya enzymes but also hydrates and nourishes with vitamin B5 and sodium hyaluronate — two humectants that pull water from the air into the skin. It has close to 4,000 five-star reviews on Amazon, which claim it's easy to use, effective, and not irritating. Fragrance-free, with a gentle and clean formula, this is definitely one of the best picks for those who want an effective product without breaking the bank.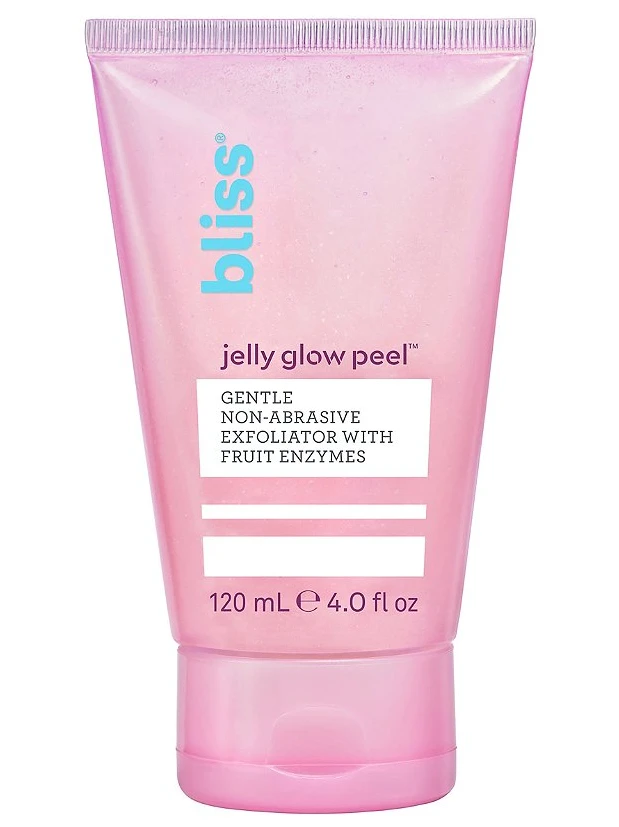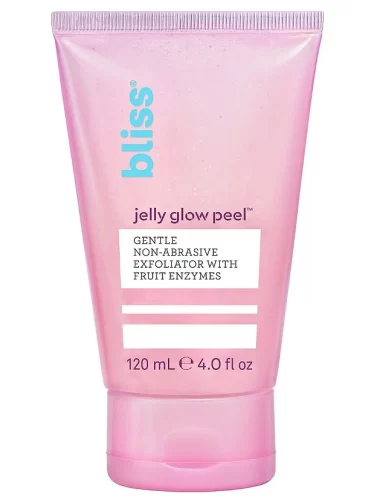 ---
Elemis Papaya Enzyme Peel
A team Women's Concepts fan favorite, this earns big points for its delicate yet effective formula loaded with enzymes from papaya and pineapple. It has a mild cream-like texture that gently dissolves dead cells once layered on the skin, purifying it and leaving it smooth and radiant after just one use. The niacinamide and milk proteins aim to counteract dryness, while the red algae extract ensures skin is left soft and moist. Simply put, it's your twice-weekly spa-like experience at home.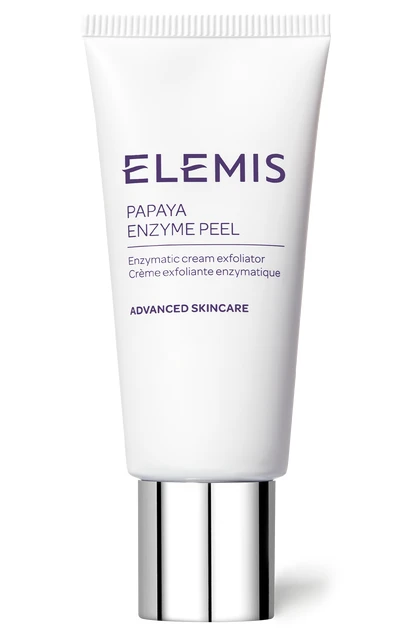 ---
Image Skincare Vital C Hydrating Enzyme Masque
If you struggle with uneven tone, sun-damaged skin, and dullness, this is the best enzyme peel for you. It packs pineapple and papaya fruit enzymes to exfoliate pigmented cells and two forms of vitamin C to inhibit the pigment that causes dark spots. The result is more even-toned and brighter skin. Bonus: The mask has a base of aloe vera juice, which will leave your skin more hydrated and soothed. You just have to slather it all over your cleansed face, let it act for 10-30 minutes, and rinse with lukewarm water—enjoy radiant, clearer skin with each use.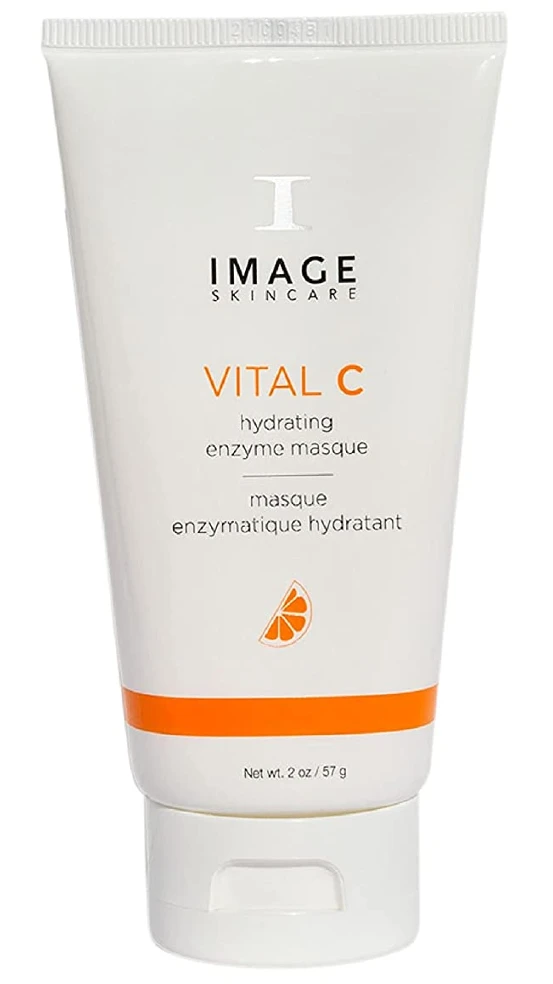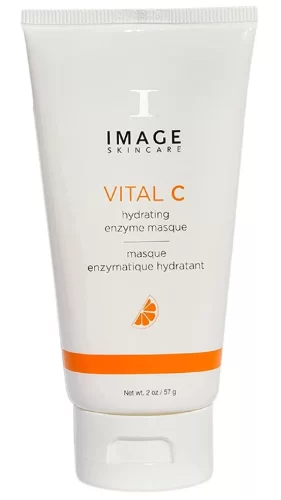 ---
Skyn Iceland Nordic Skin Peel
Skyn Iceland Peel Pads are soaked in a juice that combines papaya enzymes with lactic acid (the gentlest AHA) to capture and dissolve dead skin and dirt. There's also witch hazel water to help shrink pores, probiotics to soothe, and the Icelandic complex that combines minerals, botanical oils, and molecular oxygen to energize the skin. Smooth a pad over the skin and watch how it sweeps up gunk and debris and reveals more luminous skin with zero irritation.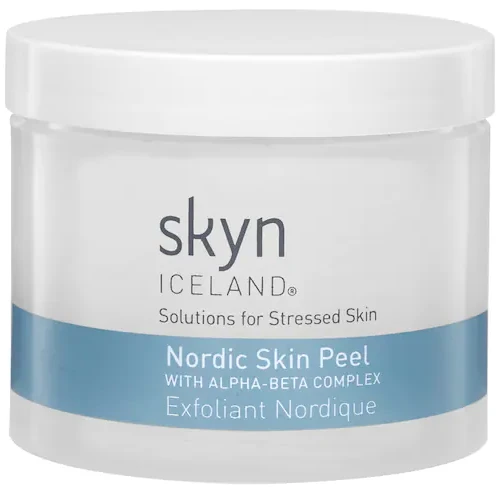 ---
Revision Skincare Papaya Enzyme Cleanser
This enzyme peel cleansing formula is one of the best choices for acne-prone skin because, in addition to papaya enzymes, it features salicylic acid. This BHA is an oil-soluble exfoliant that can penetrate the skin fat layers to reach the pores and unclog them. As such, it removes gunk and bacteria trapped inside the pores, helping prevent pimples. Even though it contains sulfates, it doesn't strip the moisture (reviewers attest to it), and it's suitable even for sensitive skin.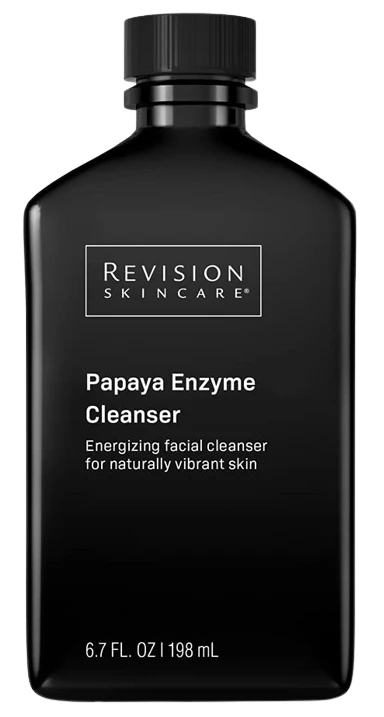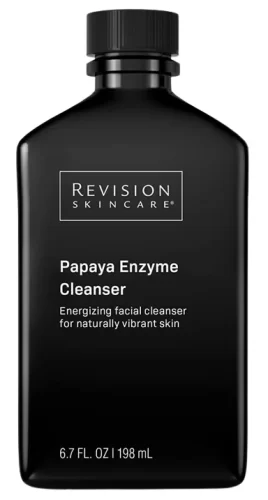 ---
Eminence Organics Yam and Pumpkin Enzyme Peel
In addition to papaya and pineapple, this enzyme peel is also boosted with glycolic and lactic acids to sloop off dead cell buildup and trigger collagen. The purée of yam and pumpkin fruit leaves skin radiant, soft, and ready to absorb the rest of your skincare products all the way in. Plus, the product is vegan and natural, sans hazardous chemicals, alcohol, or fragrances. Bi-weekly, at PM, layer this mask on your face and neck, leave for 15 minutes, rinse, and then follow your regular skincare routine.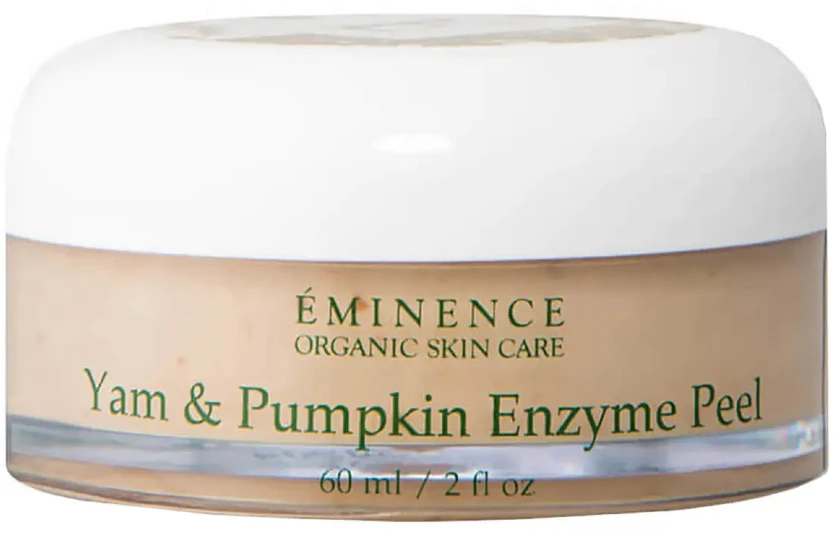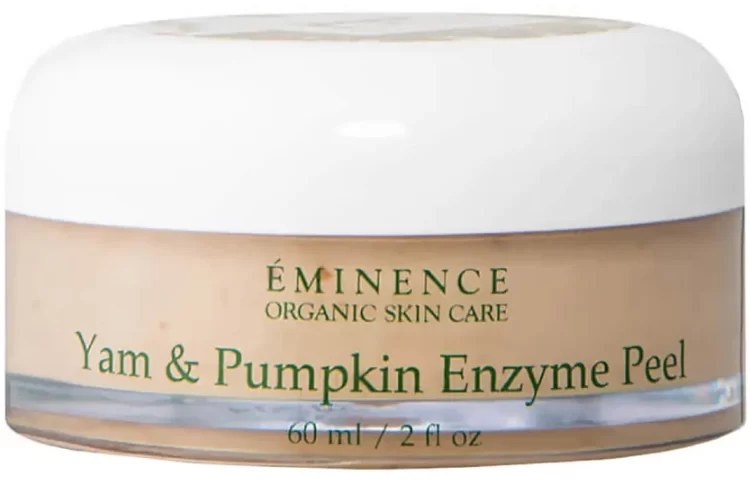 ---
Naturopathica Sweet Cherry Brightening Enzyme Peel
This is a great enzyme peel for those who fancy nature-derived formulas and want to address sun-damaged skin and uneven tone. First, this mask is made on a sweet cherry puree base, which is super rich in antioxidants. Additionally, the formula is infused with 5% lactic acid plus bromelain (pineapple enzymes) and three other AHAs, performing amazingly at diminishing dark spots and revealing glowing skin with each use.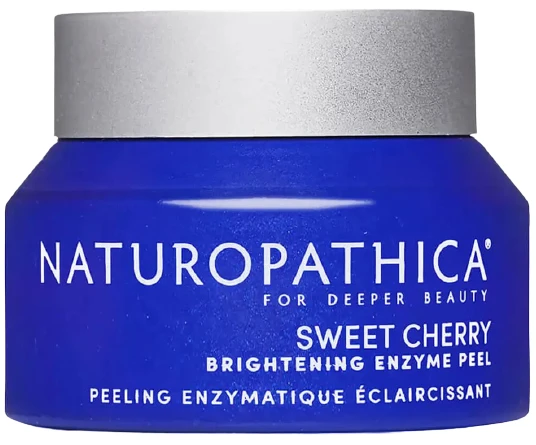 ---
Ongaro Beauty Exfoliating Face Wash
A lot of people love this formula, and it's easy to see why. It's made on a soothing aloe vera gel base and uses enzymes from pineapple, grapefruit, pumpkin, and papaya to digest dead skin and reveal a supple and fresh complexion without dryness. It also contains probiotics and peptides to leave skin soothed and not parched. And it's easy and fun to use: Apply a light coat on dry skin and allow it to sit for one minute before gently massaging in circular motions to effectively remove dead skin cells.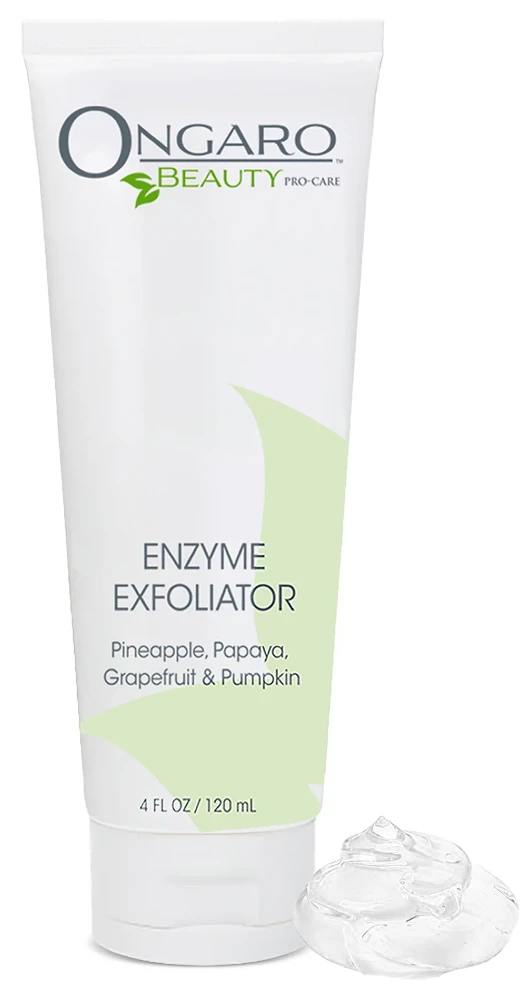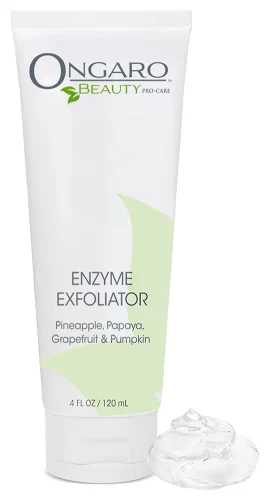 ---
The verdict
Our best overall pick is Bliss Jelly Glow Peel With Fruit Enzymes because it's gentle enough for daily use but still delivers powerful exfoliation, has a clean formula safe for sensitive skin, and it's affordable. To compile this list, we spent hours researching the best-rated enzyme peels in the market and evaluated their key features—ingredients, texture, and what reviewers say. We carefully selected a range of formulas to cater to every skin type and address various skin concerns so that anyone can find the perfect match for their needs.