A bunch of ingredients can target more skin concerns at once, but nothing holds a candle to niacinamide when it comes to delivering multi-duty benefits without compromises. Are you fighting dark spots? Or perhaps fine lines, wrinkles, large pores, or dry and irritated skin? No sweat, niacinamide can fix everything in no time without messing up with the skin's pH or affecting the protective barrier. With such versatility, it's no wonder niacinamide is one of the most in-demand (and under-the-radar) ingredients in the beauty scene. Here, a deeper look at the benefits of niacinamide in skincare.
What is niacinamide?
Niacinamide (or nicotinamide) is the active form of vitamin B3 used by the body to turn nutrients into energy and support cell repair.[1][2] Notably, niacinamide is an essential vitamin, meaning the body can't produce it on its own, and you should get it from foods (like meat, fish, milk, and eggs), supplements, or topical products.
So what niacinamide does is basically make sure every cell in the body has enough energy to fulfill its role. Niacinamide is also a major player in skin health since it provides antioxidant protection, builds proteins (e.g., keratin and collagen) and lipids (e.g., ceramides), and strengthens the skin's moisture barrier. Even more good news: niacinamide is very stable in most skincare formulations and has an almost neutral pH value, so it's unlikely to cause irritation or disrupt the skin's natural pH. Are you still with us? Great, because now we'll explain how niacinamide improves the skin down to the last detail. Buckle up because there's quite a lot to unpack here.
What niacinamide does
Boosts NAD
Niacinamide is a component of the coenzyme nicotinamide adenine dinucleotide (NAD), which is one of the most important enzymes in the body responsible for hundreds of metabolism processes, including sustaining cellular energy production and repairing DNA.[1] By helping build NAD, niacinamide further supports cell restoration, reduces cellular damage, and encourages new collagen formation.
Increases antioxidant protection
Niacinamide is a powerful antioxidant that scavenges free radicals and protects cells from oxidative stress — a major culprit that weakens the tissues and accelerates the photoaging process.[3] By extension to its antioxidant effects, niacinamide mitigates the degradation of lipids and proteins caused by external damage.
Restores and strengthens the barrier
One of the most notable skincare benefits of niacinamide is that it increases the skin's resistance to external aggressors and hinders transepidermal water loss. Niacinamide does that by promoting the production of ceramides and other lipids (fatty acids and cholesterol) known to play a major role in the formation of the skin's protective barrier.[4] By strengthening the barrier, niacinamide helps skin retain moisture and protect it from anything that gets in touch with it. Everything about your skin is better when the epidermal lipid barrier is functioning at its peak, which is why niacinamide is a must-have ingredient in your routine.
Hydrates
Dehydration can lead to countless skin concerns, from excess sebum to more visible wrinkles and a weakened barrier. But niacinamide keeps skin hydrated by hindering water loss, making it a great candidate for dry and dehydrated complexions. This boon is related to niacinamide's ability to restore the moisture barrier, which has the role of blocking water evaporation. In one study, a cream containing 2% niacinamide showed significant moisturizing effects and was found to be more effective than petrolatum jelly — one of the best occlusives.[5]
Fades discoloration
Niacinamide can be all you need to reduce hyperpigmentation and achieve a perfectly even tone. Although it does not directly inhibit melanin (skin-darkening pigment), niacinamide lightens skin by blocking the transfer of melanin into cells, reducing discoloration over time.[2]
Diminishes fine lines and wrinkles
Besides acting as an antioxidant that protects skin proteins, niacinamide can minimize fine lines and wrinkles and enhance firmness by increasing collagen and elastin production. Researchers suggest that in concentrations of 5%, niacinamide can improve aged skin in as little as 12 weeks.[6]
Reduces acne
The fact that niacinamide has anti-inflammatory properties and regulates sebum secretion is some welcome good news for those struggling with acne and oily skin. In a study, 82% of people treated with topical niacinamide have experienced less pimpless and a more balanced complexion after eight weeks of twice-daily use.[7]
Shrinks large pores
If you have large pores, niacinamide should be on your radar too. It turns out niacinamide can shrink pores look by decreasing sebum levels and improving texture.[8] By doing so, niacinamide prevents excess sebum from clogging the pores. At the same time, it tightens the skin around the pores to make them appear smaller.
Who should use niacinamide?
Thanks to its ability to juggle multiple skincare concerns without compromising the integrity of the skin, everyone can use niacinamide. If you have sensitive skin, niacinamide can help reinforce the barrier and soothe inflammation and redness. For dehydrated skin, niacinamide is great as it reduces water loss. Oily complexions will enjoy the sebum-controlling benefits, while the collagen-boosting effects will do great for aged skin.
Is niacinamide safe?
Overall, niacinamide is a safe ingredient that doesn't pose any major risk of side effects. However, there's still a chance it can cause mild adverse effects on the skin, such as burning, itching, redness, and tingling. But this only occurs when niacinamide is used in high concentrations, like 20%.[2] So it's recommended to perform a patch test to see how your complexion reacts to the niacinamide product before going all in.
Oral vs. topical niacinamide
As far as skincare is concerned, the topical application of niacinamide takes the upper hand since it has been more researched in the dermatology field. Topical niacinamide increases moisture, repairs and protects the skin, reduces aging signs, and diminishes acne and hyperpigmentation. On the other hand, oral niacinamide is mostly used to treat niacin deficiencies, but it can also support DNA repair and boost cell energy production.
Niacinimide vs. niacin (nicotinic acid)
A common misconception people have about niacinamide is that they assume it is the same as niacin. While both fall under the umbrella of vitamin B3, niacinamide and niacin (or nicotinic acid) aren't the same. Niacin is the acid form of vitamin B3, while niacinamide is the alkaline form. The body converts niacin into niacinamide, but not vice-versa.
How to use niacinamide?
The beauty of niacinamide stays in its versatility since it can easily fit into any skincare routine. Ideally, use a serum with niacinamide on cleansed skin every morning, then apply moisturizer to lock the hydration in and finish with sunscreen for sun protection. Most studies used topical products with 2% to 10% niacinamide, so you should look for something within that range. More potent formulas (15-20%) are also available, but they might cause irritation in sensitive skin. Even with niacinamide, it's best to go slow and raise the concentration gradually.
Can I use niacinamide around the eye area?
Niacinamide can be used on the eye area, and it's often found in eye creams and serums targeting dark circles, puffiness, and crow's feet.
What can you pair niacinamide with
Niacinamide can be used with every ingredient in skincare, including the most notorious ones, retinol, vitamin C, AHAs, and BHAs. It's actually perfect for soothing the skin and easing irritation associated with these powerful actives. For instance, niacinamide with lactic acid does wonders for resurfacing dull skin, while salicylic acid with niacinamide is great for battling acne. Finally, niacinamide with retinol is the best-in-class combo that can fight all skin concerns out there, from hyperpigmentation to acne and wrinkles. Our skincare dictionary is a great place to keep an eye on all skincare ingredients and learn how you can mix them for dramatic results.
How to find the right niacinamide product for you
Finding the right niacinamide product for you is all about considering your type of complexion and if you have any issues to fix. Since niacinamide is found in all sorts of formulas targeting every possible skin concern, from fine lines and wrinkles to dark spots and large pores, you have to pick one that addresses your specific skin needs. Look out for other actives in the formula and be diligent when you plan your next skincare purchases. To help you sort out the vast market, our team handpicked some of the best niacinamide products that no one can't go wrong with:
---
1
This water-based serum is perfect for oily and acne-prone skin types (but not only) since it's made with 10% niacinamide and 1% zinc. This formula reduces blemishes, fights congestion, and smooths the complexion, being an all-around multitasker that costs only $6.50.


---
2
Retinol and niacinamide make a great pair that support aging, and this moisturizer has them both. While two forms of retinol renew the skin to reduce wrinkles look and restore firmness, an improved form of niacinamide (NIA-114™) reinforces the barrier to offset possible dryness. The formula is gentle enough for nightly use.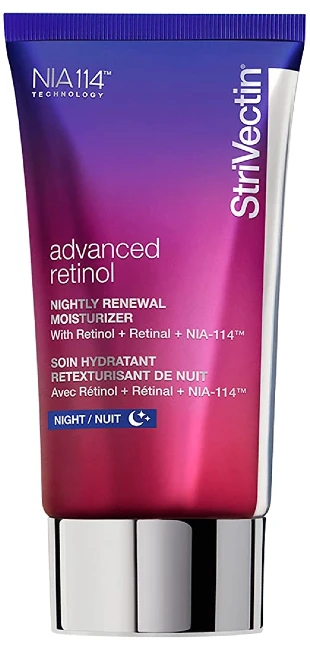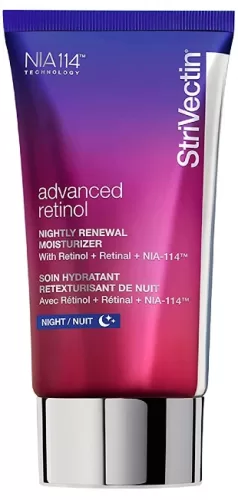 ---
3
This treatment performs incredibly well when it comes to uneven tone, discoloration, post-acne marks, and sun-damaged skin. It's made with a 15% brightening complex, including niacinamide, tranexamic acid, and alpha-arbutin, addressing even the most stubborn dark patches.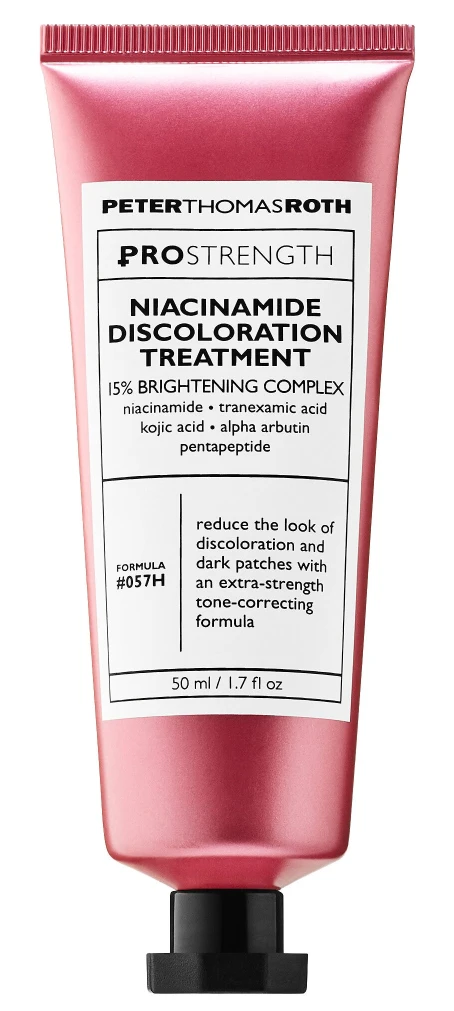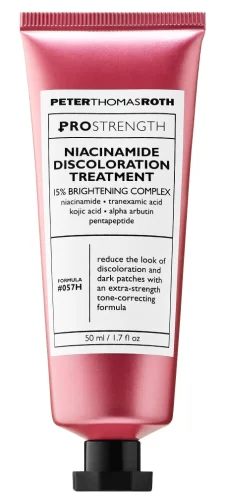 ---
4
If you struggle with a damaged barrier, consider this moisturizer. Not only it's made with soothing niacinamide, but a slew of ceramides and cholesterol work hard to restore the skin and increase moisture retention. In turn, the complexion becomes more resilient, the barrier is fortified, and it's less likely to get parched skin with continued use. The formula is gentle, free of fragrance, and non-comedogenic.


---
5
Paula's Choice Niacinamide Booster is ideal if you're dealing with uneven tone or large pores. Since it loads 10% niacinamide, vitamin C, EGCG, and sodium hyaluronate, it does a hell of a job at brightening, protecting, and smoothing.


---
6
Cos De Baha Niacinamide Serum
This serum tackles acne and anything that comes with it, including excess sebum and post-acne marks, with 10% niacinamide and 1% zinc, along with humectants like aloe leaf, glycerin, and sodium hyaluronate. Most people rave about its silky texture that layers easily and absorbs quickly without leaving an oily or tacky feeling. And we give it extra credit for being free of fragrance, alcohol, and oil.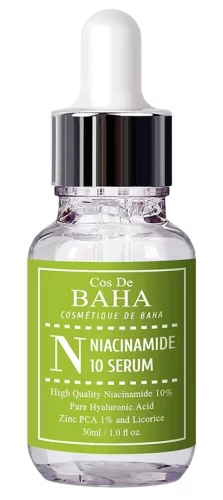 ---
7
This toner addresses people with large pores that need to get rid of excess oil, dirt, and dead cells with just a swipe. The formula loads sebum-balancing niacinamide and mushroom extract, both having a key role in regulating oil and shrinking pores look. There's also a blend of antioxidants to strengthen the skin's defense against harmful free radical molecules.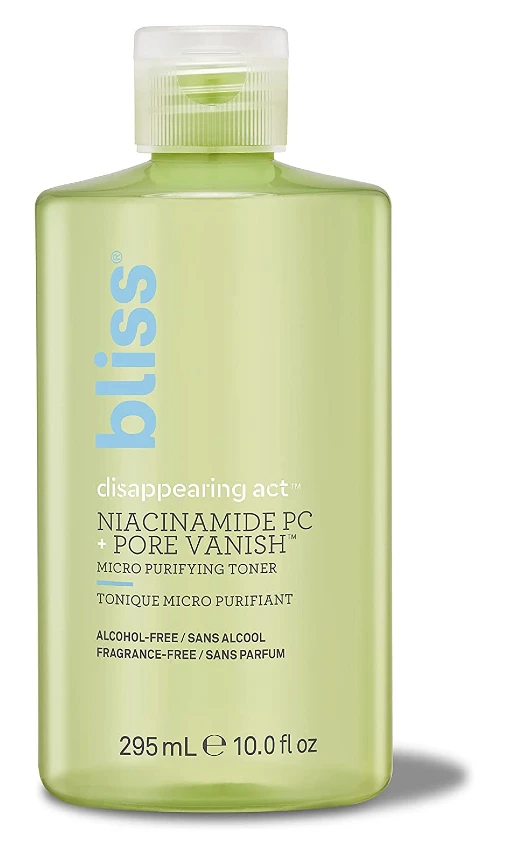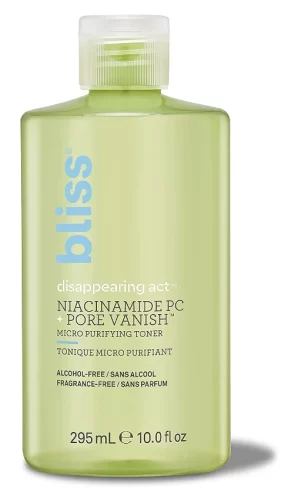 ---
Footnotes
Women's Concepts uses reliable sources, including dermatologists' insights, clinical trials, and scientific journals, to find accurate information and support all the facts shared in our articles. All statements and claims have clear and legit references. Read our editorial policy to learn more about our sources of information, our process of researching and fact-checking the content, and how our team strives to keep all articles updated, completed, and trustworthy.