It's been a while since toners became a staple in our forever-expanding skincare routines. If, until recently, toners were considered the optional in-between step, now they're more of a must, a way to add extra benefits to the skin. And with the variety of formulas, it's easy to find a toner that helps you achieve what is yours: soft, even, glowy skin.
But when there's an amalgam of products, it makes the process of finding the one for your needs a difficult task. With this in mind, we decided to round up the best glycolic acid toners for all skin types, with powerful but also gentle formulas, addressing all the concerns you may have: dark spots, excess oil, pimples, wrinkles, or dryness.
What do glycolic acid toners do?
The best glycolic acid-infused toners help draw dead cells while encouraging cell turnover, leading to smoother, brighter, and evener skin. They also remove any impurity that the cleanser did not take off and shrink pores look by clearing them out of junk and excess oil while balancing sebum and minimizing the chances of blackheads and pimples.
Contrary to popular belief, glycolic acid toners can be hydrating too. Some are spiked with powerful humectants and skin softeners, promising to relieve dry patches and replenish hydration levels in the skin. In other words, there's not much a glycolic acid toner can't do.
When skin is damp, it's significantly more permeable than when dry. Consequently, the serum and moisturizer you apply to moist skin sink deeper into the tissue layers; hence you get more benefits. So, do your skin a favor and leave it damp after applying toner and pre-serum and moisturizer.
The best glycolic acid toners
Here are a few of the best glycolic acid toners for all skin types that have won a spot on our top shelves — and in our hearts.
---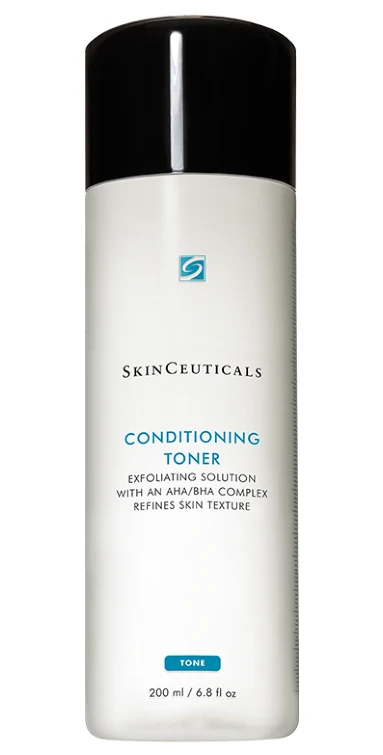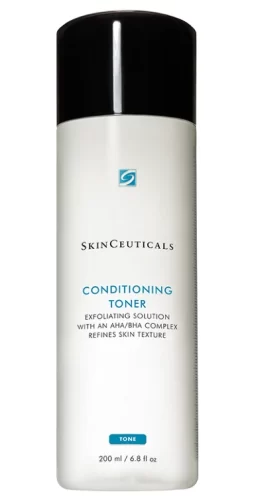 Best for oily skin
SkinCeuticals Conditioning Toner
For removing dead cells buildup, dissolving sebum, and helping unclog congested pores, SkinCeuticals Conditioning Toner is king. It does it all supported by glycolic and salicylic acids, while the addition of eucalyptus oil has anti-inflammatory, antiseptic, and antibacterial properties. All these benefits address those who struggle with excess sebum and pimples, being the perfect addition to oily skin folks' skincare routine.
---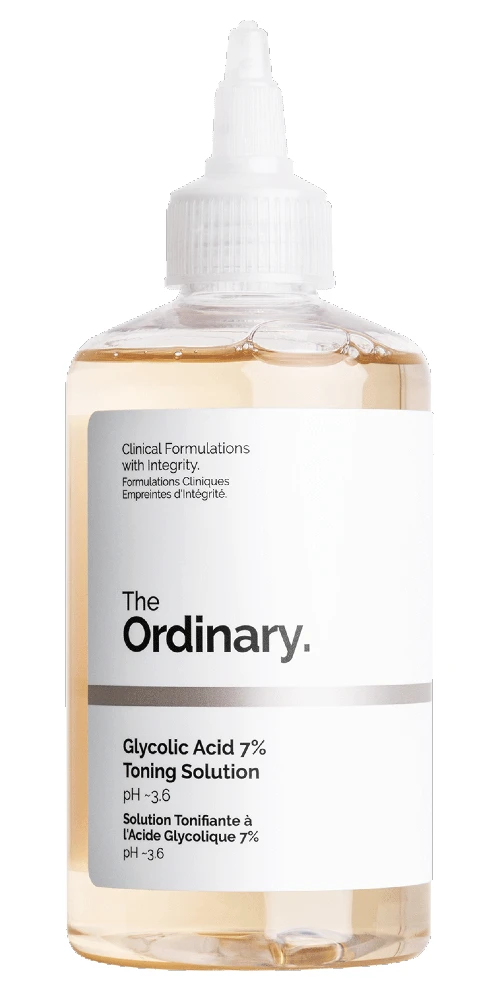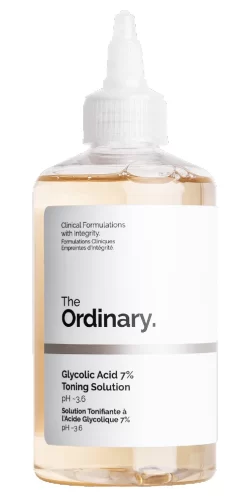 Best for mild exfoliation
The Ordinary Glycolic Acid 7% Toning Solution
At less than the cost of a coffee, The Ordinary is filled with 7% glycolic acid, promising to give a mild exfoliation and improve skin texture in the long run. With the help of rose water, aloe leaf water, and a slew of amino acids, it prevents possible drying effects while supporting skin to stay supple and smooth. It is great if you're a glycolic acid beginner and looking to take it low and slow.
---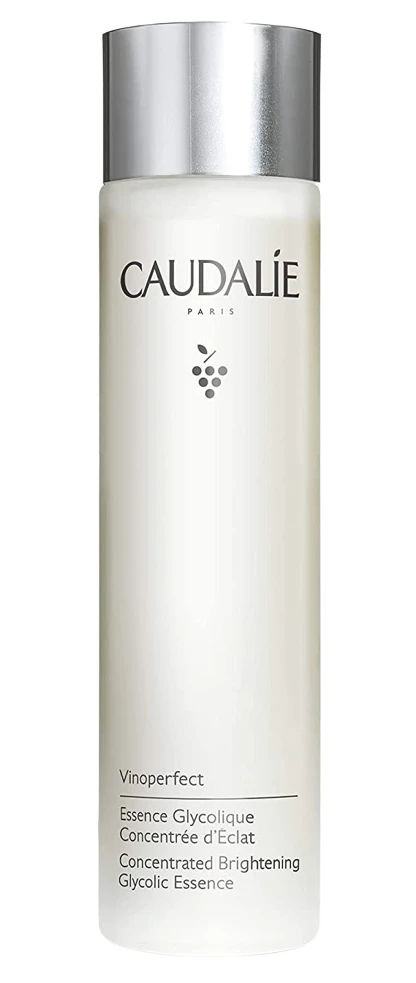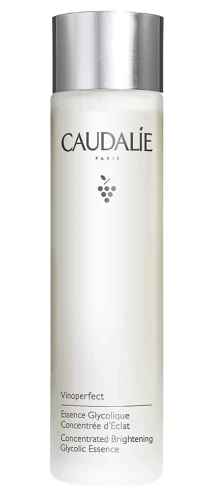 Best for dry skin
Caudalie Vinoperfect Brightening Glycolic Essence
In case you're doubtful about using a glycolic acid-infused toner on your dry skin, this is your best bet. The formula is rich in grape water, a natural prebiotic known to moisturize and soothe dry, sensitive skin, plus glycerin, a great humectant that pulls water into the skin. The orange flower water and glycolic acid gently refine texture and cleanse pores of dirt and impurities. And it smells like heaven!
---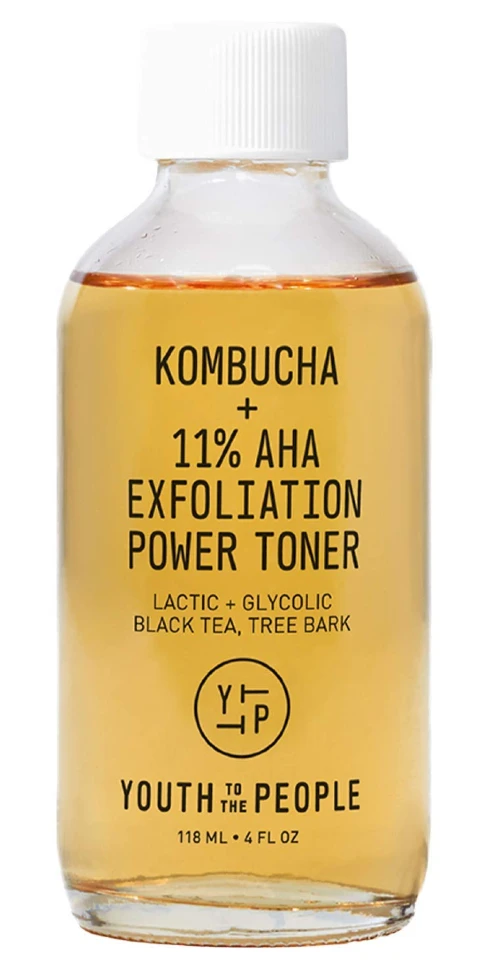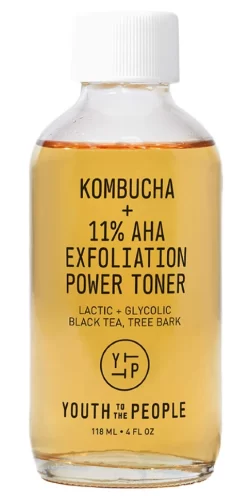 Best natural
Youth To The People Kombucha + 11% AHA Exfoliation Power Toner
Youth To The People made the best natural glycolic acid toner, infused with skin-strengthening prebiotics and exfoliants to reveal the greatest version of your skin. More precisely, the toner boasts 3% glycolic acid and 7% lactic acid to brighten and smooth your complexion without any trace of alcohol or fragrances. As a small minus, the toner leaves a slight sticky feeling, so say pas if that might bother you.
---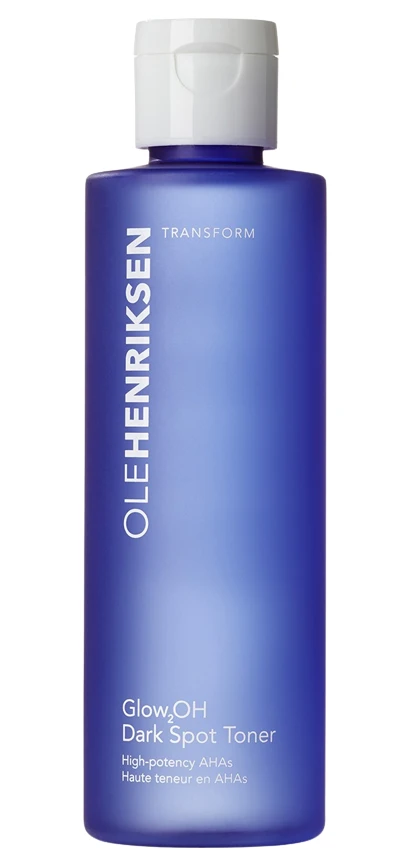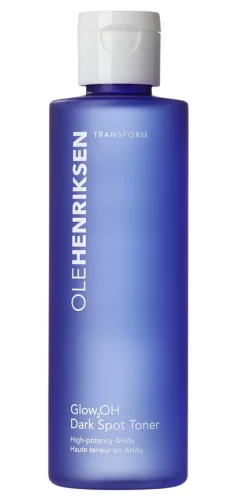 Best for dark spots
Ole Henriksen Glow2OH™ Dark Spot Toner
The perfect addition to your nighttime skincare routine, this toner aims to minimize the look of dark patches with a mix of glycolic acid, lactic acid, and phytic acid. There's also a high concentration of witch hazel water in the mix, a well-known skin calmer, along with chamomile, lemon, and licorice root extracts, three skin soothers that prevent your skin from getting dry.
---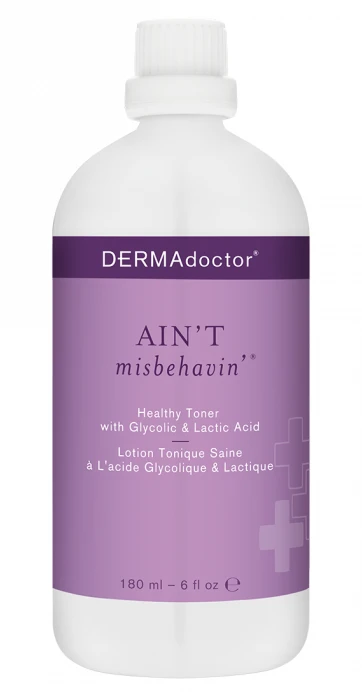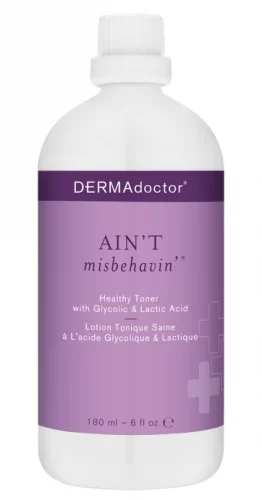 Best for blemish-prone skin
Dermadoctor Ain't Misbehavin' Healthy Toner
A toner can be a terrific ally in the battle against pimples. It's important to choose one that targets excess oil and keeps pores clear without stripping the skin of essential moisture. Welp, Dermadoctor Ain't Misbehavin' Healthy Toner has what it takes to be the best toner with glycolic acid that tackles pimples and blackheads. With the exfoliating power of glycolic acid and lactic acid, the toner prevents pore-clogging while infusing your skin with antioxidants from plant extracts, such as green tea and white tea.
---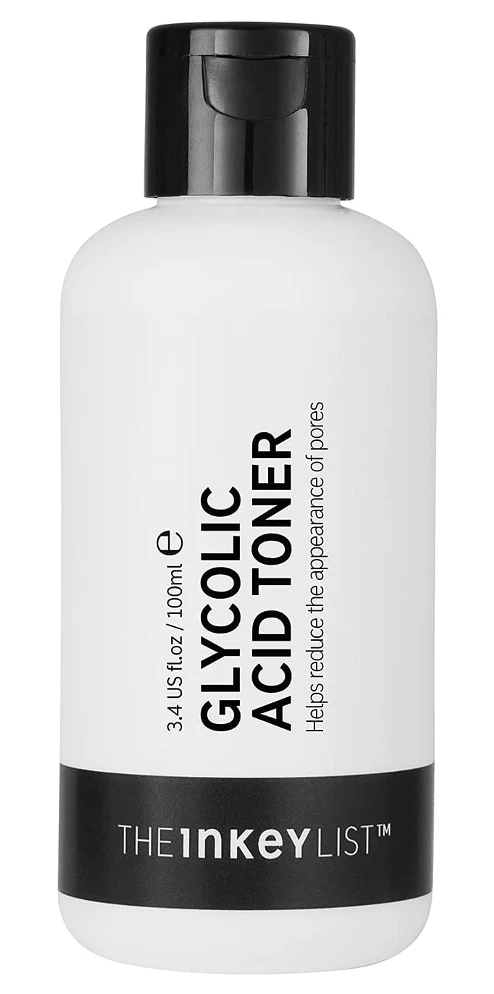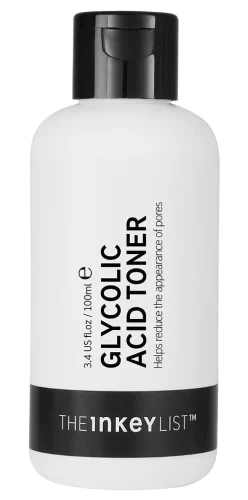 Most affordable
The Inkey List Glycolic Acid Exfoliating Toner
A good toner can go a long way in helping smooth skin and minimize blackheads and excess oil, and this one fits the bill. It's made with 10% glycolic acid, along with 5% witch hazel, to purify skin, unclog pores, and balance sebum. Plus, there's also sodium hydroxide to balance skin pH and make the product act delicately. However, you should only be using this in your PM beauty ritual.
---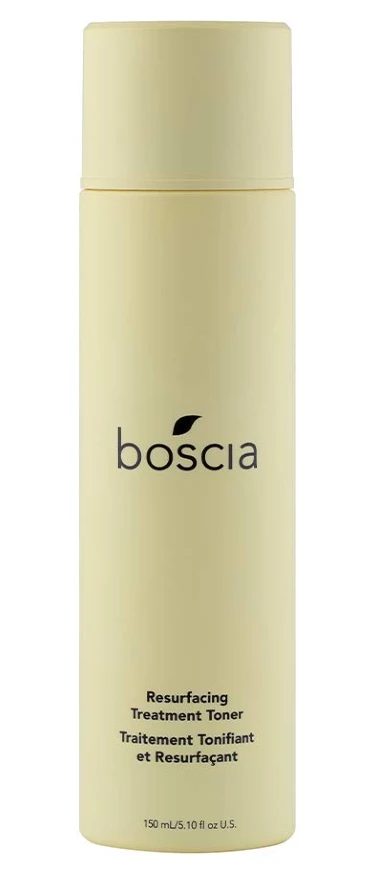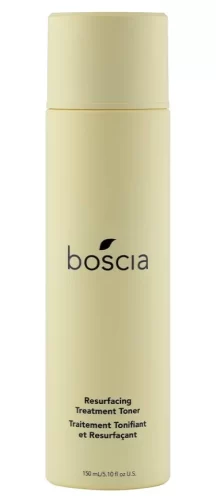 Most powerful formula
Boscia Resurfacing Treatment Toner With Apple Cider
If your skin is not on the easily reactive side, you can go ahead and try Boscia Resurfacing Treatment Toner With Apple Cider. It helps clarify and clear your visage in a few ways. Along with a 20% complex of glycolic and salicylic acids, it also contains apple cider vinegar, a nature-derived compound that has antibacterial, pH balancing, and skin-renewing benefits.
---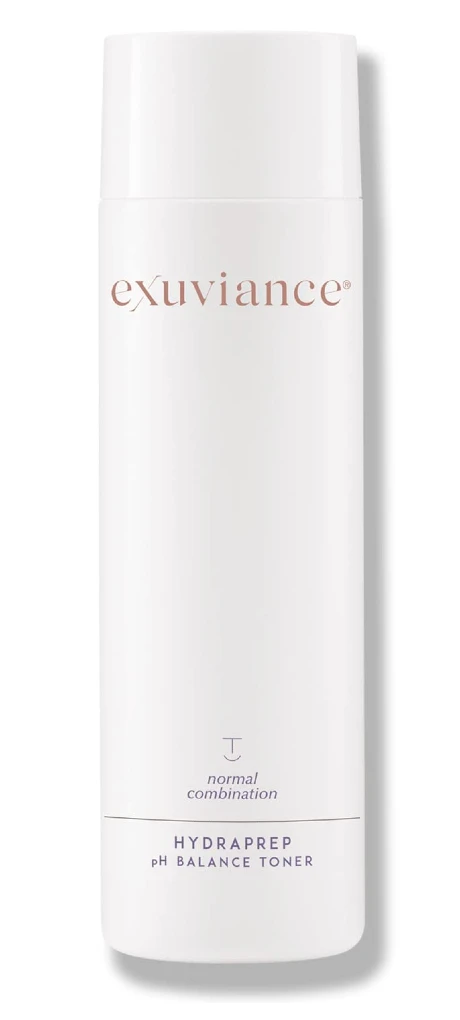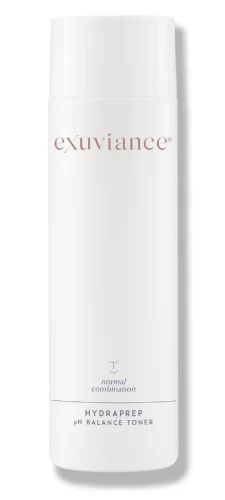 Best for balancing pH
Exuviance Hydraprep Toner
One of the best glycolic acid toners to balance skin's pH and moisture levels comes from Exuviance. In addition to glycolic acid, the toner packs gluconolactone — a polyhydroxy acid that gently exfoliates while delivering a dose of hydration — plus sodium hyaluronate and plenty of botanical extracts for even more moisture. Based on the brand's independent clinical trial, 100% of people who used this toner for two weeks felt their skin was more hydrated, radiant, and supple, so it definitely worth a spot on our top list.
---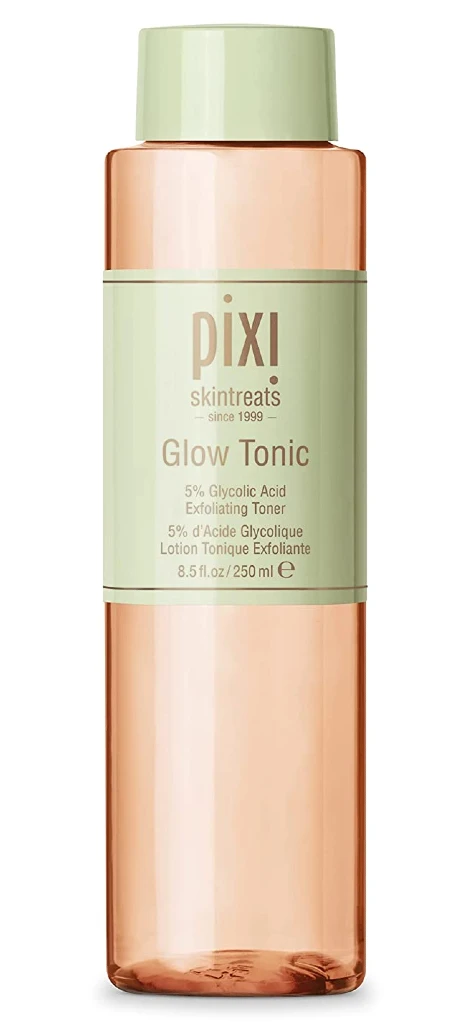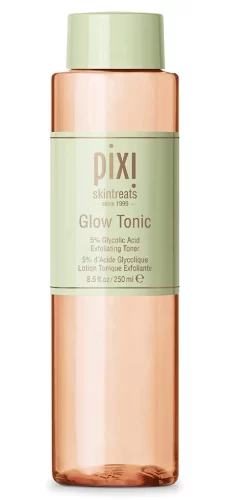 Best alcohol-free
Pixi Glow Tonic Facial Toner
Want a refreshing toner that works hard to sweep away oil and impurities without alcohol? You found it. As one of the best glycolic acid toners, the product is infused with 5% glycolic acid, aiding in accelerating cell renewal to reveal a brighter, smoother complexion. Additionally, the toner packs aloe leaf juice, witch hazel water, and horse chestnut seed extract to calm and ease stressed skin.
---
FAQ about glycolic acid toners
How often can I use glycolic acid toner?

Depending on your skin type and product concentration, you can use a glycolic acid tone from twice to thrice a week. Gentler formulas (less than 3% glycolic acid) can be used daily.

What to use after glycolic acid toner?

A hydrating serum performs great after having used a glycolic acid toner. Apply a hyaluronic acid serum, followed by a ceramides-infused cream.

When to use glycolic acid toner?

The best time to use a glycolic aid toner is at night if the formula boasts more than 5% glycolic acid. You can layer milder concentrations in your AM routine, but don't forget about sunscreen, as glycolic acid makes the skin photosensitive.