There is no doubt that adding a hyaluronic acid serum to your beauty routine will put you in the fast lane for a plump and hydrated face. This humectant acts like a sponge, drawing in moisture from the environment and delivering it deep into your skin. As a result, it can help reduce the look of fine lines while giving a vibrant glow. While it essentially is a pivotal ingredient in formulas that address dehydrated, parched skin, everybody can benefit from this hydrator. That's simply because it's gentle, lightweight, and non-comedogenic.
According to Dr. Joshua Zeichner, A Broad Certified Dermatologist in New York City, there are two steps to follow to get the most benefits out of your hyaluronic acid serum. First, he encourages using "damp fingertips to apply the serum or layer it to a damp face to give the hyaluronic acid the eater that it needs to bind to." Secondly, Dr. Zeichner advises that "after you apply your serum, put on a traditional moisturizer. Hyaluronic acid is good at grabbing onto the water, but not good at keeping it in place. So the emollient or occlusive ingredients in a moisturizer will prevent the water from evaporating from the surface of the skin," he explains.
The different types of hyaluronic acid used in skincare formulations
Okay, so you're ready to dive into the world of hyaluronic acid, huh? First things first, let's talk about the different types you might come across: hydrolyzed hyaluronic acid, hyaluronic acid, and sodium hyaluronate. Each one has a different molecular weight and works differently on your skin.
If you're after a quick hit of hydration and plumpness, look for a product with a large molecular weight of hyaluronic acid. This type sits on the surface of the skin, providing an instant moisture boost while reducing transepidermal water loss (TEWL), which is only a fancy way of saying it seals water within the skin. Just keep in mind that the effects might not last long. For that, you should go for small molecular weight hyaluronic acid. These tiny molecules can penetrate deep beneath the surface layer of the skin, providing a sustained dose of moisture. However, for the pinnacle of hydration, use a combination of multiple types of hyaluronic acid—that's likely to ensure immediate and long-term results.
The best hyaluronic acid serums
Whether you want to diminish the look of fine lines, relieve dryness, or plump your skin, here are the best hyaluronic acid serums to consider. To compile this list, we conducted hours of research, evaluating the bestsellers and how well they were able to deliver hydrating, soothing and plumping benefits. We also read thousands of reviews on the online stores, to get insights from real users that had first-hand experience with the serums. It turns out that these products will give you the best in show.
---
1
Glow Recipe Plum Plump Hyaluronic Acid Serum
This formula is made with five molecular weights of hyaluronic acid that give juicy hydration on multiple skin layers for a visible bouncy look. Also, the rich gel-like serum contains vegan collagen and silk protein that increase elasticity and moisture retention and is chocked-full of antioxidants to protect from harmful free radicals. It's undoubtedly a serum worth trying if you're aiming for glass-skin goals.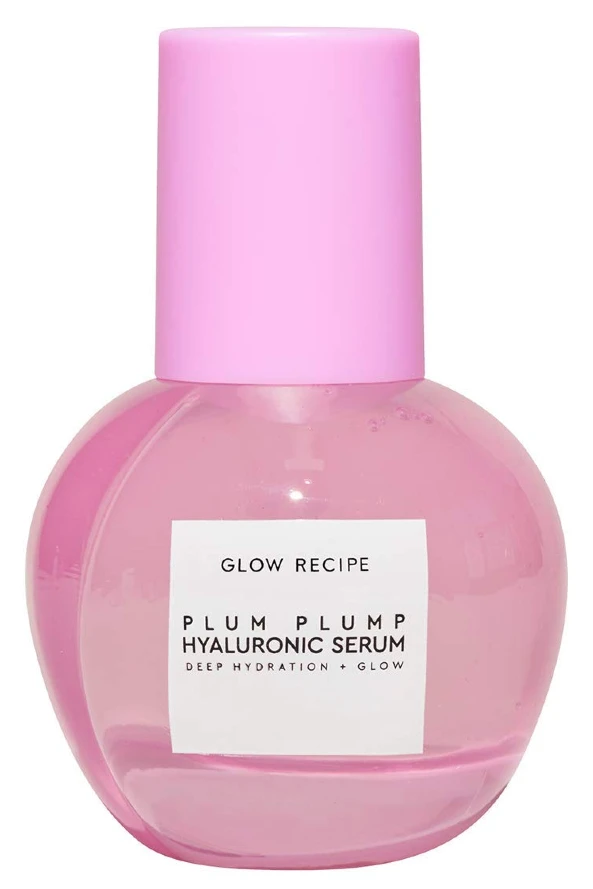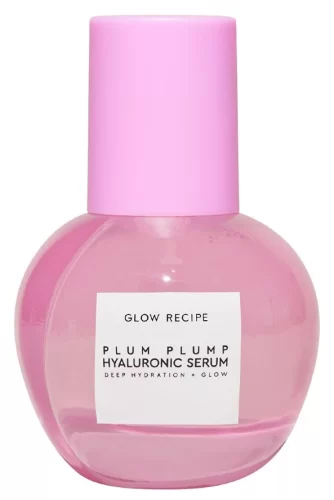 ---
2
L'Oreal Paris Revitalift Face Serum
L'Oreal Paris Revitalift is that face serum you can find in pretty much every drugstore at a reasonable price. It leans on 1.5% hyaluronic acid, which, along with peptides and a stable form of vitamin C, preserves skin integrity and aids in increasing firmness. The dermatologist-validated formula was made with mature skin in mind, effectively reducing the appearance of wrinkles by 47% in six weeks, as stated by the brand. Its runny liquid consistency feels like a treat to smear on, it sinks in the blink of an eye and leaves behind a sheer finish.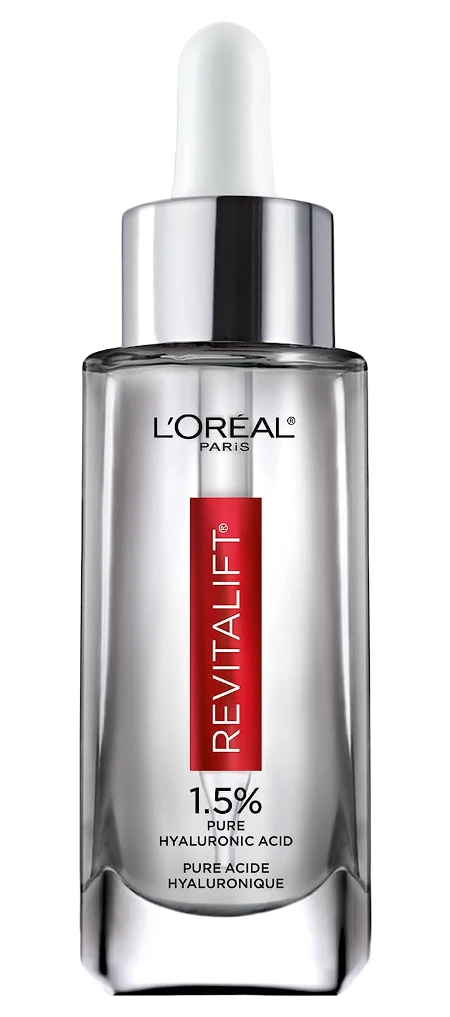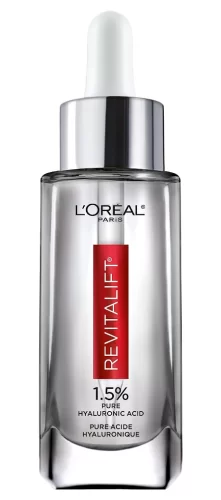 ---
3
100% Pure Rose Hyaluronic Acid Serum
This one is a solid option for those who want a natural hyaluronic acid serum made with organic and sustainably-derived ingredients. It contains hyaluronic acid derived from sweet potatoes and is made in an aloe vera juice base, both known humectants that draw moisture from the atmosphere to restore skin hydration. You can also expect soothing and antioxidant benefits from a mingle of plant extracts, such as chamomile and white tea.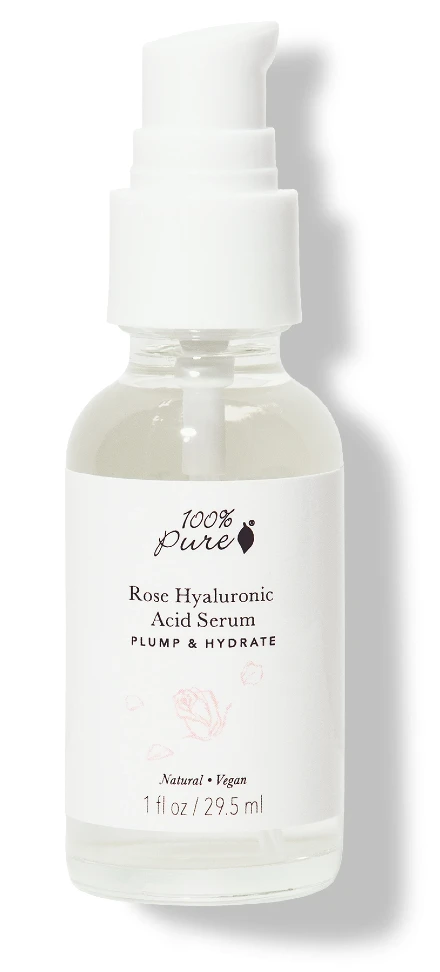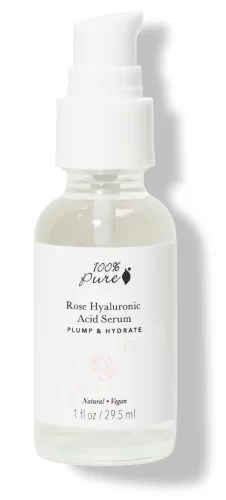 ---
4
Peter Thomas Roth Water Drench Serum
This serum loads an insane amount of hyaluronic acid (75 percent!) to impart a plumping effect and give you a healthy glow throughout the day. And if it weren't enough, the formula is also enriched with silk proteins that veil the complexion in an invisible veil of moisture and smoothness, while a blend of probiotics fortifies the barrier and minimizes fine lines look for good. And best of all, this liquid gel formula dries down to a silky soft matte finish, without leaving any greasy residue behind.


---
5
Allies of Skin Multi Hyaluronic Antioxidant Hydration Serum
This multi-hyaluronic acid serum is more than a hydrating trait, packing a bunch of antioxidants, peptides, and nourishing ingredients to give you the best of everything. First, it combats free radical damage and pollution with superoxide dismutase, vitamins C and E, and EGCG— the most powerful antioxidants of all. Then, it quenches the skin with two forms of hyaluronic acid, and finally, it fortifies the barrier with collagen-boosting niacinamide and peptides. It's a do-it-all option that is worth a spot on your vanity countertop if you're into multitasking skincare products.


---
6
Farm House Flat Out Firm Serum
We sing the praises of this incredibly clean serum, which we especially recommend for people with sensitivity-prone skin. It's so great that no sooner was it launched than it enjoyed a great deal of attention, and for a good reason. The formula combines a cocktail of four types of hyaluronic acid, cucumber, and aloe juice that impart a generous dose of hydration and nourishment. There are also two peptides that soften wrinkles and improve texture by supporting collagen production. In a consumer perception test, 81% agreed their face felt and appeared firmer in one month, and after two months, their wrinkles were reduced by up to 45%.
---
7
La Roche-Posay Hyalu B5 Serum
This one is formulated with two forms of hyaluronic acid, which, along with vitamin B5, deliver hydrating benefits on the surface and in the deeper layers. This product works wonders for combating dryness and providing relief to stressed-out skin. Simply apply a dime-size amount of this lightweight formula whenever your complexion is feeling parched, tight, or stressed, and you'll see an immediate improvement.


---
8
Innisfree Intensive Hydrating Serum
Green tea is good at supporting the skin's health, and this serum centers around it to give you the best version of your visage. All whilst a mix of humectants, including five types of hyaluronic acid, betaine, and panthenol attract water into the skin to provide amplified hydration. We also love that the serum is lightweight, fast-absorbing, vegan, and non-irritating. You can even mix it with your favorite foundation to get a dewy finish and juicy moisturization.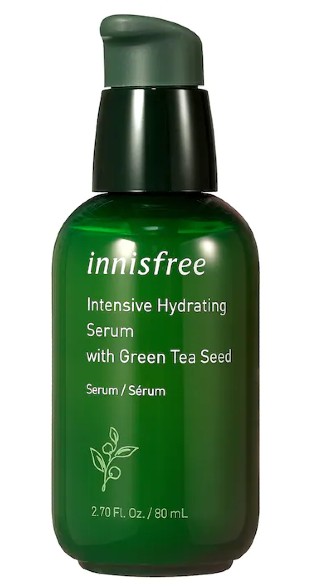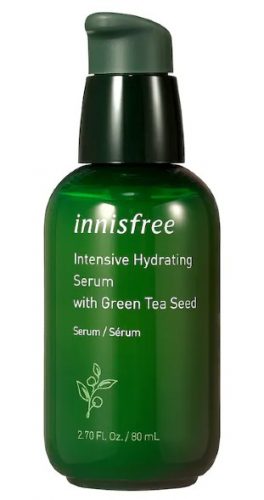 ---
9
The Ordinary Hyaluronic Acid 2% + B5 Hydrating Serum
The Ordinary made a top-notch serum by teaming up multiple molecular weights of hyaluronic acid, vitamin B5, and glycerin to relieve dry patches and support moisture. And the best part? It's affordable too, so you don't have to break the bank to get amazing results. No wonder everyone has fallen head over heels for this product.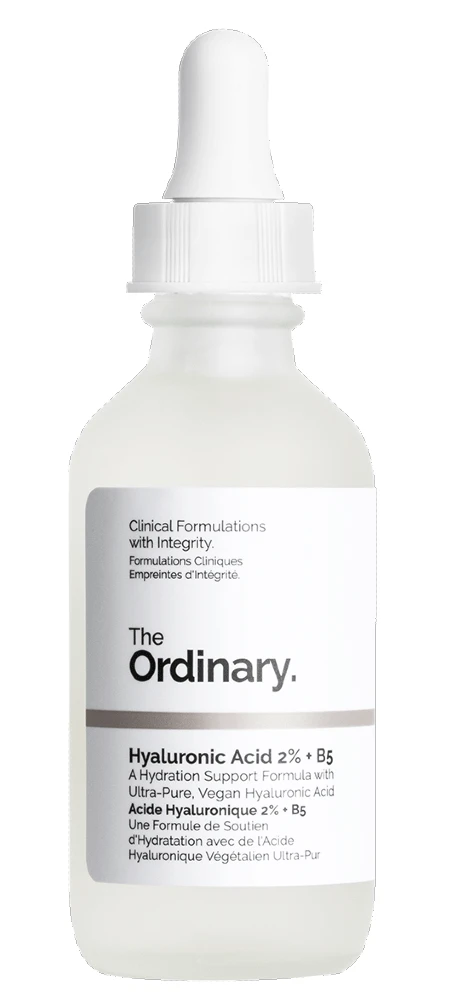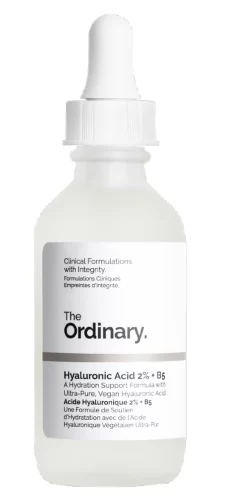 ---
10
Filorga Hydra-Hyal Intensive Hyaluronic Acid Serum
Filorga Hydra-Hyal Intensive Serum uses four types of hyaluronic acid to hydrate the complexion instantly and in the long run. Your skin gets immediately hydrated, and its radiance and suppleness are visibly restored, especially when used over an extended period of time. At the same time, castor and sweet almond oils enhance moisture by bolstering the barrier function and preventing water evaporation. It's like a big drink of water for thirsty skin.


---
11
Osea Hyaluronic Acid Serum
Osea Hyaluronic Acid Serum is indeed expensive, but if you're into natural formulas that transform the skin, it might be worth the splurge. It packs a major punch by combining high and low molecular weights of hyaluronic acid that work synergistically to make the skin appear fuller and firmer. The upgraded formula is also now laced with mushroom and marine ferment to make the serum work even more effectively at tackling fine lines and improving moisture. It works like a charm for every type of skin, skipping oils, fragrances, parabens, or other unforgiving compounds.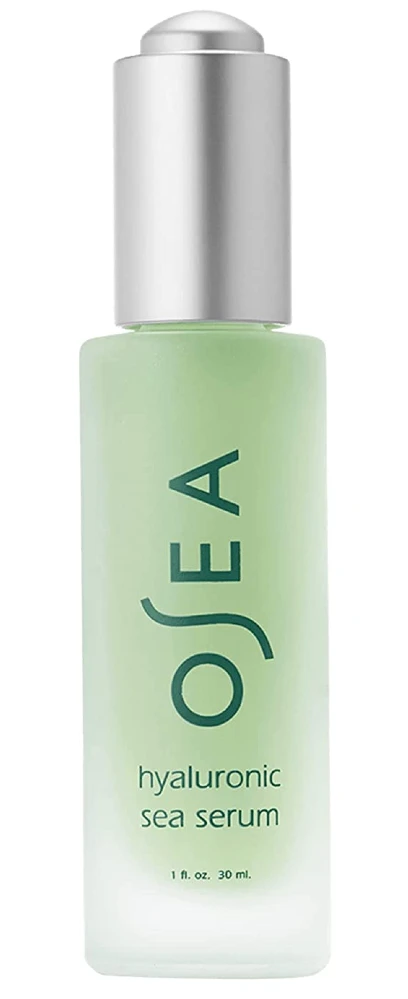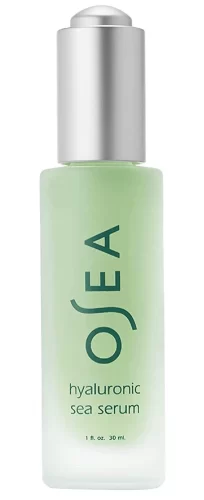 ---
12
Luisa True Skincare Hyaluronic Acid Serum
This serum—made by a cosmetic chemist—has a minimalist formula that's hard not to love. It's only made with three ingredients: water, 1% hyaluronic acid, and phenoxyethanol, which is a green tea-derived ether alcohol added as a preservative. In general, simple formulas are great for people with sensitive complexions, so those with easily reactive skin should reach for this one.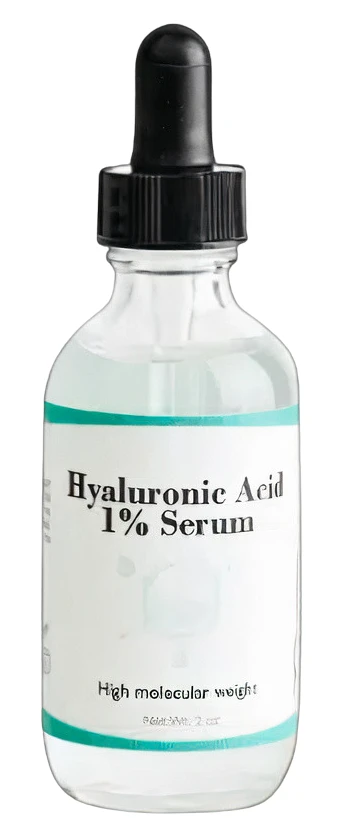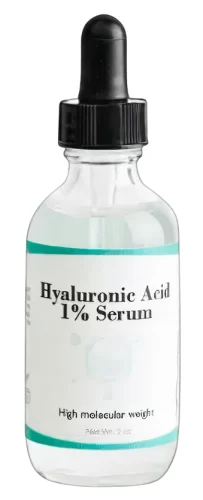 ---
13
Fleur and Bee Just Dew It Hydrating Serum
Looking for a skincare product that's kind to both your skin and the planet? Look no further! This serum not only packs a hydrating punch but it's also made sustainably, from the packaging to the ingredients to the manufacturing process. Talk about a win-win! Squalane, hyaluronic acid, and niacinamide are just a few of the ingredients that vow to boost moisture and restore a healthy glow as soon as you apply the serum. Plus, a mix of oils, including grapeseed and seabuckthorn, hinder water evaporation and fight off damaging free radicals.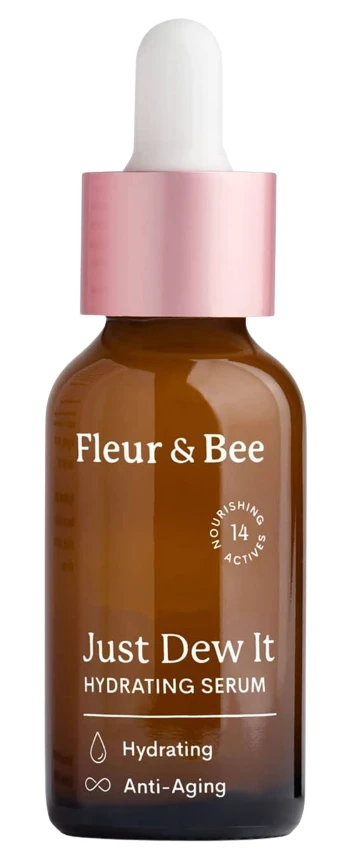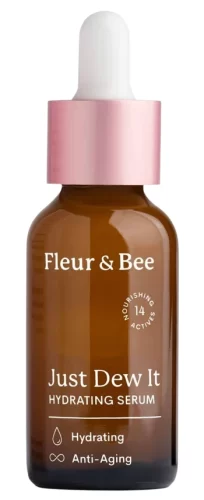 ---
The verdict
A hyaluronic acid serum is worth trying for dryness, dullness, fine lines, and more. The Allies of Skin Hydration Serum is our favorite formula because it tackles multiple concerns at once and is gentle enough for everybody. The Osea's product stands out as the best in class for those who prefer natural and sustainable formulas, while The Ordinary Hyaluronic Acid 2% + B5 makes a perfect wallet-friendly option.