We need to talk about the best organic vitamin C serums because I know how confusing the world of clean, organic skincare can be since not even the FDA has clear regulations for using these terms. This means our duty as consumers is to do the research when purchasing natural skincare. But as busy as you are, that is the last thing you have time for.
With this in mind, I decided to round up the top-performing organic vitamin C serums that skip harsh chemicals without compromising on effectiveness. They're all made by relied brands that closely work with third-party certification agencies, so you can be sure that everything from ingredient sources to packaging is safe for skin and the planet too.
The best organic vitamin C serums
Whether you're looking to brighten dark spots, shield your skin against oxidative stress, boost your collagen, or revive a dull appearance, these organic and natural vitamin C serums here help you achieve just that.
---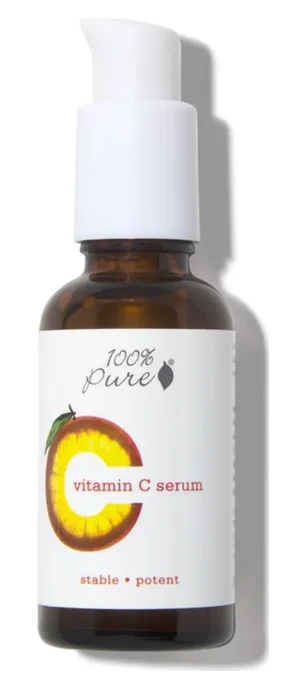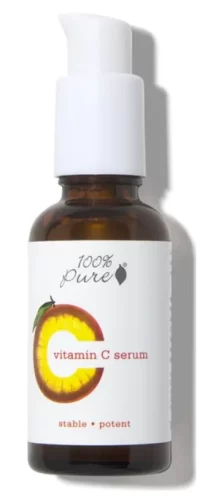 100% Pure Vitamin C Serum
The first spot on the best organic vitamin C serums is well worth by 100% Pure, pioneers in clean and natural skincare. Made on an organic aloe gel base, followed by magnesium ascorbyl phosphate (a potent form of vitamin C), says more than enough about its ability to fade dark spots, induce collagen production and defend against free radical damage. Plus, the formula packs other skin-loving elements, such as vitamin E, superoxide dismutase, and alpha-lipoic acid, that work to soften, protect, and correct.
---
Juice Beauty Prebiotix™ 20% Vitamin C Serum
Psst, have you heard about the new guy at Juice Beauty? As newly released as it is, people are already raving about it. That's because it has 20% ascorbic acid to reveal the most luminous skin, nature-derived antioxidants to protect against external damage, and ferulic acid to boost the antioxidant defense. More than that, the serum packs Prebiotix™ (hence the name), aka exclusive ferments that hydrate and protect the skin. Everything in a formula with certified organic and plant-derived ingredients!
---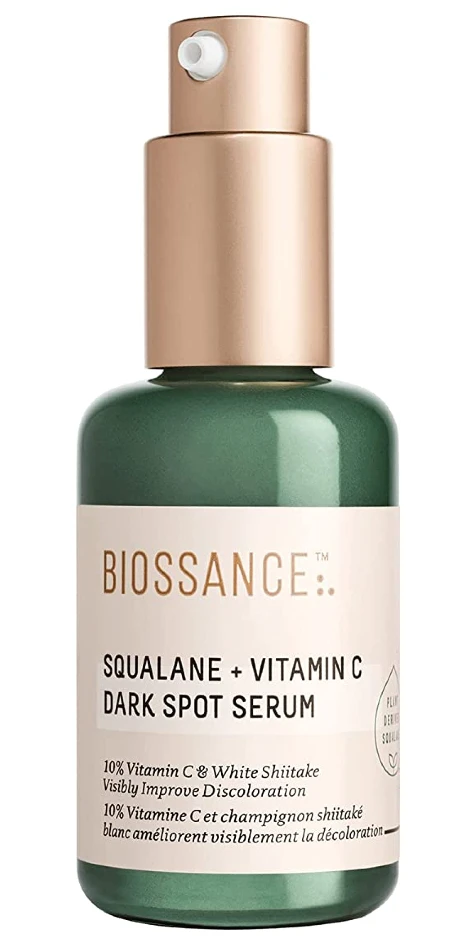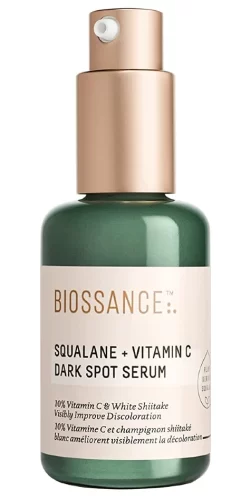 Biossance Squalane + Vitamin C Dark Spot Serum
Not only does this serum lacks potential irritating ingredients, parabens, and PEGs, but it's made with a more stable and less harsh vitamin C version. Yep, this means it works like a charm at delivering a boost of brightness for sensitive skins too. Besides, it packs white mushroom extract to fade dark spots some more and squalane to leave skin plump, glowy, and balanced. Browsing through the reviews is what convinced us that this one is worth a spot on the best organic vitamin C serums roundup.
---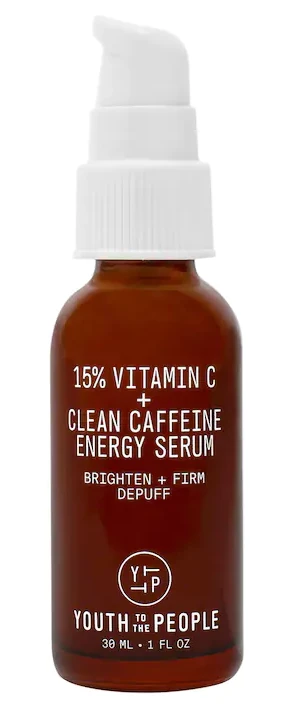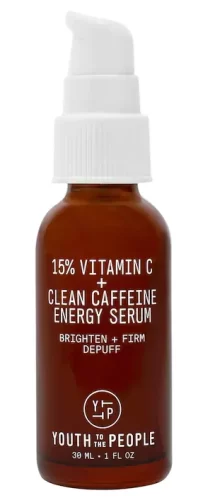 Youth To The People 15% Vitamin C + Clean Caffeine Energy Serum
Does your skin feel and look far from energized, plump, and even? With three sources of vitamin C, Youth To the People Energy Serum aids in reducing puffiness, brightening, and hydrating by enhancing collagen, leaving skin dewy, healthy, and not sticky at all. No added fragrance, no parabens, phthalates, or alcohol, just nature-derived elements, so your skin and mind stay at peace.
---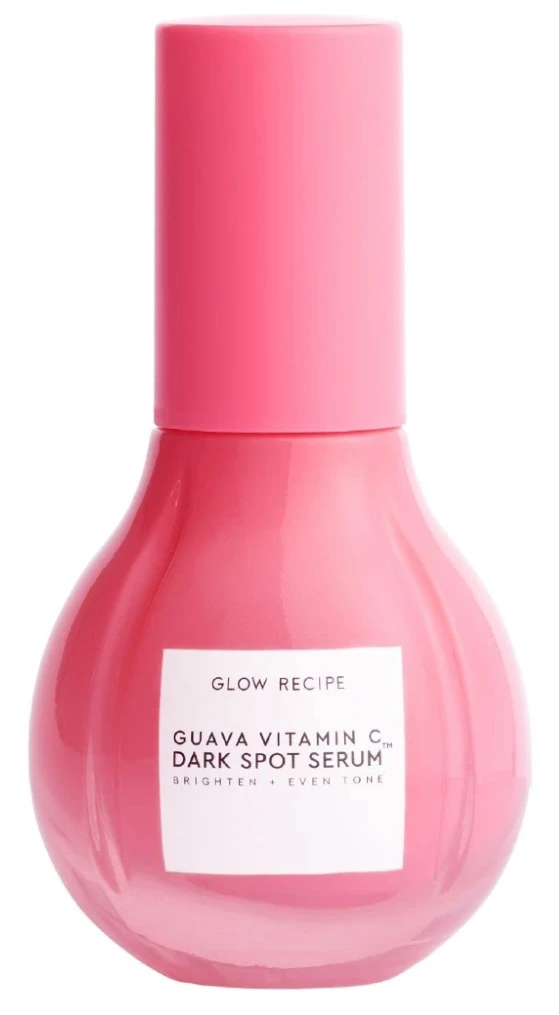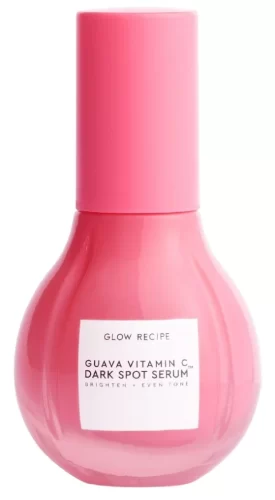 Glow Recipe Guava Vitamin C Dark Spot Serum
Okay, believe me when I say this is one of the best organic vitamin C serums e-ver. It boasts five sources of vitamin C that work hard to reveal even tone and minimize dark patches, ferulic acid to boost the benefits of vitamin C, plus tranexamic acid, another potent skin brightener. Glow Recipe Guava Serum gives instant smoothing and hydrating results while, in the long run, leaving skin radiant and healthy. And it skips mineral oil, silicones, fragrances, or anything that may mess up with your skin.
---


Kora Organics Noni Bright Vitamin C Serum
Made with powerful Ecocert certified organic ingredients, this is one of the best organic vitamin C serums for a handful of reasons. Above everything, the formula fusions ascorbyl glucoside (the second on the ingredient list), which is a more potent and stable version of L-ascorbic acid. Besides, it packs a medley of vitamin C-rich nature-derived fruit to boost the protection against free radicals. In essence, this lightweight yet rich serum is the perfect candidate for those who need a dose of brightening, firmness, and smoothness in one clean product.
---


Tata Harper Resurfacing Vitamin C Serum
If you crave a resurfacing serum that's also spiked with nature-derived glycolic acid, lactic acid, and BHA, besides vitamin C, pick this one. It vows to transform dullness into a healthy-looking glow by gently sloughing off dead cells buildup while protecting your skin with a bunch of natural antioxidants. If you need further convincing, the texture has a silky smooth texture and a lovely scent, all ingredients come from natural sources, and the serum is Cosmos certified. Way to go!
---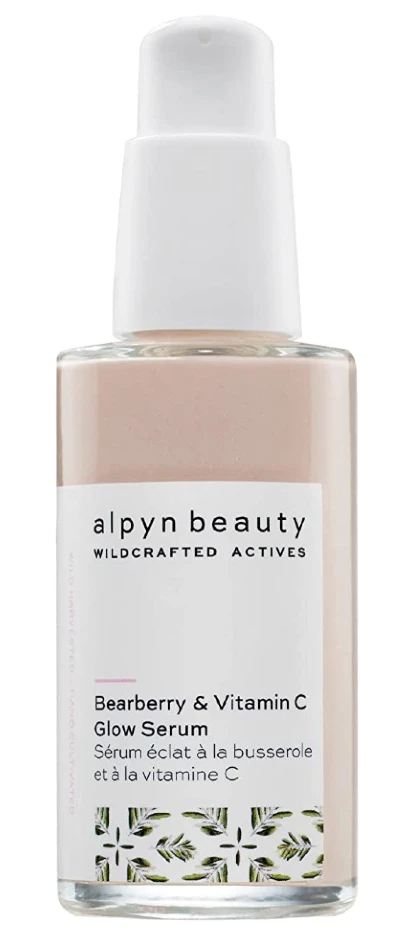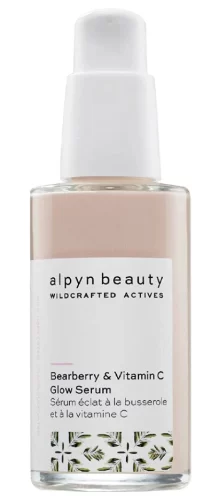 Alpyn Beauty Bearberry & Vitamin C Glow Serum
Want instant radiance and long-term even skin and healthy glow? Because that's what this serum gives. In addition to vitamin C, the formula is infused with glycolic, azelaic, and lactic acids to delicately resurface the skin, bakuchiol, a retinol alternative great at brightening, plus hyaluronic acid and tripeptides to strengthen the barrier. And it skips all hard-to-pronounce elements while being 100% vegan!
---


Pai Stabilised Vitamin C 20% Brightening Booster
As the name states, this corn-derived vitamin C booster can be added to your favorite serums and moisturizers to supercharge them with brightening and antioxidant benefits. Bonus: it includes antioxidant-rich sunflower seed oil, prickly pear seed oil, blueberry seed oil, and vitamin E in a 100% natural formula with 63.8% organic ingredients.
---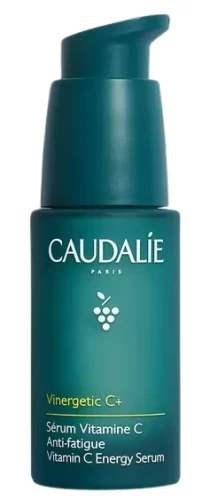 Caudalie Vitamin C Energy Serum Vinergetic C+
We appreciate an organic vitamin C serum that's lightweight enough to absorb super fast and powerful enough to tackle uneven texture and dullness. Caudalie Vitamin C Energy Serum Vinergetic C+ leaves your skin feeling plump, revitalized, and illuminated, thanks to a mix of vitamin C, squalane, hydrolyzed hyaluronic acid, alongside antioxidant-rich vitamin E. And it's fragrance-free, vegan, and made with 98% natural origin ingredients.