In your 30s, the skin needs something different from your skincare routine than in your 20s. The collagen and elastin production starts to decrease, cell turnover slows down, and the signs since you were a sun worshipper or acne sufferer (hi, dark spots) become more noticeable. While sunscreen helps prevent all of the above during the day, for the night, a targeted serum will surely put you in the fast lane for healthy skin.
Serums—often called "medicine" for the skin—are formulated with more concentrated active ingredients, delivering more intense benefits than creams. Also, because serums are water-based and lightweight, they're more likely to get absorbed by the skin and trigger transformative changes. That means they're perfect for targeting your concerns. And they yield more dramatic results when used at night. Why, do you ask?
Why it's important to use a night serum?
Well, our skin is more permeable at night due to increased blood flow and cell regeneration, which means that active ingredients in serums are more readily absorbed and can reach deeper levels.[1] Also, the body undergoes several biological processes essential for skin repair while you sleep. "The value of sleep with regard to beauty is that it gives your skin time to rebuild itself," said Karin Olszewski, RN, of Samaritan Plastic, Reconstructive & Hand Surgery. "All day your skin is a barrier that protects you from light, pollution, germs, dryness, wetness, and more. When you sleep, your skin has a chance to regenerate and get ready for tomorrow."[2] Plainly put, this is the ideal time to use serums that help support this process.
Considering you managed to grasp the main points of the idea of beauty sleep, let's see what's the best night serum to use in your 30s (and beyond) based on what you want to achieve from your beauty routine.
What night serum to use in your 30s?
To begin with, you need to find a night serum that addresses your specific skin concerns. Take a step back, think about what your skin needs, and ensure the serum you choose is up to the task.
For example, if you're dealing with a dry complexion, you'll want a hydrating serum packed with moisturizing ingredients like hyaluronic acid, panthenol, and squalane. For sensitive and redness-prone skin, head toward hypoallergic products with gentle formulas sans alcohol and fragrances. And if you're dealing with both dryness and sensitivity, it could be a sign that your skin's protective barrier is weakened. In that case, look for a formula with reparative ingredients like antioxidants, ceramides, and fatty acids to help strengthen and protect it.
In case your main skincare woes are a dull look, uneven texture, or dark spots, a resurfacing serum with glycolic acid or lactic acid will fit the bill. Or, if you're like me and have to deal with breakouts in your 30s, antibacterial and anti-inflammatory ingredients like salicylic acid, zinc, and niacinamide are a must-have in your nighttime routine.
For those who have nothing in particular to improve on their complexion, I suggest an anti-aging serum made with retinol or peptides—it'll help your skin age healthier.
Our top picks
To find the best night serum for your 30s, I picked various formulas that target different skin concerns and gave each product a tag so you can easily find what you need. Plus, I made sure I included serums that fit all budgets and are available across the globe.
---
Best overall
Estée Lauder Advanced Night Repair Serum
The iconic serum from Estée Lauder has earned a devoted following among the beauty-savvy, and it's not hard to see why it's remained the holy grail of skincare for over four decades. Packed with a potent blend of probiotics, the serum not only repairs the skin but also fortifies it and makes it more resilient against daily stressors. At the same time, a tripeptide supports collagen production, while hyaluronic acid and squalane ensure you'll wake up to a supple complexion. Yes, you can expect less noticeable fine lines and more hydrated skin. The highly-concentrated gel-like formula also absorbs effortlessly and doesn't leave behind any stickiness. And you can use it during the day, underneath sunscreen, too.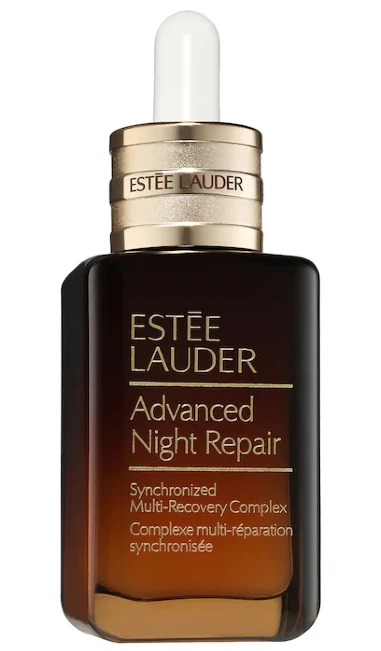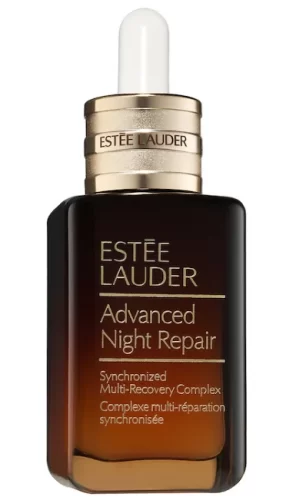 ---
Best for dry skin
Vichy Mineral 89 Hyaluronic Acid Serum
When your skin is dry, it can trigger a range of issues, such as fine lines, breakouts, and a dull look. Dryness also makes the skin more sensitive, so a minimalist formula that aims to replenish hydration and repair, like Vichy's Mineral 89 Hyaluronic Acid Serum, may be exactly what you need. This dermatologist-favorite formula is packed with two of the most potent humectants—glycerin and hyaluronic acid—that attract moisture into the skin and relieve dryness. The benefits are further fueled by Vichy's Mineralizing Water, which is rich in 15 minerals that strengthen and support the skin's barrier. Also, the serum has gotten the badge of acceptance from the National Eczema Association, which means it meets their criteria for use by people with eczema or sensitive skin.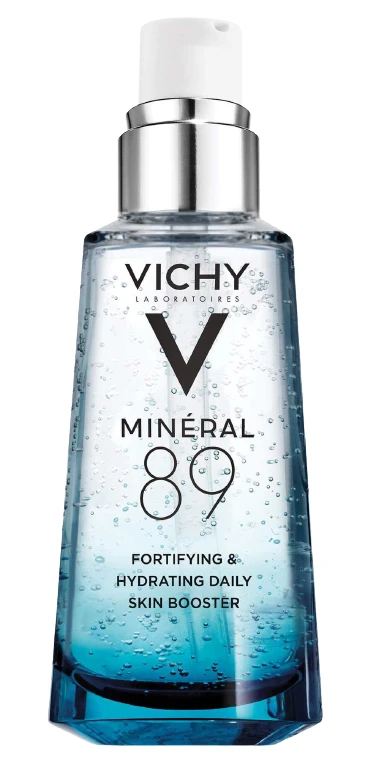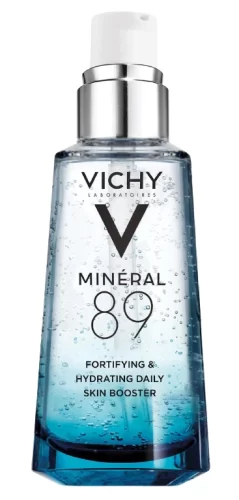 ---
Best for sun-damaged skin
Sunday Riley Good Genes All-in-One Treatment
Environmentally-stressed skin can look dull, tight, and irritated and show premature aging signs. This product comes to the rescue with a potent do-it-all formula clinically proven to improve the skin. The super-concentrated treatment is powered by lactic acid that provides mild exfoliation and encourages skin renewal. What's more, the liquid treatment also features licorice to lighten dark spots and a blend of skin-soothing and hydrating ingredients, including squalane, prickly pear, and aloe. Slather it on your face nightly (and daily), and watch how your complexion recoups its luminosity and plumpness.


---
Best for dark spots
Good Molecules Correcting Serum
Want to improve your skin without shelling out the big bucks? There's no better option than this wallet-friendly standout that addresses pigmentation, sun spots, and post-acne marks with a gentle but no less effective formula. It leans on 3% tranexamic acid to gently target discoloration and promote a clear skin tone, and 4% niacinamide, which not only is incredibly great for brightening dark patches but also balances oil and minimizes enlarged pores.[3] The serum is both preventative and corrective and works for everyone, regardless of skin type.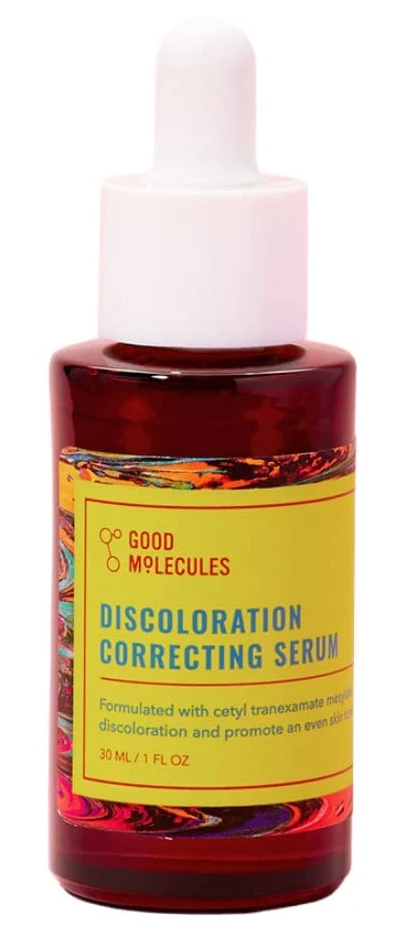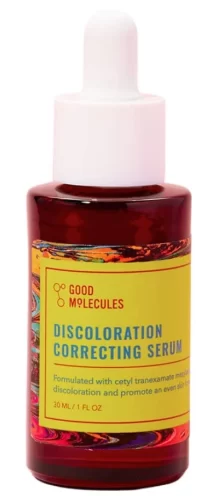 ---
Best for acne-prone skin
Glo Skin Beauty Beta-Clarity BHA Drops
This serum has no mercy on excess oil, large pores, and breakouts. Containing a potent combination of salicylic and glycolic acids, it unclogs pores, sops up excess sebum, and promotes cell regeneration, healing and preventing pimples. Plus, it has retinol to encourage the skin to renew and fade blemishes that often linger on after acne breakouts. Apply a pea-sized amount to clean skin avoiding the eye area, and give it 30 minutes to penetrate before you follow up with your nighttime moisturizer.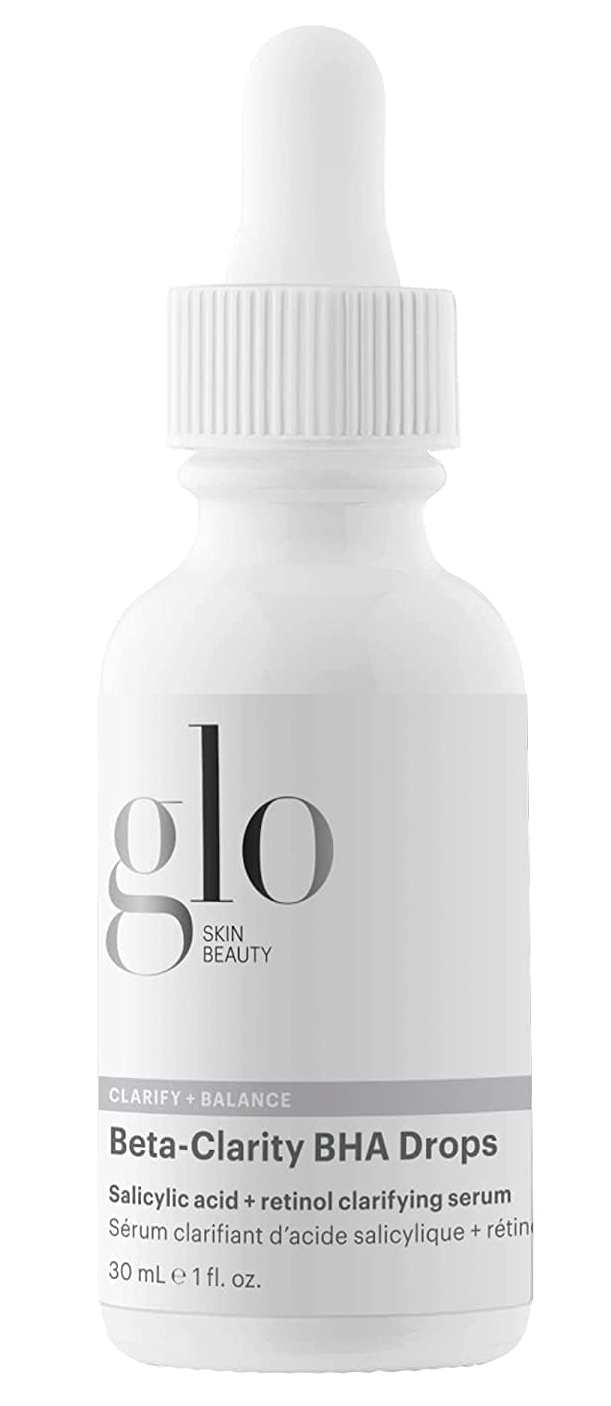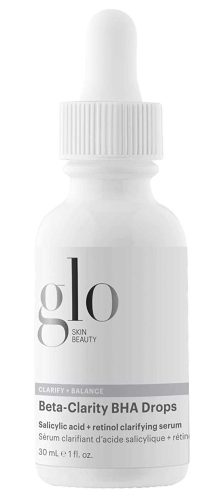 ---
Best to prevent aging signs
RoC Retinol Correxion Night Serum Capsules
If you haven't already added retinol to your beauty regimen, now in your 30s is the time to do so. Retinol is the most powerful molecule to prevent wrinkles, improve pigmentation, and maintain a younger-looking complexion.[4] These capsules give you the perfect amount of this powerhouse while it keeps it fresh so you get the maximum benefits from each use. They also improve the skin's barrier function and provide an instant comforting feeling thanks to the addition of fatty acid-rich soybean oil and ceramide. And it's not just the ingredients that impress—nearly 16,000 five-star reviews on Amazon confirm the product's effectiveness. I say it's the best anti-aging serum to use in your 30s due to the retinol-powered formula and affordable price point.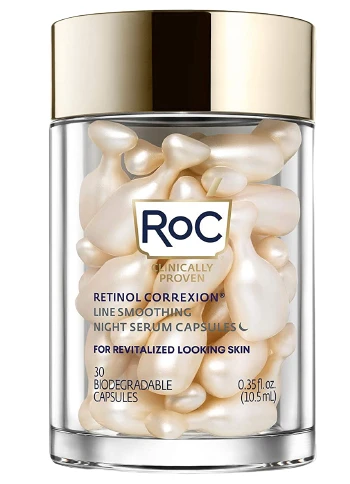 ---
Best natural formula
100% Pure Multi-Vitamin PM Serum
This night serum is here to save the day for those who don't want any questionable ingredients anywhere on their face. The clean formula is made with a promising concentrated blend of skincare actives, including 10% vitamin C, 10% niacinamide, and 1% retinol. They work synergistically to improve skin texture and tone, while the added hyaluronic acid and squalane provide much-needed hydration. Yes, it pretty much everything, and it does it all sans fragrances, parabens, or dyes. Bonus points for the pump applicator that dispenses the perfect amount of product every time.
P.S.: If you're not willing to pay $72 for this one, InstaNatural Retinol Serum is a great alternative.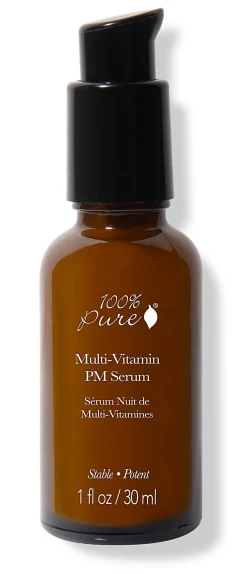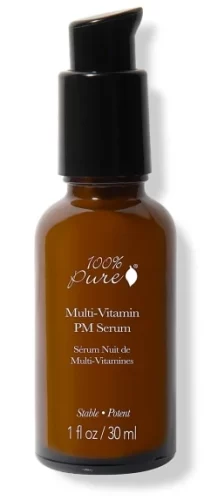 ---
Best for uneven skin texture
Drunk Elephant T.L.C. Framboos Glycolic Night Serum
If your skin checks any of the following: dullness, acne scars, uneven tone, rough texture, large pores, or fine lines, reach for this multi-duty formula that delivers effective chemical exfoliation without harsh side effects. It touts a 10% blend of alpha-hydroxy acids to encourage exfoliation and resurface the skin, and 1% salicylic acid loosens sebum, enabling pores to unclog and curb excess oil. Drunk Elephant also added cactus and green tea extracts, known soothing compounds that ensure the formula won't bother the skin. We give this one extra credit because it's cleanly formulated and skips alcohol and fragrances.
Although I swear by this serum, I know it's not the cheapest. You can also go with Bliss Renew & Smooth Night Serum if you're on a budget.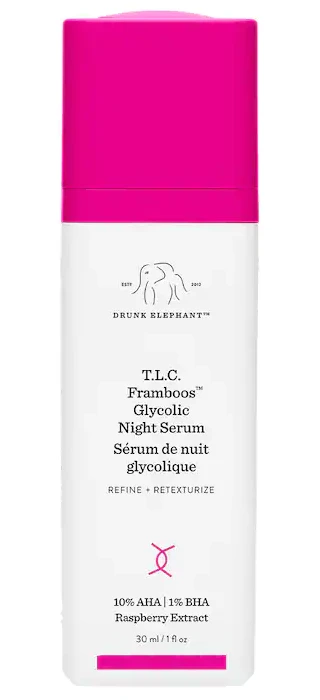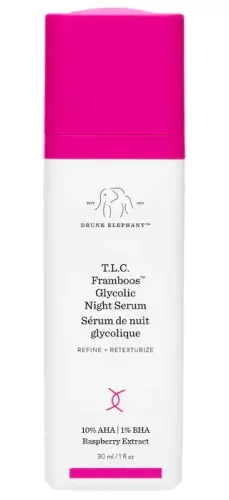 ---
Best for sensitive skin
Missha Time Revolution Night Repair Ampoule 5X
Sensitive skin may be a sign that your barrier needs a boost. This night repair serum does a damn great job at strengthening the protective barrier thanks to an impressive amount of 77.2% probiotics. Probiotics are healthy bacteria that balance the skin's pH and have been shown to repair UV-induced damage and treat inflammatory-related conditions, including acne and rosacea.[5] The formula is also rich in niacinamide and nourishing oils, both helping skin restore by the morning. Despite being a concentrated serum, the texture is lightweight yet dense, absorbing seamlessly with no sticky after-feel.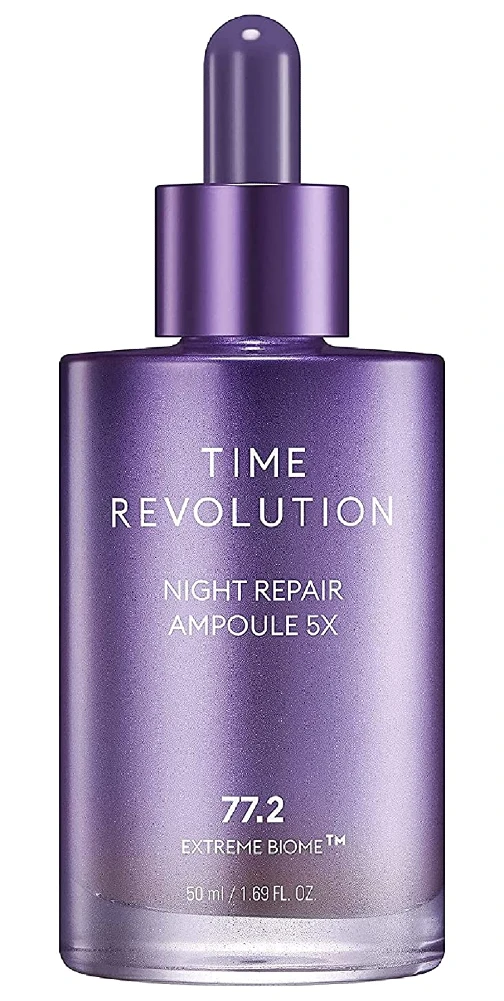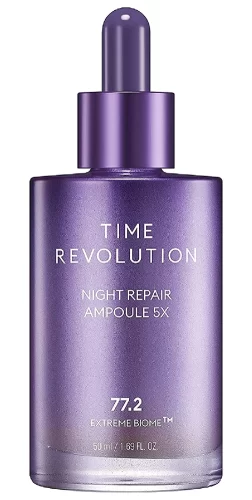 ---
Is it really necessary to use a different serum at night than the daytime one?
While it's not absolutely necessary, there are several reasons why using a separate night serum from your daytime one can be beneficial. Here I explained in more detail the importance of having two targeted routines for day and night, but to sum it up quickly: the skin has different needs during the day, hence it requires different products. 
To begin with, the day is about protection and hydration, so in general, you need to use a serum with vitamin C and other antioxidants to give it just that. However, at night, it's all about repair and treatment, which is why more potent formulas containing ingredients like retinol and exfoliants, not suitable for daytime use, are necessary. 
Read next: Dermatologist-Approved Anti-Aging Tips For Your 30s
---
Footnotes
Women's Concepts uses reliable sources, including dermatologists' insights, clinical trials, and scientific journals, to find accurate information and support all the facts shared in our articles. All statements and claims have clear and legit references. Read our editorial policy to learn more about our sources of information, our process of researching and fact-checking the content, and how our team strives to keep all articles updated, completed, and trustworthy.