In your 30s, the skin needs something different than in your 20s. With collagen and elastin production decreasing, first fine lines begin to appear, as well as uneven skin tone, making the need for certain ingredients a must. And because it's at night when the skin repairs itself, you should use one of these best night serums for 30s to offset aging signs. Skin does most of the work while you Zzz, so layering targeted serum just before you hit the hay will make you wake up to a healthy and glowing visage.
What to look for in the best night serum for your 30s
Moisturizing and hydrating ingredients
The best night serum for 30s should be infused with moisturizing and hydrating ingredients. While moisturizing agents lock hydration into the skin, preventing transepidermal water loss, hydrating ones literally pull water from the air into the skin, plumping it. Shortly, look for emollients, occlusives, and humectants, such as squalane and hyaluronic acid.
Antioxidants
You may believe antioxidants are useless at night because you don't encounter free radicals. Let me stop you right there. Actually, when antioxidants fight free radicals during the day, the skin doesn't get much of the benefits since they get destroyed and are not fully absorbed into the skin. Hence, applying antioxidants at night is the right way to strengthen the skin defense for the next day.
Anti-aging ingredients
If you want to dodge fine lines from appearing in your 30s, your night serum should contain anti-agers. Look for retinol, vitamin C, peptides, niacinamide, and ceramides.
Exfoliators
Everything would be in vain without exfoliation. When serum is infused with exfoliating acids, means that it works to renew the skin and replace old cells with new healthy ones. This leads to smoother, evener skin and better penetration. Look out for glycolic acid, lactic acid, and malic acid.
The best night serums for your 30s
Now that you know what your skin actually needs, scroll on to find the best night serums for your 30s.
---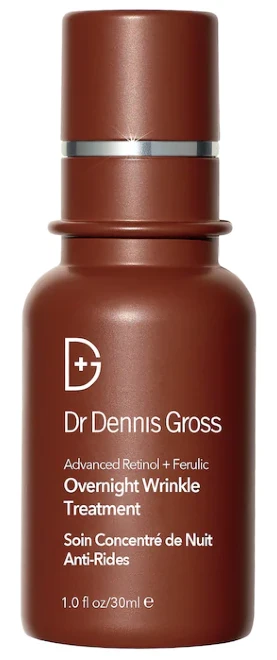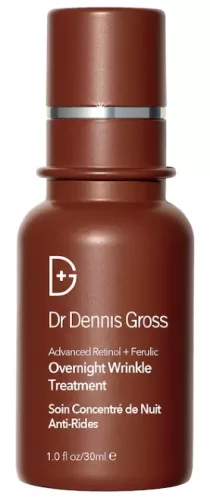 Dr. Dennis Gross Ferulic and Retinol Overnight Serum
If your skin is dry, tends to lose firmness, and dark patches start to become more and more visible, Dr. Dennis Gross Recovery Overnight Serum is your best bet. What makes this product one of the best night serums for 30s? It targets all concerns aforementioned while restoring vital hydration and supporting the protective barrier. It does it all this helped by niacinamide, retinol, bakuchiol, hyaluronic acid, plus lactic, glycolic, phytic, and mandelic acids, and adenosine, to name a few.
---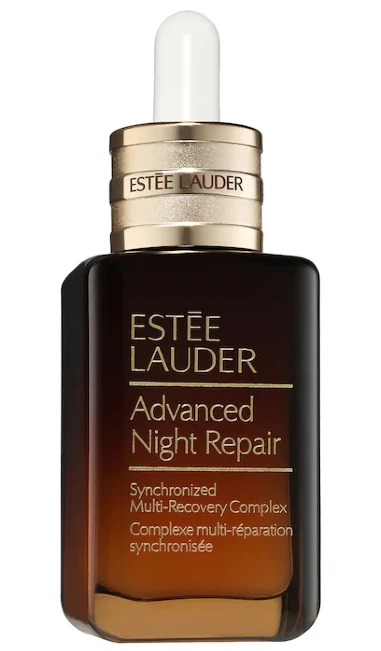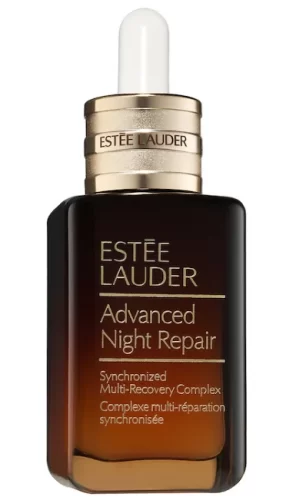 Estée Lauder Advanced Night Repair Serum
Estée Lauder created one of the best night serums for your 30s to help prevent aging sings while you sleep. It blends probiotics with peptides, hyaluronic acid, and squalane to repair the skin, and restore elasticity and plumpness. The formula also includes caffeine, bisabolol, and cica seed extract, three potent antioxidants that supercharge the skin when worn at night. The best part? It's mega effective, which is why is the most iconic serum in the world, for real.
---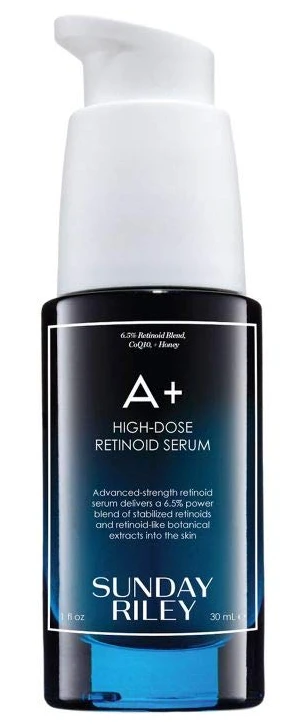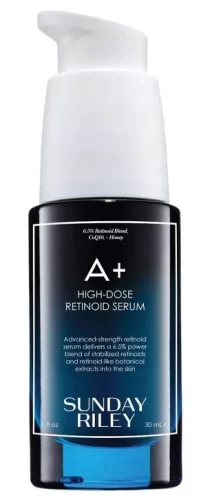 Sunday Riley A+ High-Dose Retinoid Serum
This super powerful serum is infused with advanced-strength retinol and retinol alternatives, summing up to 6.5%. Now, if you're a retinol starter, use it two days on and two days off, working your way up to every day to help your skin build tolerance and avoid irritations. Besides being powered by retinol, this night serum is spiked with CoQ10 to help skin repair and strengthen in the long run. Bonus: the thick texture absorbs in a second, with no sticky feeling, leaving skin with a radiant glow.
---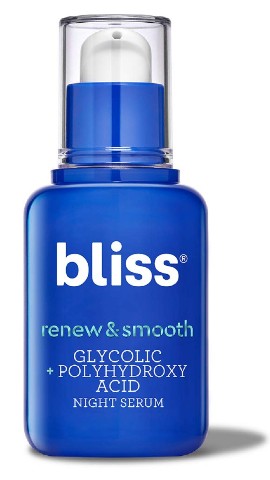 Bliss Renew and Smooth Night Serum
As the name says, Bliss night serum aims to renew and smooth while you rest. It's a gentle peel-as-you-sleep formula that uses glycolic acid and fruit acids to gently shed away dead cell buildup to improve skin texture and leave it soft and even. The other key ingredient in this serum is sugar-derived squalane which balances the skin by limiting moisture loss and regulating sebum. And the perk-me-up aromas of the Jasmine flower help you look on the bright side.
---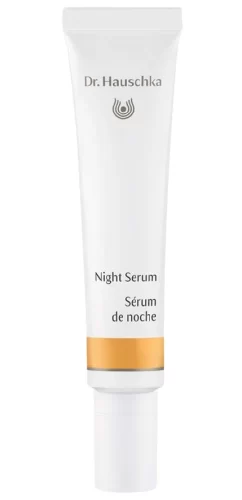 Dr. Hauschka Night Serum
If you're looking for an oil-free night serum that allows your skin to breathe while supporting its natural renewal process, look no further. Dr. Hauschka Night Serum makes you wake up with revitalized and balanced skin, thanks to a natural formula with apple fruit hydrosol (aka apple distilled water) and apple blossom extract, which have anti-aging and skin energizing benefits. And it absorbs super fast, just perfect for oily skin folks!
---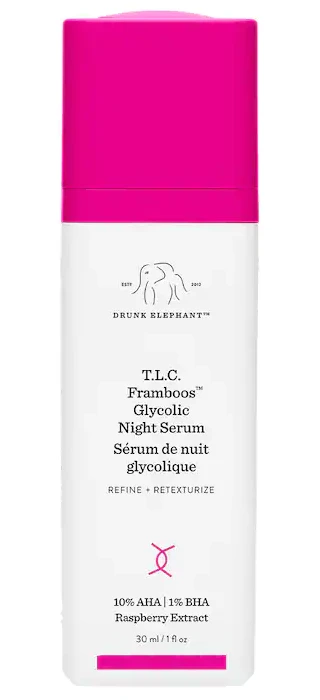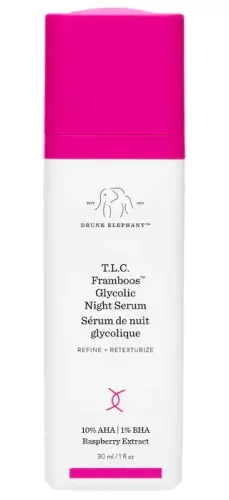 Drunk Elephant T.L.C. Framboos Glycolic Night Serum
Drunk Elephant T.L.C. Framboos is one of the best night serums for 30s since it's boosted with glycolic, lactic, salicylic, tartaric acids, plus hydrating ingredients, such as hyaluronic acid, grape, and aloe juices. It's the ideal serum to leave on overnight, revealing clear and luminous skin in the morning, all in a lightweight, natural and clean formula that skips alcohol and fragrances.
---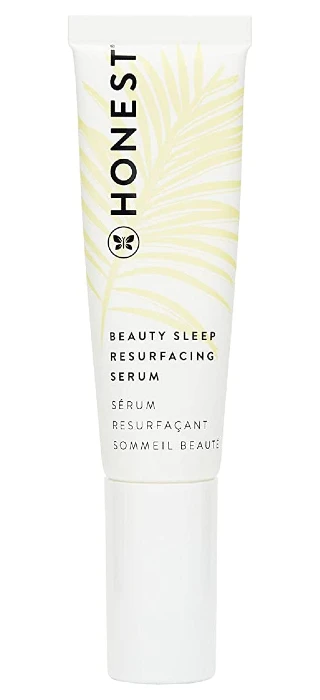 Honest Beauty Beauty Sleep Resurfacing Serum
Honest Beauty created another resurfacing serum to work the night shift. While a slew of AHAs sinks in the skin to shed away dead cells, two types of hyaluronic acid plump and hydrate. Besides, the niacinamide and grape and aloe juices have soothing, hydrating, and anti-aging effects for a beautiful woke-up-like-this glow.
---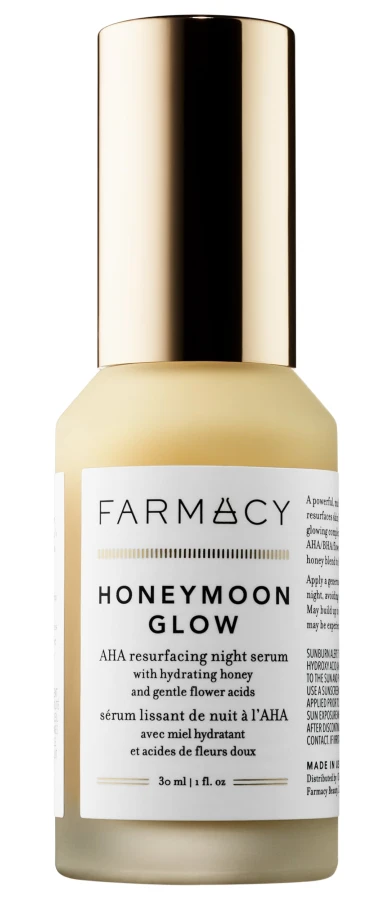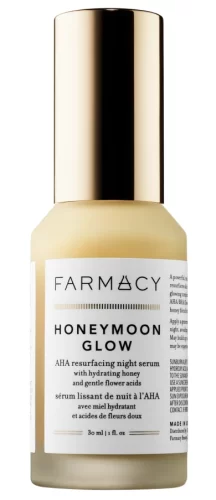 Farmacy Honeymoon Glow AHA Night Serum
On top of being clean and Planet-positive, this serum is a staple in your night routine. It's made with 14% AHA + BHA to target dark spots as well as help reduce pores, fine lines, and wrinkles look. At the same time, it adds hydration with two types of hyaluronic acid, royal jelly, honey, and propolis extract. Skin renewal? Check. Hydration? Check. Clarifying? Check. Don't think twice; it's by far one of the best choices you can make for a night serum for your 30s.
---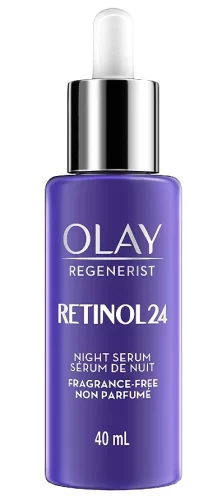 Olay Regenerist Retinol 24 Night Serum
There are a few reasons Olay Regenerist Serum is included in our round-up. Besides the unbeatable price, the formula is simple and super effective. It's infused with two retinoids, niacinamide, and peptide, which aim to hydrate the skin and encourage cell turnover for a smoother, plumper complexion when you wake up. More than that, the formula lacks fragrances, alcohol, dyes, and parabens — pretty clean.
---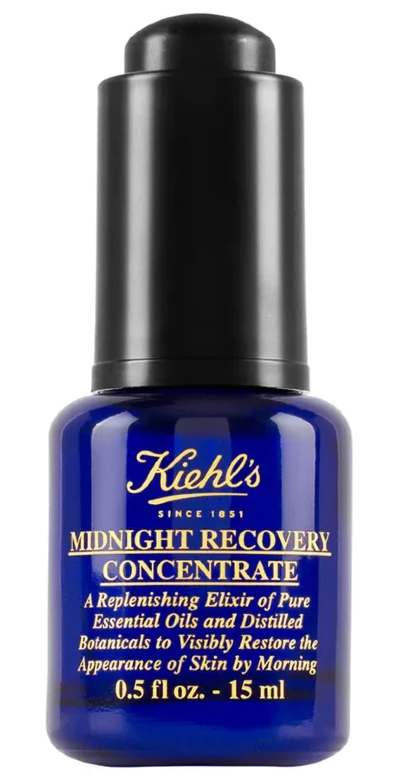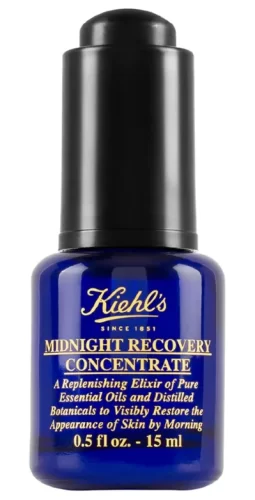 Kiehl's Midnight Recovery Concentrate
Are you into clean skincare? Because Kiehl's made the best organic night serum to use in your 30s. It aims to prevent aging signs, keeping skin hydrated while calming and firming. It does it all supported by squalane and essential botanical oils (lavender, evening primrose, jojoba) and vitamin E. Plus, it contains cucumber fruit extract that softens and revitalizes while keeping skin hydration levels up.
---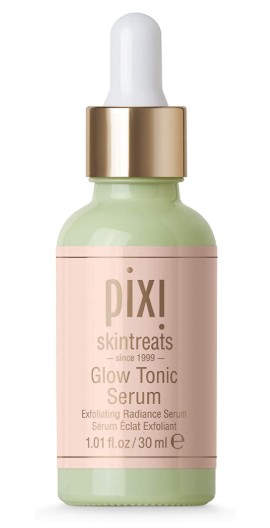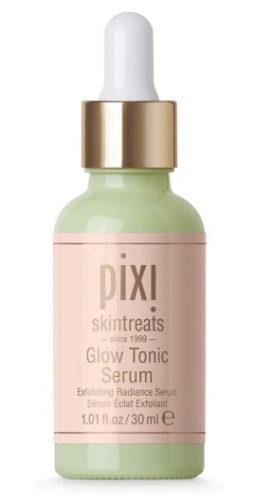 Pixi Overnight Glow Serum
If you're looking to repair the skin through exfoliation while boosting overall radiance, look no further than this powerhouse exfoliating serum from Pixi. As the name suggests, it aims to make your skin glow in the morning by shedding away dead cells, smoothing fine lines, and diminishing dark spots while you sleep. The formula is powered by 10% glycolic acid with arginine amino acid, retinyl palmitate, and vitamins A, C, and E, which helps correct damage signs, leaving the skin absolutely glowing.