Budget range: $30 – $80
Good for: Aging signs, uneven tone, acneic skin
What we like: Combines naturally-sourced elements with clinical-grade actives to deliver potent, fast-acting formulas
Cruelty-free: Yes
Sustainable: No
Safe for sensitive skin: Yes
It's been 35 years since Ole Henriksen first emerged on the skincare scene, and where a lot of names have come and gone in that time, the clinical Scandinavian brand has remained a staple in skin enthusiasts' routines. Ole Henriksen, a Danish cosmetician and the mastermind behind the brand has cultivated a loyal following thanks to his commitment to natural ingredients and a holistic approach to skincare.
Quick heads up on Ole Henriksen
The brand focuses is the perfect combination of science and nature, allowing you to exfoliate, replenish, and treat your skin all at once. All the products in the four collections of Ole Henriksen are free of more than 1,400 ingredients banned in the EU. They also value the sensorial experience, ensuring oh-so-satisfying textures and obsession-worthy scents that come from a blend of botanicals and less than 1% synthetic fragrance.
Whatever your skin woes are, be it dark spots, pimples, wrinkles, or a broken barrier, here are the best Ole Henriksen products to promote healthy skin that glows from the inside out. From award-winning formulas to the best-selling products and our editor's favorites, each of our picks will help you achieve your skincare goals without putting your skin at risk.
The best Ole Henriksen skincare products
---
Ole Henriksen Banana Bright Eye Crème
If it's one product from Ole Henriksen that you've heard about, it has to be Ole Henriksen Banana Bright Eye Crème. As the name suggests, the star ingredient in this formula is banana powder-inspired pigments, aka naturally derived minerals that correct tone instantly and reflect light for a brighter eye area. For long-term benefits, three forms of gold-stabilized vitamin C minimize dark circles, boost collagen, and protect from free radicals, while jojoba seed oil and shea butter moisturize intensely and reduce crow's feet look. P.S.: The eye cream is a great concealer base too!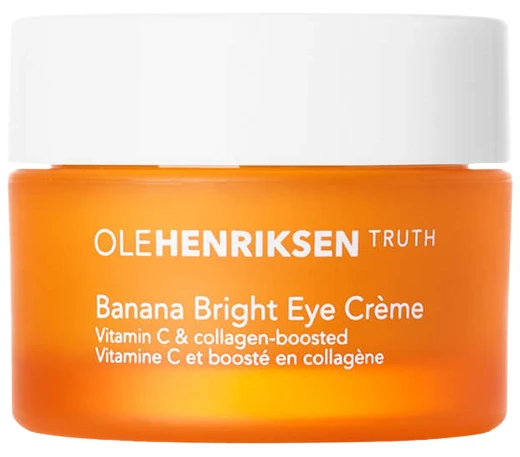 ---
Ole Henriksen Banana Bright 15% Vitamin C Serum
Beloved by thousands of skincare addicts, Ole Henriksen Banana Bright Vitamin C Serum is nothing short of a cult favorite. First, it's housed in an airtight container that doesn't allow the daily environment to degrade the formula and a press dispenser that releases the right amount of product.
Beyond the smart packaging, the serum itself is noteworthy. It's made with 15% vitamin C to guard against external stressors, enhance radiance, and improve elasticity, while 5% poly-hydroxy acid gives mild exfoliation that reveals smoother skin. There is also hyaluronic acid to hydrate and plump. As for the consistency, you can expect a light, silky texture that absorbs fast without any sticky feeling and a luminous glow that comes from naturally derived light-reflecting minerals. It's as good as in a clinical study, people noticed visibly brighter skin after one week.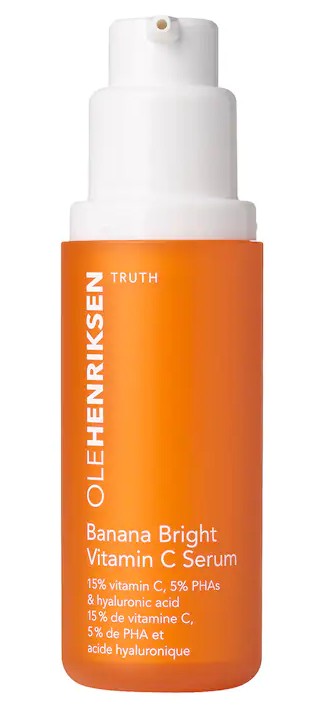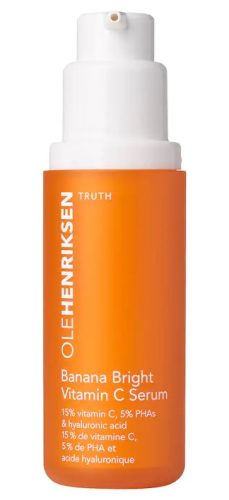 ---
Ole Henriksen Glow2OH Dark Spot Toner
Ole Henriksen Glow2OH Dark Spot Toner is one of the most praised products from the brand's portfolio and a bestseller for a reason. It gently and effectively removes impurities from the skin's surface while it sloops off dead cells with glycolic and lactic acids. Additionally, the toner is infused with witch hazel water, a known natural astringent that helps refine pores and balance oil. To ensure that the acids won't cause dryness, the formula is also loaded with sugar cane, licorice root, and chamomile extracts, which are known for their soothing and calming effects. This product is ideal for those who want to address dark spots, wrinkles, and excessive oiliness. However, it may be too harsh for sensitive skin.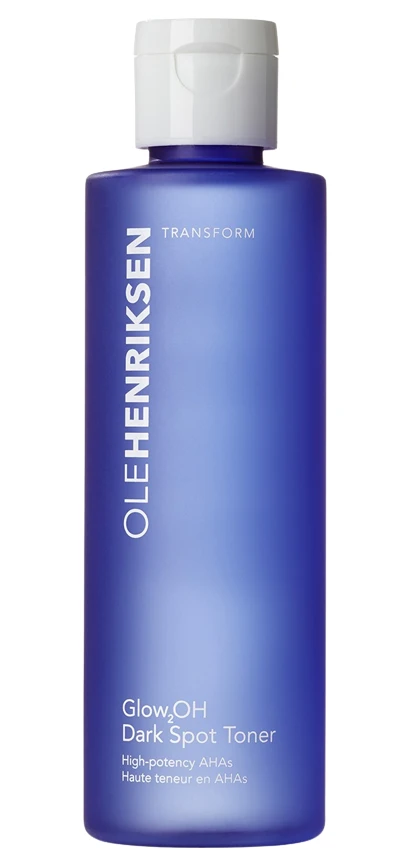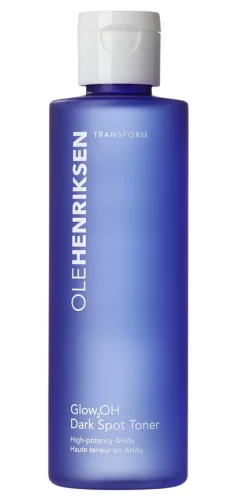 ---
Ole Henriksen Strength Trainer Peptide Boost Moisturizer
Ole Henriksen has done it again with their latest moisturizer launch, causing a stir in the skincare community for all the right reasons. This supercharged formula is packed with three types of ceramides, fatty acids, and amino acids that work in harmony to repair and nourish the skin's barrier. The star of the show, however, are eight types of peptides that support the production of collagen and elastin to notably reduce the look of fine lines and wrinkles as well as sun damage.
With a balm-to-gel texture, this moisturizer melts into the skin as it delivers rich hydration with an unexpectedly lightweight feel. And in case you wonder, the pink tint comes from vitamin B12, which provides soothing properties and attracts water for a complexion that's visibly bouncier.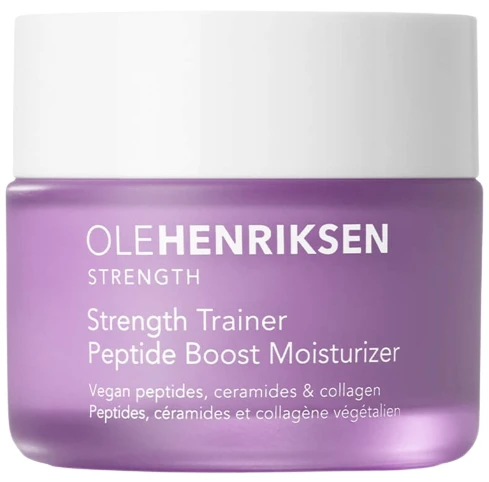 ---
Ole Henriksen Lemonade Smoothing Scrub
This is the best Ole Henriksen product for resurfacing skin and getting rid of dullness, dark spots, and excess oil. The Lemonade Smoothing Scrub provides two types of exfoliation: chemical, from glycolic and lactic acids, and physical, from ultra-fine sugar and lemon peel powder. While the first gets into the skin to lift gunk and debris, the latter acts gently on the skin's surface to remove residues and polish the skin. The result? A softer complexion, less visible dark spots, and a more luminous appearance.
A lot of people also praise the slushie texture of this exfoliant, which makes it a joy to use, and its lemon scent that reminds you of fresh lemonade on a hot summer vacay. And it's so easy to use: apply on damp skin and give it a gentle pampering massage; leave it to act for two minutes and rinse with lukewarm water. Repeat twice or thrice a week, and don't forget to apply sunscreen in the morning. However, you want to reconsider this option if your skin is sensitive, especially if you have eczema or rosacea.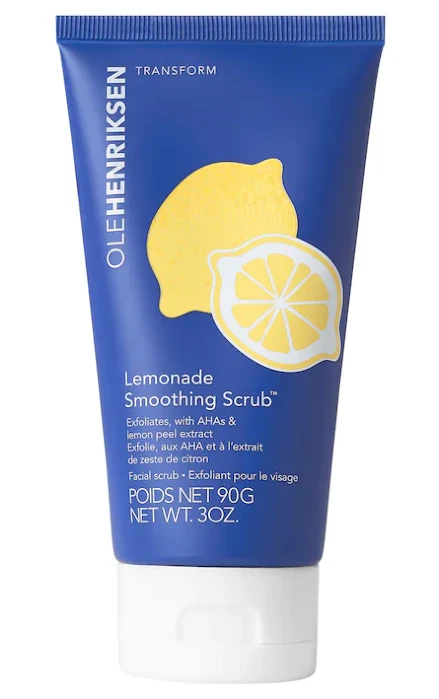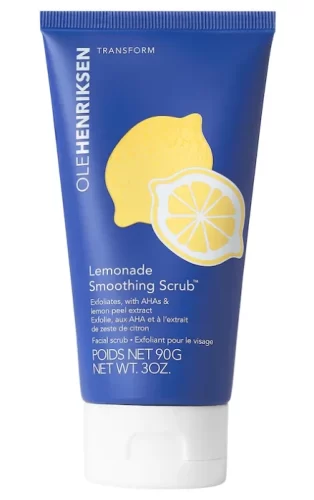 ---
Ole Henriksen C-Rush Vitamin C Gel Crème
This gel cream is the best-selling Ole Henriksen product and has quite a lot to offer, in addition to moisturizing intensely. It's made with three sources of vitamin C and contains two types of hyaluronic acid for instant and long-term hydration. At the same time, a blend of fruit extracts, including orange and lemon, delivers extra antioxidant and nourishing benefits. The texture—inspired by bursts of freshly squeezed juice—is an ultra-light gel that quenches thirsty skin without heaviness or tackiness. The cream makes a fantastic makeup primer, too, and smells like a fresh-cut orange.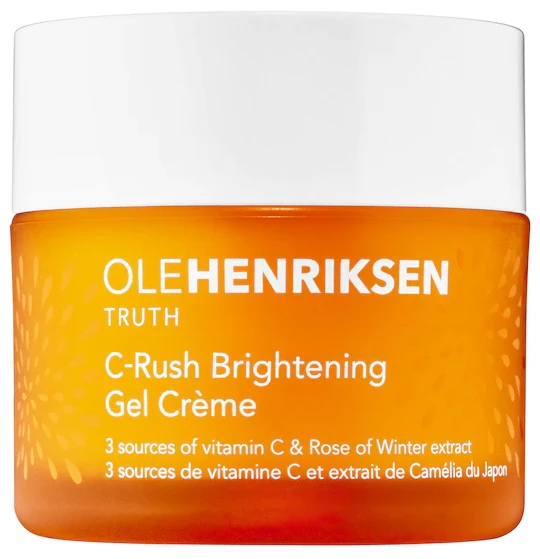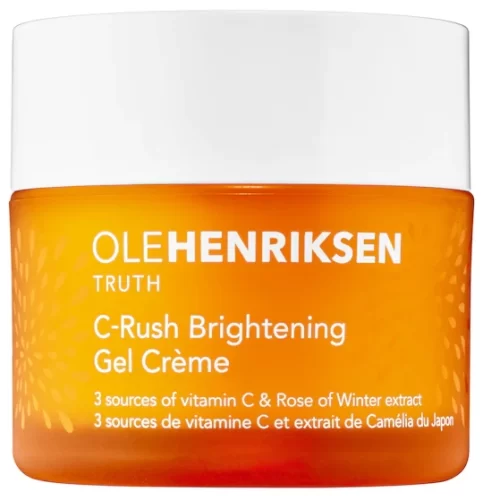 ---
Ole Henriksen Dewtopia 20% Acid Night Treatment
This treatment is formulated with 10% alpha-hydroxy acids and 10% polyhydroxy acids that target rough texture, dullness, large pores, and fine lines. These exfoliants join forces to dissolve and slough off dead skin and leave you with renewed complexion, and it does it all while you catch some Zzz. Plus, it packs lemon enzyme and licorice root to banish dark spots and leave you with a brighter tone over time. And to counteract the possible drying effects associated with acid use, the formula boasts aloe juice, birch sap, and cotton water. The velvety, custard-like texture comforts the skin, and the yummy lemon sugar scent will make you look further to apply it.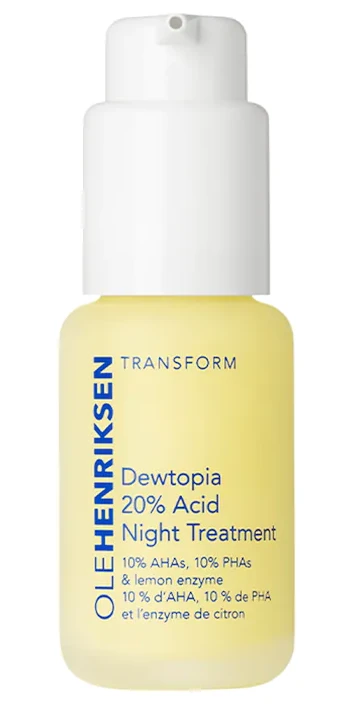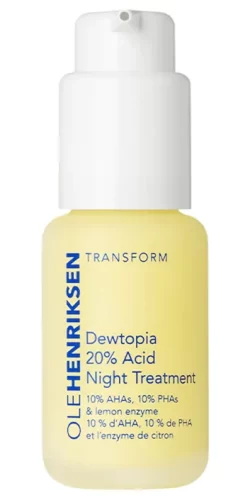 ---
Ole Henriksen Truth Serum
In 2010, Truth Serum was the number one anti-aging product in Sephora, which Ole himself says he can't live without, and even the stock runs out pretty quickly. Intrigued? Multiple sources of vitamin C boost collagen and even tone, then collagen, aloe juice, and hyaluronic acid improve moisture, and green tea calms and nourishes. Unlike the above-mentioned vitamin C-powered serum, this one addresses those who want a gentler formula with a lower concentration of vitamin C. Once you layer it on the skin, the silky formula glides effortlessly and absorbs fast while also giving an illuminating effect. Also, a little goes a long way with this one, so it'll last a while.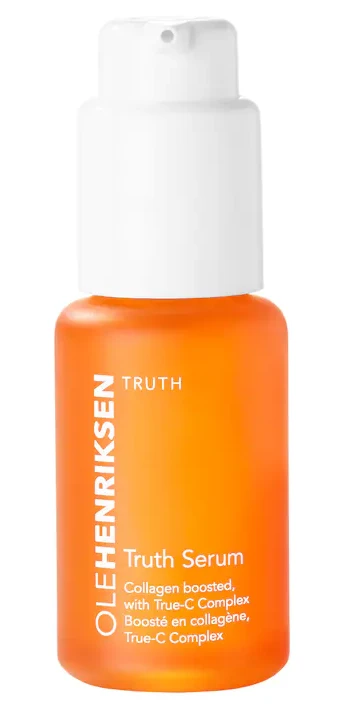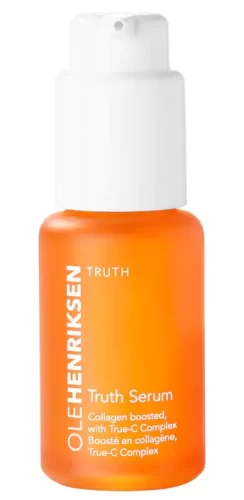 ---
Ole Henriksen Find Your Balance Oil Control Cleanser
Tell your clogged pores to pack it up and clear out. This cleanser is a solid option to kick off your routine if you're struggling with excess oil and congested skin. When massaged into the skin with water, it creates a soft lather that dissolves makeup, sebum, and dirt and leaves the face clean without ever stripping it. The heroes of the formula are glycolic and lactic acids, plus the Green Fusion Complex, which is great for absorbing sebum and refining pores. We're huge fans of the cooling sensation and invigorating fresh eucalyptus scent that awakens the senses.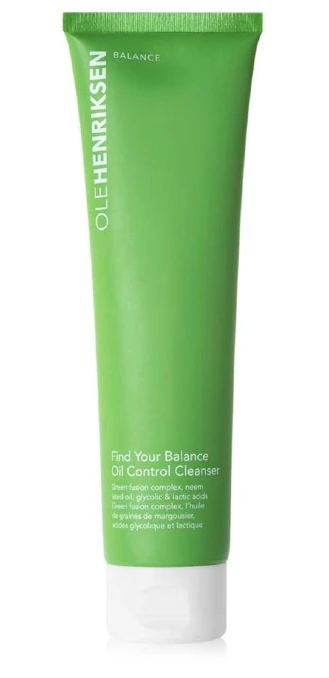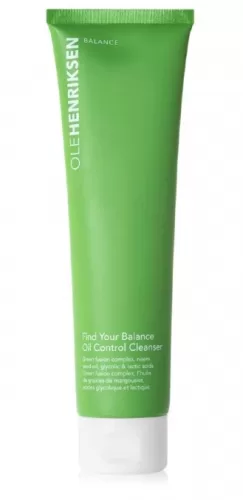 ---
Ole Henriksen PHAT Glow Facial Mask
This mask is formulated with pink bentonite clay and exfoliants to fight visible signs of aging and provide a quick at-home spa moment. The nordic birch sap, chia seed, and cotton extract play a role in nourishing and conditioning the skin and making sure it is left velvety and healthily glowing. The formula gets activated through a gentle massage, turning from pink to white and creating a perfecting cocoon that reveals no-filter-necessary skin. Leave it to act for 15 minutes and use it twice weekly for noticeable improvement.