Quick heads up on Ole Henriksen
Budget range: $30 – $80
Good for: Anti-aging, uneven skin tone, balance sebum
What we like: Combines naturally-sourced elements with clinical-grade actives to deliver potent, fast-acting formulas
Cruelty-free: Yes
Sustainable: No
Safe for sensitive skin: Yes
Building your skincare routine around the best Ole Henriksen products will be one of the greatest decisions you have ever made, of that I'm sure. The brand is enjoying enormous success and made quite a buzz in the skincare arena for a good reason: the effective formulas that aim to treat, nurture and protect. Each product in the Ole Henriksen skincare collection focuses on powerful actives, natural botanical extracts, and essential fatty acids to address all of your concerns.
Ole Henriksen skincare collections
Interestingly, Ole Henriksen was an early adopter of vitamin C in skincare, believing in its powerful antioxidant properties and ability to promote collagen. He actually created an entire line covering all steps — Truth Collection — revolving around vitamin C. 
Another great line, Ballance Collection, addresses everyone who struggles with excess oil, blackheads, and pimples. Besides a combination of AHAs and BHAs, the hero of the line is the Green Fusion Complex, an in-house blend of active botanicals, including green tea, eucalyptus, algae, and Irish moss, to refine the look of pores (a common concern of oily skin peeps).
Finally, the Transform and Transform Plus lines address whoever faces uneven skin tone. The products tackle hyperpigmentation and dark spots with some of the most potent brightening agents, such as antioxidants (to prevent dark patches), retinol, AHAs, and soothing plant extracts. In a nutshell, Ole Henriksen has products to address each of your skin concerns with potent, transformative actives.
 

 

View this post on Instagram

 
The best Ole Henriksen products
Whether you're struggling with dark spots, pimples, wrinkles, or a broken skin barrier, the best Ole Henriksen products have got your back.
---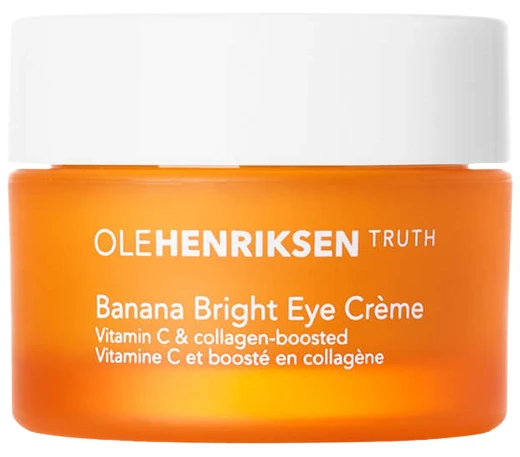 Ole Henriksen Banana Bright Eye Crème
If it's one product from Ole Henriksen that you've definitely heard about, it has to be Ole Henriksen Banana Bright Eye Crème. As the name suggests, the star ingredient in this formula is banana powder-inspired pigments, aka naturally derived minerals that correct tone and reflect light for a brighter eye area. Plus, it packs vitamin C to improve elasticity and a medley of jojoba seed oil, shea butter, and coconut alkanes to soften and moisten. And it's a great base for concealer too! It's no surprise it takes the first spot on the best Ole Henriksen products.
---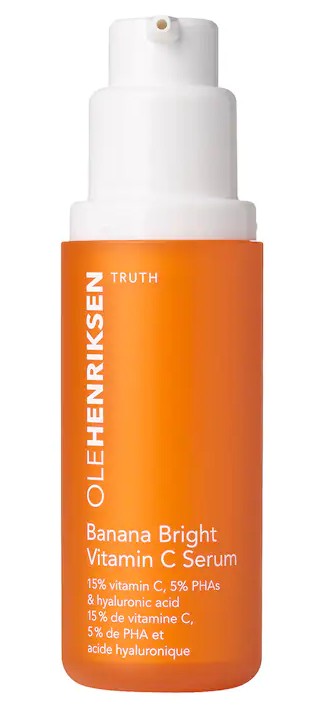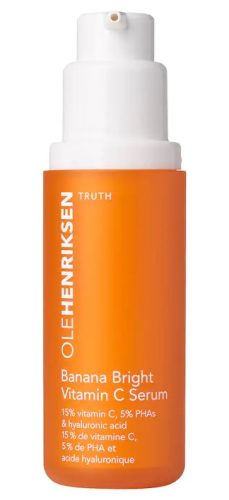 Ole Henriksen Banana Bright 15% Vitamin C Serum
The 15% Eethyl ascorbic acid (the active form of vitamin C) in this formula and the 5% polyhydroxy acid (AHA alternative) vow to revive dull skin by vanishing dark spots and evening tone while enhancing firmness and elasticity. In order to counteract the possible acids' drying effects, the serum is spiked with softening vitamin E and hydrating hyaluronic acid.
---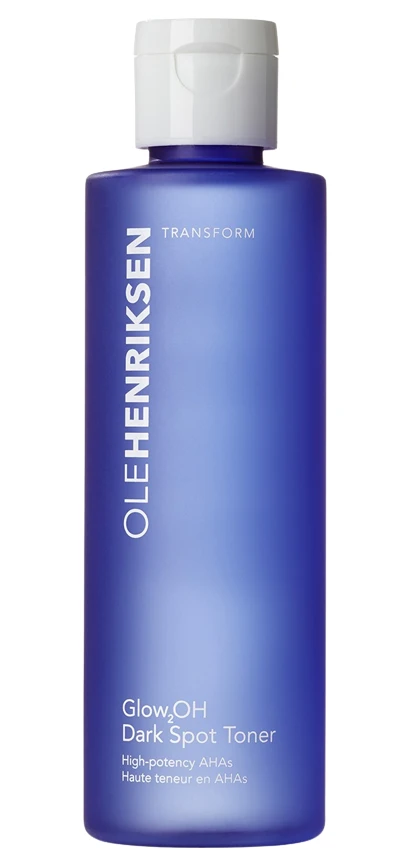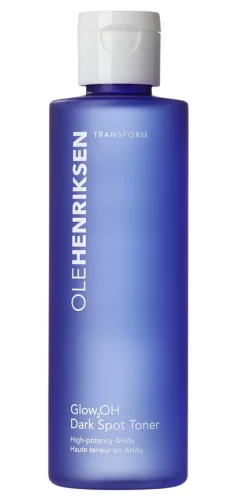 Ole Henriksen Glow2OH Dark Spot Toner
Are you struggling with dark spots left by the sun or acne and want a gentle product you can use every day? One of the best Ole Henriksen products, this toner aims to reduce the look of dark spots and banish a dull look with glycolic and lactic acids. That, besides removing the left debris on your skin after the double-cleansing. Aham is that potent.
---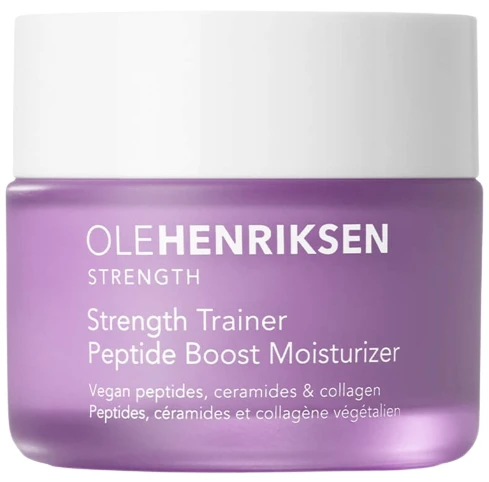 Ole Henriksen Strength Trainer Peptide Boost Moisturizer
You rarely see a new product that makes such a buzz as this moisturizer did. It was launched a few months ago, and it's already one of the bestsellers of Ole Henriksen. Intrigued? The barrier strengthening formula includes a medley of amino acids, peptides, and ceramides to support resilient skin and fortify the barrier. In addition, the melting balm-to gel texture delivers rich hydration (thanks to hyaluronic acid and niacinamide) yet has a lightweight feeling that your skin will love.
---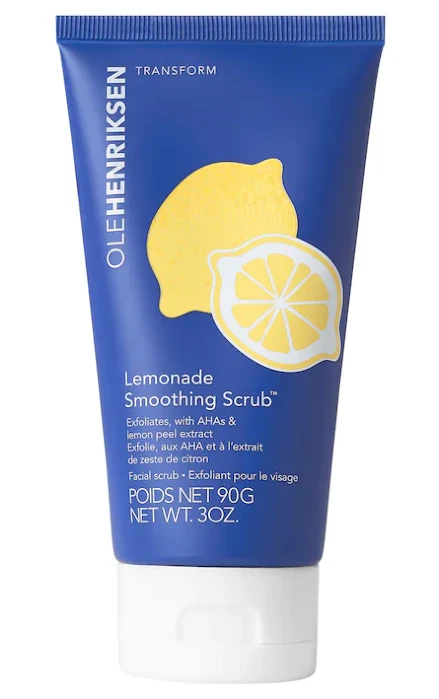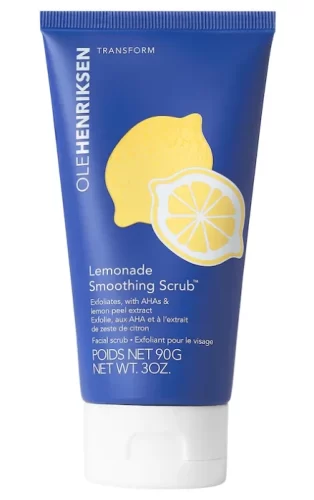 Ole Henriksen Lemonade Smoothing Scrub
Reveal instantaneous glowing complexion with Ole Henriksen Lemonade Smoothing Scrub, a cult-favorite for a good reason. It's not aggressive as most scrubs are, having a slushy feel that melts on the skin, spiked with sugar to gently sweep away rough skin. In a nutshell, it's a true all-rounder, targeting pimples, removing flakiness, and soothing skin. This smoothing scrub not only creates the perfect canvas for skincare and makeup but dramatically changes its look and feel.
---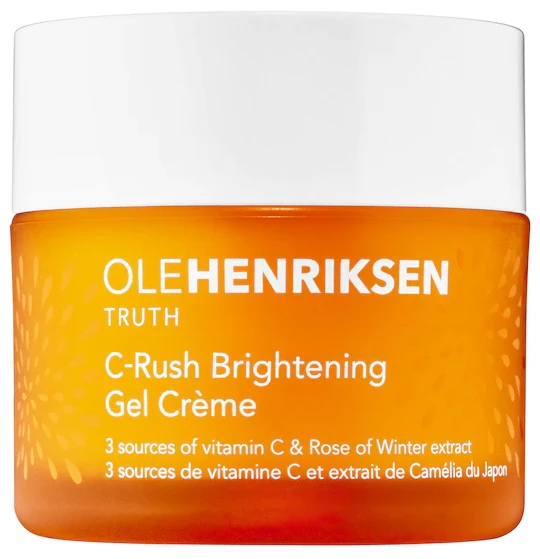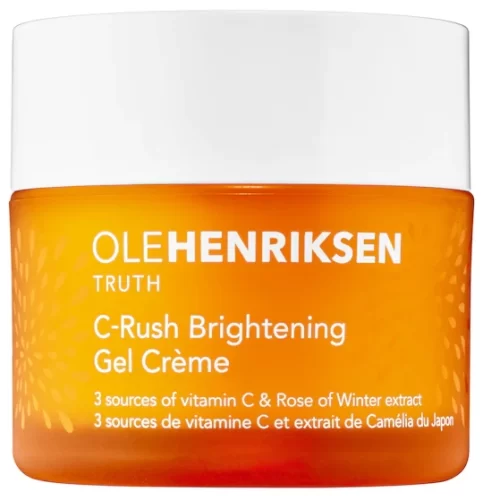 Ole Henriksen C-Rush Vitamin C Gel Crème
The Ole Henriksen C-Rush Vitamin C Gel Crème is perfect for dry and mature skins because its star actives — three sources of vitamin C — along with hydrating panthenol and hyaluronic acid gives you brand new skin. As one of the best Ole Henriksen products, this moisturizer illuminates and delivers a burst of hydration while its gel-like texture layers smoothly without feeling heavy. Bonus: it smells like a fresh orange.
---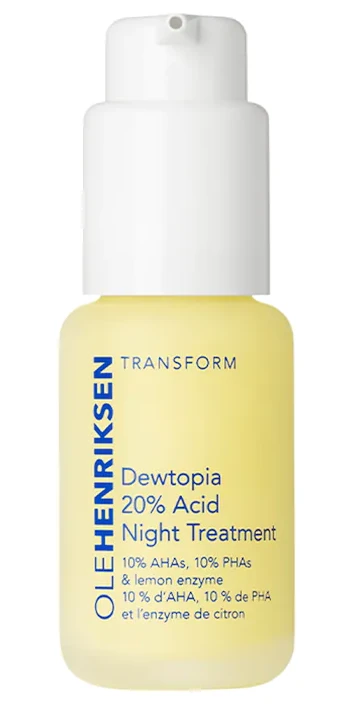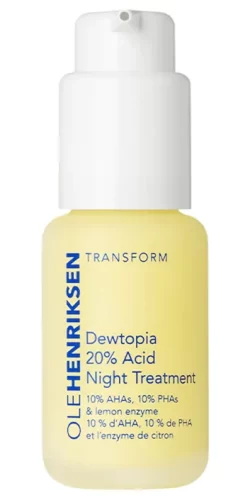 Ole Henriksen Dewtopia 20% Acid Night Treatment
If you've been on the lookout for something that works the night shift to tackle rough texture, fine lines, large pores, and dark spots, this is it. It blends 10% AHAs and 10% PHAs to exfoliate and smooth skin texture, revealing an even, firm appearance. While it's pretty powerful, the addition of aloe vera, nordic birch sap, and cotton water nourish skin and offset irritations.
---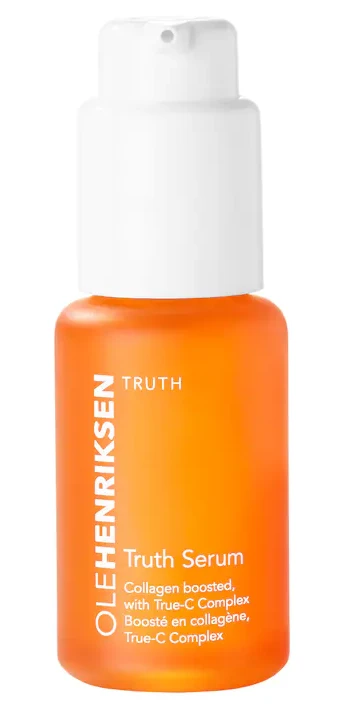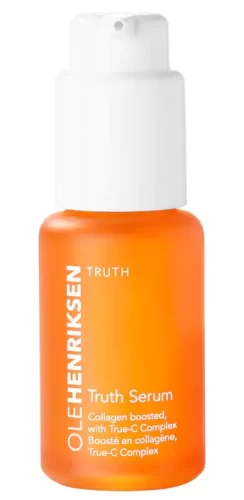 Ole Henriksen Truth Serum
In 2010, Truth Serum was the number one anti-aging product in Sephora, which Ole himself says he can't live without, and even the stock runs out pretty quick. Intrigued? Multiple sources of vitamin C boost collagen and even tone while scavenging free radicals, while the addition of collagen moisturizes and natural extracts like aloe and green tea soothe skin. The rich texture feels lightweight and absorbs in a second, giving an immediate illuminating effect. Plus, it smells like sweet oranges!
---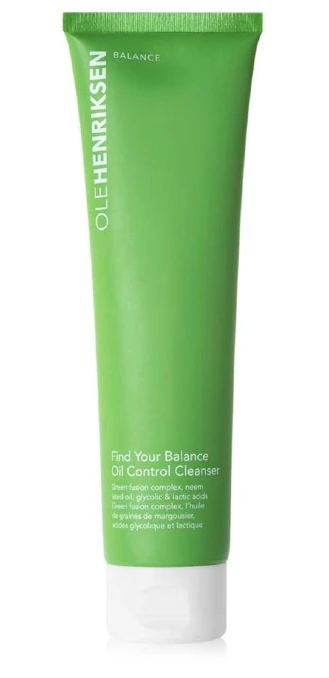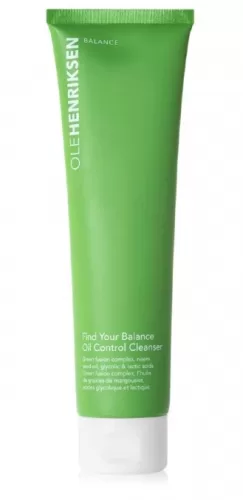 Ole Henriksen Find Your Balance Oil Control Cleanser
If you're struggling with excess oil, this cleanser is how you should start your skincare routine. It creates a lather that removes makeup, sebum, and dirt, leaving skin clean, soft, and ready for the next steps. The heroes of the formula are glycolic and lactic acids, which are great at removing dead cells buildup and cleansing skin in-depth, plus the Green Fusion Complex, ideal for absorbing sebum and refining pores. Even if the formula is strong and potent at cleansing, it won't ever strip the skin of moisture.