The pursuit of forever-smooth and radiant skin can be an adventure, especially for folks with sensitive skin. When choosing an exfoliator for easily reactive complexions you should err on the side of caution because an exfoliator that's too aggressive can disturb the protective barrier and lead to more sensitivities. With this in mind, we decided to round up the best organic exfoliators for sensitive skin so that you can have a soft and bouncy complexion with fewer chances of redness or irritation.
What type of exfoliator is best for sensitive skin?
Exfoliation can be enzymatic (fruit enzymes), chemical (acids), or physical (scrubs). If you have sensitive skin, it's best to avoid physical exfoliators because there's a high risk that the beads may disrupt the barrier. Instead, look for enzymatic exfoliants, which are usually made with enzymes derived from fruits like pineapple, papaya, or cherry. They're the mildest because they work on the skin's surface to slough off dead cells.
You can also use chemical exfoliants like alpha-hydroxy acids (AHAs) and beta-hydroxy acids (BHAs), which work to dissolve dead cells on the top layer of the skin and speed up cell turnover. They are more potent than enzymatic ones, but also more aggressive. If you prefer chemical exfoliators, you should look out for the gentlest, aka lactic acid, malic acid, and mandelic acid. If, however, you're a glycolic acid fan, consider a product with a small concentration, like 5-10%.
Finally, the best organic exfoliator for sensitive skin should include soothing ingredients, nourishing oils, and vitamins that counteract reactions and calm the skin. Also, fragrance-free is preferred, and avoid exfoliators containing sulfates and drying alcohol as they can strip the skin of moisture.
How to exfoliate sensitive skin?
Above everything, it's essential that you start using your exfoliator once weekly and gradually work up to twice a week to allow your skin to build tolerance and keep reactions at bay. Over-exfoliation can lead to a broken barrier, redness, and irritation, so you wouldn't want to fall to the extreme and exfoliate your sensitized skin too much.
You should always use your exfoliator at night and follow up with a repairing serum and a moisturizer to speed up recovery. After exfoliation, when the dead cell buildup has been removed, the products have more chances to penetrate into the skin, so it's more likely you recoup your robust complexion if using actives that aim to strengthen and rebuild the skin.
The best clean and organic exfoliators for sensitive skin
No matter which camp you fall in — seasonal or year-round sufferer — if your skin is feeling rough, tight, flaky, dry, or ruddy, it's time to consider one of these best organic exfoliators for sensitive skin.
---
Juice Beauty Green Apple Exfoliating Mask
Chocked with certified organic ingredients, Juice Beauty Exfoliating Mask was formulated with sensitive and problematic skin in mind. It's made on a base of organic aloe leaf juice — which says more than enough about its soothing and hydrating properties — and packs a potent mix of acids (including glycolic, lactic, and malic) to reveal even and smooth skin. Apply it on cleansed face for 10 minutes once or twice a week to get rid of dark spots, soften the look of fine lines and give your skin a burst of radiance.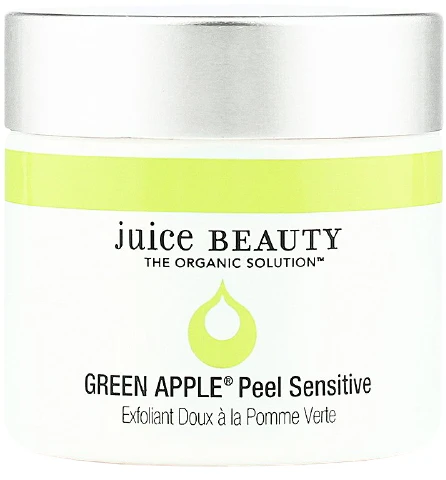 ---
First Aid Beauty Facial Radiance Pads
First Aid Beauty Facial Radiance Pads are soaked in a blend of lactic and glycolic acids, hydrating aloe juice, glycerin, and hyaluronic acid. They're perfect for sensitive skin because the gentle formula is made only with clean ingredients and lacks fragrances and alcohol. Plus, these exfoliating pads are infused with cucumber water, radish root ferment, and green tea extract to calm the skin and counteract possible dryness.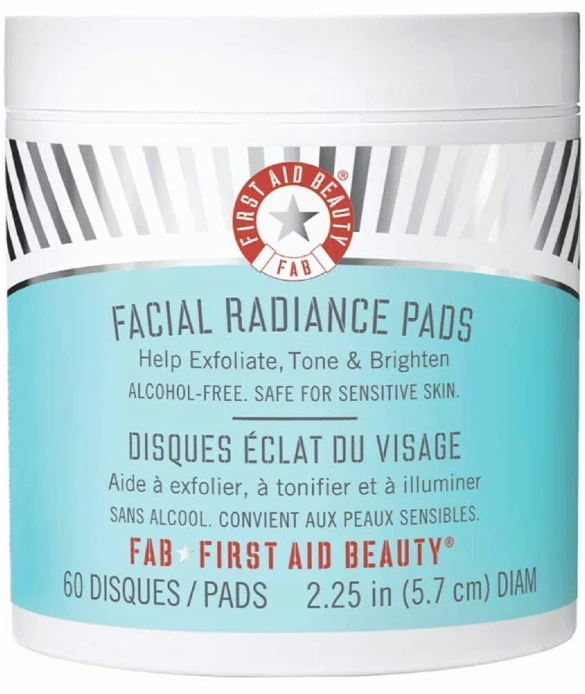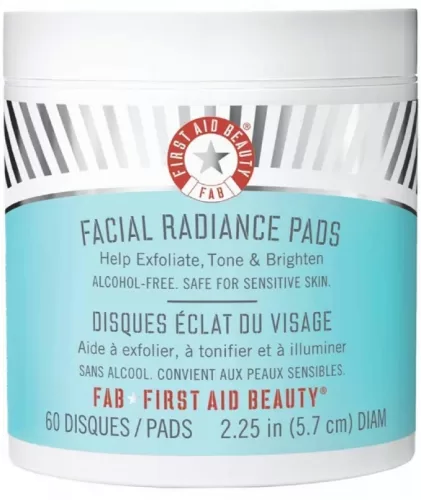 ---
Farmacy Beauty Honeymoon Glow
This serum works the night shift to encourage cell renewal, diminish dark spots and help reduce pores and fine lines look with a blend of chemical acids (lactic, glycolic, citric, and salicylic) and flower enzymes (hibiscus). Additionally, the formula packs hyaluronic acid, honey, propolis, and royal jelly, to ease redness and provide moisture and nourishment. Ideally, apply this serum twice or thrice per week in your nighttime routine and watch the magic happen.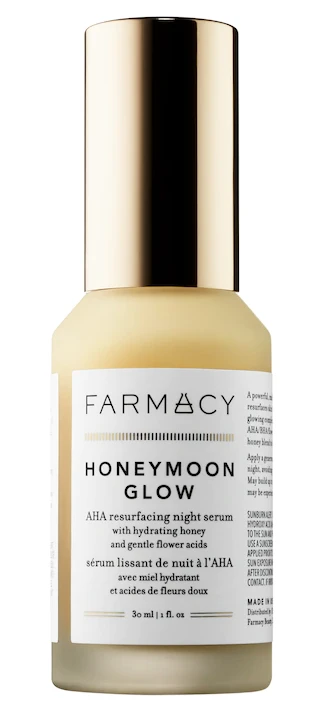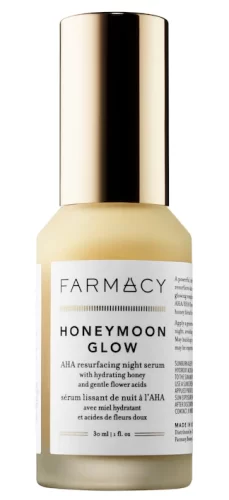 ---
Biossance Squalane + Glycolic Renewal Mask
Or you can exfoliate your problematic skin using this mask which is gentle enough even for the most sensitive complexions. It's made with plant-derived glycolic, lactic, malic, and tartaric acids to dissolve dead cell buildup and resurface the skin, while fine mineral spheres gently polish, to smooth and soften. This organic exfoliator works just perfectly for sensitive skin as it's boosted with glycerin, squalane, and sodium hyaluronate that add hydration and trap moisture, minimizing the risk of reactions.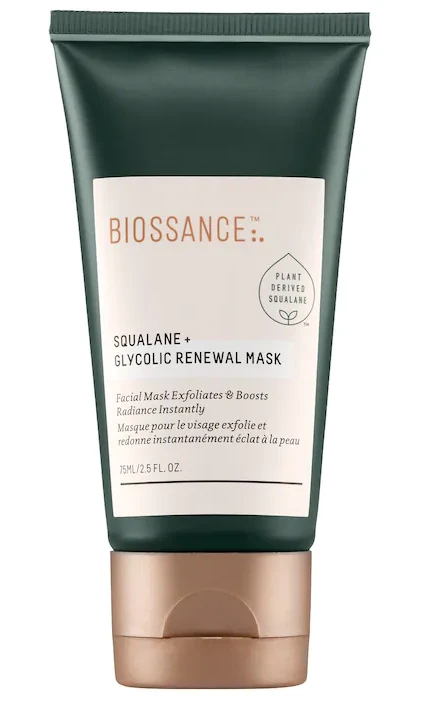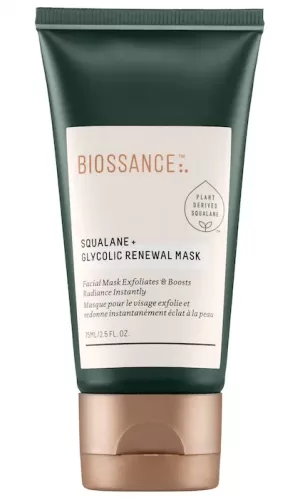 ---
Caudalie Vinoclean Gentle Buffing Cream
Caudalie created one of the best exfoliators for sensitive skin that buffs away debris and buildup thanks to delicate jojoba microbeads. Plus, it's made with nourishing organic grape oil, honey, and sunflower seed oil that feed the skin with essential nutrients. Everything is cushioned in a delicate cream that, when massaged onto damp skin, clears and softens, revealing luminous, even skin over time without bothering the barrier.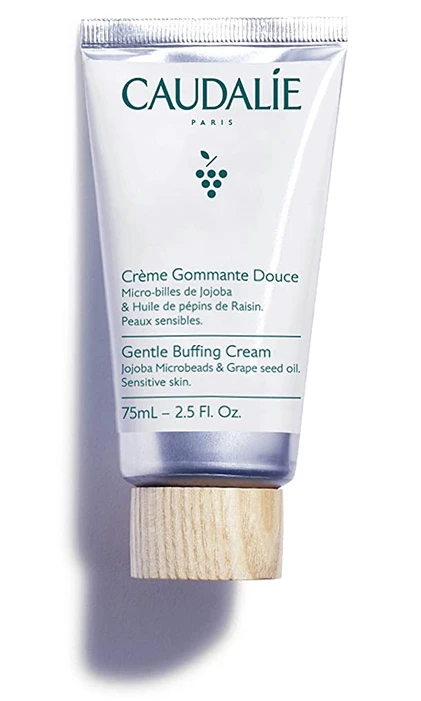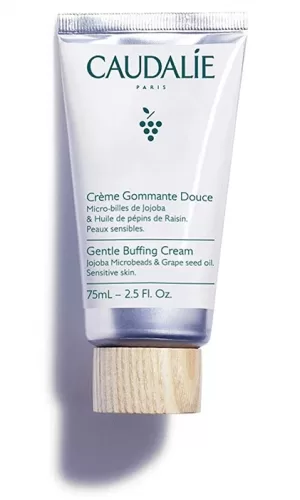 ---
Tata Harper Superkind Radiance Mask
Another organic exfoliator suitable for sensitive skin that gently sweeps away impurities and dead cell buildup comes from Tata Harper. It's infused with mild AHAs (lactic and phytic acids) that revive dullness while encouraging cell turnover to renew the skin. Besides, the sugar carbs complex aims to boost ceramides and proteins to strengthen the skin barrier while helping trap moisture in. It's by far one of the best organic exfoliators for sensitive skin in a gel-like mask formula, hypoallergenic, vegan, and fragrance-free.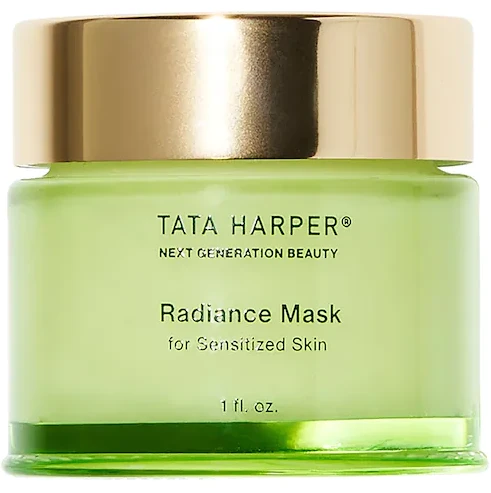 ---
Boscia Exfoliating Peel Gel
There's a reason Boscia Exfoliating Peel Gel is one of the most celebrated exfoliators for sensitive skin — it works without irritations. It's powered by a cocktail of naturally-sourced AHAs combined with pomegranate enzymes and Boscia's signature botanical blend. This killer combo improves skin on all fronts, stimulating cell renewal, clearing pores, and enhancing radiance while giving your complexion some extra TLC.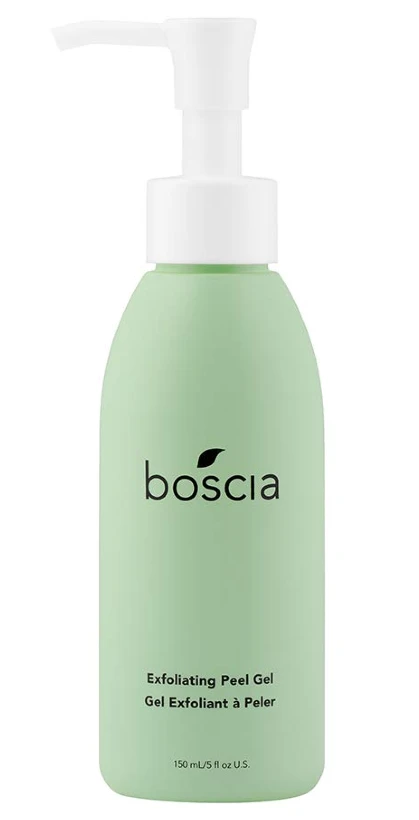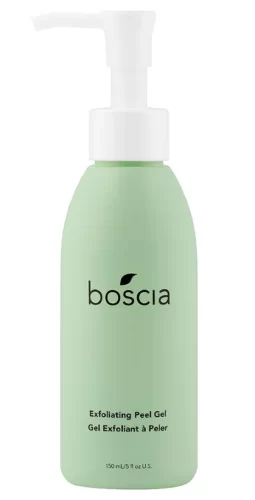 ---
Pai Virtuous Circle Gentle Exfoliator for Sensitive Skin
This gentle organic exfoliator was created for sensitive skin and helps with three things: uneven tone, rough texture, and dullness. You get delicate exfoliation without risking to irritate since it's made with soft wax from the jojoba plant formed into tiny spherical beads. Everything is loaded in a gel-like formula that turns into a silky milk when mixed with water. The addition of botanical oils, vitamin E, and squalane makes this organic exfoliator one of the best choices for sensitive skin that'll never be harsh.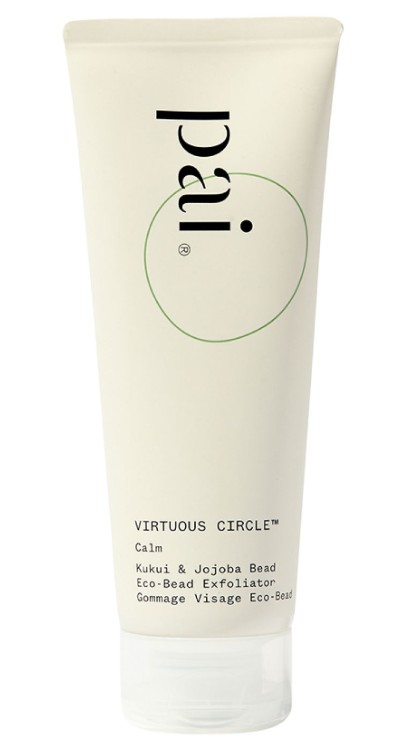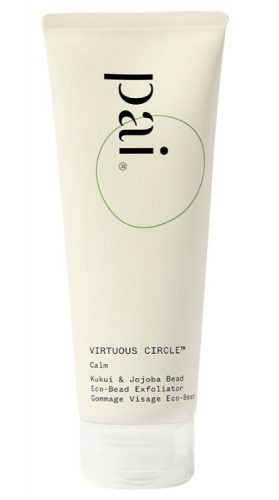 ---
Youth To The People Kombucha + 11% AHA Exfoliation Power Toner
If you fancy minimalist formulas, reach for this exfoliating toner by Youth To The People. It combines 8% lactic acid with 3% glycolic acid to make your skin look brand new, while glycerin and betaine give that dose of hydration to hinder the drying effects of AHAs. The toner is also infused with antioxidants just to make sure your sensitive skin gets what it needs to stay shielded against environmental aggressors.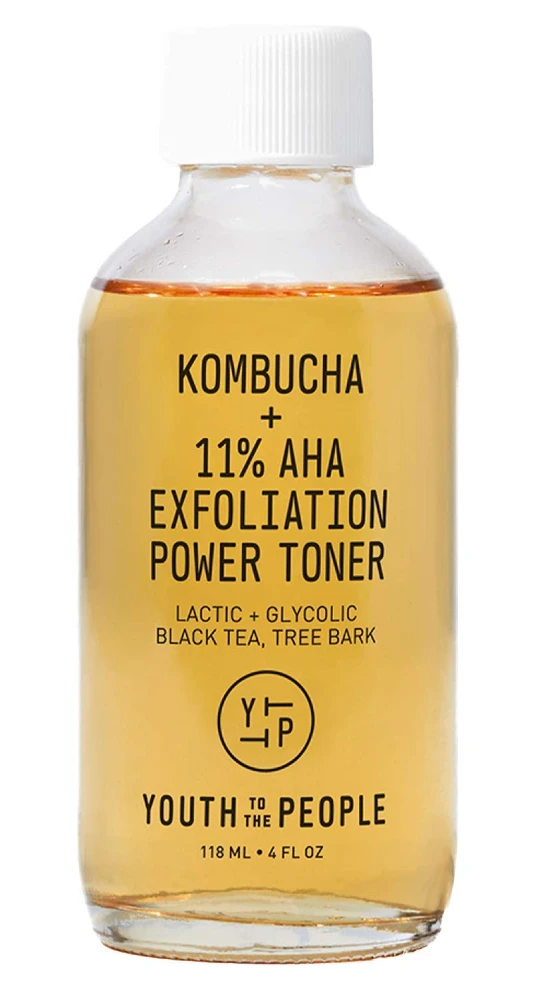 ---