Having sensitive skin is no easy feat, and exploring the world of exfoliants can feel like tiptoeing through a minefield. One wrong move with an aggressive exfoliator, and bamm, your skin's balance is thrown off and you end up with more sensitivities than before. So should you quit exfoliating? No, but you have to err on the side of caution.
Sensitive skin requires a delicate touch, and that's where nature's bounty comes to the rescue. Harnessing the power of natural ingredients, these organic exfoliators offer a balanced blend of efficacy and gentleness to remove dead cells and reveal fresh, renewed skin underneath. No abrasive scrubs, no harsh chemicals, and certainly no unnecessary additions like artificial fragrances or dyes. The products we picked for you have been carefully formulated with natural exfoliants from botanical extracts and plant-based enzymes that suit your fragile skin.
Scroll on to check the best organic exfoliators for sensitive skin and our selection process that helped us lend to these top performers.
How we selected the products
Our goal is to find products that can gently exfoliate your skin without causing irritation and breakouts. We set our sights on formulations that boasted the power of fruit enzymes like papaya or pineapple and mild acids such as lactic acid or glycolic acid derived from natural extracts, as these ingredients are known to provide effective exfoliation without being harsh on sensitive skin. We also prioritized products that carry organic and natural certifications to make sure they were free from harsh chemicals, fragrances, and artificial additives. Finally, to make our selections, we dove into customer reviews and feedback to understand how these organic exfoliators performed for people with sensitive skin.
The best organic exfoliators for sensitive skin
No matter which camp you fall in—seasonal or year-round sufferer—if your skin is feeling rough, tight, or flaky, it's time to consider one of these exfoliators for sensitive skin with organic and gentle formulas.
---
Juice Beauty Green Apple Sensitive Exfoliating Mask
This product is a revamped version of Juice Beauty's timeless exfoliating mask, meticulously crafted to suit delicate skin. It gently lifts dead cells with malic and glycolic acids, but you also get the soothing benefits of aloe juice and grapeseed extract, promising to never cause irritation or discomfort. Due to their short-contact formulas, masks are some of the best products to exfoliate sensitive skin—the less time a product spends on your skin, the fewer chances to trigger reactions.
Price: $49
Size: 2 oz
Why we chose it: Blends naturally derived exfoliants with certified organic ingredients with soothing benefits.
Worth mentioning: Recyclable packaging.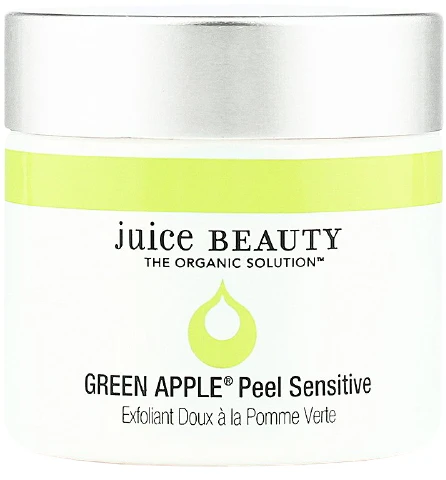 ---
Pai Virtuous Circle Exfoliator
Or you can give your sensitive skin some extra TLC with this peeling gel crafted with 95% organic ingredients. It lifts away debris and pollutants from the surface with tiny spherical jojoba beads that roll across the skin to boost radiance. What's more, the nourishing formula is chock full of omega-rich oils to ensure your face is always left smooth as velvet. Massage a generous amount onto dry skin and watch how it turns into a silky milk that clarifies the skin before your very eyes.
Price: $49
Size: 2.5 oz
Why we chose it: It has a 95% organic formula and does the double duty of exfoliating and brightening the skin.
Worth mentioning: Contains natural fragrances.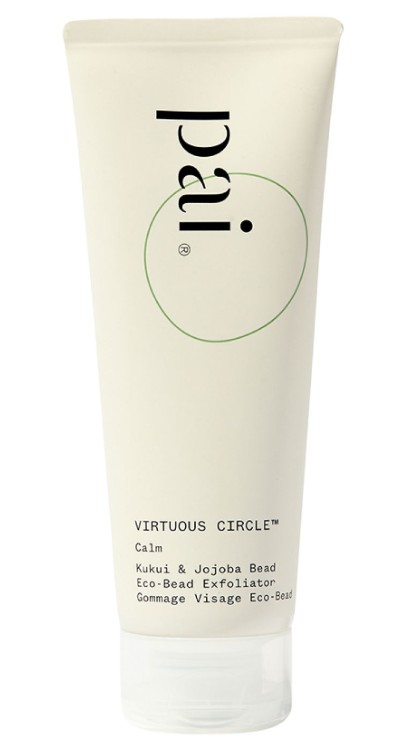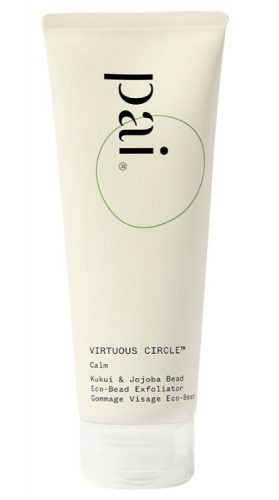 ---
First Aid Beauty Facial Radiance Pads
First Aid Beauty Facial Radiance Pads are soaked in a blend of alpha-hydroxy acids (glycolic acid and lactic acid) and are believed to be gentle enough to be used daily on sensitive skin. Looking at what people with reactive complexions say about them proves they truly deliver on their promises. The even better news is that you can snag a little container to test the waters before you dive into the bigger size.
Price: $36
Size: 28/60 pads
Why we chose it: It's gentle enough for daily use and removes flaky skin effectively.
Worth mentioning: You can cut the pads in half to last you a little longer.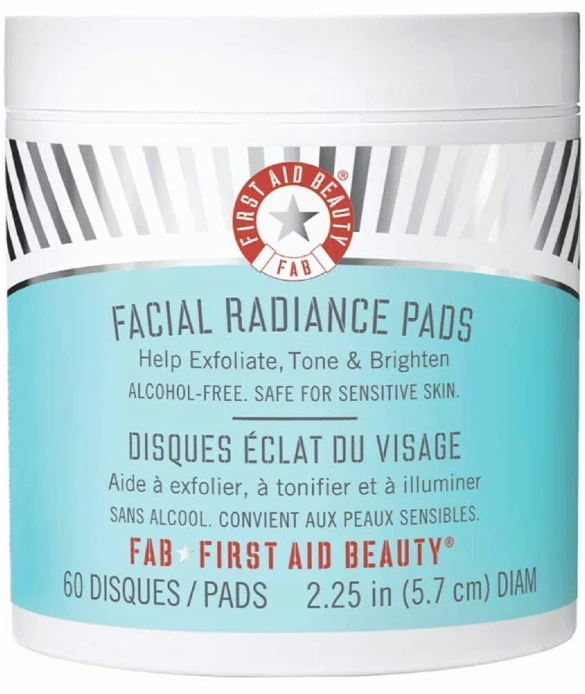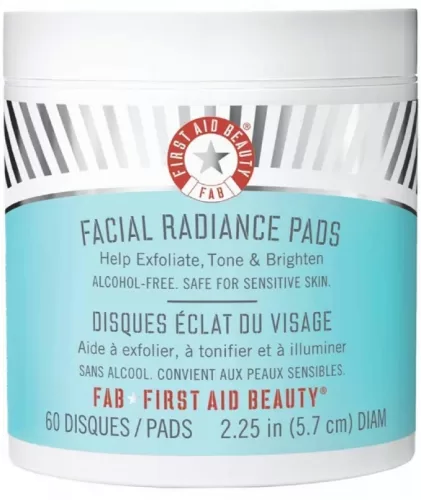 ---
Farmacy Beauty Honeymoon Glow Resurfacing Serum
This serum works the night shift to encourage cell renewal, fade dark spots, and help reduce the look of pores and fine lines with a mild blend of chemical acids and flower enzymes. Additionally, the formula packs hyaluronic acid and a mix of bee by-products, including honey and propolis, to ensure it won't overdry your delicate skin. However, given the heightened potency of this serum compared to other options on this list and its leave-on nature, it's best to perform a patch test before applying it all over your face. And limit to using it up to three times per week, allowing for intervals of free days between applications.
Price: $60
Size: 1 oz
Why we chose it: It's made with a potent blend of exfoliating acids and does the job without irritation.
Worth mentioning: It contains alcohol.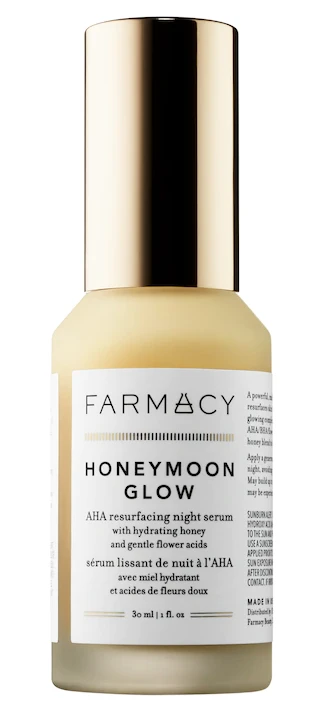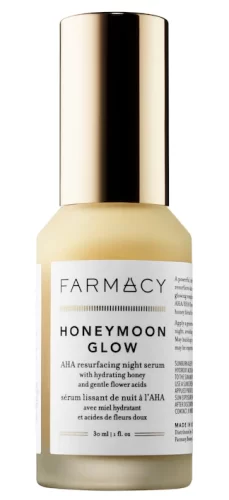 ---
Tata Harper Superkind Radiance Mask
Crafted exclusively for reactive skin, this Ecocert-certified formula brims with an abundance of organic ingredients. It uses mild AHAs to sweep away dead skin and grime, along with prebiotics to balance the skin's microbiome. There's also a mingle of botanical extracts, including chamomile and lavender, to calm your sore skin and leave it with a healthy glow. It gets better. The dermatologist-tested exfoliant is hypoallergenic and free of fragrances or harsh chemicals.
Price: $68
Size: 1 oz
Why we chose it: It's specifically formulated for sensitized skin and provides controlled exfoliation.
Worth mentioning: Certified by Ecocert and Cosmos with 100% natural and gentle ingredients.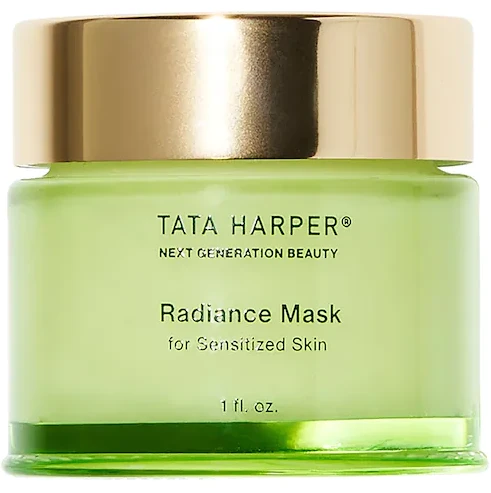 ---
Aveeno Calm + Restore Nourishing PHA Exfoliator
In case you're not familiar with polyhydroxy acids (PHA), they're a class of exfoliating acids that act gently on the skin compared to their counterparts, AHAs and BHA. For this reason, they're the most sought-after exfoliants for dry, sensitive skin. This exfoliating cleanser packs PHA (gluconolactone) along with nourishing oils derived from oat kernels and sunflower seed to remove impurities without leaving your skin stripped. There's also a whole host of ingredients to hydrate the skin and reduce sensitivities associated with exfoliants.
Price: $14.29
Size: 4 oz
Why we chose it: Cleans, exfoliates, and hydrates.
Worth mentioning: Fragrance-free.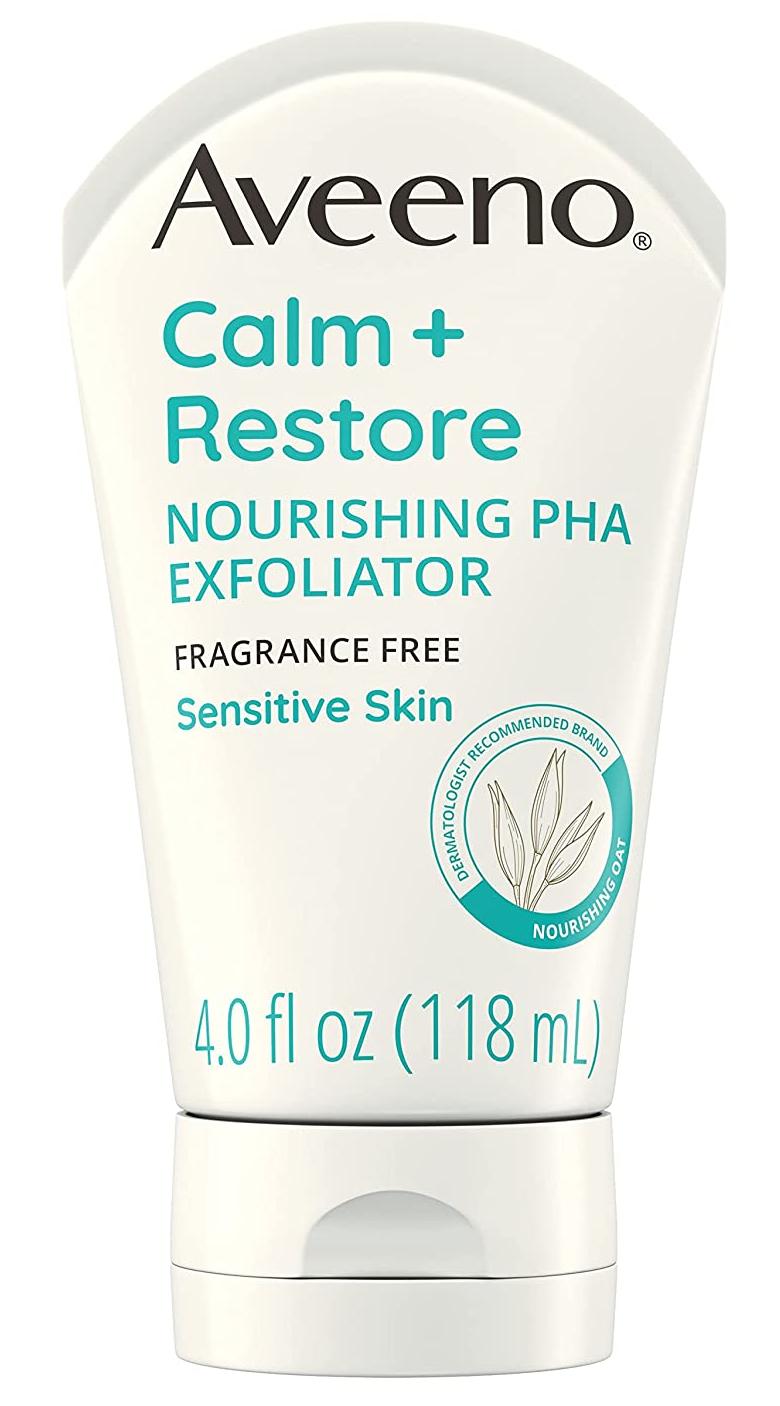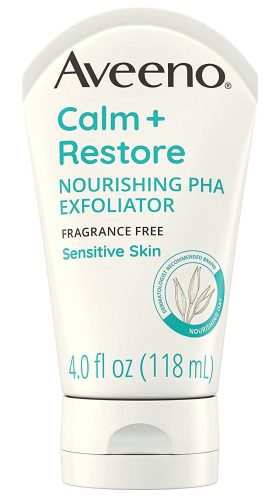 ---
Caudalie Vinoclean Gentle Buffing Cream
With the help of gentle jojoba beads, this buffing cream purifies and clarifies the skin, gently nixing dead cells from the surface and sweeping away dullness. What else is in the mix? Antioxidant-rich organic grapeseed oil and honey that nourish and soften. All you have to do is apply it on damp skin and gently massage it in circular motions, focusing on your T-zone, where most dirt and impurities accumulate, then rinse with lukewarm water.
Price: $35
Size: 2.5 oz
Why we chose it: It works for all types of skin, including dry and eczema-prone.
Worth mentioning: Contains synthetic fragrance.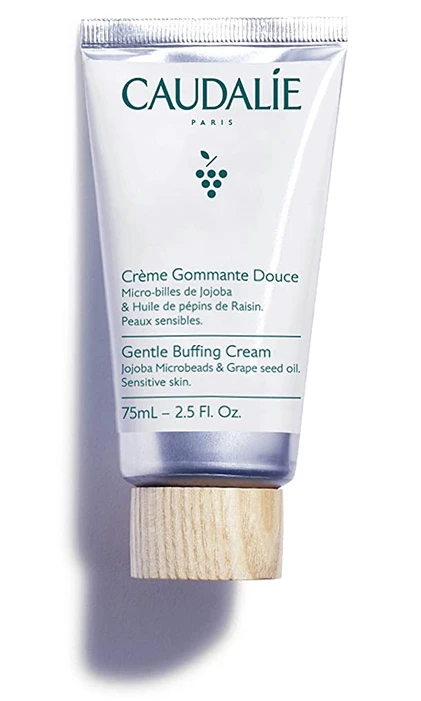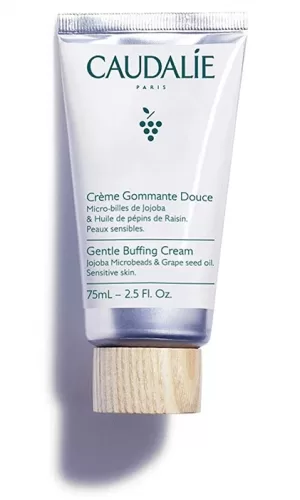 ---
Youth To The People Kombucha Exfoliant
This leave-on liquid peel works to eliminate dead cells and bacteria buildup and make your skin look brand new thanks to a mix of AHAs, where gentle lactic acid takes center stage. By incorporating amino acids, betaine, and ferments—renowned for their soothing properties—the formula nurtures the skin, providing relief and hydration. Pour the liquid on a cotton pad and sweep across your freshly cleansed skin. Optionally, you can follow with a hydrating moisturizer. P.S.: You can try out the smaller size to see if this is right for you.
Price: $42
Size: 4 oz
Why we chose it: Works great overnight to revive dull skin and reduce dark spots.
Worth mentioning: Too strong for super sensitive skin.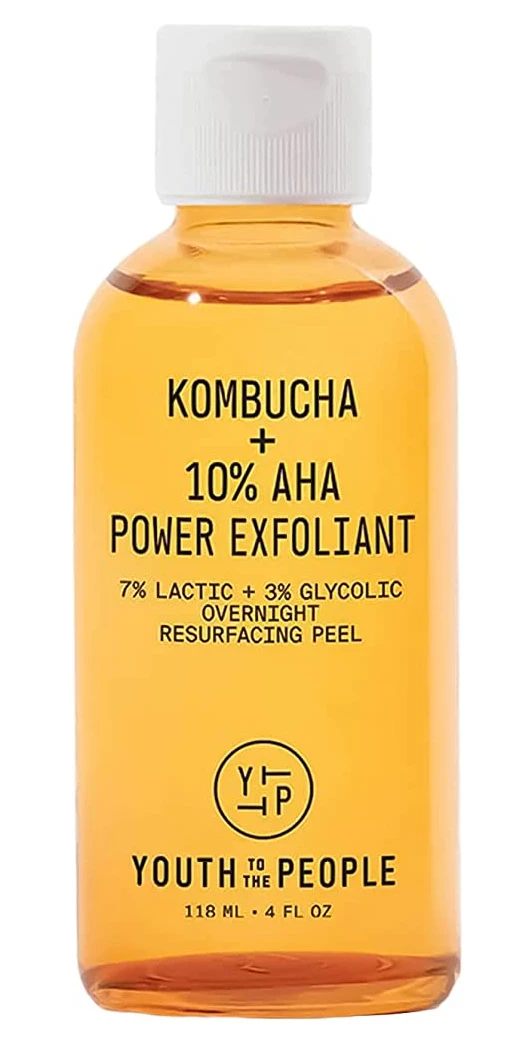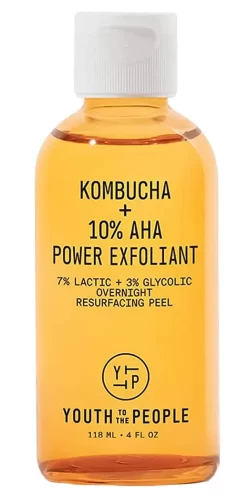 ---
What type of exfoliator is best for sensitive skin?
Exfoliation can be enzymatic (fruit enzymes), chemical (acids), or physical (scrubs). If you have sensitive skin, it's best to avoid scrubs because there's a high risk that the abrasive beads disrupt your moisture barrier.
Instead, look for enzymatic exfoliants, which are usually made with enzymes derived from fruits like pineapple, papaya, or cherry. They're the mildest because they work on the skin's surface to slough off dead cells.
You can also use chemical exfoliants like alpha-hydroxy acids (AHAs) and beta-hydroxy acids (BHAs) on sensitive skin. They can be naturally derived from citrus fruits, sugarcane, and sour milk and work to dissolve dead cells on the top layer of the skin and speed up cell turnover. If you prefer chemical exfoliators, you should look out for the gentlest, like lactic acid, malic acid, and mandelic acid. If, however, you're a glycolic acid fan, consider a product with a low concentration, like 5-10%.
Finally, an ideal organic exfoliator for sensitive skin should include soothing ingredients that counteract reactions and calm the skin.
Make your own exfoliant at home
You can use aloe vera gel with sugar crystals as a gentle exfoliating scrub for your sensitive skin. Aloe vera has soothing properties and contains natural enzymes that help remove dead skin cells in a delicate manner. Apply it only on body parts.
Create an exfoliating mask by mixing ground oatmeal with raw honey. The oatmeal acts as a mild physical exfoliant, while the honey moisturizes the skin. 
Good to know
Exfoliate only at night and no more than two times a week.
Follow up with a barrier repair moisturizer or healing ointment after exfoliation to regenerate your newly exfoliated skin. Ceramides, fatty acids, probiotics, and zinc can help speed up skin recovery and minimize redness.
Always use sunscreen in the morning.
Don't use retinoids or other potent active ingredients until your skin is fully recovered after exfoliation.
Avoid harsh cleansers with sulfates, alcohol, and astringents.
Opt for short-contact products like a cleanser or mask if this is your first time using exfoliants. Leave-on peels can be too aggressive for those who haven't built tolerance to chemical acids.
When applying the exfoliant, use light pressure and gentle motions.
Read next: How To Exfoliate Sensitive Skin Like A Pro