The pursuit of forever-smooth, radiant skin can be an adventure, especially for sensitive skin folks. And now, when the winter or the problematic skin season — how I rather call it — is around the corner, exfoliating can be tough. Whether you've got sensitive skin temporarily, you've compromised your skin barrier, or you've been born with easily reactive skin, one thing I know: you need an organic exfoliator. Exfoliation is a key step, something a skincare devotee can't ever skip. So, if your skin is bothered, feels perpetually itchy, irritated, flaky, or dry, these best organic exfoliators for sensitive skin will definitely come in handy!
How to exfoliate sensitive skin?
Sensitive skin type should err on the side of caution and don't ever fall into the extreme and over-exfoliate. Using an exfoliator once weekly and gradually working up to at most twice a week is what you should do as that helps your skin build tolerance and keeps irritations at bay. As a matter of fact, under-exfoliating is better than doing it too much when your skin is prone to irritations and dryness. Always look for mild chemical exfoliators, and if the formula is organic, even better. Of utmost importance is making sure your skin also gets hydrating ingredients, such as hyaluronic acid, botanical oils, and peptides. For the best, always use your exfoliator at night and apply a hydrating moisturizer after. 
What to look for in an exfoliator for sensitive skin?
Exfoliation can be chemical (acids), enzymatic (fruits enzymes), or physical (scrubs). Enzymatic exfoliators are the most delicate, so they do best for sensitive skin. However, if you're into chemical exfoliators, focus on the gentlest AHAs/BHAs, like lactic, mandelic, and malic acids. And if you're a glycolic or salicylic acid fan, you must use it in lower concentrations. It may sound backward but chemical peels can be naturally-derived. For instance, glycolic acid comes from sugar cane. Now, please leave the physical exfoliators for the body.
Last but not least, the best organic exfoliators for sensitive skin also use soothing ingredients to minimize the chances of irritations. Fragrance-free is preferred and stay away from sulfates and denatured alcohol (alcohol denat). Their harsh nature can strip away your skin of moisture, dry it out, and make it even more sensitive.
The best organic exfoliators for sensitive skin
No matter which camp you fall in — seasonal or year-round sufferer — if your skin is consistently feeling rough, tight, flaky, dry, or ruddy, it's time to consider one of these best organic exfoliators for sensitive skin.
---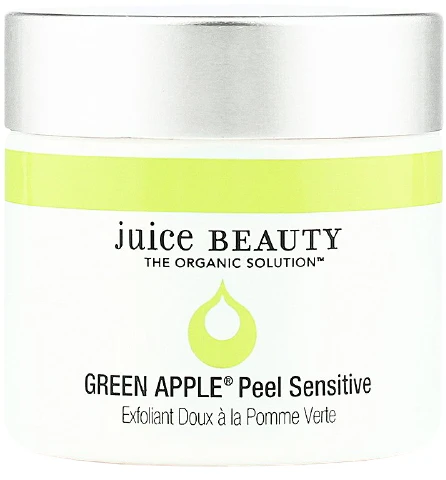 Juice Beauty Green Apple Exfoliating Mask
Juice Beauty Exfoliating Mask was made for sensitive skin. It packs malic acid, glycolic acid, and lactic acid to improve skin texture, while grapeseed, vitamins C and E, have antioxidant activity to scavenge free radicals. The glycerin and aloe vera juice are the perfect addition to the formula since they soothe the skin, keeping irritations away. Leave it on your complexion for 10 minutes once or twice a week to keep at bay dark spots, discoloration, and uneven skin tone and texture.
---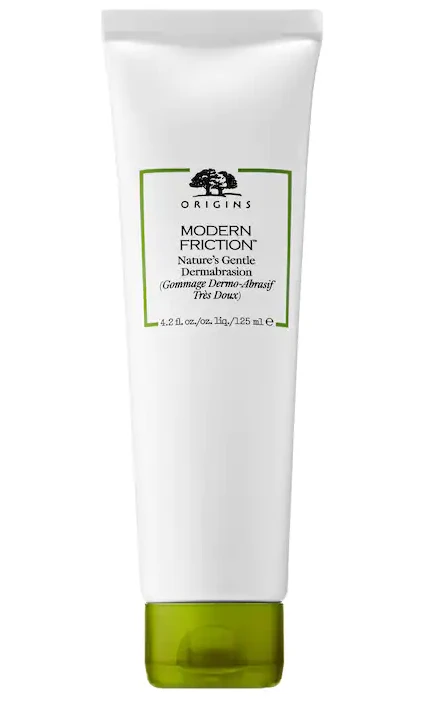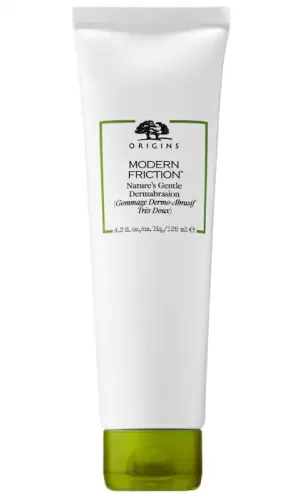 Origins Modern Friction Nature's Gentle Dermabrasion
This is one of the best organic exfoliators that actually works for sensitive skin. Infused with rice starch and botanical oils like lemon peel and cucumber, it exfoliates the skin leaving it soft, smooth, and luminous. Everything is cushioned in a delicate cream that eliminates all dead cells when massaged over damp skin, revealing glowy and healthy skin. OK, the scent of bergamot and peppermint will make you look forward to exfoliating your skin — don't use it more than twice weekly, though.
---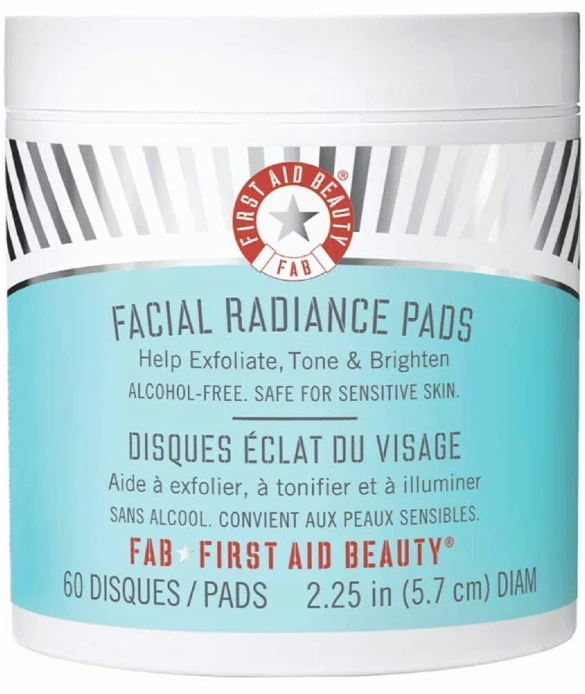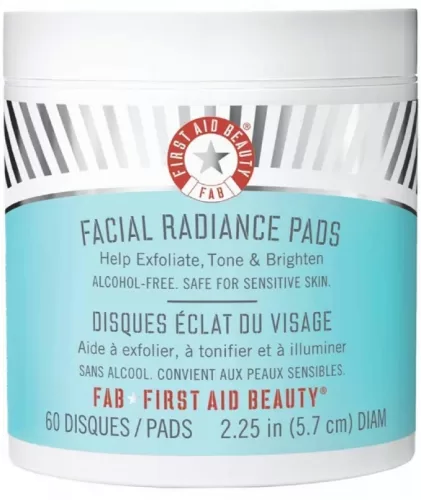 First Aid Beauty Facial Radiance Pads
These pads are soaked in a blend of lactic and glycolic acids, hydrating aloe juice, glycerin, and hyaluronic acid. They're perfect for sensitive skin because the gentle formula is made only with clean ingredients, lacks fragrances and alcohol. Plus, these exfoliating pads are boosted with antioxidant-rich ingredients and contain lemon peel to brighten dark spots. P.S: You could cut the pads in half since there's enough liquid in one pad for two uses, so you get more of the deal.
---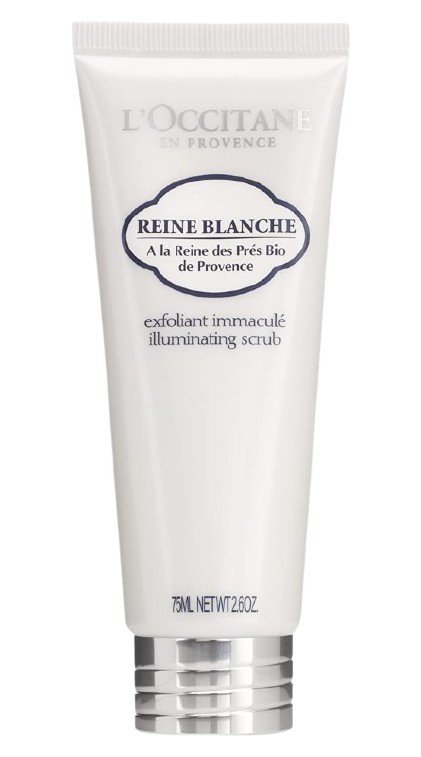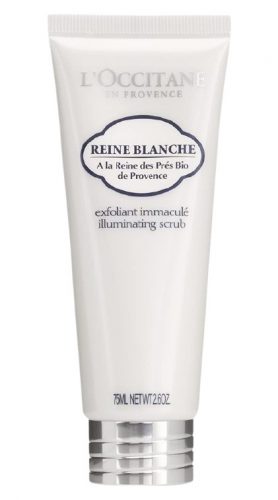 L'Occitane Reine Blanche Illuminating Scrub
I know I've said to leave scrubs for the body, but this one is an exception from the rule. It has a creamy texture that exfoliates gently, is non-abrasive, and is so delicate, touted as the best natural scrub for sensitive skin. It features salicylic acid among the last ingredients, so it's not a powerful exfoliator yet does a fantastic job at unclogging pores and reviving the skin. The brightening properties come from the Queen of the Meadows, a flower with white petals that illuminates the skin. Bonus: the formula packs sunflower seed oil, a rich source of antioxidants and nutrients great at counteracting skin irritations and sensitivities.
---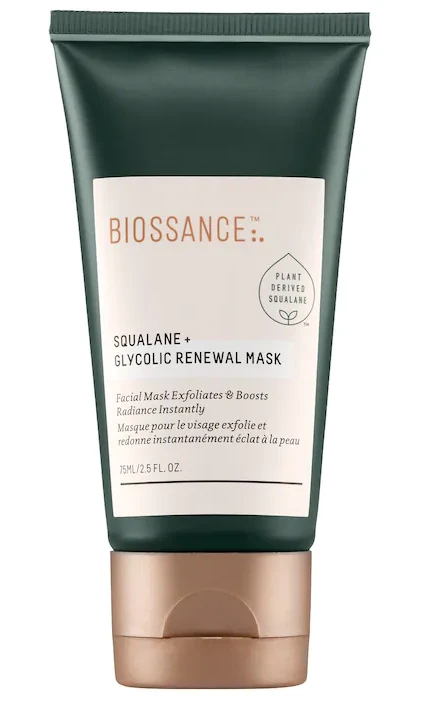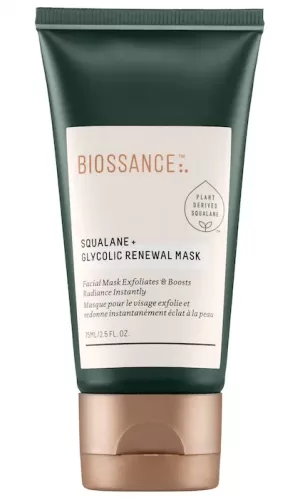 Biossance Squalane + Glycolic Renewal Mask
Or you can exfoliate your problematic skin using a mask — and this one happens to be gentle enough for sensitive skin. It's made with glycolic, lactic, malic, and tartaric acids to refresh and brighten, plus fine mineral spheres that gently polish to smooth and soften the skin. This organic exfoliator works just perfect for sensitive skin as it's boosted with squalane and hyaluronic acid that plump and hydrate the skin, diminishing the risk of irritations.
---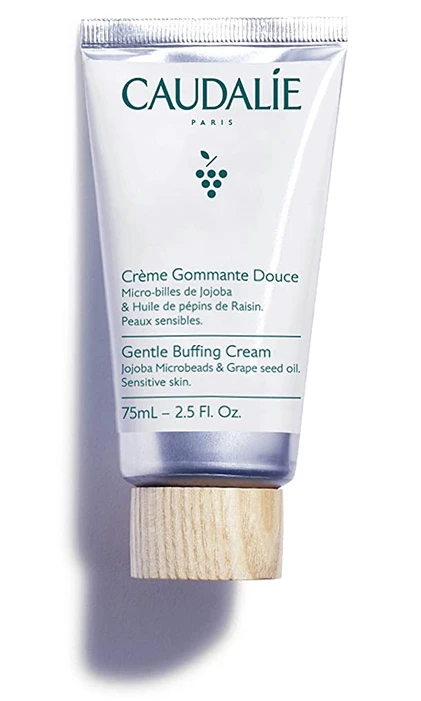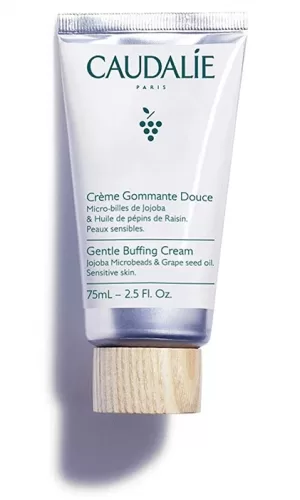 Caudalie Vinoclean Gentle Buffing Cream
Caudalie created one of the best natural exfoliators for sensitive skin with loving and gentle ingredients. First, it's in the form of a lightweight cream that purifies thanks to the jojoba microbeads, leaving the skin deeply cleansed and soft. Secondly, Caudalie Buffing Cream includes a blend of grapeseed oil, honey, and sunflower seed oil for antioxidant and emollient effects. Twice-a-week use minimizes flare-ups to maintain a remarkably clear glow and creates the perfect canvas for makeup. Vraiment super!
---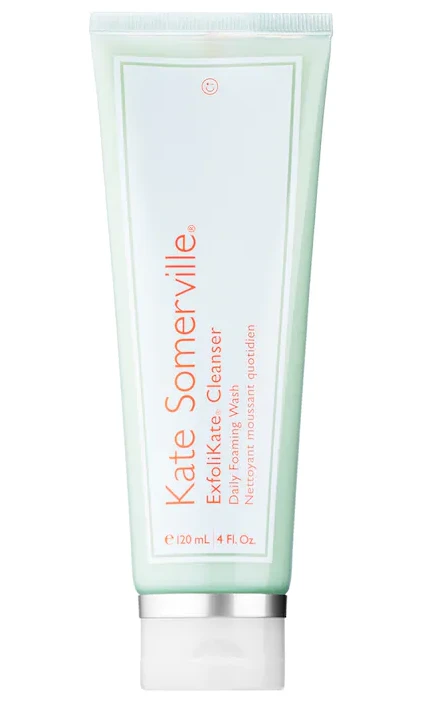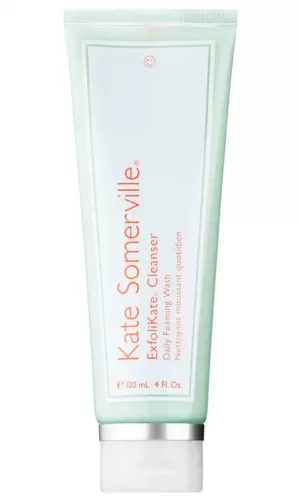 Kate Somerville ExfoliKate Cleanser
Cleansers act more delicately than exfoliators. Hence, adding a cleanser boosted with AHAs and fruit enzymes is ideal for refining sensitive skin. This foaming cleanser washes away makeup and impurities with a splash of water while encouraging skin exfoliation with glycolic and lactic acids, plus papaya, pineapple, and pumpkin enzymes. Even if the brand doesn't claim the product to be organic, the cleanser's got a clean formula, packing lots of natural ingredients, including aloe juice, bergamot, and orange oils, while lacking any potential irritating elements. You're good to go.
---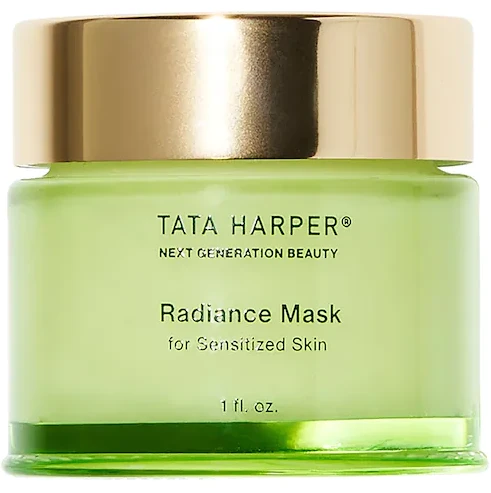 Tata Harper Superkind Radiance Mask
Another organic exfoliating mask for sensitive skin that gently sweeps away impurities and dead cells buildup comes from Tata Harper. It's infused with mild AHAs, lactic and phytic acids that revive dull skin while encouraging cell turnover. The sugar carbs complex aims to boost ceramides and proteins to strengthen the skin barrier while hydrating in-depth. It's by far one of the best organic exfoliators for sensitive skin in a gel-like mask formula, hypoallergenic, vegan, and fragrance-free.
---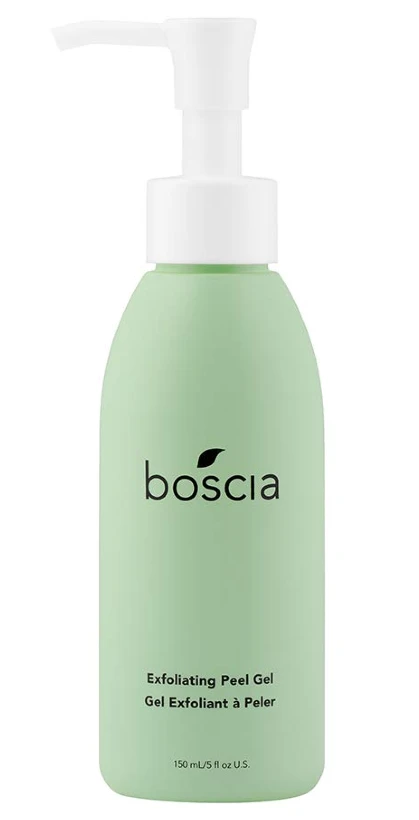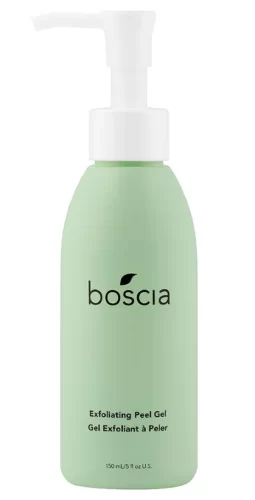 Boscia Exfoliating Peel Gel
There's a reason Boscia Exfoliating Peel Gel is one of the most celebrated exfoliators for sensitive skin — it works without irritations. It's powered by a cocktail of naturally-sourced AHAs combined with pomegranate enzymes and Boscia's signature botanical blend. This killer combo improves skin on all fronts, stimulating cell renewal, clearing pores, and enhancing radiance while giving your skin some extra TLC. Simply put, it leaves you with smooth, brighter, and resilient skin.
---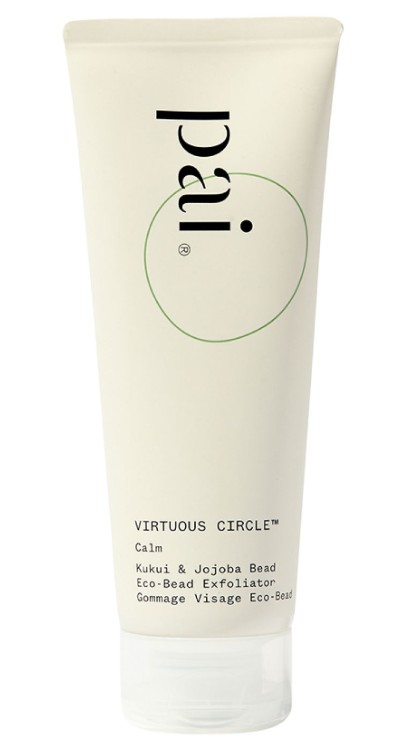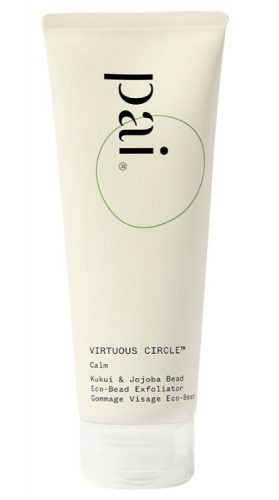 Pai Virtuous Circle Gentle Exfoliator for Sensitive Skin
This gentle organic exfoliator was created for sensitive skin and helps with three things: brightens, smoothes, and softens. You get delicate exfoliation without risking to irritate since it's made with soft wax from the jojoba plant formed into tiny spherical beads. Everything is in a gel-like formula that turns into silky milk when mixed with water. The addition of botanical oils, vitamin E, and squalane makes this product one of the best organic exfoliators for sensitive skin that'll never be harsh.
---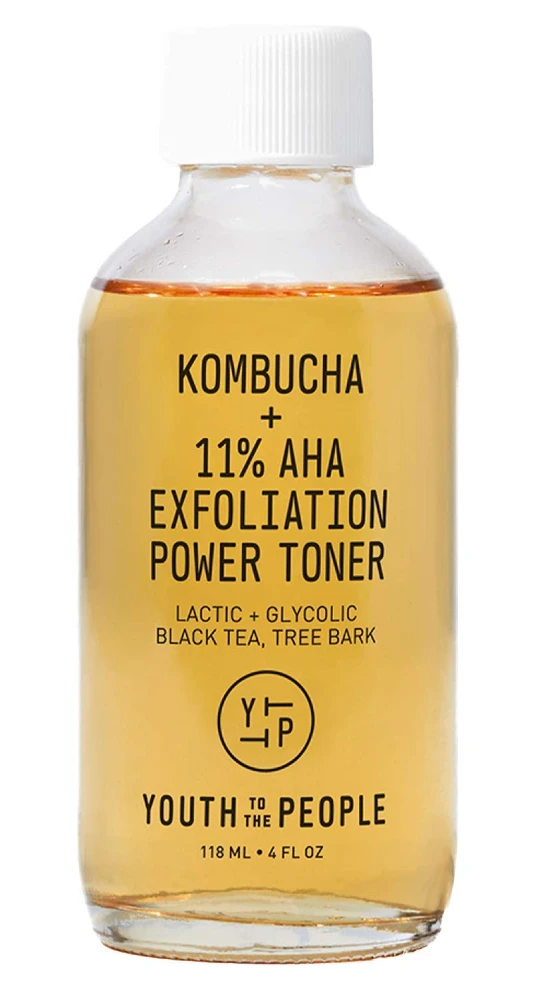 Youth To The People Kombucha + 11% AHA Exfoliation Power Toner
If you fancy minimalistic formulas, reach for this exfoliating toner by Youth To The People. It combines 8% lactic acid with 3% glycolic acid to make your skin look brand new, while glycerin and betaine give that dose of hydration to hinder the drying effects of AHAs. The toner is also infused with antioxidants just to make sure your sensitive skin gets what it needs to stay shielded against environmental aggressors.
---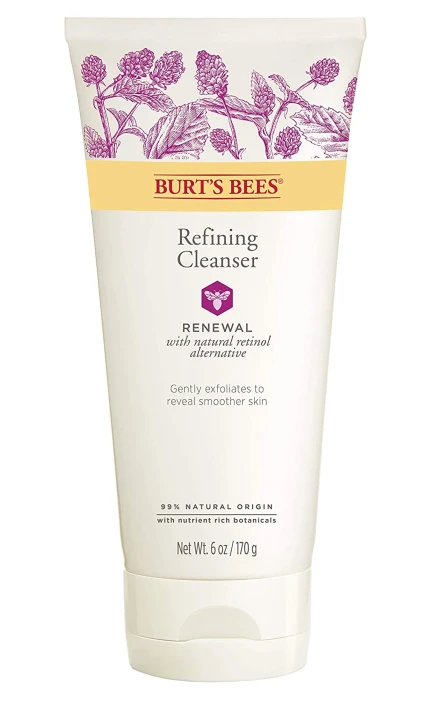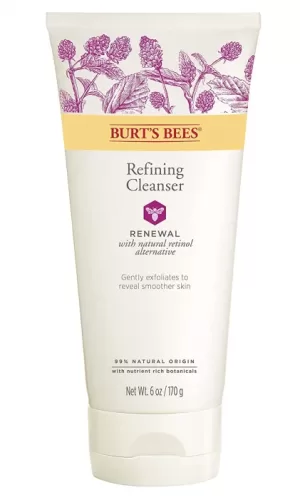 Burt's Bees Renewal Refining Cleanser
Burt's Bees Refining Cleanser comes as one of the best organic exfoliators for sensitive skin under $10. Since it contains lactic acid, it works like a charm at shedding dead skin cells without causing dryness or irritations. On top of that, it's infused with bakuchiol, a natural alternative to retinol that aids in increasing cell turnover and minimizing wrinkles look, backed by vitamin E and glycerin. Not to say it's non-comedogenic and alcohol-free, but some reviewers warn that it doesn't have a pleasant scent.