I know you've been seeing this brand popping up on your Insta feed again and again, and now you keep wondering which are the best StriVectin products—you'll be up to date after reading this post. The story goes that if you want to help prevent and correct aging signs, StriVectin has a plethora of options.
StriVectin has cemented its place in the skincare industry as a go-to brand for tackling the signs of aging. Since its launch in 2002, it has consistently delivered effective products that address a wide range of concerns, including wrinkles, dullness, uneven tone, sagging skin, and loss of firmness. With a reputation for delivering visible results, it's no surprise that StriVectin continues to be a favorite among beauty editors and skincare enthusiasts alike. Whether you're looking to firm up your skin or brighten it, StriVectin's range of products has got you covered. It's a brand that truly delivers on its promise of more youthful, radiant skin.
Why choose StriVectin products?
Indeed, StriVectin products don't have the cheapest prices, so you probably want to know why they are worth the value before dropping the cash. Long story short, StriVectin focuses on potent and fast-acting formulas that actually trigger changes within the skin. After 35 years of extensive research, StriVectin has successfully pinpointed a specific form of vitamin B3, known as NIA-114. This is basically a more powerful version of niacinamide and is the key to the brand's anti-aging success, targeting fine lines, inhibiting moisture loss, and strengthening the skin barrier while being safe even for easily reactive skin.
Finally, other key ingredients that make StriVectin a best-in-class skincare brand include hyaluronic acid, peptides, ceramides, advanced retinol technologies, as well as natural plant and oil extracts.
StriVectin doesn't test on animals
Back in 2017, StriVectin pulled its products out of China, where animal testing is required by law. StriVectin is now officially PETA-certified and never tests its ingredients or products on animals. A round of applause for this animal-loving beauty brand.
The best StriVectin products
Below are the best StriVectin skincare products, with tried-and-true effective formulas, and beloved by many.
---
StriVectin Advanced Acids Tri-Phase Daily Glow Toner
If your skin is in need of some extra TLC, StriVectin Tri-Phase Toner is the soothing and brightening product that can make it glow. All the gentle and effective ingredients in this formula work to bring life back to dull, dehydrated skin. While a blend of alpha-hydroxy acids gives mild exfoliation to brighten and restore radiance, humectants like hyaluronic acid and aloe vera increase hydration and soothe. It's the perfect prepping step that greatly benefits the skin while boosting the absorption of the products you're applying afterward.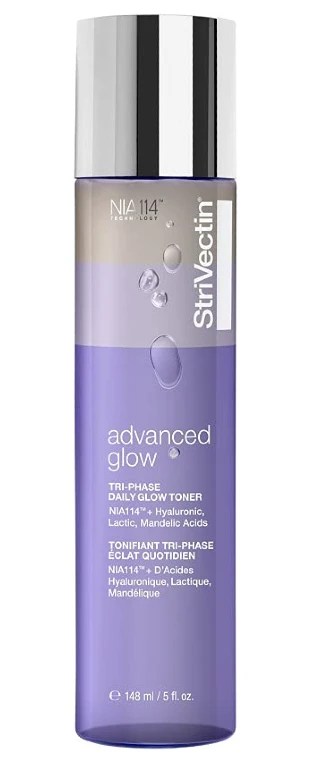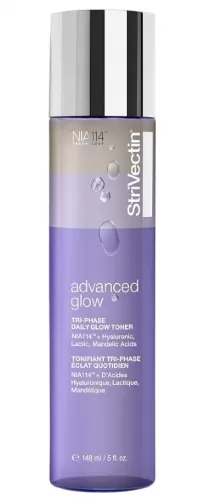 ---
StriVectin Super-C Brighten & Correct Serum
This serum is a skincare staple for those in the know, certainly one of the best StriVectin products for everyone looking to brighten their skin. It's laced with two forms of stabilized vitamin C and pure vitamin C, which, coupled with retinol, work to brighten even the most stubborn patches. Plus, they're great at spurring collagen growth too, meaning the serum helps soften fine lines and wrinkles and smooth the skin. According to the brand, 97% of people observed visible improvement in skin tone and brightness after six weeks of use.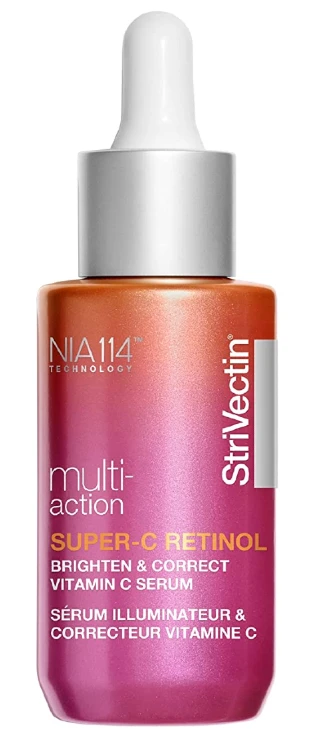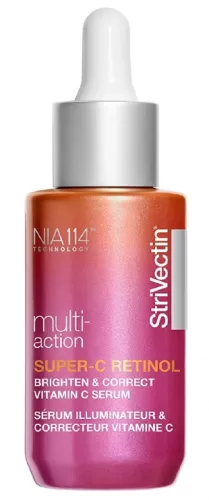 ---
StriVectin Advanced Retinol Multi-Correct Serum
It hasn't been long since the launch of this multi-correcting serum, and it already enjoys a lot of fame among skincare enthusiasts. The effective formula addresses loss of firmness, large pores, rough texture, and uneven tone with—you guessed it—retinol and NIA-114, which increases retinol's effectiveness. This killer duo works wonders to minimize fine lines and wrinkles as well as promote even-toned and radiant skin, while polyglutamic acid ensures the product won't leave the skin parched. Most reviewers claim the serum is gentle enough for nightly use and does not cause irritation, and we love the fact that it's housed in an airtight container that doesn't allow the daily environment and bacteria to degrade the formula.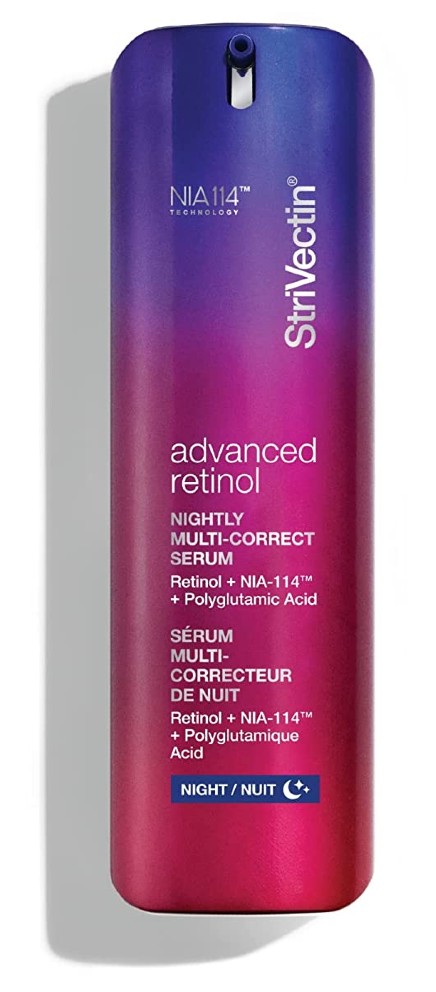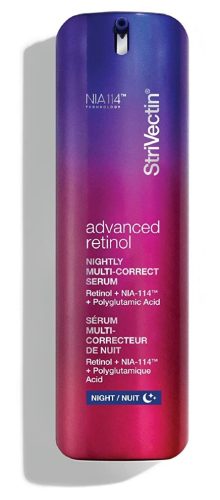 ---
StriVectin Peptight Tightening Face Serum
If you're on the lookout for an effective serum to support firmness and minimize wrinkles, you just found it. StriVectin Peptight Serum packs a collagen-boosting peptide to minimize wrinkles and make the skin appear more supple, plus a hexapeptide that, paired with vitamin C-rich Kakadu plum extract, minimizes hyperpigmentation, revealing more luminous skin. It has a creamy texture that's lightweight as a serum and hydrating as a moisturizer and gets absorbed fast into the skin, without any tacky feeling. Use morning and night for the best results.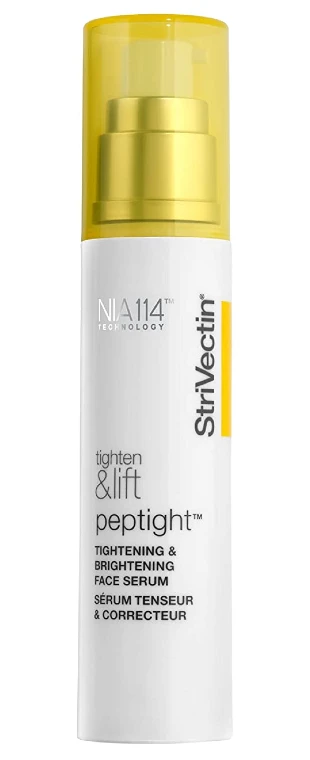 ---
StriVectin SD Advanced Plus Intensive Moisturizer
This iconic StriVectin moisturizer has won quite a few awards for all sorts of reasons: it minimizes wrinkles, hydrates, reduces stretch marks, and induces collagen production for bouncier skin. Among the ingredients worth mentioning in this formula are a slew of peptides, NIA-114™, marine ferment, and hyaluronic acid. You can use it on your face to address visible wrinkles and on your body to minimize stretch marks.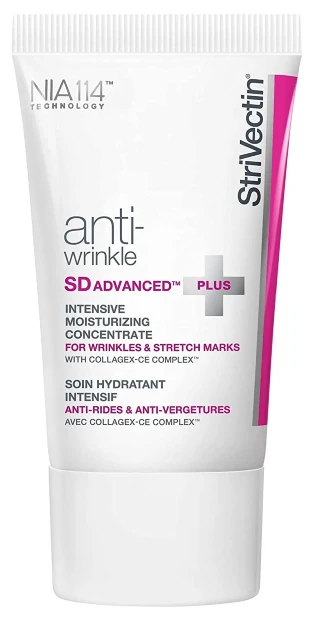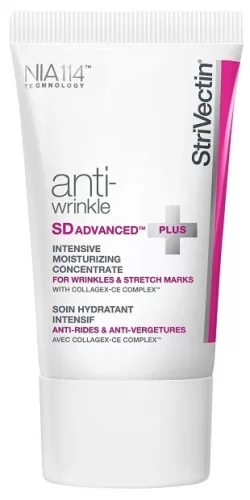 ---
StriVectin Advanced Retinol Star Light Night Oil
If you have dry, cracked, rough skin, you'll love every drop of this face oil, which by the way, it's an award-winner StriVectin product. The lightweight formula nourishes like an oil, absorbs like a serum, and softens like a cream. And the ingredient list is at least impressive: three different forms of retinol, squalane, NIA-114, vitamin C, and bakuchiol (plant-based retinol). They work the night shift to promote cell renewal, boost collagen production, smooth fine lines, improve texture, and replenish moisture, so you wake up to happy, plump skin. The oil applies effortlessly and does not feel greasy or sticky, and despite the powerful formula, it does not irritate or break out the skin.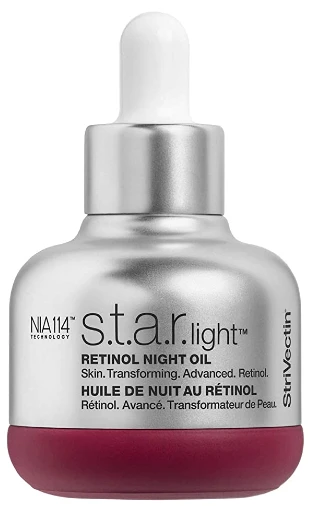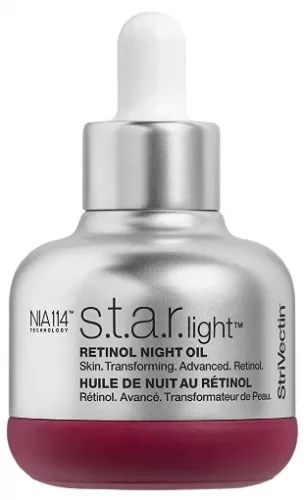 ---
StriVectin Tighten & Sculpting Face Cream
This lifting face cream is powered by elastin-targeting dipeptides, meaning it firms the skin and induces a more supple, lifted appearance. The formula is also filled with plumping glycolipids plus a medley of antioxidant-rich botanical extracts to protect from oxidative stress. Both softening and correcting, this cream is the perfect addition to anyone's routine looking to preserve firmness and correct fine lines and wrinkles.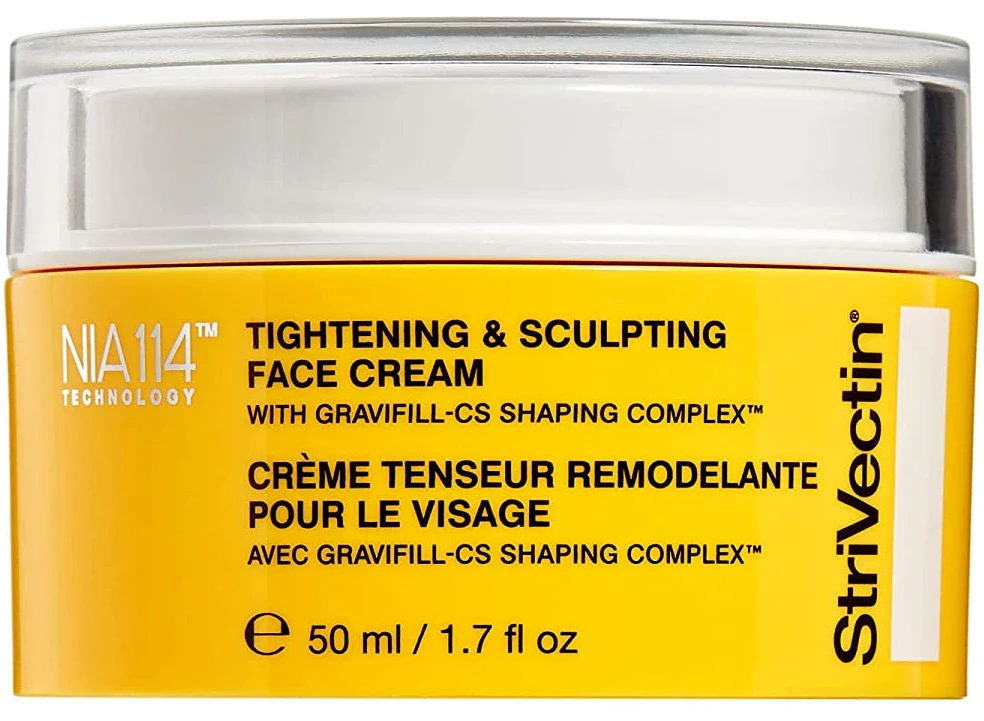 ---
StriVectin Peptight Eye Serum
This is one of the most demanded StriVectin products for the delicate eye area, bolstered by a cooling applicator that depuffs the skin and reinvigorates it instantly. It uses a triple peptide blend coupled with Kakadu plum (very rich in vitamin C) to enhance collagen production, plus microalgae and aloe juice to hydrate intensely. The lightweight formula absorbs in the blink of an eye with a refreshing and soothing feeling that makes you look forward to applying it. Use it every day and wave goodbye to dark circles, crow's feet, and puffiness.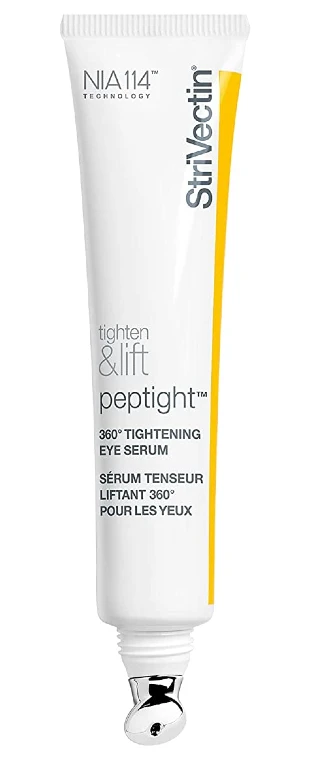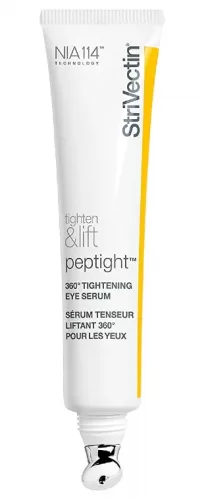 ---
StriVectin Advanced Exfoliating Face Pads
These exfoliating pads are one of the best StriVectin products to retexturize your skin and get rid of dullness. They're gentle enough for daily use and still super effective at speeding up skin renewal. The pads are soaked in a juicy blend of chemical acids that resurface, smooth, and brighten the skin a little more every time. Glycolic and polyhydroxy acids delicately exfoliate the skin's surface and increase hydration, lipohydroxy acid goes beneath the surface to clarify blemishes, and tranexamic acid reduces dark spots. With regular use, this cocktail of acids will give you a brand-new complexion and fix most of your skin woes.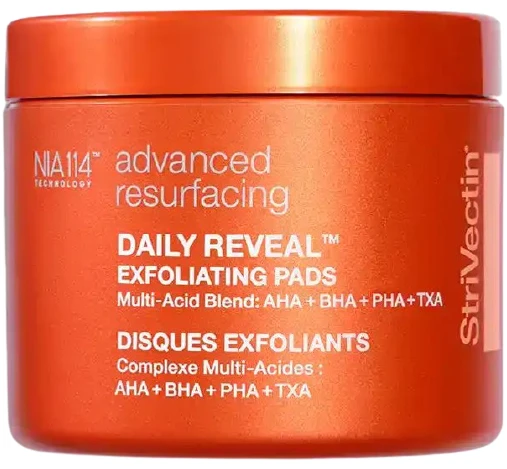 ---
StriVectin Re-Quench Water Cream
If your skin craves lightweight hydration and long-lasting moisture, this StriVectin moisturizer is your best bet. It quenches the skin's thirst with a potent blend of humectants, including hyaluronic acid, glycerin, and betaine, plus a skin-moisturizing complex of Earth-derived minerals. What's more, the formula contains the patented NIA-114 to reinforce the epidermal barrier so that it can hold onto moisture longer. Briefly, it makes the complexion moister, more energized, and softer every time you use it.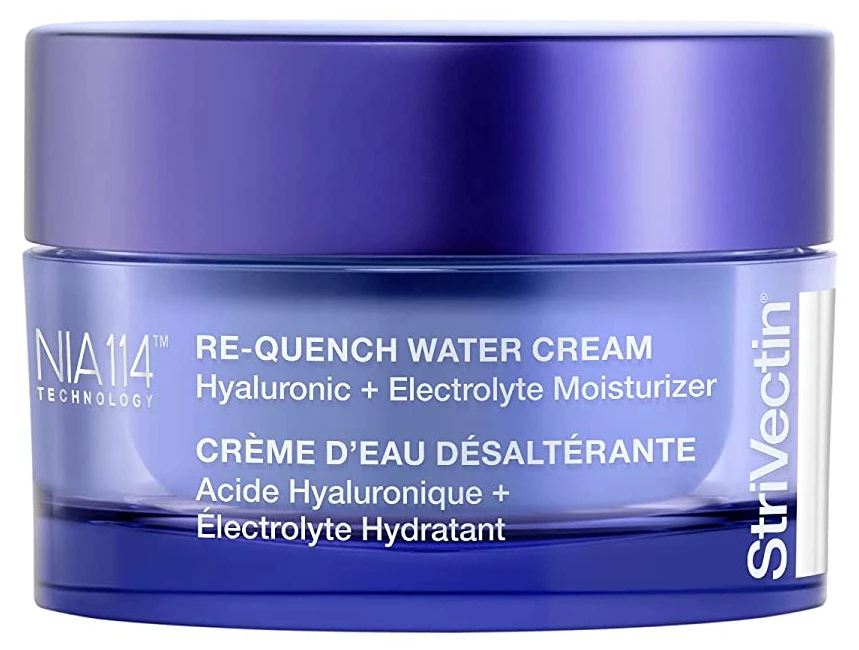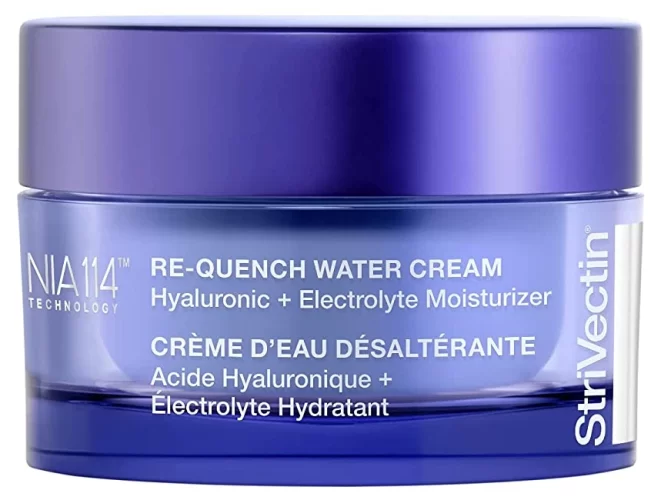 ---