I know you've been seeing this brand popping up on your Insta feed again and again and now you keep wondering which are the best StriVectin products — you'll be up to date after reading this post. The story goes that if you want to keep aging signs at bay or diminish the existing ones, StriVectin products are one of the greatest choices you could make.
Since its inception in 2002, StriVectin has remained a leader in the anti-aging skincare market due to its potent and effective formulas. The brand constantly creates powerful products that target aging signs, such as fine lines, wrinkles, and dark spots, through a variety of collections for the face, neck, and body. From cleansers to serums, moisturizers, and masks, StriVectin provides terrific skincare products.
Why StriVectin?
Indeed, StriVectin products don't have the cheapest prices so you probably want to know why they are worth the value before dropping the cash.
Long story short, StriVectin focuses on potent and fast-acting formulas that actually trigger changes in the skin. One of StriVectin's signature complexes you'll find in most of their skincare collections, NIA-114, is truly a game-changer. It's a boosted form of niacin that not only supercharges the effects of other ingredients but comes with a whole package of benefits. The brand claims NIA-114 is a multitasker in skincare that strengthens the skin barrier, protects against external damage, hinders transepidermal water loss (TEWL), hydrates, smooths wrinkles, inhibits external stressors, and brightens skin. Finally, other key ingredients that make StriVectin a best-in-class skincare brand include hyaluronic acid, peptides, ceramides, retinol, as well as natural plants and oils extracts.
StriVectin doesn't test on animals
So that a brand can have me as a loyalist, it must be cruelty-free. Well, back in 2017, StriVectin pulled its products out of China, where animal testing is required by law. StriVectin is now officially PETA-certified and never tests its ingredients or products on animals. A round of applause for this animal-loving beauty brand!
The best StriVectin products
Below are the best StriVectin skincare products, with tried-and-true effective formulas, and beloved by many.
---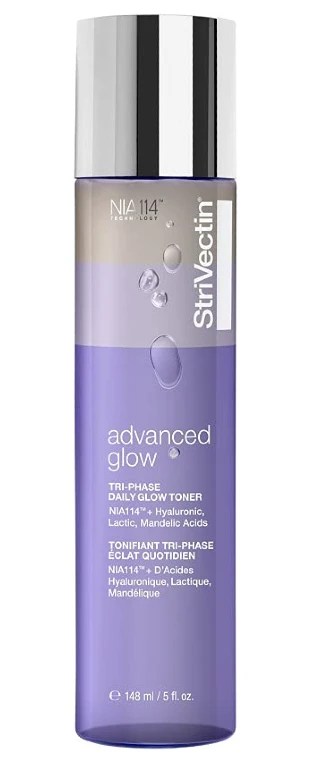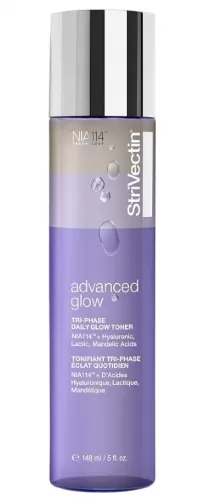 StriVectin Advanced Acids Tri-Phase Daily Glow Toner
If your skin is in need of some extra TLC, StriVectin Tri-Phase Toner is the soothing and brightening product that can make it glow. All the gentle yet effective ingredients in this formula work to bring life back to dull, dehydrated skin. It's loaded with hyaluronic, lactic acid, mandelic acid, squalane, NIA-114, plus a mingle of plant extracts, helping skin stay revitalized, soft, and bright. Briefly, it's the right way to prep your complexion for the next skincare steps.
---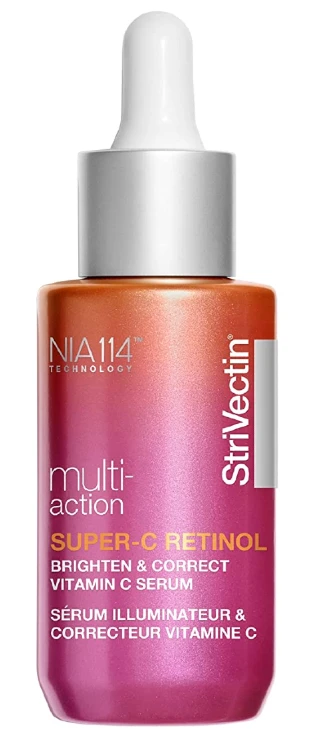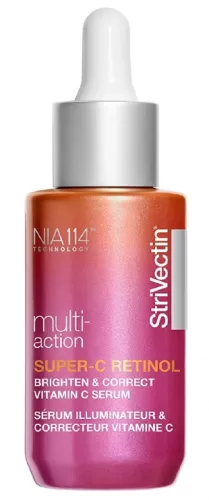 StriVectin Super-C Brighten & Correct Serum
This serum is a staple product for those in the know, certainly one of the best StriVectin products for everyone. A few factors have contributed to its popularity: the tried-and-tested ingredients proven to even skin, its suitability for all skin types, and its ability to address several skin concerns in one go. Retinol, vitamin C, and Acerola cherry make a team in this formula to brighten dark patches and smooth rough texture, leaving fine lines plumped and a healthy glow.
---


StriVectin Advanced Retinol Concentrated Serum
Retinol and NIA-114 meet in a super-concentrated serum to make your skin feel brand new. This killer duo works wonders to minimize wrinkles look as well as soften and even skin. As one of the best StriVectin products, it also packs retinyl palmitate, an ester form of retinol that shares the same cell renewing properties. In addition, antioxidants like ginger root extract and vitamin E are added to protect the complexion, while glycerin, sodium hyaluronate, and ceramide add a burst of hydration.
---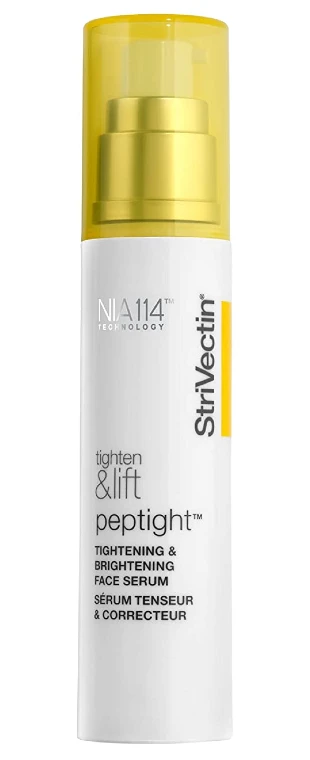 StriVectin Peptight Tightening Face Serum
If you're on the lookout for a serum to tighten your skin, you just found it. StriVectin Peptight Tightening Face Serum combines two types of peptides, proprietary NIA-114 and a medley of botanical extracts, to make the skin appear firm and elastic with sculpted-looking contours. Plus, the formula includes adenosine, known for its skin energizing role, Australian Kakadu plump, great at brightening, and hyaluronic acid to hydrate, making out of this serum a fan-favorite and one of the best StriVectin products out there.
---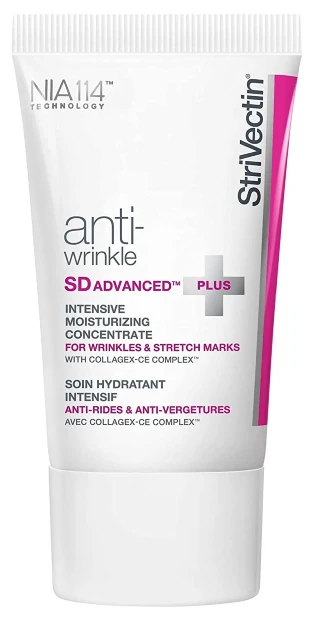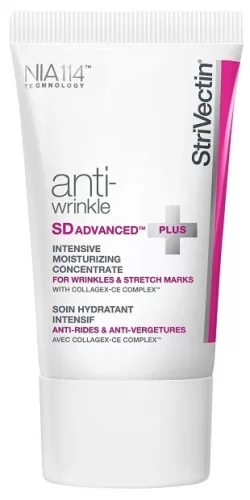 StriVectin SD Advanced Plus Intensive Moisturizer
This iconic cream has won a few awards for all sorts of reasons: it reduces wrinkles look, hydrates, fades the appearance of stretch marks, and targets ten types of skin-boosting collagen. Really being consistent with this moisturizer will give you lasting results visible after the first two weeks. Among the ingredients worth mentioning in one of the best StriVectin moisturizers are Collagex-CE Complex with copper tripeptide and marine ferment, hyaluronic acid, green bean seed, tucuma, cupuaçu, and murumuru butters.
---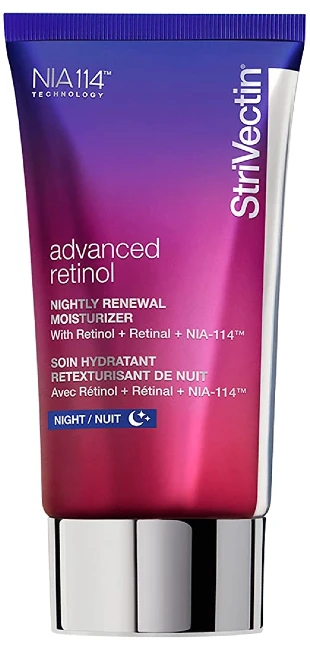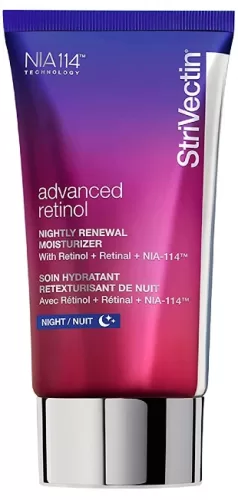 StriVectin Advanced Retinol Nightly Face Moisturizer
With NIA-114, retinol, and retinal, this is a supercharged moisturizer that's as good at plumping fine lines and wrinkles as it is at preventing and reducing dark spots. Simply put, it's an excellent choice if you want a moisturizer that works really hard the night shift so you can leave wrinkles, uneven texture, loss of firmness, and elasticity behind. No wonder it's one of the best StriVectin products.
---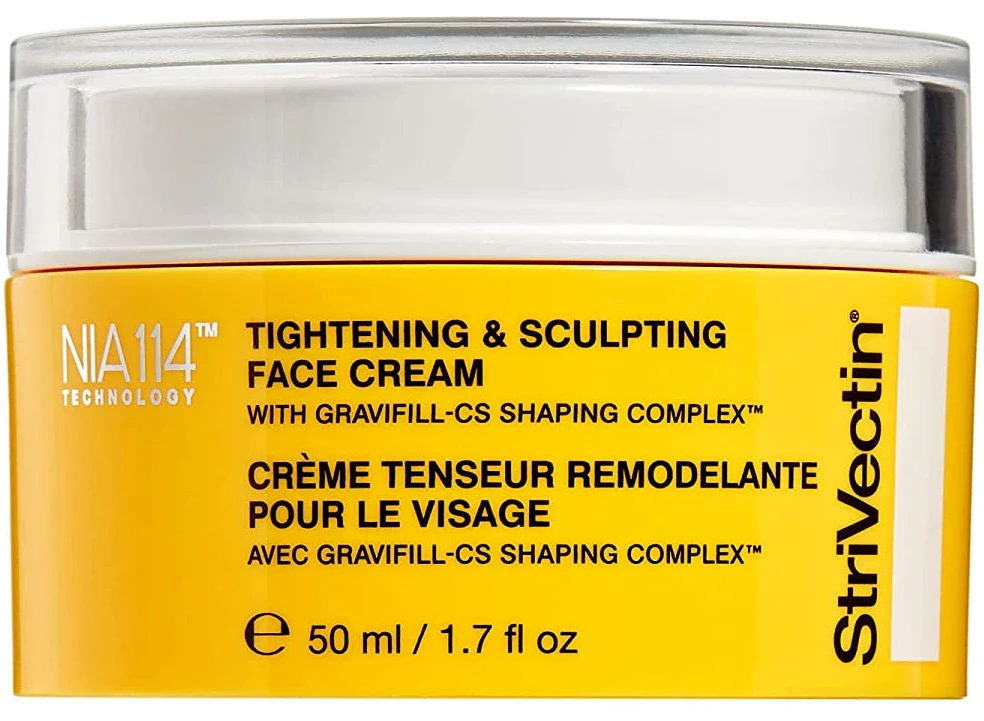 StriVectin Tighten & Lift Sculpting Face Cream
This lifting face cream is powered by NIA-114 and Gravifill-CS Shaping, targeting the loss of volume and firmness to improve the appearance of saggy skin for a more sculpted-looking complexion. Other reasons to pick this StriVectin cream include antioxidants, fatty acids, and soothing ingredients such as allantoin and vitamin B3.
---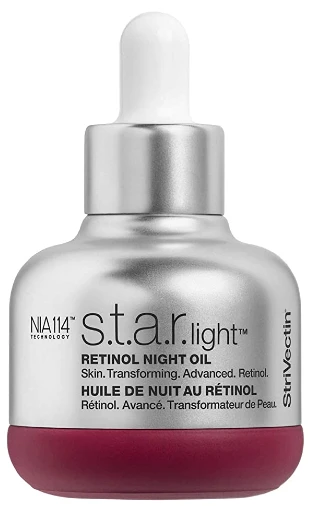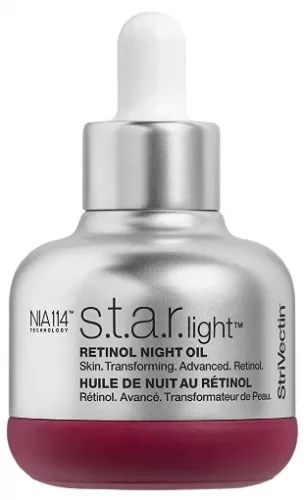 StriVectin Advanced Retinol Star Light Night Oil
This formula is packed with skin-correcting ingredients, such as retinol, squalane, NIA-114, powerful antioxidants, and ascorbic acid, aka the active form of vitamin C. They do a great job at boosting collagen production, smoothening fine lines look, evening skin texture, and replenishing moisture. A brilliant option that's great for all skin types, ideal for applying at night, to wake up to happy, plump skin.
---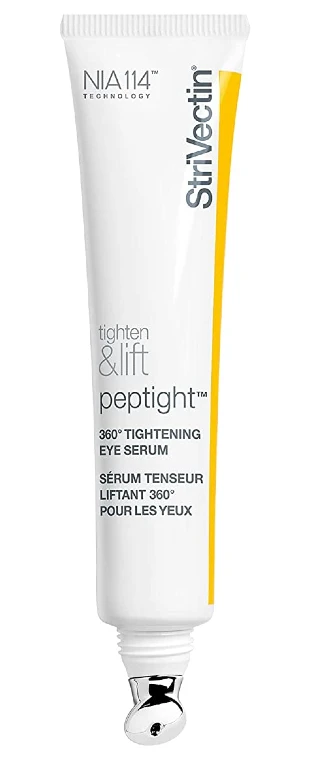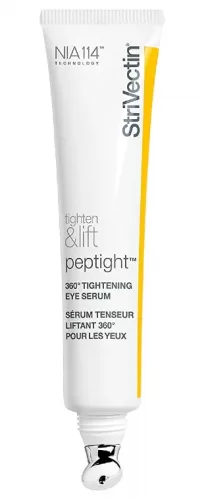 StriVectin Peptight Eye Serum
This is the best StriVectin product for the eye area, bolstered by a cooling applicator that massages and depuffs the skin to reinvigorate it instantly. It uses a triple peptide blend, Kakadu plum, microalgae, caffeine, aloe juice to firm, and brighten the skin around the eyes. The lightweight formula absorbs in the blink of an eye with a refreshing and moisturizing feeling that makes you look forward to using it.
---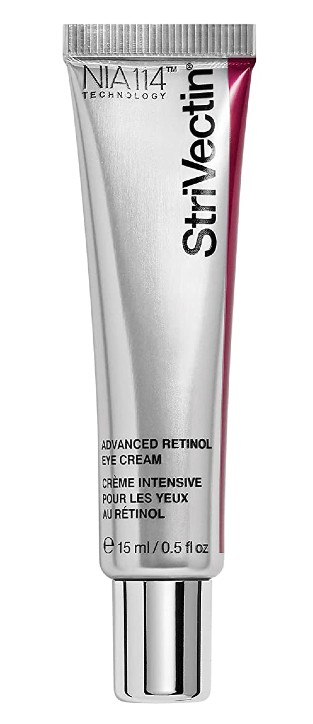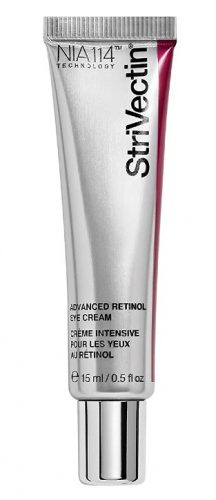 StriVectin Advanced Retinol Eye Cream
Another one for your eye area, but this time a cream powered by retinol and NIA-114 ideal for fine lines and crow's feet. It addresses aging signs while acting super delicate thanks to shea butter, hyaluronic acid, and ceramide. Meaning? It delivers a dose of hydration and instantly plumps the skin.
---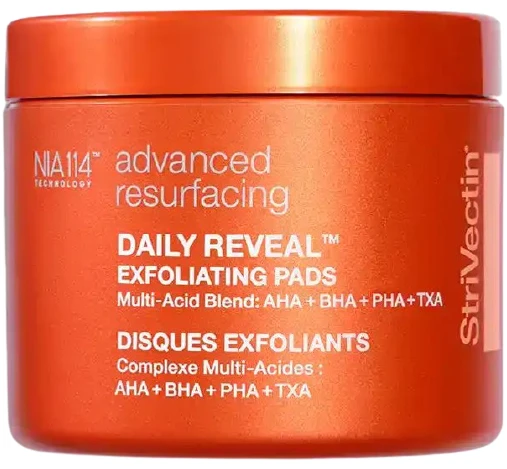 StriVectin Advanced Exfoliating Face Pads
These exfoliating pads are gentle enough for daily use yet are super effective at speeding up the skin's natural renewal process. They are soaked with a blend of exfoliating acids, working to clarify, smoothen, and brighten the skin a little more every time. This is one of the best StriVectin products that help you get rid of dead cells and pollution.
---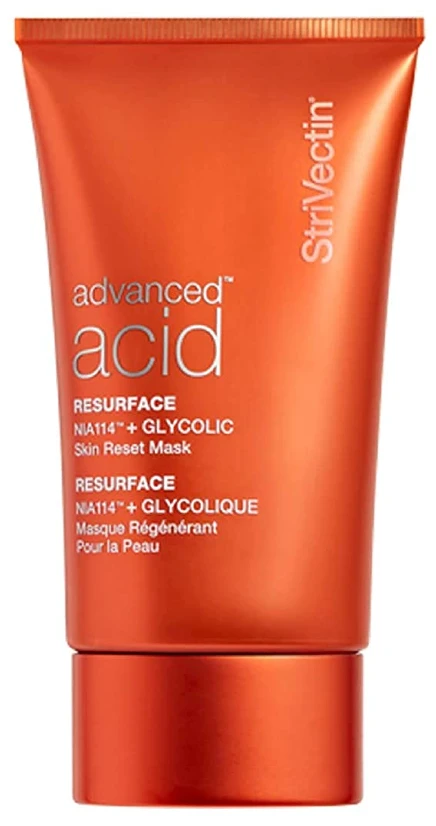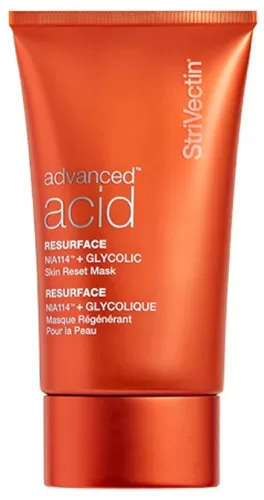 StriVectin Glycolic Skin Reset Mask
Five minutes twice a week with StriVectin Glycolic Skin Reset Mask will bring you plump, dewy, and bouncy skin without question. It packs NIA-114, lactic, glycolic, and salicylic acids to exfoliate dead cells buildup, plus primrose oil and soy amino acids to strengthen and replenish moisture. It's that product that will reveal fresh, smooth canvas with improved, brightened texture in just five minutes.
---