With a constant tendency to break out, a slick look, and a continuous need for attention, oily skin is tricky. That's why, if you skew oily, you should be paying a great deal of attention to what you're smearing on. And since sunscreen is that product you use every day (I hope you do!), why not give your skin a bit of tint while protecting it from harmful sun rays? The best tinted sunscreen for oily skin offers just that—a balance of coverage, protection, and oil control.
Look out for a lightweight, non-greasy, and oil-free formula to avoid clogging pores and making your skin look even shinier. Some tinted sunscreens go the extra mile to improve texture and brightness by packing ingredients like niacinamide and vitamin C.
Matte or natural finish is your choice, but pick a sunscreen with a broad-spectrum SPF of 30 or higher to provide adequate protection against both UVA and UVB. Water-resistant options are also ideal for those with oily skin, as they tend to be more resistant to sweat and oil.
Finding a product that fits the bill sounds easier than done. That's why I rounded up the best tinted sunscreens for oily skin that give the perfect amount of color and never leave greasy residues or a white cast.
The best tinted sunscreens for oily skin
---
Avène Mineral Tinted Compact SPF 50
This tinted sunscreen is why I gave up on foundation most days. As someone with oily, breakout-prone skin, I like everything about it. The formula is free of oil, fragrances, and alcohol, which are known irritants for the skin, and is non-comedogenic. I also love the cream-to-powder texture and matte finish it leaves, plus that it comes in a mirror-compact for easy touch-ups throughout the day. But the real standout feature of the Avène Mineral Tinted Compact is its SPF 50 protection using only Earth-derived minerals. Plus, it's spiked with squalane to balance oil and antioxidants to neutralize free radicals. Yep, an over-achiever.
Here's how my oily skin looks before and after I apply this lovely mineral tinted sunscreen: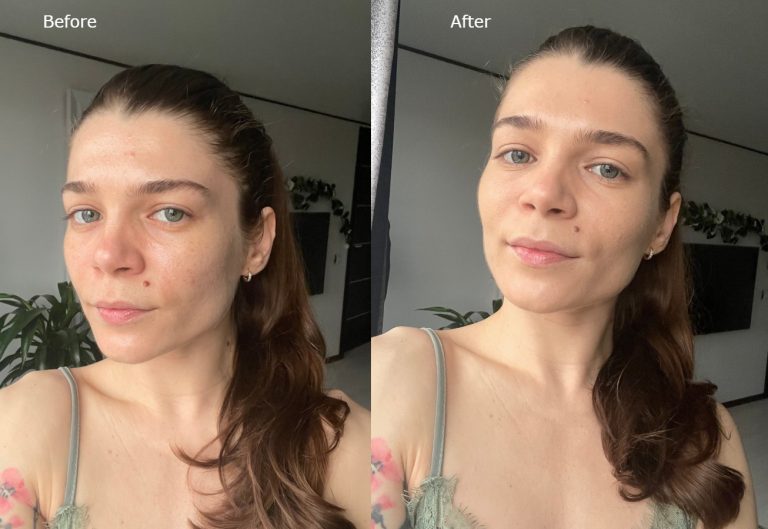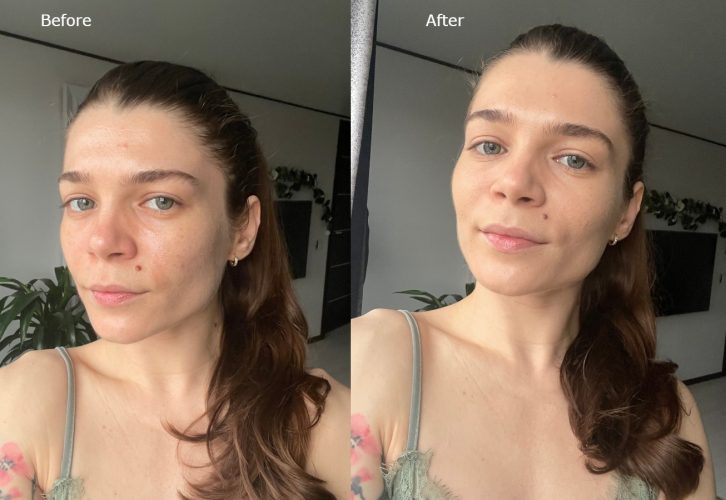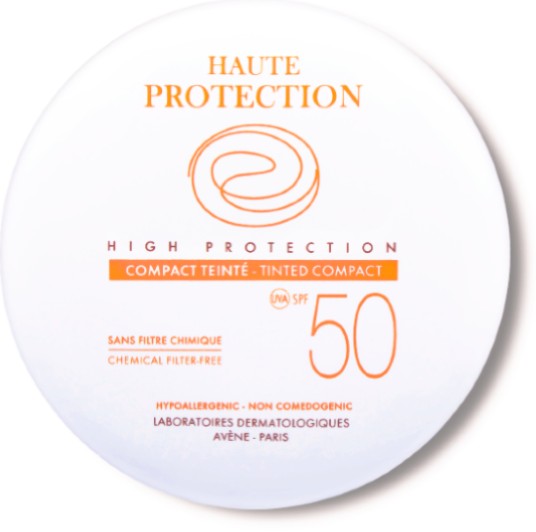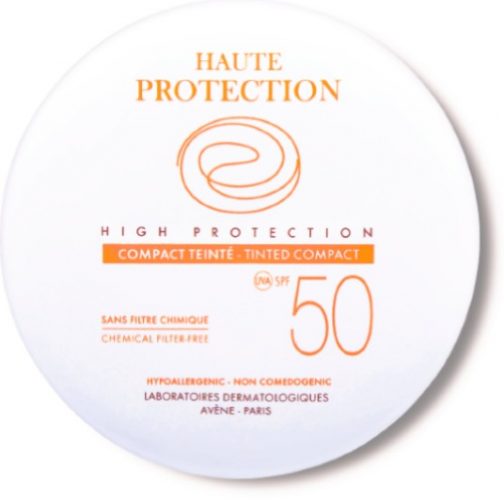 ---
La Roche-Posay Anthelios Tinted Mineral Sunscreen SPF 50
La Roche-Posay Anthelios Tinted Mineral is a cult favorite (not only in French pharmacies), having a safe-for-all formula boosted with vitamin E to counteract free radicals, plus silica, a powder that absorbs excess sebum. It's just as good for skin prone to reactions and gives a non-slick matte finish, making it one of the very best tinted sunscreens for people with oily skin. Lightly tinted, it's the ideal way to stay protected against sunbeams while having an even tone—who needs foundation now?!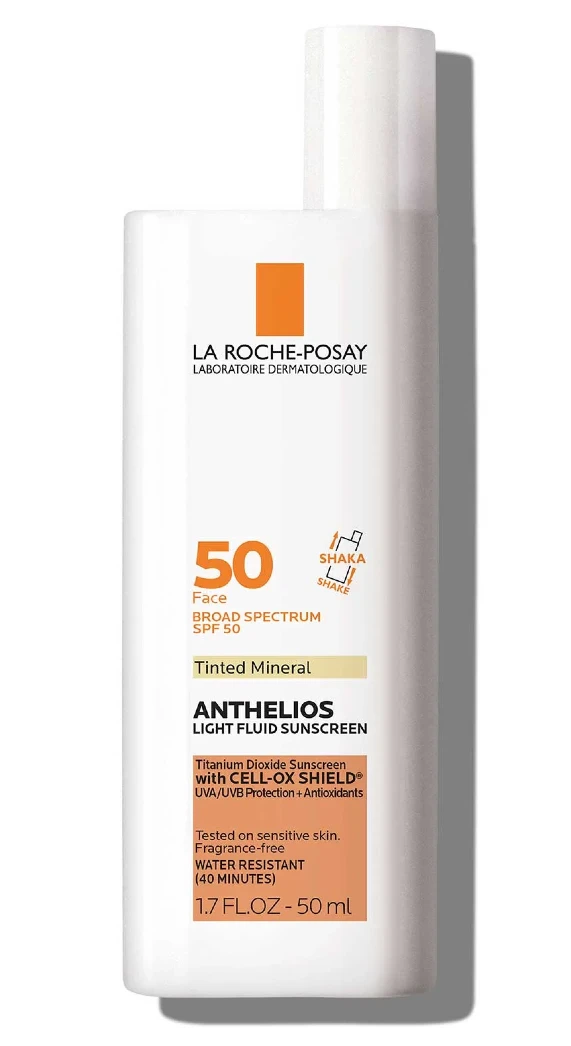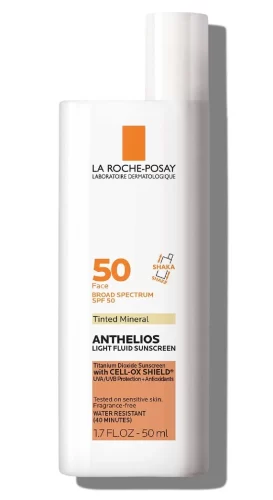 ---
Colorescience Sunforgettable Brush-On Sunscreen SPF 30
I love this product because it makes the reapplication of sunscreen throughout the day effortless without disturbing makeup or feeling heavy on the skin. A true multitasker, this powder sunscreen imparts a sheer matte finish whilst absorbing excess oil, controlling shine, and defending against UV. Along with the broad-spectrum SPF 50 that offsets early wrinkles and dark spots, it contains humectants to hydrate and control oil, grape seed extract for antioxidant defense, and green tea extract to calm. It's also hypoallergenic and non-comedogenic and comes in 4 shades. Toss it in your bag for easy touch-ups on the go.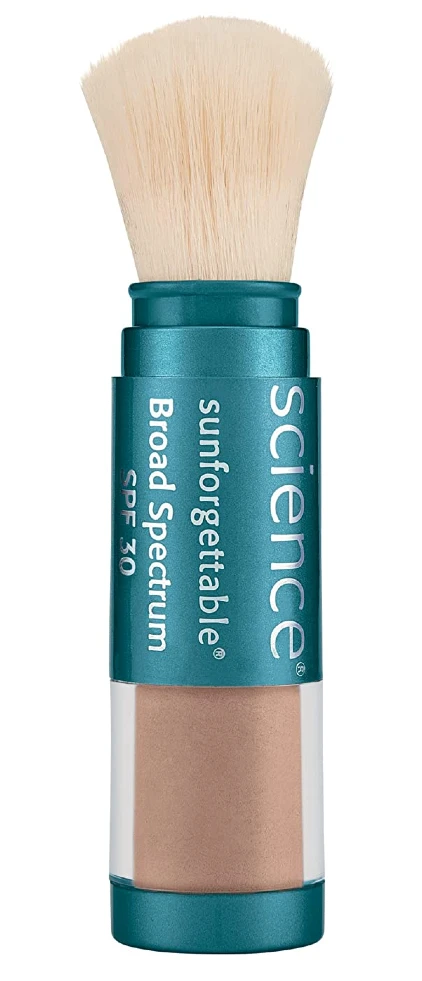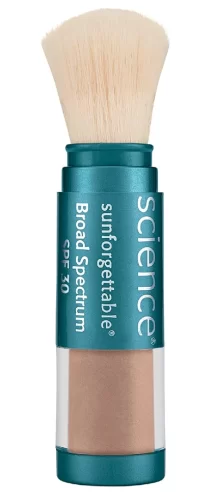 ---
Cotz Face Prime & Protect Tinted Mineral Sunscreen
This lightweight, mineral-based sunscreen has a PA+++ rating and is water-resistant for up to 80 minutes, making it perfect for all your outdoor activities. It's also free of chemicals, fragrances, and oils, so you can feel good about what you're putting on your face. Its sheer, matte finish is ideal for layering under makeup and blends translucently into any skin tone for a seamless, natural look. Just be aware that the formula contains silicone, so steer clear if you have sensitivities to this ingredient. Also, use a moisturizer underneath, as this sunscreen is not hydrating on its own.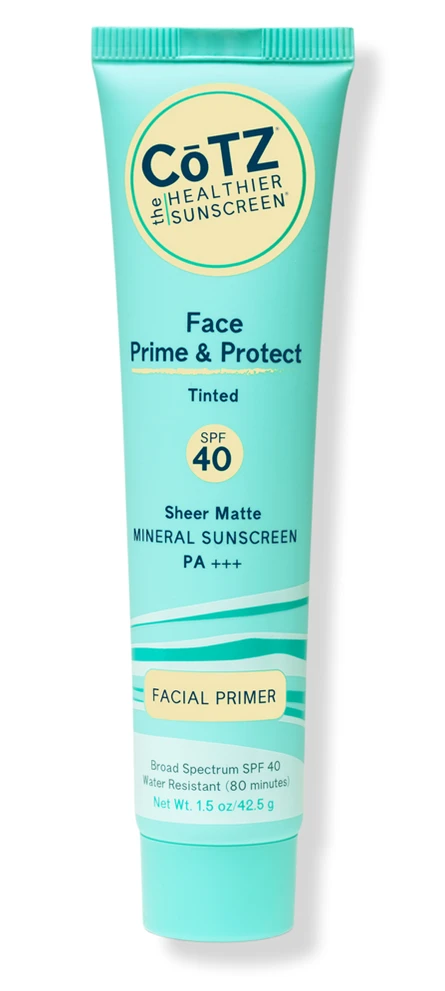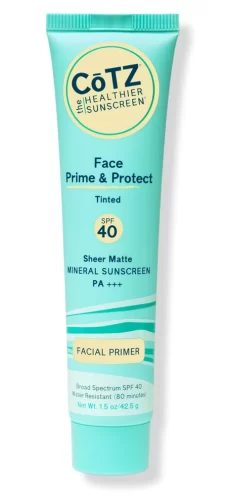 ---
Ilia Super Serum Skin Tint SPF 40
Are you in search of a tinted sunscreen with a clean formula that applies effortlessly like a serum? Look no further, as Ilia Super Serum Skin Tint is the perfect option for you. This product is infused with natural minerals that provide SPF 40 protection, squalane, niacinamide, and sodium hyaluronate to boost hydration, and aloe juice and bisabolol to soothe your skin. With light coverage and a dewy finish, this tinted sunscreen comes in 30 true-to-skin shades, so you can easily find the one that perfectly matches your skin tone.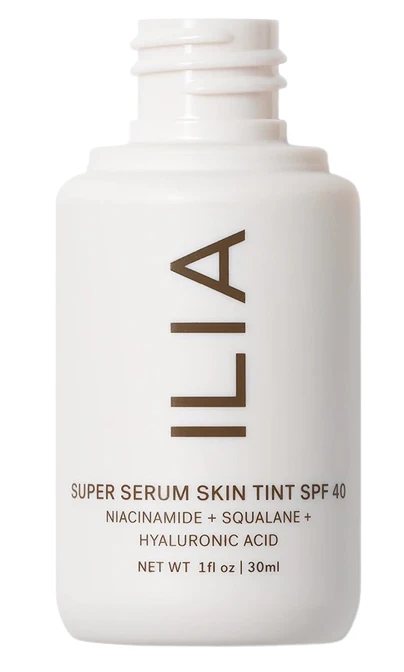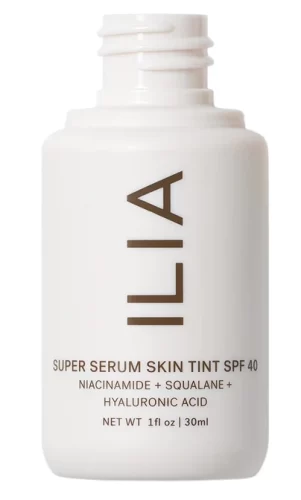 ---
SkinCeuticals Physical Fusion UV Defense
I personally love SkinCeuticals Physical Fusion UV Defense for its broad-spectrum protection, lightweight texture, sheer finish, and ability to adapt to most skin tones without leaving a white cast behind. It provides SPF 50 from naturally-derived minerals and contains plankton extract that boosts the skin's natural shield against UV damage.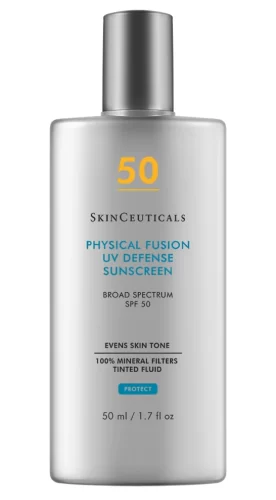 ---
Elta MD UV Elements Tinted Facial Sunscreen SPF 44
This tinted sunscreen is made on a water base, meaning it's super lightweight, skips oils, and never clogs pores—a dream come true for us oily-skinned folks. The formula contains vitamin C ester to neutralize free radicals and sodium hyaluronate to hydrate and balance sebum, along with a combo of zinc oxide and titanium dioxide that give broad-spectrum protection. Bonus: it's fragrance-free, non-greasy, and doesn't leave a white cast but assures a natural tint and a satin finish.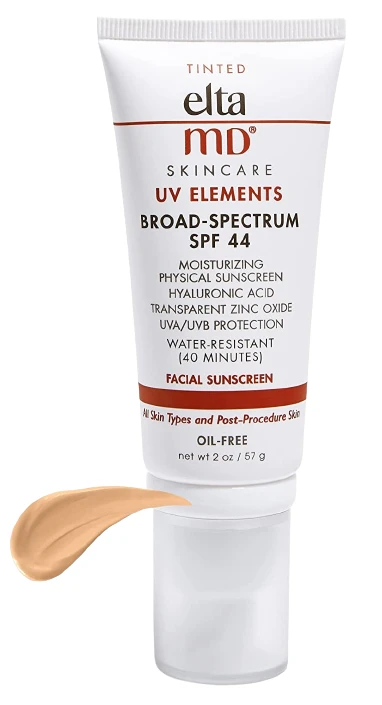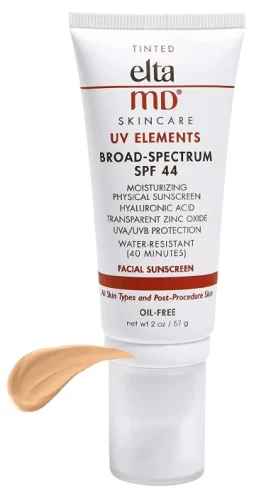 ---
bareMinerals Complexion Rescue Tinted Hydrating Gel Cream
In order to balance sebum, oily skin needs hydration. And bareMinerals Complexion Rescue gives you just that and some. Boasted with minerals, this tinted gel cream protects against sunbeams with SPF 50 while it leaves a flawless natural finish and infuses skin with squalane, trehalose, and sodium hyaluronate. The 20 shades are a huge boon, making finding your perfect match an effortless task.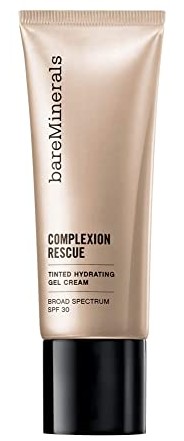 ---
Bliss Block Star Tinted Face Sunscreen
Let me tell you, this one will make you actually excited to put on sunscreen every day. It's like a cross between a sheer foundation and sunscreen, which is awesome because it covers up redness and blemishes while protecting your skin from the sun. You no longer need to bother with heavy makeup for a light-coverage look—this sunscreen does the trick! Plus, it's super lightweight and doesn't leave chalky or sticky residues behind. In fact, it actually leaves the skin feeling matte and dry, which is ideal for oily complexions.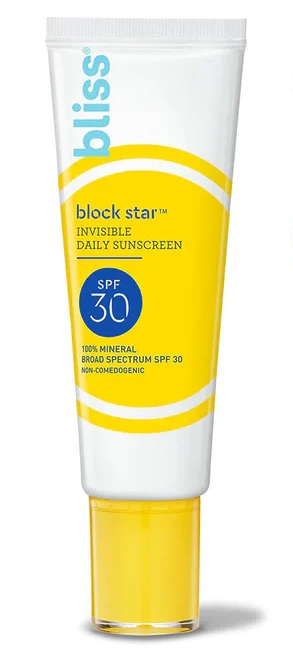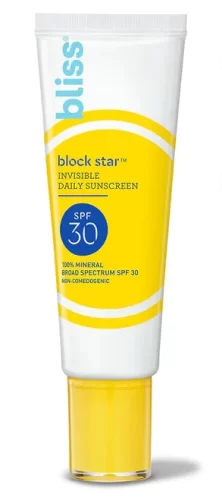 ---
Paula's Choice Daily Wrinkle Defense Tinted Moisturizer SPF 30
Paula's Choice Daily Wrinkle Defense Tinted Moisturizer stands out as the best tinted sunscreen for oily skin that also wants high antioxidant defense. The lightweight formula imparts a soft matte finish while shielding against premature aging with SPF 30 from minerals and a medley of antioxidants, including resveratrol and EGCG. Though it comes in one shade, it blends quite well with light and medium skin tones. We're waiting for darker shades too!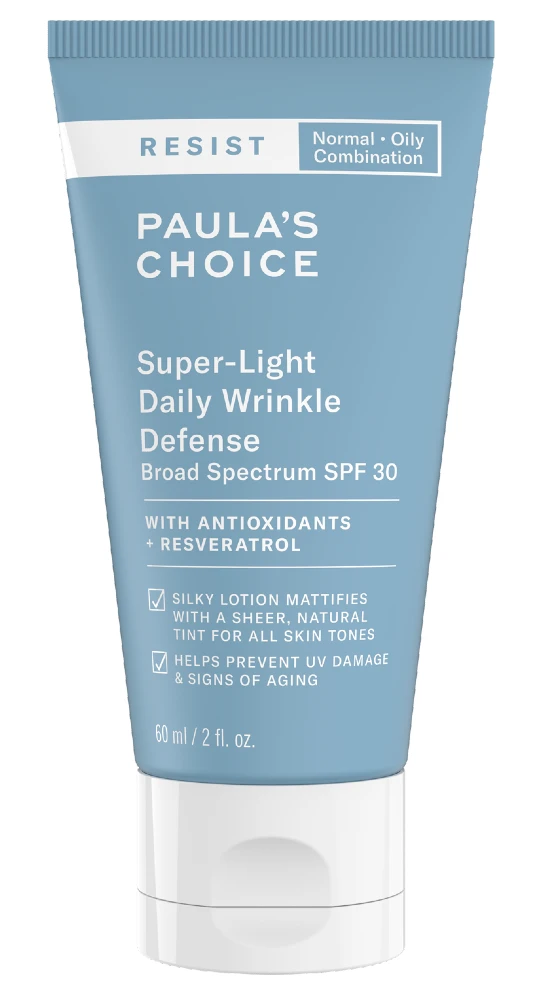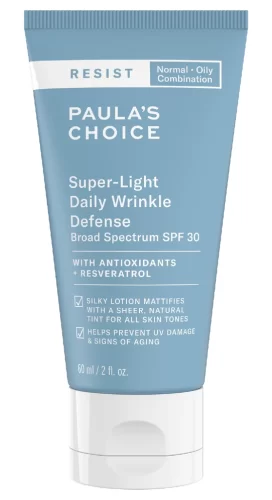 ---
Drunk Elephant Umbra Tinte Physical Daily Defense Sunscreen SPF 30
The hue in this tinted sunscreen is sheer, rather good for imparting light coverage and focusing more on skincare and sun protection. It's spiked with a mix of antioxidants to neutralize free radicals from the environment, but the hero of the game is 20% zinc oxide that ensures SPF 30, so the sun won't wreak havoc on your skin. It's perfect for a little boost of coverage without feeling like you're wearing a ton of makeup.