When it comes to my eye care routine, there are two things I swear by: a solid eight hours of beauty sleep and vitamin C eye creams. While I'm privileged enough not to have hereditary dark circles, staring at screens all day comes with some caveats: puffy eyes, dryness, and squinting hence crow's feet. That's why I turned to an eye cream packed with a generous dose of vitamin C just as I entered my 30s. This is the time when most of us experience the first signs of aging and fatigue, and vitamin C is a great all-rounder that provides benefits galore to improve all common eye concerns and bring forth a radiant glow.
Ahead I'll share the best vitamin C eye creams that have been the talk of the town in the last years, including some of which I tried (and loved).
How does vitamin C help with common eye concerns?
Including vitamin C in your eye cream is like hitting three birds with one stone—you address all leading factors that weaken the skin: UV damage, collagen loss, and lack of lipids.
As an antioxidant, vitamin C neutralizes free radicals and reduces the breakdown of collagen fibers that keep your skin firm and plump. It even goes the extra mile by protecting against the negative effects of screen time and blocking the formation of dark spots caused by UV damage.[1][2]
Also, do you know that the under-eye area often lacks lipids and sebaceous glands, which is why it tends to be dry and sensitive? But I have good news for you. Vitamin C promotes the production of lipids, so your skin will be better equipped to retain moisture and maintain suppleness.
Overall, vitamin C eye creams provide a multifaced solution to the most common eye concerns such as puffiness, fine lines, and tired eyes. However, I want to point out that while they can help improve the appearance of dark circles, they're less likely to eradicate them completely, especially if you happen to have them genetically.
How we selected the products
To find the best vitamin C eye creams, I covered all the bases by looking at factors like the potency and stability of vitamin C, other active ingredients in the formula, texture, and packaging.
I wanted to find products with a healthy dose of this antioxidant added in a balanced and stabilized formula that provides benefits without being harsh. Also, I searched for eye creams that didn't just rely on vitamin C alone but also on other skin-loving ingredients like antioxidants, moisturizers, soothers, and brighteners.
After the whole process, I narrowed down my selection to these eye creams:
The best vitamin C eye creams
---
1
Olay Vitamin C + Peptide 24 Eye Cream
When vitamin C meets peptide in your eye cream, you can expect an eye area that appears fuller and more awake. Both ingredients work to produce more collagen in the skin and restore moisture.[3] In addition to these two powerhouses, this drugstore gem is laced with niacinamide (aka vitamin B3), which delicately brightens the skin around your peepers and adds a dose of hydration as well. The formula is also made sans artificial fragrance, meaning it's super gentle and suitable for sensitive skin. Suffice to say: this is one of my favorite vitamin C eye creams.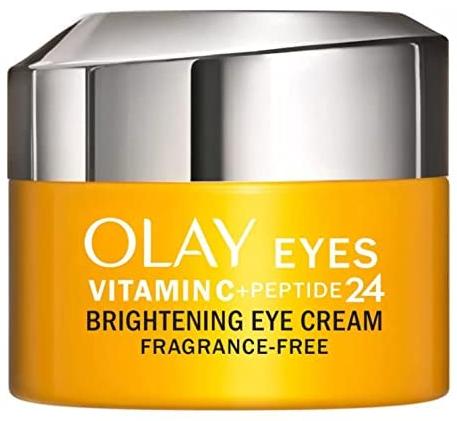 ---
2
Drunk Elephant C-Tango Multivitamin Eye Cream
This eye cream vows to improve hydration, even tone, and make the skin look and feel firmer in just eight weeks. What's in the mix? A whole host of anti-aging and restorative ingredients, including five forms of vitamin C, eight peptides, and a hefty dose of antioxidants. Let's give this one a well-deserved round of applause for the airtight bottle with the pump applicator that dispenses a precise amount of product and prevents the daily environment from degrading the formula.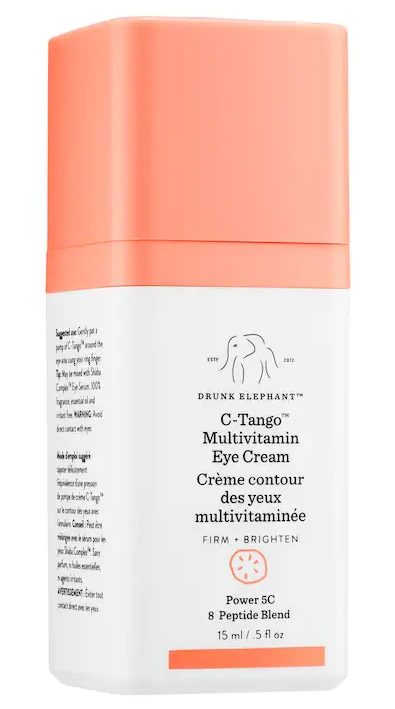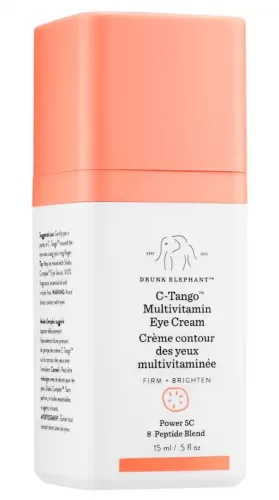 ---
3
Dr. Dennis Gross Vitamin C Lactic Acid Eye Treatment
This formula (developed by a dermatologist) combines pure vitamin C and two other stabilized versions to reduce oxidative stress and restore collagen loss. Additionally, it features a potent blend of skin brighteners, such as lactic acid, licorice root, and tranexamic acid, which attack dark circles from all angles, visibly brightening and de-puffing. Most people who tried it love the product's serum-like silky texture that's creamy enough to provide deep moisturization and lightweight enough to sink in easily without leaving sticky and greasy residues behind.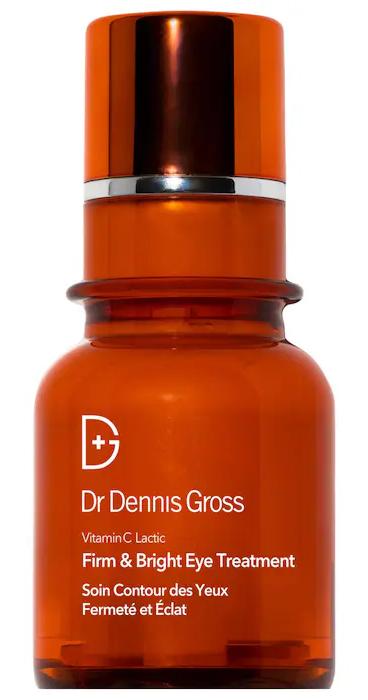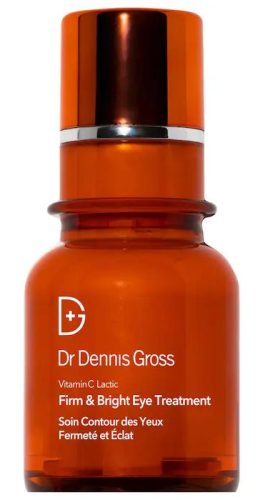 ---
4
Ole Henriksen Banana Bright+ Vitamin C Eye Crème
The new, updated version of Ole Henriksen Banana Bright Eye Crème is even better than the previous one I used. It now contains gold to stabilize the three sources of vitamin C, and the brand also eliminated the synthetic fragrance from the formula. I haven't used this cream long enough to see the long-term benefits, but I have to say, I was totally hooked on the instant results. The cream is very moisturizing, conceals dark circles with color-correcting pigments, and leaves the eye area more luminous and radiant. What's more, it pairs flawlessly with concealer without causing pilling.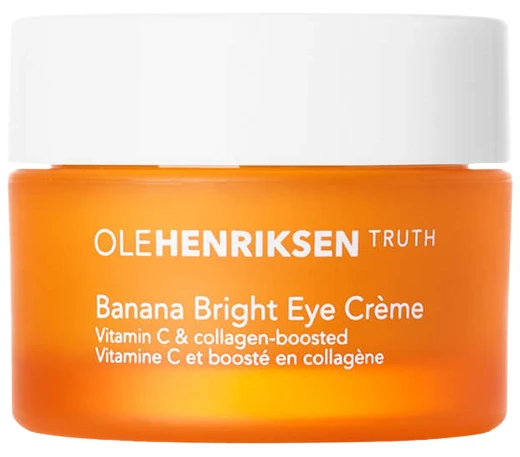 ---
5
Kiehl's Powerful-Strength Vitamin C Eye Serum
Kiehl's holds nothing back with this highly concentrated eye serum. If you've tried everything under the sun to improve dark circles with no luck, this is your best option. It leans on 10% ascorbic acid (the active form of vitamin C) to boost radiance on dull skin. This is the highest vitamin C concentration I could find in eye products, and the fact that it's in a serum means it absorbs better for increased benefits. The formula also boasts peptides and hyaluronic acid with the role of plumping fine lines look. However, I should emphasize that this one is more potent than the other options, so the risk of skin irritation is real. Be sure to perform a patch test before diving in, and avoid using it on sensitive skin.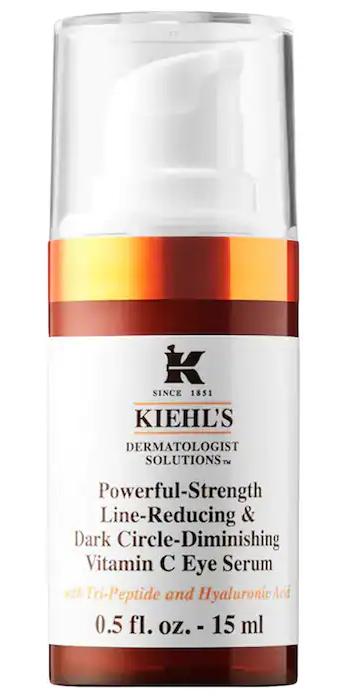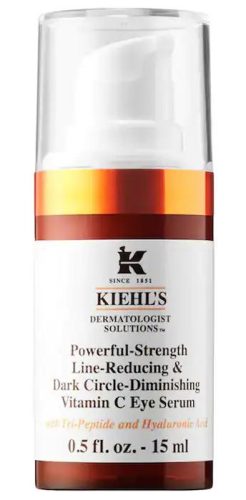 ---
6
Image Skincare Vital C Hydrating Eye Recovery Gel
Gels are known for their lightweight texture that allows for fast absorption and enhanced delivery of active ingredients deep into the skin layers. Well, with this formula, you get the best of both worlds—the hydrating effect of a cream and the cooling feel of a gel. It leans on stabilized vitamin C and an impressive range of peptides to smooth out fine lines and improve dullness. The brand suggests storing this one in the fridge for a refreshing pick-me-up moment.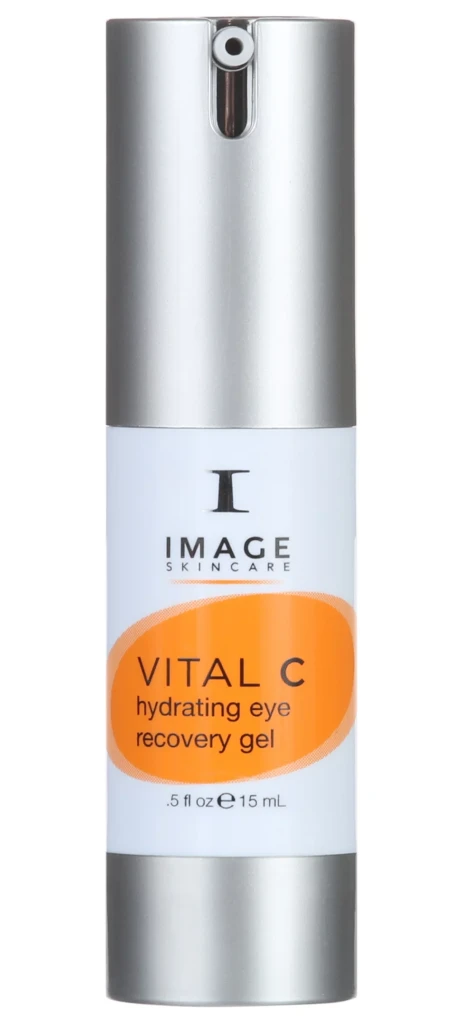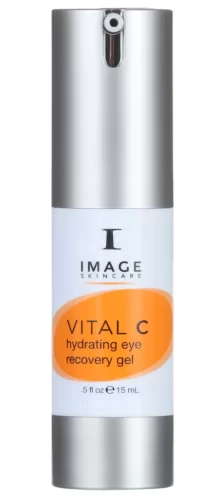 ---
7
La Roche-Posay Pure Vitamin C Eye Cream
Unlike most options on this list, La Roche-Posay made this eye cream with pure vitamin C, which means increased absorption and potency. Other ingredients worth noting in this formula are shea butter and meadowfoam oil, two emollients rich in fatty acids that have super moisturizing powers. The base made of thermal water is not to overlook either; it's chock full of minerals and antioxidants to fortify and protect the skin. I also love the packaging, which allows total control of the amount of product dispensed without any wastage.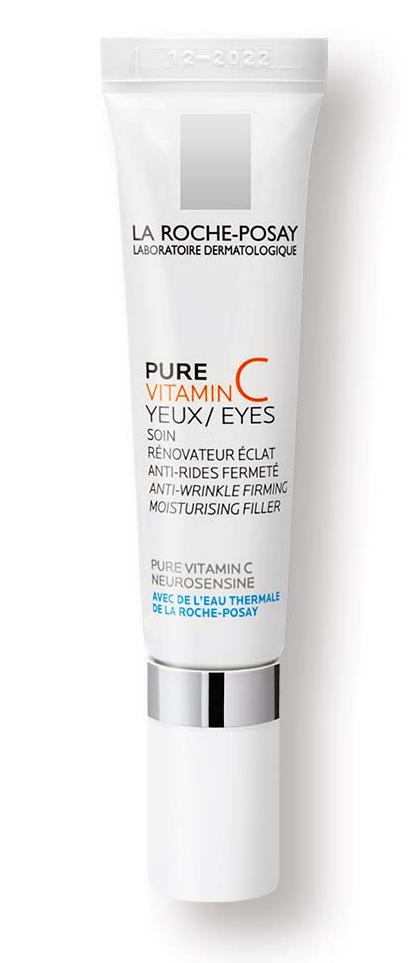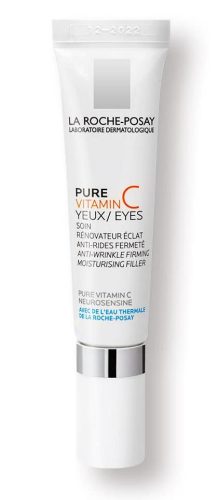 ---
8
Farmacy Wake Up Honey Eye Cream
This eye cream has anything you'd want to maintain smooth, plump, and luminous skin. It teams up 3% vitamin C with honey and propolis extract, the two latter known for their ability to hydrate and cushion. The addition of antioxidant-rich caffeine helps reduce puffiness around the eyes by constricting blood vessels and reducing fluid buildup. And because it is a bit of a richer balm, it's an ideal option for those with dry skin or who prefer to use a thick product around their eyes.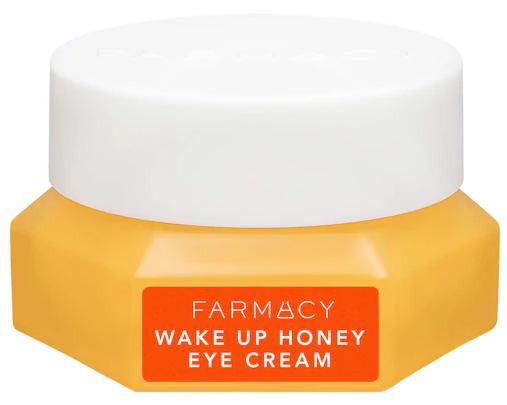 ---
9
Peter Thomas Roth Potent-C Power Eye Cream
This eye cream is powered by 10% THD ascorbate (a more stable form of vitamin C) along with vitamin E and ferulic acid to scavenge free radicals and stop them from damaging the fragile under-eye skin. There is also diamond powder which delivers gentle exfoliation and provides light-reflecting effects, which makes eye bags appear less noticeable and gives that lit-from-within glow. Even though PTR made the formula fragrance-free, it's worth mentioning that a few reviewers couldn't stand the scent. So, if you're someone who's sensitive to smells, consider considering that before choosing this option.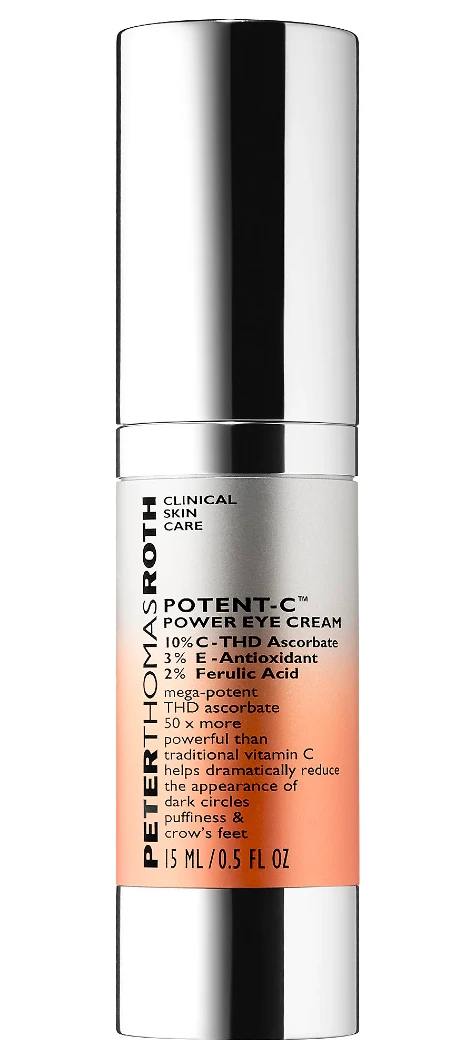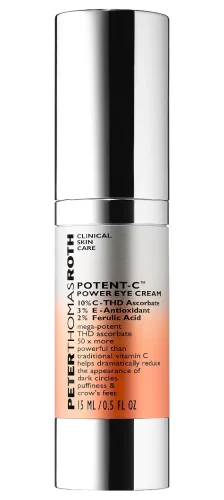 ---
10
Goodal Green Tangerine Eye Cream
You'll absolutely love this K-beauty staple: Goodal Green Tangerine Eye Cream is made in a base of green tangerine extract, a veritable source of vitamin C.[4] On top of that, it packs an extraordinary lineup of potent brightening agents, like niacinamide and arbutin, plus a type of vitamin C soluble in both oil and water that penetrates the skin more effectively. Consider this option if your main concern is dark circles.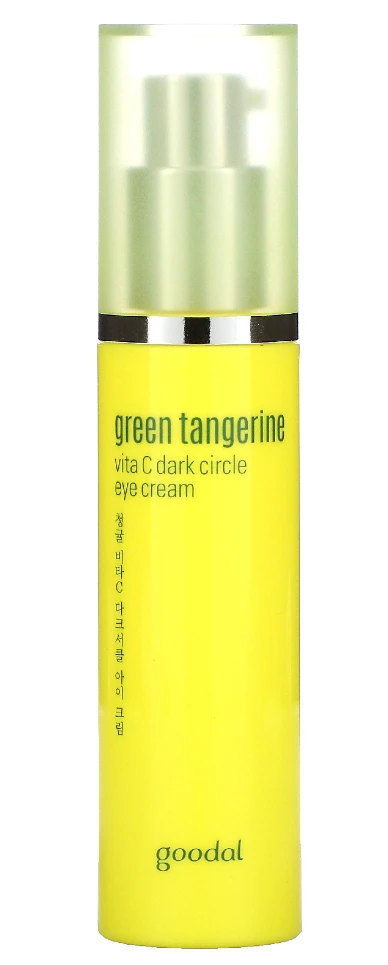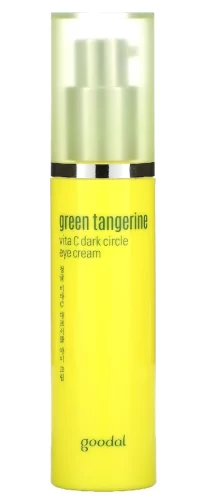 ---
Factors to consider when choosing a vitamin C eye cream
Your skin
If you have sensitive skin, choose a vitamin C eye cream that is formulated with lower concentrations of pure vitamin C and contains additional soothing ingredients that help reduce the chances of irritation. On the other hand, if your skin is dry, head towards products with moisturizing ingredients like hyaluronic acid and ceramides. Oily or acne-prone skin can benefit from lightweight, oil-free formulations.
Packaging
Vitamin C is a sensitive ingredient that can degrade when exposed to air, light, and heat. Choose a vitamin C eye cream that is packaged in an opaque, airtight container to maintain the stability and effectiveness of the active ingredients. Pump or tube packaging is often preferred over jars because it minimizes air and light exposure.
---
Sources
Women's Concepts uses reliable sources, including dermatologists' insights, clinical trials, and scientific journals, to find accurate information and support all the facts shared in our articles. All statements and claims have clear and legit references. Read our editorial policy to learn more about our sources of information, our process of researching and fact-checking the content, and how our team strives to keep all articles updated, completed, and trustworthy.
References
De Dormael R, Bastien P, Sextius P, Gueniche A, Ye D, Tran C, Chevalier V, Gomes C, Souverain L, Tricaud C. Vitamin C Prevents Ultraviolet-induced Pigmentation in Healthy Volunteers: Bayesian Meta-analysis Results from 31 Randomized Controlled versus Vehicle Clinical Studies. J Clin Aesthet Dermatol. 2019 Feb;12(2):E53-E59. Epub 2019 Feb 1. PMID: 30881584; PMCID: PMC6415704.
Boyera N, Galey I, Bernard BA. Effect of vitamin C and its derivatives on collagen synthesis and cross-linking by normal human fibroblasts. Int J Cosmet Sci. 1998 Jun;20(3):151-8. doi: 10.1046/j.1467-2494.1998.171747.x. PMID: 18505499.
Jeong S, Yoon S, Kim S, Jung J, Kor M, Shin K, Lim C, Han HS, Lee H, Park KY, Kim J, Chung HJ, Kim HJ. Anti-Wrinkle Benefits of Peptides Complex Stimulating Skin Basement Membrane Proteins Expression. Int J Mol Sci. 2019 Dec 20;21(1):73. doi: 10.3390/ijms21010073. PMID: 31861912; PMCID: PMC6981886.
Apraj VD, Pandita NS. Evaluation of Skin Anti-aging Potential of Citrus reticulata Blanco Peel. Pharmacognosy Res. 2016 Jul-Sep;8(3):160-8. doi: 10.4103/0974-8490.182913. PMID: 27365982; PMCID: PMC4908842.