Have you been going through flair-ups, and everything you tried made your face angrier? Stocking up on these best vitamin C masks might be the perfect quick fix for preventing an upcoming skincare disaster.
For those times you commit the cardinal sin of sleeping in makeup or a long flight leaves skin jetlagged, reaching for the closest face mask might be second nature. But here's the catch: most hydrating masks aren't solving the biggest problem of your stressed, irritated skin. What you really need is a dose of free-radical fighting, brightening vitamin C for a wake-me-up glow.
Stressors are constantly bombarding angry and irritated skin, and once injured, it's harder to catch a break to heal. So pumping it full of antioxidants is necessary to shield your skin from envirormental aggressors and allow better recovery. Because after insane travel or a long weekend, the last thing you want is a new set of breakouts and redness.
The best vitamin C face masks
So throw on one of these vitamin C face masks and let them work their magic; goodbye, dull skin and uneven tired complexions.
---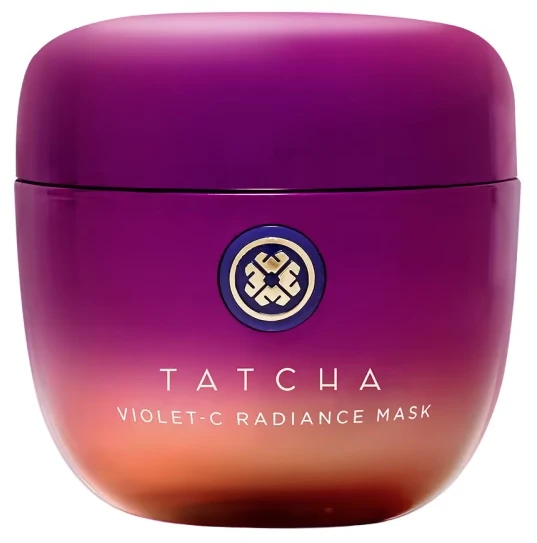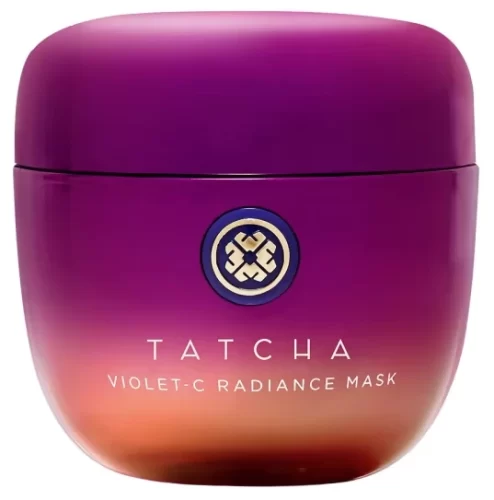 1
Tatcha Violet-C Radiance Mask
For a more luxe experience that caters to more mature skin types, Tatcha Violet-C Radiance Mask has left quite the impression on the skincare world. The hue is due to Tatcha's Japanese-powered actives like beautyberry and angelica roots work hard to even skin out for a flawless complexion. This brightening mask boasts over 20% vitamin C and 10% AHA fruit acids, yet it's most loved for its hydrating and plumping action. Popular amongst youtube beauty personalities like Jeffree Star and cosmeticians alike, this one has everyone raving and it's definitely one of the best vitamin C masks out there.
---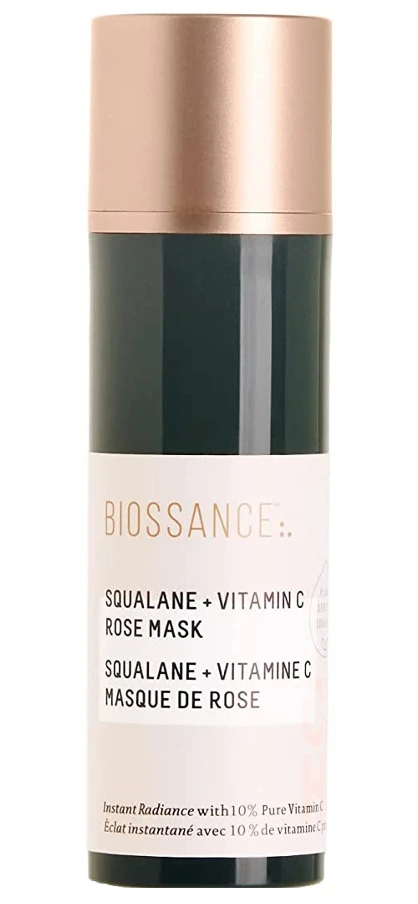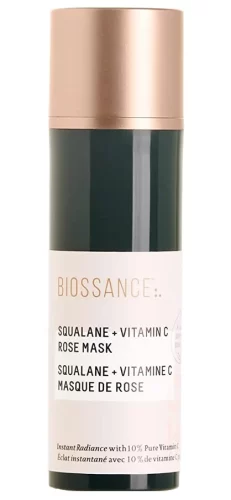 2
Biossance Squalane + Vitamin C Rose Mask
Masks are a great way to get a concentrated shot of potent actives when you need them most. Biossance's combination of complexion smoothing squalane and vitamin C delivers just that. The gentle rosy mask offers skin-softening goodness in a lightweight, non-comedogenic gel. More than that, the formula's hefty 10% concentration provides two sources of vitamin C, naturally from rose oil and with stabilized pure L-ascorbic acid.
---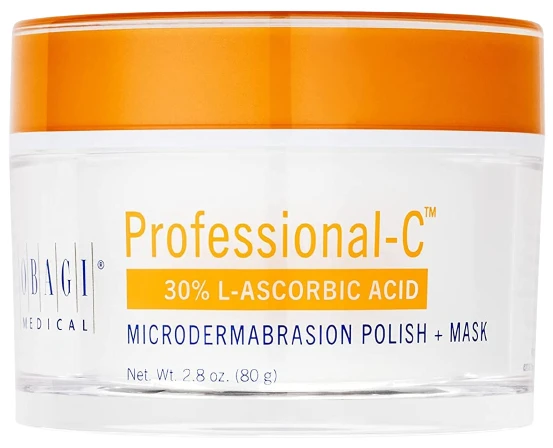 3
Obagi Professional-C Microdermabrasion Polish + Mask
If you've ever been to a dermatologist or a med-spa, chances are they've recommended something from Obagi. Their clinical strength products are great for at-home care, and with 30% L-ascorbic acid, this is the highest strength vitamin C mask on the list. It's concentrated, so use sparingly and avoid more delicate areas around the eye, but that also means each jar lasts a long time. A great weekly exfoliator with polishing microdermabrasion type effects, it can prolong the glow from spa treatments.
---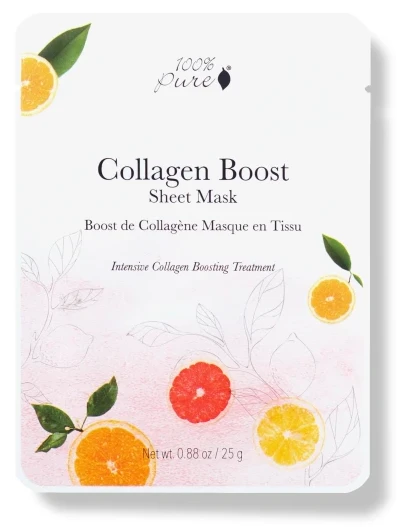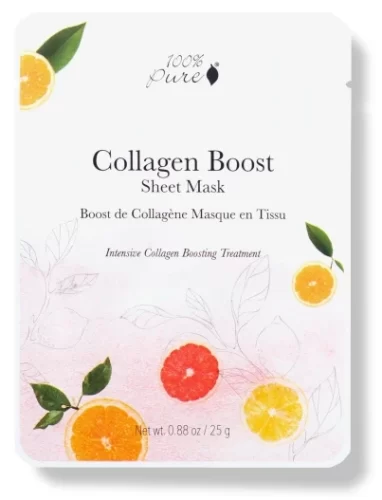 4
100% Pure Collagen Boost Sheet Mask
The word "100% pure" is a hard commitment to make in the beauty world, but this brand is committed to clean formulations with even the cloth for the mask sustainably produced from bamboo. Reap all the benefits of this best natural vitamin C face mask without the harsh detergents or artificial fragrances found in a typical sheet mask. The plant-powered mask's rich, brightening fruity cocktail includes guava, grapefruit, and honeysuckle, with natural sources of vitamin C from rosehip and blood orange. The collagen-boosting formula promotes elastin and firmer skin through revitalizing ginseng root and retinol.
---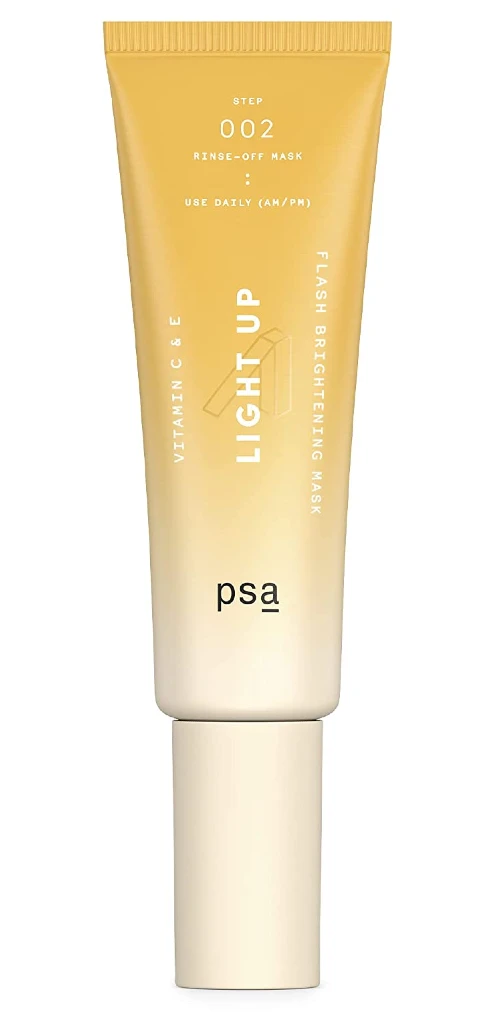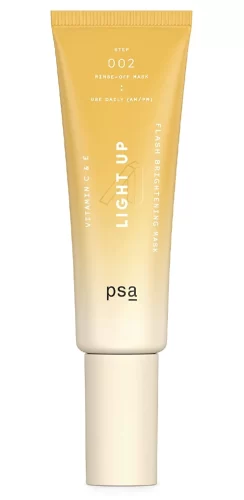 5
Allies of Skin PSA Light Up Flash Brightening Mask
Mark my words: this is the best vitamin C mask for fast-acting results, fans loving the rapid tingling sensation as it gets to work. An industry favorite, the included L-ascorbic acid is a killer for dull skin, but sensitive faces can react to the low pH. That's why PSA's non-irritating oil-based product is unique; the wash-off mask is suitable for all skin types. The gentle mask is great for improving skin texture and is boosted with other great antioxidants like vitamin E and grapeseed oil to nourish and hydrate.
---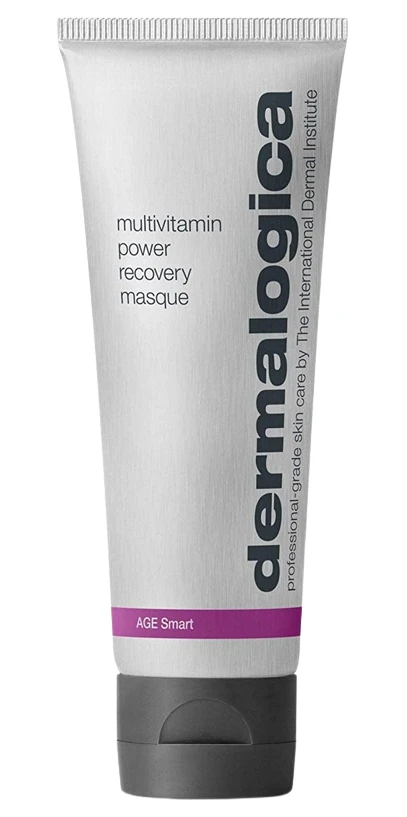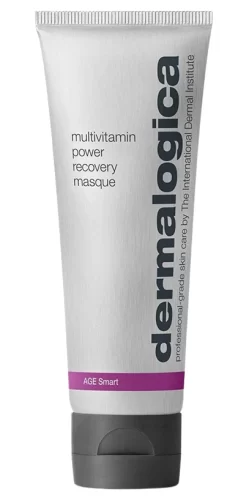 6
Dermalogica MultiVitamin Power Recovery Mask
A very creamy and moisturizing product, this is the best vitamin C face mask for giving mature skin that perfect well-rested look. Excellent for targeting discoloration; just wash it off for a brighter, smooth, dewy complexion. For an intense overnight- sleep treatment, try applying the mask in a thin layer before bed. Known for its stellar ingredients, Dermalogica includes vitamins A, C, and E to target sun damage and repair skin while soothing ingredients like panthenol and allantoin calm irritation.
---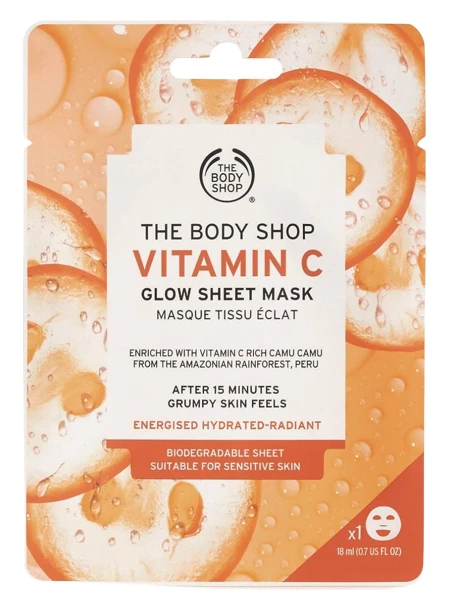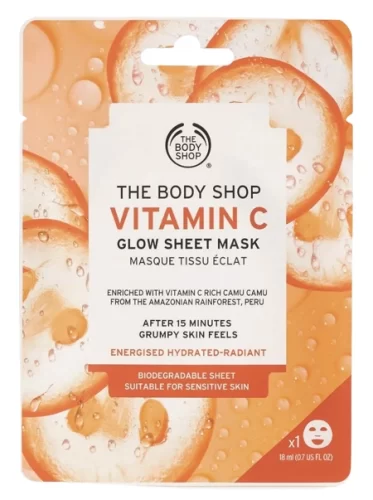 7
The Body Shop Vitamin C Glow Sheet Mask
One of the best vitamin C sheet masks for a super affordable and on-the-go glow comes from The Body Shop. An old-faithful for many a sheet-mask stash, this mask's divine scent is like diving into a bucket of tangerines. Sometimes sheet masks can feel wasteful, but not to worry, this vegan, organic product is also bio-degradable! No slouch either; this convenient mask comes packed with vitamin C from superfood fruit and renowned brightener, Camu-Camu.
---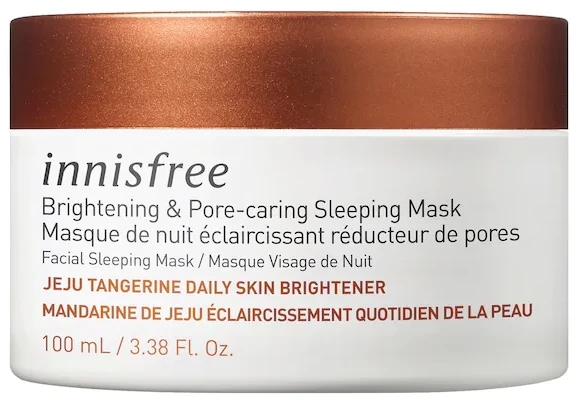 8
Innisfree Tangerine Brightening & Pore Caring Sleeping Mask
Lately, everyone's been subscribing to slug-life but using a leave-on mask to lock in ingredients is way more effective and pleasant. Innisfree is a K-beauty favorite for a reason, and this sleeping pack uses tangerine peels harvested from Korea's own Jeju island to brighten and even tone. This jelly mask has little brightening capsules that pop with antioxidants and moisturizing factors as you work the mask into the skin. Besides tangerines, the sleep mask also benefits from a vitamin complex of B3, B5, and two kinds of vitamin C. Reviews boast about waking up with glowing, smooth skin, and what's better than that?
---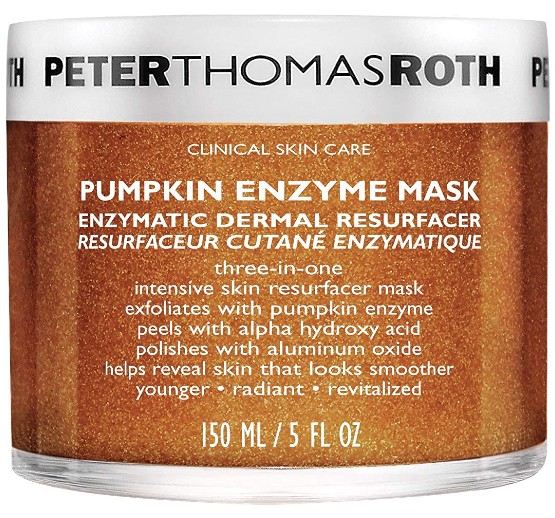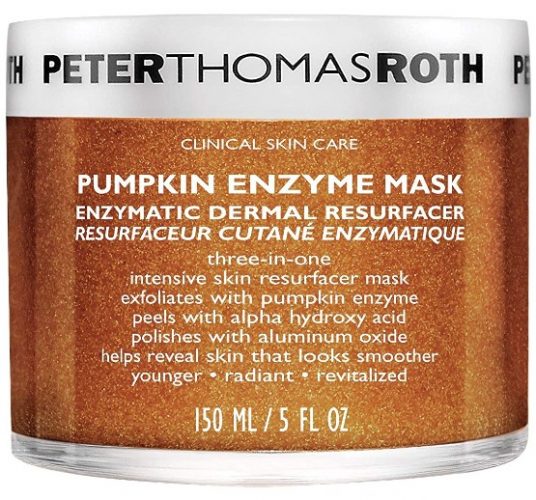 9
Peter Thomas Roth Pumpkin Enzyme Mask
Combining manual, chemical, and enzymatic exfoliation, you may be washing this off to find a whole new face. Now, if you're already screaming at the words manual exfoliation, don't fear; this has little in common with the dreaded St.Ives scrub. The aluminum oxide crystals are the same used for dermabrasion, specifically made to be used on the face; they polish away uneven texture. Pumpkin enzymes, vitamin C, and AHA acids take care of the rest, removing dullness for brighter, more youthful skin.
---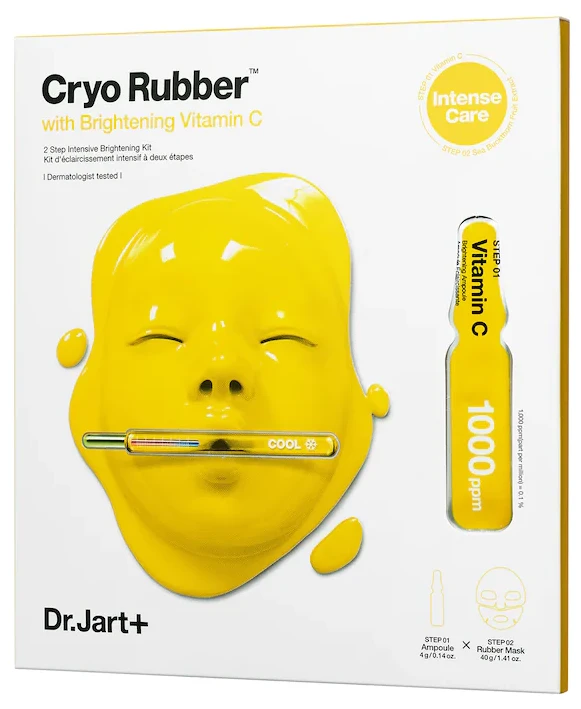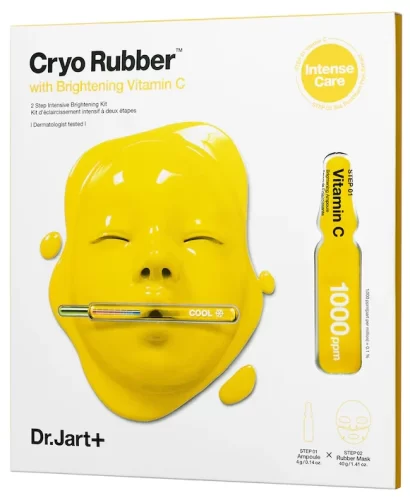 10
Dr. Jart+ Cryo Rubber Mask with Brightening Vitamin C
Few things are more refreshing and fun than using one of Dr.Jarts rubber masks. There's something about applying an ampule and covering it with a jelly mask that makes me feel as though I'm at the spa. Locking in vitamin C and niacinamide with a patented cooling "cryo rubber" is what makes this brightening face mask a more professional-style treatment. The cooling effect of the mask enhances product absorption and reduces any redness from the complexion evening and brightening actives.
---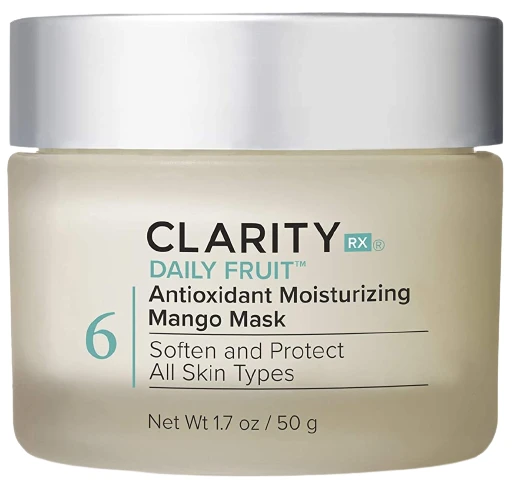 11
Clarity Rx Daily Fruit Antioxidant Moisturizing Mango Mask
If your face isn't craving a dollop of fruity goodness yet, wait. Sumptuous mango butter, luxurious sea buckthorn oil, and safflower oil are excellent sources of rich fatty acids and antioxidants to combat environmental stressors and give skin a supple glow. While recommended for nighttime use, it's popular with fans to create a clean slate for the day's makeup, as the flower and seed extracts work on clarifying skin and tightening pores.
---
The Takeaway
Everyone loves the convenience of a quick mask, and while vitamin C serums have long been an HG for beauty routines, it's worth trying this active in a new form. Whether you're traveling and need a TSA-friendly product or your skin is due for some pampering, an extra shot of antioxidant-rich brightening never hurts.