When it comes to building a skincare routine that shines, one ingredient reigns supreme: Vitamin C. While you can let other A-list ingredients, such as retinol or glycolic acid, take a backseat, a vitamin C serum should claim a permanent spot in your regimen.
Why, you ask? Because it's your skin's best defense against sun damage and pollutants—two factors with a track record of prematurely aging the skin. Its antioxidant properties neutralize free radicals from the environment and help you achieve a complexion that defies time.[1]
Not only does it offer protection, but it also covers all your skin needs. Vitamin C stimulates collagen production, a protein needed for firmer, bouncy skin.[2] It also plays a key role in producing skin-protecting lipids that retain moisture and reinforce the skin's natural barrier.[3]
Need help with hyperpigmentation and uneven tone? Here's another reason to include a vitamin C serum in your beauty ritual: it blocks the production of skin-darkening pigment responsible for skin discoloration.[4]
To give you a clear picture: If your skin gets dehydrated in winter or you have sun-induced or acne blemishes, chances are you're not harnessing the full potential of vitamin C. Take charge of your skincare routine by incorporating one of the best vitamin C serums we've rounded up here.
The best vitamin C serums
From hydrating serums suitable for dry skin to soothing formulas for sensitive complexions and powerful ones that wage war against hyperpigmentation, we've put together a list of vitamin C serums on which we can stake our reputation. Scroll on and pick your favorite:
---
Best overall
Sunday Riley C.E.O. Vitamin C Brightening Serum
This milky serum is crafted with a stable and oil-soluble form of vitamin C, tetrahexyldecyl ascorbate (THD). It can give your tongue a bit of a workout, but this derivative stands out when it comes to skincare. It has a longer shelf life and better penetration into the skin than ascorbic acid, meaning you get more of those juicy brightening and firming benefits.[5] THD is also considered less irritating and more suitable for sensitive skin.
Moreover, the serum is fueled by glycolic acid, a chemical exfoliant that encourages dead cells to slough off and make room for fresher ones to take their place. You can also expect intense moisture from squalane and jojoba esters, two emollients that soften and seal water into the skin.
The formula absorbs quickly without leaving any residues behind, and it never piles with other skincare products. Bonus: it has a lovely light citrus aroma which comes from orange and tangerine oils.
Price: $85
Size: 30 ml / 1 oz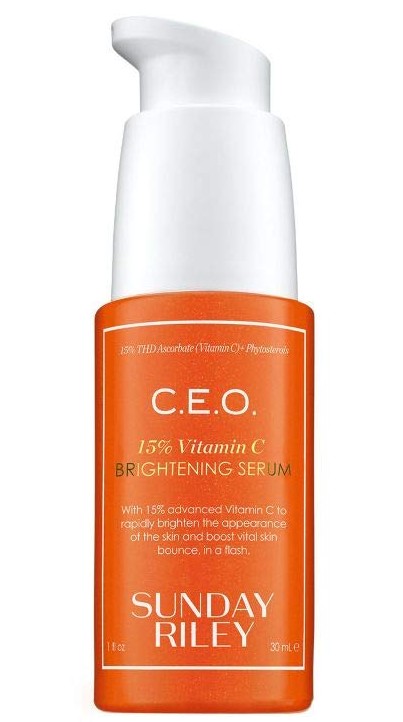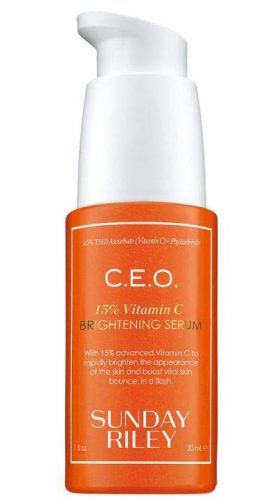 ---
Best drugstore
CeraVe Skin Renewing Vitamin C Serum
Chances are, you're already familiar with CeraVe and its impressive range of affordable and high-quality skincare essentials. This best-selling serum from the brand is a cult favorite, offering high protection against free radical damage and barrier support. How so? It teams up a meaningful concentration of pure vitamin C with three types of ceramides and cholesterol, which are essential lipids needed to maintain a healthy skin barrier and relieve dryness. Hyaluronic acid also appears to bind so-much needed water onto the skin to keep it looking more plump.
Price: $29.99
Size: 30 ml / 1 oz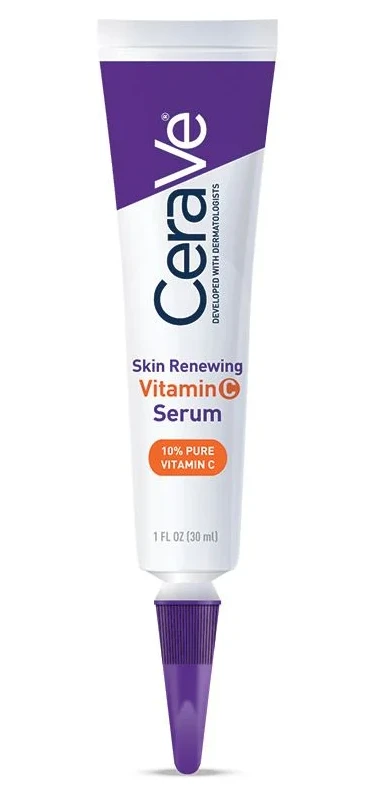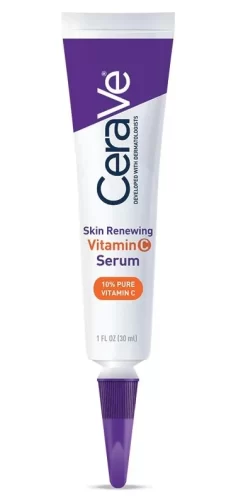 ---
Best for acne
La Roche-Posay Vitamin C10 Serum
Although this vitamin C serum addresses all skin types, it's a powerful solution for those with acne-prone skin. That's because it also uses the ever-known acne-fighting hero—salicylic acid. This chemical exfoliant eliminates the buildup of dead cells and excess oil, the culprits behind clogged pores and acne breakouts. By combining this dynamic duo, La Roche-Posay Vitamin C10 Serum promises to reveal clear and even-toned skin over time. The serum is oil-free and non-comedogenic, ensuring it never leaves your skin feeling greasy or causes congestion. Apply it every morning on clean skin and follow up with SPF to get the best results.
Price: $44.99
Size: 30 ml / 1 oz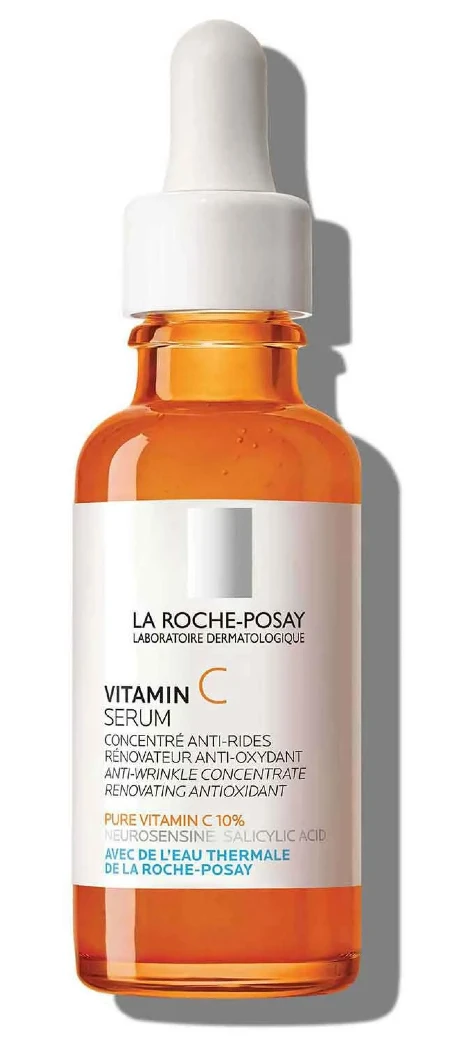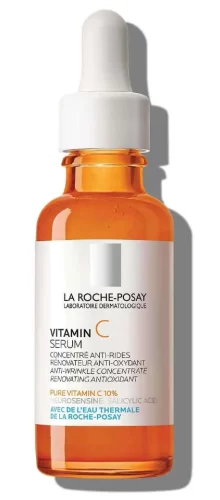 ---
Best for dullness
Ole Henriksen Banana Bright Vitamin C Serum
Ole Henriksen Banana Bright is designed to combat dullness and restore your skin's natural glow. Dull skin is often the result of dead cell buildup, uneven texture, dehydration, and lack of radiance. But this serum leaves no chance to these culprits by adding 15% vitamin C coupled with 5% gluconolactone—a polyhydroxy acid with gentle exfoliating power—and hydrating hyaluronic acid in a concentrated formula gentle enough for daily use by all types of skin. According to the brand's independent clinical study, it promotes even-toned skin in as little as one week.
Price: $71
Size: 30 ml / 1 oz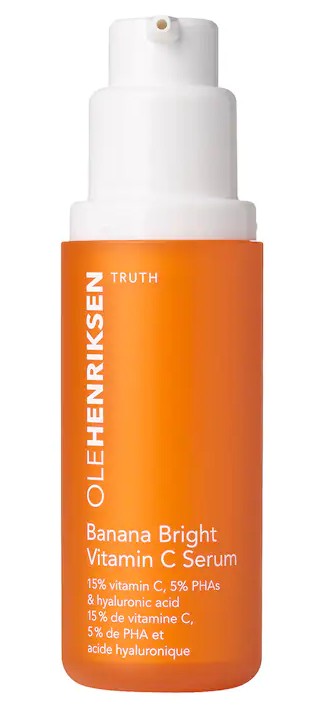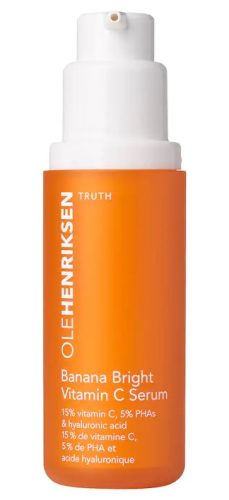 ---
Best for hyperpigmentation
Peter Thomas Roth Potent-C Power Serum
This serum is loaded with a juicy concentration of 20% THD ascorbate, bringing forth all the benefits of pure vitamin C and delivering them into deeper layers of the skin. It's also more stable and less prone to oxidation. The antioxidant effects are further amplified by vitamin E and ferulic acid, two free radical scavengers which double the photoprotective effects when teamed with vitamin C.[6]
However, as far as our love for Peter Thomas Roth Potent-C Power Serum goes, it's worth noting that some reviewers have expressed their dislike about the unpleasant scent derived from the ingredients in the formula.
Price: $105
Size: 30 ml / 1 oz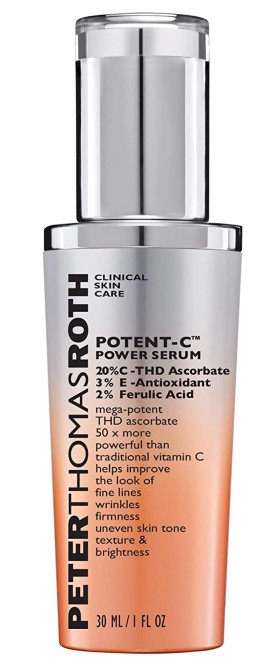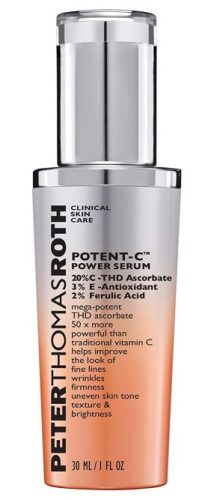 ---
Best for budget
The Ordinary Ascorbyl Glucoside Solution
Hands down, The Ordinary made the best vitamin C serum for those on a budget. The brand is known for offering skincare products that are both results-driven and affordable while prioritizing transparency in ingredient selection and formulation. For less than 15 bucks, you get a serum crafted with a potent twelve-percent concentration of ascorbyl glucoside.
This derivative has attached a hydrating sugar molecule (glucose), which makes it more stable and allows for gradual release and reduced potential irritation.[7] Don't worry. This doesn't make it less potent in providing antioxidant support, radiance, and firmness to your skin.
However, due to the addition of glucose, the serum may leave the skin a bit sticky at first, but the sensation subsides within the first few minutes of application.
Price: $14.30
Size: 30 ml / 1 oz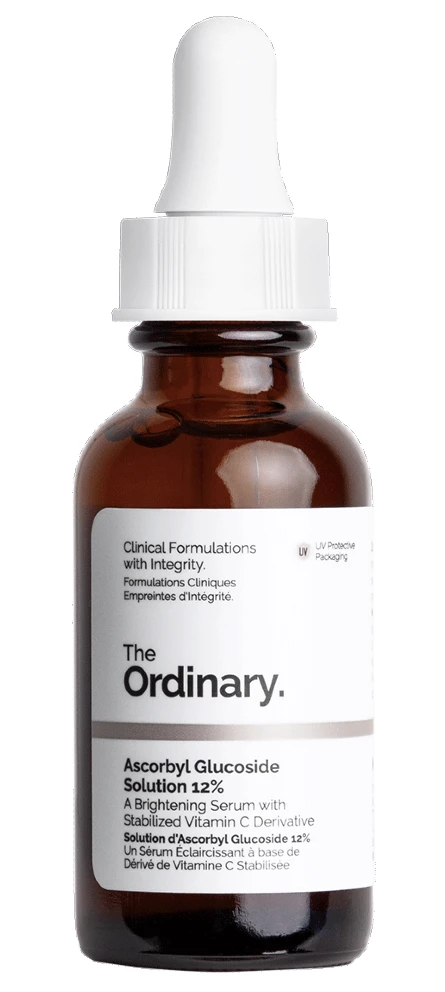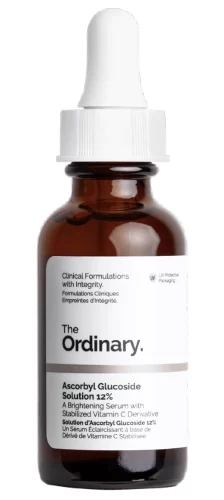 ---
Highest concentration
Allies of Skin 35% Vitamin C Perfecting Serum
The price of this one is pretty shocking, but let me explain its worth. It's the world's first and only waterless formula chock full of antioxidants that boasts a juicy concentration of 35% vitamin C. On top of that, glutathione and superoxide dismutase, two of the most effective antioxidants, further fight environmental aggressors and boost the brightening effects. 
Moreover, the product has a lightweight texture and proudly excludes harsh ingredients like synthetic fragrances and dyes. It's no wonder that dermatologists worldwide hail it as the ultimate vitamin C serum, earning the holy grail status. Just keep in mind that it may have a slight oily sensation upon application, and it's essential to allow a few minutes for it to fully absorb into the skin before applying moisturizer.
Price: $148
Size: 30 ml / 1 oz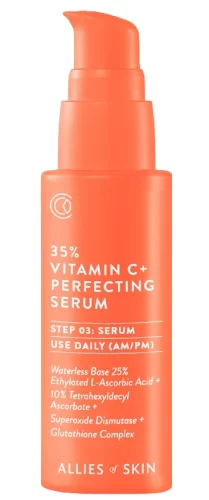 ---
Best for dry skin
Cosrx Pure The Vitamin C Serum
If your goal is to minimize hyperpigmentation and reveal your most plump skin, Cosrx Pure Vitamin C Serum can help. Though the main job of this formula is to brighten and diminish blemishes, you'll also notice hydration and cushioning benefits thanks to its blend of moisture-replenishing hyaluronic acid, skin-soothing allantoin, and water-sealing squalane. All in all, this hydrating vitamin C serum is ideal for dry skin.
Price: $25
Size: 20 ml / 0.67 oz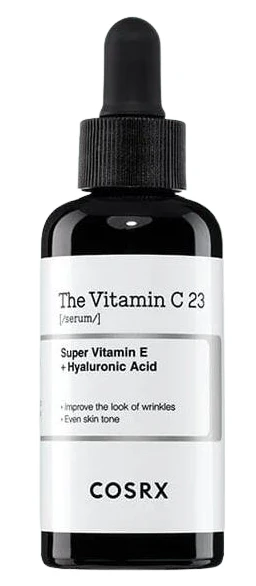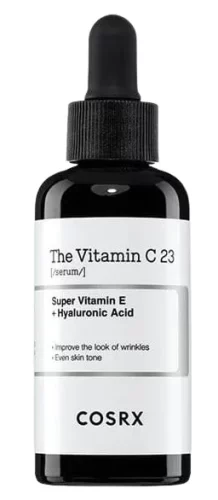 ---
Most popular
SkinCeuticals C E Ferulic
While it's true that the price of this iconic serum has risen faster than a falling comet, its ability to protect and improve the skin remains unquestionable. Packed with a jaw-dropping concentration of 15% L-ascorbic acid and backed by vitamin E and ferulic acid, the serum is top-notch at neutralizing free radicals that contribute to premature skin aging. Hydrating hyaluronic acid and panthenol are added to bind much-needed water into the skin and leave behind that coveted healthy glow.
Price: $182
Size: 30 ml / 1 oz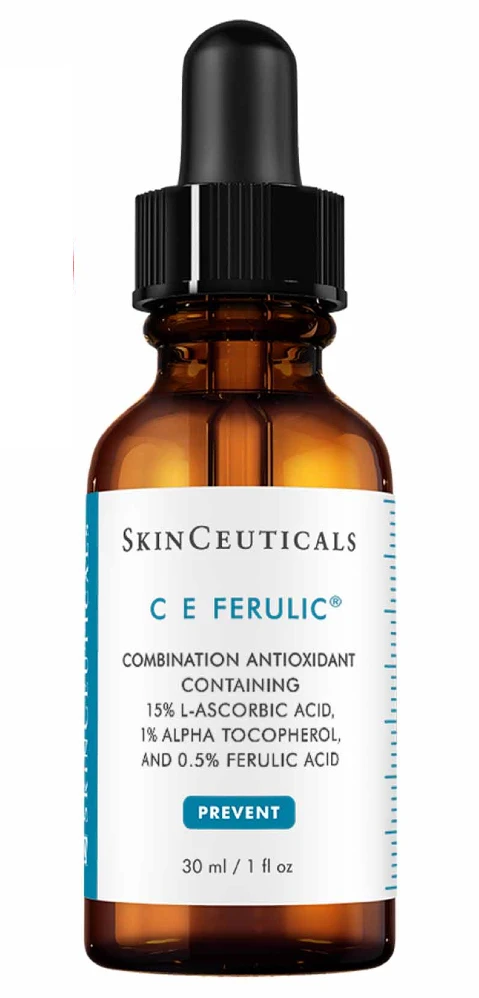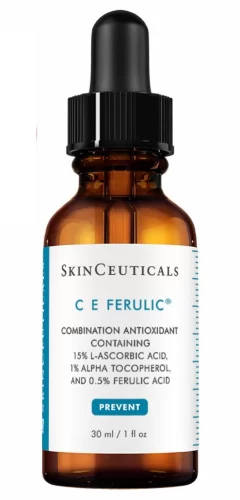 ---
Best for sensitive skin
Image Skincare Vital C Hydrating Serum
If you have sensitive skin, stock up on this vitamin C serum. Made with a complex of four types of vitamin C and an impressive amount of soothing ingredients, it takes care of your uneven tone and fine lines without giving your skin a hard time. Aloe juice, sweet almond oil, green tea, and Centella asiatica are just a few of the ingredients that make the formula so gentle. The result? Brighter skin with less noticeable dullness, fatigue, and aging signs. Better still, the energizing citrus scent from the natural orange peel will make you look further into applying it.
Although you may be tempted to believe this serum has a higher price tag, consider that it has a size of 1.7oz/50 ml.
Price: $82
Size: 50 ml / 1.7 oz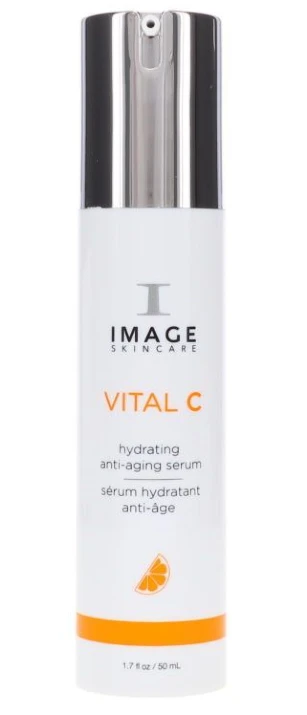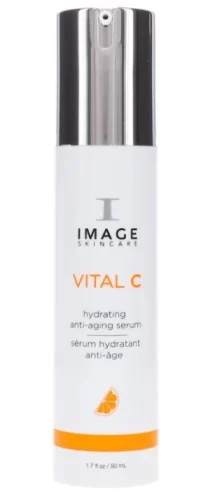 ---
Best for aging signs
Olay Vitamin C + Peptide 24 Brightening Serum
While all vitamin C serums work great to improve signs of aging, this one stands out thanks to the addition of collagen-stimulating peptides. We've been recommending this range from Olay's repertoire whenever we have the chance, and the reason is simple—it works. The serum boasts a lightweight texture, absorbs quickly, and leaves you with a sun-kissed glow upon application. Simple and effective.
Price: $29.99
Size: 38 ml / 1.3 oz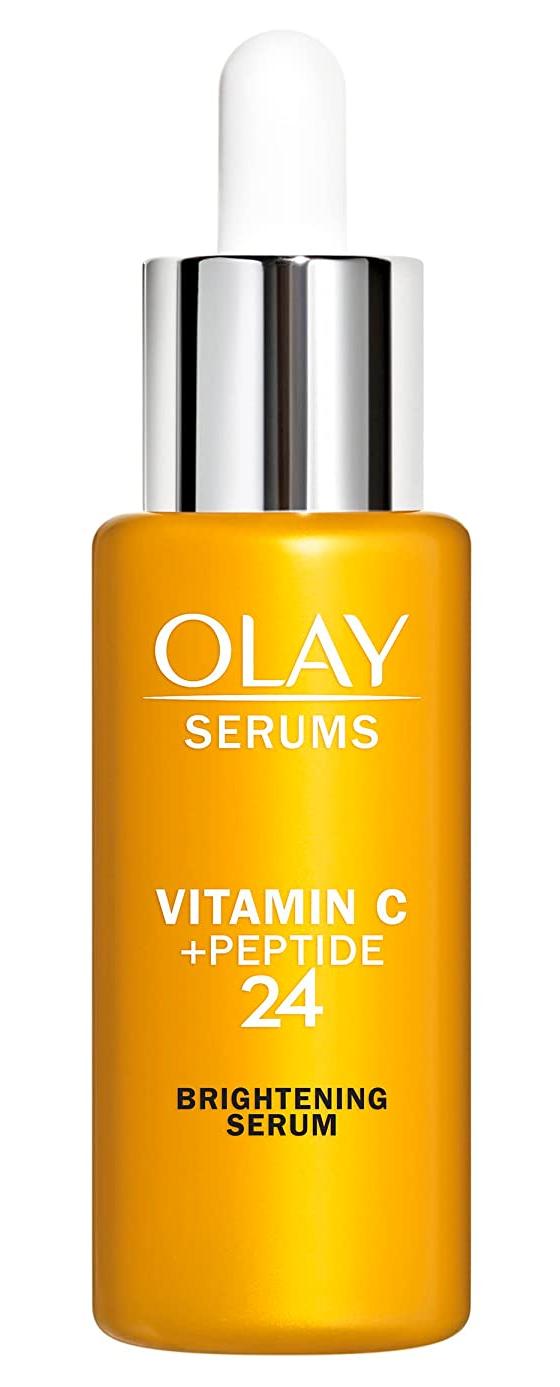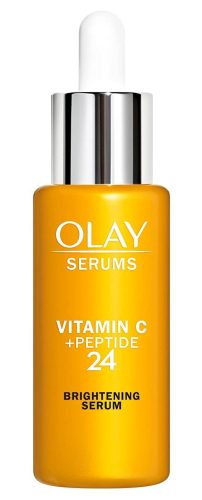 ---
Editor's choice
Eight Saints Seeking C
We like this one because of the fast-absorbing form of vitamin C and the cocktail of oils that make it more nourishing and hydrating than the other options on this list. The serum dries very quickly and has a rich, concentrated and viscous texture that feels like a dream.
Price: $38
Size: 30 ml / 1 oz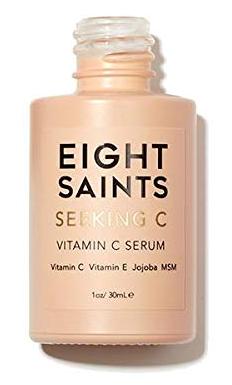 ---
How to use vitamin C serums
The best time to apply your vitamin C serum is in the morning before you expose your skin to environmental stressors like sun and pollution. However, there is nothing wrong if you lay your vitamin C serum at night.
"In general, vitamin C products should be applied in the morning before heading out for the day when UV radiation is at its highest," Sara Hogan, M.D., a dermatologist at UCLA Medical Center, Santa Monica claims. After cleansing, layer the serum, apply moisturizer, and finish with SPF.
Don't expect significant changes in your skin for the first two months. Just like most skincare actives, vitamin C takes time to prove its benefits.
Also, take care of how you store your vitamin C serum. Vitamin C, like most antioxidants, is a light-sensitive ingredient that oxidizes and loses potency quickly when exposed to light, heat, and air. If you don't plan on using the serum anytime soon, store it in a place other than your bathroom. For the same reason, consider purchasing a serum that comes in amber or dark-colored bottles and keep it somewhere cool and dark.
---
The bottom line
At Women's Concepts, we're committed to bringing you only the best vitamin C serums. Our team spends quality time vetting products to find the most effective solutions for your skin. We rely on reliable sources such as dermatologists' insights, clinical trials, and scientific journals to ensure that our recommendations are based on facts, not hype. Our editorial policy ensures that all statements and claims have explicit references. Read our editorial policy to learn more about our sources of information and the process of researching and fact-checking the content.
References
Telang PS. Vitamin C in dermatology. Indian Dermatol Online J. 2013 Apr;4(2):143-6. doi: 10.4103/2229-5178.110593. PMID: 23741676; PMCID: PMC3673383.
Al-Niaimi F, Chiang NYZ. Topical Vitamin C and the Skin: Mechanisms of Action and Clinical Applications. J Clin Aesthet Dermatol. 2017 Jul;10(7):14-17. Epub 2017 Jul 1. PMID: 29104718; PMCID: PMC5605218.
Kim KP, Shin KO, Park K, Yun HJ, Mann S, Lee YM, Cho Y. Vitamin C Stimulates Epidermal Ceramide Production by Regulating Its Metabolic Enzymes. Biomol Ther (Seoul). 2015 Nov;23(6):525-30. doi: 10.4062/biomolther.2015.044. Epub 2015 Nov 1. PMID: 26535077; PMCID: PMC4624068.
Sanadi RM, Deshmukh RS. The effect of Vitamin C on melanin pigmentation – A systematic review. J Oral Maxillofac Pathol. 2020 May-Aug;24(2):374-382. doi: 10.4103/jomfp.JOMFP_207_20. Epub 2020 Sep 9. PMID: 33456250; PMCID: PMC7802860.
Swindell WR, Randhawa M, Quijas G, Bojanowski K, Chaudhuri RK. Tetrahexyldecyl Ascorbate (THDC) Degrades Rapidly under Oxidative Stress but Can Be Stabilized by Acetyl Zingerone to Enhance Collagen Production and Antioxidant Effects. Int J Mol Sci. 2021 Aug 15;22(16):8756. doi: 10.3390/ijms22168756. PMID: 34445461; PMCID: PMC8395926.
Lin FH, Lin JY, Gupta RD, Tournas JA, Burch JA, Selim MA, Monteiro-Riviere NA, Grichnik JM, Zielinski J, Pinnell SR. Ferulic acid stabilizes a solution of vitamins C and E and doubles its photoprotection of skin. J Invest Dermatol. 2005 Oct;125(4):826-32. doi: 10.1111/j.0022-202X.2005.23768.x. PMID: 16185284.
Stamford NP. Stability, transdermal penetration, and cutaneous effects of ascorbic acid and its derivatives. J Cosmet Dermatol. 2012 Dec;11(4):310-7. doi: 10.1111/jocd.12006. PMID: 23174055.