The goal? Firm, bright, and smooth skin that's 100% protected against sun damage every second you're out and about. The solution? The best sunscreen with vitamin C that works on multiple fronts to protect against UV and other free radicals while brightening dark patches. Yes, a bit of an overachiever.
Needless to say, protecting your skin from the sun's harmful rays with sunscreen is a year-round commitment. Doing so minimizes the chances of getting premature wrinkles, dark spots, and skin cancer. In fact, a four-year study showed that people who used sunscreen on a daily basis were 24% less likely to show premature aging signs.[1]
But here's the thing: some sunscreens are more effective than others. If you really want to take your skin protection game to the next level, go for a formula that boasts one of the most sought-after antioxidants out there—vitamin C. When it comes to photoprotection, the combination of vitamin C and sunscreen is a match made in heaven, working together to prevent premature aging and skin cancer more effectively than sunscreen alone.
And don't just take our word for it—science has proved it.[2]
It was found that vitamin C can double the sun protection the sunscreen delivers when applied before exposure. It turns out sunscreen can block only about half of the free radicals produced by UV, which are those unstable molecules that wreak havoc on every of your cell and tissue.[3]
By adding vitamin C, you optimize the photoprotection. Although vitamin C does not absorb UV light as sunscreen does, it has UV-protective effects that neutralize free radicals that sunscreen couldn't block. So by using a vitamin C sunscreen, you get the best of both worlds: a formula that blocks UV and fights free radicals that have entered your system at the same time.
Here's one more reason to use sunscreen containing vitamin C: it also guards your skin against pollution. Sunscreen alone can't stop the free radicals generated by pollutants from penetrating your skin, but vitamin C comes to the rescue by neutralizing them before damaging your cells.
Our favorite vitamin C sunscreens to try
You may be using vitamin C serums in your beauty arsenal, but it's about time you level up your sun protection strategy by using one of the best vitamin C sunscreens below. They're both protective and corrective and offer the pineapple of UV protection you could ever hope for. There's one for every single type of skin, with mineral or chemical formulas, hydrating or mattifying, lightweight or a bit heavier, so you officially have no excuse not to be slathering a vitamin C-infused sunscreen every day.
---
1
Murad Essential-C Day Moisture Broad Spectrum SPF 30
This formula has racked up much rage, which is why it takes the first spot on our roundup. It's an oil-free broad-spectrum chemical sunscreen made with two stable forms of vitamin C and vitamin E to give A-class photoprotection against UV and other pollutants. It also performs excellent at moisturizing the skin due to urea and yeast amino acids, eliminating the need for an additional moisturizer. Best of all, this hybrid sunscreen has a silky consistency that never leaves a white cast, and the light citrus scent is a bonus.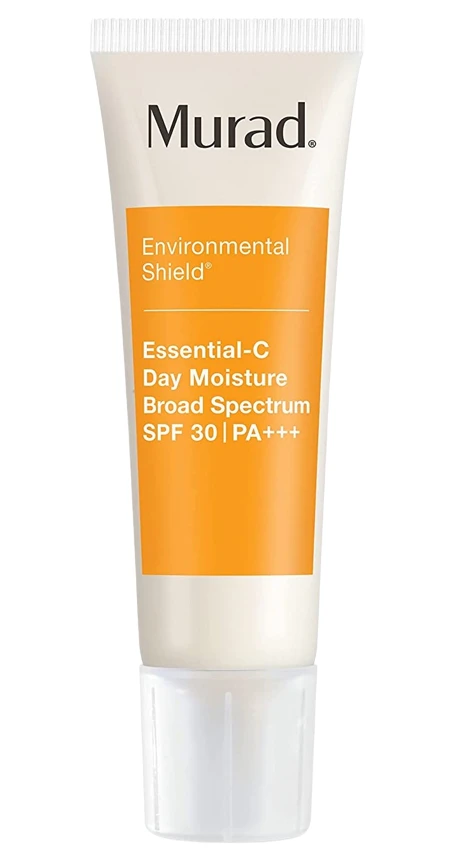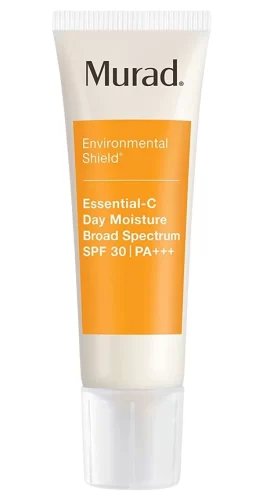 ---
2
The Body Shop Vitamin C Glow-Protect Lotion
This lotion fusions chemical UVA and UVB protection with a gentler and more stable form of ascorbic acid and Camu Camu berries (chocked-full of vitamin C) to provide total sun defense for your skin. We consider it a great alternative to the above Murad Essential-C Day Moisture for those who're looking for a more affordable option. However, some say that The Body Shop Vitamin C Glow-Protect is a bit thicker than Murad's and does not absorb as well. Still, we consider it a solid option for those looking for an effective and affordable sunscreen with vitamin C. P.S.: According to the brand, you should use Vitamin C Glow-Protect Lotion SPF 30 in addition to your usual sunscreen.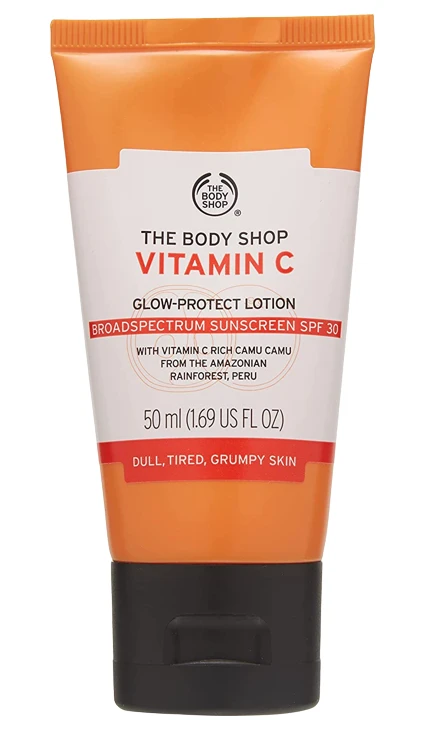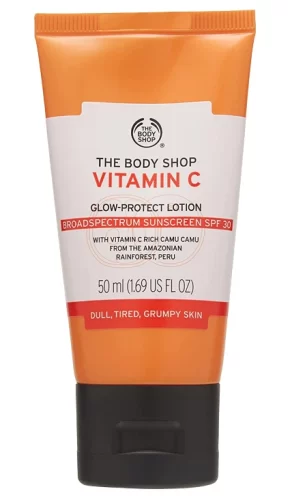 ---
3
Elta MD UV Elements Broad-Spectrum SPF 44 Tinted Sunscreen
This is the best tinted vitamin C-powered sunscreen for those who want a light touch of color to even out their skin tone. In addition to providing mineral broad-spectrum SPF 44, the formula pairs vitamins C and E to help reduce the damaging effects of free radicals, while hyaluronic acid maintains the skin hydrated. It goes on lightweight and non-sticky, it's water-resistant for 40 minutes, and addresses all skin types, including sensitive and acne-prone. And the pump applicator makes it effortless to apply and reapply throughout the day.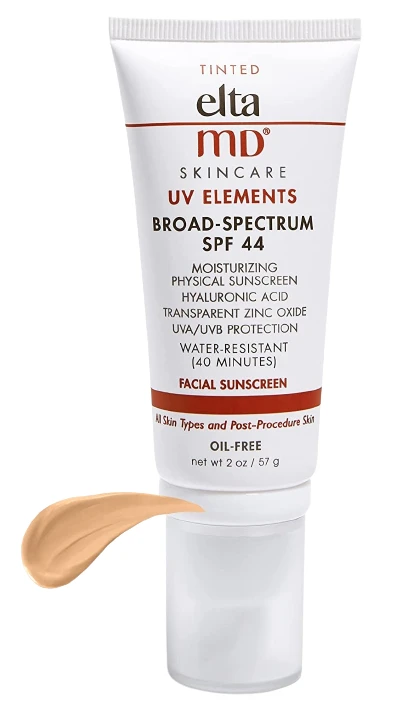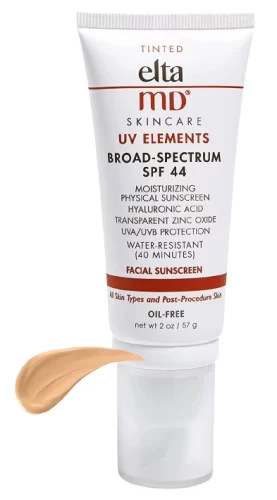 ---
4
Juice Beauty SPF 30 Sport Sunscreen
All benefits this sunscreen has made it the panacea for all your skin concerns. It guards against sunbeams with broad-spectrum SPF 30 from zinc oxide, contains a slew of antioxidants to neutralize free radicals, among which are vitamins C and E, and is made with organic ingredients, sans fragrances, and alcohol. So, if you want a formula made for an active outdoor lifestyle that is as clean as possible, water-resistant, easily blendable, and doesn't leave any greasy or white residue, this is an excellent pick and works great for everyone.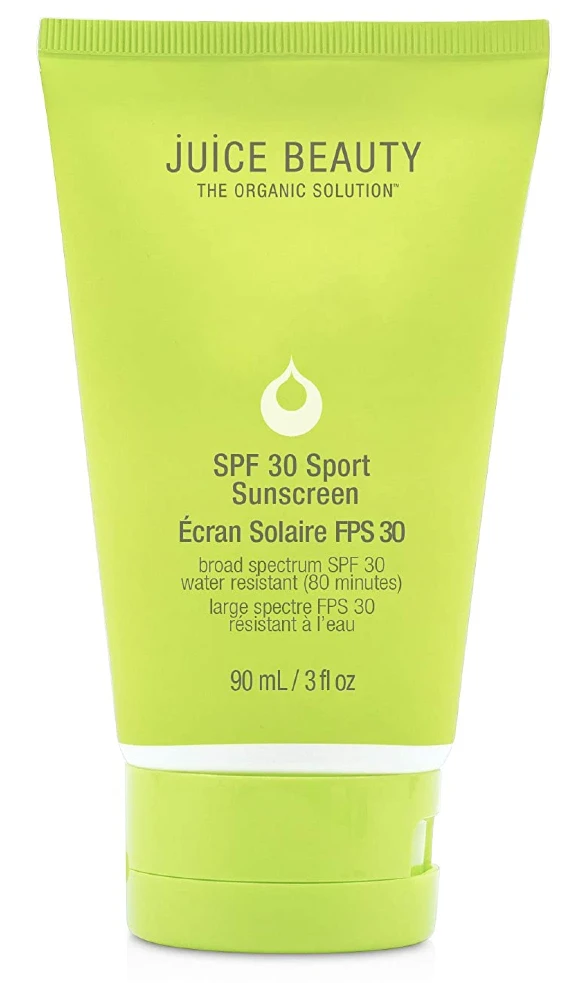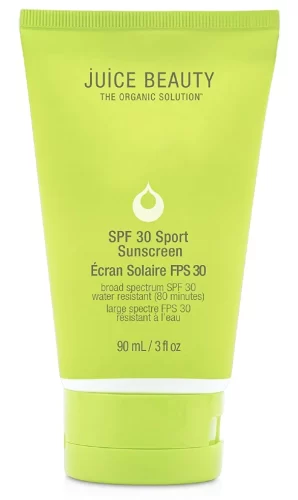 ---
5
Dr. Dennis Gross Dark Spot Sun Defense Broad Spectrum Spf 50 Sunscreen
With sun protection from minerals, three potent forms of vitamin C, and peptides, this sunscreen is about to become your BFF. It ensures SPF 50 from both UVA and UVB, while ingredients like glycolic and lactic acids break down dead cells, helping reveal a more even and luminous tone. There's also melanin, which has the role of activating antioxidant enzymes and repairing oxidative and DNA damage. Super hydrating, protective, and corrective—sold.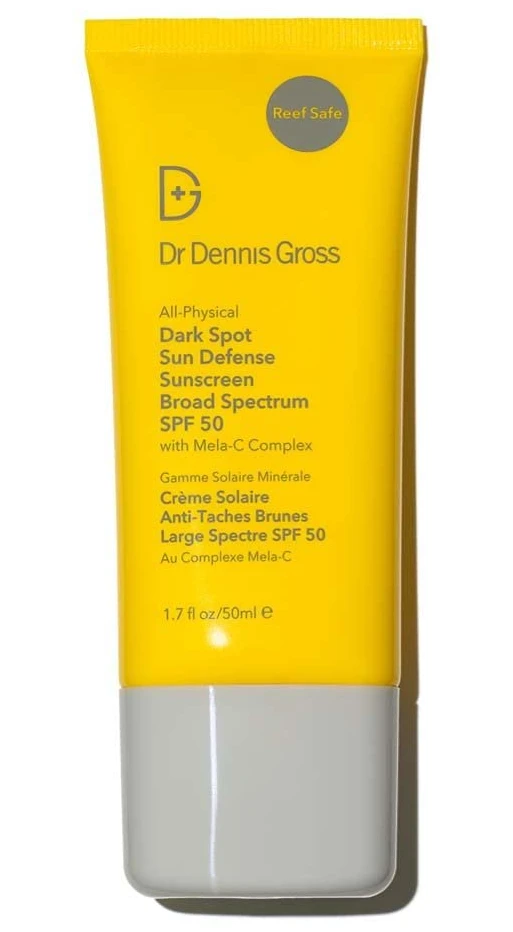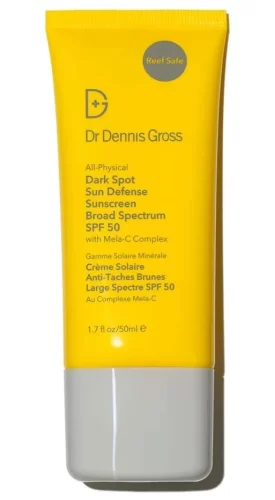 ---
6
Vichy LiftActiv Peptide-C Sunscreen SPF 30
If you're in search of an anti-aging moisturizer with broad-spectrum UV protection that guards the skin while it aims to repair cells, this is a great option. While the defense from sun rays and other free radicals is amplified by vitamin C, this sunscreen is also loaded with glycolic acid and resorcinol, both great at revealing a more even tone. It goes on smoothly, absorbs fast, and doesn't leave a sticky residue or a white cast, and a little goes a long way with this one.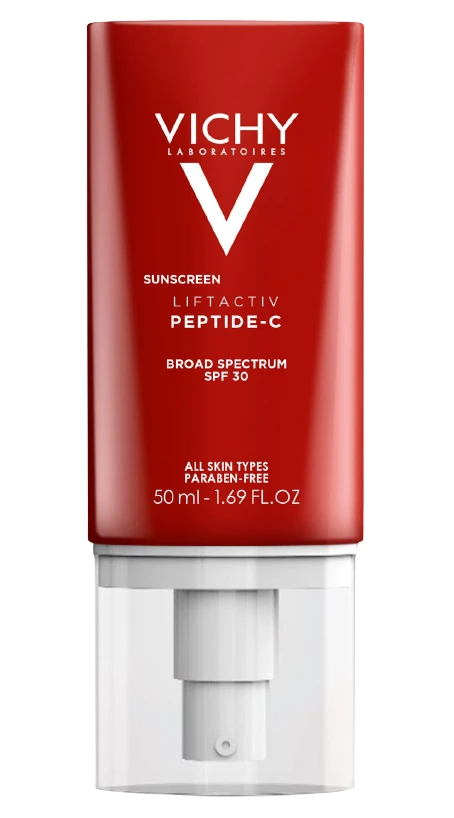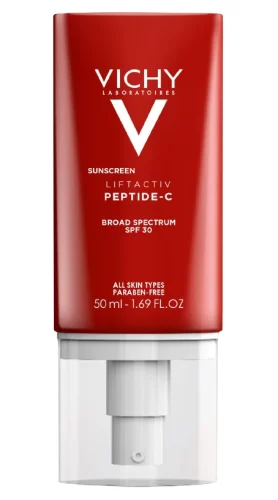 ---
The verdict
While there are dozens of effective vitamin C sunscreens you can choose from, our all-time favorite is Murad Essential-C Day Moisture Broad Spectrum SPF 30. It's the most popular and tried-and-true one (more than 3000 reviewers love it), strikes a perfect balance between protection and lightweight hydration, delivers SPF 30, and the PA+++ means it offers the strongest defense against UVA. But the best thing about it is that it contains vitamins C and E, which almost triple the photoprotection of sunscreen. For something more affordable, go for The Body Shop Vitamin C Glow-Protect Lotion, or if you like tinted formulas, reach for Elta MD UV Elements Broad-Spectrum SPF 44. Remember consistency is key, and you need to reapply the sunscreen every 2-4 hours if you spent a lot of time outdoors.
---
Footnotes
Women's Concepts uses reliable sources, including dermatologists' insights, clinical trials, and scientific journals, to find accurate information and support all the facts shared in our articles. All statements and claims have clear and legit references. Read our editorial policy to learn more about our sources of information, our process of researching and fact-checking the content, and how our team strives to keep all articles updated, completed, and trustworthy.
References
Maria Celia B. Hughes, MMedSci, Gail M. Williams, PhD, Peter Baker, PhD, and Adèle C. Green, MBBS, PhD, Sunscreen and Prevention of Skin Aging, A Randomized Trial, https://doi.org/10.7326/0003-4819-158-11-201306040-00002
Darr D, Dunston S, Faust H, Pinnell S. Effectiveness of antioxidants (vitamin C and E) with and without sunscreens as topical photoprotectants. Acta Derm Venereol. 1996 Jul;76(4):264-8. doi: 10.2340/0001555576264268. PMID: 8869680.
Telang PS. Vitamin C in dermatology. Indian Dermatol Online J. 2013 Apr;4(2):143-6. doi: 10.4103/2229-5178.110593. PMID: 23741676; PMCID: PMC3673383.