The goal? Elastic, even, smooth skin that stays guarded against sun damage. Solution? The best sunscreen with vitamin C that works on multiple fronts to protect against UV and other free radicals, brightens dark patches while boosting collagen for firm skin. Yep, a bit of an overachiever.
Needless to say, wearing sunscreen every day is a must since, without it, the chances you get premature wrinkles and dark spots caused by UV light are astronomically high. This study ran for four years and found that people who used sunscreen daily were 24% less likely to show early aging signs.[1] And if your sunscreen contains one of the most sought-after ingredients — yes, vitamin C, it is you — it can skyrocket the results. That's because vitamin C in sunscreen deliver more intense photoprotection effects, working more effectively than when applied separately to prevent aging signs and skin cancer.[2] Science proves it.
The best vitamin C sunscreens
You may be using vitamin C serums and toners with vitamin C, but it's about time you add extra benefits to your sunscreen by using one infused with vitamin C that is both protective and corrective. So please, do your skin a favor and try one of these best vitamin C sunscreens below. There's one for every single skin type, so you officially have no excuse not to be slathering on some protection and correction every day.
---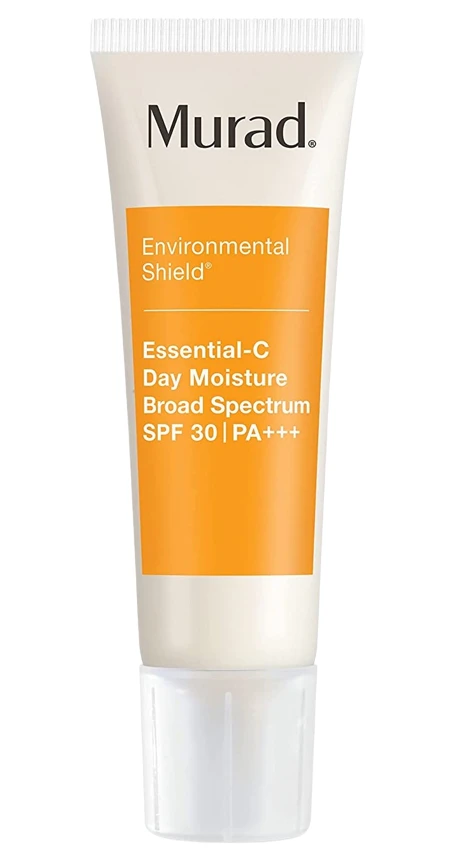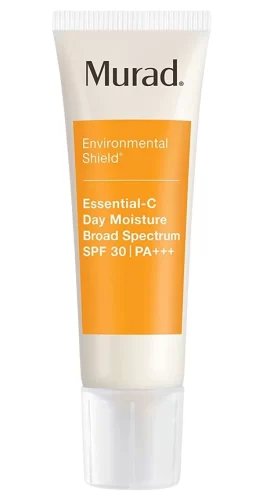 1
Murad Essential-C Day Moisture Broad Spectrum SPF 30
This formula has racked up much popularity, reason takes the first spot on our best sunscreen with vitamin C round-up. It's an oil-free chemical sunscreen spiked with tetrahexyldecyl ascorbate (a stable, oil-soluble form of vitamin C), so it protects skin against sun beams while working to even tone and fight free radicals. Other ingredients worth being mentioned are yeast amino acids, trehalose, betaine, retinyl palmitate, and vitamin E, which soften and keep skin moist and smooth. Best of all, this hybrid sunscreen has a silky consistency that never leaves a white cast, and the light citrus scent is an added bonus.
---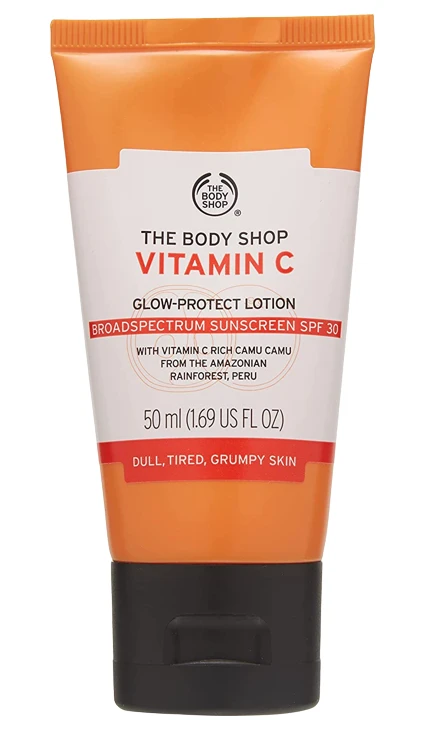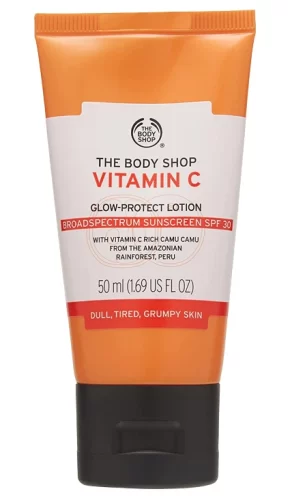 2
The Body Shop Vitamin C Glow-Protect Lotion SPF 30
This lotion fusions chemical UVA and UVB protection with ascorbic acid and camu camu berries, chocked-full of vitamin C to keep skin protected while giving it the glow. No heavy feeling, no sticky, and no residue left — just sun protection and your skin in its peak condition. For powerful protection, you should use The Body Shop Vitamin C Glow-Protect Lotion SPF 30 in addition to your usual sunscreen.
---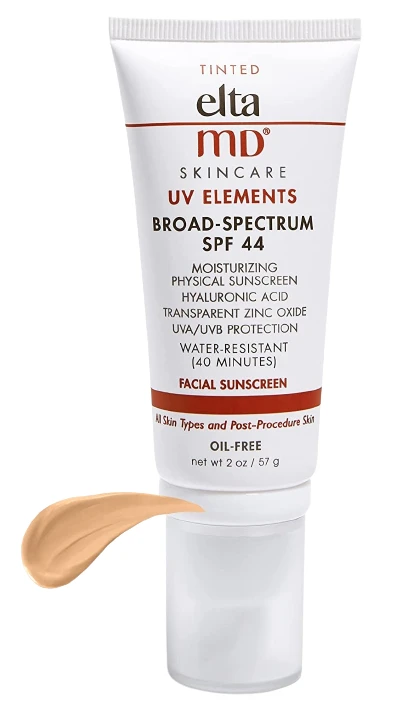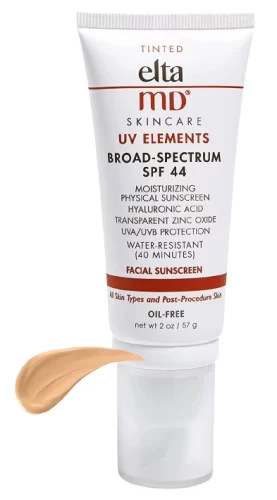 3
Elta MD UV Elements Broad-Spectrum SPF 44 Tinted Sunscreen
Elta MD made the best sunscreen with vitamin C that's also tinted. Besides giving broad-spectrum sun protection with SPF 44, it helps neutralize free radicals thanks to vitamin C ester, while dimethicone and sodium hyaluronate ensure skin stays hydrated and plump. It offers everything you'd want in a formula, from mineral protection, moisture to a lightweight and non-greasy feel. Plus, it's reef-safe, water-resistant, and easy to apply, thanks to the pump applicator.
---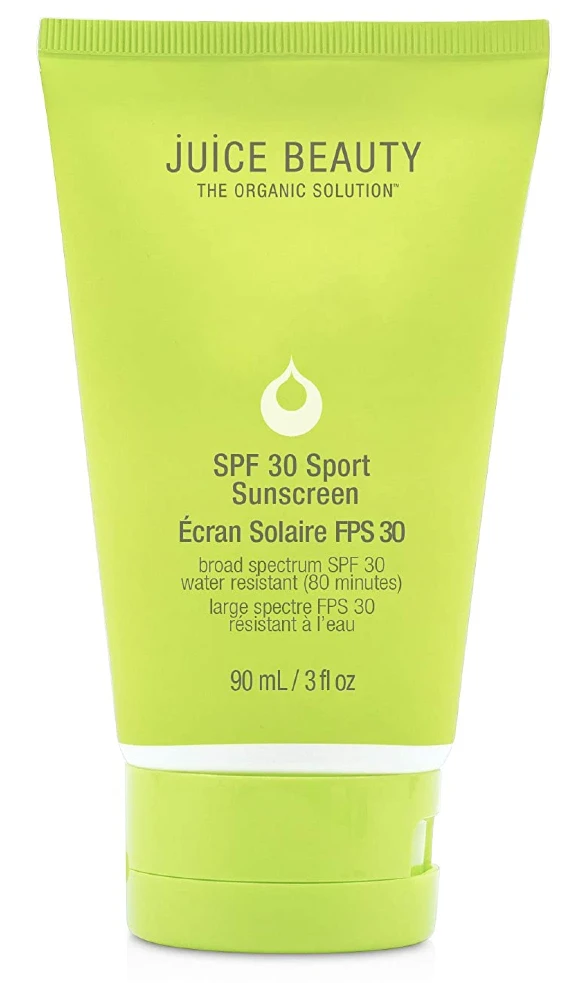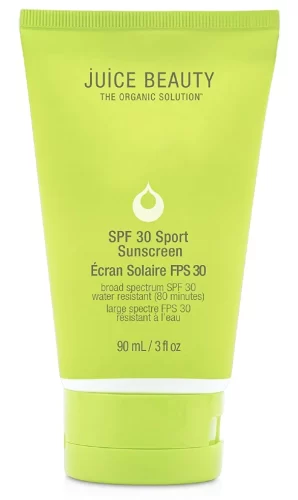 4
Juice Beauty SPF 30 Sport Sunscreen
All benefits this sunscreen has make it the panacea for all your skin concerns. It guards against sunbeams with broad-spectrum SPF 30 from zinc oxide, contains a slew of antioxidants to neutralize free radicals, among which are vitamins C and E, and is made with organic ingredients, sans fragrances and alcohol. So, if you want a formula made for an active outdoor lifestyle, water-resistant, easily blendable, that doesn't leave any residue, this is a cult favorite and one of the best sunscreens with vitamin C great for all skin types.
---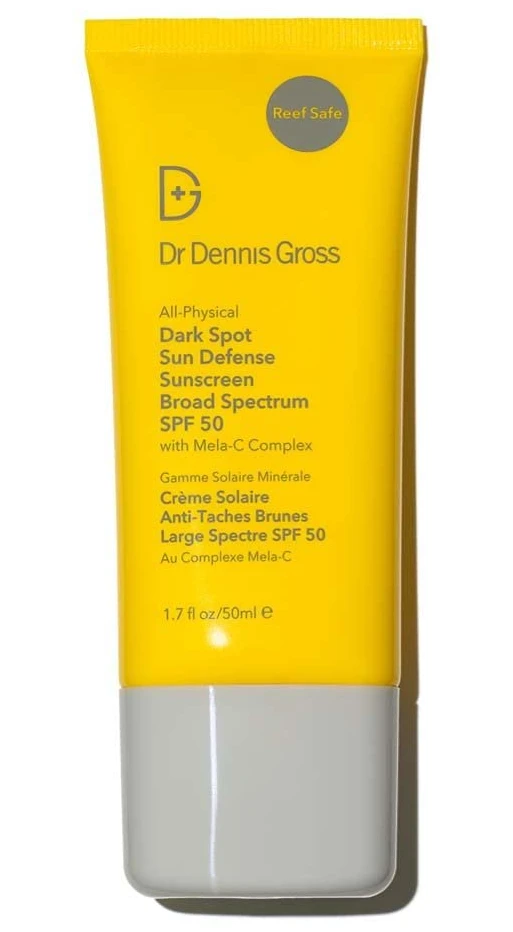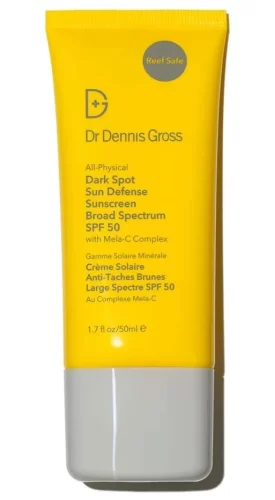 5
Dr. Dennis Gross Dark Spot Sun Defense Broad Spectrum Spf 50 Sunscreen
With sun protection from minerals, two potent forms of vitamin C, and sodium hyaluronate, this SPF 50 sunscreen is poised to become your go-to 365 days a year. In addition to defending against free radicals and UVA/UVB damage, it keeps skin soft and moist, plus it goes on smoothly, without leaving a white cast or feeling goopy. Super hydrating, protective, and corrective — I'm sold.
---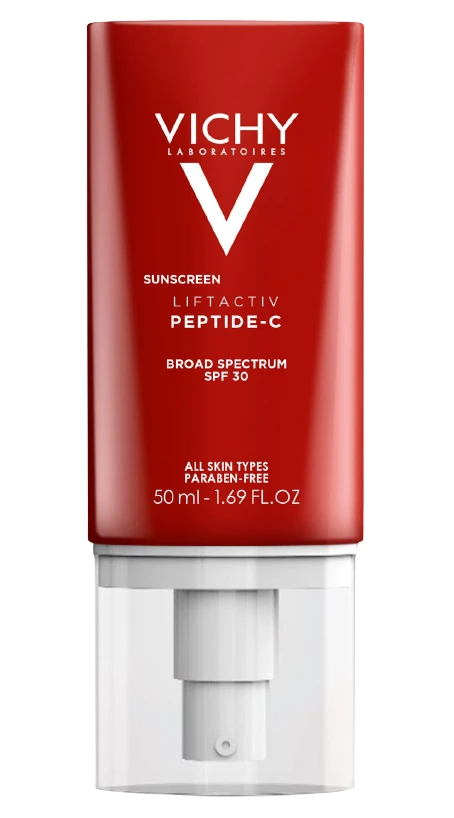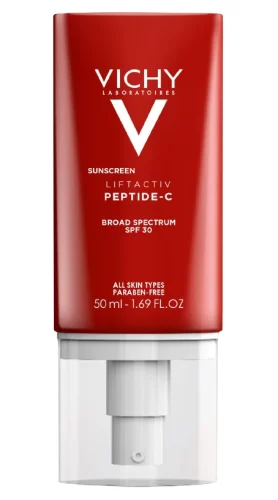 6
Vichy LiftActiv Peptide-C Sunscreen SPF 30
If you're in search of an anti-aging chemical sunscreen that gives broad-spectrum protection while reducing wrinkles and diminishing dark spots look, you just found it. Vichy's sunscreen packs a punch of skin-loving ingredients, such as glycolic acid, resorcinol, and vitamin C (ascorbyl glucoside), to reveal even tone and boosts hydration with glycerin, dimethicone, and sodium hyaluronate. It's the perfect addition to your anti-aging routine.
References
Maria Celia B. Hughes, MMedSci, Gail M. Williams, PhD, Peter Baker, PhD, and Adèle C. Green, MBBS, PhD, Sunscreen and Prevention of Skin Aging, A Randomized Trial, https://doi.org/10.7326/0003-4819-158-11-201306040-00002
Darr D, Dunston S, Faust H, Pinnell S. Effectiveness of antioxidants (vitamin C and E) with and without sunscreens as topical photoprotectants. Acta Derm Venereol. 1996 Jul;76(4):264-8. doi: 10.2340/0001555576264268. PMID: 8869680.