There's never a wrong time to give your skin a boost of coenzyme Q10. This guy is an essential antioxidant made by the body that works tirelessly to support your skin's defense system against free radicals and provides energy to your cells. It's a no-brainer in protecting from premature aging and external damage, so you should pull out all the stops to maintain its levels high. However, that's going to take a lot of work. That's because the natural levels of coenzyme Q10 take a beat every year from aging, which leaves the skin defenseless against external aggressors. Still, you can fight back and replenish the levels of this antioxidant with topical products—the sooner you do it, the better.
Skincare products with coenzyme Q10 go a long way in restoring your skin's defense system and ensuring it functions properly. Moreover, they're an effective preventative measure against wrinkles and aid in repairing sun-damaged and environmentally-stressed skin.[1] We've done some digging and pulled out the best products to try. To make sure your skin is aging healthily and happily, consider having a least one coenzyme Q10 product in your skincare routine, especially after you hit your 40s.
The best CoQ10 skincare products
From serums and creams to toners and eye serums, these are the best CoQ10 skincare products to streamline your skincare routine.
---
1
Andalou Naturals Resveratrol Q10 Night Repair Cream
We put this cream at the front of the list since it has a gentle and natural formula that delivers great results without irritation. It was made with skin repair in mind, which is why it's formulated with 98% naturally derived ingredients that work synergically to protect cells from free radical damage and repair aging signs. Resveratrol, vitamin C, and coenzyme Q10 are just a few of the antioxidants your skin will love to drink up. The cream feels rich but not heavy or greasy and leaves the skin moisturized thanks to shea butter and squalane—a dream for mature skin that wants to diminish the appearance of fine lines and wrinkles.
Expert insights: Use it at night to support the skin's natural restoration process. If you're often microneedling or exfoliating, this coenzyme Q10-infused cream is an even better pick for you. Applying it after the treatment speeds up cell recovery and allows the active ingredients to work more effectively.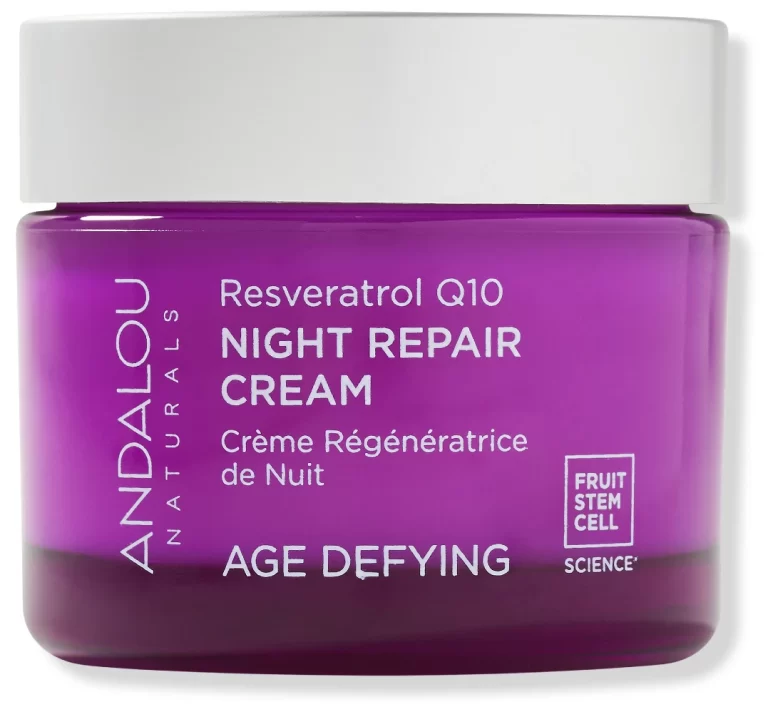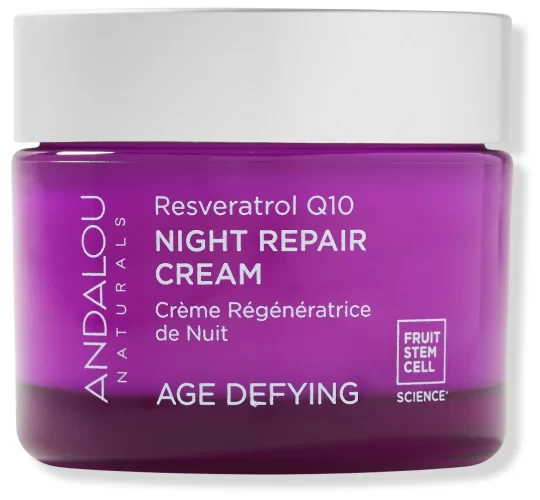 ---
2
100% Pure Multi-Vitamin + Antioxidants Potent PM Serum
This clean serum uses a cocktail of vitamins—including 10% vitamin C, 10% niacinamide, 10% vitamin E, and coenzyme Q10—to give your skin an unbreakable defense against pollution and other aging stressors. It also does the triple duty of reducing fine lines, increasing skin firmness, and brightening dark spots thanks to the addition of retinol, the most powerful molecule that promotes cell renewal. The serum is literally a storehouse of restorative and protective ingredients formulated at an optimal pH that works harmoniously to restore healthy skin.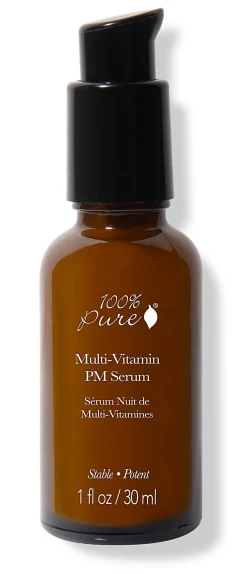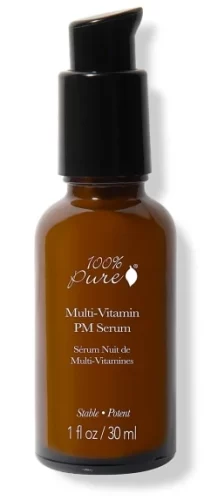 ---
3
Indie Lee CoQ10 Toner
We get it, a toner isn't necessarily the first product you think of when reaping the benefits of coenzyme Q10. But this particular product, however, definitely deserves a spot in your routine. It's not only raved in the skincare community for the alcohol-free formula that balances and refreshes the skin but also for the amount of hydrating and protecting ingredients it packs. There's aloe vera, hyaluronic acid, and cucumber that instantly hike up skin moisture, coenzyme Q10 provides antioxidant protection, and chamomile relieves redness and inflammation. Spritz it on a cotton pad and apply it to your face whenever during the day, be it in the morning, evening, or even after a workout.


---
4
Mary & May Idebenone Blackberry Intensive Cream
This K-beauty nourishing cream has everything that sensitive, dry, and damaged skin wants and needs. For starters, it's made with a complex of five ceramides and phytosphingosine, which are lipids naturally found in the skin that restore the moisture barrier and reduce water loss. Furthermore, it contains idebenone, a synthetic form of coenzyme Q10 with 10x more antioxidant power and better skin penetration, plus a hefty dose of blackberry extract which is a super-rich source of antioxidants. The cream is also intensely moisturizing, thanks to the addition of five forms of hyaluronic acid that pull water into the skin. It glides on effortlessly without leaving sticky residues, feels velvety to the touch, and goes nicely under sunscreen and makeup.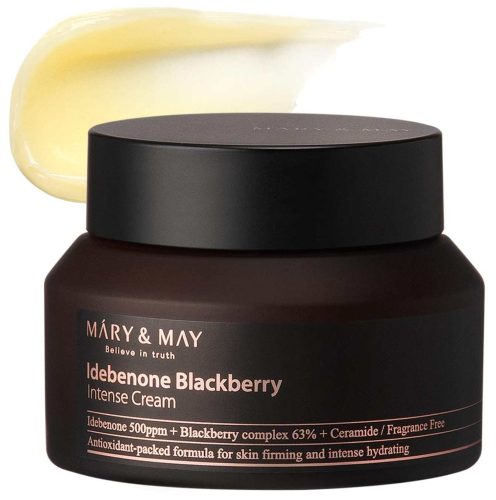 ---
5
Timeless Coenzyme Q10 Serum
Timeless holds nothing back with this minimalist serum—it essentially tricks your skin into acting young again with a trifecta of anti-agers. In short, coenzyme Q10 energizes skin to rebuild collagen and elastin, Matrixyl (a complex of peptides) dictates the cells to produce more proteins, and hyaluronic acid provides lightweight hydration to plump wrinkles look. The serum is free of alcohol and fragrances, absorbs instantly, and applies effortlessly. In a nutshell, it's a real treat for every type of skin (especially for aging skin) looking to smooth out texture and revive a dull look.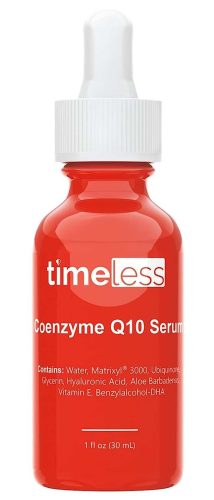 ---
6
The Inkey List Q10 Serum
A coenzyme Q10 serum under $10 that's both effective and gentle? Sign us up. The formula delivers an energizing burst of moisture with squalane and hyaluronic acid, while peptides and CoQ10 reverse signs of aging by increasing collagen and scavenging free radicals. It has a nice watery texture that's easy to apply, quick to absorb, and gives a bouncy and vibrant complexion by the morning. The only minus is the packaging as it's hard to squeeze the last bits of the product.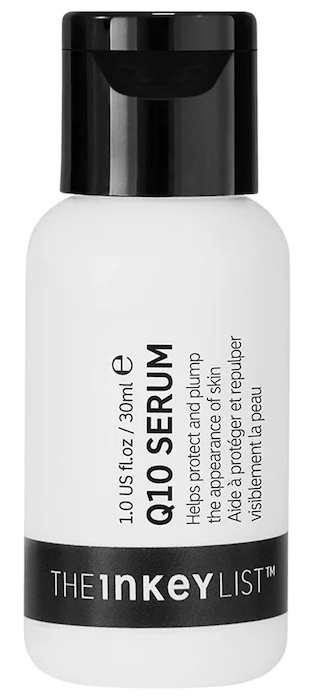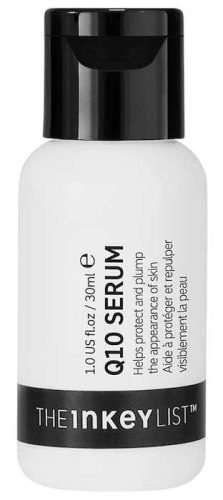 ---
7
Dr. Dennis Gross Ferulic + Retinol Triple Correction Eye Serum
Dr. Dennis Gross made the best CoQ10 skincare product to nourish the delicate skin under the eyes and correct dark circles and puffiness. It's a serum powered by multiple technologies of retinol to promote cell turnover and recoup the levels of collagen. Additionally, the formula is loaded with antioxidants, including coenzyme Q10, green tea, and Centella asiatica, to defend against harmful free radicals. There's also caffeine—a choice de-puffer due to its ability to constrict blood vessels. While it gives correcting results in the long run, this eye serum gives a cooling, soothing sensation upon application.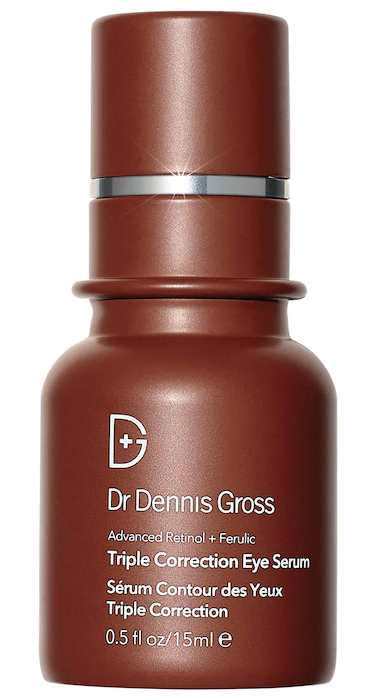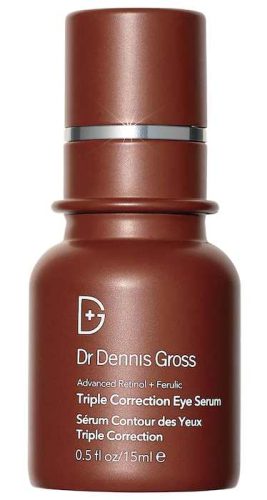 ---
The benefits of using skincare products with coenzyme Q10
Here's a quick overview of the benefits of coenzyme Q10 skincare products and how they can improve your skin in the long run:
Protecting: CoQ10 is an antioxidant, so it protects your skin from environmental stressors such as pollution and UV. These stressors can lead to an increase in free radicals, which can damage the cells and contribute to premature aging signs.
Anti-Aging: CoQ10 increases cellular energy, which in turn increases cell proliferation. This results in enhanced production of collagen and elastin, the two proteins that keep skin supple.[2]
Repairing: This antioxidant is well known for its regenerative effects that speed up the healing process of damaged and irritated skin.
Moisturizing: CoQ10 has hydrating properties and can help skin retain more moisture, reducing chances of dryness and flakiness
Brightening: It also has the ability to even out skin tone and reduce the appearance of dark spots. Interestingly, coenzyme Q10 inhibits the production of the pigment that darkens the skin.[3]
The only downside of using CoQ10 in skincare formulations is its poor absorption power. Yes, it's unfortunate that this restorative antioxidant has a hard time penetrating the skin, which drastically reduces its effectiveness. The good news is that some products use advanced delivery systems to solve this problem. Others use a synthetic derivative of CoQ10 (idebenone) that is more effective in penetrating the skin.
What to consider when purchasing CoQ10 skincare products
The formula
This will hardly depend on your skin condition. If you have oily/combination skin, use lightweight products that are oil-free and non-comedogenic. For dry skin, head towards hydrating formulas made without alcohol and fragrances, and for sensitive skin, check out hypoallergenic products that are not highly concentrated in active ingredients. P.S.: Whenever you add a new product to your routine, patch-test it on a small patch of your skin before applying it to your face.
Other active ingredients
Skincare products with coenzyme Q10 come in various formulas targeting different skin concerns, so pick one made with active ingredients that specifically address your goals. For example, if you're searching for products to protect against pollution and sun damage, look out for antioxidants such as vitamins C and E, ferulic acid, and green tea. To minimize aging signs, choose a serum with retinol and peptides, or to combat dryness and rough texture, pick a moisturizer with hydrating ingredients such as ceramides, shea butter, and hyaluronic acid.
Packaging
Just like most antioxidants, coenzyme Q10 is sensitive to air, light, and heat. Therefore, it's essential to choose products with optimal packaging to ensure that the ingredient remains stable and effective until the last use. Ideally, consider products that come with airless pumps and opaque packaging made of materials such as aluminum, dark glass, or plastic that is coated or tinted to block out light. These won't let the bacteria and other elements get into the formula and affect its potency.
Price
Stick to quality formulas when it comes to your skincare. While affordable options can be effective, if you're looking for potent products to target specific concerns, it's worth investing in serums with a higher concentration of active ingredients, which are typically more expensive.
Verdict
We call Andalou Naturals Night Repair Cream the best CoQ10 skincare product due to its effective formula that acts delicately on the skin to encourage repair while providing moisture and nourishment. It's a reparative cream chocked of natural antioxidants that fit easily into every routine and can be applied after pretty much everything, including retinoids, chemical peels, and more advanced cosmetic procedures. If you're looking for a more transformative formula to fight wrinkles and mitigate sun damage, reach for 100% Pure Multi-Vitamin + Antioxidants Potent PM Serum. Or, for a budget-friendly CoQ10 skincare product, you can't go wrong with The Inkey List Q10 Serum.