What is it: A brightening moisturizer infused with vitamin C and a plethora of antioxidants and hydrating agents that aim to plump, brighten and hydrate the skin with each application.
---
What it does: Peter Thomas Roth Potent-C Moisturizer targets loss of firmness, dark spots and uneven skin tone, dryness, and age marks.
---
What we like:
Fragrance-free
Potent formula
Has a creamy, silky texture
Doesn't feel heavy on the skin
It's ultra-hydrating
Absorbs easily without leaving a greasy residue
What we don't like:
Pricey compared to other brightening creams
Strong scent
The package could be better since it lets bacteria and air in, allowing the degradation of actives in the formula
It may not provide a good canvas for the foundation
Price: $72 for 1.7oz
As a devoted fan of vitamin C and an attuned skincare enthusiast, I'm constantly on the lookout for products that have this active as the main selling pitch. So, let me spill the tea on why I'm all about using heavy-duty skincare products loaded with this storehouse of antioxidants.
Above everything, living in a filthy city, I need to protect my skin from pollution with potent antioxidants. Secondly, I've been battling dark spots from past breakouts, and I'm on a mission to brighten up my complexion. And last but definitely not least, who wouldn't want to boost their collagen and keep their skin supple and fresh?
When I was working with the beauty editorial team on the best creams for hyperpigmentation, Peter Thomas Roth Potent-C Bright & Plump Moisturizer got my attention due to its whooping 10% THD Ascorbate (a stable form of vitamin C), so I had to obviously give this one a shot. I immediately rushed to Sephora, as eager as a kid in a candy store, to get my hands on this highly coveted moisturizer. I snatched it up in a heartbeat from the shelf, keen to get back home and slather it on my skin.
After all the effort, did it deliver what it promised? In the grand scheme of things, Peter Thomas Roth Potent-C Moisturizer gave me A-class antioxidant protection, improved the look of uneven tone, firmed, and restored plumpness. Keep reading to see more testing insights, before and after results, and whether this moisturizer is right for you.
About my skin: Prone to congestion
My skin has been prone to congestion and pimples for what seems like forever, so finding a moisturizer that won't break me out can be daunting. I'm into lightweight formulas that don't leave me greasy or clog my pores, so I prefer moisturizers that skip comedogenic oils, synthetic fragrances, lanolin, and PEGs. I also have some dark spots left by breakouts, especially on my cheeks, the reason for which I'm obsessed with products that support brightness and promote an even tone.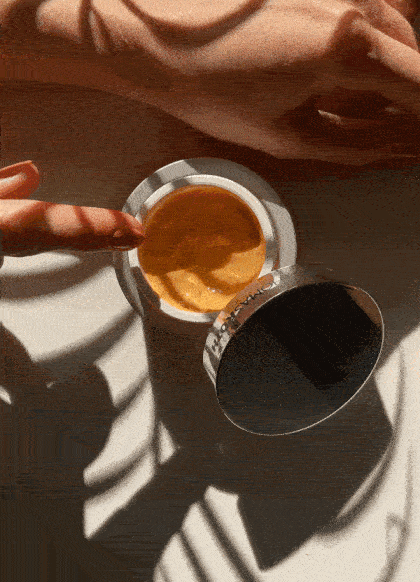 The feel: Intensely moisturizing and silky
Peter Thomas Roth Potent-C Bright & Plump Moisturizer has a silky texture and an intensely moisturizing consistency that feels light and absorbs immediately. I love how it veils my skin in a cocoon of moisture without leaving it sticky or with any orange residue. The orange-toned creamy moisturizer got its color naturally from vitamin C and turmeric root extract—broth brightening antioxidants.
The first to notice, however, is the scent that most people find unpleasant. It's indeed a strong scent to have in a moisturizer, but it's not that bad, IMO. It smells like clove and comes from the formula's ingredients, as the moisturizer is made sans fragrances or essential oils.
Even if I found the cream lightweight, some reviewers have claimed that it has a thick, gummy, and waxy consistency. Therefore, it doesn't provide a good canvas for the foundation. As for myself, I haven't had any problem with that, but I guess it all boils down to each one preference.
The formula: Chocked-full of antioxidants and moisture sealers
The key ingredients in Peter Thomas Roth Potent-C Moisturizer are 10% THD, 3% vitamin E, and 2% ferulic acid. What does this mean? Huge antioxidant defense and a lot of protection from sun damage and pollution—exactly what I need from my skincare routine.
THD: The titular active Tetrahexyldecyl Ascorbate is a highly stable form of vitamin C that's oil soluble (meaning it has excellent skin penetration) and works at a higher pH range (aka it's gentler). It's a potent antioxidant that, due to its oil-soluble nature, allows it to neutralize free radicals that damage skin's lipids. Plus, it's great at brightening dark spots and spurring collagen growth.[1]
Vitamin E: A potent antioxidant with emollient benefits, vitamin E scavenges harmful free radicals, helping prevent collagen and elastin breakdown while softening the skin.[2]
Ferulic acid: Also an antioxidant, ferulic acid has been found to stabilize vitamins C and E and double their photoprotection.[3]
Moreover, the formula includes hydrolyzed collagen and elastin, which act like humectants to attract water molecules into the skin, increasing hydration and plumping fine lines. The moisturizing effect is enhanced by sodium hyaluronate, a small molecular type of hyaluronic acid that pulls water molecules into the skin. There are also shea butter and amino acids to help soothe, promote cell repair, and seal moisture.
But that's not it. This moisturizer is really in a class of its own when it comes to brightening the skin. And it's not all thanks to vitamin C, though it does most of the heavy lifting. The effects are boosted by a polyhydroxy acid (gluconolactone) and an alpha-hydroxy acid (lactic acid). Both are exfoliants that remove pigmented cells and bring brighter ones to the surface. The exfoliation is further fueled by diamond powder that delicately removes dead cell buildup from the skin's surface.
Instant wrinkle-filling effects
OK, this moisturizer is effective at diminishing aging signs and dark spots in the long run, but more impressive is that it instantly blurs wrinkles as soon as you apply it. This is because the cream contains oxanes (polymethlysilsesquioxane) which is basically silicone that works as a glue to pull the skin and fill the wrinkles, giving the illusion of a baby-soft and tightened complexion. It's like giving your skin a facelift in a jar, just that the effect is temporary and goes as you wash away the cream.
Gentle enough so anyone can use
Given the amount of hydrating and soothing ingredients Peter Thomas Roth included in its moisturizer, it's no surprise it acted so delicately on my skin without irritating or drying it, despite the potent formula. But don't just take my word for it. The reviews speak for themselves. Customers with sensitive, dry, oily, and even acne-prone skin have all raved about its gentleness and how it didn't cause breakouts or peeling.
The results: Color me impressed
I was astonished by how creamy and deeply moisturizing Peter Thomas Roth Potent-C Moisturizer felt on my face the first time I applied it. As soon as I massaged it into my skin, it felt comfortable and smooth. Instead of leaving my skin greasy and shiny, it left it with a subtle natural glow that lasted throughout the day. I also love how the moisturizer goes under my BB cream. It helps it adhere better to my skin and stay a little bit longer. In other words, it acts like a primer too.
The moisturizer proved to be a gentle giant, too, as it glided onto my face like a dream and never once caused any adverse reactions like redness, dryness, or irritation. Talk about stretching a dollar! A little goes a long way, so a mere nickel-sized amount was all it took to give my face the hydration and radiance it needed. And for someone who's addicted to vitamin C, you can imagine my delight when I saw the moisturizer played nicely with my go-to serum (which is super concentrated in vitamin C as well) and didn't cause any breakouts. I like to slather it on in my AM routine, but it's versatile enough for use at bedtime too.
Testing insight: I feel like this moisturizer keeps my skin hydrated enough to hinder the sebaceous glands from going into overdrive and producing too much sebum, which is a huge boon for me. I have been using it for the last four weeks, and I can see improvement in terms of moisture and brightness."
Verdict: A cult favorite for a reason
This moisturizer has stolen the hearts of skincare aficionados and has now captured mine, and it's easy to see why—it delivers on its promises. It strikes a perfect balance between hydration and brightness, leaving skin luminous and with a healthy glow. As an extra bonus, the moisturizer addresses all skin types, including sensitive and dry ones.
Peter Thomas Roth Potent-C Bright & Plump Moisturizer costs $72 for a standard 1.7-oz container, so it has a higher price point than many moisturizers. It's slightly on the steep side compared to what I usually pay, but I bought it for an 18% discount, so I saved a little cash. However, if you can afford to splurge, it's worth it because of how good it is at hydrating the skin and brightening it. Overall, I'm amazed at this moisturizer and how well it works on my skin, so I'm now a believer.