The story goes that if you're looking for a product to make your hair thicker and fuller than ever before, you should reach for Capixyl. Because it targets the overall health of hair follicles, Capixyl aids in eliminating all the causes of thinning hair as well as encouraging new hair growth. So, whether you have a receding hairline or want thicker hair, you should put a Capixyl product on your radar. No worries. After reading this article, you'll know what Capixyl is, what it does to your hair, how effective it is, and what are the best Capixyl-infused products for hair growth.
What is Capixyl?
Capixyl is a peptide complex (Acetyl tetrapeptide-3) mixed with red clover extract, formulated by Lucas Meyer Cosmetics, a leading innovator in personal care products. Red clover extract is rich in biochanin A, a natural DHT blocker known to support hair growth and reduce shedding by regulating the hormone that damages hair follicles. This compound is often used in hair growth formulas due to its potency to minimize the conversion of testosterone to DHT in androgenic alopecia.
How does Capixyl reduce hair loss?
One of the most common factors that affect the health of hair follicles is elevated levels of dihydrotestosterone (DHT). DHT is a hormone converted from testosterone with the help of an enzyme called 5-alpha reductase and is known to attack hair follicles at the cellular level. Simply put, high levels of DHT can shrink your hair follicles and decrease the growth cycle. As a result, the hair grows thinner and weaker.
Capixyl reduces hair loss by minimizing the conversion of testosterone to DHT. Biochanin A, used in the formulation of Capixyl, is an effective inhibitor of 5-α-reductase activity, reducing DHT conversion. The other compound, Acetyl tetrapeptide-3, stimulates tissue remodeling, increasing hair follicles' size for better hair vitality and faster growth.
Does Capixyl really work for hair growth?
Estelle Loing, R&D Director at Lucas Meyer Cosmetics, underwent a clinical trial to investigate the compound effect of red clover extract and biomimetic peptides in treating alopecia. By the end of the trial, the hair count increased by +13% due to the inhibition of 5-α-reductase activity. Besides reducing DHT levels, studies have found that Capixyl can reduce scalp inflammation and stimulate the matrix proteins (such as collagen, enzymes, and glycoproteins), which encourage the surrounding hair follicles to produce healthier hair. So the short answer, yes, Capixyl works — reason plenty of cult-favorite products use it.
The best Capixyl products
Without further ado, these are the best Capixyl products for hair growth.
---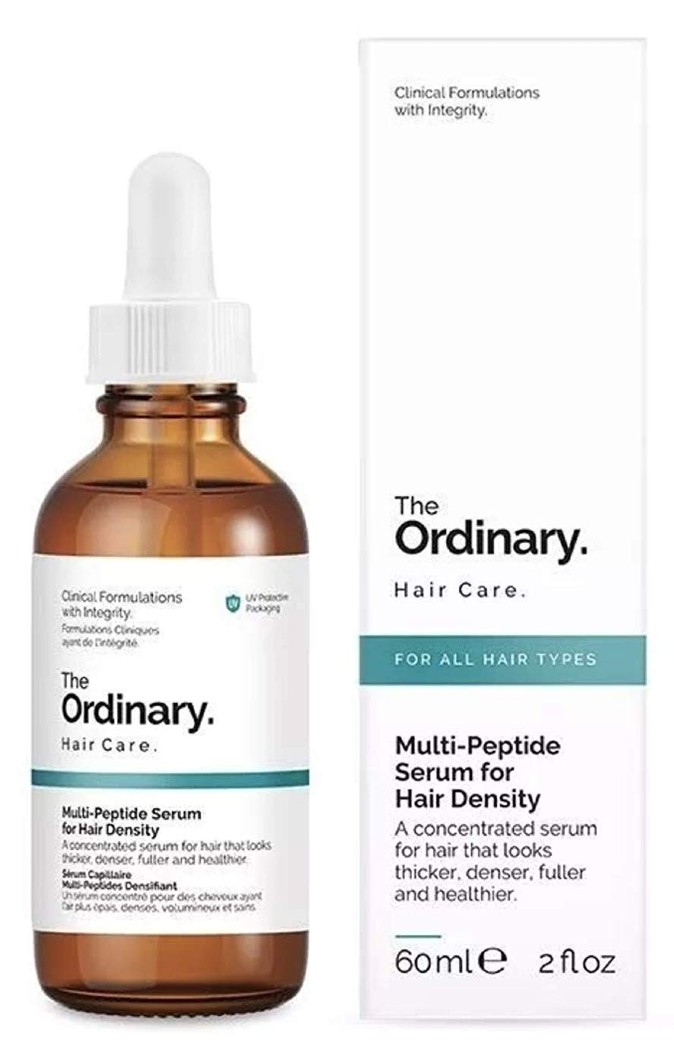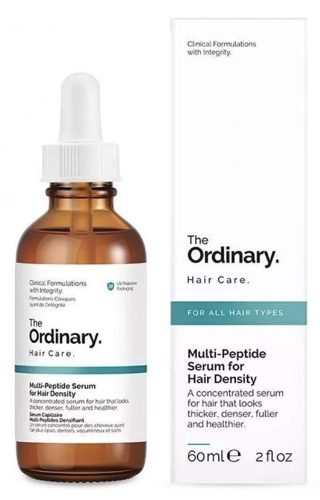 The Ordinary Multi-Peptide Serum
Everybody loves The Ordinary. They always come with simple yet effective formulas, like this serum aiding to support hair to look denser and healthier. It includes super potent hair-stimulating ingredients such as Capixyl, Redensyl, Procapil, Baicapil, and caffeine in an ultra-lightweight, emollient base for efficient scalp penetration. Apply just a few drops once daily, ideally at bedtime, on a clean, dry scalp, and massage it thoroughly. Also, bear in mind that this is a leave-in treatment.
---

Grow Gorgeous Hair Density Serum Intense
Grow Gorgeous Intense Serum was created to soak into the hair and scalp throughout the day for prolonged exposure to hair growth-encouraging ingredients like Capixyl, soy, wheat sprouts, green tea, and caffeine. It promises to deliver results in as little as four weeks and was proven to increase the thickness of each strand by up to 13%. Say no more!
---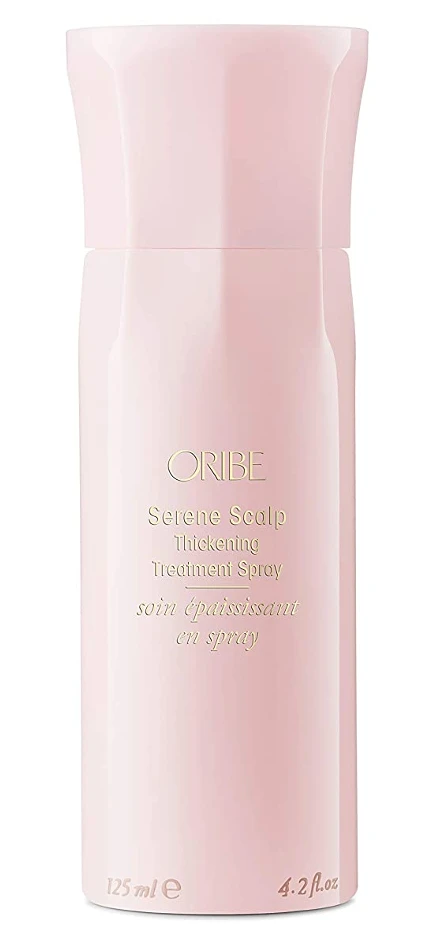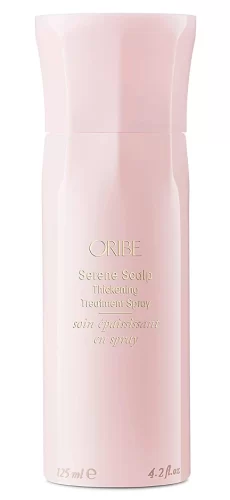 Oribe Serene Scalp Thickening Treatment Spray
This thickening hair spray can give you instant results in terms of volume, density, and fullness while still aiming for long-term benefits. It not only strengthens the hair but also hydrates and revigorates the scalp as well as adds antioxidant protection. The hero ingredients that can make that happen include Capixyl, biotin, niacinamide, and peppermint oil. This is what we call a game-changer product.
---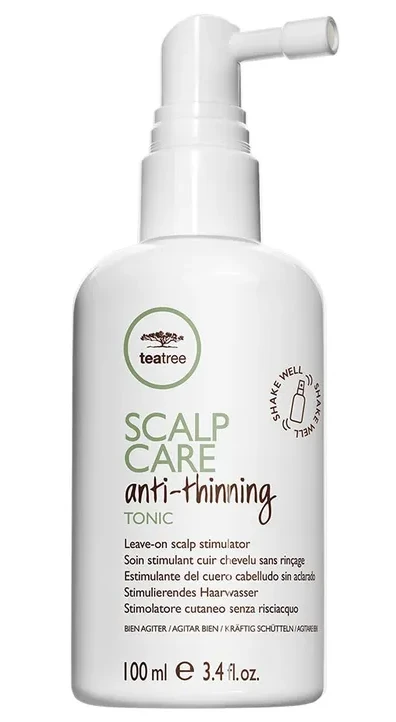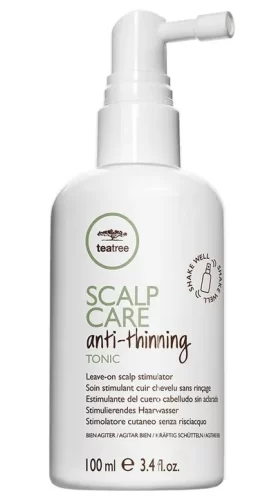 Paul Mitchell Scalp Care Anti-Thinning Tonic
As the name suggests, this leave-on treatment is ideal for thinning hair, working on adding fullness and thickness while stimulating the scalp for maximum results. Packing biotin, peptide, niacin, tea tree oil, yeast protein, and Capixyl, Paul Mitchell Scalp Care Anti-Thinning Tonic was proven to boost hair volume and strength in 85% of cases.
---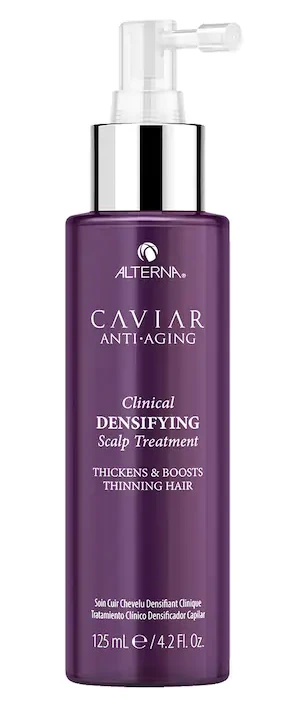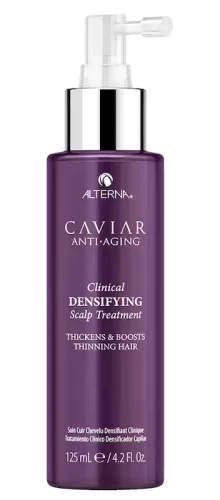 Alterna Caviar Anti-Aging Clinical Densifying Scalp Treatment
If your hair craves clinical-strength formulas, then it asks for Alterna Caviar Anti-Aging Scalp Treatment. The signature ingredient here, the caviar extract, is at the heart of all Alterna products, being a rich source of fatty acids needed to restore the moisture and strength of the hair. The formula also blends a platform of antioxidants, vitamins, and minerals to give you the hair of your dreams.
---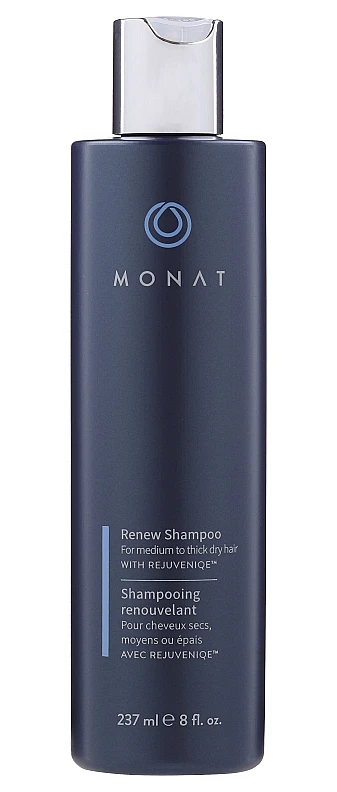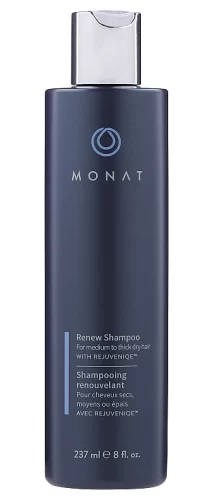 Monat Renew Shampoo
For a shampoo enriched with Capixyl, grab Monat Renew Shampoo. Salt- and sulfate-free, it's gentle and hydrating while supporting the restoration of hair's vitality. The heroes behind the scene are Capixyl and Rejuvenique oil, a blend of plants and essential oils rich in omega fatty acids, antioxidants, and nutrients necessary for healthy hair growth. Consider this one if your hair is colored, chemically treated, or if you've got extensions.
---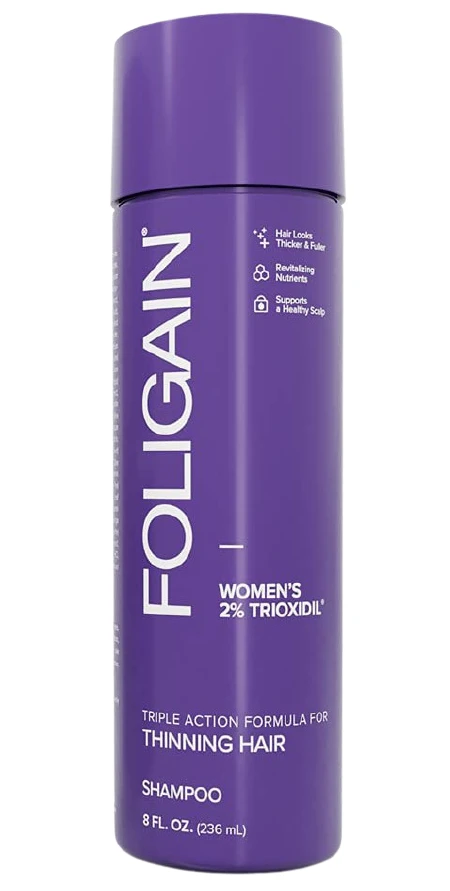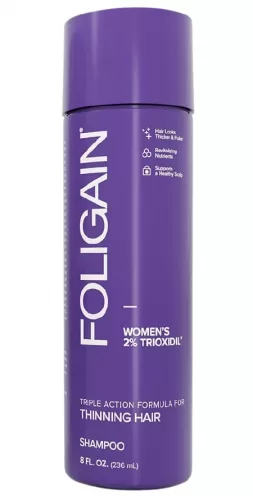 Foligain Triple Action Stimulating Shampoo
Foligain understands good scalp condition is the key to healthy hair. So they made this shampoo containing bioactive ingredients like Capixyl and Trioxidil to soothe the scalp and protect hair follicles, creating an ideal environment for better hair growth. There's also salicylic acid, wheat protein, green tea, ginkgo biloba, castor oil, plus a bunch of natural botanicals with hair-thickening benefits.
---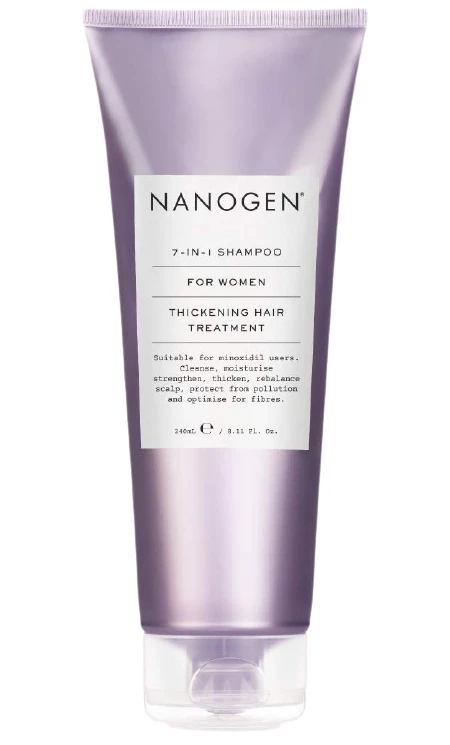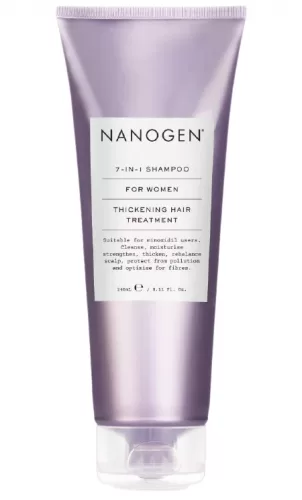 Nanogen Thickening Hair Treatment for Women
Nanogen Thickening Hair Treatment packs Capixyl to shield hair follicles from DHT, and salicylic acid to dissolve the dead skin cells buildup and leftovers that could damage the scalp. On top of that, it uses aloe vera to keep moisture levels on point, plus green tea and other natural extracts for hair nourishing and conditioning.
---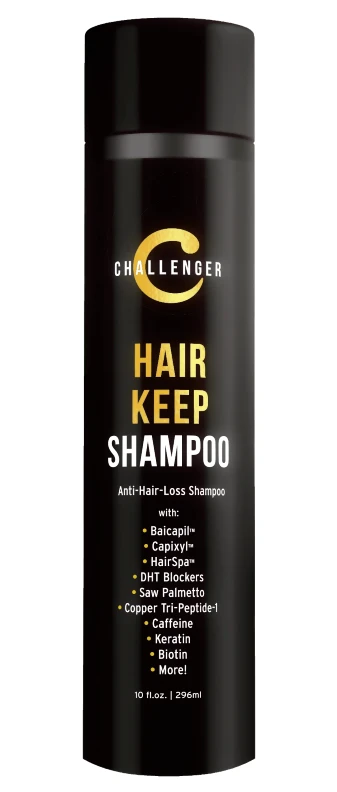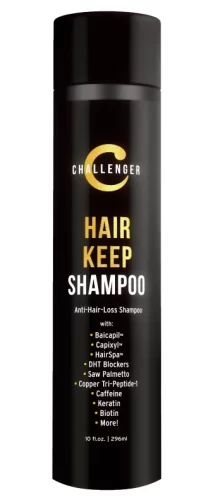 Challenger Hair Keep Shampoo
Capixyl, Baicapil, caffeine, biotin, saw palmetto, keratin, and hyaluronic acid meet in this shampoo to get you healthy-looking hair. As one of the best Capixyl products, this one provides premium active anti-androgenic ingredients addressing thinning hair at the root causes. The added saw palmetto and Capixyl offsets hair follicles' damage, while biotin, caffeine, keratin, and hyaluronic acid nourish the scalp to create a suitable environment for hair growth.
---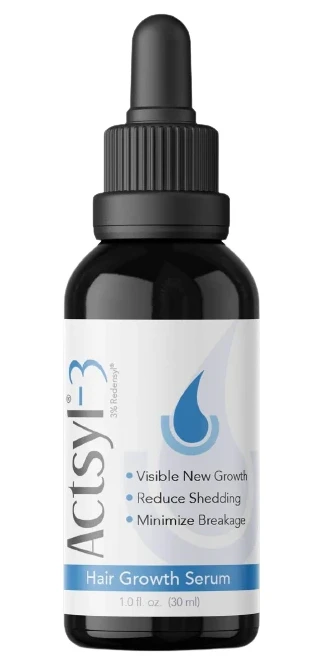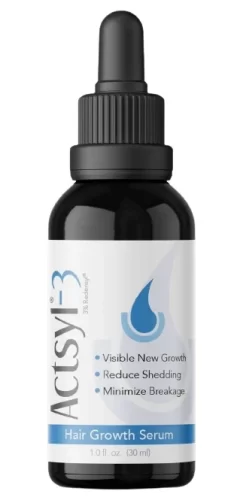 Actsyl-3 Hair Growth Serum
This quick-absorbing serum helps increase hair thickness and strength with 2% Capixyl and 3% Redensyl. Moreover, it contains biotin, green tea extract, and zinc which keep the scalp nourished and hydrated. Ideally, apply it to damp or dry hair at night and leave it in.