Is a laser hair growth device next on your wish list? Are you expecting it to improve your hair quality or make it grow faster? Then iRestore is definitely worth checking out. After all, you're looking for something to bring your hair transformative results, and iRestore does just that. Hopefully, this review will have all your questions about iRestore answered, so by the end you'll know if it is worth your cash and time.
Why iRestore?
Usually, people start to treat thinning hair in the same way: shampoos, supplements, and drugs. No doubt, shampoos can't do much about your condition because they don't penetrate deeply into the scalp and can't affect hair follicles. Drugs and supplements could be effective, but they take years to show visible improvements.
However, things are different when it comes to iRestore or any other laser hair growth device. Because lasers can penetrate the scalp more in-depth than any other treatment, they can trigger biochemical changes within body cells to reduce hair loss and stimulate follicles to produce healthier hair. And there's a lot of scientific data that proves it. Have we got your attention already? Good as there's a lot more about iRestore to find out.
What is iRestore
iRestore Hair Growth System is an FDA-cleared hair recovery device built by Freedom Laser Therapy Foundation. It uses low-level lasers for treating alopecia, receding hairline, balding, thinning hair, and stimulating hair regrowth for men and women. The whole treatment with iRestore can be performed in your home's comfort, and the process is extremely simple and safe — more about that in a bit.
How iRestore supports hair growth?
iRestore uses the energy emitted by low-level medical-grade lasers to irradiate photons into the scalp tissues, activating the hair growth phase. This procedure is called low-level laser therapy (LLLT). What LLLT does is modify the process of hair weakening by feeding light energy to your hair follicles. It stimulates cell metabolism rate and improves energy production so that more hair will be moved into the growth phase.
This system also counteracts hair loss to enlarge the growing stage, which reactivates dormant follicles and encourages hair growth. Research confirmed that laser phototherapy could trigger anagen re-entry in telogen hair follicles, prolong the anagen phase's duration, improve proliferation rates in active anagen hair follicles, and prevent premature aging of hair follicles. All that can be done with a single device.
About iRestore
The Freedom Laser Therapy Foundation developed iRestore in two different versions: Essential and Professional. While the number of lasers represents the only difference between them, both versions can grow new hair and recover the lost one. iRestore Essential is built with 21 red medical-grades lasers and 30 red super-luminescent light-emitting diodes configured within an outer helmet and protective inner liner.
The use of lasers and non-laser LEDs are meant to provide complete scalp coverage of the top of the head, the area most affected by hair loss. On the other hand, the Professional version uses 282 lasers, divided into 82 medical-grade lasers and 200 red luminous LEDs.
Where to buy iRestore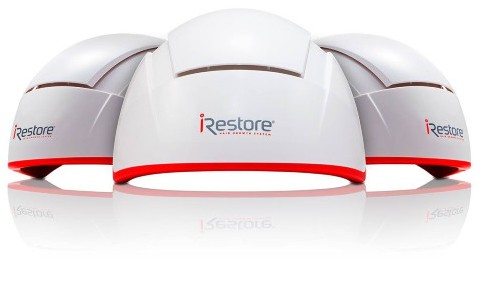 iRestore Professional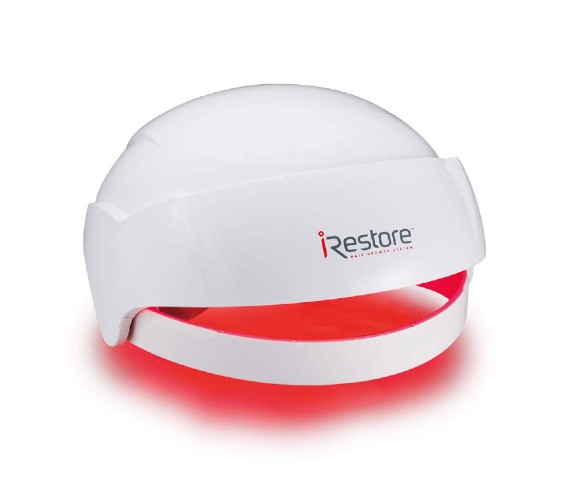 iRestore Essential
Do more lasers promote faster hair growth?
With a higher number of lasers, iRestore Professional can cover more of the scalp and reach areas that the Essential version can not. However, the National Advertising Division claims that more lasers could not regrow the hair faster. In one of their dispute with Capillus, another LLLT device, they state that "there was no evidence demonstrating that additional lasers are more effective in regrowing hair and impeding hair loss than laser comb devices with fewer lasers."
Does iRestore really reduce hair loss?
Yes and no. As the results depend on the condition's severity, genetics, and lifestyle, it's not fair to say that it'll work for everyone.
There might be cases where iRestore just doesn't work and bring you more frustration. If you lose hair severely, and you believe that using only this device will get all your hair back, you're most probably wrong. In such cases, it's not about the device's capability but about a series of habits that you might want to stick to. From a healthy diet to exercise, the products you use for hair, and supplements, everything plays a role in how the device will perform for severe hair loss conditions.
Research studies about iRestore
iRestore holds clearances by the FDA for its safety and efficacity. In a 2016 research, a few doctors have clinically studied iRestore and demonstrated that this device improves hair growth for men and women. In this specific research, surprisingly, 100% of people saw a noticeable increase in hair density with an average gain of 57.91% in hair count.
For another study, 60 men and women with pattern hair loss and thinning hair were selected to participate in a 4-month trial, conducted by dermatologist Dr. Adam Bodian. While 30 people were given an iRestore System, the other half received various treatments for the same purpose: recovering and treating hair loss. By the end of the four months period, the iRestore group showed almost 100% improvements in hair length, growth, density, thickness, and volume, with no adverse effects and no injuries. In comparison, the other patients had a rate of just 21% success.
How safe is iRestore?
iRestore features medical-grade lasers (Class 3R) and light-emitting diodes cleared by the FDA. The good news is that there hasn't been reported any case of side effects, nor anyone ended being harmed by using the Freedom Laser Therapy device. Still, your eyes are exposed to potential risks if you look directly into the lasers. Anyway, these are situations that can be easily treated at home. Besides all these, the lasers do not emit heat or radiation, and the treatment is entirely pain-free. The FDA clears these lasers for both safety and efficacity. iRestore System also features the following certifications that guarantee its customers' safety:
How long should you wait for the results?
iRestore center affirms that you can expect visible results in hair growth and reduction in miniaturization of hair follicles in the first 2 to 4 months, while the entire treatment can last up to 6 months.
How does the progress look over time?
Hair loss treatments take time, and you shouldn't rush the process as it can reduce the therapy's effects or even worsen your condition. For the first two months, your tinny hair will fall and be replaced with stronger hair. After that point, hair loss should already be stopped or at least slowed down. Between 5 and 6 months, you can expect visible hair growth with an accelerated recovery rate. After 6 months, the treatment can be interrupted or continued for maintaining your hair condition at its best.
How to use the iRestore Laser Hair Growth System?
There is a full guide on their official website that you can check out. Follow each step carefully for your protection and best results: How do I use the iRestore Pro device?
How often you should use iRestore?
It's recommended to use the system daily and no more than 25 minutes per session. Do this every day for 4 to 6 months until you achieve optimal results. Then use it as often as desired to maintain the effects and keep your hair & scalp healthy.
May I run other treatments while using iRestore?
Of course. Physicians consider that the combination of LLLT with other treatments, such as topical products, minoxidil, finasteride, supplements, gives better results. However, other products or treatments are not required and do not necessarily help.
Is iRestore worth buying?
Since the iRestore battery lasts up for lifetime treatment, it can be cheaper than most hair recovery treatments for home use. Considering a shampoo or oil costs up to $80 and you have to replace it once every 2 – 4 months, you'll realize that you would spend more on these products in just two years than you would pay for iRestore.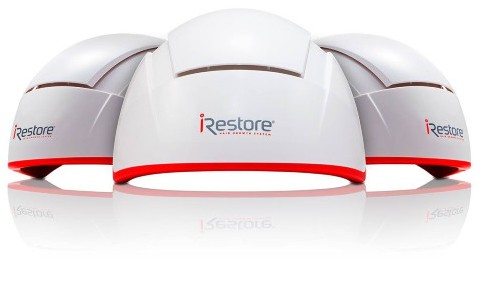 iRestore Professional
Best-selling hair growth device
Designed with a total of 282 medical-grade lasers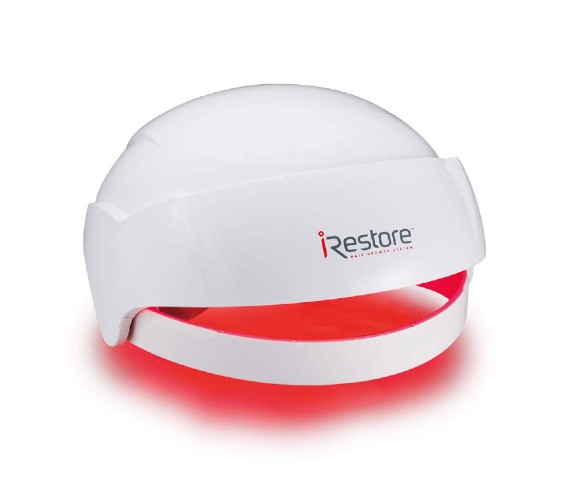 iRestore Essential
Perfect in the early stages of hair loss
Designed with a total of 82 medical-grade lasers
Fast facts about iRestore
Most iRestore customers noticed visible hair growth with an average increase of 57.91% in hair count.
FDA clears it for both safety and efficacity.
iRestore benefits are backed by scientific research.
It provides transformative results in two months.
iRestore can be used by both women and men.
No side effects were registered since iRestore has been released.
The price is much lower in the long-term compared to other treatments.
One purchase lasts up to 10,000 usages, which secures a lifetime treatment for hair loss.
Besides reducing hair loss, iRestore also encourages new hair growth.
Related: