Wearing sunscreen all year round is non-negotiable. The same goes for moisturizers, especially when your skin is prone to acne. So why bother with two separate products when you can have one that does it all? Layering a moisturizer with SPF cuts an extra step in your beauty routine while you still get the best of both worlds: intensive moisture and sun protection.
Since acne-prone skin is delicate, simplifying your routine could be the key to unlocking that much-longed-after flawless complexion. And that's exactly why we've rounded up the very best moisturizers with SPF for acne-prone skin. These multitasking products will not only streamline your routine, but they'll also provide your delicate skin with the hydration and sun protection it needs to stay healthy and clear.
Is moisturizing good for acne-prone skin?
Absolutely! Contrary to what some may believe, acne-prone skin needs moisturizer just as much as any other skin type. It's a common myth that those with acne should skip the moisturizer, but in reality, that couldn't be further from the truth. Dehydration can actually trigger an overproduction of sebum, which means more opportunities for pores to clog and pimples to pop up. When your skin is parched, your sebaceous glands go into overdrive to compensate for the loss of moisture. And since most acne-fighting ingredients like salicylic acid can be drying, using a moisturizer is an absolute must to balance things out.[1] Just make sure to use a formula suitable for acne-prone skin: lightweight and non-comedogenic.
Does sun protection improve acne?
Yes, diligently wearing sun protection can improve acne. Exposure to free radicals from UV exposure has been shown to exacerbate breakouts, so protecting your skin with SPF can help prevent those zits.[2] Additionally, the sun is known as the culprit that damages collagen and zaps the skin of moisture, which may lead to increased sebum production. Also, since UV damage can cause hyperpigmentation, you may end up with more noticeable post-acne marks and darkened scars that linger on from your acne if you don't use proper protection.
While you can take the traditional route and use two separate products to hydrate your skin and safeguard it from UV, you can also use an SPF moisturizer that does the double duty. This two-in-one approach can be especially helpful if you're short on time or want to cut down on the need for additional products for a minimalistic routine.
The best SPF moisturizers for acne
After scouting the internet and spending hours researching products, it turns out these are the best SPF moisturizers for acne-prone skin.
---
Editor's choice
1. Cetaphil Dermacontrol Oil Absorbing SPF Moisturizer
Cetaphil tops the list with this oil-absorbing moisturizer that delivers long-lasting sun protection and hydration while reducing shine. The formula is gentle and non-comedogenic and leaves a matte finish, just perfect for sensitive and oily skin prone to pimples. "My skin texture improved after the first use, and now after using it 3 times within a week or so, my cystic acne is reducing dramatically. I don't know what it is about this product, but it is so gentle, scent-free, and really instantly gives you a glow," says one reviewer.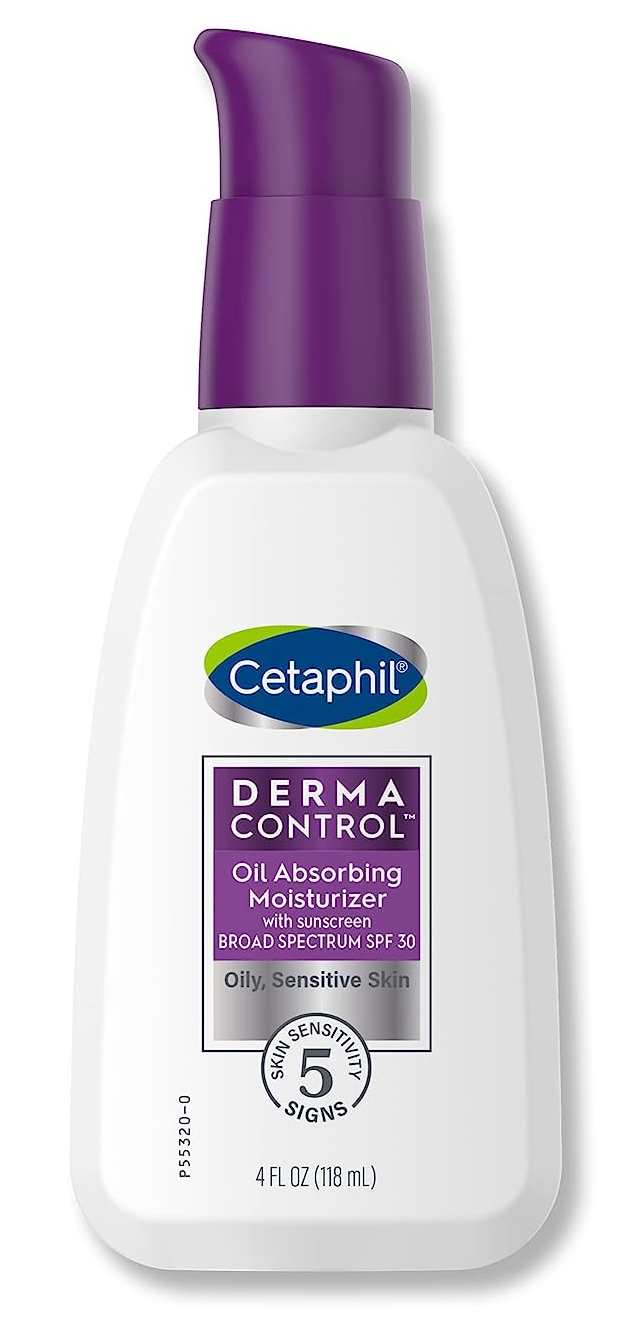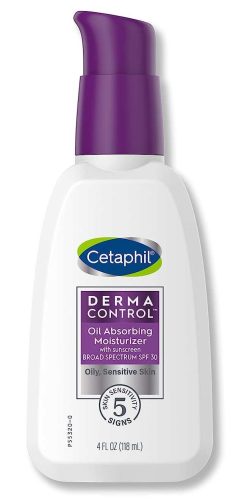 ---
The most popular
2. La Roche-Posay Anthelios Mineral SPF 50
La Roche-Posay Anthelios provides SPF 50 and antioxidant protection in a mattifying, non-whitening formula that works great on acne-prone skin. There are also dimethicone, a silicone that protects the skin from external foes and reduces water loss, and isododecane, that not only gives the cream a lightweight texture but also has the role of locking moisture. The formula is oil- and fragrance-free and non-comedogenic, and it has the badge of approval from the Skin Cancer Foundation, so you know it's the real deal when it comes to defending your skin from UV damage.


---
Dermatologist-recommended
3. EltaMD UV Daily Face Sunscreen Moisturizer SPF 40
This sheer moisturizing sunscreen was made with acne-prone skin in mind, joining the forces of UV protection and superior hydration in one convenient product. The mineral-based formula is made with 9% zinc oxide that, in addition to protecting against UV damage, eases swelling and helps regulate sebum so that breakouts won't stand a chance. All whilst a dose of hyaluronic acid increases moisture and softens the skin. And the cherry on top? This formula is non-comedogenic, so you don't have to worry about it clogging your pores.

---
Best tinted formula
4. CeraVe Hydrating Mineral Sunscreen Face Sheer Tint
This three-in-one product is able to provide broad spectrum coverage, hydrate the skin with niacinamide, hyaluronic acid, and ceramides, and give a sheer tint that evens tone and leaves a natural glow without a white cast. But what makes CeraVe Hydrating Mineral Sunscreen one of the best moisturizers with SPF for breakout-prone skin is the salicylic acid in it that reduces sunburn and fights acne foes at the same time.[3] It's lightweight, non-comedogenic, and blends well with minimal effort. However, if you feel your skin is on the dryer side, you may need another moisturizer before applying this.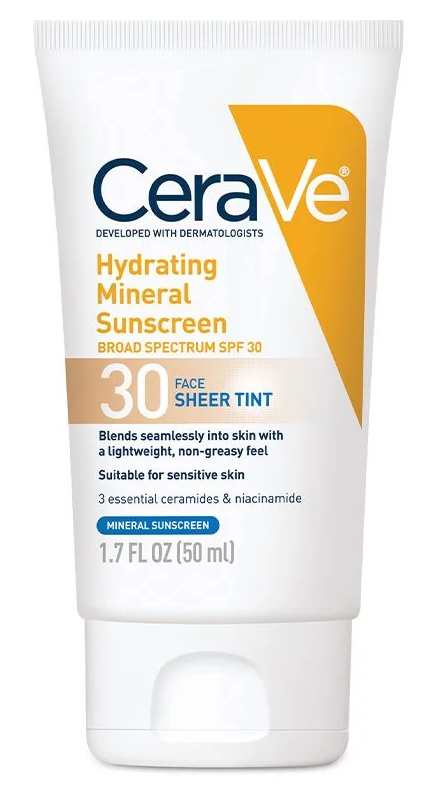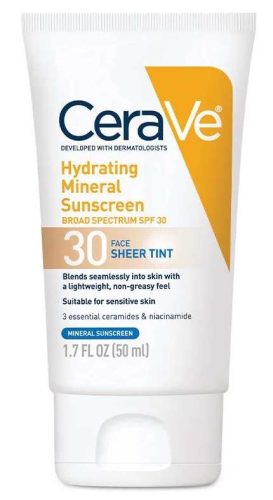 ---
Best for people of color
5. Black Girl Sunscreen
Made by a woman of color for those with dark skin tones, this moisturizing lotion absorbs quickly without a white cast. The zinc-free formula ensures SPF 30 defense from ultraviolet rays while giving a serious dose of moisture. Aloe leaf juice, carrot, and avocado oil are responsible for the skin-quenching perks and also play a role in providing the sunscreen its creamy texture and dewy finish. The formula may better fit those who suffer from hormonal or dryness-related acne instead of excess sebum.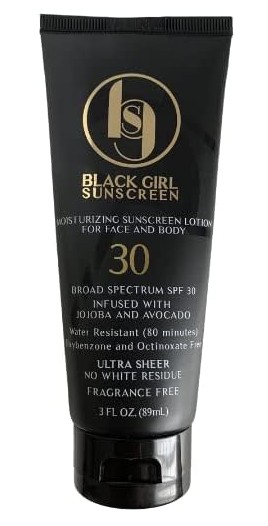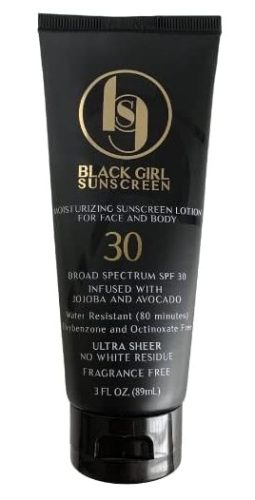 ---
Best natural formula
6. MDSolarSciences Mineral Crème SPF 50
Touted as being like cashmere for the skin, this mineral sunscreen leaves a smooth matte finish and a barely-there feel while protecting and hydrating. The zinc in it protects your skin with SPF 50 from the sun's harmful rays and helps balance sebum at the same time. And to top it off, the formula is packed with a mingle of antioxidants (including vitamin C and green tea) to counteract free radicals and keep your skin's moisture in place. Bonus points for the sheer texture that doesn't leave a white cast and the non-comedogenic formula.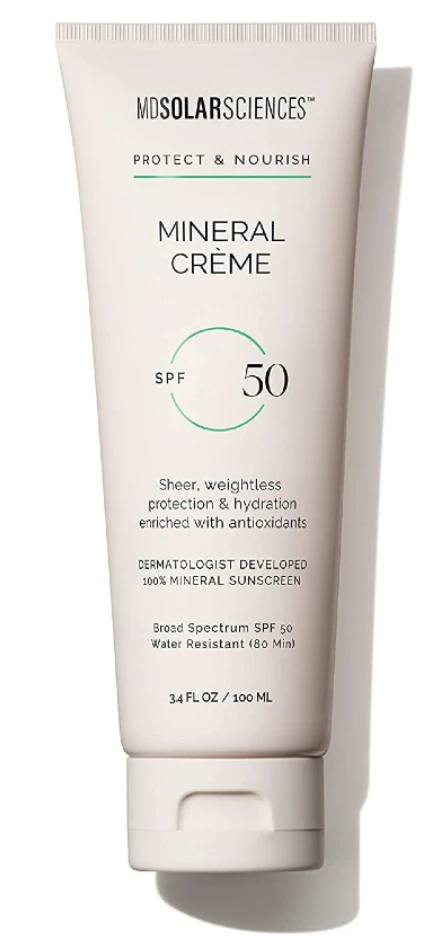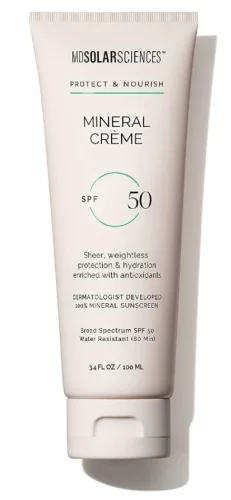 ---
Best travel-friendly
7. Clinique SPF 50 Mineral Sunscreen Fluid
This tiny container holds an ultra-light mineral SPF moisturizer, just perfect for throwing in your bag when traveling. As you'd expect, it's formulated without oil but with minerals to protect the skin, including the eye area—yes, it's gentle like that. Plus, it's got wheat protein which is great at retaining moisture in the skin.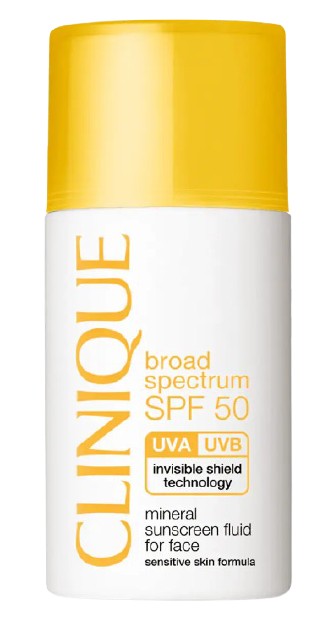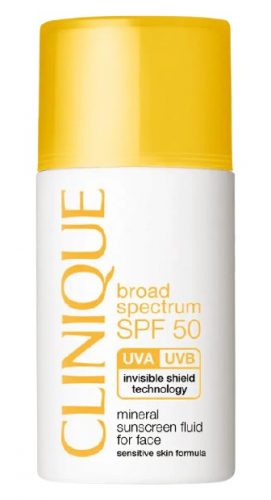 ---
Best for color-correcting
8. Dr. Jart+ Cicapair Tiger Grass Color Correcting Treatment SPF 30
This multi-tasking gem is more than just a moisturizer for acne-prone skin. It's a hydrating powerhouse that protects your skin from the sun and corrects and nourishes it with ingredients ideal for acneic skin. Its three sources of cica fight inflammation, bacteria, and free radicals, while niacinamide helps to balance oil and maintain hydration. Don't be intimidated by its green color; it magically transforms into a beige tone that neutralizes redness and visibly evens out your skin tone for a flawless and natural look.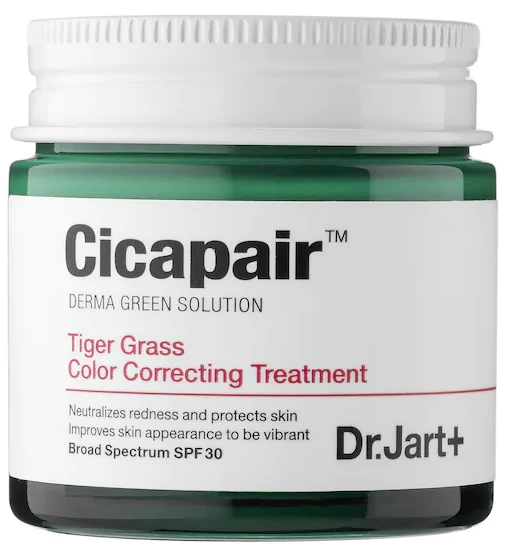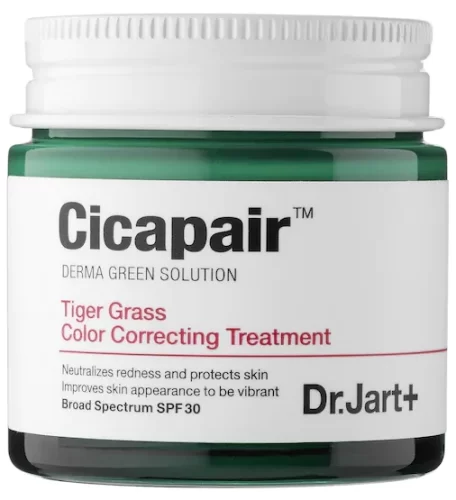 ---
Best for hydration
9. Vichy Aqualia Thermal UV Defense Moisturizer
Sun protection meets hydration in this moisturizer with SPF 30, which suits breakout-prone skin like a glove. Vichy Aqualia UV Defense relies on chemical protection, niacinamide, and ceramide to keep your skin UV-shielded and hydrated. We also like that it's formulated without oil and is non-comedogenic, and it has a sheer texture that quickly penetrates the skin, leaving it smooth and soft without any sticky feeling. And if it isn't convincing enough, the formula packs plant sugars, known to prevent transepidermal water loss, which can help balance sebum production.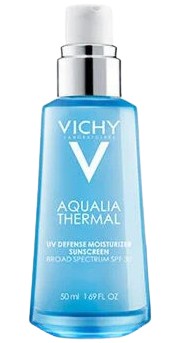 ---
Best for natural finish
10. Coola Mineral Matte Tinted Sunscreen & Sunblock SPF 30
This SPF-infused mineral BB cream is your best bet if you want a sheer texture with a lightly tinted matte finish. While staying put throughout the day, it delivers antioxidant protection and moisturizes with omegas and plankton extract. More than that, it has an astringent effect, aiming to soothe and hydrate some more (thanks, cucumber extract).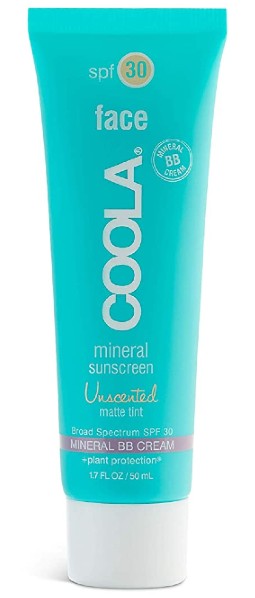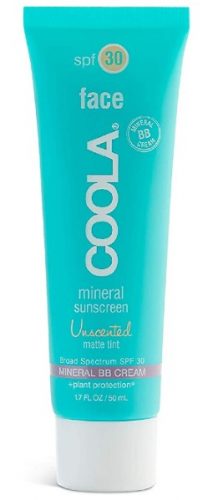 ---
Budget-friendly
11. Mario Badescu Oil Free Moisturizer SPF 30
People with acne-prone skin can't seem to get enough of this SPF moisturizer. The oil-free formula uses chemical sunscreen to block both UVA and UVB from penetrating the skin and causing damage. Plus, the moisturizer is made with green tea extract, which is a powerful anti-inflammatory and antioxidant that regulates sebum and reduces breakout occurrence. At the same time, aloe vera delivers soothing and antimicrobial properties that can speed up pimples' healing.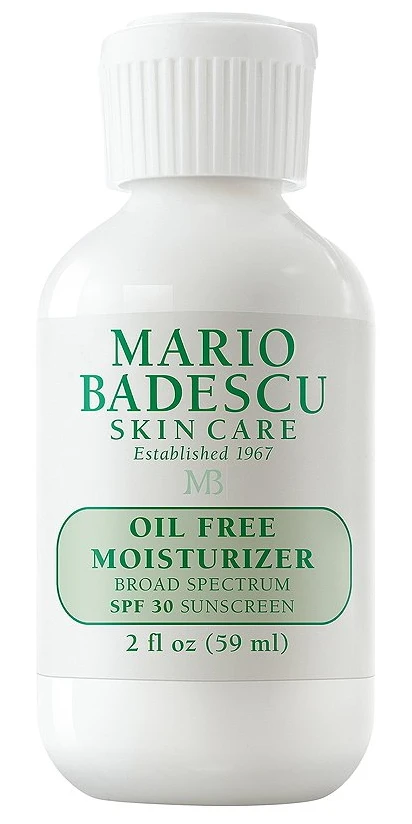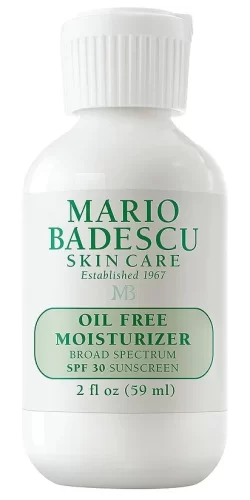 ---
Footnotes
Women's Concepts uses reliable sources, including dermatologists' insights, clinical trials, and scientific journals, to find accurate information and support all the facts shared in our articles. All statements and claims have clear and legit references. Read our editorial policy to learn more about our sources of information, our process of researching and fact-checking the content, and how our team strives to keep all articles updated, completed, and trustworthy.