Wearing SPF every day, all-year-round is non-negotiable. The same goes for moisturizers. So why use two products when you can have a multitasker? Layering a moisturizer with SPF cuts an extra step in your skincare routine, yet you get the best of both worlds: moisture and sun protection. Since acne-prone skin is delicate, simplifying your skincare routine might bring you closer to that flawless complexion. And starting off with one of these best moisturizers with SPF for acne-prone skin can be life-changing.
Is moisturizing good for acne-prone skin?
Yes, acne-prone skin needs moisturizer, like all other types. Acne-prone skin should quit moisturizers is a common myth, and unfortunately, many think that cutting down on moisturizers is a good idea, but this is far from true. Actually, dehydrated skin can lead to more oil, hence more chances for pores to clog and pimples to appear. Yep, when the skin dries out, the sebaceous glands produce more sebum to replenish the loss of moisture.
Why do I need sunscreen if I have breakouts?
Applying a moisturizer with SPF is the proper way to keep your skin defended against UV damage, aka premature wrinkles and dark spots. And using one formulated for acne-prone skin is ideal to keep excess oil and breakouts under control while your skin stays UV-protected. Are you not convinced yet? Since your skin is prone to acne, most probably, you already use products that make your skin photosensitive, such as salicylic acid or glycolic acid. Hence, more reasons to use a moisturizer with SPF.
The best moisturizers with SPF for acne-prone skin
After scouting the internet, it turns out these are the best moisturizers with SPF for acne-prone skin.
---
The most popular
1. La Roche-Posay Anthelios Mineral SPF 50
Five times an award-winner, La Roche-Posay Anthelios delivers high sun protection in a mattifying, mineral-rich base that's perfect for acne-prone skin. Combining zinc oxide, titanium dioxide, and antioxidants protects the skin from free radicals while giving SPF 50 UVA and UVB protection. Oil- and fragrance-free, dermatologist-tested, and noncomedogenic — can't complain!


---
Dermatologist-recommended
2. EltaMD UV Daily Face Sunscreen Moisturizer SPF 40
EltaMD SPF 40 moisturizer was made with acne-prone skin in mind. With a light texture, this mineral-based formula is made with 9% zinc oxide that not only protects against UV damage but has anti-inflammatory and sebum regulating benefits. In plus, this sunscreen moisturizer packs hyaluronic acid to boost hydration and vitamin E which acts as an antioxidant and skin softener. Not to mention, it's non-comedogenic, fragrance- and paraben-free — without a doubt, one of the best SPF moisturizers for acne-prone skin.

---
Best tinted moisturizer
3. Avène Mineral Tinted Compact SPF 50
Wait, what? A mineral sunscreen in a sheer, cream-to-powder formula that acts like makeup too? That's exactly what this SPF tinted moisturizer is! Made with titanium dioxide, zinc, and vitamin E, it protects your skin against UVA/UVB with SPF 50 and defends it against oxidative stress. It's great if you struggle with excess oil since is mattifying and oil-free. Besides, the formula is non-comedogenic and non-irritating. Avène Mineral Tinted Compact should be your on-the-go option since it comes in a compact case with a mirror for easy touch-ups throughout the day.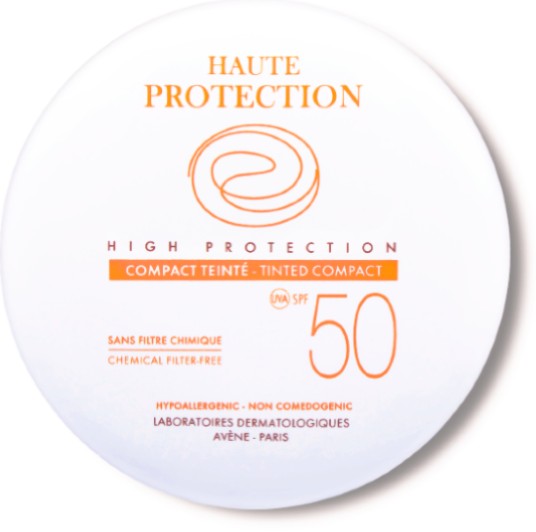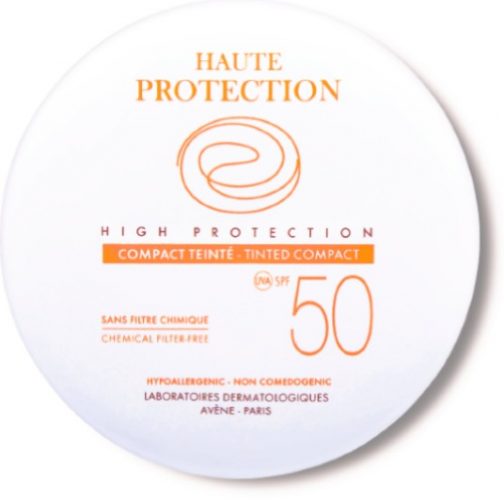 ---
Best for matte finish
4. Image Skincare Daily Matte Moisturizer SPF 32
This oil-free moisturizer with SPF is ideal for acne-prone skin. Not only does it block the sun's rays with SPF 32, but it also acts as an excellent mattifying moisturizer. The formula packs zinc oxide, plankton extract to moisturize, apple stem cells, and the most stable form of vitamin C, THD ascorbate, to minimize dark spots and give antioxidant defense. The complexion is protected and hydrated, shine minimized, and you also get primed skin just ready for makeup.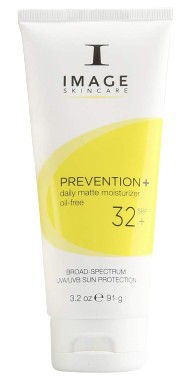 ---
Best natural formula
5. MDSolarSciences Mineral Crème SPF 50
Here's an absolutely fantastic mineral SPF moisturizer made without oil or any harsh chemical, such as fragrance, oxybenzone, or octinoxate, but takes care of skin with minerals, antioxidants, and vitamins. With a silky smooth texture, it blends in seamlessly with light and dark skin tones without leaving any white, sticky residue. Obviously, it won't clog your pores, since is oil-free, non-irritating, and non-comedogenic. If you've got sensitive acne-prone skin and live an eco-friendly lifestyle, this one is your match.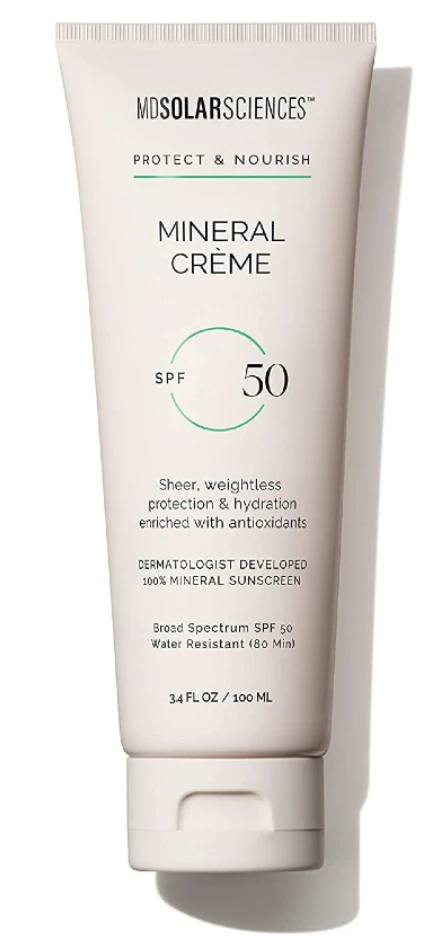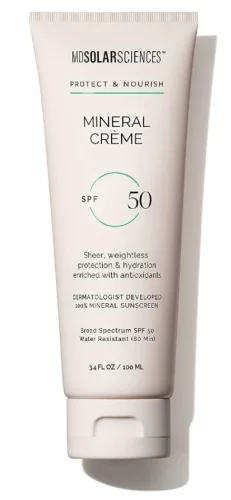 ---
Best for traveling
6. Clinique SPF 50 Mineral Sunscreen Fluid For Face
This tiny container holds an ultra-light mineral SPF moisturizer, just good to throw in your bag every time you travel. An invisible veil protects even the most sensitive skin against UV damage, being gentle enough for the eye area too! As you'd expect, it's formulated without oil but with minerals to protect acne-prone skin, such as titanium dioxide, zinc, and iron.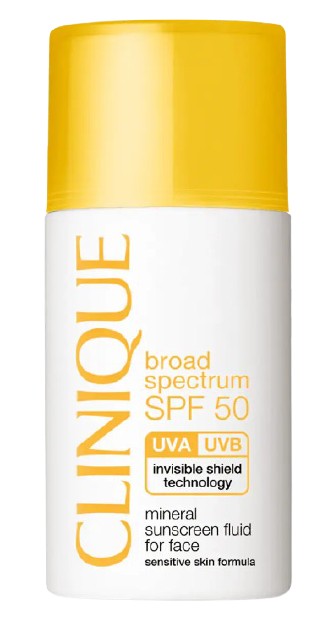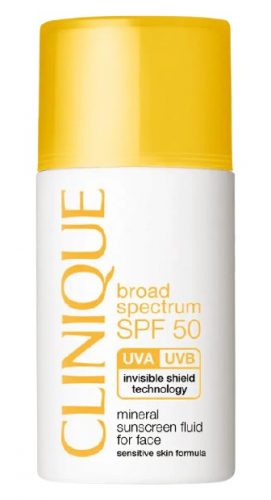 ---
Best for color-correcting
7. Dr. Jart+ Cicapair Tiger Grass Color Correcting Treatment SPF 30
You're about to discover a great multi-duty and not just one of the best SPF moisturizers for acne-prone skin. This one hydrates, nourishes, corrects, evens, and protects with SPF 30 using earth-derived minerals. The three sources of cica give it anti-inflammatory, antibacterial, and antioxidant power, niacinamide helps balance oil, while the mix of botanical extracts nourishes. Don't get intimidated by its green color as it turns into beige to neutralize redness and visibly even tone for a natural look — that's the best thing about it.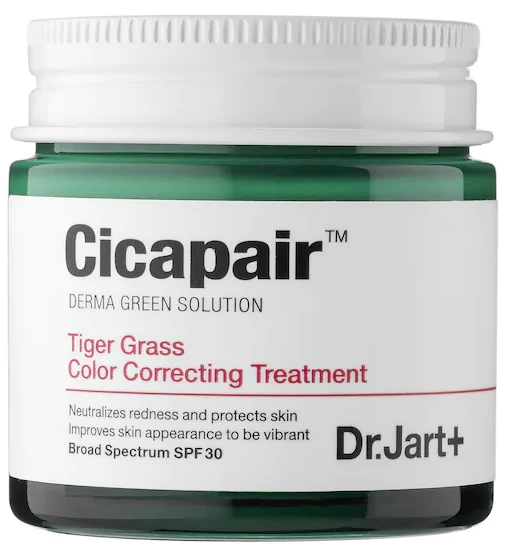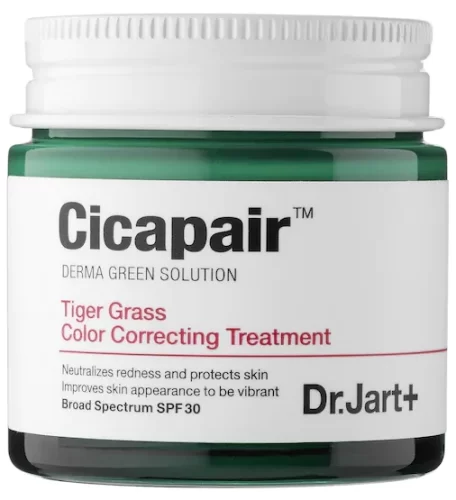 ---
Best for water-loss
8. Vichy Aqualia Thermal UV Defense Moisturizer
Sun protection meets hydration in this moisturizer with SPF 30 suitable for acne-prone skin. Vichy Aqualia UV Defense relies on chemical protection, niacinamide, and ceramide to keep your skin hydrated and UV-shielded. It's formulated without oil and is non-comedogenic with a sheer texture that sinks quickly into the skin, leaving it smooth and soft without the sticky feeling. And if it isn't convincing enough, the formula packs plant sugars, known to prevent transepidermal water loss, which can help balance sebum production.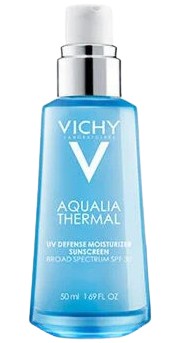 ---
Best for natural BB finish
9. Coola Mineral Matte Tinted Sunscreen & Sunblock SPF 30
This SPF-infused mineral BB cream is your best bet if you want a sheer texture with a lightly tinted matte finish. While staying put throughout the day, it delivers antioxidant protection, moisturizes, and is rich in hydrators, omegas, and plankton extract, helping improve overall skin health and regulate sebum. More than that, it has an astringent effect, aiming to soothe and hydrate some more (thanks, cucumber extract). It was formulated for all skin types and tones, including sensitive and acne-prone.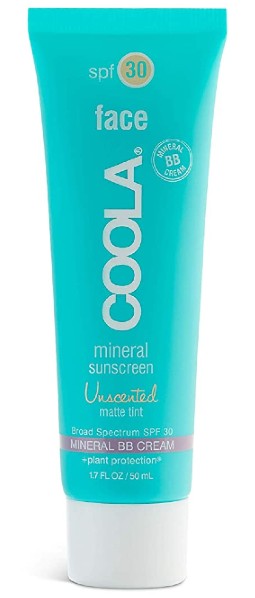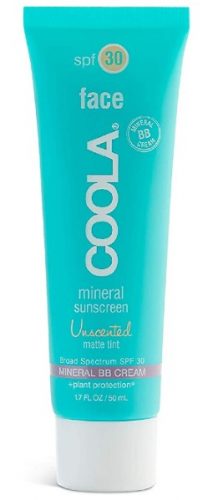 ---
Best for under-makeup
10. Chantecaille Ultra Sun Protection Sunscreen Primer
A multitasker, this moisturizer not only gives protection against sun rays but makes a great primer too. While it mattifies, nourishes, moisturizes, and protects against free radicals, it shields skin against UV rays with 45 SPF. The Chantecaille formula lacks oil, has a feathery texture, and is infused with soothing botanicals, such as cherry blossom, lemon balm, and white tea extract. Besides, the carnosine in its formula helps increase collagen synthesis, ideal for preventing aging signs — no wonder it's touted as one of the best moisturizers with SPF for acne-prone skin.


---
Budget-friendly
11. Mario Badescu Oil Free Moisturizer SPF 30
You can protect your skin with this lightweight, oil-free moisturizer that uses chemical sun protection, meaning it stays on the top of the skin rather than sinking in. Plus, it's formulated with green tea extract, known for its anti-inflammatory benefits and powerful antioxidant protection, an ally for acne sufferers. Additionally, aloe vera delivers soothing and antimicrobial effects, speeding up pimples' healing.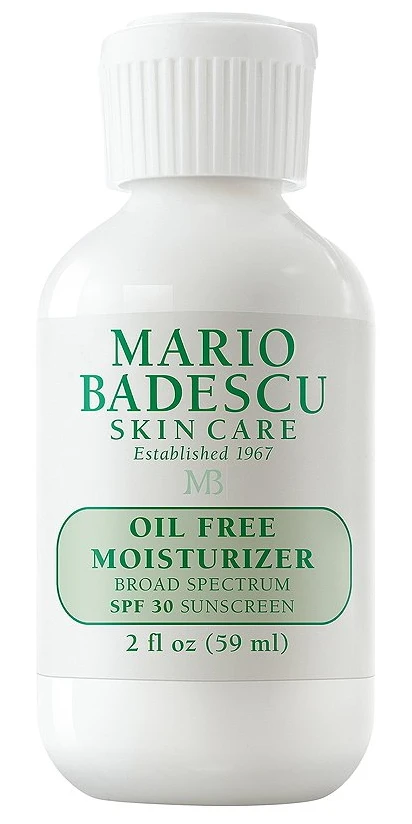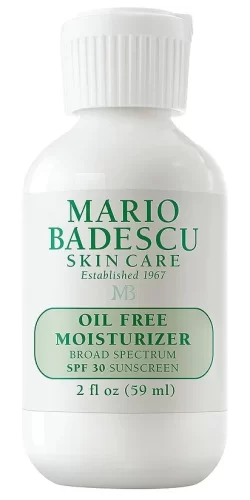 ---
Best water-resistant
12. Vichy Capital Soleil Tinted Mineral Sunscreen SPF 60
For mineral sun protection and a sheer tint for a healthy glow, go for Vichy Capital Soleil. The moisturizer is water-resistant for up to 80 minutes, so it's your go-to product for a beach day or at the gym. Since it's enriched with Vichy mineralizing water, it helps defend against oxidative stress while strengthening the protective barrier. Last but not least, this ultralight moisturizer offers SPF 60 given by titanium dioxide, it's non-shiny and leaves no white residue.