Few things are quite as frustrating as having a damaged skin barrier and facing the tightness and flakiness of a dry, dull complexion—so finding the best ceramide cream is key. Ceramides are lipids naturally found in the skin; more precisely, they make up about 50% of the epidermal barrier. They're the guys that sit at the very top layer of your skin to keep your face protected and moisturized, which is why it's really important to replenish their levels with topical products.
While ceramides are a missing component in dry, itchy, and eczema-prone skin, anyone can benefit from using them to maintain healthy skin. They are essential for hindering transepidermal water loss (TEWL), supporting the barrier function, and helping prevent external woes from damaging the skin.
Most skin experts agree that the best way to deliver ceramides to the skin is using a cream containing them, which is especially effective when used at nighttime to work in tandem with the natural cell-repairing process. To help you find the ideal ceramide cream for you, we've rounded up a range of products with high-performing formulas, each one promising to deliver stronger and plumper skin come morning.
The best ceramide creams
---
1
Sunday Riley ICE Ceramide Moisturizing Cream
This cream is your best bet if dryness, a damaged barrier, and loss of firmness concern you. In addition to three types of ceramides, the cream is loaded with amino acids that promote repair and seal moisture and vitamin F, a building block of ceramides. Plus, it contains phytosphingosine that facilitates ceramide production and cholesterol to support the moisture balance and make skin less susceptible to external damage. The texture is thick and comfortable and leaves the skin instantly feeling moisturized and never heavy.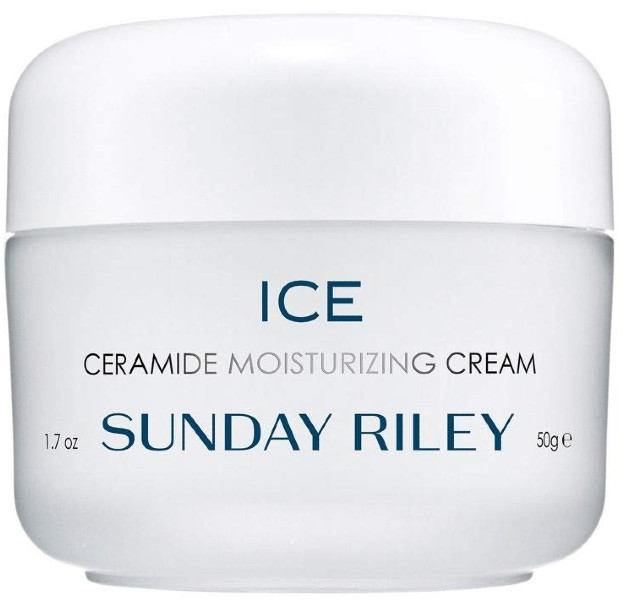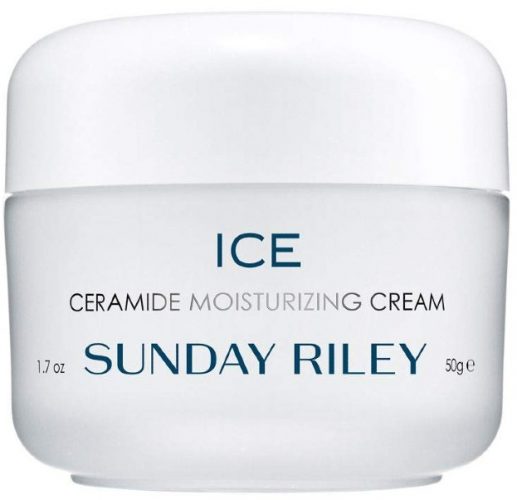 ---
2
Skinceuticals Triple Lipid Restore 2:4:2
A lot of woes can disturb the skin's barrier, including harsh cleansers, chemical exfoliants, acne treatments, and sun exposure. For this, SkinCeuticals Triple Lipid Restore 2:4:2 stands out. The formula nourishes and supports the skin's natural self-repair process thanks to the 2% ceramides, 4% cholesterol, and 2% fatty acids. What's more, this very combination addresses age-related lipids loss, so you can expect less noticeable fine lines and wrinkles and increased firmness and elasticity over time. Bonus: It's as gentle as it makes a good pick for the retinoid's adjustment period and for post-op dryness.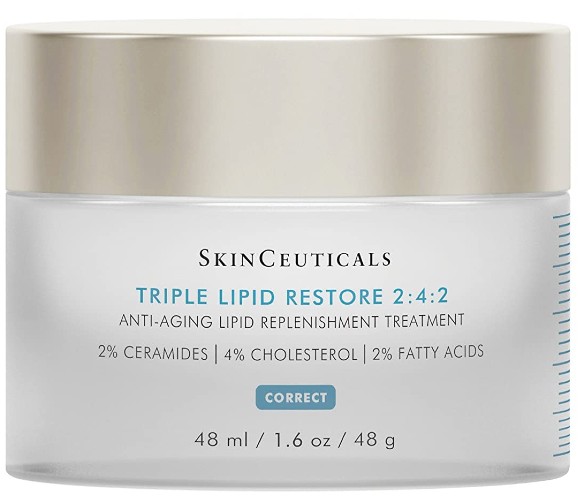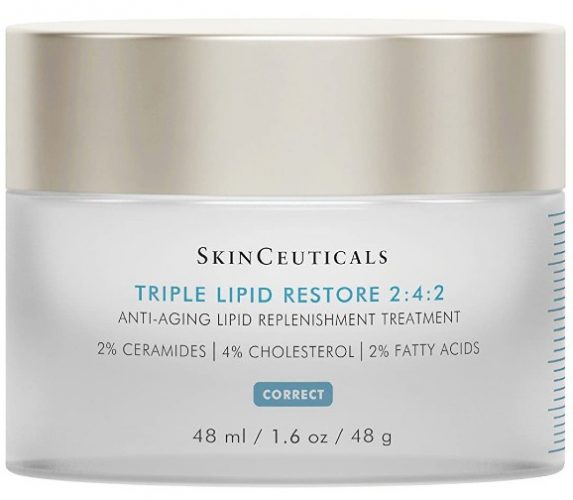 ---
3
Drunk Elephant Lala Retro Whipped Moisturizer
This moisturizer is a cult favorite that can't disappoint you. It's infused with plant-derived ceramides, an African oil blend, and yeast extract that provide barrier support by reinforcing the skin and defending it against daily stressors. Dryness, fine lines, and lack of firmness will be things of the past with consistent use of Drunk Elephant Lala Retro Whipped Moisturizer. And guess what? It's all vegan and clean, without any hazardous ingredients, and the airtight container keeps bacteria out of the formula.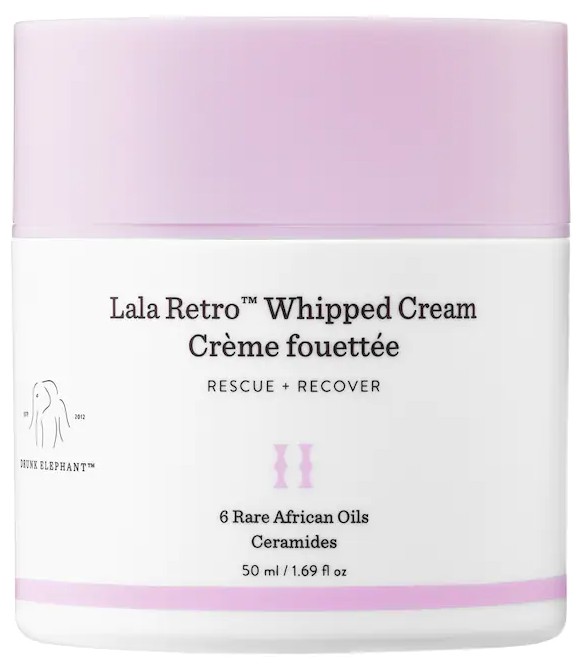 ---
4
Cosrx Balancium Comfort Ceramide Cream
This cream is made in a base of Centella asiatica water, a natural extract that's incredibly good at soothing and repairing damaged skin. At the same time, 1% ceramides further support the restoration benefits while creating a film that prevents water loss. We also love the addition of sunflower seed oil, a lightweight oil that helps skin synthesize its own lipids (including ceramides) without clogging pores. Gentle enough to use on compromised skin, Cosrx Balancium Comfort Cream is proudly made sans drying alcohol, synthetic fragrances, and parabens.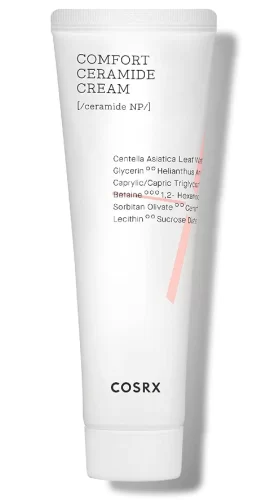 ---
5
Ole Henriksen Strength Trainer Peptide Boost Moisturizer
This is one of our favorite moisturizers thanks to the whopping eight peptides that work to build collagen and increase elasticity and three ceramides that bind moisture and fortify. The balm-to-gel texture instantly melts into the skin, feeling like a cocoon of moisture that immediately relieves dryness and tightness. Want more good news? Everyone can use this moisturizer, sensitive and acne-prone sinks included, as the formula is super-gentle and non-comedogenic.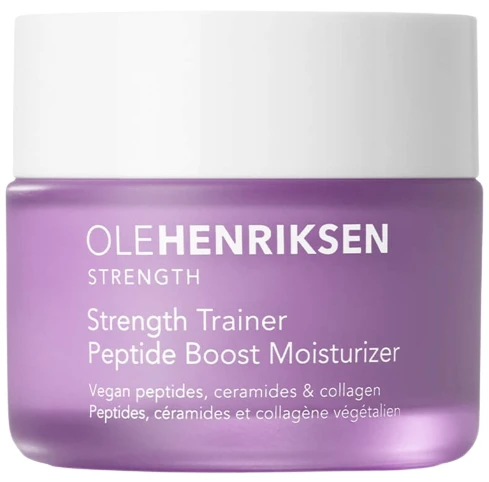 ---
6
Dr. Zenovia Skincare Peptide + Ceramide Repairing Moisturizer
Created by a dermatologist with nearly 15 years of experience, no wonder most people who tried this cream swear by it. Zenovia Skincare Repairing Moisturizer is drenched in four types of ceramides and a peptide complex, all geared towards delivering long-lasting hydration, bolstering the skin's resilience, and hindering moisture loss. Additionally, the cream is filled to the brim with antioxidants from green tea, resveratrol, and caffeine, while sodium hyaluronate and aloe vera provide calming and hydrating benefits. We love that although it's a rich cream, it is yet fast-absorbing and has a breathable feeling.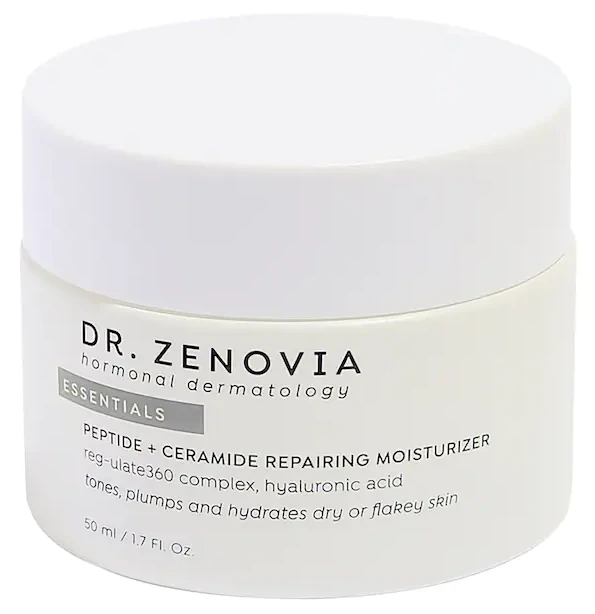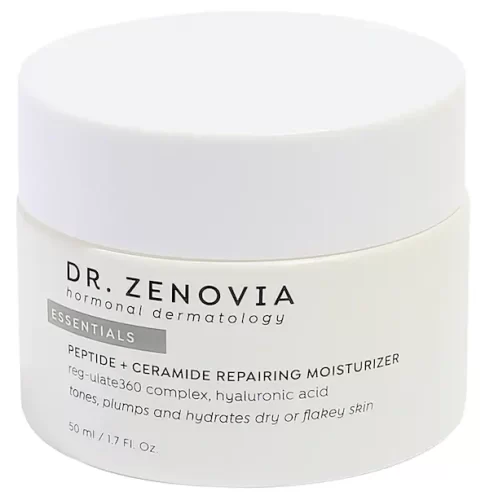 ---
7
Kate Somerville DeliKate™ Recovery Cream
True to its name, this cream recovers the skin with a complex of ceramides, peptides, and cholesterol, the trifecta for resiliency and firmness. And if that wasn't enough, honey extract swoops in to lure in moisture while also lending a calming effect. Meanwhile, shea butter comes to the rescue, trapping in all that precious moisture and relieving even the most irritable skin types. Despite how heavy this formula appears to be, you'll be surprised at how lightweight and non-greasy it actually feels.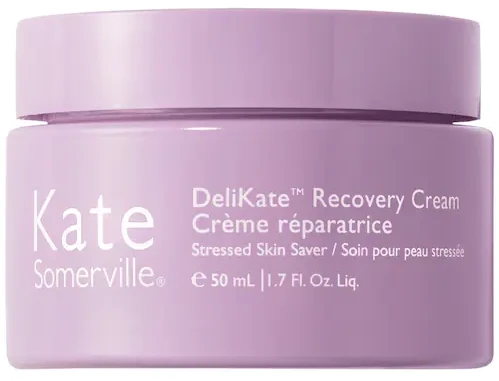 ---
8
The Inkey List Ceramide Night Treatment
This night treatment can be on your shelf for a reasonable price and works while you sleep to restore hydration and plump the skin. It does it all, helped by a 3% blend of ceramides and 2.5% multi-molecular hyaluronic acid that works on multiple skin layers to support instant and long-lasting hydration. Moreover, jojoba seed oil, squalane, and arginine aid in softening wrinkles and smoothing skin with each application. Apply it 2-3 nights per week in your PM skincare routine and enjoy healthy and supple skin.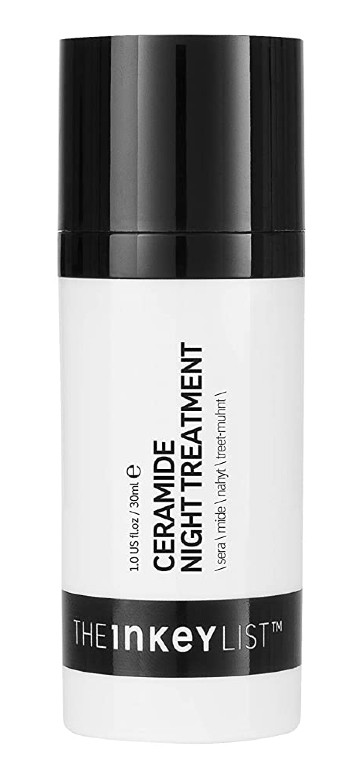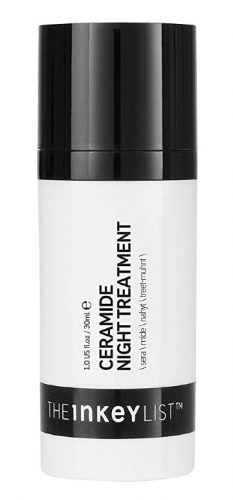 ---
9
Dr. Jart+ Ceramidin Moisturizing Cream
Dr. Jart+ Ceramidin Moisturizing Cream made quite a buzz in the skincare world for its ability to induce skin repair and restore long-lasting comfort. What sets this moisturizer apart from the rest is its velvety and buttery texture—coming from omega fatty acids-rich cocoa and shea butters— which glides effortlessly across your skin, wrapping it in a luxurious cocoon of hydration. The end result is dewy, glass-like skin that is never sticky or greasy.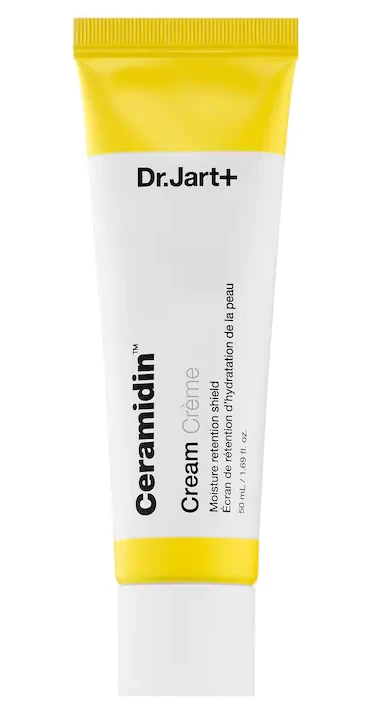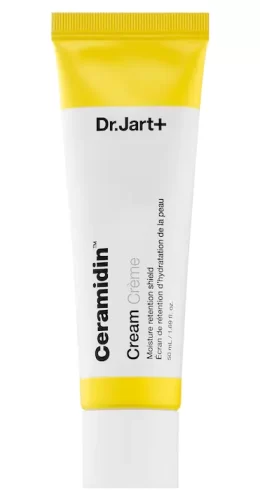 ---
10
Paula's Choice Ceramide Enriched Firming Moisturizer
If your skin is in need of hydration, replenishment, and repair, look no further than this product which we give a 10 outta 10. Paula's Choice Firming Moisturizer teams 0.1% retinol—which encourages cell turnover and spurs collagen growth—with five ceramides that plump and strengthen. At the same time, three forms of vitamin C further support the production of collagen and encourage the skin to heal. The result? Less noticeable fine lines and wrinkles, smoother texture, and a more luminous tone over time.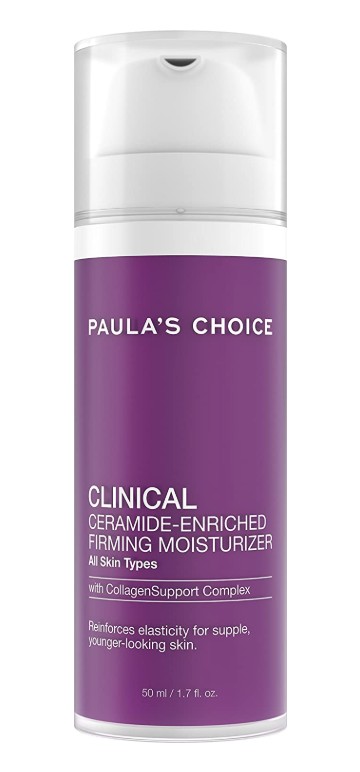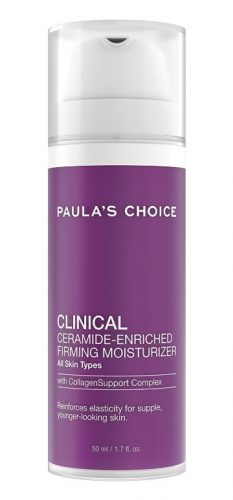 ---
How to apply a ceramide moisturizer?
You can apply your ceramide cream as the last step in your PM skincare routine or before your SPF cream in the morning. It works great at trapping moisture, especially when applied after a shower when your pores are still open. Ceramide creams are also the MVP when it comes to speeding up the skin recovery process after exfoliation.
You ask, we answer
Can ceramide repair the skin barrier?

Since the barrier is made of ceramide, ceramide creams are one of the best products that can strengthen it.

Do ceramides clog pores?

Ceramides can't clog pores, but a product with ceramide can. How's that? If you have oily skin and your moisturizer is filled with ceramide and some heavy oils it can clog pores. Hence, pick products according to your skin type.

Do ceramide help wrinkles?

Due to their highly moisture-trapping and hydrating properties, ceramides are gold for fine lines and wrinkles, helping plump their appearance.

 Which ingredients do ceramides work well with?

Ceramides are great on their own, but they can work even better with other ingredients, such as peptides, cholesterol, fatty acids, and amino acids. Also, ceramides are great at soothing skin when you use chemical acids or retinol, helping prevent the dryness often associated with their use.

What is better, hyaluronic acid or ceramide?

While both ingredients are needed for healthy skin, they have different roles. While hyaluronic acid is a humectant that attracts water into the skin, ceramides are lipids that form a veil to keep that hydration in. In other words, they complement each other just fine for plump, bouncy skin.

Can I use ceramide every day?

Yes, it's safe to use ceramide every day, whether in the morning, at night, or both. However, the best time to use ceramides is at night.