Colorescience is a multitasking professional brand in the US that fuses skincare with suncare and makeup products. They started it as a skincare brand that addresses post-procedure and vulnerable skin, creating gentle, clean, and effective products that address all ages and skin types.
Today, Colorescience is a leading innovatory company (acquired by SkinMedica in 2012) that creates products for anyone who wants transformative results from their beauty products. Thinking you want just that from your cosmetics, we decided to pull up the best Colorescience products that are worth adding to your regimen.
Are Colorescience products safe?
Yes, Colorescience products are made with safety and efficacy in mind. Most of their products are fragrance-free, non-comedogenic, hypoallergenic, and, last but not least, reef-safe. Believing in the idea that sun protection is mandatory 365 days a year, Colorescience creates skincare infused with minerals that offset sun damage.
The best Colorescience products assure physical protection against UV and are formulated with 100% active mineral ingredients, such as zinc oxide and titanium dioxide. Yep, this means Colorescience always makes sunscreen without oxybenzone or octinoxate, two main chemicals widely used in sunscreens that present a high hazardous score.
Apart from pure minerals that act as sunscreen, Colorescience blends lots of antioxidants and botanicals in its formulations to make your life easier and maximize results for long-term skin health. Welp, everybody loves Colorescience products (including us) for a good reason.
Where to buy Colorescience products?
You can buy Colorescience products on their official website, Amazon and Nordstrom. Since Colorescience is a brand widely touted by derms and SPAs, here you can find nearby retailers that sell Colorescience products.
Colorescience reviews
Colorescience reviews are fascinating to browse through. Most people are happy with what they get from Colorescience products, lauding them for effectiveness and long-term skin transformation.
If I didn't convince you, browse them yourself; Colorescience reviews come from happy customers because the products really deliver!
Is Colorescience cruelty-free?
I'm happy to say yes, Colorescience is a cruelty-free skincare brand. They're committed to high standards and never conduct animal testing for their product formulations, and require non-animal testing on all raw materials before final formula approval.
The best Colorescience products for sun protection, skincare, and makeup
With the best Colorescience I've pulled up in this post, you can compile an entire beauty routine that's both effective and transformative.
---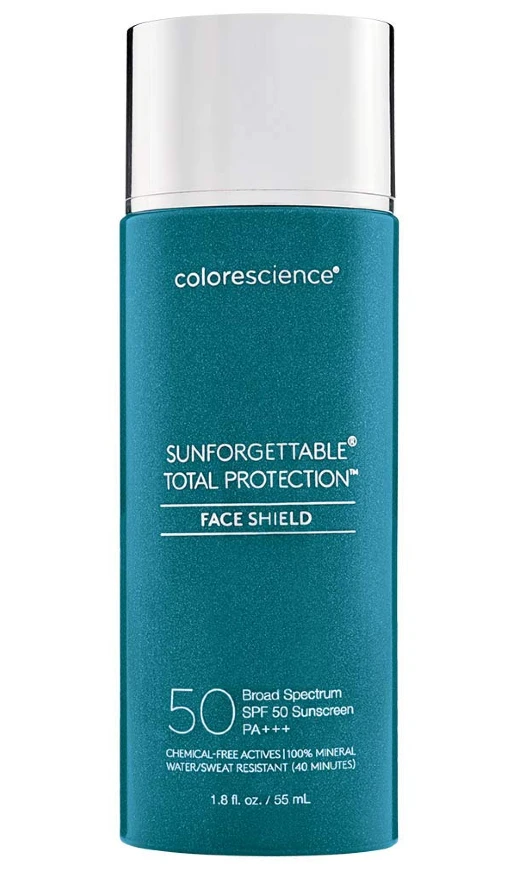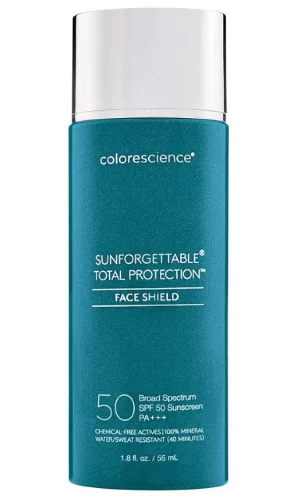 1
Colorescience Total Protection Face Shield SPF 50
This sunscreen is a cult favorite among the best Colorescience products, one of their bestsellers ever, and an award winner. It's because it does the job of protecting the skin from UV damage damn well. With zinc oxide as an active ingredient, UVA and UVB protection, PA++++ (maximum protection against UVA rays), and SPF 50, no wonder it's so lauded.
But there's more: the formula not only provides complete protection but hydrates with niacinamide, calms with bisabolol, and moisturizes with allantoin. It has a weightless texture and blends effortlessly for a like-your-skin-but-better look. Glow, classic, or bronze — which one suits you?
---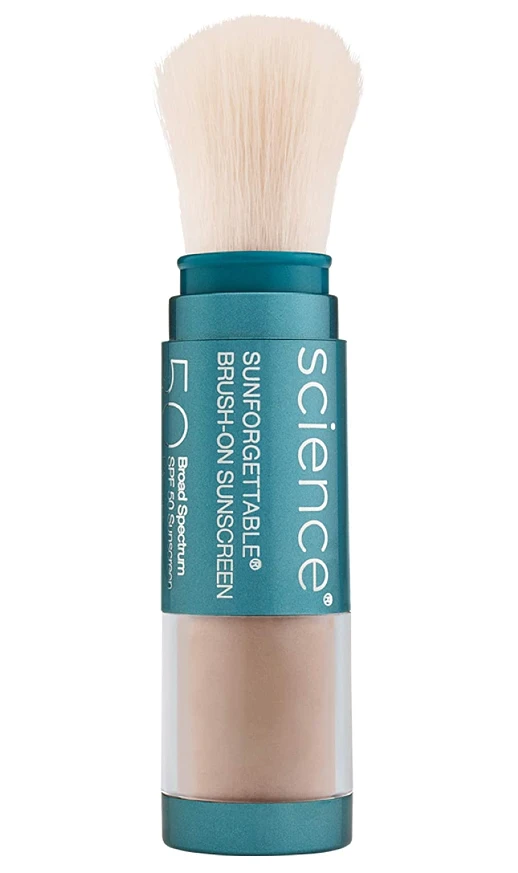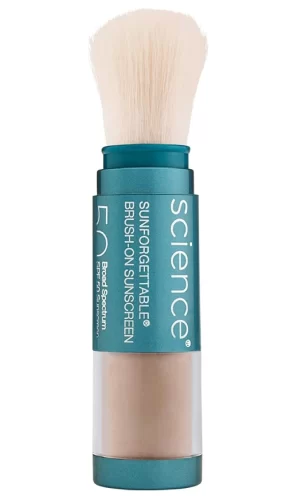 2
Colorescience Brush-On Sunscreen Mineral Powder
A makeup lover or not, you'll be a lot into this sunscreen mineral powder after reading this. And I won't be mentioning all the awards it won or how lauded it is by derms and Skin Cancer Foundation for active use. Besides being highly protective (50 SPF) against sun damage with titanium dioxide and zinc oxide, it uses antioxidants from green tea, grapeseed, tara tannins, and oak wood to shield against free radical damage, plus glycerin and hyaluronic acid to hydrate.
It's the perfect sunscreen to reapply throughout the day that won't disturb your makeup, thanks to the brush-on applicator. And on top of everything, everyone can use this mineral powder sunscreen; acne-prone too as it's non-comedogenic!
---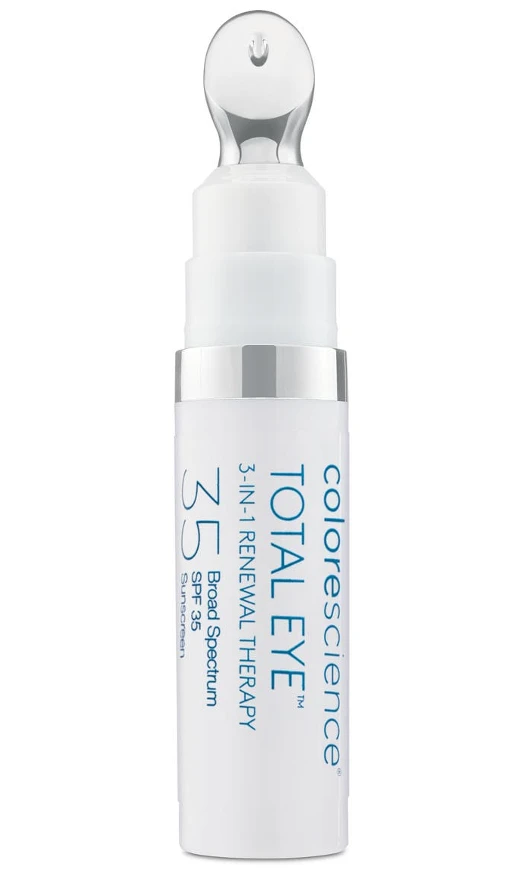 3
Colorescience Total Eye 3-in-1 Anti-Aging Renewal Therapy
If wrinkles, dark circles, and puffiness concern you, you'd want to try this one. As the best Colorescience product for the eye area, it gives myriad benefits, besides the defense against sun damage with SPF 35 PA+++.
Total Eye 3-in-1 Anti-Aging Renewal Therapy corrects imperfections acting like a light concealer to reduce dark circles look and aids in restoring skin with hydration with vitamin B5, glycerin, and sodium hyaluronate. Additionally, it strengthens with peptides and vitamin E, while a mingle of antioxidants keeps skin protected against external aggressors. There's not much this product can't do for the eye area, really.
---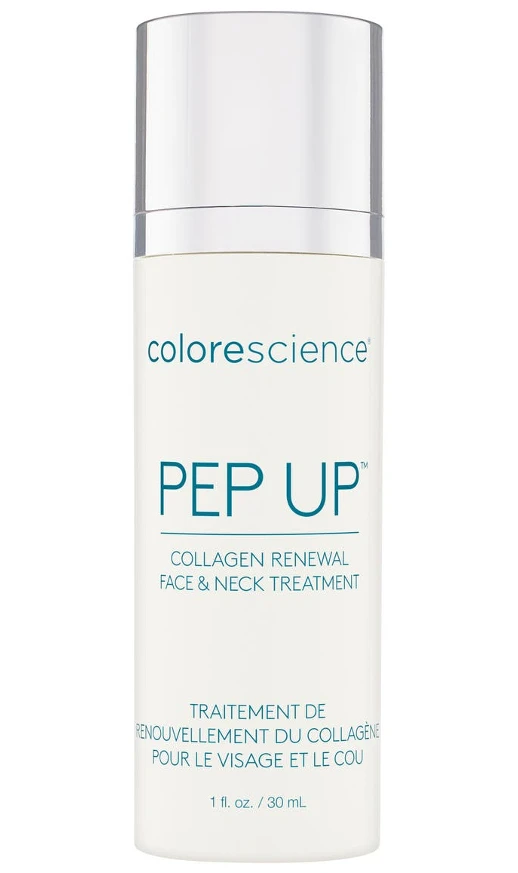 4
Colorescience Pep Up Collagen Renewal Face & Neck Treatment
This treatment will come in handy for those who want to prevent wrinkles or help them plump. I know it's on the pricer side, but it is worth every penny. Here's why: it encourages collagen and elastin production, two main proteins needed for skin resilience, firmness, and elasticity, with an exclusive blend of ten peptides, hydrolyzed wheat, and soy proteins. On top of that, the formula is rich in sodium hyaluronate — the one that penetrates into the epidermis giving long-term results. Plus, it's filled with good bacteria that promote skin regeneration, smoothen, and hinder dryness.
---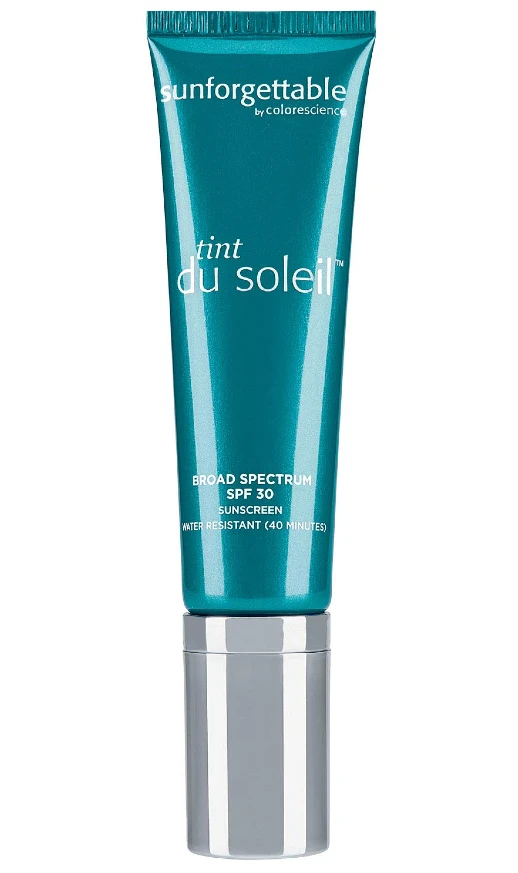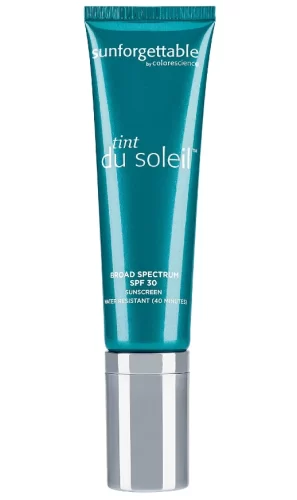 5
Colorescience Tint du Soleil SPF 30 UV Protective Foundation
This foundation is by far the best Colorescience makeup product hailed for its sun-protecting benefits and good coverage. It's where makeup meets skincare. So not only does it cover and even skin tone with a sheer, satin finish, but a mix of peptides, retinol, ceramides, and vitamins nourish, strengthen and replenish skin for long-term texture improvement. The creamy, hydrating formula layers and blends effortlessly and stays put throughout the day, being water-resistant. Colorescience SPF foundation is skincare-infused and offers four true-to-skin shades — it's got it all!
---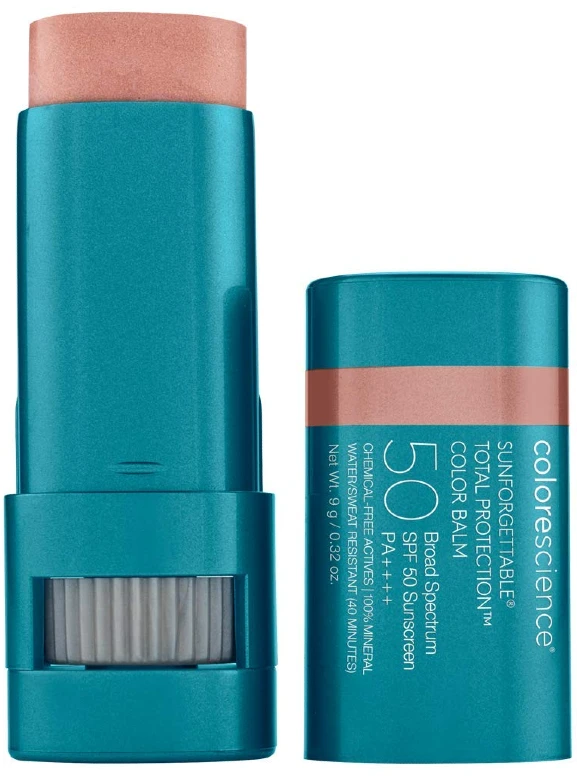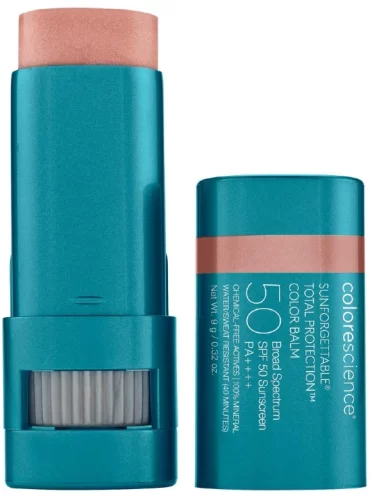 6
Colorescience Sunforgettable Total Protection Color Balm
Whenever you're in need of a pop of color, reach this dual-purpose balm. Its role is to protect with SPF 50 and hydrate your lips and cheeks while giving a bit of color. In addition to the minerals that defend against UV damage, Colorescience SPF Color Balm formula includes jojoba esters, squalane, plus candelilla and carnauba waxes to soften and keep moisture all day long. So chic, so healthy.
---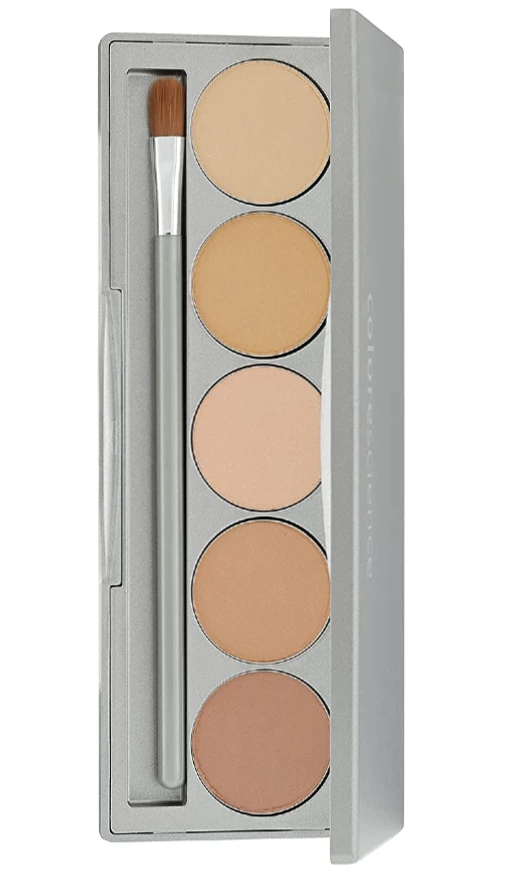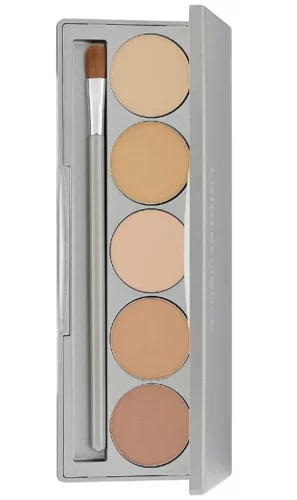 7
Colorescience Mineral Corrector Palette SPF 20
This non-comedogenic correcting palette is all you need to conceal blemishes, reduce redness, contour, and highlight. The five skin-neutralizing shades cast a spell on any imperfection, making this product the right addition to your makeup routine if you want to camouflage imperfections, conceal, and brighten. Bonus: the palette is infused with carrot seed oil and vitamin E, two potent antioxidants that hinder free radical damage. Call it your new makeup essential.