At first sight, oxybenzone and octinoxate are two elements meant to protect your skin against UVA and UVB. But the reality is not as sweet as it seems. Even if they absorb the sun's rays, the adverse effects of these two chemicals outweigh the benefits.
In 2020, the FDA published a study showing that oxybenzone and octinoxate are systemically absorbed into the body after a single use and could be detected on the skin and in blood weeks after application. Despite the growing concerns and multiple studies sounding the alarm, these bad sunscreen ingredients are still used all over the world. Don't sweat. Plenty of sunscreens have ditched oxybenzone and octinoxate in favor of safer alternatives, and you'll find the best of them in this post.
Why you should avoid oxybenzone
EWG rates oxybenzone as hazardous with a score of 4 out of 10, and it's no surprise why. The dangers of oxybenzone are fourfold: it can damage DNA, potentially leading to cancer and developmental abnormalities; it's an endocrine disruptor; it can cause deformations in juvenile corals; and it contributes to coral bleaching. As a result, Hawaii is banning the sale of sunscreen products that contain oxybenzone beginning in 2021.
This chemical is also linked to altered birth weight and can interfere with hormone function, as the American Cancer Society warns.
Moreover, research published in Reproductive Toxicology suggests a link between oxybenzone and a congenital disability (Hirschsprung's disease) when pregnant women are exposed to this chemical.
Sadly, oxybenzone is a common ingredient in chemical sunscreens, despite being flagged as problematic for over a decade.
What about octinoxate
Octinoxate has a 5/10 hazardous score. It's a UV filter that, instead of staying on the skin's surface, it's absorbed by it. Several studies show that octinoxate can have harmful effects on animals and the environment as well. Others found that octinoxate can cause adverse reactions, such as acne and contact dermatitis, in a minority of people with certain skin allergies. Also, when avobenzone and octinoxate are combined in the same sunscreen, they can produce skin-damaging free radicals that exacerbate sun damage.
What are the alternatives to octinoxate and oxybenzone?
If you're concerned about the potential harm of oxybenzone and octinoxate, there are alternative ingredients that can provide just as much sun protection without adverse side effects. Not all chemicals in sunscreens are bad anyway. Among the safest UV filters in chemical sunscreen are octocrylene, octisalate, and avobenzone. Other alternatives include mineral-based sunscreens. These are made with zinc oxide and titanium dioxide, both of which are naturally occurring minerals that sit on top of the skin rather than being absorbed into the bloodstream. Plus, these minerals are environmentally friendly, as they don't harm marine life when they eventually wash off in the water.
Now scroll on to find the best sunscreens without oxybenzone and octinoxate that will protect your skin and help you do your part in preserving the ecosystem. We have chosen a variety of products so you can easily find the right fit for you.
The best octinoxate-free and oxybenzone-free sunscreens
---
La Roche-Posay Face Sunscreen
This cult-favorite sunscreen uses minerals combined with La Roche Posay's thermal water and antioxidants to give ultimate protection against sun rays and other free radicals. The fast-absorbing lightweight and fluid texture blends well and dries to a matte finish, great to wear under makeup if you want. Some reviewers with dark skin tones have reported experiencing a white cast upon application, so this is a better option for lighter tones.


---
PCA Skin Daily Defense Broad Spectrum SPF 50+
Ideal for everyone, this octinoxate-free sunscreen not only keeps skin protected with SPF 50, but it includes antioxidants, including caffeine and ectoin, for the pinnacle of defense. The skincare benefits don't stop here—the formula is also infused with hydrating hyaluronic acid and oat extract that moisturizes and prevents external aggressors from entering the skin. Lightweight, hydrating, and never chalky or sticky, the sunscreen is definitely a winner!


---
Colorescience Total Protection Face Shield Matte SPF 50
This is the best formula for oily and breakout-prone folks, without a doubt. Not only does it skip possible acne-triggering ingredients, like oils and fragrances, but it leaves you with a shine-free look and less visible pores. Lightly tinted, the sunscreen blends in for sheer coverage and a matte finish for a perfected look. Bonus: It contains niacinamide to regulate sebum and zinc-derived SPF 50 with PA++++, aka the highest level of protection.


---
Supergoop! Unseen Sunscreen
A gel-like sunscreen that doesn't leave a chalky residue, no matter your skin tone? Yes, please. Supergoop Unseen Sunscreen provides broad-spectrum sun protection from chemical filters with a weightless, invisible SPF leaving you wondering if it's even still there. And it's not just a sunscreen—the formula is also hydrating, soothing, and primes your skin for makeup, making it a no-brainer addition to your morning routine. Plus, it's infused with a plethora of skincare benefits, which is why it's been reigning supreme in the world of sunscreens for a while now.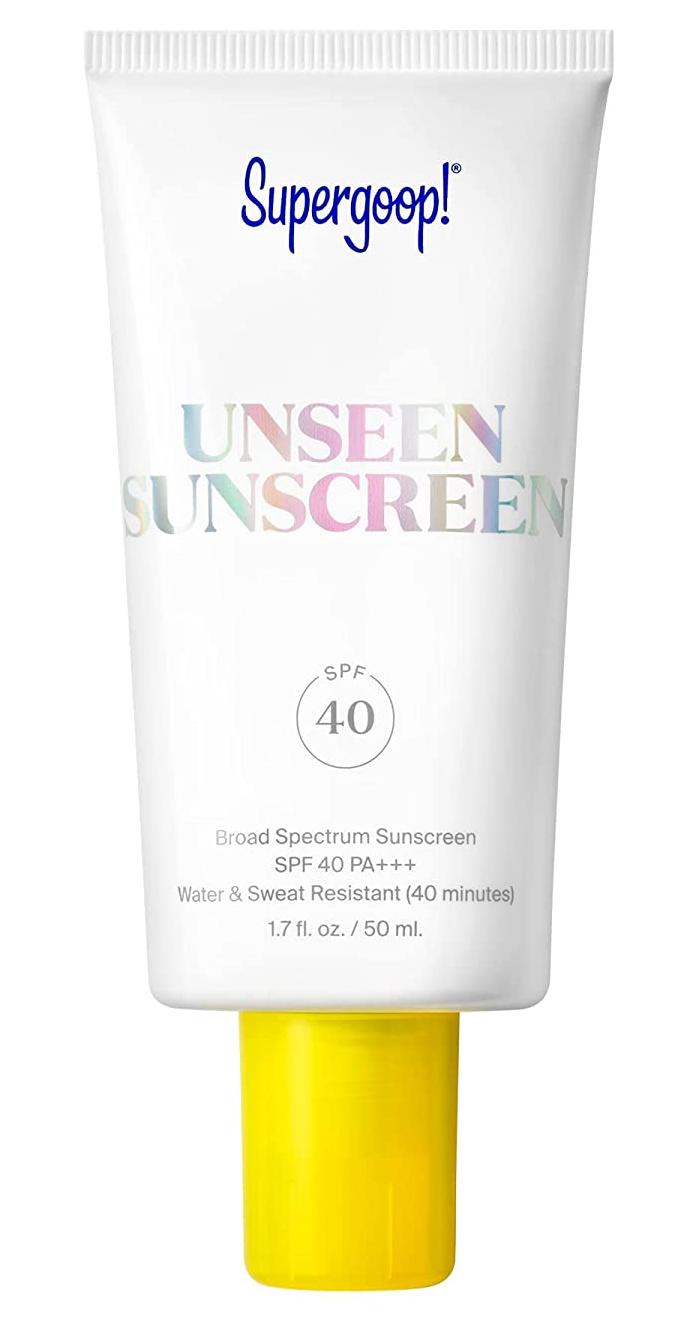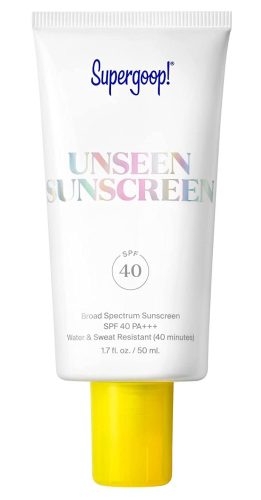 ---
COOLA Organic Face Sunscreen
This organic sunscreen protects against both UVA and UVB rays and hydrates with the help of aloe juice, safflower oil, and glycerin. Aham, that means it cut the need for additional moisturizer. The formula provides light-as-air protection and leaves skin glowy and healthy-looking, absorbing immediately with very minimal blending. We also value that it is made without fragrances, is non-comedogenic, and is resistant to water and sweat for up to 80 minutes. Yep, this makes it a go-to for all skin types (and tones)!


---
Sun Bum Original SPF 50 Sunscreen Lotion
This sunscreen is an absolute hit with Amazon shoppers, and we're here for it. Not only does it provide effective sun protection without breaking the bank, but it's also created by the beach bums themselves for those who spend a lot of time outdoors and have an active lifestyle. Better still, it blends seamlessly without leaving any greasy residue, so you can apply it from head to toe for supreme protection.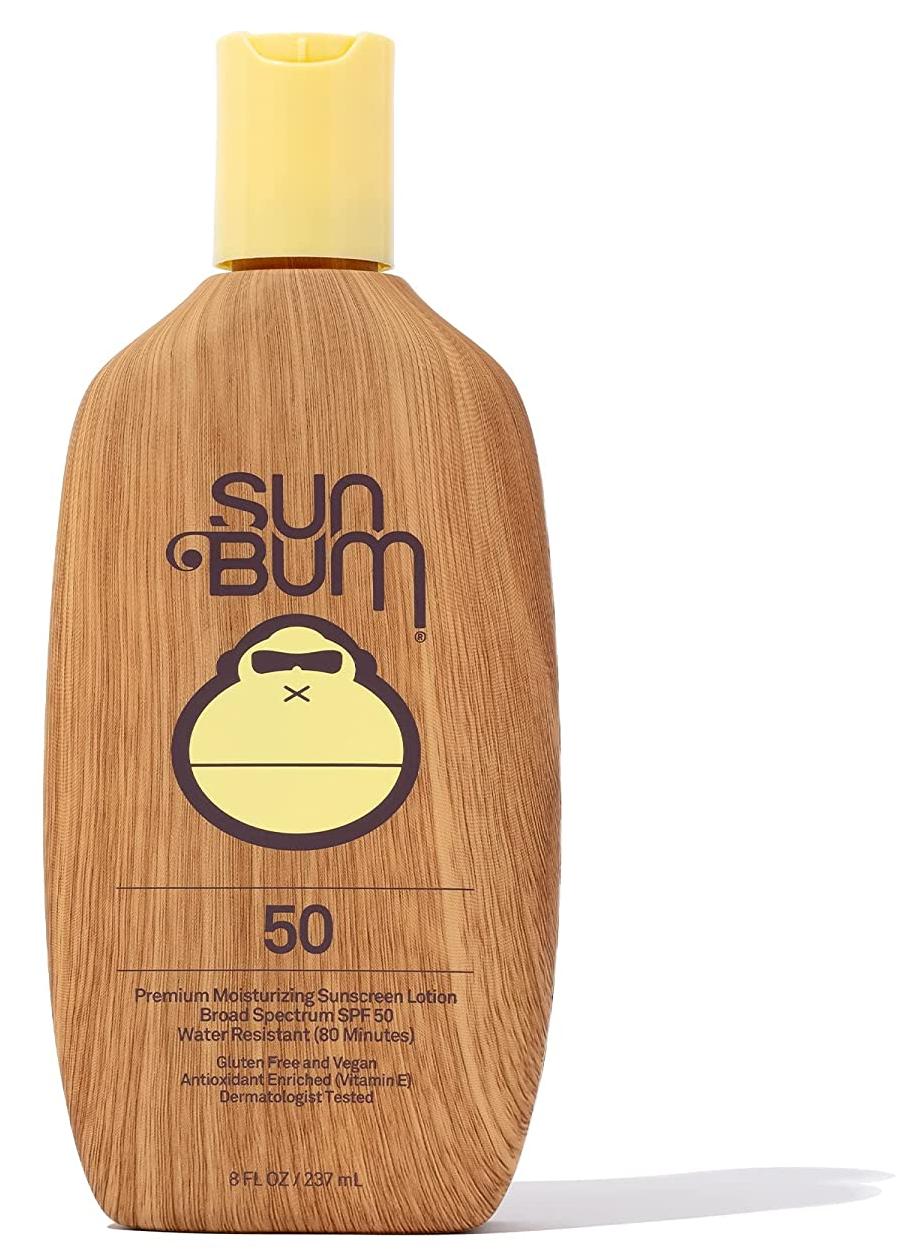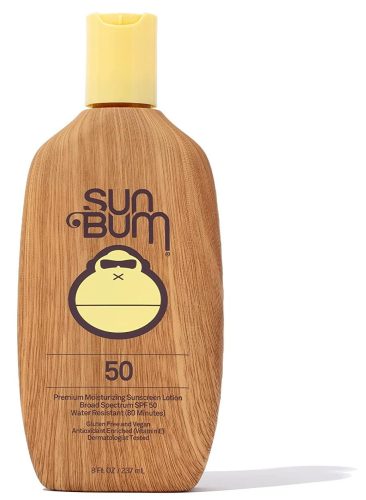 ---
Hero Cosmetics Shield Superlight Sunscreen SPF 30
Acne-prone skin should look no further than this option from Hero Cosmetics, made with nano zinc that scatters light before damaging the skin. The ultra-light formula feels super-comfortable on the skin and has a sheer green tint that helps neutralize redness and a moist texture that absorbs without leaving the skin greasy. Another thing we appreciate about this one is that it includes antioxidants and other skin-loving ingredients, like probiotics and rice extract, that provide extra care for your skin. The only downside is that some reviewers with darker skin tones have reported experiencing a white cast when using this product.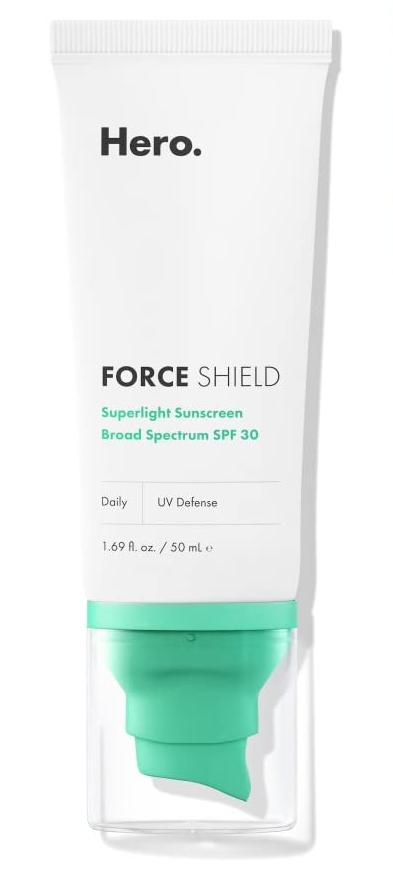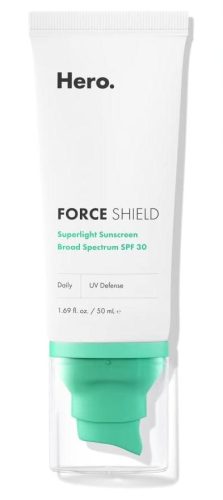 ---
Thinksport Safe Sunscreen SPF 50+
With 20% zinc as an active ingredient and the addition of hyaluronic acid, vitamins C, E, and plant extracts, Thinksport Safe Sunscreen does a damn good job at shielding the skin from sun damage. It not only protects skin with SPF 50 (UVA and UVB), but it's also gentle and safe for marine life. This is the first sunscreen to pass Whole Foods Premium Care requirements and top-rated by EWG since its launch in 2010, making it one of the best oxybenzone-free sunscreens.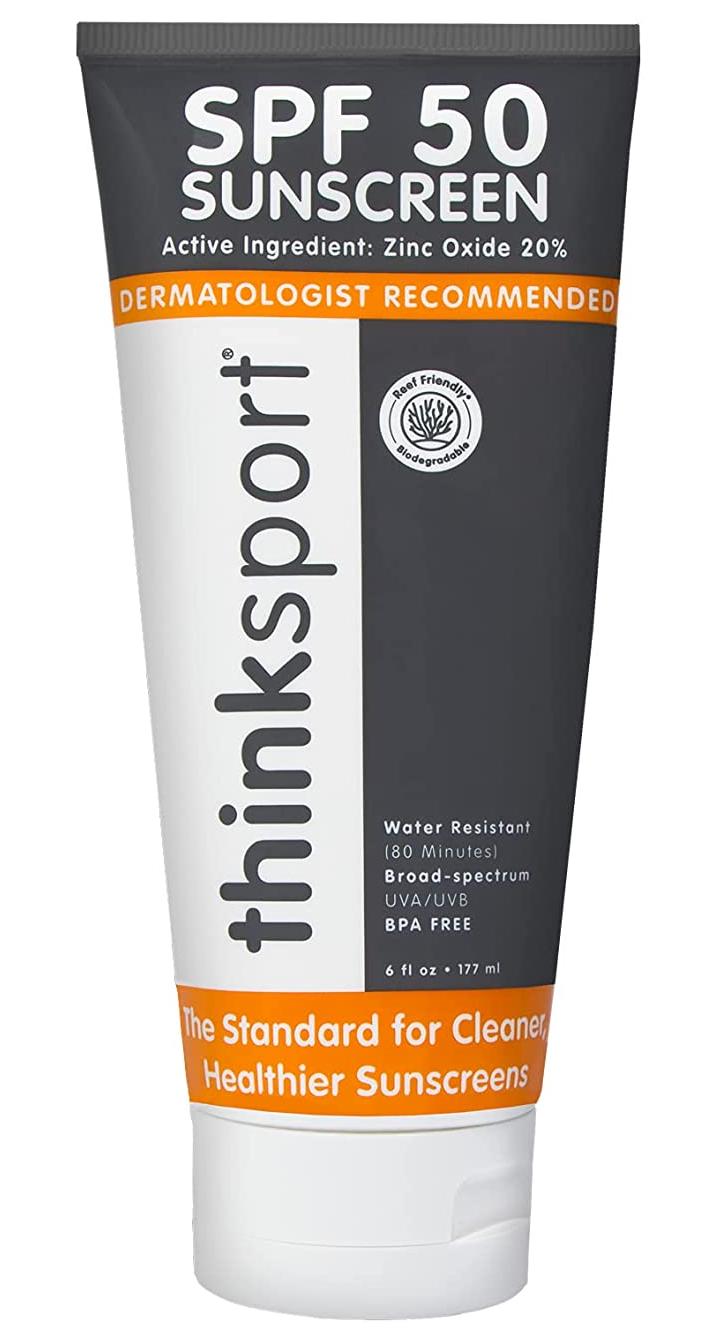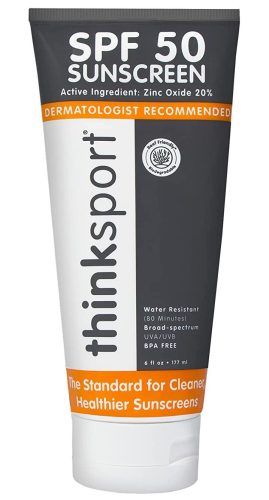 ---
MDSolarSciences Mineral Creme SPF 50 Sunscreen
This sunscreen is like a dream come true with its lightweight and silky-smooth texture that rivals your favorite face cream. It packs a powerful punch with mineral-only SPF 50 protection, it's reef-safe and chock full of potent antioxidants such as vitamin C, green tea, and pomegranate. And if you have sensitive skin, no need to worry, as the formula is hypoallergenic and gentle enough for even the most delicate skin types. We also love how it blurs imperfections and dries into a matte finish without any chalky or greasy residues. And to top it all off, the fully recyclable packaging earns it extra credit in our book!


---
Experts insights
To get the most out of your sunscreen, select a formula that suits your type of skin. If your skin tends to be oily or breakout-prone, go for a non-greasy, non-comedogenic sunscreen with a matte finish to keep oil at bay and reduce the chances of clogged pores. On the other hand, if you have dry skin, opt for a lightweight and hydrating formula that won't weigh you down. And if you have sensitive skin, steer clear of sunscreens with added fragrances or dyes that could cause irritation.
Read next: Asking a Derm: How Much SPF Do You Need In Your Sunscreen?