Salicylic acid is always on the stage when it comes to controlling sebum and fighting acne breakouts. As an oil-soluble exfoliant, it can penetrate the skin's fat layer and dislodges pore-cloggers while it also removes dead cells from the surface for clearer and purified skin. For this reason, this guy is a great ingredient in your cleanser, as it effectively dissolves pollutants, grime, and oil that build up and cause breakouts. A salicylic acid-powered face wash is also a good option for newbies who are too scared to take the plunge of using potent serums and want to start with something gentler to help skin build tolerance. And the best part is, you don't have to break the bank to get all the benefits. That's right, some of the best salicylic acid cleansers out there can be found right at your local drugstore and carry out the same benefits as the expensive ones.
So if you're on a budget but still want to keep your skin in check, you're in luck. There are plenty of high-quality drugstore cleansers with salicylic acid out there which work wonders in maintaining skin clarity, reducing acne, and balancing sebum. We did the job and found them all! Keep scrolling to find the best drugstore salicylic acid cleansers.
---
La Roche-Posay Effaclar Facial Cleanser
La Roche-Posay Effaclar is one of my favorite drugstore salicylic acid cleansers because it includes lipo-hydroxy acid, a gentle derivate of salicylic acid with skin-renewing, exfoliating, and acne-fighting properties. This gel cleanser works at the skin surface to remove excess oil and impurities, helping clear breakouts and prevent their further occurrence. It's non-comedogenic—so it won't ever clog your pores—and oil-free, which makes it very appealing for oily skin types. As it's also paraben- and fragrance-free, making it a perfect option for those who want a drugstore cleanser for sensitive acne-prone skin.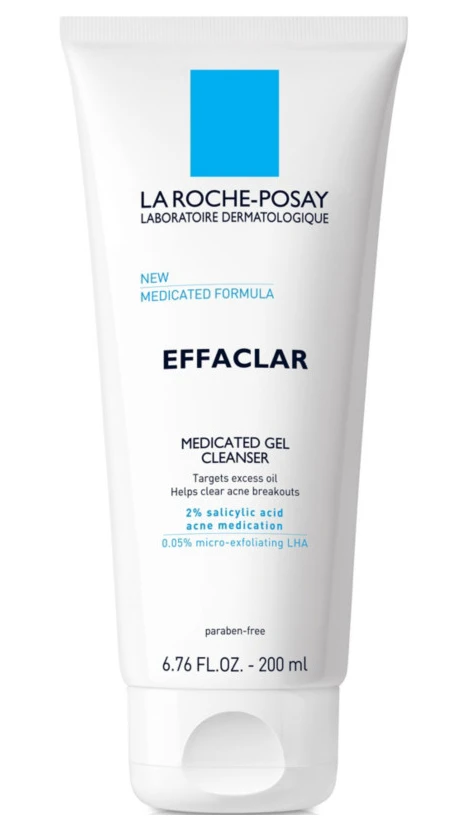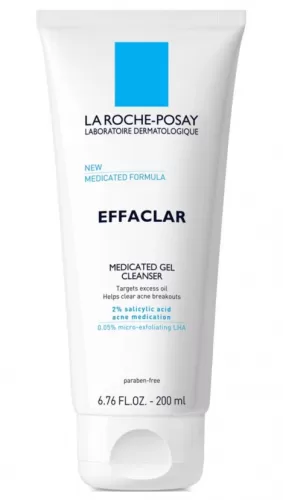 ---
Mario Badescu Acne Facial Cleanser
Mario Badescu Acne Facial Cleanser is definitely something you'd want if your skin is easily reactive because it washes away makeup and debris without ever stripping. If you choose this one, expect a gentle exfoliating cleansing that whisks away impurities and excess sebum and leaves you with a balanced, clean, and squeaky-clean complexion. Since it also contains soothing and moisturizing ingredients such as glycerin, aloe vera, hyaluronic acid, and chamomile, it's unlikely to dehydrate your skin, but it rather gives it a hydration boost.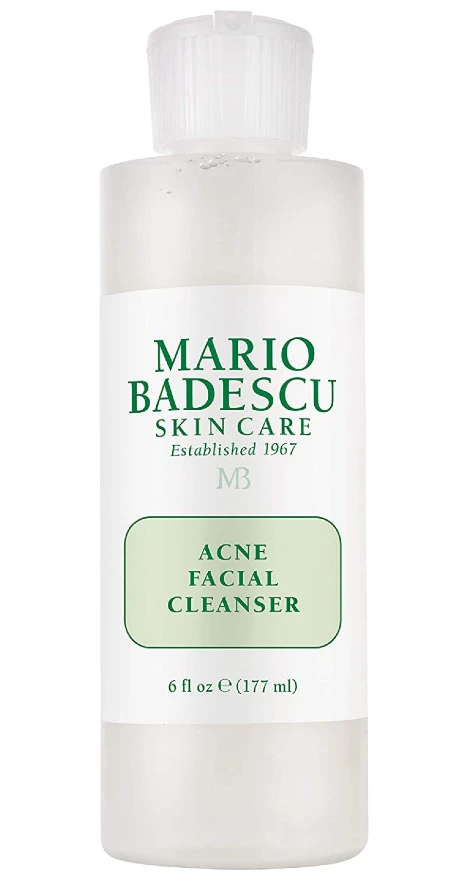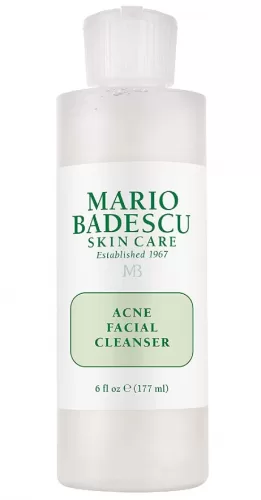 ---
CeraVe Salicylic Acid Cleanser
One of the best parts about drugstore salicylic acid face washes is that they come with effective formulas yet are super-affordable. Take this CeraVe product, for example. It's a gentle cleanser containing salicylic acid that helps exfoliate and balance the skin by eliminating oil, dirt, and dead cells, which may as well result in fewer breakouts. In addition to salicylic acid, this drugstore cleanser also contains skin-loving ingredients such as niacinamide, ceramides, and hyaluronic acid, which have the main role of preventing dryness and tightness.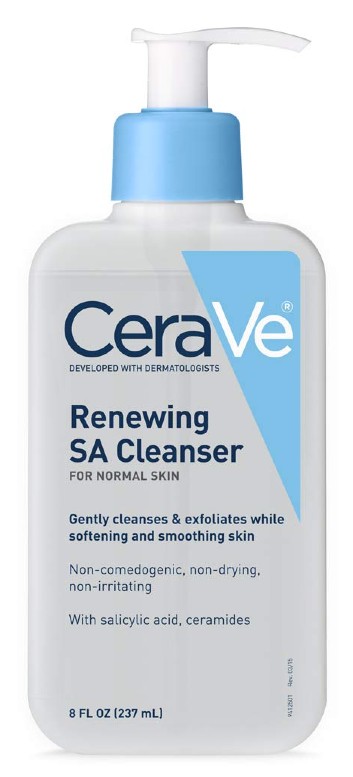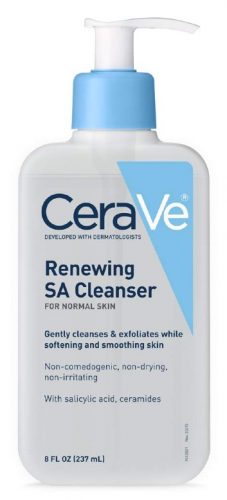 ---
Vichy Normaderm Daily Acne Treatment Face Wash
Vichy formulated this cleanser with oily and acne-prone skin types in mind. As it contains 0.5% salicylic acid, it effectively clears blackheads and acne blemishes without causing sensitivities or drying the skin—which is perfect for beginners who want to build skin tolerance. The clear gel lathers into a foam that effectively removes impurities and bacteria while reducing shine and leaving skin purified.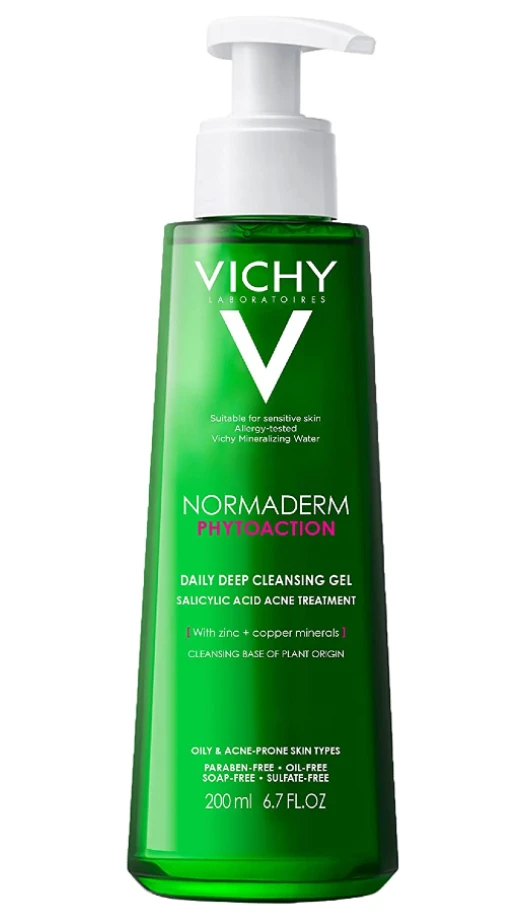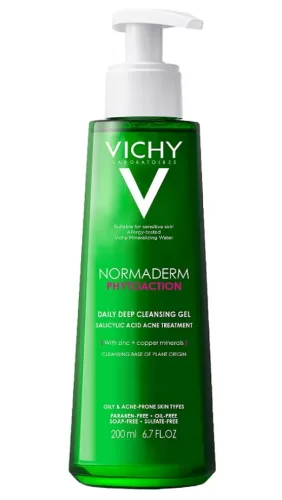 ---
The Inkey List Salicylic Acid Acne Pore Cleanser
Whether you want to keep oil at bay, minimize breakouts, or clear pores, this cleanser—made with 2% salicylic acid—gets the job done without drying the skin. It foams up into a light lather that dissolves makeup and pollutants instantly, leaving you with a fresh canvas for the rest of your skincare routine. We love that it's free of sulfates and fragrances, and it contains zinc and allantoin, known to soothe and ease inflammation. And it's no more than 12 bucks.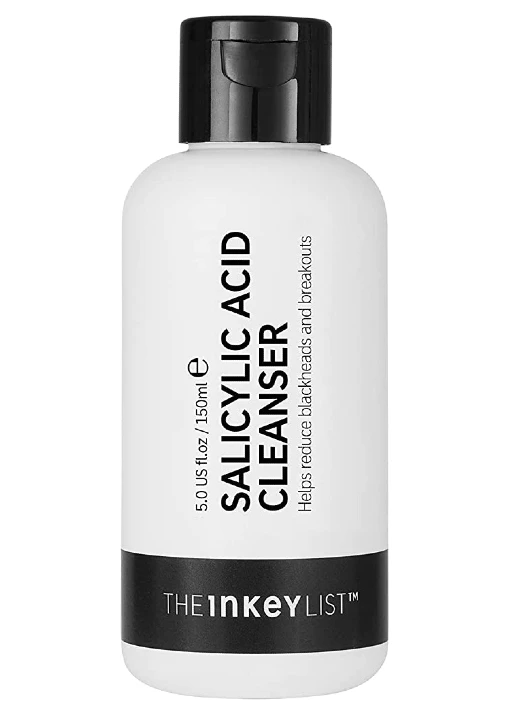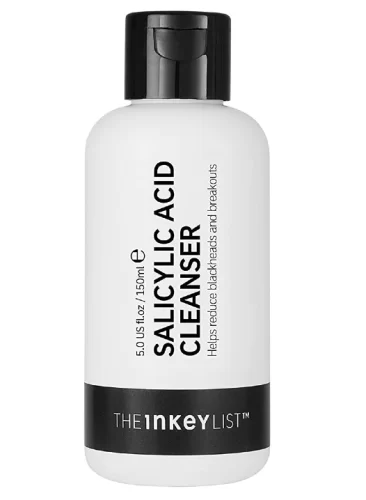 ---
Eucerin DermoPure Cleansing Gel
What's special about this salicylic acid-infused cleansing gel is that it is made with 6% amphoteric surfactants. This type of cleansing agent has a remarkable ability to wash away pollutants, oil, and grime without irritating or drying the skin and is particularly well tolerated by sensitive skin. The minimalist formula skips fragrances, alcohol, and soap, and according to a clinical study performed by Eucerin, people who used it had 38% fewer pimples after 12 weeks of regular use of DermoPure Cleansing Gel.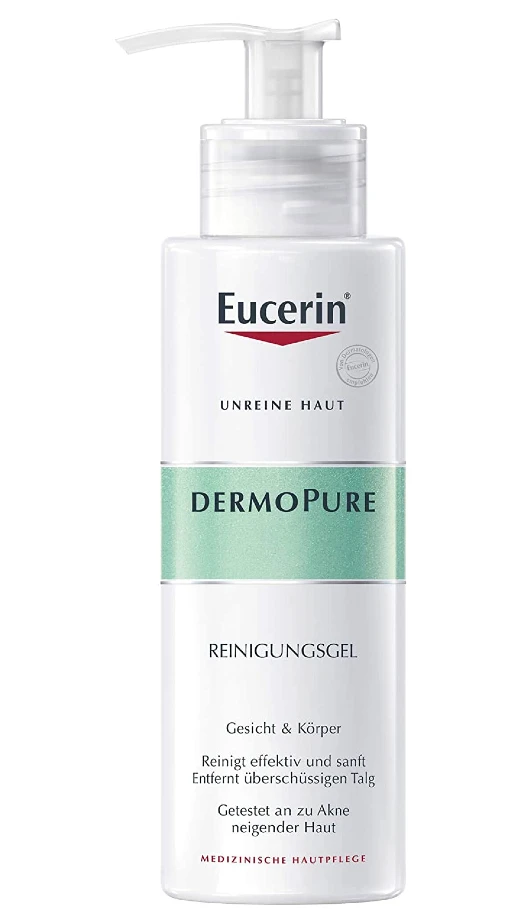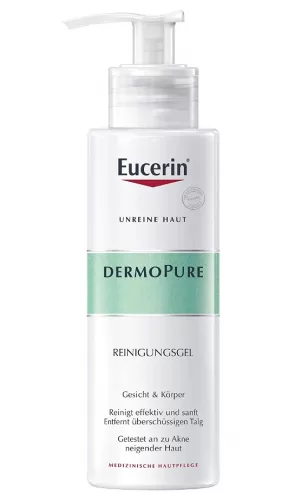 ---
Olay Regenerist Regenerating Cream Face Cleanser
In addition to exfoliating salicylic acid, this cream cleanser uses hydrated silica—tiny delicate skin polishers—to break down oil and remove makeup and dirt without being harsh. The skin-brightening vitamin C helps increase luminosity over time, while glycerin and vitamin B5 ensure skin is left soft and comfortable.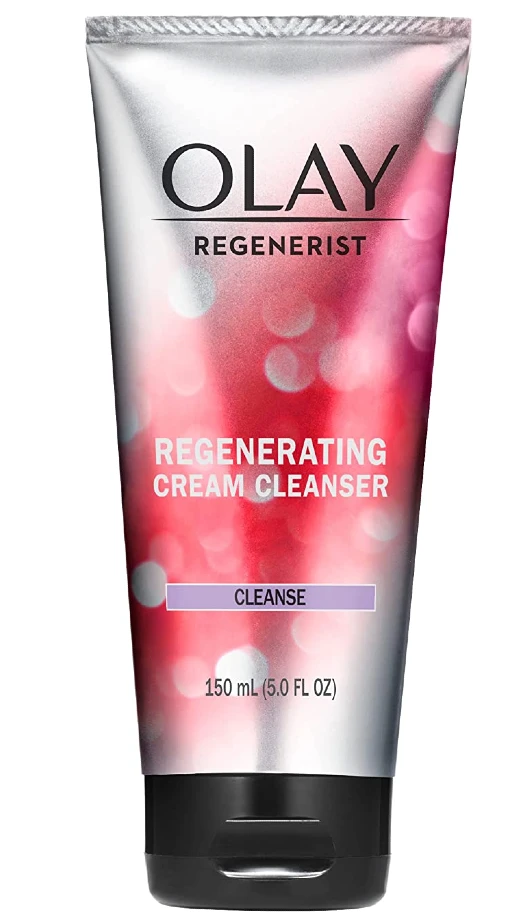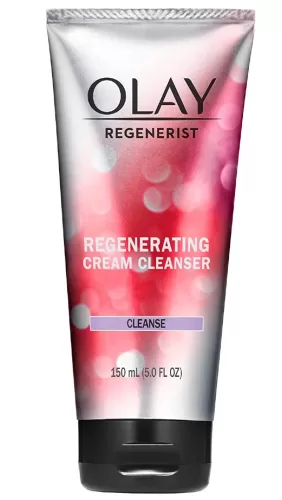 ---
Burt's Bees Natural Purifying Gel Cleanse
Give Burt's Bees Purifying Cleanse a try if you want a natural drugstore face wash with salicylic acid. The cleansing gel is tough on acne due to 1% salicylic acid and willow bark extract, which removes dead skin, sops up excess oil and helps tighten pores without overdrying the skin. The latter is thanks to calming botanical extracts, including Centella asiatica, honeysuckle flower, and soy protein.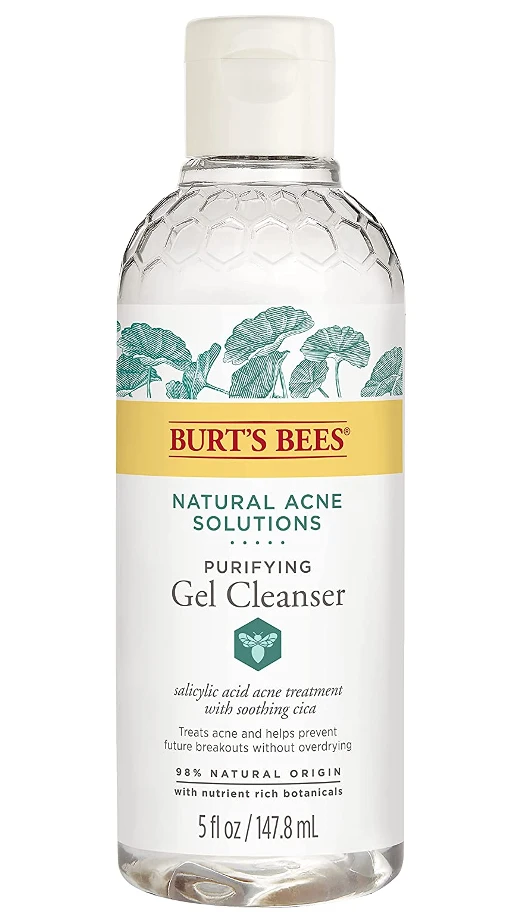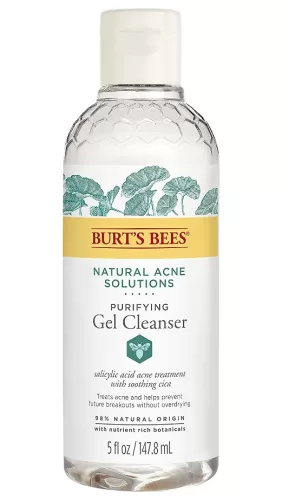 ---
Cetaphil Gentle Clear Clarifying Cleanser
This salicylic acid face wash is among the best in the drugstore category, ideal for those with problematic skin looking for more concentrated products. Although it contains 2% salicylic acid, the cream-to-lather formula is gentle enough not to cause irritations in sensitive skin yet powerful to fight acne and banish excess oil. The secret lies in the hydrating and soothing ingredients added to the product's formula, namely white tea and aloe vera.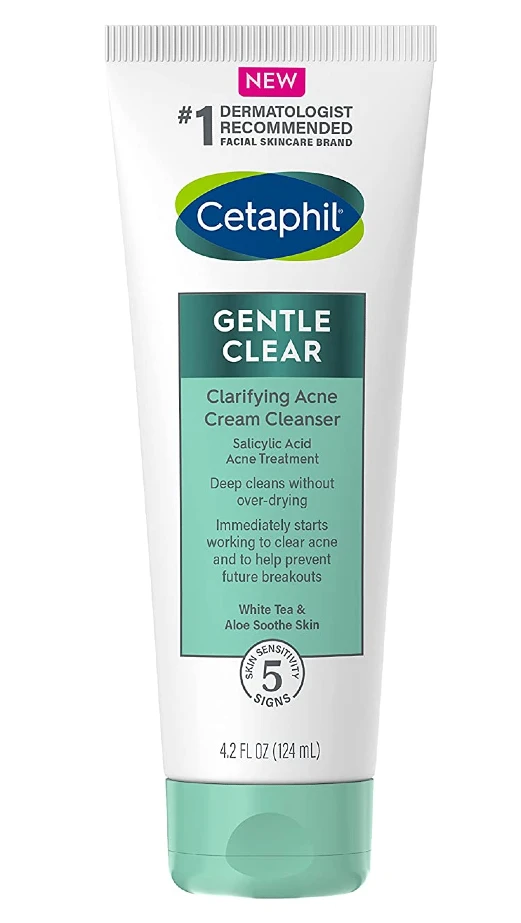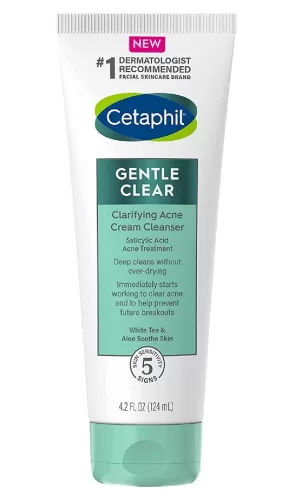 ---
Bliss Clear Genius Clarifying Gel Cleanser
Get ready for clean and clear skin with Bliss Clear Genius Clarifying Gel Cleanser! With salicylic acid, witch hazel water, and seawater working together, you can wave goodbye to dirt, oil, and clogged pores. The cherry on top? The addition of tea tree oil not only adds a fresh and invigorating scent but also provides anti-inflammatory and antibacterial properties, making this a must-have for your skincare routine.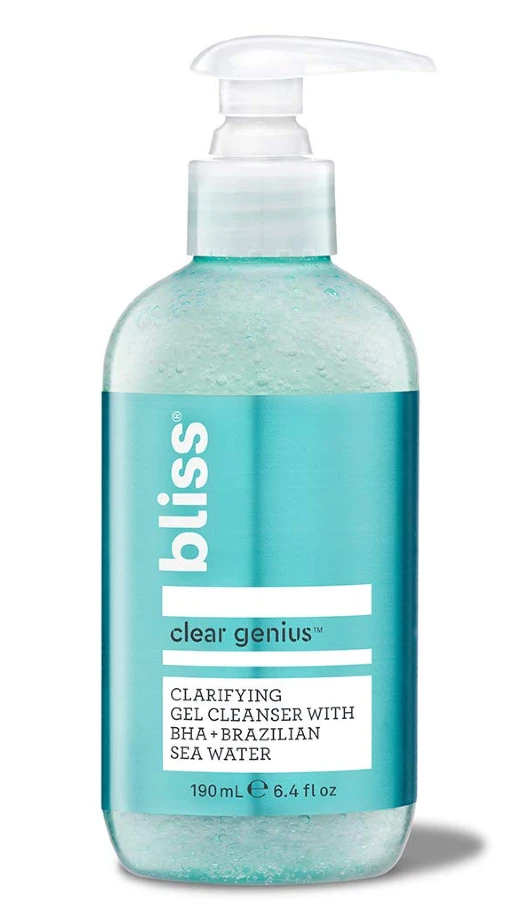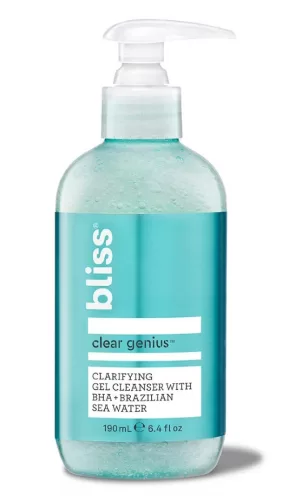 ---